The Houston Electric Bike Expo – Ride the Latest eBikes for Free! [VIDEO]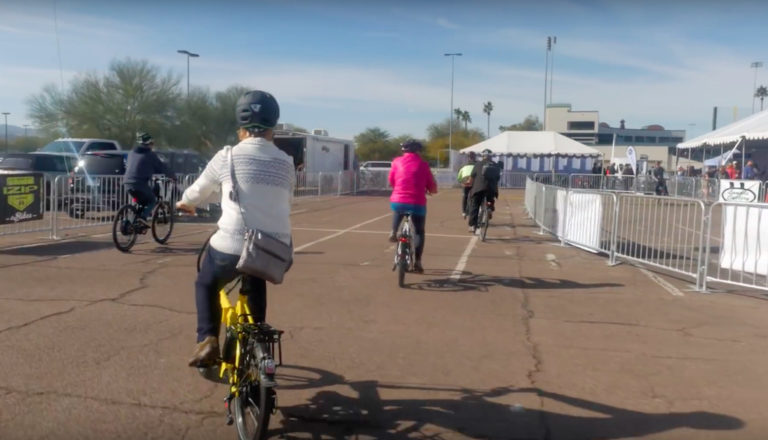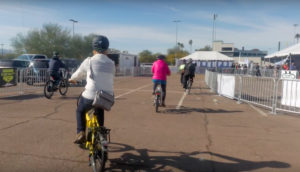 The Houston Electric Bike Expo on March 11-13th at Rice University Stadium is the place to ride the latest electric bikes. And best of all it's completely free to attend and test ride as many eBikes as you like!
There will be 20 different brands and over 100 different eBikes to choose from to ride on the test track.
The test track has a hill structure to test the different eBike climbing capabilities and terrain features to test the suspension of some of the eBikes.
There will be bikes from A2B, BESV, BULLS, Easy Motion, Focus, Gazelle, Haibike, IZIP, Kalkhoff, Polaris, Raleigh, Stromer, Tempo (Expo Charity Sponsor), Trek (Expo Track Sponsor), Xtracycle, Yuba with the latest electric drive systems from Bosch (Expo Presenting Sponsor), Yamaha, Shimano, and more.
Many of the models are brand new to the US and here to be tested by you for the very first time!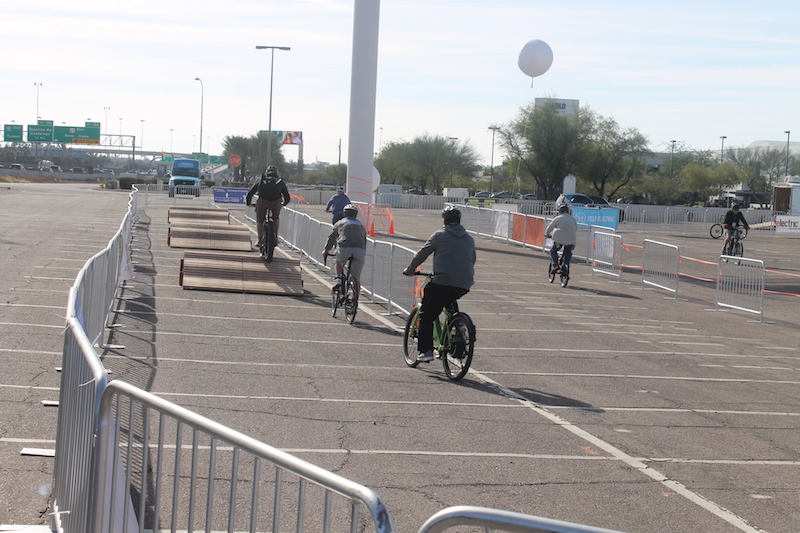 Here is a link to the Houston Expo page where you can pre-register and get updates. Also by pre-registering now you will be entered to win prizes like a high power LED light set or an Expo polo shirt, plus you can get on the test track quickly!
Here is a quick video about the Houston Electric Bike Expo being held at Rice University Stadium March 11-13:
The E-Bike Expo events are free to attend and there are no sales that happen at Expo events to keep them fun and informative. If you are interested in buying an electric bike, many of the exhibitors are offering discount coupons at the Expo that can be redeemed at local eBike dealers.
In addition to discounts there is the possibility of winning an electric bike!
Tempo Bicycles will be raffling off one of their Carmel or Santa Barbara hybrid electric bikes worth $4,000 to a luck winner and the raffle proceeds will go to a couple local Houston charities. The raffle tickets are $5 each and buying multiple tickets will increase your chances of winning the bike while being able to distribute contributions to the various Houston charities.
Easy Motion will be giving away one of their EVO Jet 350W electric bikes to one lucky person that test rides their eBikes at the Houston Expo.
Here is list of the companies that are offering discount coupons redeemable at local dealers.
Speaking of local dealers, Revolution Electric Bikes will be there and more participating local dealers will be announced soon.
Raleigh and IZIP are offering significant discounts, ~15% off retail, AND a $100 gift card rebate direct from IZIP or Raleigh.
Yuba will be offering a 10% coupon for their Spicy Curry e-cargo bike redeemable at one of their local dealers.
Polaris will be offering pro deal discounts on their electric bikes.
Focus will be offering $200 discount coupons for attendees that ride their e-bikes at Expo events.
Kalkhoff will be offering $200 discount coupons for attendees that ride their e-bikes at Expo events.
Gazelle will be offering $200 discount coupons for attendees that ride their e-bikes at Expo events.
There will also be a number of presentations happening at the Expo:
Joe Robinson from Xtracycle will present Bicycle Commuting Tips and show how families and individuals can use an electric cargo bike as a great car alternative.
Ken Miner from Haibike will present on Electric Mountain Bikes and Trail Behavior.
Stay tuned to the Houston Expo page for more presentations and events being added to the schedule.
The Houston Expo is being held in conjunction with the BikeTexas Texas Trails and Active Transportation (TTAT) conference. "The TTAT Conference will bring together those involved with bicycle, pedestrian, and other active transportation and recreation modes from around Texas and the world with the goals of sharing current information and examples, and sparking inspiration to continue striving to make things better in each of our communities. The conference will focus on issues of economic development, health, safety, and many other topics relevant to advancing active transportation and trails."
TTAT "conference attendees include those involved in the planning, construction, funding, economics, operation, management, promotion and use of bicycle, pedestrian, and other transportation modes. The conference will provide breakout sessions, keynote talks, mobile workshops, and exhibitions from experts representing municipal/state government, transportation advocacy groups, trail users, architects, landscape architects, transportation engineers, planners and private businesses."
It is anticipated that there will be 300 TTAT attendees. These TTAT attendees will have a VIP opportunity to learn about and test ride the latest eBikes at the Expo before it opens to the public on Friday March 11 at 3:00 PM.
The Houston Electric Bike Expo is being held at the Rice University Stadium parking lot near the Farmer's Market:
Plan to stop by on:
Friday March 11 from 3:00 PM to 8:00 PM
Saturday March 12 from 9:00 AM to 8:00 PM
Sunday March 13 from 9:00 AM to 4:00 PM
Pre-register now for the Houston Electric Bike Expo!
The Electric Bike Expo will also be held in San Diego, CA (February 26-28) Palo Alto, CA(April 22-24), Portland, OR (May 20-22), and Denver, CO (June dates TBD). We are also working on more locations in the West, Midwest, and East. Stay tuned to the Expo website for more on that!
As a part of the Expo team I will be at all of the events and I look forward to seeing you there!
-Pete
P.S. Don't forget to join the Electric Bike Report community for updates from the electric bike world, plus ebike riding and maintenance tips!
Reader Interactions