Gocycle G2 Electric Bike Review Part 2: Ride & Range Test [VIDEO]
After spending some time and miles on the Gocycle G2 it is apparent that this is one of the most versatile and feature rich electric bikes that I have ever tested and reviewed.
It has a lot of high tech features (electronic shifting, smartphone app ride customization, one sided wheels, etc.) but the design is focused on being easy to ride with little maintenance to worry about.
Even though it looks like a folding e-bike, it has attributes that measure up well to full size electric bikes, and in many cases exceeds them!
The G2 is a good all around city commuter that can be used for the full commute or in combination with mass transit.  It is also a nice e-bike for exploring town and country roads.
Its lightweight (35 pounds) and easy to carry design make it a good e-bike for zipping around dense urban environments. Carrying the bike up and down stairs is very easy.
The folding ability (fully folded or partially folded) makes it an e-bike that can go almost anywhere in a car trunk, RV, boat, etc.
The Gocycle G2 is priced at $4,999 USD at the time of this review.
In this second part of the full review of the G2, you will get an idea of the ride characteristics, range test, pros, cons, and overall thoughts on this electric bike.
Make sure you check out part 1 of this review with large detailed pictures and specifications of the Gocycle G2 to get familiar with this e-bike.
What you can expect from the Gocycle G2:
To get acquainted with the G2, checkout this video:
As you can see the Gocycle G2 is one innovative high tech electric bike!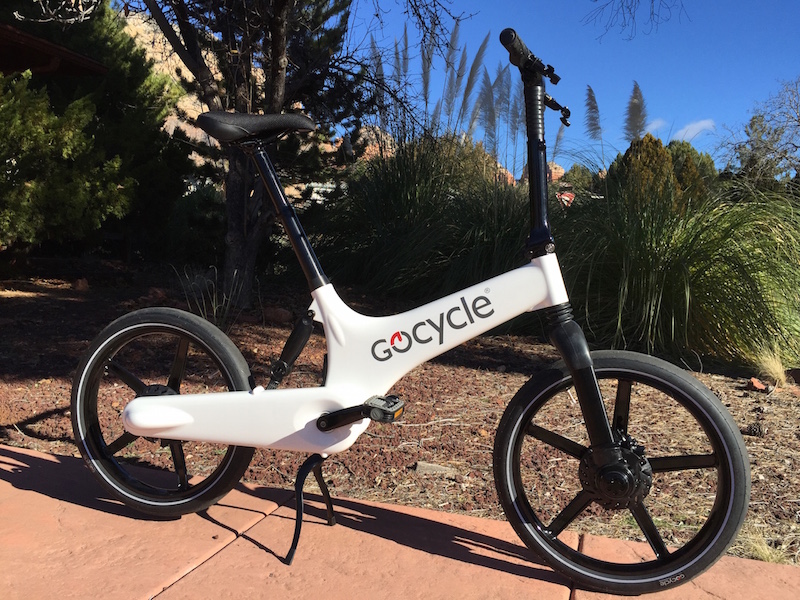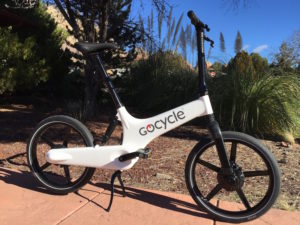 Richard Thorpe is the designer and founder of Gocycle and his background is in designing race car components.  In fact, he left a design job at McLaren Cars to start Gocycle because he is so passionate about electric bikes.  That is impressive!
With it's futuristic styling the G2 definitely attracts attention.  Many people asked me about the G2 during my test rides and picture sessions.
It also has a very clean design that makes it stand out from a typical electric bike.  There is no exposed battery, chain, derailleurs, cables, shifters, brake rotors, and you can barely tell there is a motor.  In fact, it is hard to tell that it is an electric bike.
Now let's take a look at how the Gocycle performs out on the road.
Riding the Gocycle G2:
As high tech as the Gocycle is, the ride experience is surprisingly simple and easy to get used to.
It's low step frame and small wheels make it very easy to get on and off.  The handlebar and seat can be adjusted to fit almost any rider size and the location of those contact points have been designed to match a full size bicycle.
The simple display on the handlebars can give you a quick visual look at what is happening.  On the left side there is the current battery level, the middle shows the current gear selection, and the right shows the speed.  This display keeps the bike looking clean while giving you enough info at a quick glance.
In addition to that information, the display also provides info on what assist mode the bike is in as well as the ability to change the mode using the red and black grip buttons.  Here is a break down of the different assist modes:
City: Offers a moderate amount of assist and is pedal assist only (you have to be pedaling).  You can get a quick boost up to max speed using the red power button but you also have to be pedaling.  This is a nice mode for getting to work with minimal sweat.
Eco: This is a similar mode to City except that it does not provide as much assist.  Eco mode is good for getting more of a workout and longer overall range.
On Demand: This is a throttle only mode that adds assist with the red button when you want it.  The Gocycle pedals remarkably well without assist because it uses a freewheeling geared hub motor and because it is a lightweight electric bike.  The On Demand mode works well for getting a little help when accelerating or climbing a hill.
Custom: The default setting is Eco+ which further provides more range but with less assist.
With the GocycleConnect App (for iPhone & Android smartphones) the Custom mode also allows you to easily adjust the top speed of the assist (up to 25 mph), pedal assist only or pedal assist & throttle, at what pedal power the assist kicks and where is it provides max assist.  It sounds like a lot of features but the GocycleConnect App makes it easy to dial in to your preferred riding style.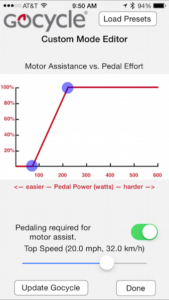 I think the Custom mode is one of the best features of the Gocycle G2.  You can make the bike a high performance speed machine or set it to provide you with some assist for a longer ride in the country.  Those are the extremes and you can customize the bike performance to fit your riding style best.  This further adds to the Gocycle's versatility as an all around e-bike that can do almost anything.
Assist comes from a remarkably small front hub motor.  In the preset modes it will provide 250 watts of assist and in the Custom mode it can deliver up to 500 watts (US market).  It really is surprising how much power comes out of this small motor!  Like all geared hub motors there is some noise and because it is in the front it is a bit more noticeable.
Front hub motors have their pros and cons.  They do have the advantage of providing a two wheel drive e-bike because the motor powers the front wheel and you are powering the rear wheel.  Since there is not a lot of weight over the front wheel you need to be aware of the wheel spinning on loose terrain; especially when climbing steep hills.  I have found that after a few rides it is easy to get accustomed to front hub motor bikes.
The Gocycle electronic Predictive Shifting™ takes the hassle out of shifting gears.  It will shift the gears up or down depending on what speed the bike is going and your pedal input.
Shifting up happens when you are pedaling at a high enough cadence and when you briefly stop pedaling  (or you can manually shift up with the black button on the right grip).
Shifting down happens when the bike slows to a lower speed and when you briefly stop pedaling (or you can manually shift by holding the black button for 1 second).  It is really nice to have the bike down shift so that you are always in the right gear when accelerating from a stop.
As someone who is very used to shifting gears manually on a bike, it took me a while to get used to the Predictive Shifting™.  I found myself shifting up manually with the black button and then letting the Predictive Shifting™ take care of shifting down.
As you spend more time on the bike, the Predictive Shifting™ becomes second nature.  For those that still like to have some control of when the shifts happen, it is nice that there is still a manual shift option.
The handling of the G2 is quick and nimble which is nice for navigating congested urban environments.  It corners well thanks to its small wheels, low center of gravity, and full size bike handlebar and seat locations.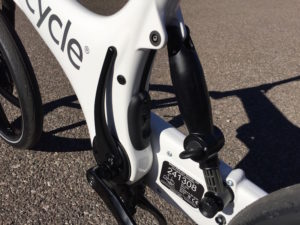 It is a comfortable bike to ride with 1″ of rear suspension travel.  There is no front suspension, but Gocycle recommends running a lower front tire pressure which helps with absorbing some of the bumps.
You do need to be aware of and avoid potholes because the 20″ wheels don't roll through them as well as full size bike wheels.
The Gocycle G2 is designed with a maximum recommended weight limit of 220 pounds which includes the rider weight plus luggage.  With my fully loaded messenger bag I got close to that limit and I did notice some flex in the front fork when braking hard.
They do state that the Gocycle can handle up to 250 pounds but it "may reduce product service life."
The full statement on the weight is: "This product has been designed with a maximum recommended weight limit of 100kg (220lbs) for the rider, clothing and all luggage, and is intended for use on paved roads. For rider and luggage weight 100kg-115kg (220lbs-250lbs): riding style, road condition, tire pressures and luggage position may reduce product service life. Luggage weight should not exceed 10% of total rider and luggage weight. Never exceed rider and luggage weight of 115kg (250 lbs) at any time. Exceeding this limit will void all warranties and may result in the product being unsafe for operation."
Low maintenance is another design feature that you will notice as you spend time on the G2.
The chain and Shimano Nexus 3 speed internally geared hub are totally enclosed by the Gocycle Cleandrive®.  The chain does not need to be lubricated or adjusted and the Nexus hub is electronically shifted.
Along with this low maintenance drivetrain is the patented Cleandrive®.  Because it is fully enclosed you don't have to worry about getting oil on your pants from the chain.
You will never need to worry about truing the wheels because the , injection moulded magnesium Gocycle  Pitstopwheels® never need to be trued.  In case of a flat tire, they can be removed in a matter of seconds with the 3 lever quick release system.  And if you want, you can change a flat tire without removing the wheel because on the one sided wheel design.
Front and rear hydraulic disc brakes provide solid stopping power while eliminating day to day maintenance due to their self adjusting nature.  The discs are protected by plastic shrouding which also adds to the clean look of the G2.
The Gocycle has been designed to be easy to carry.  The bike has a very balanced weight distribution and it can be easily carried by lifting the frame with a hand hold just in front of the cranks.
Folding or partially folding the Gocycle for storage or transport is pretty quick and easy.  Make sure you checkout part 1 of the Gocycle review to see an instructional video on this.
All of these features add up to a bike that has a very simple and easy to ride style with little maintenance to worry about.  It is refreshing to experience a bike that is so high tech, yet so easy and fun to ride.  It seems to be the e-bike equivalent of an Apple iPhone.
Alright, now let's take a look at how the G2 did in the full range test.
Gocycle G2 Range Test Results:
Here is the real world information on how the Gocycle G2 electric bike performed on a riding circuit that includes hills, flats, traffic, wind (when available) etc.
While testing these bikes I like to put them through the toughest conditions to see where their bottom line is in regards to range and speed.  For this test I used the City Mode on the Gocycle G2.
Range: As you can see from the GPS info that I recorded, the G2 traveled 20.7 miles and did a total elevation gain/loss of around 1,800 ft. Considering that I weigh 190 lbs and I pedaled very lightly this is pretty good range for a 22 Volt 10.75 ah battery pack (240 Watt Hours) with a 250 watt motor.
Watt hours are the total energy in a battery pack and it is based on the volts x amp hours of a pack. This is a way to compare the size of the "gas tank" of electric bikes.
Please keep in mind that if you pedal more, weigh less than me, ride slower and/or you use the bike in terrain that is not as hilly you will get more range. These results are from tough testing.
Speed: Using the preset City, Eco, or Eco+ modes will provide assist up to 16 mph.  Using the Custom mode with the GocycleConnect® App will provide assist up to 25 mph.
Weight: The G2 tips the scales at 35 lbs which is very light for an electric bike!
The weight distribution of the G2 is very good thanks to the battery located in the center of the frame and a light front hub motor.  This provides for good handling along with the ability to easily pick up the bike for transport.
Pros:
Easy to Ride:  A high tech bike that is easy to ride is very impressive.  The Gocycle takes care of all the details and allows you to enjoy the ride.
Customize the Ride:  Customizing the ride style to your riding preferences with the GocycleConnect® smartphone app is really a great feature.  The app makes it very easy to dial in the bike to fit how you want it to assist you.  I really like this feature!
Low Maintenance:  The G2 is designed to take the worry out of bike maintenance.  The only regular maintenance is checking the tire pressure.
High Tech:  The Gocycle is one of the most high tech e-bikes out there with injection moulded magnesium frame with internal battery, one sided quick release injection moulded mag wheels, Gocycle's proprietary electronic Predictive ShiftingTM , customizable ride style with smartphone app, enclosed chain, hydraulic disc brakes, etc. Oh yeah, and it looks cool too!
Cons:
Motor Noise:  The geared front hub motor does have some noise.  There is more noise when the motor is working hard (accelerating and climbing) but it is quieter when it is up to cruising speed.  For those that are noise adverse this is something to be aware of.
Weight Limit:  The maximum recommended weight limit of 220-250 pounds weight limit (rider & luggage) will prevent a certain amount of people from riding the Gocycle.
Kickstand:  Kicking the kickstand down with your foot is difficult and I often used my hands to extend it.  It would be nice to have a larger foot peg to easily fold out the kickstand.
Conclusion:
Overall the Gocycle G2 is a versatile and fun electric bike that combines innovative high tech features with a simple and easy to ride design.  It's an electric bike that can do a lot.  From commuting, to country road riding, and traveling with you (car, RV, boat, etc.) it is a do it all style e-bike.
At $4,999 it is in the upper end of electric bikes but you do get a lot of bike and features for that price.  I recommend that you take a test ride of the Gocycle to experience how easy and fun it is to ride.
Please keep in mind that this is a relatively short term test. This testing can't really give you the long term review of durability and reliability. My thoughts on the quality of this bike are from previous experiences with similar bikes. If you own this bike and have some input on the long term durability, please share your comments with the Electric Bike Report community below.
Where to buy a G2? Check with Gocycle for a dealer near you.

Do you have any questions about the Gocycle G2?  Do you own a Gocycle?  Please share your thoughts in the comment section below.
Thanks!
-Pete
Review Note: Each company pays a fee for a review on Electric Bike Report because of the considerable amount of time that it takes to provide an in-depth review of each eBike. A lot of time is spent on the full range test with distance & elevation profile, the wide variety of detailed pictures, in-depth video, and the write up with the specifications, ride characteristics, pros, cons, and overall thoughts. The reviews on Electric Bike Report are focused on providing you with a detailed "virtual" look at each eBike to help you determine if it is the eBike for you or not.
P.S. Don't forget to join the Electric Bike Report community for updates from the electric bike world, plus ebike riding and maintenance tips!
Reader Interactions