10 Electric Bike Motorized Trailers for an Extra Boost [VIDEOS]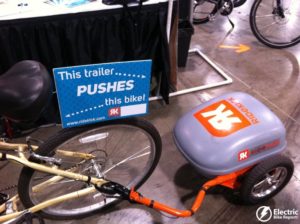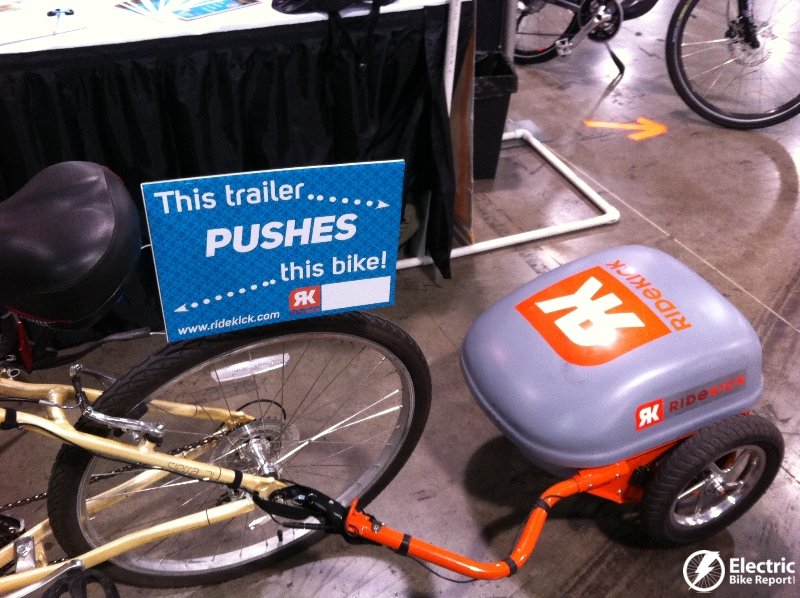 By Martin Laird
Electric bikes are great, but what if there was an option for an electric cargo trailer that pushes your traditional bike?
There is!
From the small trailers that can handle the daily commute items to large e-cargo trailers that can carry kayaks and up to 330 pounds of capacity, there is a growing number of options in the e-cargo trailer world.
You can take the extra weight, people, or cargo with you without putting the strain on your bike or your legs, and here are the top options for an effortless ride with a heavy haul.
Please note that that some of these trailers may not be available in your country.
1. Brouhaha Bike Trailer
Photos courtesy of Gizmag
Why is the Brouhaha one of the best out there? Because it literally pulls its own weight. Creator Brian Bartel put the best twist there is to bike trailers that can comfortably be used for both an e-bike and a regular one. Due to the combination of a 36-volt sealed acid battery along with a 500-watt motor, the Brouhaha will be the smoothest-riding trailer you have. Its most vital addition is that it will not waste battery.
The trailer will only become powered when you move, and it will automatically adjust its own capabilities to lessen the strain on your bike. Whether you're packing another person or a bag of groceries, the Brouhaha trailer will know precisely what to do to make your ride as effortless as possible. It's estimated that it can handle around 180 pounds and become your biggest helper.
Unfortunately, the project's Kickstarter campaign failed to reach its goal, but that does not mean it's over. Keep an eye out for this lovely product that will fulfill your hauling needs.
PRICE: $5,000 (new production model), $2,500 (used model), or $1,200 (a 3-month rental).
More info on the Brouhaha e-cargo trailer.
2. Cycloboost Trailer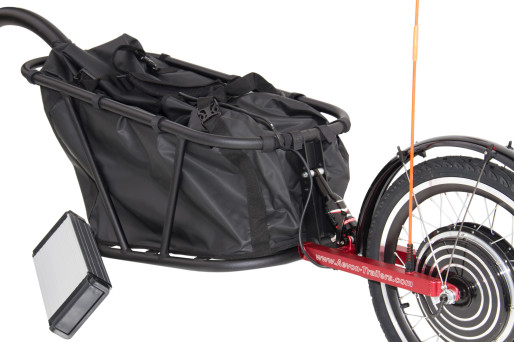 Photos courtesy of Aevon
One of the freshest entries on the market, the Cycloboost, will definitely live up to its name. Named as the "fruit of the meeting" between Aevon and Cycloboost, this particular trailer has such exceptional capabilities that you will barely know it's even there.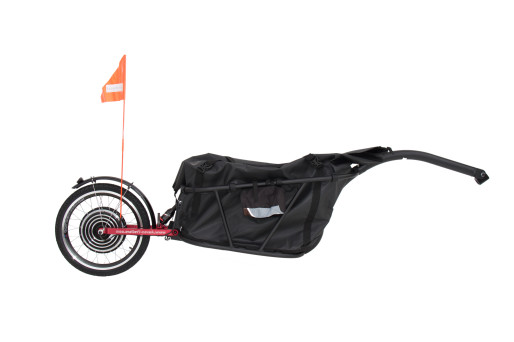 It can carry heavy loads for a varied number of purposes, ranging from the regular shopping to actual mountain trips. Wherever you go, this addition will allow you to carry more, go further, and for much longer periods of time.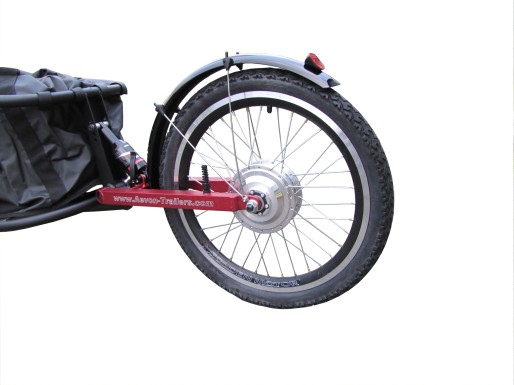 You have options in terms of battery life as well. You can either go for the 10Ah which will last you around 25 miles, or go big and pick the 20Ah for longer trips, up to 62 miles. Depending on your choice of trailers, it also can effortlessly haul between 77 to 100 pounds. If you still don't believe this is an excellent option, you can read our full review of the Cycloboost trailer.
PRICE: $1,400
More info on the Cycloboost trailer.
3. Ridekick Power Trailer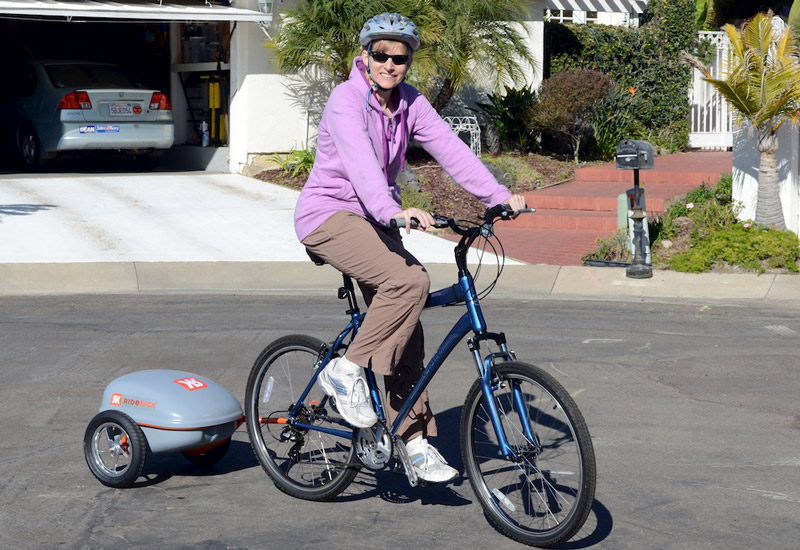 Photos courtesy of Ridekick
Battle the wind and defeat that hill with the help of the Ridekick trailer that will make sure no mountain is high enough for you. Its design is made with flexibility in mind, as it can be attached to any kind of bike and trike that you could possibly own.
With its small size, you wouldn't expect the skinny motorized trailer to perform excellently, but this little engine that could will push your bike up to 19 miles per hour (Mph) and arrives with a full suspension. So, the bumps in the road won't stop its power, even if it's carrying 75 pounds.
It's easily attachable to your bike in under 15 seconds and can carry items such as a bag of groceries or even your suitcase. The Ridekick is safe, stable, lockable, and has battery life that can take for a ride for between 1 and 4 hours.
PRICE: $700
4. Carla Cargo Trailer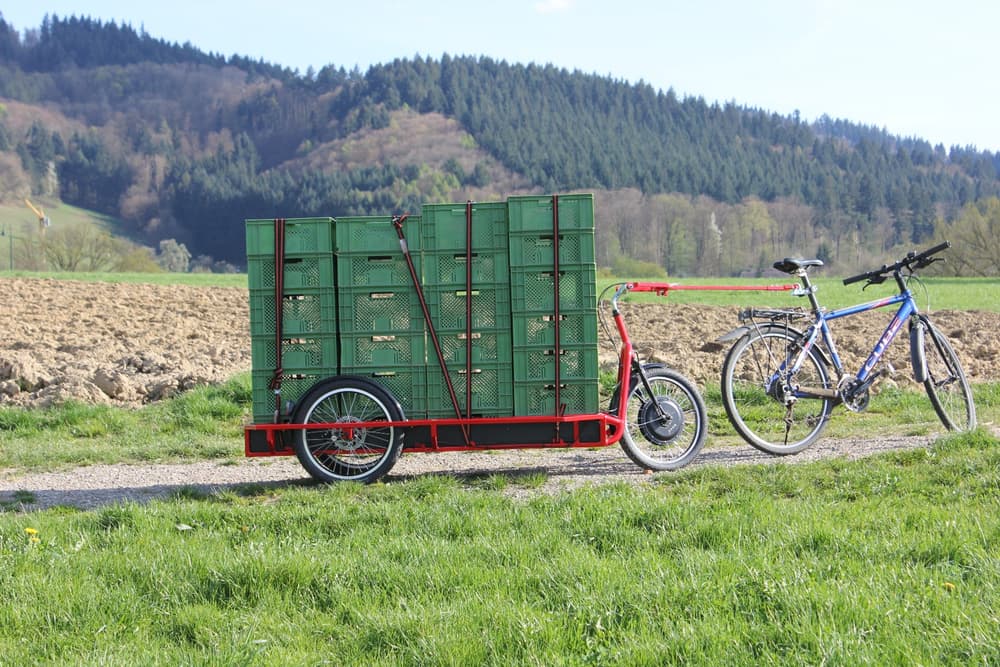 Photo courtesy of CarlaGo and Gizmag
If you want to take things to the next level, you could opt for the Carla Cargo model of motorized trailer that will efficiently power up your bike while carrying massive weight.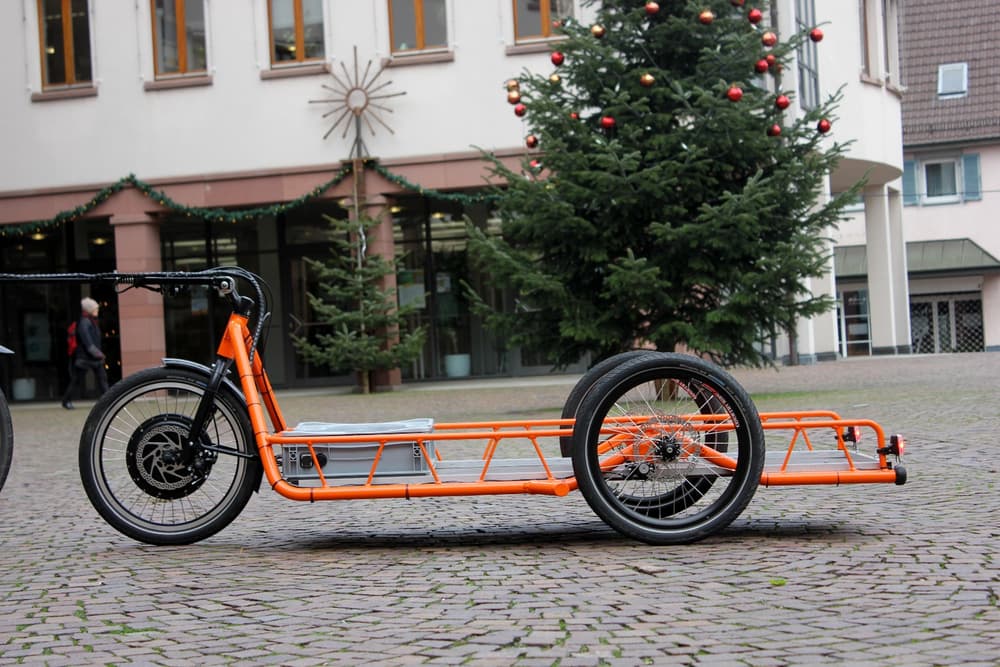 It will give your bike some serious muscles, and it definitely needs it. This incredible trailer can haul around 330 pounds, so you will surely be grateful that it can hold its own weight with the aid of its electric engine.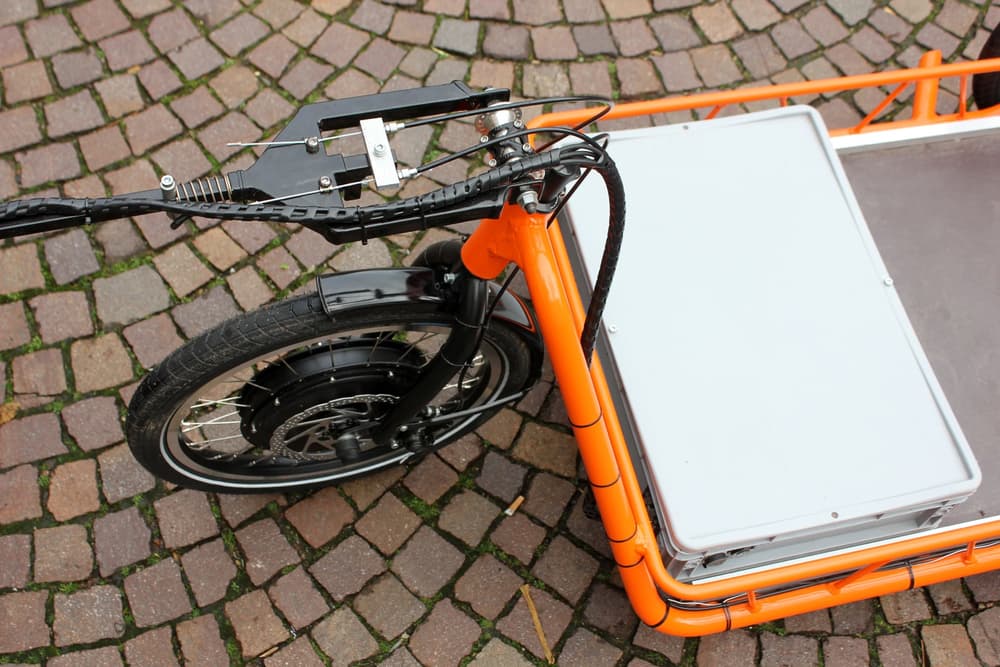 It's cost efficient and can be incredibly useful and perfectly comfortable and quiet. It powers you, your bike, and massive loads that you might need to take with you at 14 miles per hour (Mph).
https://www.youtube.com/watch?v=2CsMzv99QtA
PRICE: $4,550
More Carla Cargo Trailer info.
5. Atomic Zombie CycleBully Trailer
Photos courtesy of Atomic Zombie
The robust and multipurpose bike trailer has an incredible suspension to go along with it, besides the electric motor that makes sure your bike keeps going and going. The shape alone shows that it would be perfect for carrying a picnic, supplies, or gear as you go for a ride throughout the town, or perhaps even outside its boundaries. Due to its long range that you can modify to reach almost 50 miles on a single charge, the trailer could be perfect for going pretty much anywhere.
The assist motor is incredibly strong, so no hill will stand in your way even if you're riding with a full cargo of groceries. It's easily attachable, and it's the perfect excuse to leave the car at home while you're running errands around town because it can hold up to 100 pounds.
The catch? It's a DIY project, so you will have to purchase only the plan and then construct it yourself. Though that implies it's cheaper and infinitely more satisfying to customize it yourself.
PRICE: $18 for DIY plans.
6. Afterwards Electrailer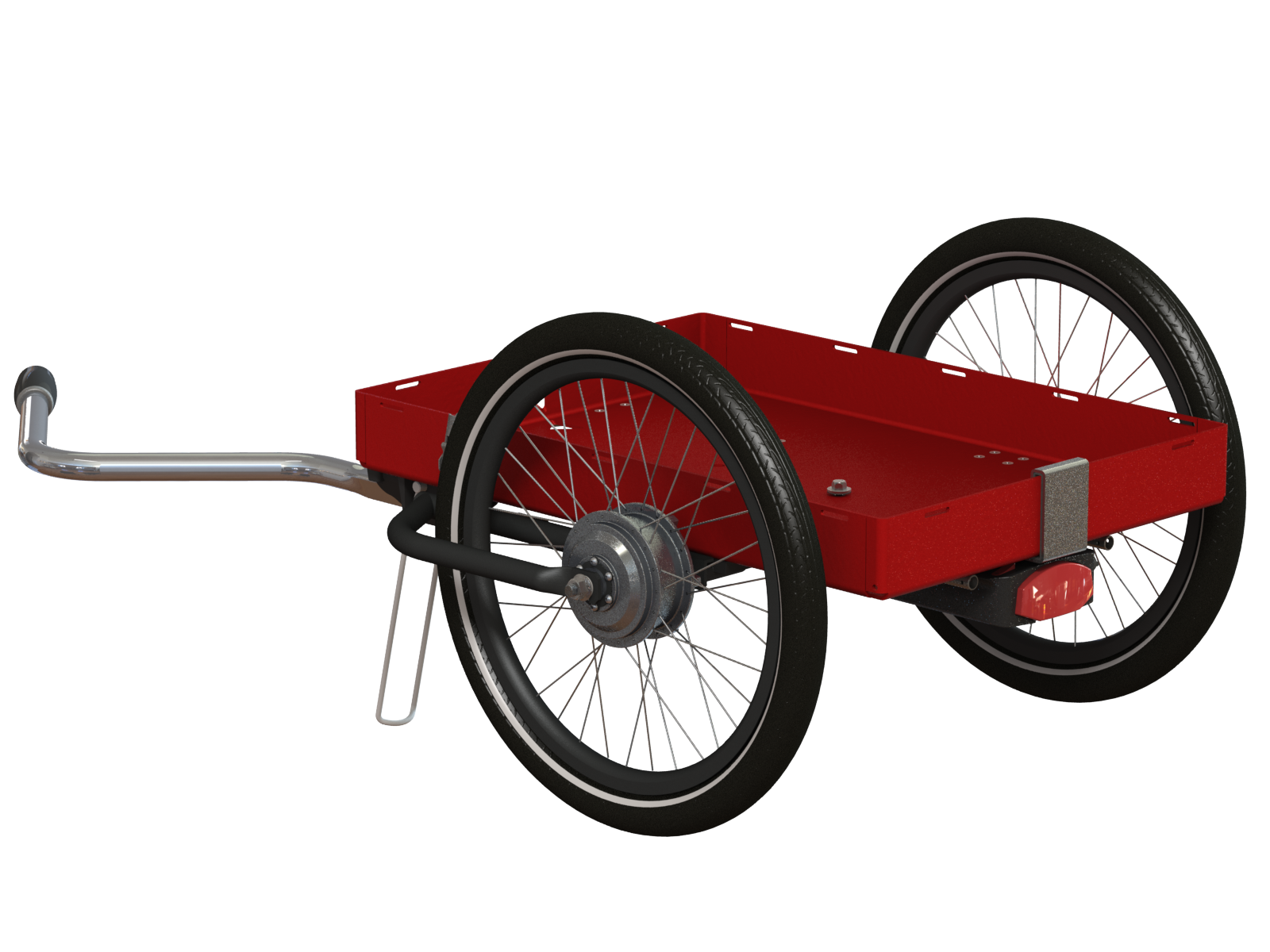 Photos courtesy of Electrail
Easy to attach, easy to unload, and certainly easy to dismantle should you wish it. It will take mere seconds, so it's easy to store it once you're back home and all your cargo is unpacked.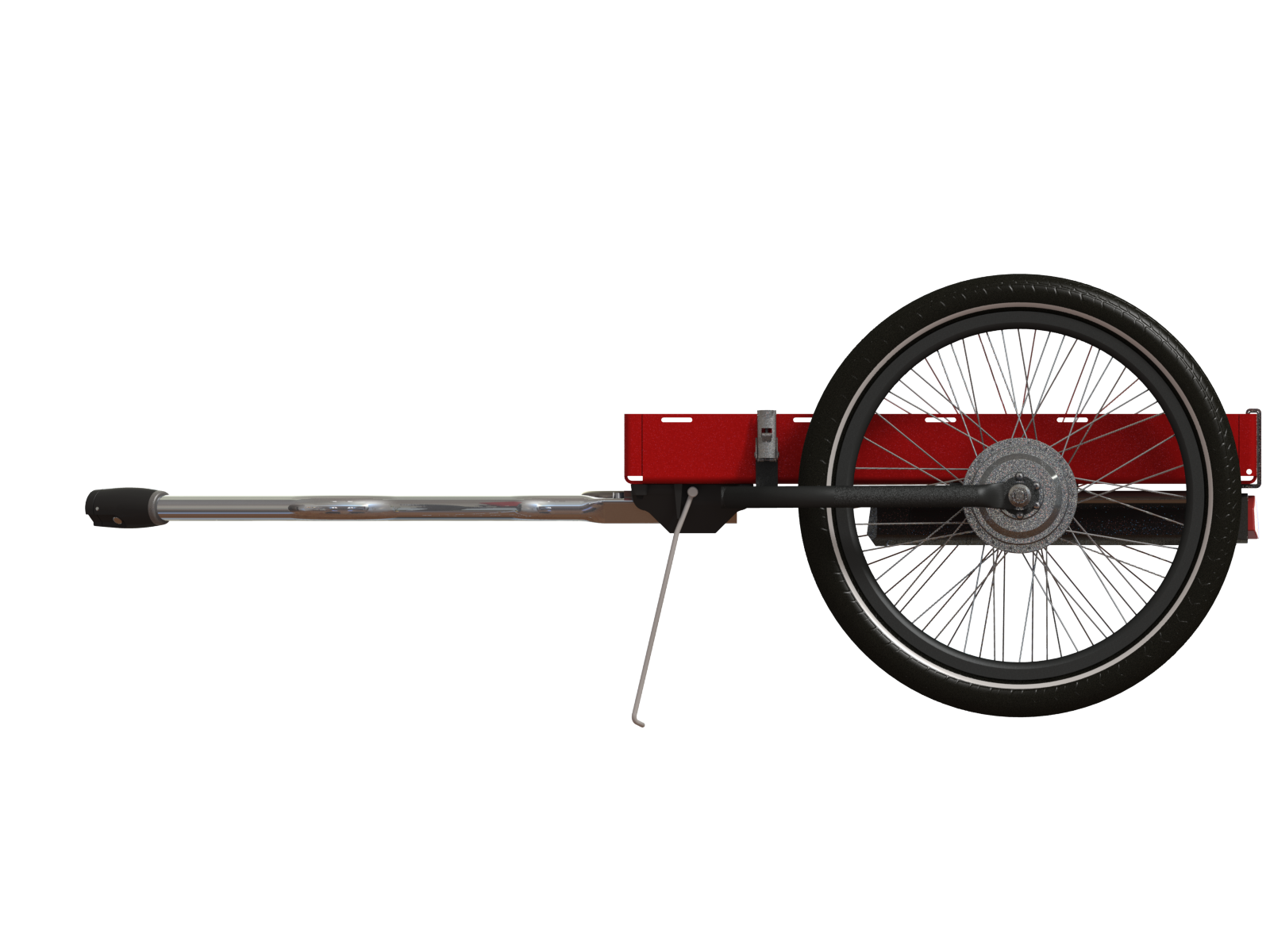 The trailer is compact, simple, and subtle, but it can carry incredibly heavy loads while offering a more than decent push. It can carry 100 pounds easily to speeds of 15 miles per hour (Mph). However, if the speed is not in your interest, you can unhitch it from your bike and simply use it as a trolley.
It's excellent for all-around purposes, be it running errands or carrying groceries back home.
PRICE: $1,900
More info on Afterwards Electrailer.
7. Topeak Journey Trailer
Photos courtesy of Topeak
With a sleek, narrow, and dynamic design, the Topeak Journey model will certainly push your bike while offering you plenty of storage space as you ride through the urban jungle. It's a beautifully designed trailer that will flawlessly bend and lean with each turn you have to make.
The skinny shape and low height make it perfect for narrow paths, and it even arrives with capabilities it trucking along around 70 pounds. The speed isn't bad either, holding at an above average 15 miles per hour (Mph) as you take your e-bike for a spin.
Over flat land, the Topeak Journey Trailer will easily push you and your cargo for about 30 miles.
PRICE: $1,580
More info on Topeak Journey trailer.
8. Cargo Box 140 Trailer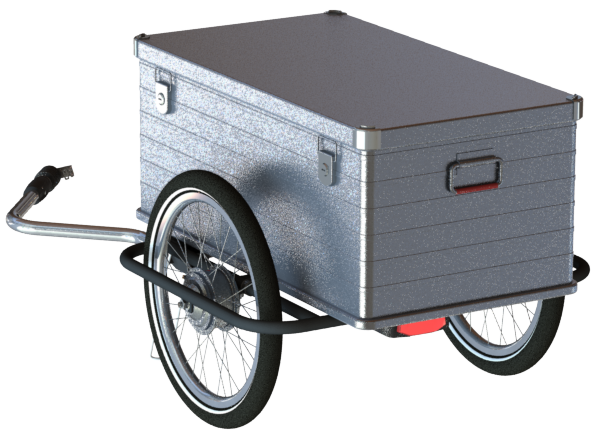 Photos courtesy of Electrail
The trailer that defies any weather, obstacle, or accident. The aluminum box mounted on the sturdy frame is perfect for items or cargo that you fear are fragile and could break in the unlikely circumstance that it falls off. The Cargo Box 140 alleviates all worries, and it's incredibly spacious due to its robust design that can pack everything and lock it just to make sure it doesn't fall out. It's stable and reliable, able to carry around an incredible 175 pounds.
As for speed, it's pretty impressive that it can support around 15 miles per hour (Mph) considering its weight capacity.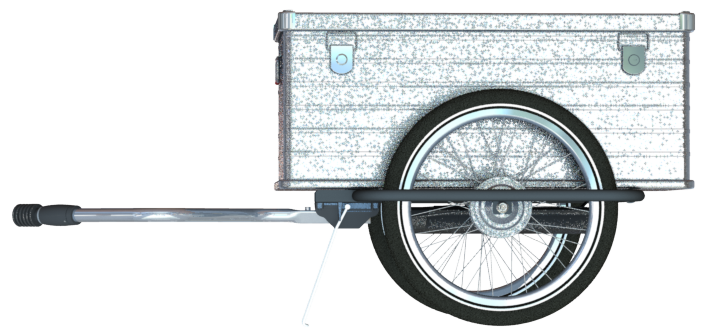 PRICE: $1,850
More info on Cargo Box 140 Trailer.
9. Bluebird Electric Trailer
Photos courtesy of Electrail
With a robust design, the Bluebird trailer could be the perfect attachment to your bike that arrives with a spacious trunk and a child seat. So, whichever your needs are, it can swiftly cover them, and then some. With a durable steel frame, waterproof fabric, and rollover protection, in the case of accidents, the Bluebird will keep everything, ranging from your child to your groceries protected. It will remove the strain on your battery life and your bike up to 80 pounds' worth of weight.
It's perfect for a weekend out in the park, even for longer trips where you might've otherwise opted for the car. The speed holds at 15 miles per hour (Mph), and it would be great for a stroll around town to just enjoy the sunshine and fresh air.
PRICE: $1,250
More info on the Bluebird Electric Trailer.
10. Cargo Eurobox Trailer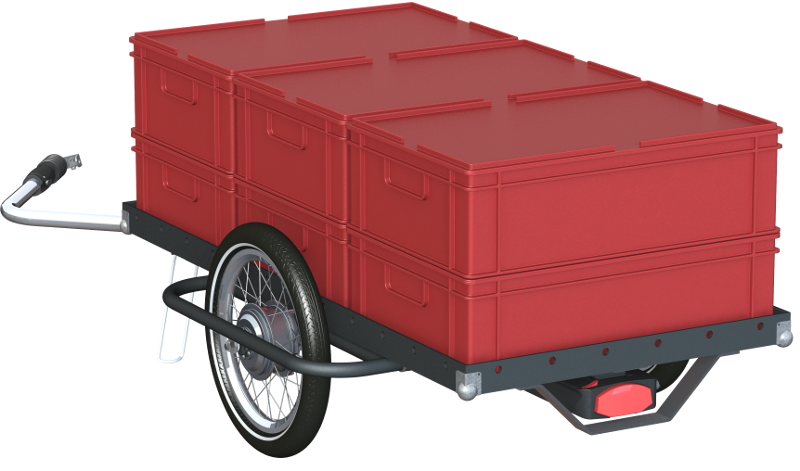 Photos courtesy of Electrail
Made of aluminum and capable of hauling large containers that you might need to be driven around town. That means it's perfect for errands that can carry up to 175 pounds at a steady 15 miles per hour.  On one charge, you can transport your hefty loads around for 6 hours, which is almost enough to cover an entire business day. If anything, the Cargo Eurobox is the peak example that cars could easily become obsolete if only more people embraced the option of picking an e-bike instead.
You won't get anywhere fast, but it's incredibly practical and effortless to haul heavy loads without any strain on your legs or bike. Excuses are out the window.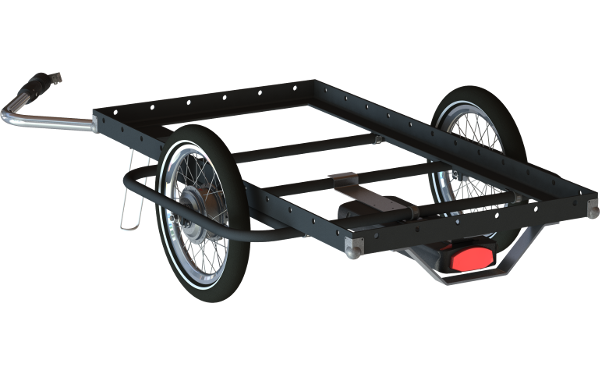 PRICE: $1,900
More info on the Cargo Eurobox Trailer.
If you look hard enough, there are plenty options for an electric trailer that will carry your cargo for you, no matter your needs. It does require quite a generous investment, but it will be well worth it.
Author Bio: Martin Laird is an eco-friendly design expert who customizes quad & bike trailers. He loves exploring the city and its surroundings with his bike and is secretly dreaming of owning his own Haibike XDURO Fatsix. 
P.S. Don't forget to join the Electric Bike Report community for updates from the electric bike world, plus ebike riding and maintenance tips!
Reader Interactions