Electric Bromptons Compared: Cytronex Hub & Pendix Mid-Drive Systems
For the latest installment of our reviews of the many electric Brompton systems out there we bring you a look at a brand new lightweight system from the UK's Cytronex alongside a novel and very simple looking gearless crank drive from Germany's Pendix that has been in production for a while now.
We have already taken a look at systems from Brompton themselves, Nano, Swytch and Velospeeder here as well as following up with a comparison of systems from ARCC and Sparticle here.
With Brompton being one of the world's popular and ingenious folding bikes but also one of the trickiest to electrify, perhaps it's not surprising the attempts to improve on what's already out there just keep coming….
Cytronex Geared Hub Motor
Cytronex have been designing and manufacturing high quality, lightweight, front hub motor electric retrofit kits for bikes for many years.
Early Cytronex systems used NiMH batteries and had a good reputation at a time in the industry when lithium-ion batteries were nowhere near as reliable as today's offerings.
However, 2017 saw a totally new product launched – the C1 – with a major new raft of patented technology, including new lithium ion bottle battery including all of Cytronex's own-design control circuitry, and their new handlebar control button.
Cytronex have just launched their own Brompton specific version of the Cytronex retrofit kit.
As with the C1, they have stayed with a geared front hub motor but a lighter and narrower version that slots perfectly into the Brompton forks.
In a way this is the least interesting and most conventional aspect of the system as all the rest is Cytronex's own design and is manufactured at their Winchester base.
The bottle battery (apparently tested in a metre of water) has a very robust alloy casing and the mounting assembly on the bike is a lovely piece of engineering using a marine-grade stainless steel lever-operated bottle release catch.
The single handlebar button controls all the functions. Both look impressive feats of engineering.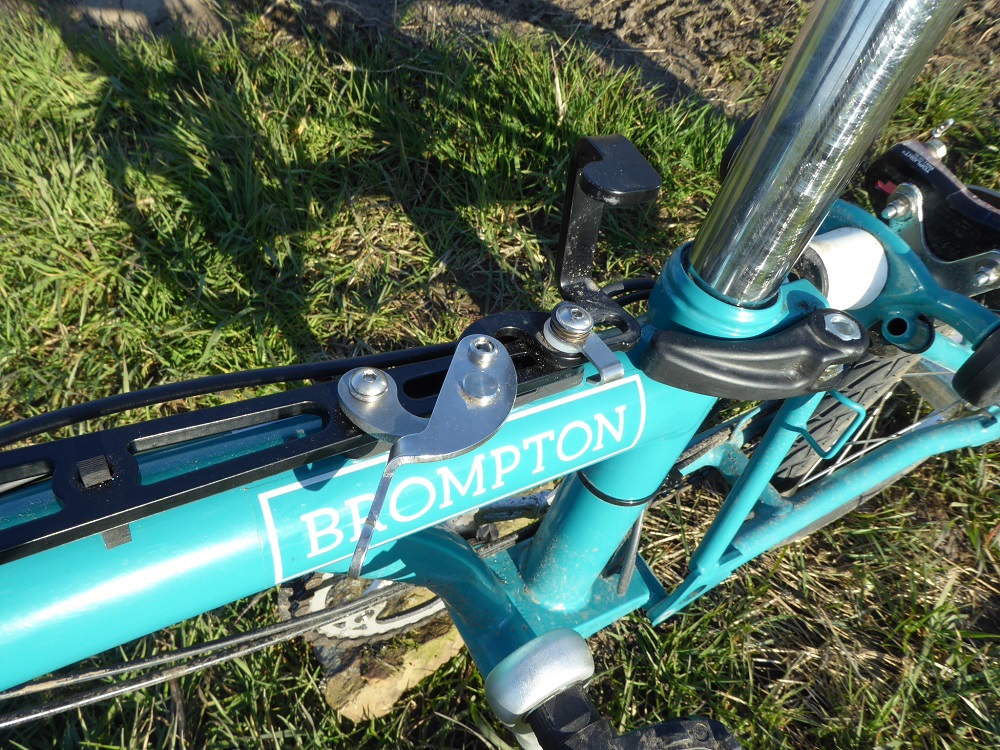 There is also some impressive engineering by the rear wheel sprocket, a small movement sensor, again of Cytronex's own design.
This counts the sprocket teeth as they pass it the aim being to deliver power accurately and smoothly over a good range of speed when allied with the constant current controller.
Cable runs are neat with the wire from the rear cog sensor to the bottle battery running through the inside of the chainstay.
In addition to the single handlebar control button there is also a Cytronex App for PC and Mac to be used in conjunction with the charging base known as the 'Charge Shoe' which as well as being a charger acts as a USB connector, allowing you to connect the bottle to a PC or Mac for useful tasks like altering how much power each of the power levels will deliver or running diagnostic software.
There are two charging options, a 2 amp and a physically bigger fast 4 amp version (the latter costs £43 extra) and is achieved by sitting the battery in the Charge Shoe.
This is a very lightweight system, adding around 3.2kg to our test model, with hardwired mini-LEDs adding around 170g on top of that.
Competing kits that are lighter will almost certainly feature a smaller battery or a less powerful motor, so in terms of power to weight ratio the Cytronex Brompton looks to be at the top of the tree.
Other competition comes in the form of the Swytch which adds around 7.5 pounds (3.4kg) on a recent version I tried, and whilst this is a very cost effective and lightweight solution it lacks the quality and sophistication of the Cytronex.
Cytronex packs a 180Wh battery so it's ahead of the small battery option Nano in a pound-for-pound fight and is at least on a par with the Swytch.
It also trumps the very high quality and sophisticated ARCC system in terms of battery capacity, weight and cost.
Pros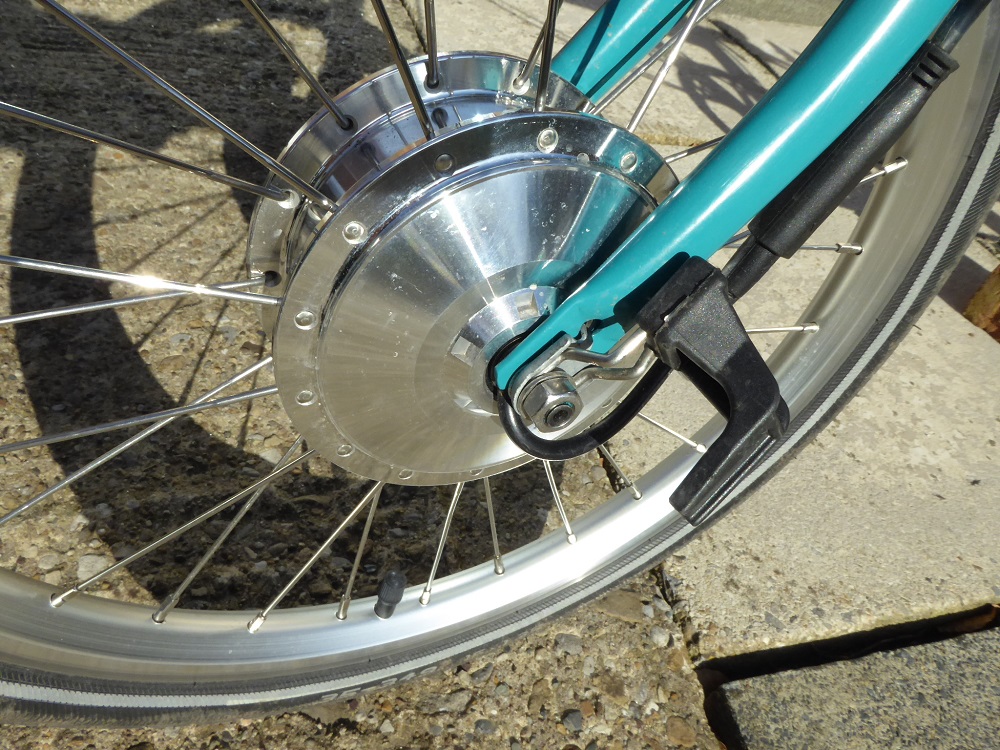 The motor is very quiet in operation and the power delivered smoothly around a second after you start pedalling, as the sprocket sensor kicks into action.
Cytronex say the system could have been set to come on immediately on pedalling, but the delay is a safety feature to stop you accidentally applying power whilst carrying out a U-turn, to give one example.
The sensor is a wonderfully unobtrusive and effective part of the system and looks relatively simple to fit, compared to crank motion and bottom bracket torque sensors which require either crank removal or bottom bracket removal respectively.
I tested it in the UK's Pennine foothills and it sailed up everything put in front of it.
Being a motion sensor system it seemed to benefit from being ridden sportily, or least keeping up a reasonable cadence and as well as the maining good speed over the more rolling hill sections there was also plenty of torque in reserve for the steeper 15% slopes.
The single button operation makes life so simple once you have used it a few times.
On flats and downhills I could knock off the power with a single tap of the control button and I found myself doing this often as the motor is so easy to pedal without power.
Keeping the power button on for a couple of seconds meant I could toggle through the three power levels pretty quickly to achieve just the right blend of human and motor power.
An even longer press meant I could turn the lightweight and highly effective LEDs on and off.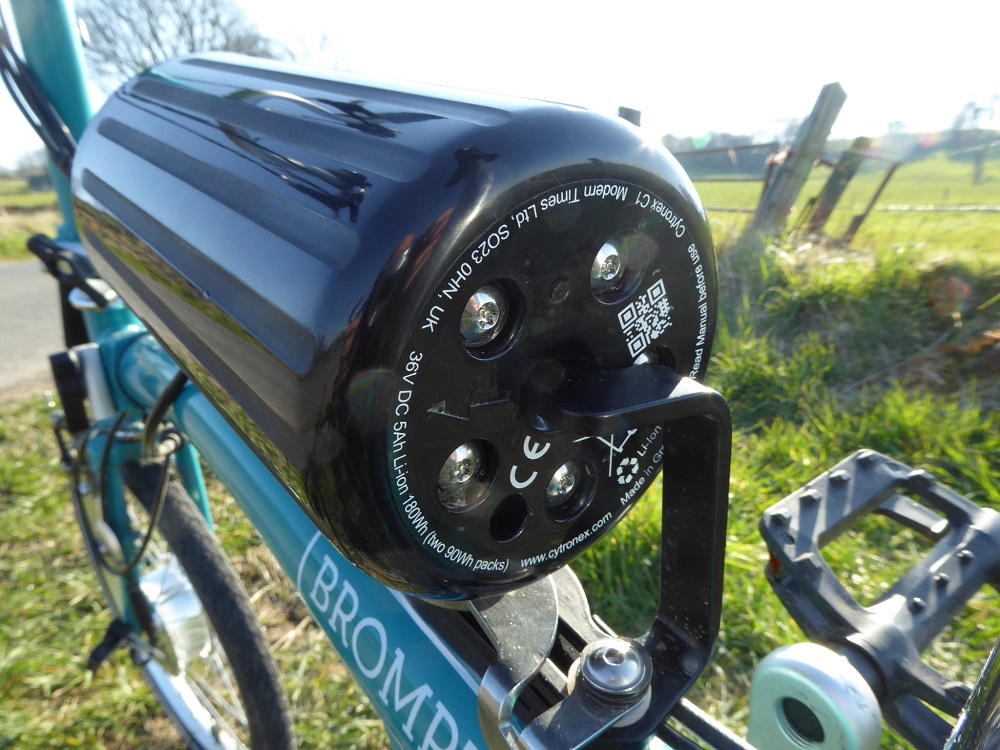 The whole system says easy to use simplicity and simplicity often means reliability. It is so well designed there is no need for the clutter that comes with other systems.
For example a coloured lighting system integrated into the display means you know what power level you are in and so don't need a separate display for this.
The clever and accurate sprocket movement sensing mechanism means that power cuts out in about 15cm of the bike's forward movement.
Apparently the technical requirements only stipulate brake cut-out levers if the system will not cut power within 2 metres of forward movement, so there's no need for troublesome brake cut-out levers which also add complication and clutter.
Cons
The battery is mounted to the top of the Brompton frame and so adds a little to the height of the folded package, but it only slightly sticks up above the height of the seat – note that the test bike was a Brompton B75 which features an extended seatpost that sticks up higher than usual when the bike is folded down.
There will be riders who prefer the immediate response from a torque sensor despite the extra cost and complication it involves for retrofit kits.
And in any event the Cytronex system is still pretty responsive with power kicking in quickly and cutting out equally fast once you stop.
If an effective walk assist function for hill starts could be easily integrated into the single button control, it would be a near-perfect power delivery package for a lightweight Brompton.
If you are very heavy or regularly tow big amounts on a Brompton a throttle operated beefier model like the Sparticle could be well worth adding to your list of possible choices.
I had a few specific but fairly minor quibbles.
For such a high quality system the battery guarantee of a minimum 60% capacity after one year or 300 charge cycles (whichever is the sooner) is slightly disappointing.
Cytronex say that the same warranty is still applied to the original Cytronex system and there are batteries in use today that are 12 years old.
Cytronex also add that since the lifespan of the new battery packs looks to be very good, they are likely to increase the warranty to at least 2 years.
I've already mentioned lack of a hill start function and if this could be added along with a smartphone version of the app to allow you to change power profiles on the go it would enhance what is an already extremely impressive system.
From £1,073.
Order details here.
Summary
Probably the lightest and most efficient Brompton retrofit system out there and one that looks like it is made to last and last.
Pendix Gearless Mid Drive
Pendix is a German designed and manufacture system and has been around since 2016 and gained a steady stream of adherents since it was introduced in 2016, primarily because it is such a clean looking and simple to operate system.
It consists of only two main components, the bottom bracket mounting, gearless 48V motor and the frame mounting battery.
Fitting requires replacing the bottom bracket as the power is delivered via a bottom bracket torque sensor that is integrated into the kit.
There are several battery size options from 140Wh to 2 x 500Wh batteries. My test bike with the system ready fitted came with a 307Wh battery.
Keeping with the lovely clean design appearance and simplicity of use the power levels are changed by twisting the large dial on the end of the battery and a circular light on the battery tells you the state of charge, starting at green when it is full and going through amber to red for nearing empty.
Despite the apparent simplicity it must be fitted be an approved installer as detailed on the Pendix dealer site (Europe only).
Pros
There is a lot to like about the Pendix system. It suits the Brompton and other folders in several ways.
There are no cable runs to bend or get caught during folding and it is one of the few mid-drives that will fit just about any frame without any kind of modification being required.
Nor should it add much to dimensions of the folded package.
On the Brompton the final folded size with the Pendix fitted is 64cm x 59.5cm x 38cm as compared to 60cm x 59.5cm x 28cm for an unelectrified Brompton.
The quality of the manufacturing looks extremely solid indeed, with alloy casing on all exposed parts and a very sleek and quick twistlock type system for mounting and removing the battery in the battery holder.
The battery holder itself was also securely mounted onto the frame with plastic coated jubilee clips.
There was no rattling or detectable movement of the battery on the frame whilst riding.
As with all gearless systems the power is delivered virtually silently.
Cons
I found power delivery somewhat 'choppy' compared to the norm for torque-sensing crank drive systems which are often very smooth.
When in the highest 'Sport' mode setting the power delivery was occasionally came in so suddenly that it kicked the pedal out from underneath my foot – the left crank appears to actually be part of the motor, so if the motor doesn't stop immediately you stop pedalling, as happened occasionally, the cranks continue to drive your feet around when you don't want them to.
It's an infrequent problem but it's impossible to predict just when it will happen, though pedaling slowly and smoothly seems to help alleviate it.
Despite this, the motor itself was also noticeably weaker than most other systems on very steep hills. That is not to say that it wasn't worth having as it most certainly was, especially in the top setting.
Nor did it appear to be the most efficient system; I estimate my range would be around 20 miles from the 307Wh battery.
You may get better figures in less hilly country (I tried it in the UK's Pennines hill range) and also with lower gearing than the 50 tooth chainwheel gave on the six speed test Brompton it came fitted to.
Using the top power setting much of the time also meant lower range of course.
The overall weight of bike and battery is 42.2 pounds/19.14kg (or 37.3 pounds/16.94kg without the very easily removable 4.9 pounds/2.2kg battery).
The kit came on a Brompton whose unelectrified weight is 26 pounds/11.8kg, so the Pendix kit adds in the region of 16.4 pounds/7.43kg.
This certainly means you will notice the weight of the folded package, even with the battery removed, especially when lifting it above waist height.
Unfolded it's a different story; despite the extra weight it is nicely distributed so it doesn't affect handling or carrying it by your side, for example up steps, too much.
Summary
If you want a really well made and beautifully designed system and aren't put off by the relatively heavy weight and lack of raw power up steep hills the Pendix is a very neat solution for electrifying your Brompton.
From £1,649.
More details about the system and UK stockists here.
Stay tuned for more e-bike news and reviews and thanks for reading!
-Rich
P.S. Don't forget to join the Electric Bike Report community for updates from the electric bike world, plus ebike riding and maintenance tips!
Reader Interactions