Electric Bike Shops: Tips On Safer Battery Charging [VIDEO]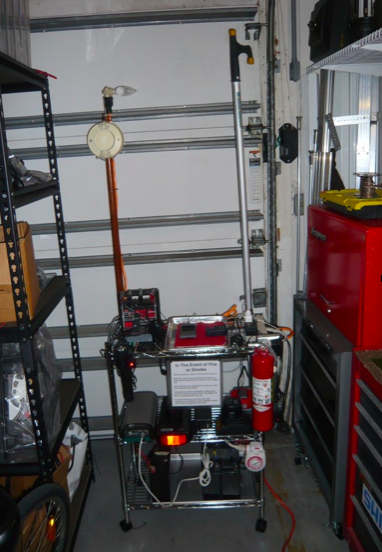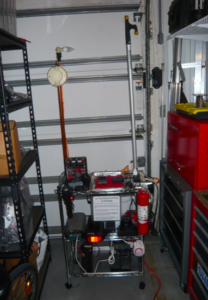 By Edward Benjamin, Lead Instructor of the Light Electric Vehicle Association Technician Training.
Electric Bike Batteries rarely catch fire. But when they do, it can be a serious danger and problem. Lithium batteries are not easy to extinguish, and both training and preparation is needed to reduce the hazard.
Cases of ebike battery fires are very, very rare at home. But in the bike shop, where damaged and defective batteries can be expected, with customers bringing their 'problem' batteries to the service center — extra care is needed.
In too many cases, ebike batteries are charged while laying on a wooden workbench, and left on charge overnight.
A better plan is to charge them on a surface that cannot catch fire. And one that can be quickly removed to the outdoors if needed. And equipped with a timer to prevent charging at night.
The photo shows a simple, inexpensive, battery charging cart that cost less than $100 to assemble and equip, using chargers, smoke detector, timer, fire extinguisher, and other items that are already on hand in most shops. This cart is pictured being used to charge drill motor batteries, iPads and phones — in an excess of caution.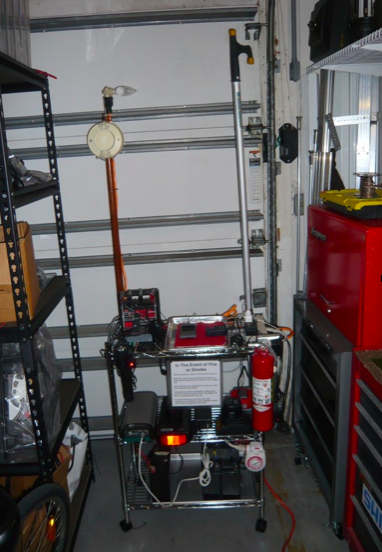 The strategy is simple: In the event of a smoking battery or fire, the door behind the cart would be opened, the cart pushed on its wheels out the door, and the fire extinguished using the pictured equipment.
In response to prompting from Hannes Neupert, who makes a practice of deliberately setting fire to lithium batteries on a regular basis (yes, really), I want to add this caution:
When a battery lights off, with flames and gushing smoke, the fumes are very dangerous.
Neupert's advise is to get out of the building immediately, and call the fire department. He says that the fumes can result in incapacity very quickly. That seems like good advice.
I note that anecdotal reports, and observed tests,  indicate that batteries in the bike shop will often smoke for some time before lighting off, if they do light off. In some cases, they will just smoke. In the event of a smoking battery, the smoke alarm should sound before there is more than a trace of smoke. This should give time to get the cart out of the door. Another indicator of a possible impending fire is a bad smell coming from the batteries. Remember that these fumes are dangerous and you should avoid them, and evacuate / ventilate any room that is contaminated with such fumes.
So in the event of any smoke, stink, or suspicions of such, get the cart out the door and / or be ready to evacuate immediately. If you fight the fire, and if it is out of doors you can wait for the fire department, do it outdoors.
And I want to bring attention to the timer. That timer presents the cart from having current, thus unable to charge, during the hours that there is no one in the shop area. This may make the timer the most important bit of safety equipment on that cart.
It is important that the staff be trained in how to extinguish a lithium battery fire and here is an excellent video on this:
This cart has the following equipment:
A simple steel cart that is open mesh, allowing easy routing of wires and easy use of zip ties. The wheels pictured are smaller than I would like, and next visit to the hardware store will correct that.
Current to the cart is supplied by a 20 foot extension cord. This is long enough to allow the cart out the door, and it should come unplugged very easily (I greased the prongs with dielectric grease), but even if it does not unplug effortlessly, it will get the cart far enough away from the building.
A pole with a smoke detector mounted on it, to keep the detector over the batteries. Also on that pole is a light that illuminates whenever the cart has power to the chargers.
A boat hook, easily pulled off the cart. This is ideal for pulling or pushing the cart if it is too involved in flame and smoke to approach.
A timer that will automatically turn off the current after 6 hours.
A sign that instructs what to do in the event of a fire.
Small fire extinguisher.
Larger fire extinguisher and bucket for water (to cool batteries after flames are out, to prevent re-igintion) that are kept some distance from the cart. If the cart was involved in heat, flame, and smoke, it might be impossible to safely reach the attached extinguisher.
Thank you to Edward Benjamin, Lead Instructor of the Light Electric Vehicle Association Technician Training, for these tips on safer battery charging.
If you are interested in attending the LEVA E-Bike Technician Training, here is my report from attending the training.
Mr. Benjamin has also written the following helpful e-bike tech articles:
Electric Bike Battery Fires and How to Prevent Them
Battery Care & Tips for E-Bikes
Electric Bike Motor – How Much Power Do You Need?
Glossary of Electric Bike Terms
P.S. Don't forget to join the Electric Bike Report community for updates from the electric bike world, plus ebike riding and maintenance tips!
Reader Interactions