Electric Bike Research? Your Input Can Help Improve E-Biking in the US!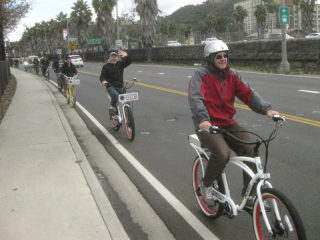 Electric bikes and the e-mobility sector is a new and emerging way of sustainable transportation.
John MacArthur and his team from Portland State University are currently researching e-bike use and they want to hear from you about your e-biking experience!
This project aims to gain greater understanding of how e-bikes can be integrated into a sustainable transportation system in the US.   The project has two primary objectives: (1) Understand people's perceptions and attitudes of e-bikes; and (2) Evaluate the use of e-bikes by potential users to determine if these bikes could encourage new bike users.
Mr. MacArthur "The research on the topic of e-bikes is small and so is the awareness of people about the bikes, especially at the local agency level.  The purpose of the survey is to determine the profile of the type of people that have purchased e-bikes, why they purchased an ebike and how they use it.
Further research will be on how can these bikes be used to increase the levels of biking.  In addition to this project, we are about to launch an e-bike trail in the Portland region.   PSU has 30 e-bikes and will be giving them to 120 people to test ride for a month.  We are hoping to learn their perceptions of e-bikes, how they will use the bikes and why."
So, if you are an e-biker in the US and have experience purchasing and/or riding e-bikes please share your experiences in this online survey.
The online survey will ask questions about your e-bike purchase and your use of e-bikes to better understand the barriers to wider electric bike use.
You have valuable information that can contribute to exciting research on e-bikes!
Please follow the link to the online survey:
https://tinyurl.com/e-bike-survey
Thanks!
Please pass on the link to the survey to your fellow e-bikers!
P.S. Don't forget to join the Electric Bike Report community for updates from the electric bike world, plus ebike riding and maintenance tips!
Reader Interactions