Trip Report: Touring Electric Bike Factories in China – Part 1
I was recently invited by ExtraEnergy and the China Bicycle Association to tour electric bike factories in China and to take a closer look at the Chinese e-bike market.
How could I say no?!
It was an honor to be invited on this tour with many e-bike experts in attendance and I quickly said "Yes, I'll be there!".
The Chinese e-bike market has been rapidly developing domestically in addition to increasing it's export volume of electric bikes to Europe, the U.S., and other countries.
The Chinese electric market is the largest in the world in volume of electric bikes. It makes the European market look small and the U.S. market tiny in comparison.
It is very impressive to see so many people using electric bikes as daily transportation. My dream is that we will see this in many other parts of the world in the near future.
A lot of the "electric bikes" in China are the scooter style e-bike that may or may not have pedals.
Traditionally electric bikes in China have been used for pure transportation because they fill a niche between a traditional (non-electric) bike and a car.  The lead acid bikes are relatively low cost and they can get people around with little to no sweat and they have the ability to maneuver through congested traffic quickly.
One of the problems with these bikes is that the lead acid batteries are not very environmentally friendly compared to lithium batteries that have a significantly longer life span.
Changes to the Chinese electric bike market are on the horizon and they are focused on reducing the number of lead acid e-bikes being produced. The Chinese Bicycle Association is encouraging the production of more pedal assist electric bicycles (pedelecs) with lithium batteries that have a price point of around $1,000 USD. The government has a 5 year plan to grow higher quality lithium battery bikes to be a 1/3 of the bikes on the market.
The timing for this seems to correlate with a growing number of riders purchasing higher quality bicycles for sport and recreation. During the tour I saw groups of these recreational riders enjoying a ride.
The purpose of this "Study Trip" was to become more familiar with the change that is taking place in the Chinese e-bike market.  A lot of the trip focused on visiting e-bike and battery factories along with meetings with the company management to discuss the future of the Chinese market. We also learned more about the market from the CBA (China Bicycle Association) and TBA (Tianjin Bicycle Association).
One important point that was brought up was that the China Bicycle Association would like input from the international bicycle industry regarding the design, production, and promotion of these higher quality electric bikes (pedelecs) for the domestic Chinese market.
In this first part of the report from the trip you will get an introduction to the companies and factories that we visited during the tour in addition to list of the members of the tour.
The tour focused on factories and companies in the Shanghai and Tianjin areas.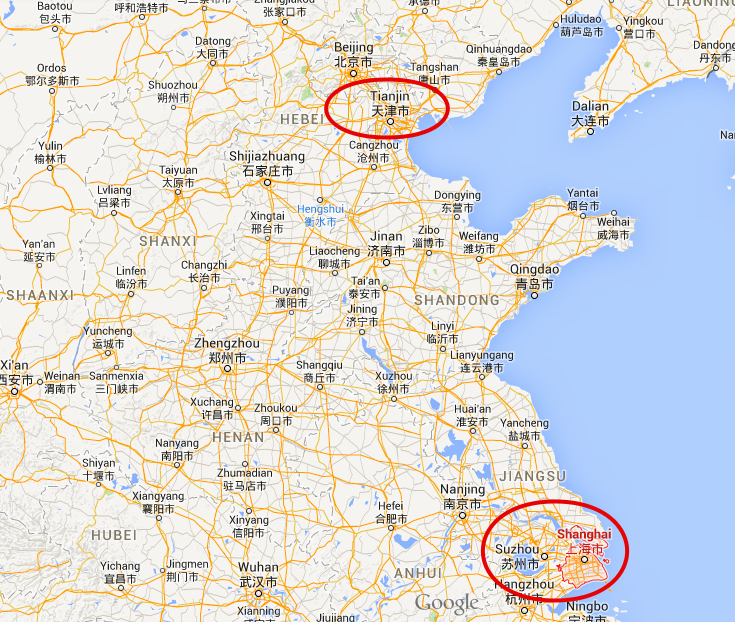 The following is a brief introduction to the companies that we visited. Here is the report from our visit to Giant Bicycles, Golden Wheel bicycles, and Yadea electric bikes.  Stay tuned for more in depth reports on the other companies.
Shanghai Area Factory Visits
Tianneng Battery. They currently make a lot of lead acid batteries but they are in the process of scaling up their production of lithium batteries.
Giant Bicycles. A large manufacturer of electric and traditional bikes for the world market. They also make bikes for other bicycle brands.  Here is the report from our visit to the Giant Bicycles factory.
Bafang (8FUN) Motor Company. They make front and rear hub motors and mid drive systems for many electric bikes that are sold all over the world. I had a chance to ride their new Max mid drive system when we were there. Stay tuned for more on this system.
Yadea Electric Bikes. They are one of the larger electric bike brands in China. They had a grand opening for a new facility when we were there. It was very impressive.  Here is the report from our visit to the Yadea facilities.
Phylion Battery. They supply lithium e-bike batteries and they are providing a diagnostic system that can send data to the cloud to make troubleshooting battery issues easier for dealers, brands, and Phylion.
Once we completed our tour of Phylion we hopped on a speed train to Tianjin (near Beijing) to visit more factories.
Tianjin Area Factory Visits
Tianjin Titanium Frame Company. They make a wide variety of titanium frames, including titanium fat bike frames. They said that they are working a titanium mid drive frame.
King Meter Display Company. They provide a lot of displays for electric bikes that are sold around the world. Their new stem display is very interesting.
Golden Wheel Bicycle Company. This is an impressive bicycle company. They melt aluminum blocks and create their own frame tubes which are then welded together to create the frames! They also make carbon fiber frames. That is all in addition to making handlebars, seats, suspension forks and they have many impressive bicycle assembly lines.  Here is the report from our visit to the Golden Wheel Bicycle Factory.
Lishen Battery. They supply lithium batteries to electric bike companies but they are mostly known for supplying batteries to Apple, Samsung, Motorola, LG, Dell, HP, Microsoft, etc.
Aima Bike Company. This is another large electric bike company that focuses on the Chinese market. Some of their assembly lines are producing 3 bikes a minute!!!
Flying Pigeon Bike Company. This is one of the old bicycle companies in China with the roots of the company going back to 1936. They produce 1.5 million bicycles per year!
China North International Cycle Show. For the final part of the trip we attended this trade show that focuses on the Chinese domestic bicycle and electric bike market. Many electric bicycles, e-scooters, and e-trikes were on display and there were a number of electric bike presentations.
Members of the Tour
The members of the tour all had a wide range of e-bike experience and it was great to be able to learn from their expertise during the bus rides between factories and companies.
Here is a list of the members of the tour:
Hannes Neupert, Jean Chen, Reno Heßlich, Carolin Springer (all from ExtraEnergy)
Marco Klimmt (Brose)
Rüdiger Nierescher (EnergyTube)
Tilmann Künzel (Cyberwan Ingenieurbüro/ETTRAK)
Susanne Brüsch (Pedelec Adventures)
Sascha Nachtnebel (Greenfinder, N8 Business Development)
Benson Guo (TUVRheinland)
Dr. Mo-Hua Yang (HiTech Energy)
Wasilis von Rauch (e-Rad Hafen)
Donatas Nekrasius and Justinas Cerniauskus (Baltik Vairas Bicycles)
Tora Harris (Juiced Riders)
ShiGuang Yu (technology development of China Bicycle Association).
More Reports
Here is the report from our visit to Giant Bicycles, Golden Wheel bicycles, and Yadea electric bikes.
Stay tuned for more reports of the factories and companies that we visited.
Here's a quick video from the Golden Wheel assembly line.
-Pete
P.S. Don't forget to join the Electric Bike Report community for updates from the electric bike world, plus ebike riding and maintenance tips!
Reader Interactions