E-Bike Factory Tours in China: Aima & More, Plus China North Bike Show – Part 5 [VIDEOS]
In this final report from the ExtraEnergy and CBA e-bike industry tour of China you will get a closer look at a few more bike & e-bike manufacturer's along with some pictures of the e-bikes and e-scooters from the China North Bike Show.
Here's an intro to the manufacturer's that we visited.
Aima is one of the larger electric bike manufacturer's in China. They made 4 million e-bikes
last year!
Flying Pigeon is a classic bicycle company from China that has roots going back to 1936 with some serious brand recognition.
Tianjin Titanium Frames makes beautifully exotic titanium frames. They are working on a titanium mid drive frame.
At the China North Bike Show there were a bunch of electric bicycles, e-scooters, and electric 3 wheelers on display. There was also the interesting Honda Uni-Cub mobile office chair…..
Make sure you checkout the introduction to the e-bike factory tours in China, the report from touring the Giant Bicycles, Golden Wheel, and Yadea e-bike factories, the report from 3 e-bike battery factories, and the report from Bafang Motor Company and King Meter display.
Aima
Aima is one of the largest bike & e-bike brands in China. They produced 4 million e-bikes last year!
The company was established in 1999 and they started with electric bikes in 2004 and they have risen to be one of the dominant e-bike brands in China. They also make a wide variety of conventional (non-electric) bicycles.  Aima employs more than 7,000 people!
There are 4 Aima production facilities in China: Tianjin, Wuxi, Taizhou, and Dongguan.  We visited their facility in Tianjin and it was well organized and very clean.
This is just one of the factory buildings on the large Aima complex.
Here are some examples of the Aima scooter style e-bikes in their showroom.
More stylish scooter style e-bikes!
Aima did have a line up of electric bicycles with lithium batteries on their showroom. They also indicated a growing market for these types of electric bicycles in China.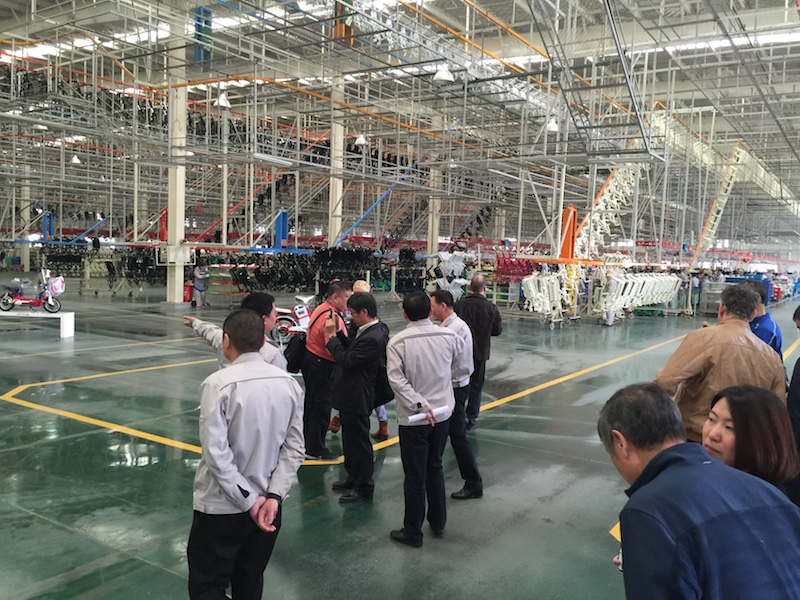 The Aima assembly lines building was very impressive! Compared to the other factories that we visited, Aima had the cleanest and well organized facility.
There are lines of frames that move along a conveyor system above the assembly line floor which are then fed into the assembly line when they are ready.
The assembly line had employees on either side quickly doing their specific job to move the bikes down the line.
In the foreground you can see a few bikes that just finished the assembly line. Beyond you can see that there are multiple assembly lines in this one building. Aima is making 3 e-bikes per minute at their facilities!
Flying Pigeon
Flying Pigeon is one of the older bicycle companies in China with it's beginnings going back to 1936.  The company has deep roots in China's bicycle history. As of 2007, an estimated 500 million Flying Pigeon bicycles had been made!
Here is an interesting excerpt from Wikipedia about Flying Pigeon:
The Flying Pigeon was at the forefront of the bicycle phenomenon in the People's Republic of China. The vehicle was the government approved form of transport, and the nation became known as zixingche wang guo, the Kingdom of Bicycles. A bicycle was regarded as one of the three "must-haves" of every citizen, alongside a sewing machine and watch – essential items in life that also offered a hint of wealth. The Flying Pigeon bicycle became a symbol of an egalitarian social system that promised little comfort but a reliable ride through life.
Throughout the 1960s and 1970s, the logo became synonymous with almost all bicycles in the country. The Flying Pigeon became the single most popular mechanized vehicle on the planet, becoming so ubiquitous that Deng Xiaoping — the post-Mao leader who launched China's economic reforms in the 1970s — defined prosperity as "a Flying Pigeon in every household".
We visited their showroom but unfortunately we were not able to view their factory areas. A lot of the bikes on display were conventional (non-electric) bikes but Flying Pigeon does make a good selection of electric bicycles too.
Flying Pigeon has an impressive line up of their bikes from years past. They have a wall that documents their many years in  business.
Here is one of their classic bikes with front suspension and brakes that use a mechanical metal rod system instead of cables.
This is one of their fillet brazed steel framed bikes that they had on display. This type of frame construction takes a significant amount of time because the brazed joints need a lot of filing.
A close up of the fillet brazed steel tubes. The frame has been clear coated to show the fillet brazing and the discoloration from heating the steel tubes.
Tianjin Titanium Frames
As part of our tour we also visited the Tianjin Titanium Frame Company.
Titanium frames are pretty exotic and are usually reserved for the upper end sport focused bicycles. Titanium frames are lightweight and they have a "springy" ride characteristic like steel frames but with the ability to absorb more shock from the road or trail. They are generally pretty expensive because the construction process takes significantly more time.
Tianjin Titanium did say that they are currently working on a mid drive titanium frame.
We were able to take a look at their showroom floor with a healthy selection of frames and titanium tubes on display. Unfortunately we were not able to view their factory.
Here is one of their titanium frames for a fat bike.
Titanium frames also look very cool! The tubing has a nice color and the welds, if done right, are very clean and minimal looking.
This titanium frame showcased their ability to provide different finishes and styles.
A look at the solid looking titanium dropouts.
They also had a number of different titanium tube shapes on display. It's also impressive to see what kind of curves they can add to these tubes.
China North Bike & E-Bike Show 
At the end of our e-bike industry tour we were able to attend the China North Bike and E-Bike show. It was held in Tianjin and it is mainly for the Chinese domestic market.
During the show there were several presentation on the electric bike and LEV industry.
In this picture Hannes Neupert from ExtraEnergy presented on the future of e-bike & LEV technology. In addition, Bosch presented on the internet of things and how their LEV systems will fit in, Wasilis von Rauch presented on the future of the electric cargo bike market, Rüdiger Nierescher presented their EnergyTube universal battery, and Tilmann Künzel presented the ETTRAK system that is a vending service for EnergyTube. And that is just a few of the presentations, there were more!
The following pictures are some of the e-bikes, e-scooters, and e-trikes that stood out at the show. I don't have a lot of information about the bikes but they may be of interest just in regards to their design.
I did notice that a lot of e-bikes had batteries integrated into the downtube of the frame. This one is released from the side and rotated out.
Here's a nice step thru frame with an integrated downtube pack.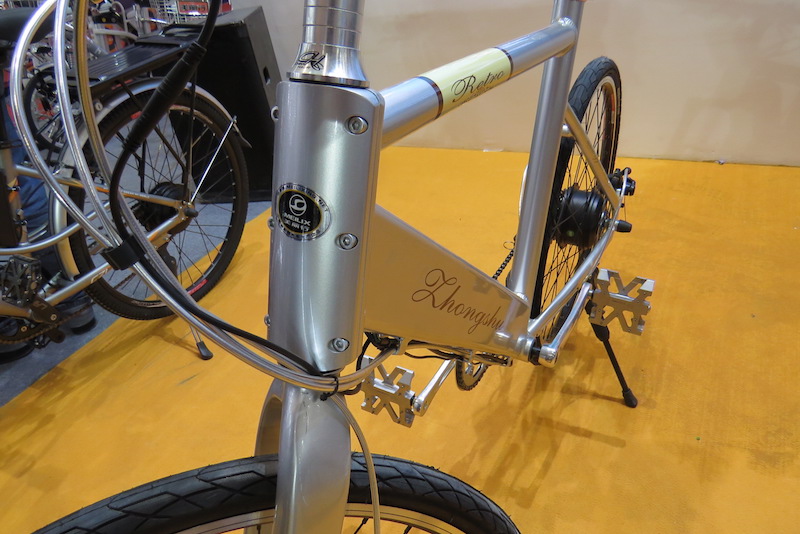 On this bike the battery is removed from the downtube by removing the headtube faceplate and fork.
A full suspension e-mtb with a battery in the downtube.
Battery on the downtube.
Another step thru with battery in the downtube.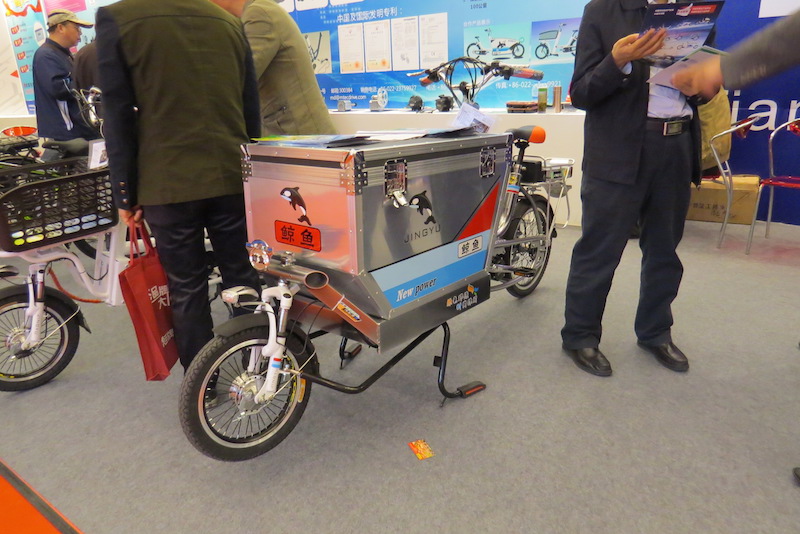 There were a few electric cargo bikes on display. This one had some similar attributes to one of the Urban Arrow e-cargo bikes.
Another e-cargo with a large front basket.
And of course there were a healthy array of electric fat bikes.
An easy to ride step thru.
This one certainly looks familiar………Specialized Turbo 🙂
I have shown mainly electric bicycles but there were TONS of scooter style e-bikes at the show.
More e-scooters.
Honda had this futuristic and somewhat retro style e-scooter on display in a plexiglass box (hence the bad picture quality).
This is a strange mobile seat that Honda also had on display in a plexiglass box. It's called the Honda Uni-Cub and here's a music video that Honda was showing to demonstrate what the Uni-Cub can do:
Electric 3 wheelers were also popular at the show. This is an e-trike with a dump truck back end.
This is an electric 3 wheeler that carves into corners as the main frame tilts.
That's a Wrap!
I hope that these reports from the ExtraEnergy and CBA e-bike industry tour have given you a closer look at the industry and market in China.
It is amazing to see how many people use electric bikes on a daily basis in China. It was also very interesting to learn and see the growth of the pedelec style bike with lithium batteries in the Chinese market.
Stay tuned for future reports on the Chinese e-bike & LEV market.
Make sure you checkout the introduction to the e-bike factory tours in China,the report from touring the Giant Bicycles, Golden Wheel, and Yadea e-bike factories, the report from 3 e-bike battery factories, and the report from Bafang Motor Company and King Meter display.
-Pete
P.S. Don't forget to join the Electric Bike Report community for updates from the electric bike world, plus ebike riding and maintenance tips!
Reader Interactions