Electric Bike Company Model C Review Part 2: Ride & Range Test [VIDEO]
After many miles of testing the Electric Bike Company (EBC) Model C it has proven to be a fun and comfortable eCruiser with a focus on durability and customization.
EBC designs and assembles their eBikes in California for quality control and that is very noticeable when riding the the Model C.
It has a high quality, durable, and stable ride feel that is a big highlight of this fun and zippy beach cruiser style eBike.
Keeping things simple is another distinct characteristic with features like the single mechanical gear, 5 electric speeds, and built in charger.
The Electric Bike Company Model C & S start at $2,299 with many customization and accessory options to choose from.
In this second part of the full review you will get an idea of the ride characteristics, range test results, pros, cons, and overall thoughts on this electric bike.
Make sure you check out part 1 of this review with large pictures and specifications to get a detailed look at this e-bike.
What you can expect from the Electric Bike Company Model C:
To get acquainted with the Electric Bike Company Model C, checkout this video:
Riding the Electric Bike Company Model C

:
Overall there are some characteristics of the EBC Model C that really stand out when riding this eBike. To summarize they are:
Fun, relaxed, comfortable, and durable ride feel
Wide range of performance between easy going to fast and powerful
Easy and simple to ride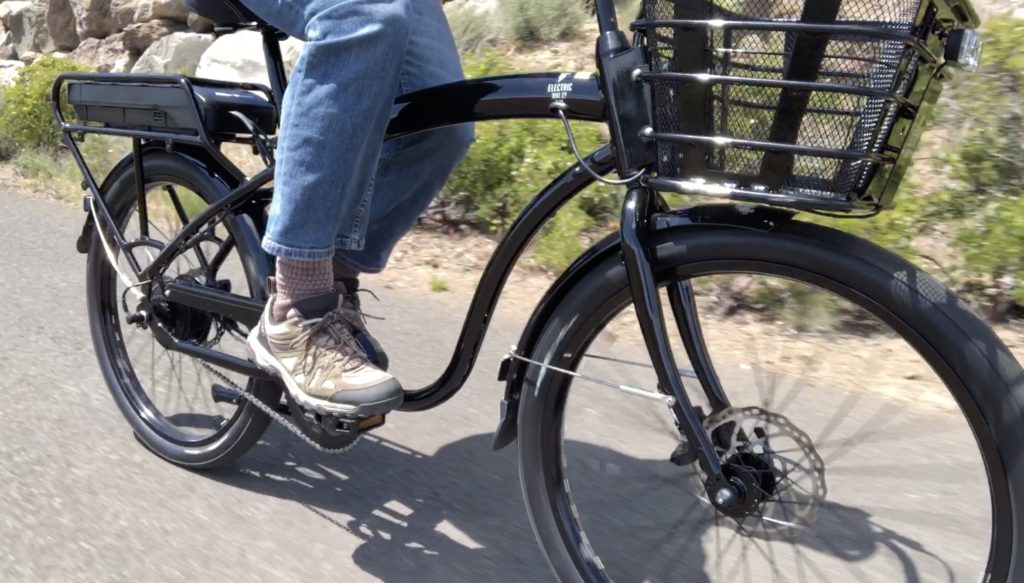 The Look & Feel of the Electric Bike Company Model C
With its classic beach cruiser styling the Model C has an easy going look and feel with a focus on having fun.
The classic look of this eCruiser resonates with a lot of people. During the time I was riding it around town many people commented on how good the Model C looks.
The curvy frame design, swept back handlebars, balloon style tires, and comfortable seat all add up to the classic look and relaxed ride feel of a beach cruiser, but with some electric kick!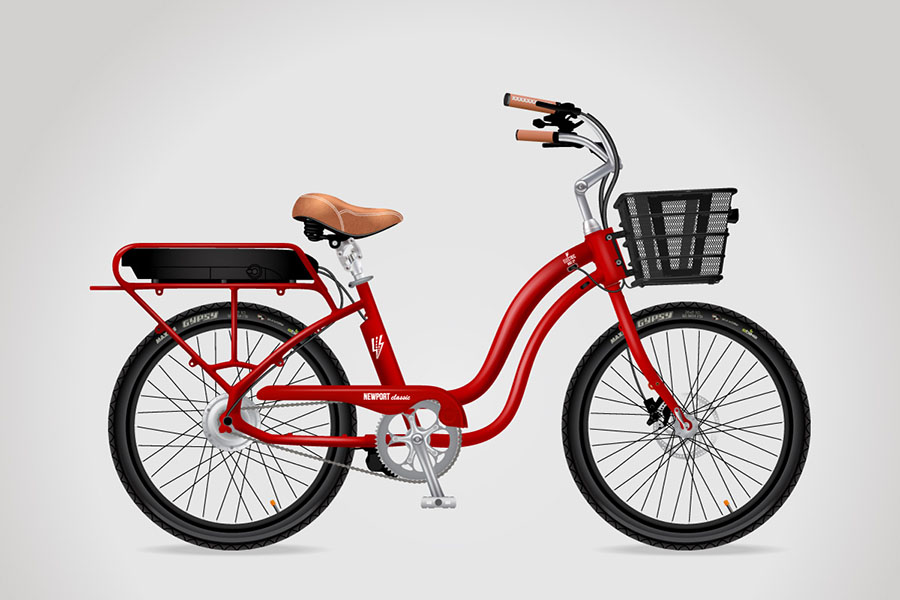 EBC states their Model C & S (step-thru) will fit riders in height between 4′-8″ to 7′-0″ with the adjustability of the handlebar stem and adjustable seat post.
The step-thru frame is easier to get on and off and it adds more curved tubing style!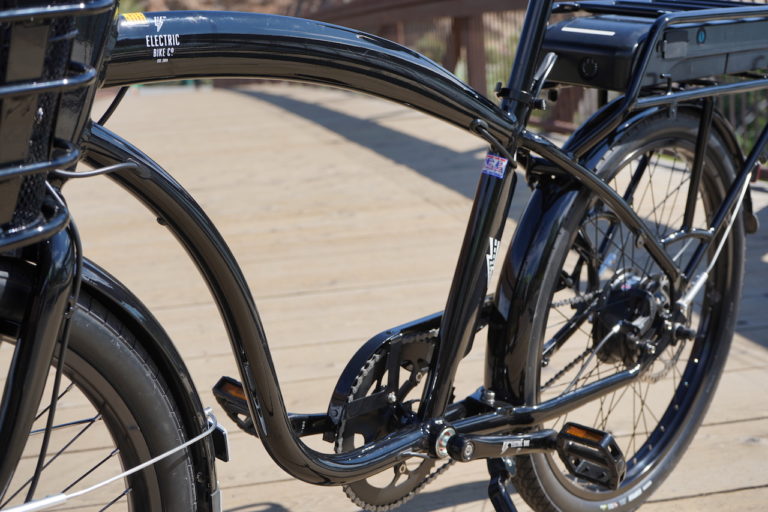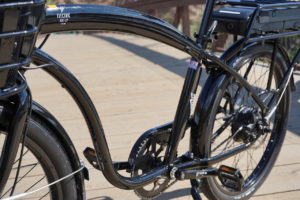 One ride characteristic that really stands out is the durable ride feel that comes from the sturdy frame construction and a selection of quality parts.
It is also attributed to quality assembly of their bikes at their facility in California. EBC even builds their own wheels for extra quality control.
In addition, the bike was delivered fully tuned and almost completely ready to ride. There was just a small amount of packaging to remove and the bike was ready to ride after rotating the handlebars 90 degrees.
The foundation of the Model C is the hydroformed 6061 aluminum frame that has curved tubing to create the cruiser styling and place more material where it is needed at the high stress areas.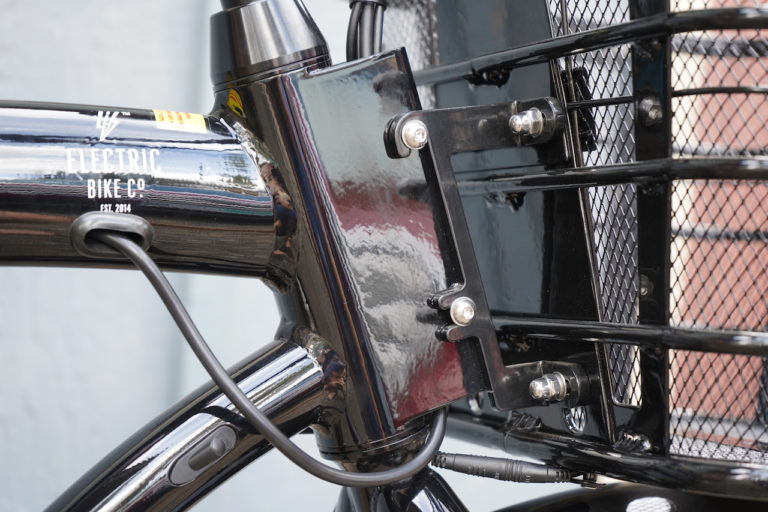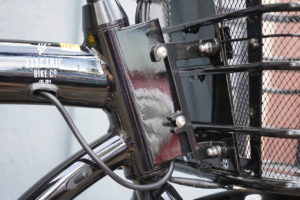 For instance there is the sturdy connection point of the basket to the head tube.
The front basket is an optional accessory that matches and really balances the look of the bike with the rear rack.
Like the frame, the basket has very durable construction to carry up to 65 pounds of cargo.
When riding the bike it takes a little while to get used to the basket not moving (with its frame mount) when the front wheel turns!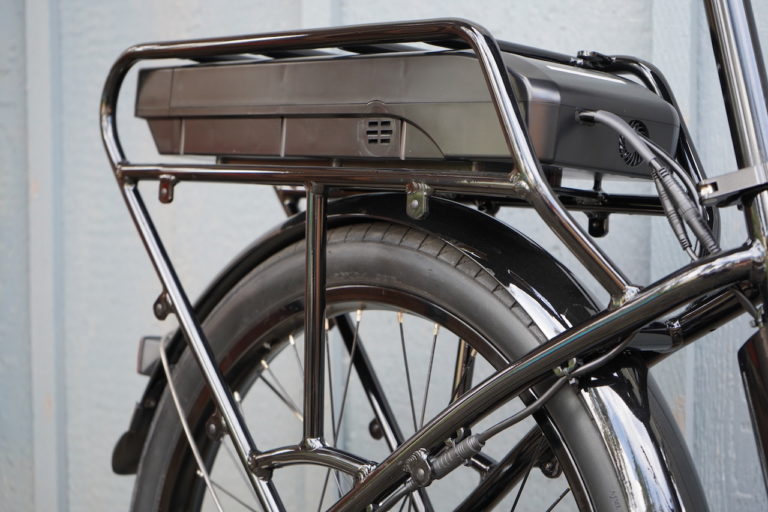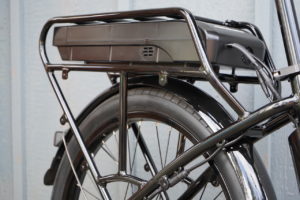 Similarly the rear rack is a big component of the bike with it being welded to the frame with many structural tubes for a very solid feeling.
It houses the battery and charger within the rack frame and it is also designed for carrying a lot of cargo with accessory options like a basket, saddlebags, and a surfboard rack!
The battery & charger in the rear rack with the rear hub motor does make the Model C a bit back heavy.
The battery location in the rack is a bit high but because the rack is welded to the frame there is not any noticeable flex compared to bikes that have a bolted rear rack connection.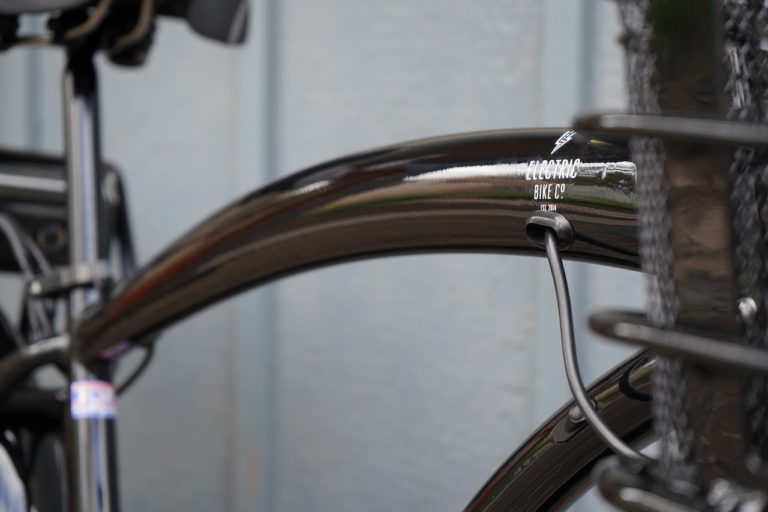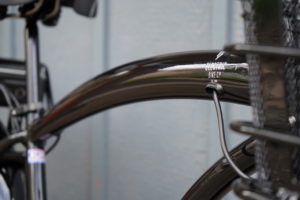 Another frame highlight is internal cable routing for a clean look and cable protection.
Like the frame, the steel fork has the curved tubing look that adds to the classic cruiser look.
With all of the structural detailing and accessories this is not the lightest electric bike out there.
It is 68.2 pounds with the optional basket & fenders and 60.7 pounds with the battery removed.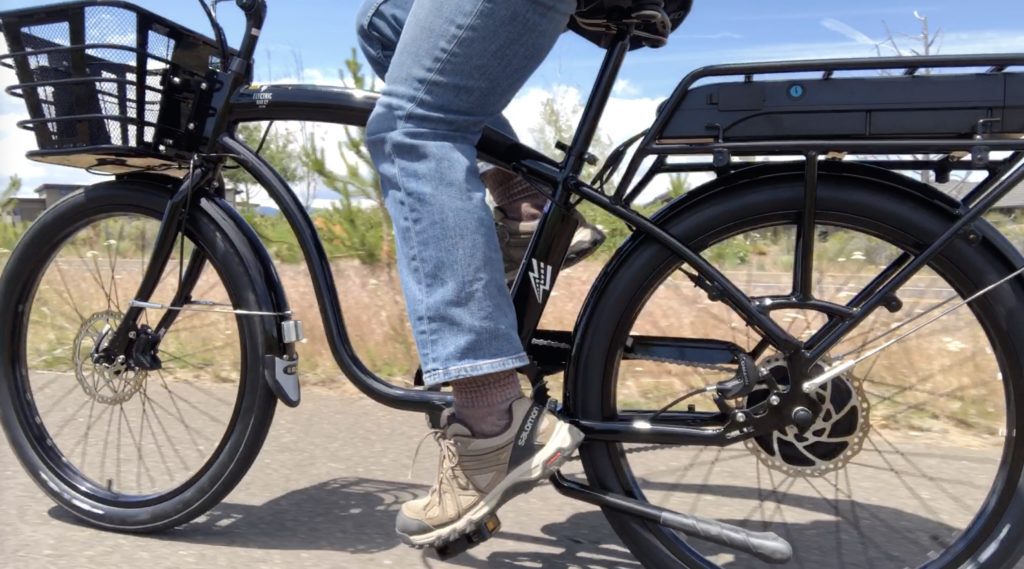 Now let's take a look at the drive system of the EBC Model C.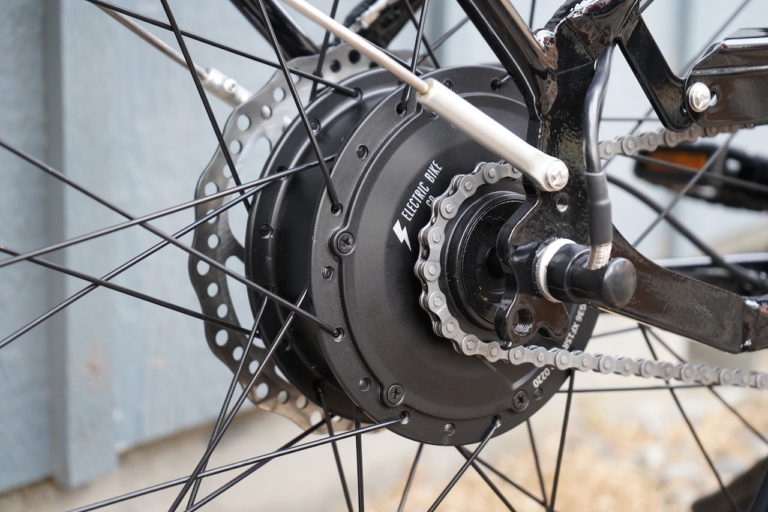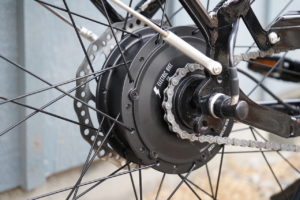 EBC is all about keeping things simple to focus more on the ride.
There are 5 electric assist levels with the combination of the throttle while using a single speed mechanical drive train.
The 500 watt geared rear hub motor can peak at 1,200 watts and is controlled by pedal assist and/or throttle.
The 5 speed levels for the pedal assist are as follows for the Class 1 & 2 configuration:
Level 1 up to 9 mph
Level 2 up to 12 mph
Level 3 up to 14.5 mph
Level 4 up to 17.5 mph
Level 5 up to 20 mph
Additionally the bike can be set to the Class 3 configuration if you want with 28 mph max pedal assist and 20 mph throttle.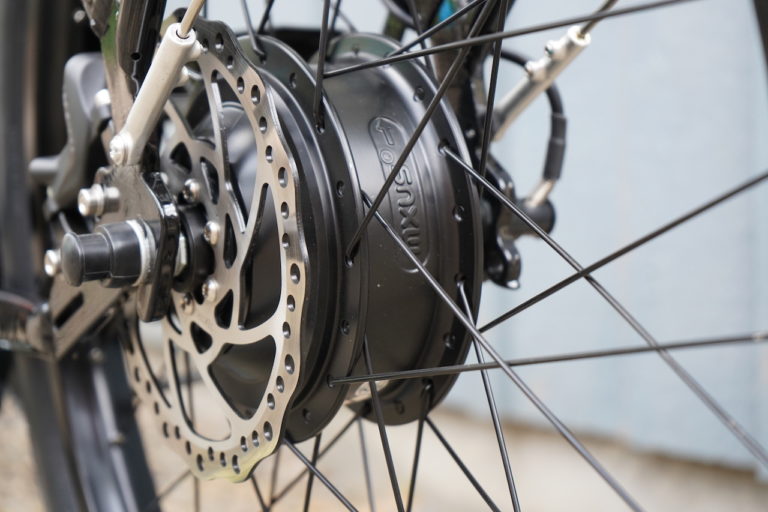 The mechanical gear ratio is a 56t chainring with 18t (or 16t) rear cog. The frame can accommodate a 7 speed cogset with derailleur if you want.
I found EBC system to be very straight forward and easy to use.
The pedal assist uses a cadence sensor and the assist starts after about a quarter turn of the cranks so it's helpful to have the throttle for accelerating from a stop.
Once up to a few mph I found I was mainly using the pedal assist levels to get up to cruising speed of around 20 mph.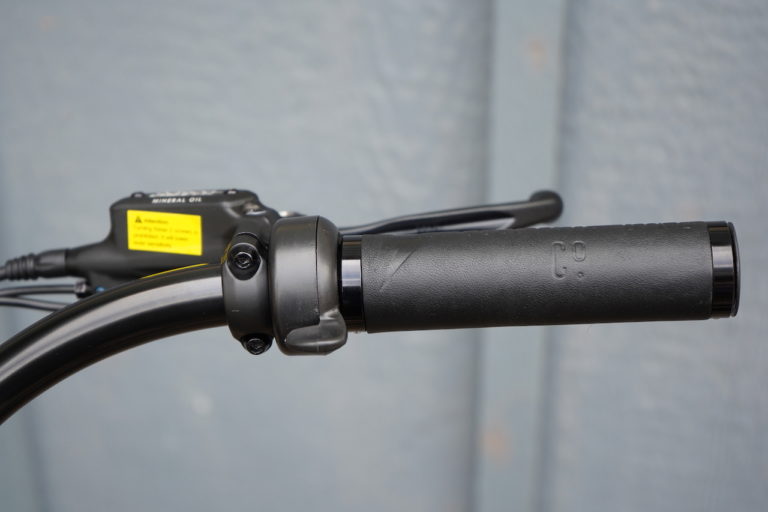 You can also use the thumb throttle with or without pedaling if you prefer. It can also add a boost of power when using the lower end of the pedal assist levels.
The 56t chainring x 18t rear cog works well for this speed range and hilly terrain. If you ride on flatter terrain in the Class 3 setting of 28mph pedal assist then the 56t chainring x 16t rear cog would probably be a better fit.
The motor does have quite a bit of kick in pedal assist levels 4 and 5 and it can also maintain a consistent 15 mph on steeper hills.
Levels 1, 2, and 3 are good for easy going rides around town or the neighborhood and they help to provide more range.
The transitions in and out of power are pretty smooth for levels 1 through 4. Level 5 definitely has some punch and is good for quicker accelerations.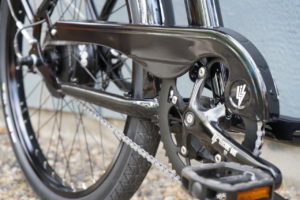 The single mechanical gear is great for keeping things simple and durable.
There is no maintenance, the chain should not fall off, and it is a quieter system without the chain bouncing around on rough roads. This is when compared to a conventional derailleur system.
On paper these attributes might seem like small details but these characteristics add to the smooth, durable, and easy going ride feel of the Model C.
Like many geared hub motors there is some noise from this motor and it is in the medium range when compared to other eBikes.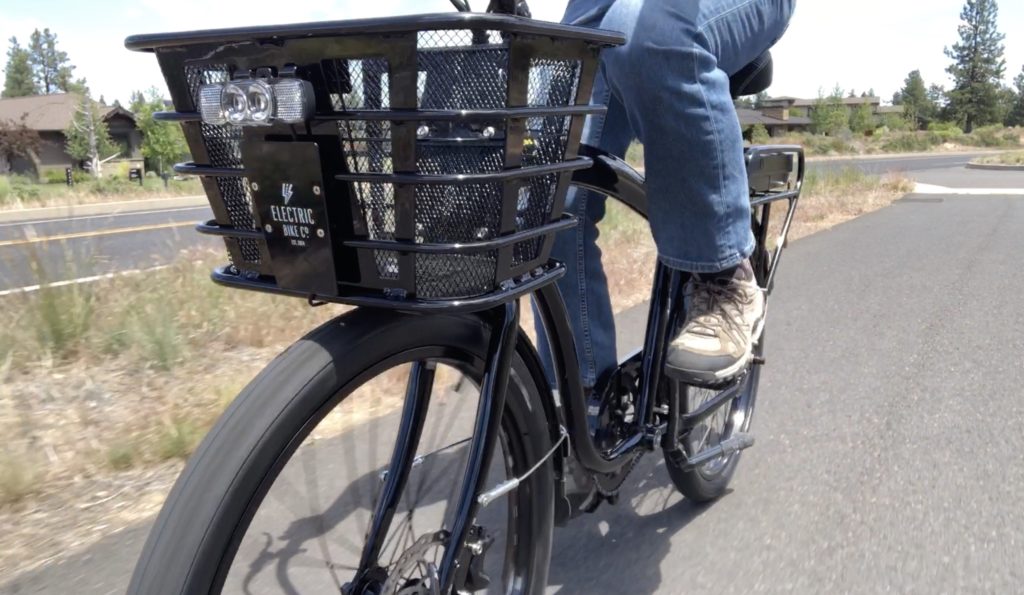 Now let's take a closer look at the battery and built in charger.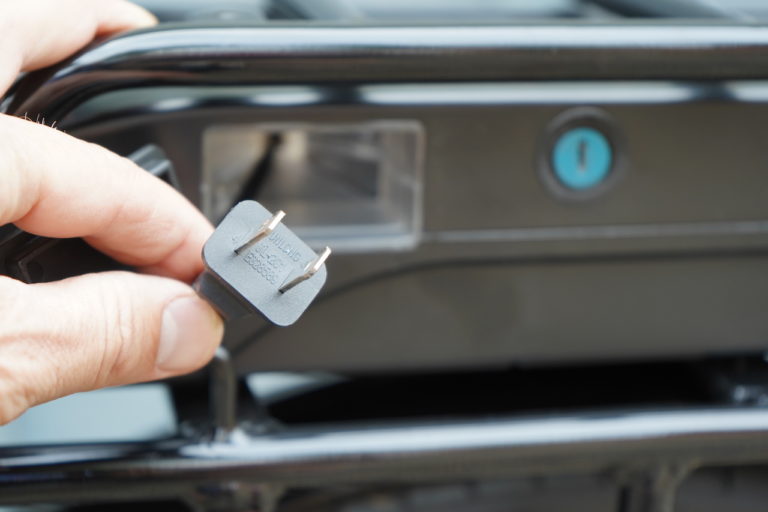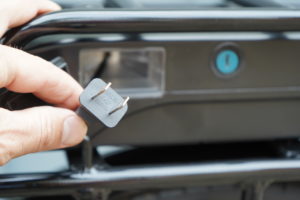 This is another highlight of the Model C because it is nice to be able to charge almost wherever you are.
I found that it is nice to easily top off the battery by simply pulling out the charge chord and plugging it into the outlet. It's just that much easier compared to a separate charger.
It's another design detail that just makes the Model C easy to use.
Charge times are 4.5 hours for the 11.6ah battery and 8 hours for 17.4ah battery.
There is the option for an external fast charger that brings down the charge times to 2 hours for 11.6ah and 3.5 hours for the 17.4ah.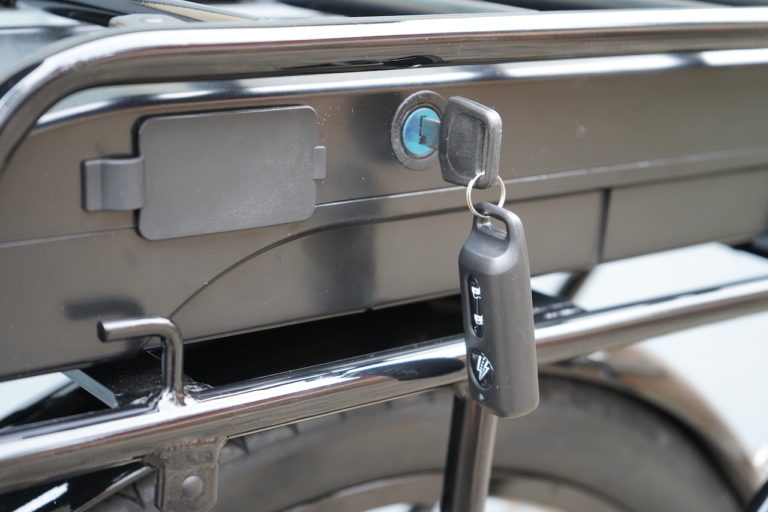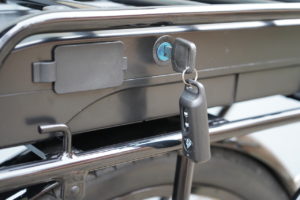 The front of the rack area houses the charger and the back portion is for the 48V 11.6ah lithium battery with Samsung cells. There is also a high capacity 48V 17.4 ah battery option for more range.
Also built into the test bike was the optional alarm system that functions similarly to a car alarm.
If someone tampers with the bike it will start to chirp.
This could be a handy feature if you live in an area with a lot of bike theft. It would probably surprise a bike thief!
Now let's take a look at the controls and display.
One of the most noticeable items on the handlebars is the large color center mounted LCD display.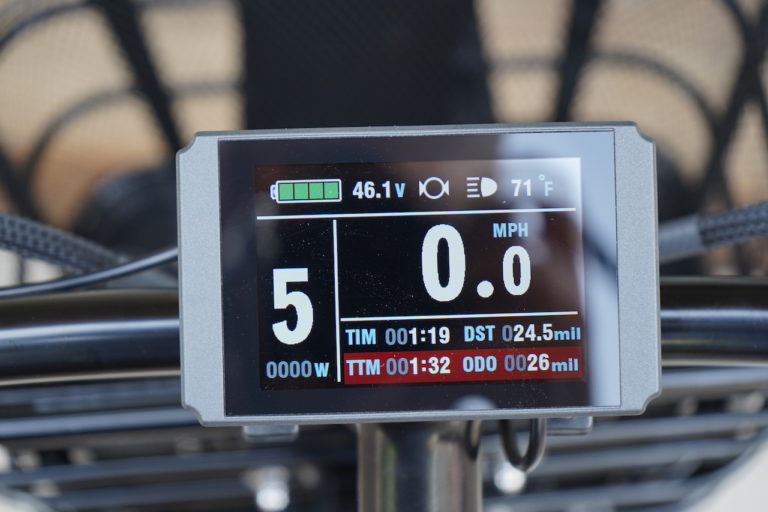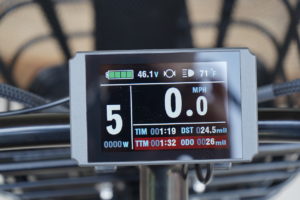 The color display provides the following information:
Battery level
Current speed
Average speed
Max speed
Pedal assist level
Odometer
Trip distance
Battery voltage
Motor power
Ride time
There is a backlight that is very bright for easy visibility in low light conditions.
It's very easy to see the important info on the display at a quick glance and its fun to see what the motor power is during different portions of the ride.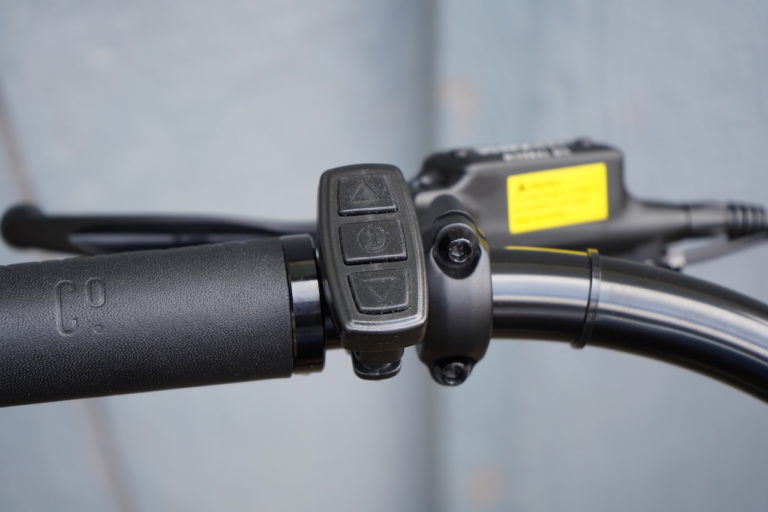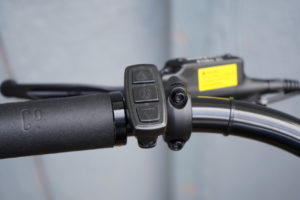 Under the display is a USB port for charging a phone or other USB device on the go.
Both the pedal assist control pad and thumb throttle are easy to reach near the left and right grips.
The throttle is easy to control with a wide range of power that is varied as the throttle lever is pushed forward.
Since there is no mechanical shifter the control pad, throttle, and brake levers are the only controls on the handlebars which provides a clean look and an easy to use system.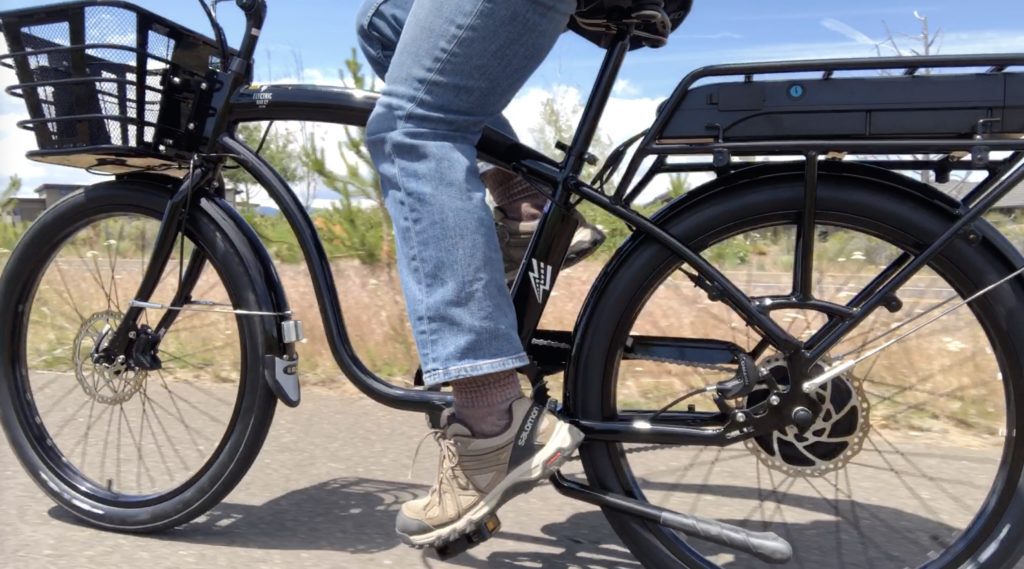 Now let's take a closer look at the ride position of the EBC Model C.
Like the classic beach cruisers the Model C has the comfortable and upright position that gives it an easy going and fun ride feel.
The swept back, upright, and wide handlebars are very comfortable and provide a good position for seeing everything around you.
In addition the adjustable stem can help to dial in exactly how much height and reach is best for your position on the bike.
The leather lock on grips have a high quality look and feel but they do feel a little slippery compared to rubber grips. This is an easy change if you would prefer rubber grips.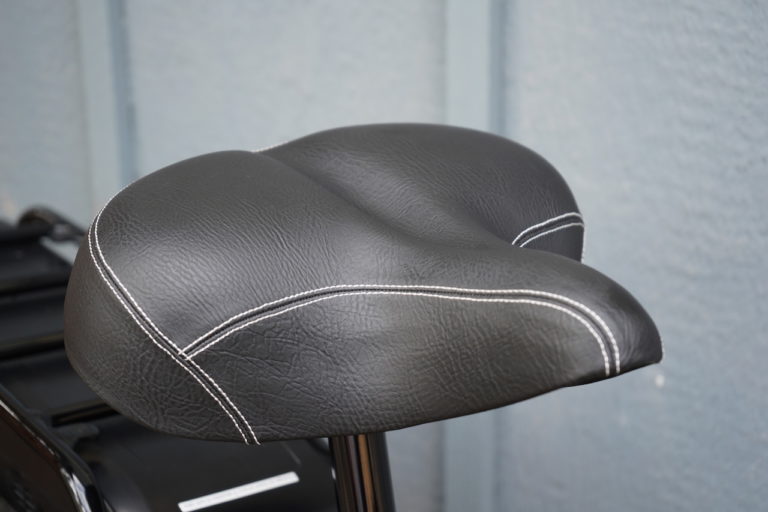 The frame has laid back geometry that makes the overall bike handling relaxed and predictable.
The leather seat has a wide profile with center relief for a super comfortable ride.
Where the rubber meets the road are the 26″ x 2.10″ Maxxis Gypsy tires that go well with the cruiser style.
These are eBike rated tires that have a stable ride feel with a smooth efficient tread pattern.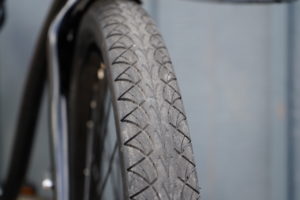 They have a balloon style profile with enough air volume to absorb a lot of bumps and cracks in the road when run at the lower tire pressures.
If you regularly ride on rougher roads it may be worth adding a suspension seat post that Electric Bike Company offers as an option.
To minimize flats the Gypsy tires have a puncture protective casing and the tubes come with sealant.
Another highlight of Model C are the handbuilt wheels with 2″ wide Jetset aluminum rims with 13 gauge stainless steel spokes and nipples. They have a very sturdy feel and they roll very well.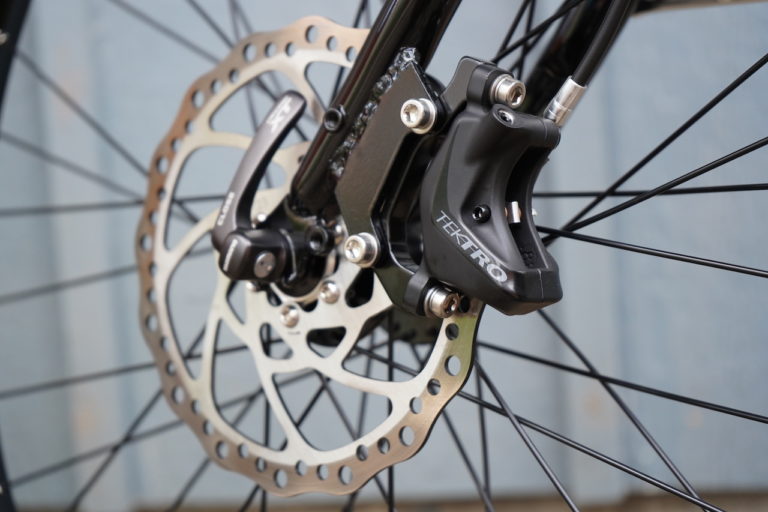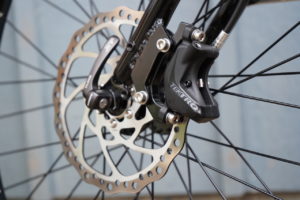 Keeping the speed in check is handled by the Tektro Dorado hydraulic disc brakes with 180mm rotors front and rear.
These have the solid engagement feel and powerful braking typical of hydraulic disc brakes.
In addition, the Dorado levers are large so that they are very easy to grip. The brake lever reach can be adjusted to fit your hand size as well.
These brakes do a great job of slowing the Model C down and their solid engagement adds to the overall durable feel of the bike.
The Model C in this test came with the front basket and fenders as optional accessories.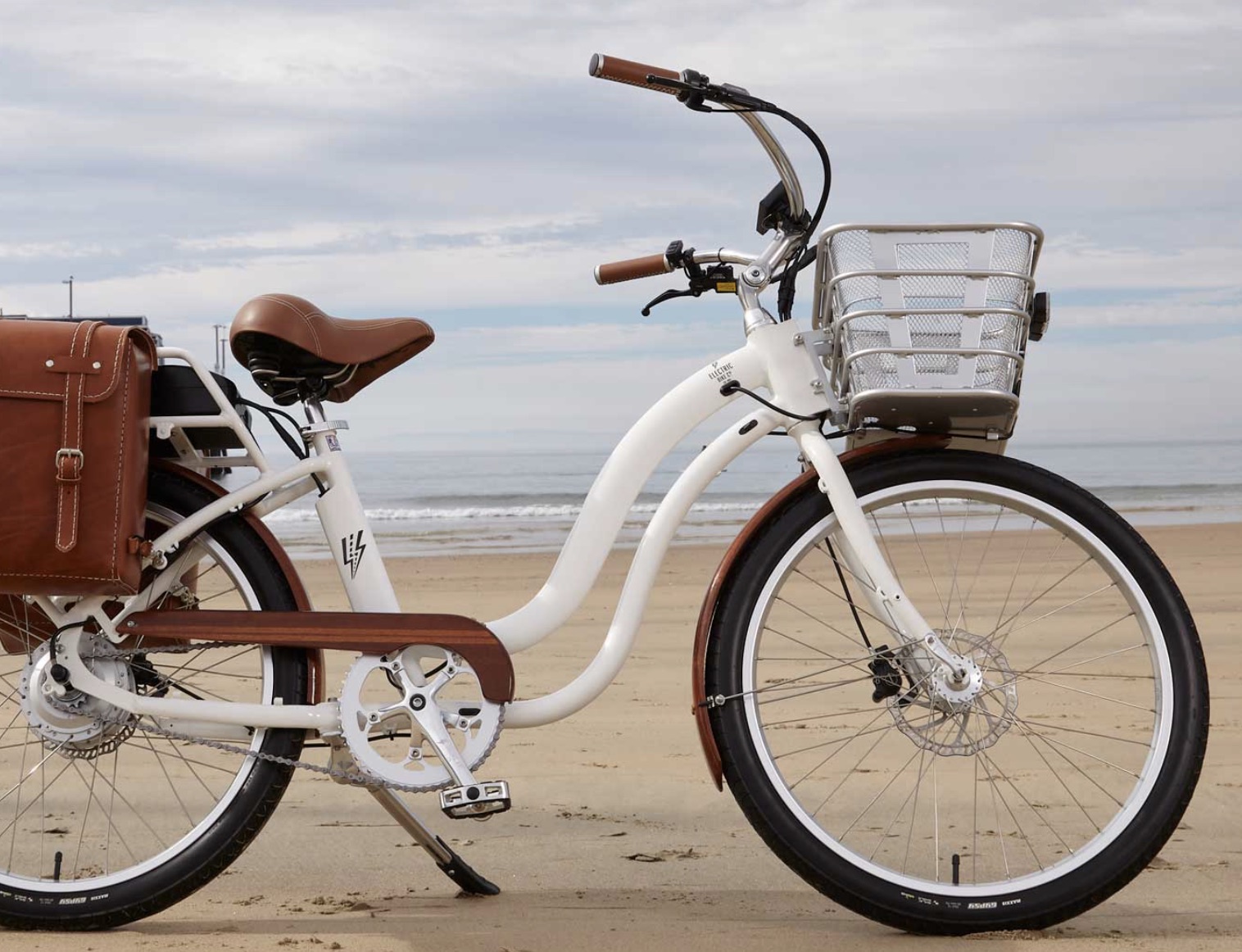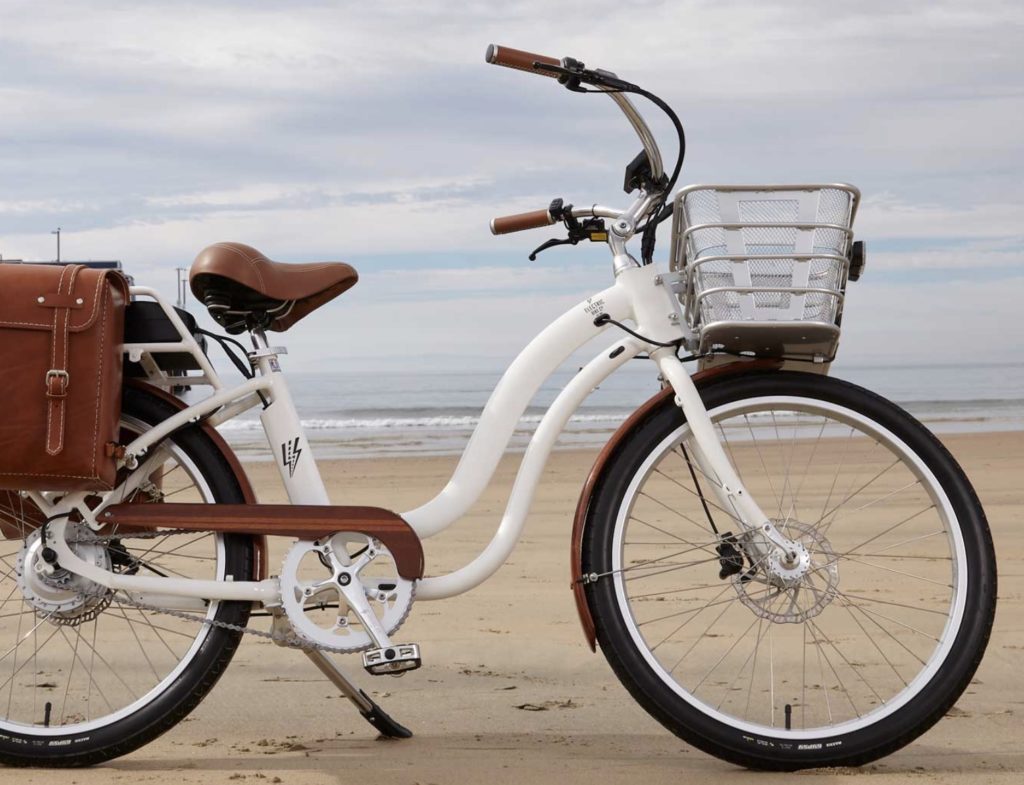 Electric Bike Company offers many accessory options that include front and rear baskets, leather saddlebags, Woody's wood fenders & chain guard, suspension seat posts, surfboard carrier, trailers, and more.
They have curated a nice selection of quality accessories that can make the Model C a good fit for your riding needs.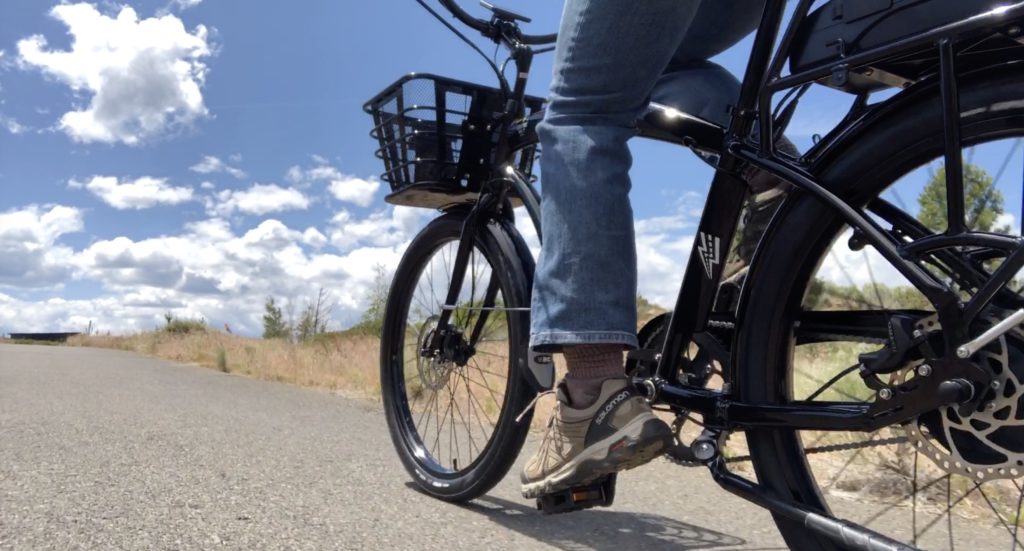 Okay, let's see how the EBC Model C did out on the open road!
Electric Bike Company Model C Range Test Results:
Here is the real world information on how the EBC Model C electric bike performed on a riding circuit that includes hills, flats, traffic, wind (when available) etc.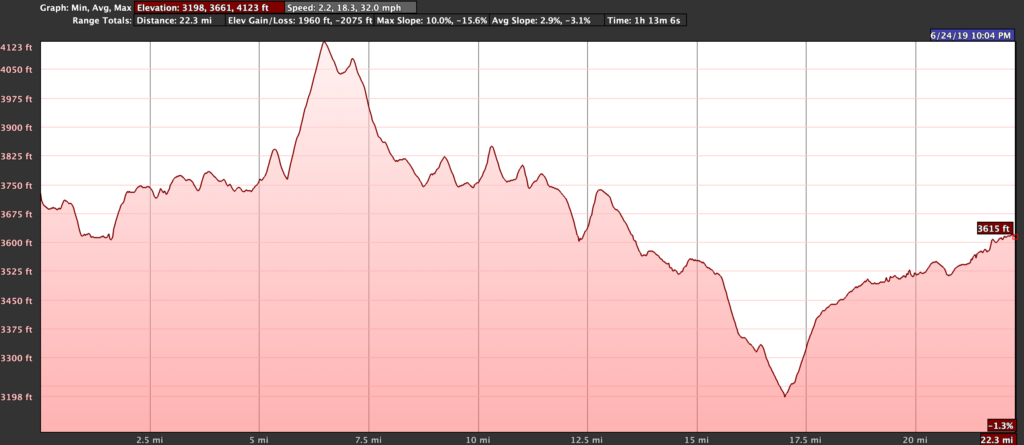 While testing these bikes I like to put them through the toughest conditions to see where their bottom line is in regards to range and speed. I tested the EBC Model C in the highest pedal assist level (Level 5) with average pedaling on paved roads.
Range: As you can see from the GPS info that I recorded, the EBC Model C traveled 22.3 miles and did a total elevation gain of around 2,000 ft. Considering that I weigh 190 lbs and I pedaled at an average pace this is pretty good range for a 48V Volt 11.6 ah battery pack (557 Watt Hours) with a 500 watt motor assisting up to 20 mph.
Watt hours are the total energy in a battery pack and it is based on the volts x amp hours of a pack. This is a way to compare the size of the "gas tank" of electric bikes.
Please keep in mind that if you pedal more, weigh less than me, ride slower and/or you use the bike in terrain that is not as hilly you will get more range. These results are from tough testing.
Speed: Pedal assist and/or throttle to 20 mph for Class 1 or 2 eBike. Can be set to 28 mph pedal assist with 20 mph throttle for Class 3 eBike.
Weight: The EBC Model C tips the scales at 68.2 lbs with the optional front basket & fenders. Removing the battery brings it down to around 60.7 pounds which makes it a little easier to load onto a car rack.
The weight distribution of the EBC Model is a bit back heavy with the battery and a rear hub motor.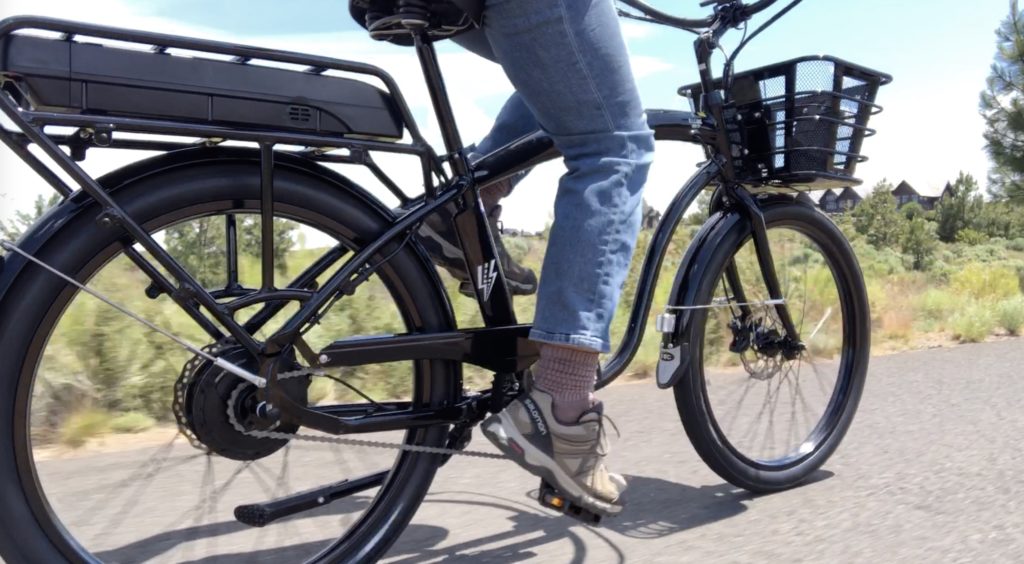 Pros:
Fun & Comfortable: The Model C has that classic beach cruiser easy going ride feel with the fun zip of electric assist. It's upright position is very comfortable and the handling is relaxed and predictable. The electric assist has a lot of variety from casual cruising to flying around town!
Durable: The Model C has a very durable ride feel that is a result of a sturdy frame, quality components, and quality assembly in California. EBC also backs that up with an impressive 10 year warranty on the frame and motor and a 5 year limited warranty on the battery.
Unique & Customizable: Features like a built-in charger, alarm system, and a single mechanical gear w/ 5 electric speeds really set the Model C apart from the pack. Additionally the Model C can be customized for you with many component and color options along with a bunch of accessories.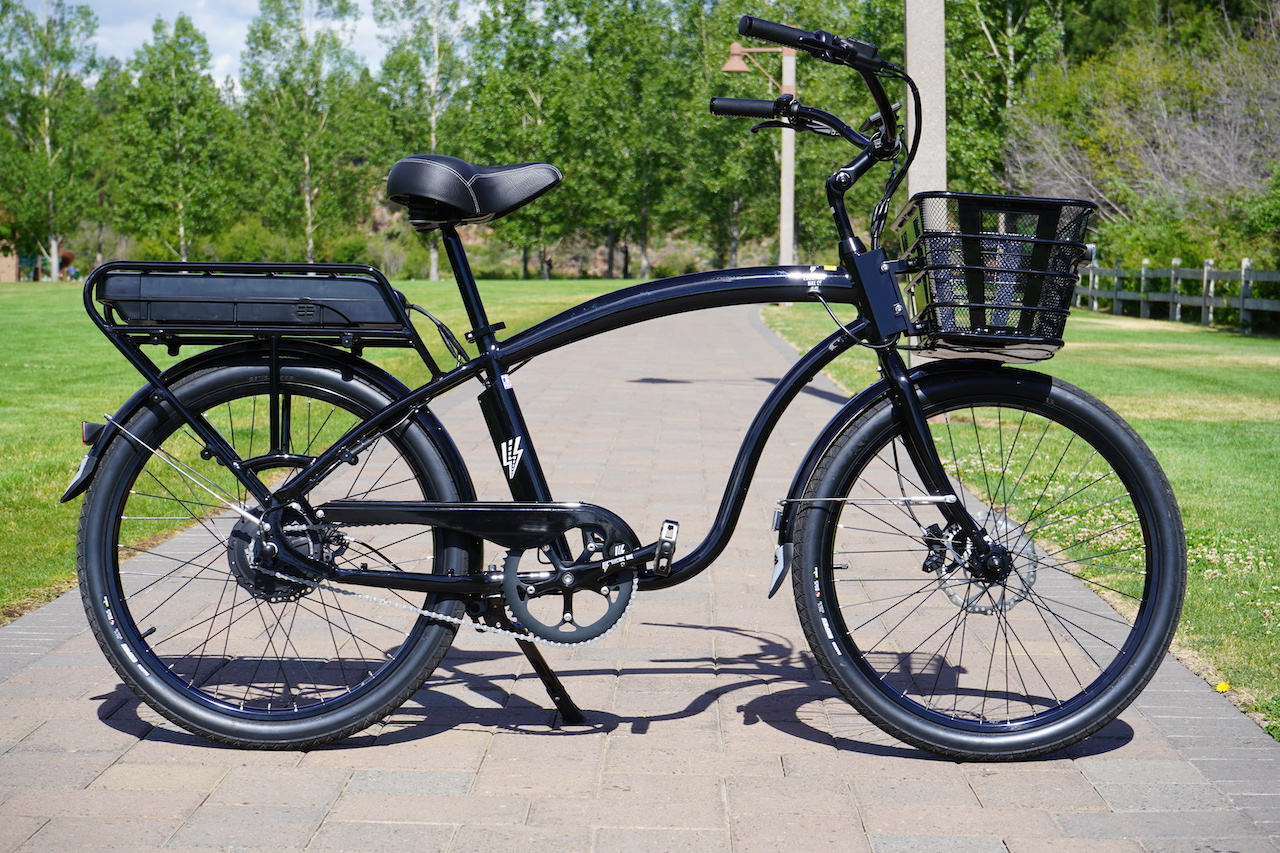 Cons:
Back heavy: With the rear rack battery and rear hub motor the Model C is a bit back heavy which is noticeable when picking the bike up and when maneuvering the bike quickly through tight corners.
Motor Noise: Like many geared hub motors there is some noise from this motor and it is in the medium range when compared to other eBikes.
Leather grips: The leather grips have a nice look and feel but they are a bit slippery compared to rubber grips. This is an easy change if rubber grips are preferred.
Conclusion:
Overall the Electric Bike Company Model C is a fun and comfortable eCruiser with a focus on durability, quality, and customization.
With design and assembly in California the EBC bikes stand out from other electric bikes with a lot of focus on the features, quality components, and quality assembly.
That translates into a high quality, durable, and stable ride feel that makes this fun and comfortable eCrusier feel like it will last for many many miles.
Considering the quality and features of the Model C the $2,299 starting price offers good value with many customization and accessory options to choose from.
Please keep in mind that this is a relatively short term test. This testing can't really give you the long term review of durability and reliability. My thoughts on the quality of this bike are from previous experiences with similar bikes. If you own this bike and have some input on the long term durability, please share your comments with the Electric Bike Report community below.
Where to buy a EBC Model C? Check with the Electric Bike Company for purchasing online.

Do you have any questions about the EBC Model C? Do you own a EBC Model C? Please share your thoughts in the comment section below.
Thanks!
-Pete
Review Note: Each company pays a fee for a review on Electric Bike Report because of the considerable amount of time that it takes to provide an in-depth review of each eBike. A lot of time is spent on the full range test with distance & elevation profile, the wide variety of detailed pictures, in-depth video, and the write up with the specifications, ride characteristics, pros, cons, and overall thoughts. The reviews on Electric Bike Report are focused on providing you with a detailed "virtual" look at each eBike to help you determine if it is the eBike for you.
P.S. Don't forget to join the Electric Bike Report community for updates from the electric bike world, plus ebike riding and maintenance tips!
Reader Interactions