eBike News: Simon Cowell's Non eBike Accident, New Tern GSD, eBikemotion and Yamaha New Motors, Pinarello & Lots More! [VIDEOS]
In this week's news:
New Features for Tern GSD
Pinarello's New City eBike
Lighter Motor Systems from Mahle and Yamaha
Dutch Roundabout for Cambridge,UK and Dutch Cycle Storage for London
Simon Cowell's Back and His Non-eBike
Battery Recycling
Dorel Sales Figures
New eBikes and eBike Systems
New Features for Tern GSD
Tern have just announced the launch of the next generation of the GSD, their flagship 20″-wheeled longtail e-cargobike.  Tern says 'Improving on the previous iteration, the new GSD offers a stronger, stiffer, and even more stable frame able to carry up to two kids or an adult passenger, plus your groceries.'
Other new features include a more powerful motor, new double kickstand design, front suspension fork, integrated footplates, Rohloff hub gear option, better tall rider geometry, and new luggage options.

The launch is also timely in the light of EBR's recent feature on e-bikes for heavier riders. Tern has partnered with EFBE Prüftechnik, one of Europe's leading bicycle testing labs, to test the GSD using the EFBE Tri-Test, which is based on the recently-announced German cargo bike standard. The GSD has passed the Tri-Test up to the claimed load limit of 440 lb, which means the bike not only meets but exceeds the newest German cargo bike standard.
The new GSD lineup includes three models from $4599 in the United States and from £4499 in the UK. Bikes will start arriving in stores in Q4 2020.
Pinarello Heads Downtown With the eTreviso
Pinarello are best known as manufacturers of road bikes par excellence. However they have already ventured into the world of e-bikes with, naturally enough, an e-road bike (the Nytro) and an e-gravel bike (the Nytro Gravel).
Now comes a city bike, the eTreviso. Like Pinarello's Nytro models the eTreviso uses the lightweight Fazua motor system – self-proclaimed 'lightest and most discreet motor system on the market'. Not only does the whole system add only around 4.6kg to the bike, it is also almost completely removeable, allowing the cyclist to revert to regular cycling if they don't need electric assistance.
Although Pinarello says the bike is designed as a lightweight e-bike due to a hydroformed aluminum frame and carbon fork, bizarrely they don't give an actual weight. Spec includes frame integrated battery, hydraulic disc brakes, derailleur gearing, LED lighting, comfortable-looking 2-inch tires on 700c wheels, mudguards, rear pannier rack, and kickstand.
Yamaha Announce Their Lightest Mid-drive Yet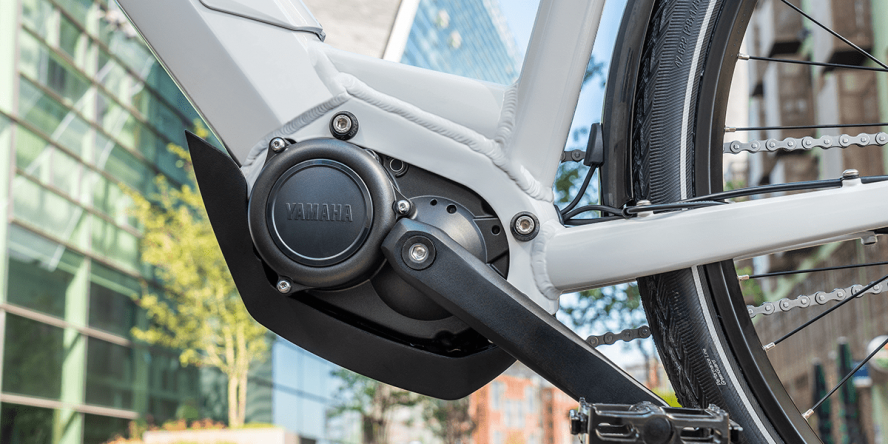 Yamaha is one of the main mid-drive manufacturers for high-quality e-bikes found in Europe and North America, along with the likes of Bosch, Brose, Panasonic and Shimano.
Bike Europe report that Yamaha are ' introducing the PWseries CE drive unit and the External Crossover 500 battery to the Model Year 2021 line-up. Yamaha says it has, "created its lightest, quietest and most compact drive unit – and a battery that provides increased versatility and practicality."
The new PW CE mid-drive is rated at 250W with 50Nm of torque and the new unit weighs just 2.9kg (coaster brake version), making it 'the lightest drive unit ever created by Yamaha' says the report.
Mahle's New Lighter Hub Drive
Continuing with the theme of ever lighter e-bike motors, Mahle have just released details of the new X35+ system based around a small hub motor. Together with a 245Wh frame-integrated battery and control system the total weight is touted as just 3.5 kilograms.
A second 'range extender' battery with 208 watt-hours is also available, mounted water bottle style on the seat tube. The system has no display but the system has an app that riders can opt to use if they need more data, but the system works without it.
Mahle's existing X35 system, also branded as ebikemotion, is used on an increasing number of lightweight e-bikes from the likes of Ribble and perhaps most impressively of all Wilier, who say their Cento10 Hybrid e-road bike weighs only 10.5kg.
Get Inspired
Meet the UK's First Truly Dutch Style Roundabout
Pedestrian and cycle-friendly Dutch style roundabouts need no introduction if you have enjoyed the wonderful cycling conditions in the Netherlands. They are a common feature of the transport system and let cyclists and pedestrians have priority over motor vehicles, making their journey quicker and safer. Now the UK has it's first Dutch-style roundabout in cycle-friendly Cambridge. Take a look…
London's Carnaby Street Now Has Free Secure Bike Parking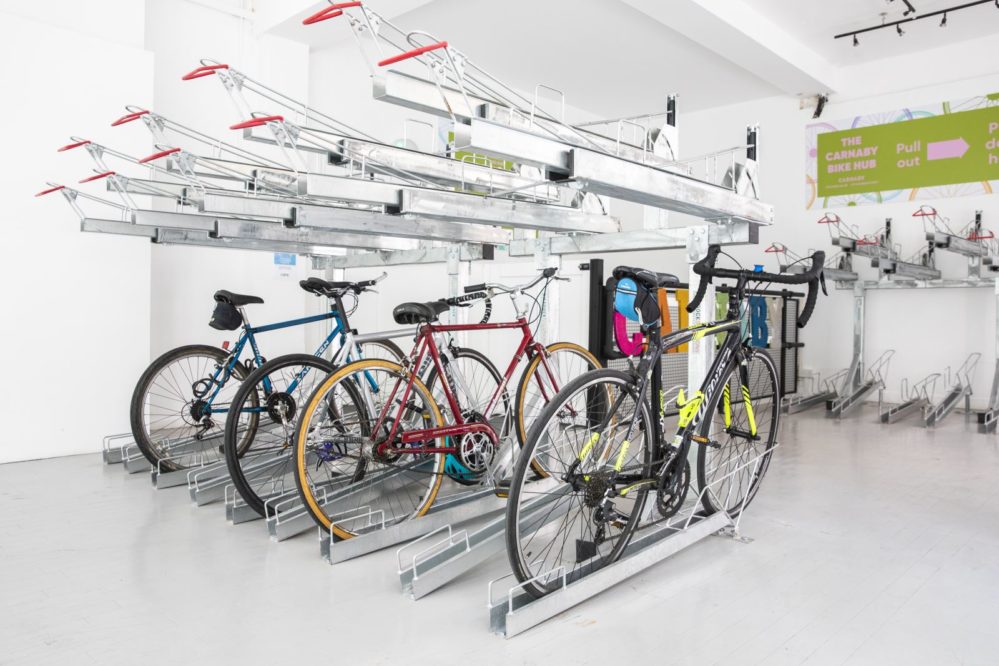 In the 1960s Carnaby Street in London was a byword for the fashions of the day. Today it's a smart, pedestrianised shopping area and it now has its own free 'double decker' bike storage. As the Carnaby website reports, there is space for 50 bikes, 7am-9pm, and the area boasts a 24/7 security team and CCTV.
Celebs on eBikes
Simon Cowell Walking Again After Breaking Back After Falling Off an eBike (Not)
The UK's Daily Mail reports 'Simon Cowell broke his back when his powerful new $21,500 electric bike 'flew up in the air and did an accidental wheelie' after he tired to change gears. The media mogul, 60, underwent six hours of surgery to insert a metal rod into his spine on Saturday night after falling from his new Swind EB-01 electric bike, which has previously been called the 'fastest bike on earth'.
His recovery appears to be going well and he is up and about walking.
Lloyd Alter on Treehugger points out the common misconceptions and misnomers rife in the popular press's reporting of Mr Cowell's accident typified by the Daily Mail above:
'"The beating heart of this beast is an electrical motor with 15kW of power." that is 20 times the maximum allowed for e-bikes in North America, 60 times the limit in Europe. It has been called "the fastest bike on earth"– It can do 80 miles per hour, or four times the Class 1 or 2 limit in North America, five times the Euro standard.'
He concludes quite rightly 'I know that e-bikes are relatively new to North America, but these journalists are doing the e-bike industry a huge disservice. For the next 10 years we are going to hear that e-bikes are dangerous, "look what happened to Simon Cowell." It's just nuts.'
Battery Watch
Where Does Al the Lithium Go?
This is the question this excellent Singletracks article asks. It takes you through the various methods to recycle lithium and looking at the impact on the areas where it is mined as well as providing a link to the Canada's Call2Recycle where you can find out about lithium recycling facilities near you.
One question it doesn't ask why can't lithium-ion battery manufacturers make them with replaceable cells? Many e-bike batteries may be scrapped because a single cell has failed.
eBike Biz
Dorel's Strong Q2 Growth – But Stocks Running Low
Canadian-based Dorel is, amongst other things, one of the major global volume producers of bikes and e-bikes. Bike Europe reports 'Dorel Industries Inc. reports a spike in demand for all types of bicycles during the second quarter of 2020. For the owner, sales of brands such as Schwinn, Mongoose, and Cannondale rose dramatically and was maintained throughout the quarter.'
Bike Europe also reported 'Like almost all others in the e-bike and bicycle industry, Dorel Sports was confronted with a lack of supply of certain models despite Asian suppliers re-opening in February which was limiting its sales. As a consequence, the on-hand inventory dropped considerably, contributing to our overall inventory reduction in the quarter.'
Stay tuned for more e-bike news and reviews and thanks for reading!
-Rich
Reader Interactions