eBikeNews: Valeo Mid-Drive & Gearbox, Merida Lightweights, Rapture Hi Tech and Lots More! [VIDEOS]
In this week's news:
French Automotive Supplier Valeo Prototypes Combined Mid-Drive and Gearbox
Merida Announces Three New Lightweight eBikes
Rad Power Bikes & Pabst Collaboration Giveaway
CrownCruiser's Rapture Takes the Hi-Tech Road
BULLS LACUBA EVO 10 Now with 750Wh battery
Two New Mercedes-Benz Branded eBikes
New eScooter Safety Features
Dott's Remarkable New Share eBike
Plus All the Latest Infrastructure and eBike Biz News
New eBikes and eBike Systems
Valeo Looks to Combine Mid-drive with Automatic Gearing
'The Valeo Smart e-Bike System is the first solution in the world to integrate both an electric motor and an adaptive automatic transmission in the pedal assembly. With this new electric assistance system, the bike adapts to the cyclist, and not the other way around. The gears change automatically and the system's algorithms instantly adapt to the amount of electric assistance the cyclist needs right from the first pedal stroke.'
That's some claim (although Revonte might dispute it…). Still, the vital statistics of the system look good on paper; a 48V electric motor combines with a seven-speed automatic gearbox in a single mid-drive unit. Torque rating is a huge 130 Newton meters and Valeo say the electric assistance allows a cyclist carrying a 150kg load to climb a 14% gradient (the equivalent of a parking lot ramp) without breaking a sweat, whether moving forward or reversing. Valeo also claim the system is more efficient than the 24V or 36V motors installed on the vast majority of e-bikes available today.
Valeo don't make e-bikes and indeed this appears to be their first venture into the world of e-bikes in any form whatsoever along with their partners in the project Effigear. They have however produced three prototypes to demonstrate the Smart e-Bike system on city, mountain and cargo designs. They have already produced a working 48V electric drive train for a small, light urban car with a 60 mile range and a top speed of just over 60 mph.
[youtube https://www.youtube.com/watch?v=NQ6Ht96mYM0&w=1109&h=624]
Merida's 2021 New eBikes
Merida are one of the world's biggest bike manufacturers and their bikes and e-bikes often get excellent reviews in the cycling press – so it's exciting to bring news of some of their 2021 range. Merida have just announced details of the  eSCULTURA road bike, the eSPEEDER commuter and the eSILEX 'adventure' model. As an aside Merida also have strong interests in the US – in 2001, Merida bought 49% of Specialized for a reported US$30 million.
All the newly announced Merida models use the Mahle X35+ lightweight 250W rear hub electric assist system. Here is the very brief spec as revealed so far, though it's expected all three bikes will be competitively lightweight:
This slick looking eRoad bike features a carbon fork, Shimano 105 gearing and hydraulic disk brake, stated weight 13.4kg, £3,000
[youtube https://www.youtube.com/watch?v=-Bv0MVm0g1Y&w=942&h=530]
A fast and light city e-bike that features carbon fork and Shimano MT200 hydraulic disc brake, 13.89kg stated weight, £2,350 / €2,249
Lightweight eGravel bike with  MT200 hydraulic disc brakes and Shimano GRX groupset options, 15.5kg, £2,600 / €2,449
Custom Rad Power Bike Giveaway And New Merchandise Collaboration
Rad Power Bikes are collaborating with Pabst Blue Ribbon on a whole lineup of new gear to help you celebrate your ride.
To start the collaboration they are giving away a RadRunner painted by ANTA52, an artist and illustrator who works in and out of the Coachella Valley and Los Angeles. Rad Power Bikes are asking participants to go on Instagram and tag someone else who they want to win the bike, because giving feels good!
For all the merchandise offers and instructions on how to tag someone else to win the illustrated RadRunner see here.  
[youtube https://www.youtube.com/watch?v=3iKV48i61_4&w=800&h=450]
CrownCruiser Rapture – Is This 'The World's Most Sophisticated eBike'?
MMB reports that 'UK-based e-bike developer CrownCruiser Motors has been awarded £139,970 from Innovate UK's Sustainable Innovation Fund. The grant will enable CrownCruiser to set up an operations and assembly centre in Sheffield, working in partnership with Sheffield City Region to build, promote and sell the Rapture.'
There are few details available of the e-bike itself but the CrownCruiser website describes it as 'Featuring a state-of-the-art monocoque carbon frame with lifetime warranty, smart batteries, customisable front girder suspension, ergonomic handlebars and cutting edge connectivity'.
Updated BULLS LACUBA EVO 10 With Huge Battery
BULLS Bikes USA just announced the arrival of 'the latest evolution of the flagship eTouring/eTrekking bike', the LACUBA EVO 10. It now features the Brose Drive S-Mag motor and what they say is 'the largest single battery of any high-end mid-drive ebike in the industry'.
As well as the impressivel large 750Wh battery the bike also comes equipped with the new Brose Topology display, a beautiful, full color, feature-rich console that houses a wealth of information, such as range, trip distance and total distance.
The LACUBA EVO 10 comes in three frame variations: WAVE, STEP-THRU, and DIAMOND and multiple sizes. The Lacuba is available now for purchase through any certified BULLS Dealer and at bullsbikesusa.com at $4099.
Mercedes-Benz eBike Branded Range Increases
The UK's eBiketips reports that 'Mercedes-Benz has lent its name to a pair of e-bikes with the release of the Mercedes-Benz EQ Formula E Team eBike and slightly pricier Silver Shadows.'
The bikes are produced under licence by N+.
Spec of the Formula E Team is:
250W mid-drive (unamed)
252Wh Panasonic battery,  seat tube concealed
Carbon fibre fork​, hydraulic disc brakes and a Sturmey Archer 5-speed hub gear.
The Silver Shadows has the same spec except for a 504Wh battery and Enviolo stepless transmission with a Gates carbon belt drive.
Respective prices are $3,200 (£2,400) and $4,500 (£3,400).
Rails to Trails Fall Magazine
Want to know more about the best traffic-free rides in the US? The latest edition of Rails to Trails magazine has features on the Met Branch trail between Washington D.C and Maryland, the 130 mile long NorthEast Texas Trail, eight urban sections along the Great American Rail Trail and lots more.
Hannover's Micromobility Expo Scheduled for May 2021
Cycling Industry New reports that Hannover's micromobility expo is to return on the 27-29 May 2021 as a three-day 'hybrid' event. 'The third edition of the micromobility expo will be a combination of exhibition, test course and conference program that can also be followed digitally. Companies can choose whether they want to present themselves and their products on the exhibition grounds or in a virtual space' CIN tells us.
It is a combined trade and public event, with the first two days of the event reserved for trade visitors and the micromobility expo opening to the public on the final Saturday.
eMicromobility
Speed Limit Controversy Over Chicago's Divvy Share eBikes
StreetsblogChicago details the controversy over a 3mph speed cap difference; some time recently (no one seems sure when) Chicago's Divvy e-bikes were capped at 15mph. There have been complaints at the cap as other Lyft-run systems like New York's Citi Bike are capped at 18 mph.
More eScooter Safety Features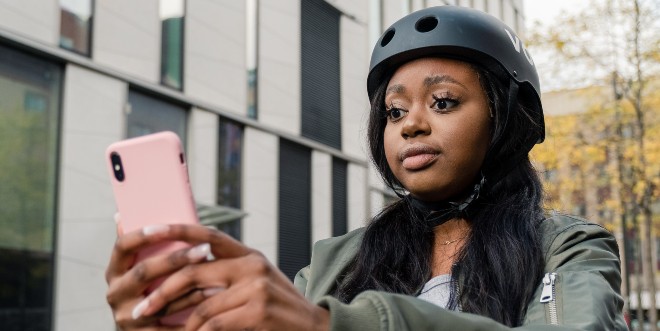 MMB reports 'Voi Technology has launched its new helmet selfie feature, which uses AI to determine if a customer is wearing a helmet during an e-scooter ride.
It is part of a suite of recently released in-app features that encourage responsible riding habits and improve rider safety. The helmet selfie uses an image-classifier AI that can instantaneously detect if a user is wearing a helmet with 95% accuracy, Voi said.
After scanning a scooter to begin their ride, the user will be prompted to take a selfie, which unlocks the scooter.
MMB also reports that 'E-scooter operator Lime has responded to concerns of blind and partially sighted people by developing new safety messaging for riders. In partnership with Sight Loss Councils, Lime has implemented new safety advisory messages in its app to alert riders to look out for people with visual impairments and be aware that not all disabilities are visible. It also agreed to work with Sight Loss Councils to explore options for acoustic vehicle alert systems on its e-scooters.'
Dott on the Rise
UKTN reports that 'Dott, an Amsterdam-based e-scooter brand known for providing comprehensive insurance coverage for its users unveiled its first e-bike in select cities across Europe recently. The Dutch mobility firm has also informed that they're gearing up to launch its new contemporary e-bikes in Paris and London by March 2021.
The e-bike itself looks interesting as it reportedly features the latest technology 'such as parking assistance, anti-vandalism, and anti-theft. Also, there will be advanced GPS navigation software for proper parking and lowest carbon footprint claims the company. The unique features as detailed by Dott include a unique frame from of a single piece, custom-developed 26" foam tyre inserts for improved durability and cushion.'
Other features include shaft drive rather than a chain, swappable battery system and an all-in-one lock, brake and motor in the rear wheel and integrated and automatic front and rear LED light with built-in reflectors.
Here's more background from Dott themselves:
[youtube https://www.youtube.com/watch?v=j_VZ53mJ-Ro&w=923&h=522]
Infrastructure
People for Bikes Advocacy Academy
People for Bikes (PfB) do great work advocating for changes to get more people on bikes and e-bikes. They have been in touch recently the highlight their Advocacy Academy which they describe as an online video series and resource library for city leaders, decision makers and advocates. It provides the necessary tools and information to understand how cities are evaluated through the PlacesForBikes City Ratings program and how to make cities better for bikes.'
[youtube https://www.youtube.com/watch?v=RV5oh-4LFQo&w=960&h=540]
Northern England Canal Route Improvements
West Yorkshire Combined authority which has a strategic role and a big budget for some of the biggest cities in Northern England reports 'We would like to know what you think of our proposals to improve parts of the towpaths on the Huddersfield Narrow canal and Leeds & Liverpool canal.'
You can find more on their role to promote cycling in the area at CityConnect.
eBike Biz
Canyon Bicycles Acquired by Belgian Investor
Bik-EU reports 'D2C-supplier Canyon Bicycles found a new majority shareholder in Groupe Bruxelles Lambert (GBL). Roman Arnold will remain the Chairman of the Advisory Board and reinvest a significant part of his proceeds alongside GBL, while significant minority shareholder TSG Consumer Partners will fully exit its stake.'
We have regualrly reported on new, high quality e-bike models from Canyon who reportedaly saw  financial results for 2019/2020 mark a record sales turnover of €400 million, an increase of 30%. Over the past seven years, Canyon's sales have grown at an average rate of 25% per annum, almost doubling in the last three years alone reports the article.
Smart Bike Tech Firm Velco Raises €5 Million
Bike -EU again, reporting that 'Velco, the French company who focuses on OEM components for bike and e-bike connectivity, has raised €5 million in funds. These funds will be dedicated to "staying ahead of the competition" and developing the sales outside of France, in countries like Germany, The Netherlands, Belgium and the United Kingdom.'
Velco is known for the development of the smart handlebar Wink Bar featuring a GPS assisted navigation, geolocation system and two powerful integrated lights. They have also developed the 'ultra-compact' tracker Onitrax which collects data on vehicles and Nuotrax, a customisable connected handlebar using the CAN-Bus connection to get data of the e-bike.
[youtube https://www.youtube.com/watch?v=wrGyCbmIolQ&w=504&h=284]
Supply Problems Set to Continue Through 2021
Another Bike-EU report suggests the supply problems that accompanied the huge upsurge in demand for bikes and e-bikes in 2020 may be set to have repercussions throughout 2021. It states:
…Accell Group CEO Ton Anbeek (said) "Component manufacturers need to invest in more capacity to meet growing demand."
For Ton Anbeek, the component manufacturers, regardless of whether they are based in Europe or Asia should anticipate on a 20% higher demand. "Securing supplies has been a top priority of all buyers since last summer. Even for the Italian saddle manufacturers the lead-times went up from 40 to 150 days. I think this situation is not over next year as it will take at least until 2022 to have new component factories up and running,"
Stay tuned for more e-bike news and reviews and thanks for reading!
-Rich
Reader Interactions