eBikeNews: eBikes for Post Virus Cities?, New RadWagon, Light eFolder, Big Battery, Snow Chains, & More! [VIDEOS]
In this week's news:
Bike Boom During Coronavirus
New RadWagon 4 eCargo Bike
900Wh Olympia eMTB
GM's ARIV No More
THE ONE Lightweight eFolder Prospers
PedalPorteur Adjustable Cargo Rack
Inspiration from Moustache
Miami eCargo Bike Trial Details
Semi-Autonomous E-kickscooters
And Much More!
Coronavirus Update
Has the Bike Industry Capacity to Fulfill a Post Virus Bike Boom?
From Berlin to New York there are reports of bikes and e-bikes virtually selling themselves and flying off the shelves of those bike shops that are allowed to, or have chosen to remain open during the pandemic.
We have already covered many examples of impressive sales figures for some e-bike companies in previous news posts, but for what is a relatively small industry in global terms, the question now looming is could the bike and e-bike industry scale up if the predicted boom is sustained over many months.
And what if sales continue to grow and grow as cities become more bike friendly in the wake of the virus and people abandon mass transit in favour of two wheels?
As this NY Times article documents, there has been a huge surge in sales of lower priced bikes in particular and it seems this will continue over the summer at least.
Indeed, Polly Trottenberg, New York City's transportation commissioner is quoted as saying "We are absolutely confident we are going to see more bike commuting in the months ahead."
The bottleneck on supply of budget bikes is clearly documented:
'But the demand could not have come at a worse time. Most American importers have kept limited inventory since 2018, when President Trump ordered new tariffs on goods produced in China, where some parts used on nearly all bikes sold in the United States are made.'
This may also start to apply to e-bikes too if the current buoyant sales continue – indeed some manufacturers who pulled out of the US market in recent times like the European Accell Group may wish they hadn't.
Over in the UK there are also reports of a boost to e-bike sales prompted by the crisis.
This Guardian article reports on the phenomena as well as being a great advocate for more people e-biking for many other reasons:
'Manufacturers and shops say demand has rocketed. Halfords, the UK's biggest bike retailer, won't give details, but says e-bikes account for 11% of sales. Jonathan Cole, who runs a London-based mini-chain of bike stores, Velorution, says demand for e-bikes has been "off the scale" in recent weeks.'
But the long term question remains. Will the current boom inspire a new generation of bikers and e-bikers or will it melt away as and when the virus becomes increasingly under control?
New Study Stresses Importance of E-bikes in Post Lockdown Work Return – But Will There Really Be A Transport Revolution?
E-bikes offer the prospect of a safer way to return to work and a slashing of carbon emissions at the same time a new study has found.
The publicly funded Centre for Research into Energy Demand Solutions (Creds), based in Oxford, UK has just published the study.
This BBC report is one of many news reports that gives more detail of the study:
'It said the UK government hadn't yet realised the strategic importance of e-bikes, push-bikes with electric motors. The greatest impact would be in areas with poor public transport, it found…..because a wider range of people would be able to use e-bikes, it said.'
The BBC report adds:
'So far the main emphasis has been on bringing people into city centres, where popup cycle lanes are being introduced. But the Creds paper says e-bikes can be particularly effective in economically-deprived areas where people can't afford cars, but bus services are poor. This could be in suburban or semi-rural areas. It says the UK government should find ways to incentivise the use of e-bikes.'
Meanwhile pressure grows in Europe for more European Union-wide support for e-bikes to help the Union recover from the virus, with this Bike EU report stating that industry bodies 'are also calling for investments in cycling infrastructure and a 5 billion euro EU e-bike access fund.'
It also seems some are predicting that temporary measures for popup bike lines and traffic-free city centres will herald a longer term revolution, as detailed in this Guardian article:
'On Friday, those sentiments began to take shape as Norman (Will Norman – London's Walking & Cycling Commissioner) and his boss at city hall, the London mayor, Sadiq Khan, unveiled one of the most ambitious walking and cycling schemes of any city in the world, closing off large parts of central London to cars and vans to allow people to walk and cycle safely as the lockdown is eased.
It was the clearest sign yet in the UK that coronavirus has the potential to fundamentally reshape transport systems. And London is far from alone.
In the past few weeks, thousands of miles of new bike lanes have been built in cities from Milan to Mexico City, huge swathes of residential streets in places from New York to Bogotá are being closed to traffic, and experts say the dominance of the car is being seriously challenged for the first time in decades.'
The map below shows proposed new cycling and walking routes in London:
New eBikes & eBike Systems
Makeover for Rad Power Bikes eCargo
The RadWagon 4 is the newest iteration of the Seattle-based company's electric cargo bike.
Fully redesigned from the ground up, the RadWagon 4 offers enhanced strength, stability.
According to CEO and founder Mike Radenbaugh the new bike is '…a next-level people and cargo hauler that's essentially a brand new cargo bike. With a patent-pending frame design, custom tires, and more adjustability than ever before, the RadWagon 4 is the raddest car replacing bike we've ever created.'
New features include:
Lower overall center of gravity to provide a more sturdy, stable ride. It

maintains the existing 350 pound payload capacity. The standover height and rear deck are also lower than previous versions, making it easier for both rider and passenger to get on and get going.

Smaller, wider tires (22 x 3 inches) that were created specifically for this bike to provide the most comfortable, grounded riding experience possible.
Geared hub motor, providing twice the torque compared to the direct drive motor used in previous models. Offers improved uphill hauling and helps riders quickly get up to speed from a stop.
More adjustability and customization to accommodate riders of all sizes and riding styles. A telescoping seat post and easily adjustable handlebars fit a wider range of riders and allow them to find the perfect riding position.
A 'refreshed' lineup of accessories and new mounting points for fitting child seats, cargo baskets, and more.
The RadWagon 4 comes in Rad Orange, Pearl White, and a limited edition Black colorway with reflective decals, and will be priced at (pre order price of $1,499) $1,599 USD (750W motor), $2,099 CAD (500W motor), and €1,599 EUR (250W motor).
900 Wh Battery eMTB
Italian firm Cicli Olympia has launched the PowerNine 900Wh capacity e-bike battery that now features on its EX 900, EX 900 Sport, Performer and Mistral.
Claimed advantages are:
The battery occupies virtually the same space as any integrated battery.
It does not affect the overall weight of the bicycle: its weight is the same as that of a 630Wh battery produced according to earlier technology.
Electronics designed to specifically enhance its characteristics. Olympia say 'The electric motor manufacturers Oli have worked out a specific level of assistance for Olympia e-bikes equipped with PowerNine 900Wh. The outstanding capacity of this battery has allowed Oli to expand the potential of the Olympia customized motor with the "R" level: more torque, more power and reactivity, with shorter response times.'
Greater range. Olympia give the example of a 70 kg rider going 85-290 kilometres / 53-180 miles, depending on terrain, with the lower figure including 4000m climbs.
Six hour charge time using a 4amp fast charger which is supplied as standard.
With current market leaders like Bosch having capacity topping batteries of 625Wh it certainly the PowerNine 900Wh certainly looks an impressive achievement.
GM Kills Off Ariv Electric Folder
The Verge tells us how 'GM has killed its first electric bike. The automaker's Ariv e-bikes, pronounced like "arrive" and stylized as "ARĪV," were released last year in a handful of countries in Europe. But thanks to COVID-19, the company said it has decided to wind down its e-bike production.'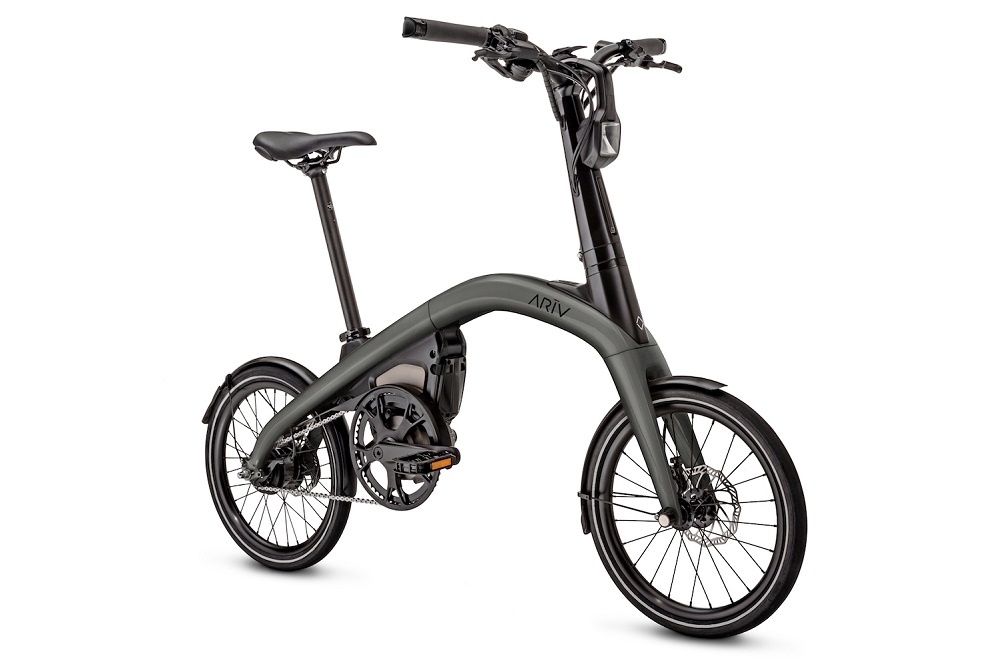 This may seem a little surprising given that many e-bike manufacturers around the world are reporting record sales, but The Verge stresses how GM were emphasising it was a financial decision:
'The COVID-19 outbreak has cut deeply into GM's business, costing the largest US automaker $1.4 billion before taxes during the first three months, according to its latest earnings report.
Still, the company eked out a $294 million profit for the first quarter despite the crisis. GM's North American factories have been closed since mid-March, but the company recently informed workers it was planning to resume production on May 18th.'
Lightweight THE ONE eFolder Thrives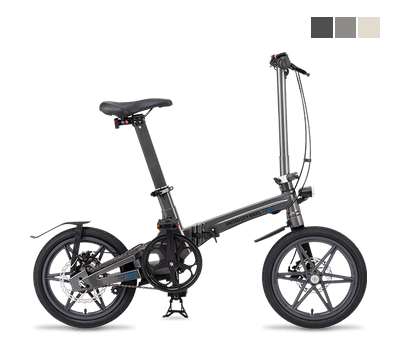 In complete contrast are the fortunes of another folding e-bike, United City Bikes' THE ONE. Reports says that although the campaign on the Indiegogo platform runs until the end of June 2020, it is already the most successful crowdfunding campaign worldwide in the field of e-mobility.
The Swiss company has already collected more than 2.6 million euros from around 3,000 supporters from 63 countries.
Note that although THE ONE claims to be the world's lightest 16 inch wheeled electric folder, Hummingbird might have something to say about that.
Jones Bikes Gain Traction
Jones Bikes based in Ashland, Oregon make custom build bikes and have been developing e-bike designs too.
They want to appeal to a wide range of riders and say 'A Jones bicycle is great for all kinds of riding, on-road and off, touring, commuting, bikepacking, technical trails, loaded or unloaded.'
They have been in touch to show us their latest experiments in developing powerful and very off-road capable e-bikes with their own novel system for gaining traction in snow…
New Bike Accessories
PedalPorteur Adjustable Rack
PedalPorteur is a rack that adjusts to whatever you are carrying, reducing your reliance on straps or cords.
PedalPorteur say that 'With removable accessories, the system remains lightweight and compact, expanding to a larger size when you need it.'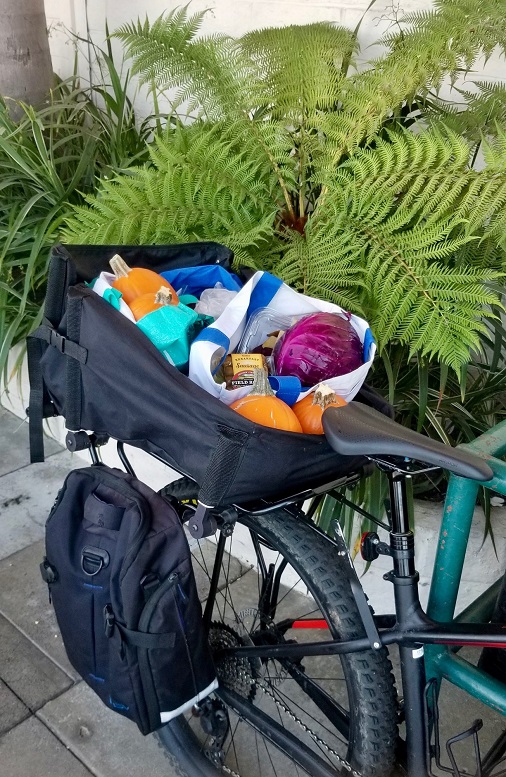 To celebrate the upcoming launch, PedalPorteur are holding a contest which you can
check out here.
Get Inspired
Moustache Say Leave the Car in the Garage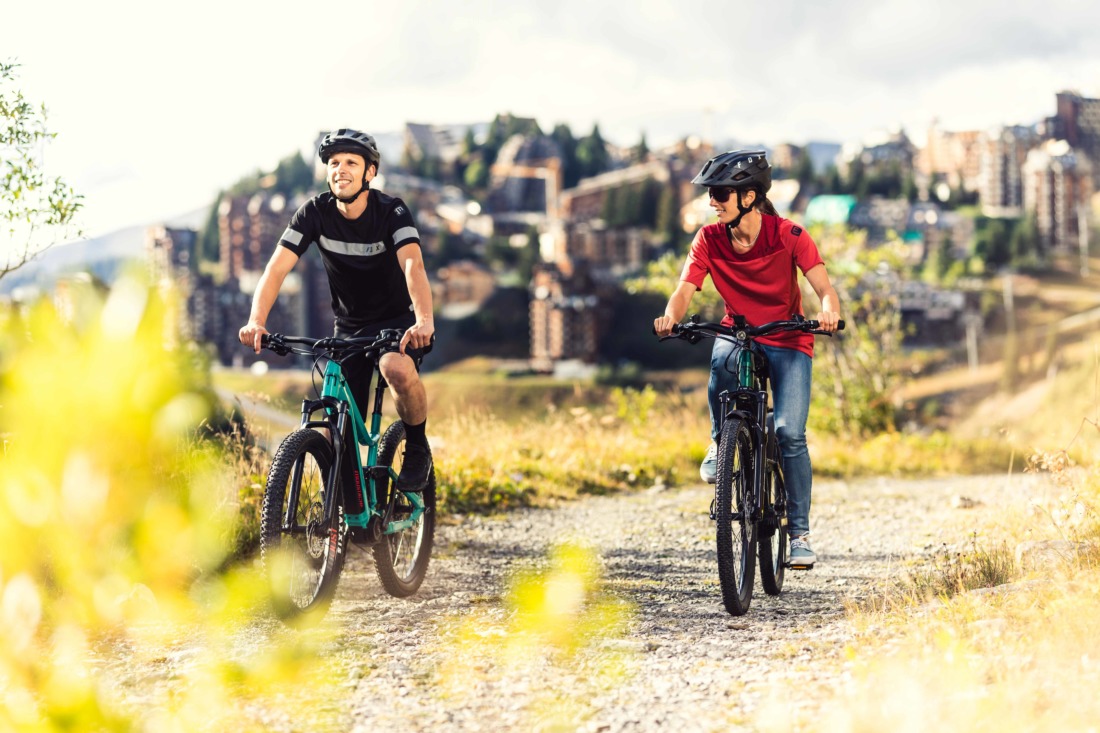 French e-bike manufacturer Moustache have published this nice article online reminding everyone of the benefits of e-biking and suggesting it's a much better idea to go e-biking and leave the car in the garage….
E-Cargo News
Miami Pilots E-cargo Bike Scheme
SmartCitiesDive reports that 'The City of Miami has partnered with shipping company DHL Express and mobility logistics hub Reef Technology to pilot four low-powered electric-assist e-cargo bikes that will be used for deliveries across the city….They're capable of pulling up to 400 pounds or 60 cubic feet in volume. The bikes are anticipated to reduce 101,000 kg of CO2e annually, and should help DHL achieve its short-term goal of "clean pickup and delivery solutions" for 70% of operations by 2025. '
E-Micromobility
Semi-Autonomous E-kickscooters Come to Georgia
How about being able to hail your own e-kickscooter to your door? Surely getting a kickscooter delivered to you to make a journey kind of defeats the object of this green and convenient form of transport?
Well your kickscooter is now able to make its own way to you – if you live in Peachtree Corners, Gwinnett County, Georgia that is.
Go X and Tortoise have collaborated to bring teleoperated e-kickscooters to fruition here. Take a look at the video and you will get the idea:
Peachtree Corners passed an ordinance mandating that all shared micro-mobility devices deployed are capable of automated repositioning to increase the accessibility of shared e-scooters, while avoiding the sidewalk clutter challenges that have plagued other cities.
Go X reports it has seen an 86 per cent growth in usage week-over-week for the previous six weeks.
No doubt helped by the fact it has created a sanitisation process whereby each vehicle is thoroughly disinfected upon being remotely repositioned.
Every Go X Apollo employee is required to pass a daily Covid-19 health check. Each scooter also gets a sticker that shows that it was thoroughly disinfected, and that it is free of Covid-19.
The scheme has been put in place under the auspices of the Curiosity Lab which this SmartCitiesWorld article describes as 'a living laboratory that helps companies and start-ups such as Tortoise and Go X develop, test and prove emerging smart city or intelligent mobility technology in a real-world environment.'
The article adds 'The Lab offers free 5G access, leading infrastructure, intellectual property protection and the world's first environment to feature general liability insurance for both driven and driverless traffic. It includes a 1.5 mile autonomous vehicle test track that is helping to put Peachtree Corners on the map as one of the US' up-and-coming smart cities.'
Stay tuned for more e-bike news and reviews and thanks for reading!
-Rich
P.S. Don't forget to join the Electric Bike Report community for updates from the electric bike world, plus ebike riding and maintenance tips!
Reader Interactions