eBike News: Yamaha eGravel, New Schwinn, eGrocery Deliveries, High-Tech Greyp, World e-Bike Series, & More! [VIDEOS]

In this week's eBike news roundup:
Yamaha's Wabash eGravel Bike
New Schwinn eBikes with Bosch System
High-tech Greyp G6 eMTBs
Grocery Deliveries by eCargo Bike
World e-Bike Series
UK's Royal Mail to Trial E-trikes
eBikes & Apartment Developments
Extreme Railbiking
And More!
New eBikes & eBike Systems
Yamaha's Wabash Gravel e-Bike
Yamaha USA has announced it will be delivering its all-new adventure gravel e-Bike, the Wabash, to bike retailers across the country this spring.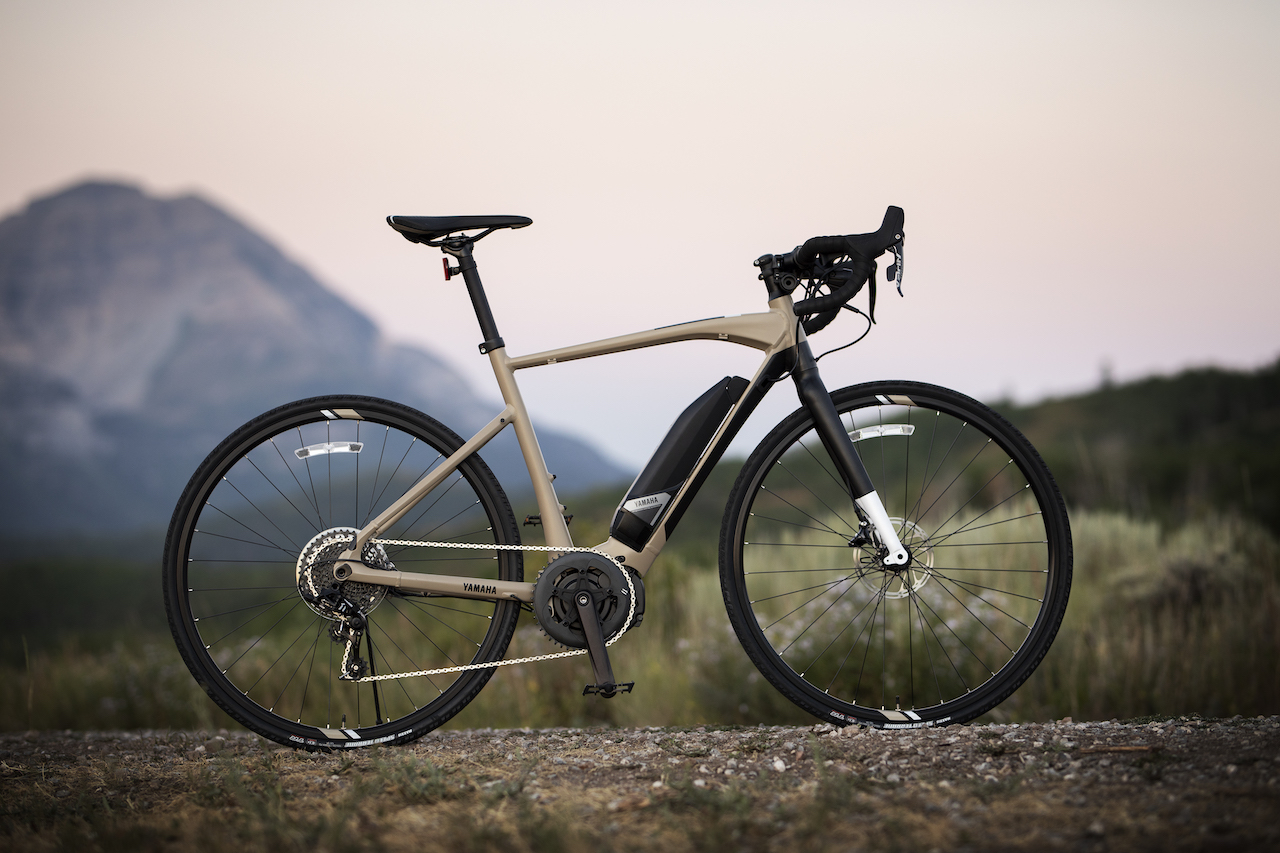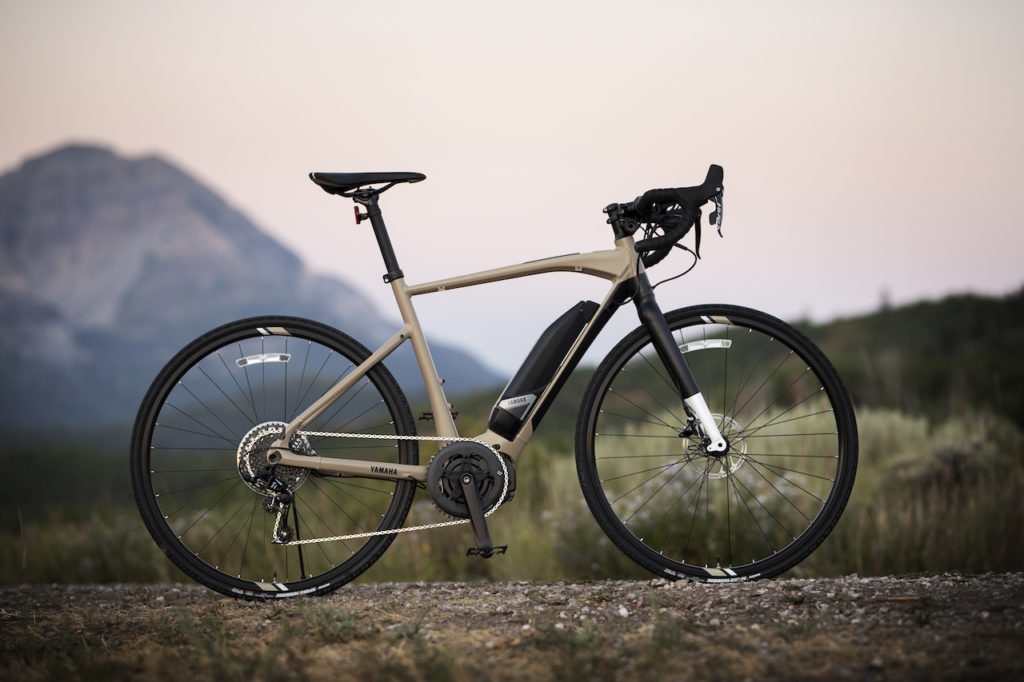 The Yamaha Wabash is a Class 1 e-bike (rider must pedal to get electric assist, 20mph assist limit), that, Yamaha say, 'is made for exploration and cycling adventures with performance and versatility, that excels on both hard surfaces as well as off-road dirt and gravel surfaces.'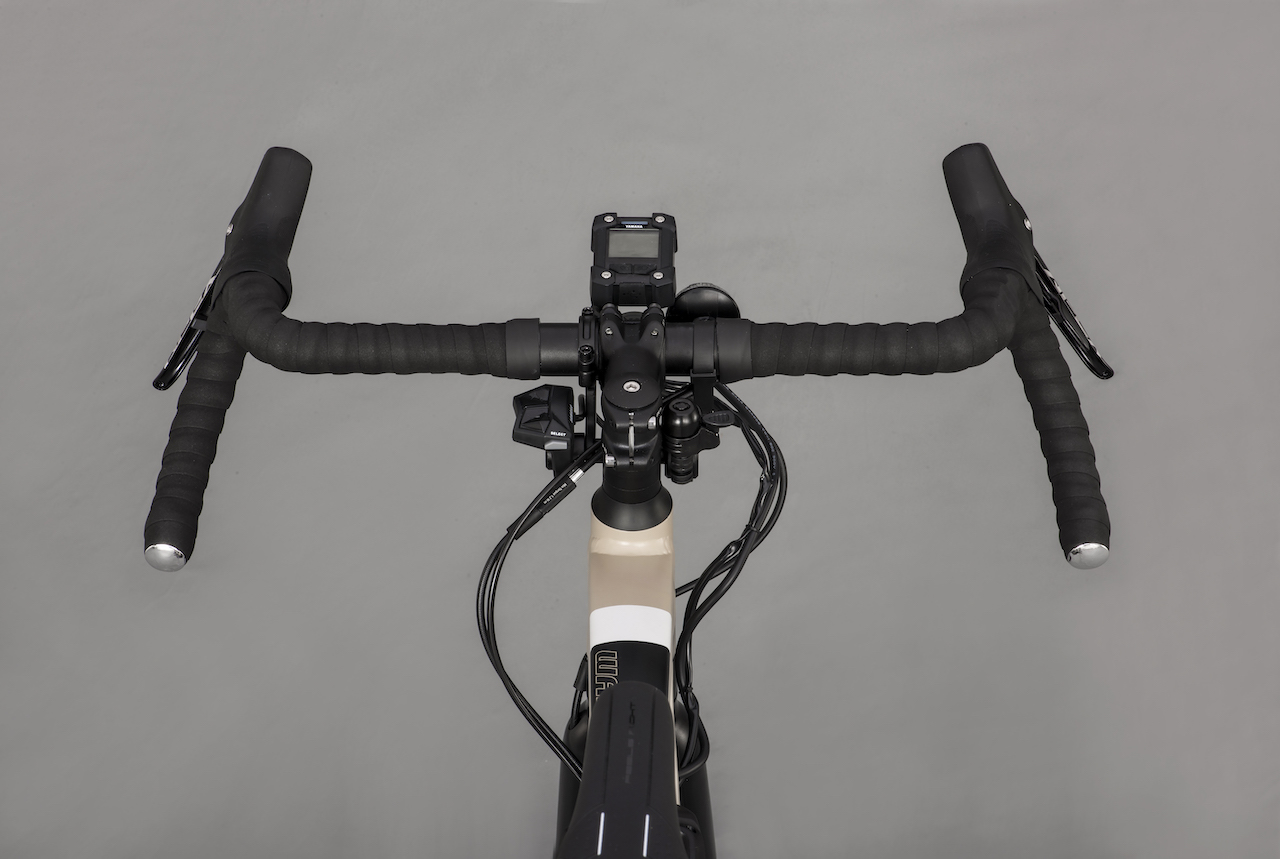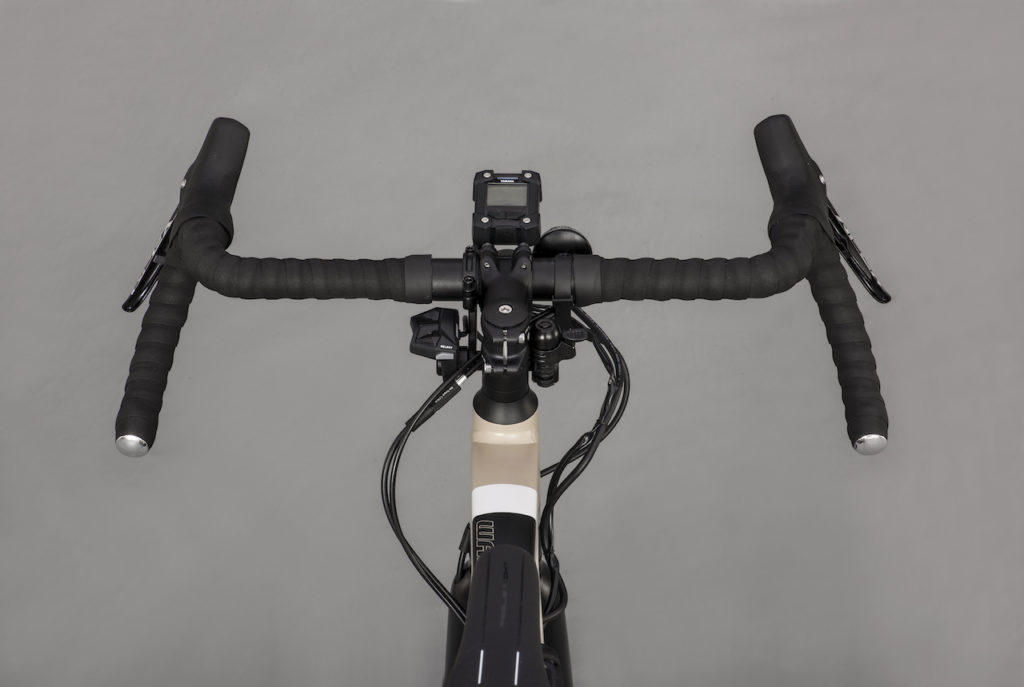 Above all else the Wabash is designed to be taken both on and off road bike. Design elements include:
Flared handlebars for more stable handling on roads and trails, also allowing easier incorporation of handlebar packs for bike-packing adventure trips.
SRAM Apex 1×11 drivetrain, Maxxis Speed Terrane tires and SRAM Apex hydraulic disk brakes all aimed at giving an easy to pedal and sure-handling off-road ride, whilst maintaining on road speed.
Built-in dropper seat post compatibility.
12mm thru axle on both front and rear hubs.
LED headlight, and hidden rack mounts for easy integration of Yamaha's rack and fender kit.
500-watt-hour lithium ion battery pack.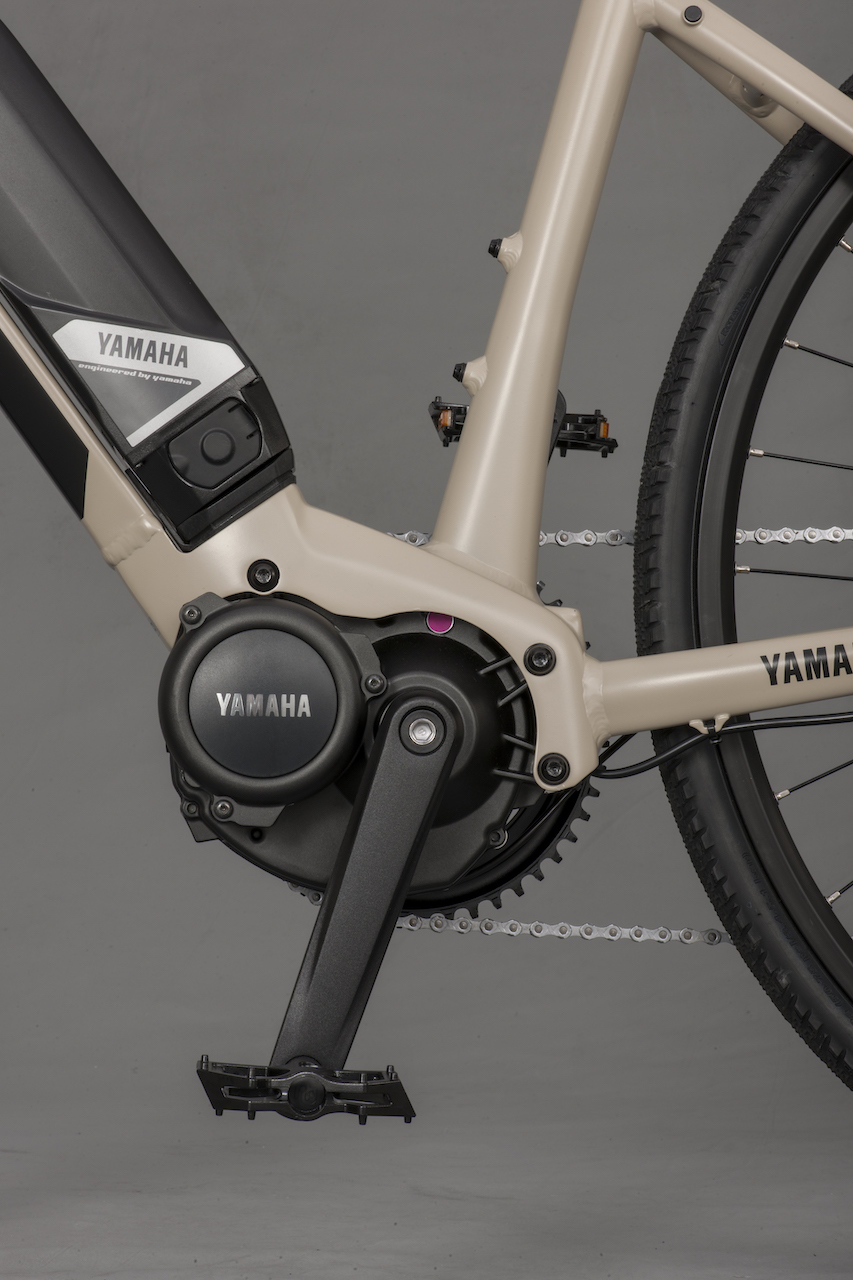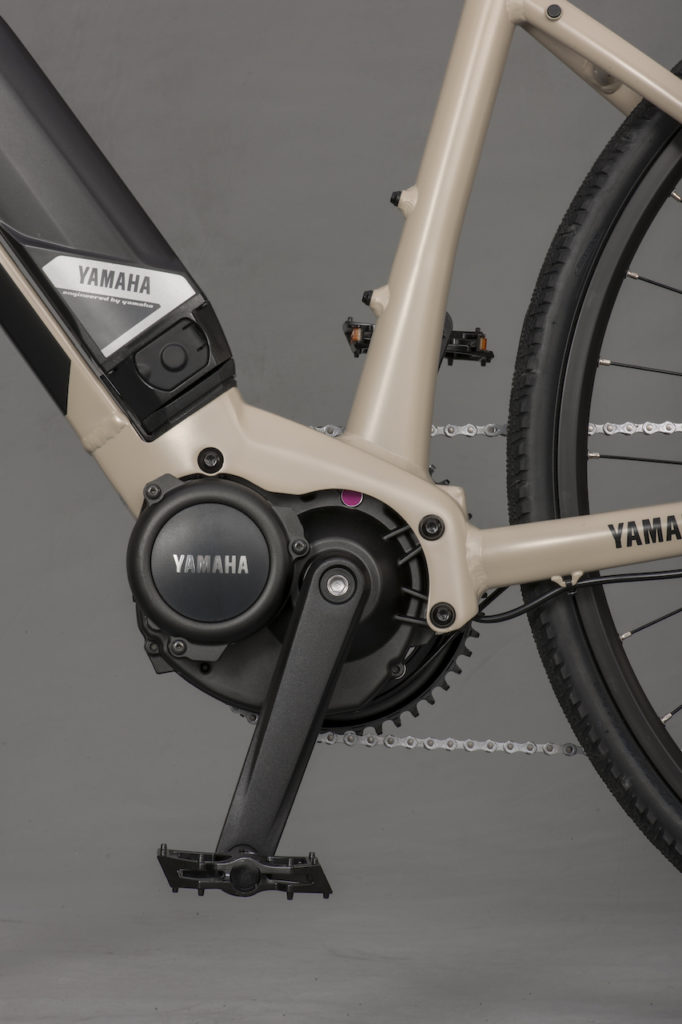 The Wabash is powered by Yamaha's own PW Series SE drive, with cadence support up to 110 RPM and max power of 500 watts.
MSRP is $3,499 and it comes with an impressive 3-year warranty on the drive unit, 500-watt-hour battery, and frame. Reported weight is around 44 pounds or 20kg.
New Schwinn Vantage E-bikes Only on Amazon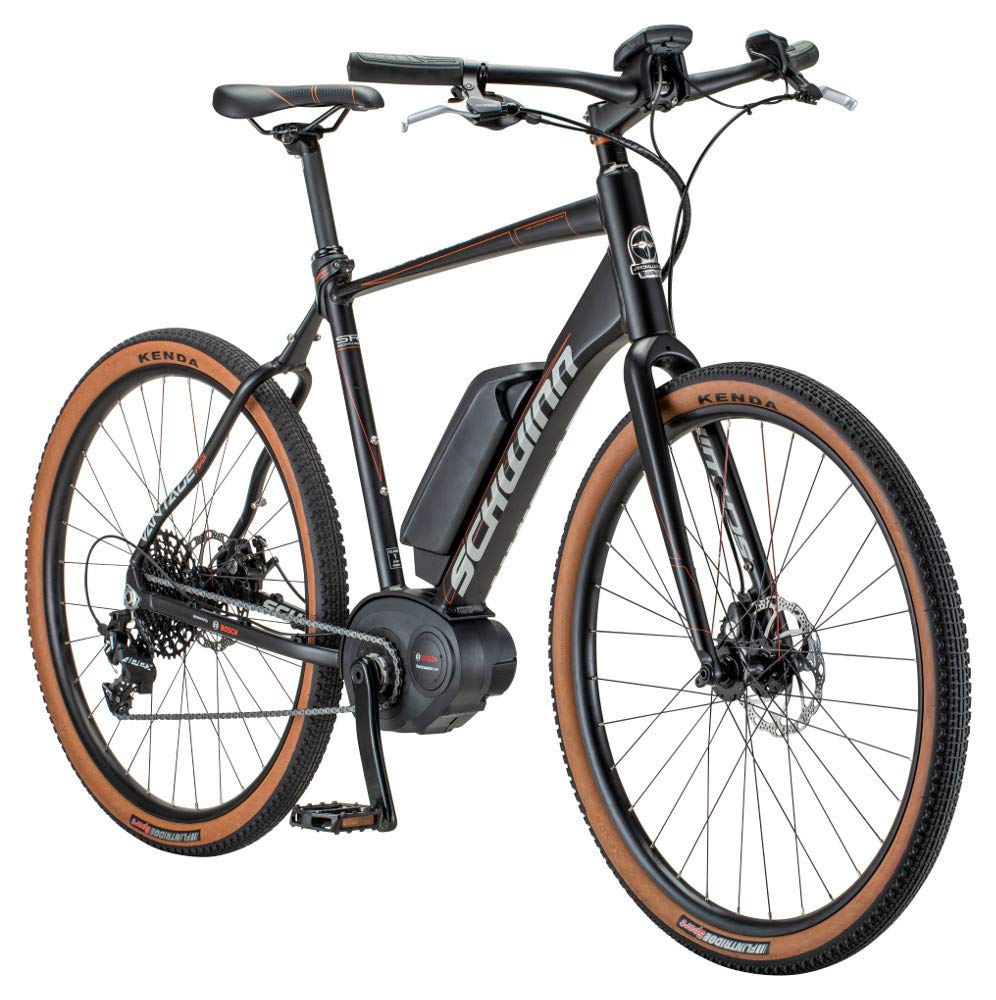 This Forbes report reveals that the new Schwinn Vantage FXe
and Schwinn Vantage RXe electric assist models 'will be Amazon exclusives, and won't be available via the brand's usual outlets such as Sports Authority, Dick's Sporting Goods or Walmart. (Schwinn's bike-store-only marque is called Signature.)'
Both models use Bosch mid-motors but whilst the Vantage FXe is a class 1, 20mph, 250 watt model the Vantage RXe uses the 350W Bosch Performance Line Speed drive with a top assisted speed of 28mph.
The FXe retails for $3,499.99 and the RXe for $3,999.99.
The Forbes article states 'If sales hit targets the models will then become available on Amazon stores in Europe.'
Greyp Reveal Full Details of G6 'Superbikes'
Greyp is a Croation e-bike manufacturer owned by supercar firm Rimac Automobili.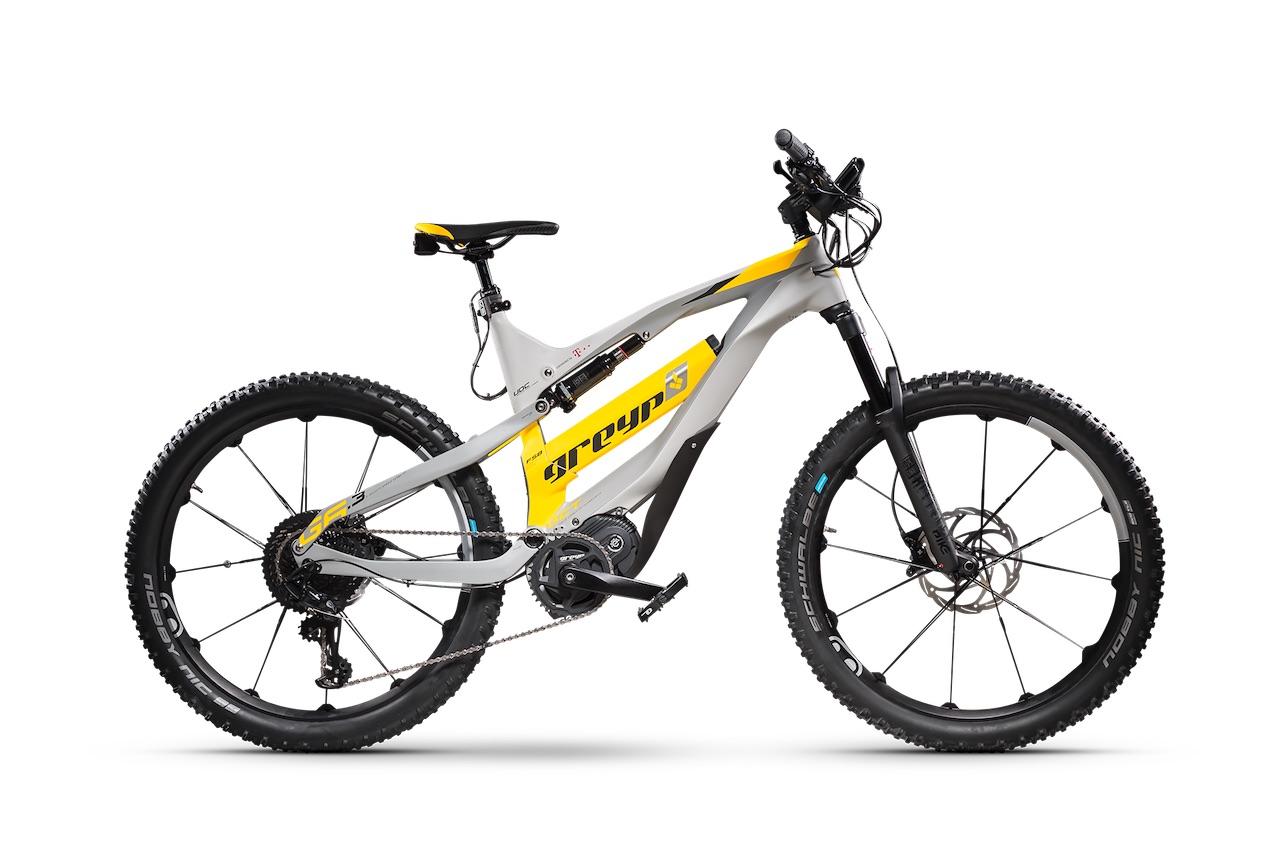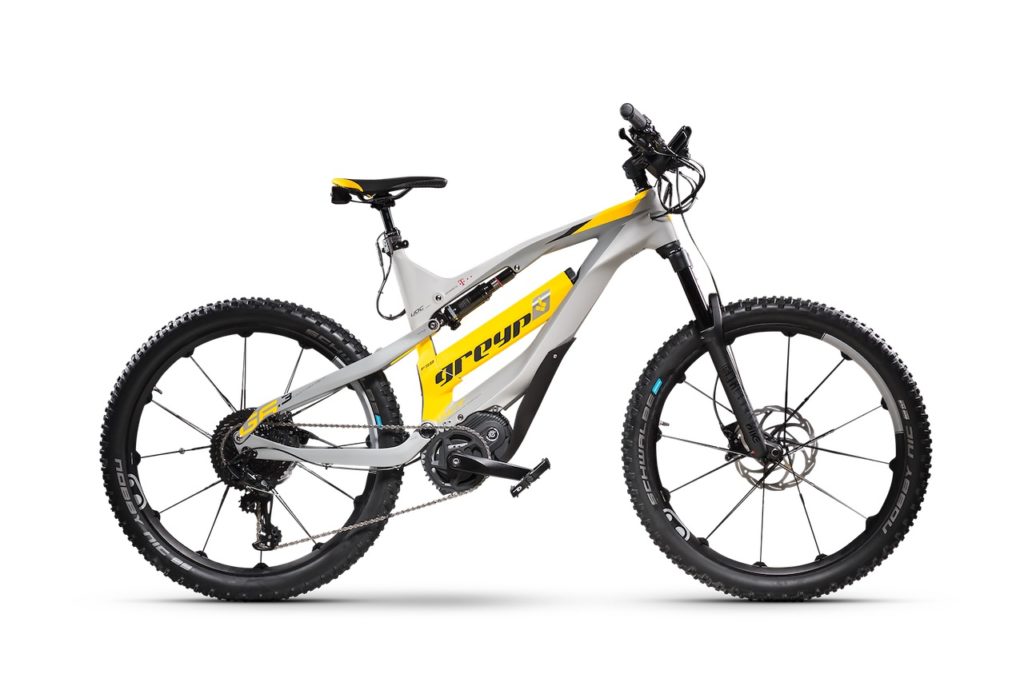 The likes of footballer Lionel Messi own one of their existing G12 models and EBR revealed teaser info about a new e-mtb model, the G6, earlier in the year.
The full spec is out now, with three models of G6 all featuring carbon frames and MPF mid drive motors.
The 6.1 and 6.2 models come with a 250W motor rating whilst the 6.3 has a 460W nominal rating.
All models feature a sizeable 700Wh battery pack. The bikes look to packed with tech, including integrated front and rear cameras plus accelerometer, gyro, GPS, barometer and internet connectivity.
Naturally this doesn't come cheap, with the three models lining up at 6499, 6999 and 7499 euros respectively.
This video gives much more detail, including possibilities for comparative fitness data and competing riders to indulge in 'gamification' with features such as livestreaming of rides.
Meet Avial's Own Frame E-bikes
Finnish company Avial are developing two models of e-bike based around a patented frame weighing about 3.5 kg, made of durable aircraft-grade aluminium alloys.
The frame is designed to accommodate both mid-drives (250W and 350W variants with 80Nm of torque, brand Comp C17) or a hub motor.
Avial say reasons for the novel approach to the frame construction include environmental friendliness, square section frame making for easier mounting of 'add-ons', ease of bespoke 'one-off' manufacturing and a desire to produce a cost-effective e-bike with the frame actually manufactured in Europe.
Avial say they are aiming for a mass-produced model with a retail price in the range of 1400 – 1800 euros with both city and trekking style options.
Grocery Deliveries by eCargo Bikes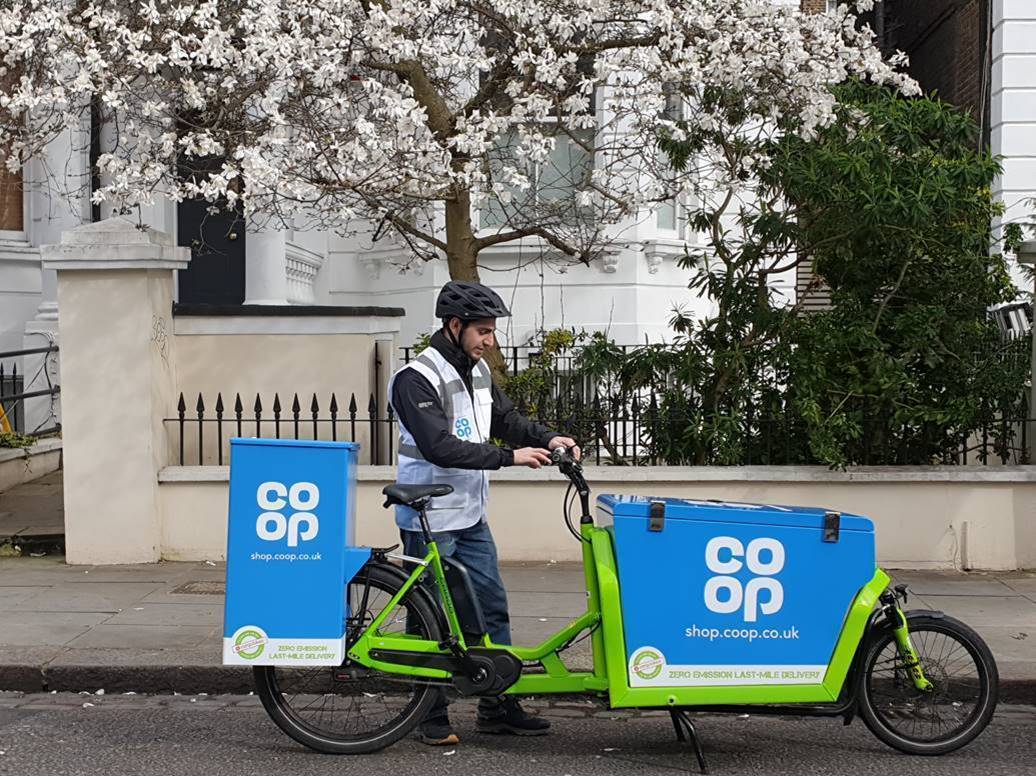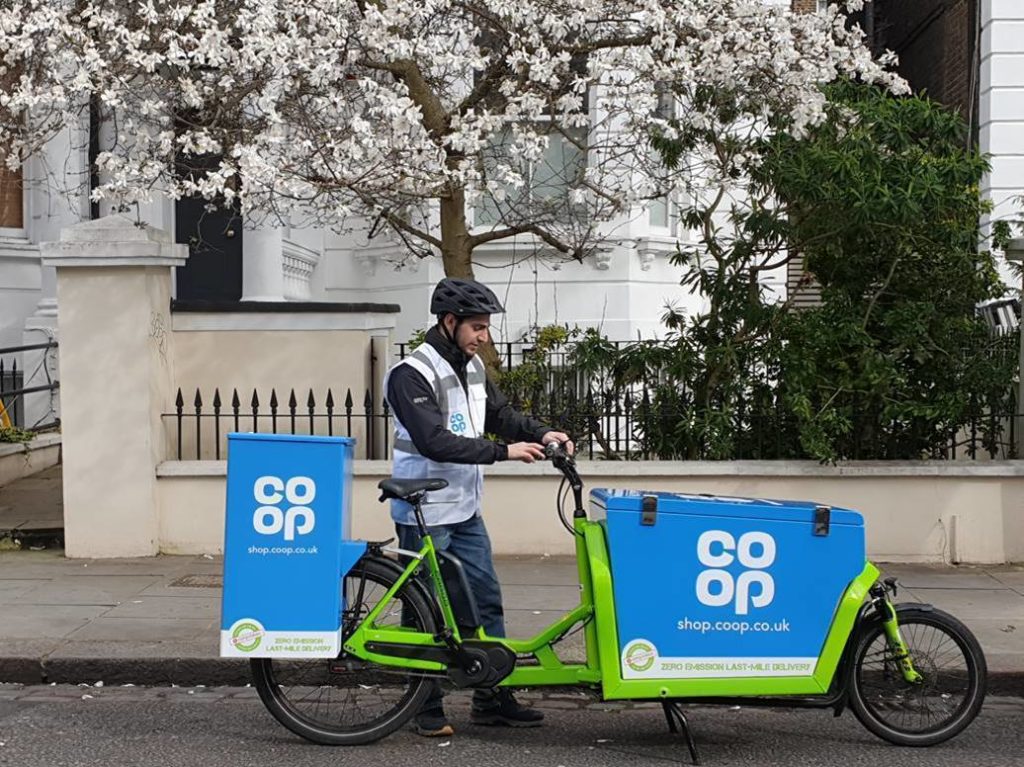 Co-op is a London based grocery chain that is now offering local deliveries by eCargo bikes thanks to a partnership with e-cargobikes.com and it is stated that 'neither diesel or electric vans could complete cost effectively . The fast delivery time is due to the electrically assisted cargo bike's ability to utilise cycle lanes, filter safely through standing traffic, pass between the narrow bollards adorning many of our streets, and park right outside customers' homes and offices to make deliveries.'
Chris Conway, Head of Food Digital at the Co-op, said: "This is an exciting time for the Co-op. As the leaders in convenience shopping, we want to look at different ways of bringing our award-winning products closer to shoppers, and this new service with e-cargobikes.com does exactly that."
James FitzGerald, Managing Director of e-cargobikes.com, said: "We are thrilled that Co-op are demonstrating environmental leadership by launching their online delivery service using e-cargobikes.com. We are reimagining grocery deliveries and exploring a more sustainable transport system – our e-cargobikes are able to deliver the same amount as a diesel-van over a shift but require only 0.5% of the energy."
Bike Accessories
ARGO Cargo Kit Back in Stock
ARGO Cargo report that their kit, which can convert a regular bike into a cargo bike, will be back in stock over spring. It was formerly known as Lift.
https://www.youtube.com/watch?v=zL0tbVtr_Ow
Get Inspired
What's Extreme Railbiking?
To quote wikipedia, 'Thousands of miles of railroads have been abandoned in the United States, much of it in the 40 years from 1965 to 2005. The right of way which has been established for such a line makes it useful for other transport, such as a rail trail. Other uses are possible.'
The other possible uses include this rather exciting-looking pastime:
https://www.youtube.com/watch?v=viSJsOUCGu4
Isle of Wight Cyclist Selected for World E-bike Series Race
The UK's Isle of Wight is a well-known cycling destination for both mountain biking and road and leisure cycling, largely because of the staggering views from its upland and cliff areas.
Now local rider Adam Holleyman has been selected to take part in one of the UCI's WES series of e-bike races.
This report tells us that Adam 'a Wightlink-Wight Mountain Cycle Race Team rider, will travel to Monaco in April to compete in the first leg of the World e-Bike Series. Although he only started riding an electric mountain bike recently, Adam is an experienced road and mountain bike rider and was selected to take part based on his solid track record in competitive cycling.'
Here's the full event calender for the full series of World E-bike Series races.
Will Bikes and E-bikes Catch on with Developers?
This fascinating article from Australian website The Urban Developer looks at the potential for bikes and e-bikes to be 'built into' new housing and commercial developments from scratch, rather than added on later as is usually the case at present.
It states 'Health and wellbeing amenities for residents are now being considered by buyers to be "upscale" facilities in new buildings, and can also help a project achieve a desirable GreenStar rating or other award nominations for innovation. Alongside the potential project accolades, state-of-the-art health facilities can also attract new buyer demographics, add value to the project and highlight the developers commitment to both the environment and resident wellbeing – all things that can positively impact the overall profitability of the project and increase developer brand awareness.'
Most exciting of all for cyclists and e-bikers it adds 'Although the industry has been quick to understand the importance of general health and wellbeing facilities (such as pools and gymnasiums), the next phase is heading toward the inclusion of high-end cycling facilities (such as end-of-trip facilities and bike share systems), which are poised to become the norm in many projects – both residential and commercial.'
In particular the article highlights the efforts of bike and e-bike sharing specialist BYKKO, telling us 'BYKKO won best new product in The Urban Developer Awards 2018 and secured Australia's first electric public bike share pilot program with Transport for NSW as well as various Smart Cities partnerships with local councils including City of Newcastle.'
E-Cargo News
UK's Royal Mail to Trial E-trikes
According to this web report 'Royal Mail are trialling e-Trikes that are powered with a combination of solar, battery and pedal technology…The trial will see eight new Italian e-Trikes in Stratford, East London, Cambridge and Sutton Coldfield over the next few weeks. This will last for six months when the company will decide whether or not to do a UK national roll-out.'
Infrastructure
UK's Road Network Deteriorating
The UK's Bikebiz tells us that 'New research has revealed the "alarming extent" of the UK's pothole problem, with London's pothole count currently exceeding 49,000, an increase of 33% in 2018 compared to the same period in 2017…'
Poor on-road cycling conditions for UK cyclists are also highlighted in this Scotsman report. It reveals that Sustrans, the fantastic charity that conceived and helps implement and maintain the National Cycle Network, recently found that 80 per cent of the road sections of the network were in poor condition.'
Stay tuned for more e-bike news and reviews and thanks for reading!
-Richard
P.S. Don't forget to join the Electric Bike Report community for updates from the electric bike world, plus ebike riding and maintenance tips!
Reader Interactions