eBike News: Win a Yamaha, Friction Drive, SF eBike Festival, Solid Tires, & More! [VIDEOS]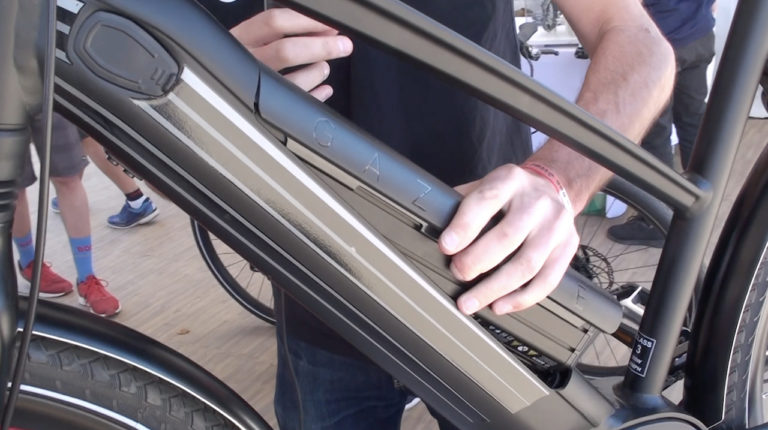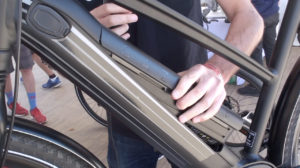 In this week's eBike news roundup:
Dockless Specialist Obike to Sell eBikes
Olympia's High End eMTB
Economical Outrunner Friction Drive
Win A Yamaha eBike
eBike Festival in San Francisco
Ford Van Plus eBike Logistics System
New Tech; Tyre Liners Plus Mobile Phone Use Detection
Suspended and Enclosed Cycle Lanes
eBikes In Seattle And New Uk E-Bike Stores
And Much More!
New E-bikes and E-bike Systems
Dockless Obike Specialist Launches E-bike for Sale
We recently reported on the HOPR e-bike that uses a small, portable battery for the e-bike share market. It seems Singapore's Obike have now used a similar idea to launch an e-bike that is for sale to the public. Previously Obike had concentrated on dockless bike share schemes.
https://youtu.be/_slsLdQ5hV4
The small battery pack of the Obike EVS and its funky urban design are what make it stand out, along with regenerative braking. The claimed battery range is 15km and added to its many digital features it's clearly designed for short hops about town. The bike also boasts anti-theft function, full data-tracking and location tracking suitable for accurate navigation.
There are pre-sale discounts available until 30th May, starting at $1298 with shipping scheduled for October.
Olympia Launch E1-X Carbon 8.0 E-mtb
Olympia are an Italian firm with a long road racing history and more recently some serious mountain bike credentials.
Their new E1-X Carbon 8.0 e-mtb uses Shimano's STEPS 8000 and is proclaimed their 'flagship' model. We couldn't track down a weight for the model but it looks as though it should be lightweight; Shimano's motor is one of the lighter performance crank motors out there at 2.8kg and the carbon monocoque frame has a claimed weight of 2.9kg. It has a frame-integrated 504Wh battery.
From just three e-bike e-mtbs in 2016, Olympia have expanded to include 7 e-mtbs in their 13 models for 2018, including models with the relatively unusual Oleids crank motor. They have outlets in most EU countries, including Poshbikes in the UK, but none in the US.
Outrunner Friction Drive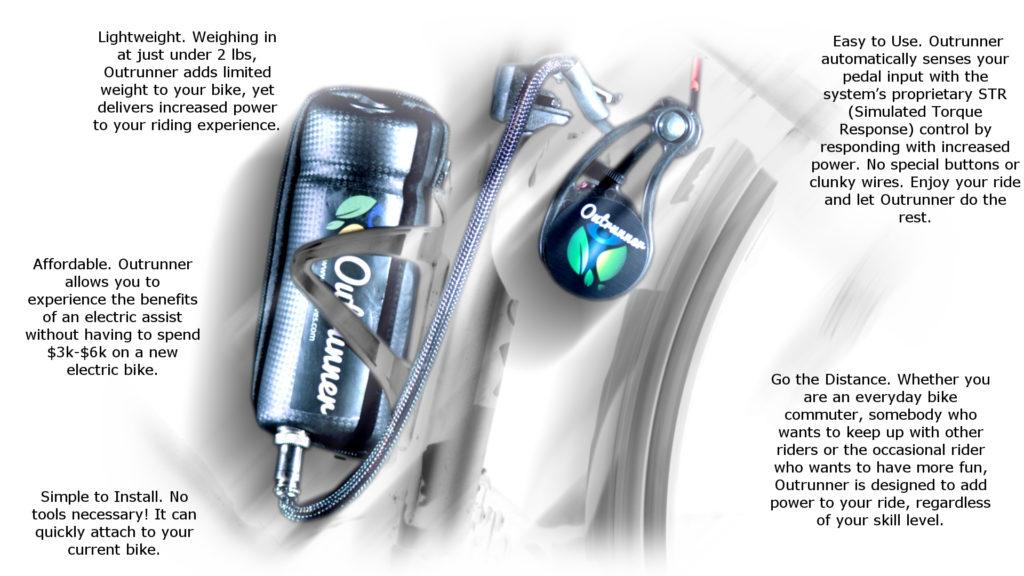 Outrunner is a friction drive electric bike kit and they have 3 models to choose from:
Model 1 is a 10-12mi range – 2lb- with battery drive that requires no tools- it installs with a quick release clamp, has simulated torque response, includes a 1 amp charger, voltage meter, water bottle cage for suggested retail $279-299.
Model 2 is a simple pedal start push button switch, for those who want help with hills and standing starts with the same, price, battery capacity and accessories as model 1.
Model 3 is 1lb that only provides 4-7mi per charge for short rides or occasional hill help but at a $199 price.
Win a 2018 Yamaha E-bike
Yamaha launched this new sweepstakes for bicycle fans at the 2018 Sea Otter Classic and will announce the winner at around September 20, 2018, at Interbike, the largest bicycling trade event in North America.
This is on the back of Yamaha's four all-new U.S. e-bike models including the CrossConnect, a completely accessorized commuter/utility bike, the CrossCore, a fitness bike, the UrbanRush, a drop-bar do everything road bike, and YDX-TORC, a performance hardtail e-mountain bike. View Yamaha's lineup of Power Assist Bicycles, with full specs and pricing at www.YamahaBicycles.com
So Many eBikes at the Sea Otter Classic 2018 Continued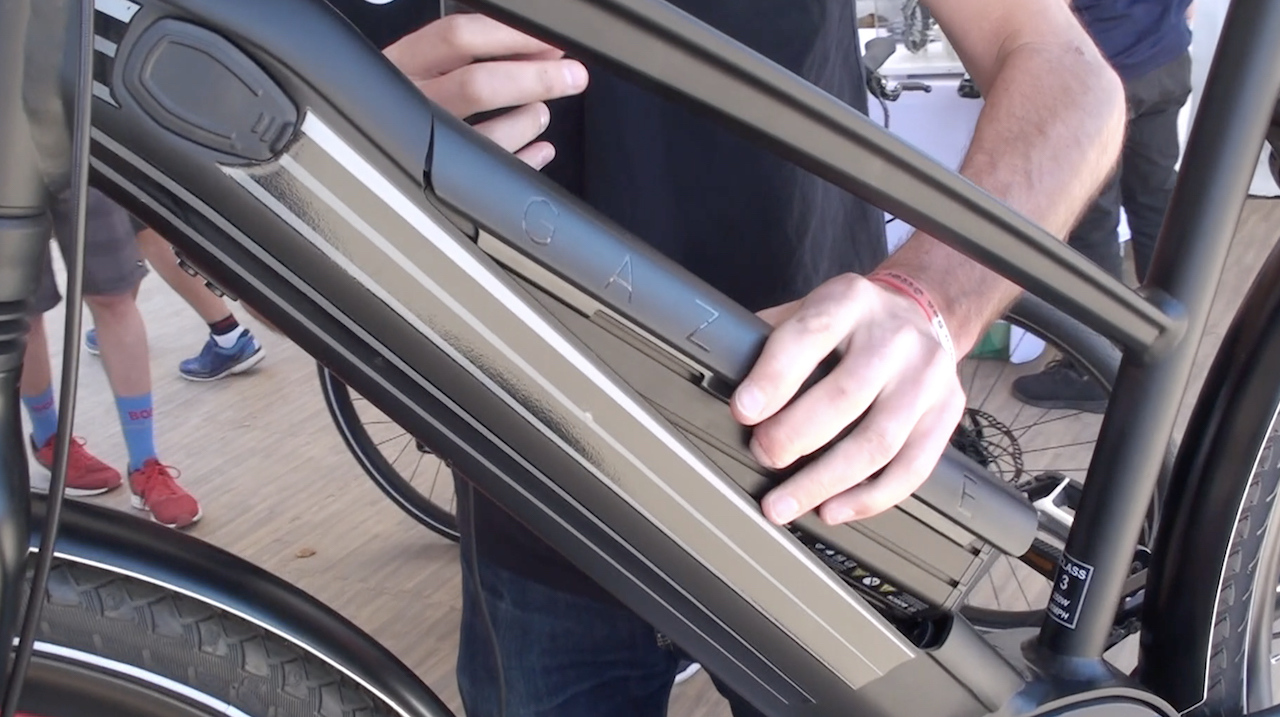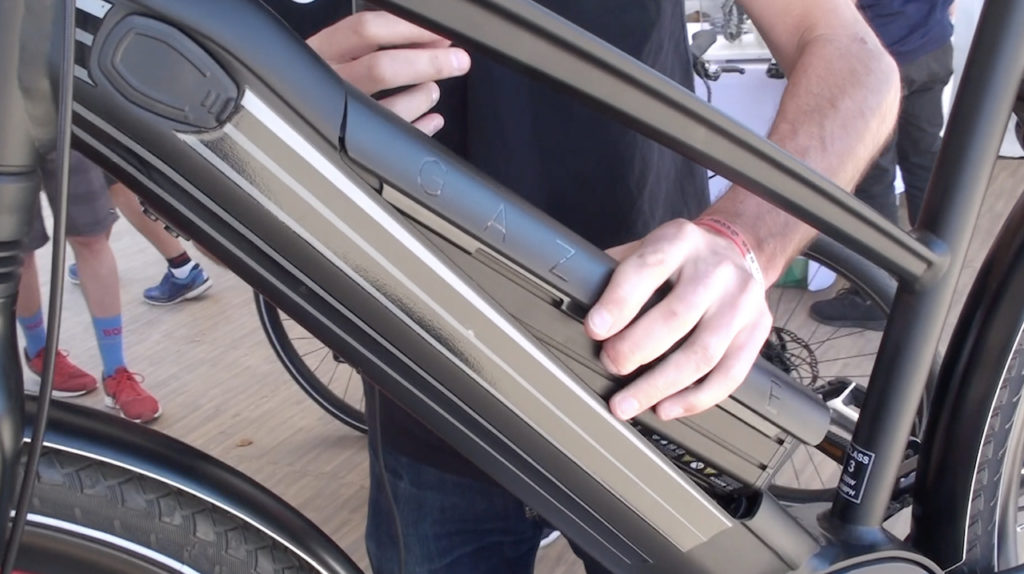 The Sea Otter Classic 2018 in Monterey, CA is the big spring cycling party in North America. This year featured a bunch of new eBikes from many different brands. Checkout the continued video coverage:
BESV, Blix, BULLS, Bosch, & Cube
New eBikes From: Benno, Cero, Giant & Liv, Gazelle, Haibike, Pesu, and Raleigh
BMC, Easy Motion, Fantic, Haro, IZIP, Pivot, and Trek
Commencal, Elby, Electra, Felt, Focus, Oyama, Tern, & Yamaha
Ergon, Goodyear, Kona, Kinekt, Mondraker, RedShift, RSV, & Shimano
2018 Rad Power Bikes RadWagon Review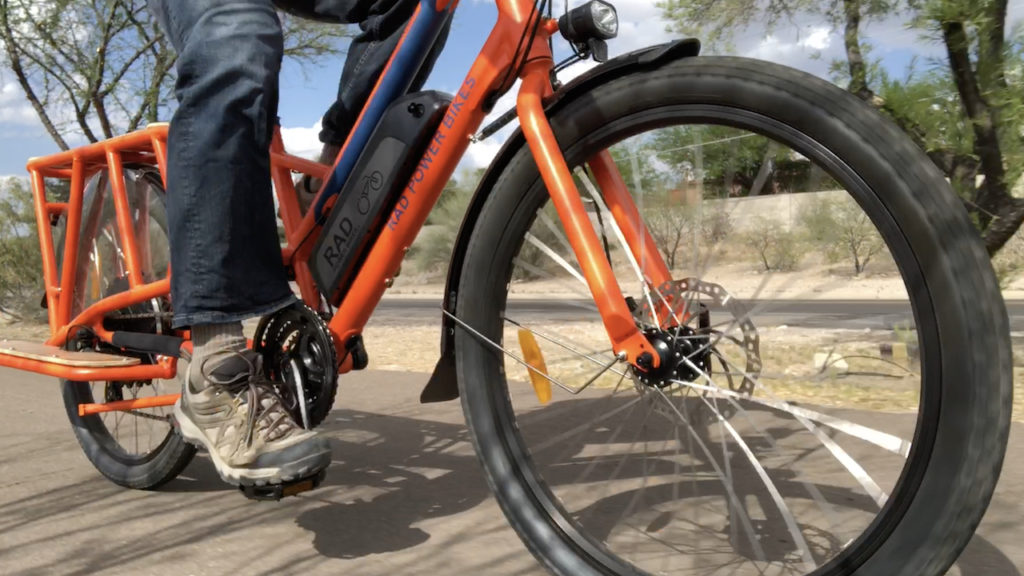 After miles of testing the Rad Power Bikes RadWagon has proven to be a versatile eCargo bike that offers a smooth and quiet ride style with impressive range.
The new 2018 version has a solid aluminum frame that is designed to work with many cargo accessories and the bike can fit a wide range of riders. A 750 watt direct drive motor smoothly blends the assist to help with transporting cargo all over town.
In this second part of the full Rad Power Bikes RadWagon review you will get an idea of the ride characteristics, range test results, pros, cons, and overall thoughts on this electric bike.
Vans and E-bikes
Cycling Industry News report that Ford were at the recent UK Commercial Vehicle Show in Birmingham and their Last Mile Delivery display was a van full of e-bikes!
It's all about integrated transport solutions according to Riese & Muller, whose e-bikes (along with Brompton's) were used in the display.
Riese and Muller's Daniel Jones who was on the booth and commented to CIN "It looks as though Ford's long-term view is one where it acknowledges that more city streets will be pedestrianised and that business leaders may be reassessing how they plan urban logistics," adding "The launch at the show wasn't so much to shout about its vans, but about fleet software that Ford is developing to ensure it stays firmly in the picture as urban transport and business habits shift."
eBike Happenings
Test Ride 50+ eBikes in San Francisco Area
Super Bicycle is this weekend (May 5-6) in the San Francisco area. "Test ride 50+ of the best electric bicycles picked for the hills of the Bay Area." Plus free waffles and coffee breakfast!
Also, a Bike Swap in SF Area
From ELV Motors "Bring down your electric bikes, scooters and skateboards for ELV Motors very first bike swap! On May 26th, 2018 we will be hosting a bike swap/trade/sell in our parking lot. You can bring your bike(s) to sell or trade, to other attendees. There will be no charge to attend or to sell so you don't have to worry about paying to get in. Just come on by if you are just attending, but if you want to put up your bikes to sell or trade, email [email protected] about everything you need to know about getting here and what you need to know about selling."
New Tech
Vittoria's New Air Liner
This new product from tyre manufacturer Vittoria is called Air-Liner and is an insert for tubeless mountain bike tyres which replaces air volume for providing a 'Fully tunable system that gives a progressive feel.' It aims to give more stability to tyres run at low pressure.
Mobile Phones to Detect Drivers Using Phones…
Thanks to UK ethical insurer ETA for this interesting article on mobile phone technology that can detect – via body movement and posture – drivers in other vehicles making a mobile phone call. This article isn't just about using your hands to make a phone call, its about 'hands free' use too, and suggests this is also dangerous and distracting.
Infrastructure
One of the World's Most Beautiful Bike Paths Under Construction
Lake Garda is the fifth biggest lake in Italy and certainly one of the most beautiful and most popular with tourists. The nearby Dolomite mountains are also a mountain biking and e-mtbing hotspot. Now underway is construction of a 140 km / 102 million euros bike path built above the water's edge. The drone video footage shows just how spectacular the route will be on completion in 2021.
MINILOOP from Architect Richard Moreta
Inhabit reports on this highly futuristic-looking enclosed, aerial bikeway.
'The designers also included an optional additional circuit for small electric vehicles as part of their vision for moving cities toward a lower carbon footprint' says the article.
E-bike Biz
E-bikes in Seattle
Crosscut has a very upbeat piece on the rise and rise of e-bikes in Seattle. They now appear to be mainstream and this article gives some interesting insights into market trends there too – most e-bikes are sold online but stores are vital as many still want to see or try before they but for example. Also interesting is the trend to younger riders, many being urban professionals, where the e-bike is simply a tool to save time on your commute.
New E-bike Specialist Stores for the UK
Cycling Industry News Reports on two new e-bike specialist outlets for London and Glasgow. Love Ebikes was launched in Glasgow whilst London's Velorution has opened an electric only store just doors down from its flagship Great Portland Street branch. London certainly has the potential to be something of an e-bike hotspot, with city transport authority, Transport for London, launching its own e-bike website aimed at giving e-bikes a boost in the capital.
Stay tuned for more e-bike news and reviews and keep on riding.
-Richard
P.S. Don't forget to join the Electric Bike Report community for updates from the electric bike world, plus ebike riding and maintenance tips.
Reader Interactions