eBike News: US eBike Imports Doubling, Powerful Priority Current, Tern's Clubhouse Fort & Much More! [VIDEOS]
In the news this week:
Huge Growth in US Imports in 2020
Priority Current – Powerful New Mid-drive for Under US$3000
Rad Power's Rad Runner Plus Heads to Europe
People for Bikes Vote for Bikes Update
Van Moof Security and Speed Limit Settings
Tern Adds All Weather Protection to Clubhouse Fort Carrying System
eBike Share from Boulder, Charlotte and the UK's Big Issue
Tier eScooter Developments
All the Latest eBike Biz News
US eBike Imports Doubling this Year With Demand Outstripping Supply
Micromobility Newsletter reports that 'Last year, the US imported about 270,000 ebikes. This year, the total is expected to end up somewhere between 500,000 and 600,000.'
This is from Ed Benjamin, founder and chairman of the Light Electric Vehicle Association. This year, Benjamin expects the total will end up somewhere between 500,000 and 600,000. Even that won't fully meet demand, he says, because the virus forced many Chinese factories to shut down in the spring: "There's howls of frustration about getting more bikes."

The above quotes are from this Bloomberg article which documents the success of what they say are the US's best selling e-bikes, Rad Power, whose boom times during Covid-19 have echoed the success of the industry as a whole. It quotes further evidence of the 2020 e-bike boom saying 'Electric bikes, though a tiny slice of the market, have been especially hot, with sales more than doubling in the first eight months of this year over the same period last year, according to NPD Group Inc. which tracks bike shops and big-box stores but not direct-to-consumer brands such as Rad.'
New eBikes & eBike Systems
The Priority Current – A Powerful, Well-priced Belt Drive
Priority Bicycles new city e-bike, the Current has some impressive stats to its name; a mid-drive motor rated at 500watts of power and a headline-grabbing 140Nm of torque with top assisted speed options of 20mph and 28mph. The battery is 500Wh and looks to be neatly integrated into the frame and it is fully kitted out with hydraulic disc brakes, full-length mudguards, adjustable handlebar stem, LED lights, USB charging port for devices and a kickstand. At US$2999 you look to get a lot for your money.
Rad Power's Rad Runner Plus to be Included in its European Line Up
US-based Rad Power's Rad Runner short tail e-cargo bike has been a huge success over in Europe as well as the USA and now the Rad Runner Plus is following it's more basic-spec cousin across the Atlantic.
The main additions are seven derailleur gears and a front suspension fork but there are also front and rear fenders, and a front LED 'halo light'. The Plus will also come standard with the accessories for a rear passenger seat, including a padded seat, rear pegs, and skirt guard. (Those cost extra with the original RadRunner.)
Rad Power say the first shipment is due in Europe in mid-December at €1,499 and you can pre-order now on the link above.
New Cycling Accessories
Tern Add Wet Weather Carrying Options for Kids and Cargo
News about short tail e-cargo bikes seems to be everywhere at the moment.
Tern's updated GSD model, a do it call compact 'short tail' e-cargo bike was introduced earlier in the year and hot on its tails comes two new accessories that make it easier to take children on the bike in the wet.
At the bottom is the Storm Box, a waterproof enclosure that creates a large space around the bottom, the rear half of the bike. A new tonneau style cover can be added for full waterproofing called the Storm Shield. It looks pretty simple to add on and is held in place by fiberglass poles with full-width zipped windows on either side to allow easy access. There are plenty of pockets inside for holding drinks, snacks and toys. Outside there's plenty of reflective detailing and the rear panel is fluorescent yellow for maximum visibility in traffic. The Storm shield attaches with Velcro straps and is simple to add or remove depending on the weather.
The whole ensemble looks pretty comfortable for smaller passengers to ride in and is called the 'Clubhouse Fort'. Availability is slated for early 2021.
Get Inspired
People for Bikes Vote for Bikes Funding Update
People for Bikes pro-bike advocacy group have been in touch tell us about their update page showing the latest results of their Vote for Bikes campaign results which details a huge range of pro-bike projects right across the country.
eBike Security
Another Van Moof Recovered by GPS
This BBC report documents how one Van Moof owner recovered her stolen e-bike in London by tracing its inbuilt GPS unit using her smartphone. As the article details, there are a number of anti-theft features built into the bike and there is even (for an extra fee) a stolen e-bike recovery service offered by Van Moof:
'Helena's bike was made by VanMoof, which builds anti-theft measures throughout the whole bike. If the frame number has been scrubbed away, its signature Bluetooth address is still traceable from a smartphone. The wheels are secured with special theft preventative nuts. It becomes useless as an electric bike the moment it is stolen. And, the bike is easily tracked. If the alarm or the flashing skull sign does not deter a would-be thief, VanMoof offers a £270, three-year service, that will send a team out to chase down your stolen bike. If they don't find it within two weeks the company will replace the bike for free.'
You can check out our guide to locks and their security ratings or take a look at our exploration of the ins and outs of e-bike insurance.
Meanwhile Bike EU reports that VanMoof has announced that it will remove the US support mode of up to 32 km/h / 20 mph in its e-bikes intended for the EU market. The move comes after German cyclists were fined for unwittingly riding in the US support mode, which made the e-bike no longer legally compliant as a bicycle.
emicromobility
Boulder's B-Cycle Share to go Electric
As Boulder Beat reports, Boulder's iconic public share B-cycles have remained largely unchanged since their 2011 debut. However, change it seems is afoot in the form of the introduction of e-bikes and e-scooters.
There are City Hall plans to launch a competitive bidding process soon for organizations to own and/or operate B-Cycles' successor and, as well as the withdrawl of public subsidy, the article tells us that 'Boulder hopes to have a full offering of micromobility transportation options by the spring….Along with the B-cycle revamp, staff intends to include e-bikes citywide — council pushed to up the share of electric bikes, given their popularity — and e-scooters in limited parts of east Boulder.'
Share eBikes in Charlotte get Revamp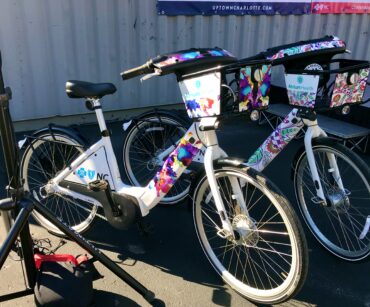 Meanwhile the similarly named Charlotte BCycle in North Carolina has a new name, a new look – urban bike sharing company Charlotte Joy Rides' 250 revamped e-assist bikes found their way onto the city's streets recently and also found their electric assist speed increased to 15mph and varied, striking new paint jobs designed by seven local artists.
Big Issue eBike Share Aims to Combat Covid-19 Economic Impact on Poorest
The UK's Big Issue made their name in the UK by providing employment opportunities for the homeless through selling their Big Issue magazine.
Now Big Issue has partnered with Norweigan company ShareBike to launch The Big Issue eBikes projects in a bid to break the cycle of unemployment.
Big Issue-branded eBikes will initially be available to rent in Cambridge – the home city of Big Issue founder Lord John Bird – with the proceeds going towards supporting previously unemployed people back into work.
With plans to launch a fleet across the UK in early 2021, The Big Issue will pay employees a living wage to manage the project in their local area. Access to services and support will also be offered to improve lives affected by the devastating economic impact of the Covid-19 pandemic.
Tier Mobility Gets New eScooter and Raises US$250 Million for European Expansion
Electrive reports that electric kick scooter company Tier Mobility is launching a new series of electric scooters:
'The company's first purpose-built LEVs have been developed and manufactured in a strategic partnership with Okai. Tier Mobility will now begin rolling out localized versions of the scooters in Austria, Switzerland, France, Denmark, Finland, Norway and Sweden. In June, a five-digit fleet of scooters will also be introduced in Germany. The manufacturer claims the vehicles boast "significantly longer life, greater comfort and improved security features" and are built on a modular basis, allowing for easy and quick adaptation for local vehicle requirements. Further, the solid design also prevents vandalism and allows for longer maintenance periods of up to a year, says Tier Mobility.'
Since the start of its business activities in October 2018, Tier says it has put 60,000 electric scooters on the streets in over 80 cities in ten countries. The company is already profitable and will use the investment sum to advance its entrepreneurial vision further.
Electrive also reported that Tier 'has announced the closing of a new financing round in the amount of 250 million US dollars (about 211 million euros)….Tier intends to use the financing primarily to expand its presence in European cities, to accelerate its expansion into strategic growth markets and to launch the Tier Energy Network across Europe.'
eBike Biz
New Concept and Location for New Trade Show
Bike EU reports that new US outdoor event The Big Gear Show (TBGS) whose planned 2020 premiere was cancelled, will now take place 3 to 5 August 2021. Once planned as a B2B2C outdoor and bicycle show at the Calvin L. Rampton Salt Palace Convention Center in Salt Lake City/Utah, the concept will now rely on an "experience-oriented B2B outdoor event" in nearby Park City.
Arleigh Greenwald Joins Tern
 Tern, and Stile Products, Tern's North American branch office, have welcomed Arleigh Greenwald to their team.
With nearly two decades of experience in the bike industry, Arleigh is known for running Bike Shop Girl Family Cyclery, which has inspired and empowered families to get on the bike and leave the car at home. In the virtual sphere, Arleigh is also known for creating high-quality digital content that helps cargo bike owners worldwide, covering topics such as maintenance and riding tips.
Ukraine's Delfast Want to Crowdfund US$3 million
Kiev's Delfast are best known for their motorbike style e-bikes with large batteries and have now launched a crowdfunding campaign with the goal to raise $3 million on Fundable, the largest crowdfunding platform helping small businesses raise capital.
Delfast say 'The Fundable campaign plan is to construct the R&D center that will satisfy the rising demand for electric bikes and fulfill the requests Delfast already received'. 
Stay tuned for more e-bike news and reviews and thanks for reading!
-Rich
Reader Interactions