The Basics Of Electric Bike Insurance
With many now grabbing bike helmets instead of car keys for their daily commute, investing in insurance for your e-bike might make a lot of sense for your personal situation.
And a basic policy can be surprisingly cheap –  e-bike policies start at around $100 per year and offer a variety of coverage levels and deductible options. You might imagine with the extra power and weight onboard that comes with an e-bike means they would cost more than traditional non-powered e-bikes to insure but this isn't necessarily the case.
For example, UK based specialist bike insurers Bikmo announced in July 2020 that they would cut premiums for e-bike riders, with new research showing that e-bikers were 38% less likely to make a claim compared to non-assisted riders. Indeed, Bikmo says customers can now insure an e-bike worth £2,000 from £9 a month, which they say is typically 25% less than a standard road bike of the same value.
Also insurance brings with it other benefits if you opt for more of a 'bells and whistles' type policy covering areas such as third party liability and accidental damage.
E-Bike Insurance 101: Make Sure the E-bike is Secure
It's stating the obvious; of course you don't want your bike to be stolen so of course the first line of defence is a good lock and good home security. If you live in a property with no secure outside storage folding and compact e-bikes can be the difference between owning an e-bike and not. If you have a larger e-bike kept in a garage or an outbuilding of some kind security is much more important.
A ground anchor is a particularly good idea for outbuilding security as a good last line of defence; I've used examples from Hiplok and Squire.  


What E-bikes are Covered By Insurance & Other Basics
Generally, legally defined e-bikes only are covered. In the US that means class 1,2 and 3 e-bikes, meaning bikes with a top assisted speed of 28mph and a motor rating of 750 watts.
In the EU it means 15mph and 250 watts.
You should also consider what the deductible is (that's the excess for UK readers…), in other words what you would have to pay in the event of a claim. Typically you can choose amounts between US$200 and US$500, with policy prices falling the greater the deductible.
Specifying your e-bike on your home insurance policy (or at least clarifying if it is covered and for what value) is certainly a good first step, though probably won't cover all the heads of damage that you find in a specialist e-bike policy – however it may be enough for you if you just want a basic level of theft protection.
Covering the financial cost of e-bike theft is of course a major reason for getting e-bike insurance but you should also consider whether you need any of the other benefits a good bike-specific policy can cover. Here are some areas you might want to look at getting cover for.
Crash Damage and/or Accidental Damage / Medical Fees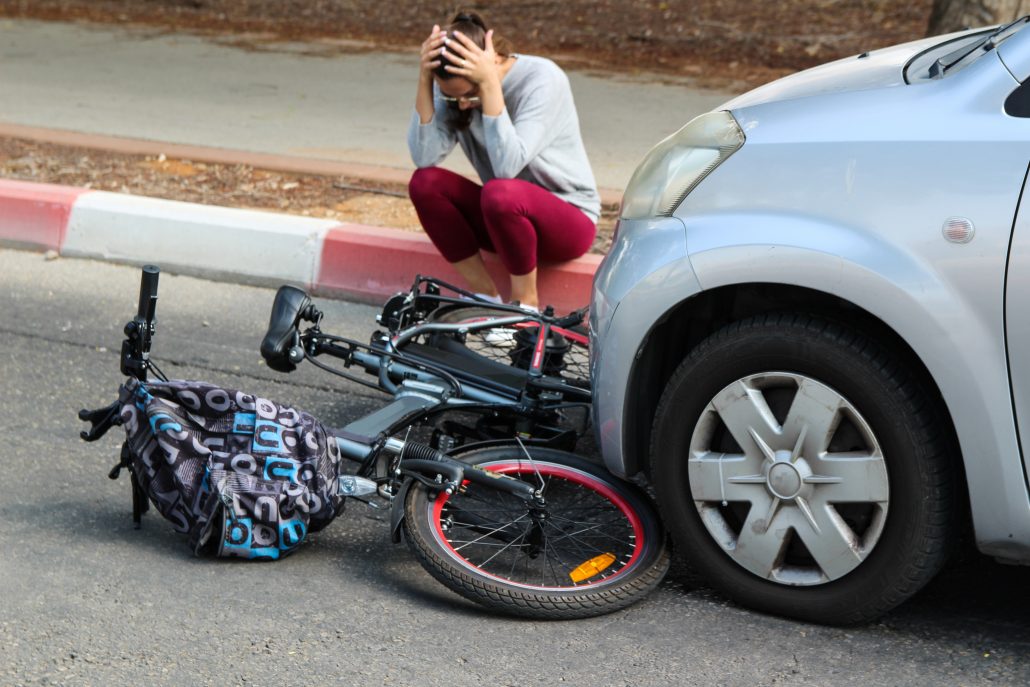 Sounds clear enough but as ever, if it's important to make sure you know the circumstances it covers.
For example: does it cover crash damage on public and private land and whilst racing? If it covers medical fees what is the extent of that coverage? In the US this coverage generally pays to supplement the deductible of your personal health insurance policy.
Personal Liability (also called third party liability)
This covers any damage you might cause to others through the use of the e-bike, be it injury or sickness or damage to another's property. It will be capped and the more you pay the higher the cap. Amounts payable typically range from US$25,000 to US$100,000
Vehicle Contact Protection
This pays for injury medical costs caused by physical contact by the insured cyclist with an uninsured, underinsured, or a motorist who cannot be identified, such as a hit-and-run.
Roadside Assistance
E-bike technology has reached such a stage that they are generally very reliable – but, though rare occurrences, batteries can wilt or motors can stop working so this coverage can provide peace of mind.
The best policies cover you for 24-hour recovery no matter where you are in the specified country and will take you and your bike a reasonable distance (for example Velosurance covers recovery trips up to 35 miles after breakdown).
Worldwide Coverage
This could prove very useful if your e-bike gets stolen or damaged on vacation or on that e-bike tour of a lifetime. It may not provide all the perks your regular policy does when at home such as roadside assistance, so again check the extent of its coverage.
Loss of Earnings
If you are injured due to a riding accident will the policy cover loss of earnings?
E-Bike Insurance Policy Examples
Here are some quotes obtained in October 2020 covering different scenarios from Velosurance, one of the biggest insurers in the US that offers e-bike specific insurance with an easy to use online, automated quick quote process.
The quotes below were based on a city ZIP code in Phoenix, Arizona for a 55 year old male.
Coverage For Theft at Home and Away from Home
Coverage against theft is probably the main reason people buy e-bike insurance and the basic minimum a policy will offer.
EG 1: US$2000 (specified ebike = Cannondale Treadwell Neo, for leisure use only) 
Velosurance =US$194 annually (9.7% of the value of the e-bike)
Policy summary below:
EG 2: US $6000 e-bike (specified e-bike = Cannondale Moterra Neo 3 with carbon frame, for leisure use only) 
 Velosurance =US$475 annually (7.9% of the value of the e-bike). Terms as per the graphic given in the first example
Full 'Bells & Whistles' Policy
As well as theft cover this example covers every 'opt-in' option available, including the maximum personal liability cover and medical expenses and all the other options listed above in the What Else Can E-bike Insurance Cover? section. Our calculations indicate that a no expenses spared approach means you'll be paying well over 20%, perhaps as much as 30% of the value of the e-bike in annual insurance costs if you take this approach.
EG 3: US$2000 (specified ebike = Cannondale Treadwell Neo, for leisure use) 
Velosurance =US$584 annually (29.2% of the value of the e-bike)
EG 4: US $6000 e-bike (specified e-bike = Cannondale Moterra Neo 3 with carbon frame, for leisure use only) 
Velosurance =US$1328 annually (22.1% of the value of the e-bike).
Specialist Providers Outside the USA
Markel are the main underwriters of e-bike policies in the US so whether you get a quote from Markel direct or from Velosurance or from another provider like Spokes don't be surprised if the prices come out very similar or even identical.
Here's a non-comprehensive list of insurers who offer standalone e-bike insurance policies outside of the US:
Pedalpower – Canada
BIKMO – UK
Cycleguard – UK
Pedalsure – UK
Yellow Jersey – UK
There are more out there. Make sure to get detailed breakdowns from any quote when considering picking a policy provider.
Smallprint Checklist
Make sure to not skip reading the fine print on any policy you are considering. Here's a few specific things to be on the lookout for:
What type of lock do you need to use – some policies may specify a security rating such as Sold Secure Gold whilst others may just say you must use 'an appropriate locking device'.
Are you happy with the deductibles for the various areas the policy covers?
When you value your bike during the insurance application make sure you add on the cost of any upgrades or additions purchased eg a dual battery option, upgraded bike computer such as a Kiox, upgraded fast charger, etc.
Also add accessories if purchased and anti-theft cover is required eg lights, mudguards, GPS units.
Note the 'making a claim' section and what you need to do so that you will know in the event of having to make one. For example provision of a police report, bike frame number and lock details are usually required.
Can you add extra riders to the policy as you can with autos? This might be useful for groups who share the use of a smaller number of e-bikes.
Also, note any other special conditions eg:
Minimum Earned Premium Notice: Your policy may be subject to a $100 minimum earned premium. If you cancel the policy before you have paid $100 of premium you will be responsible for the unpaid difference.
Riding Season Premium Adjustment: The policy may be adjusted for the expected riding season in your US region. The southern states have higher premiums based on a 12-month riding season whereas the northern states have lower premiums based on a limited riding season.
Claims e-bike insurance will not cover
Common exclusions include:
Incidents that occur while you are under the influence of drugs or alcohol

If you use your bike for monetary gain

Illegally modified e-bikes

Cosmetic damage that does not stop the bike from working

Damage (rather than theft) to accessories

Theft where you have not taken appropriate action to secure your bike correctly

Stay tuned for more e-bike news and reviews and thanks for reading!

-Rich