eBike News: UPS eTrikes, All Wheel Drive, RadRhino, Captain Kirk, Carbon eRoad, Paris eShare, & More! [VIDEOS]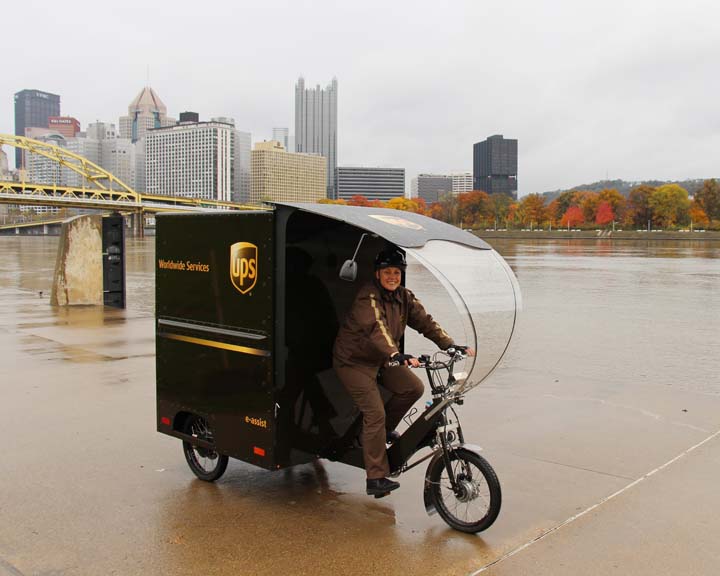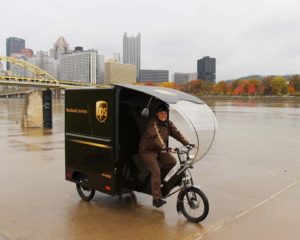 In this week's eBike news roundup:
UPS eTrike in Pittsburgh
All Wheel Drive eFat Bike
RadRhino Selling L1e-A E-bikes in Europe
Captain Kirk & His Family Ride eBikes
Walking & eBiking Adventure
Thok eMTB Upside Down Battery
Fantic Carbon eRoad Bike
2018 Moustache eBikes
eBike Share for Paris in 2018
Biking tents
And much more!
UPS Electric Trike in Pittsburgh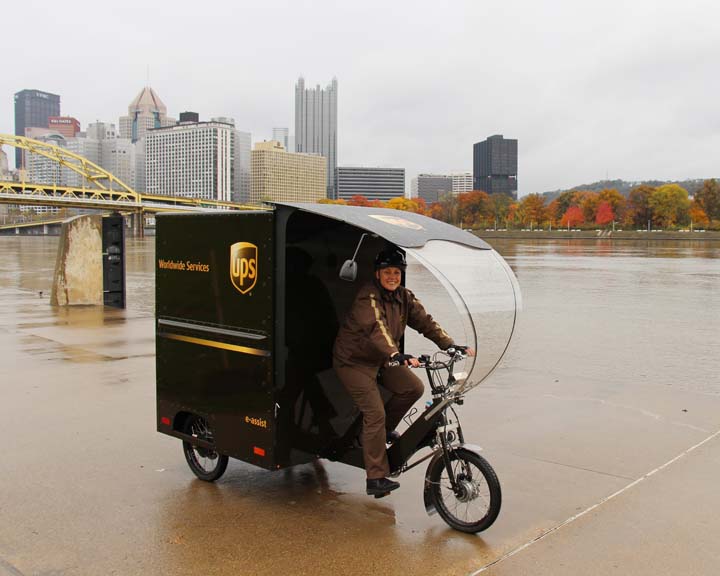 UPS continues to roll out their fleet of electric trikes and the latest lucky city is Pittsburgh, PA.
"Working with cities like Pittsburgh to provide them with a delivery solution that helps reduce congestion and emissions and improve air and noise quality is the latest example of how to meet the needs of today's cities," said Barb Jaram, UPS Mid Atlantic District president. "We have many vehicle options when it comes to reducing our impact on the environment including our cycle solutions that provide greater mobility and fewer emissions."
"In Pittsburgh we welcome solutions like the UPS eBike to reduce traffic congestion and tackle urban growth," said Pittsburgh Mayor, William Peduto. "We encourage companies like UPS to work with our residents and businesses to create innovative solutions to the complex urban challenges we face every day. This effort aligns perfectly with the ONEPGH Resilience Strategy and our efforts to make Pittsburgh a thriving 21st Century city that is livable for all."
UPS is also using an eTrike for deliveries in Portland, Oregon and other European cities.
Here is a video with the background of UPS using eTrikes in Hamburg, Germany:
https://youtu.be/eDOV94vn_tY
UPS has numerous cycle solutions deployed around the world. The company currently operates inner-city delivery projects with delivery on foot and by bike in Frankfurt, Offenbach, Hamburg, Munich, Oldenburg and Herne, Germany, as well as in Leuven and Mechelen, Belgium; Rome and Verona, Italy; Toulouse, France; and Dublin, Ireland.
New E-Bikes and E-Bike Systems
Rad Power Expands into Europe with L1e-A Category RadRhino.
After carrying the news last week that the US's Rad Power was expanding with free delivery of its bikes into Canada it has now been in touch tell us that it is expanding into 28 European countries including Germany, France, Netherlands and United Kingdom with an exclusive European model, the RadRhino.
Interestingly the bike is an L1e-A category e-bike in European terms meaning that although it is limited to 25kmh like most e-bikes not requiring registration, this category has an independent throttle and a more powerful motor meaning that it must be registered in many European territories.
Christini AWD Explained
We've featured Steve Christini's unique all-wheel-drive system before but here is an explanation of it from the designer in person. It's basically a fat e-bike with two wheel drive from only one motor, provided by an ingenious system of gearing and linkages.
Learn more about the AWD system at their site.
Thok eMTB with Upside Down Battery
Thok is an Italian company and we featured their announcement of basic details of a limited edition Shimano-powered e-MTB with the innovation of placing the battery on the underside of the downtube.
Now respected web mag E-Mountain bike has come up with a full review which singles out the bike as being particularly attractive to experienced riders who like to throw the bike around a bit…
Here's a video of the bike in action.
https://youtu.be/ggHhmVJBGwA
Fantic eRoad Bike
The Fantic Passo Giau is their new carbon fiber eRoad bike that uses the Fazua mid drive system. Pedal assist bike with 250w/h battery. Checkout the video for a closer look:
Moustache 2018 eBikes Head for the UK
The UK's E-Bikeshop has posted this roundup of Moustache's Bosch-powered 2018 bikes heading for the UK. The trekking e-bikes in particular look a to have caught their eye.
Here's a video preview:
More eBikes from Eurobike
Moustache also kick off this half hour video review of e-bikes at this year's Eurobike bought to you via London's Fully Charged e-bike shop. The sound quality isn't great but you get a close look at e-bikes from Moustache, Reise & Muller, Urban Arrow, Babboe and Stromer.
Check out the ginormous Urban Arrow prototype at around 16:20! It's preceded by a tilting cargo e-trike from Babboe.
Get Inspired
Captain Kirk Rides a Pedego
William Shatner, AKA Star Trek's Captain Kirk, at 86 years old may have given up command of the Starship Enterprise, but since 2012 he and his wife Liz have been in command of a couple of Pedego electric bikes and now the extended family own a fleet of 16 Pedego e-bikes between them!
Here's his recent video on the subject of family riding.
eBike Helps Complete Epic Walking and Riding Trip
More news from Pedego; Lindsay Monroe, 35, who walked 3,200 miles across America from November 2016 to September 2017, will arrive at the Pedego electric bike store in Richmond, Va., on Monday, Nov. 13, one year to the day since she left on her nearly 5,000-mile adventure.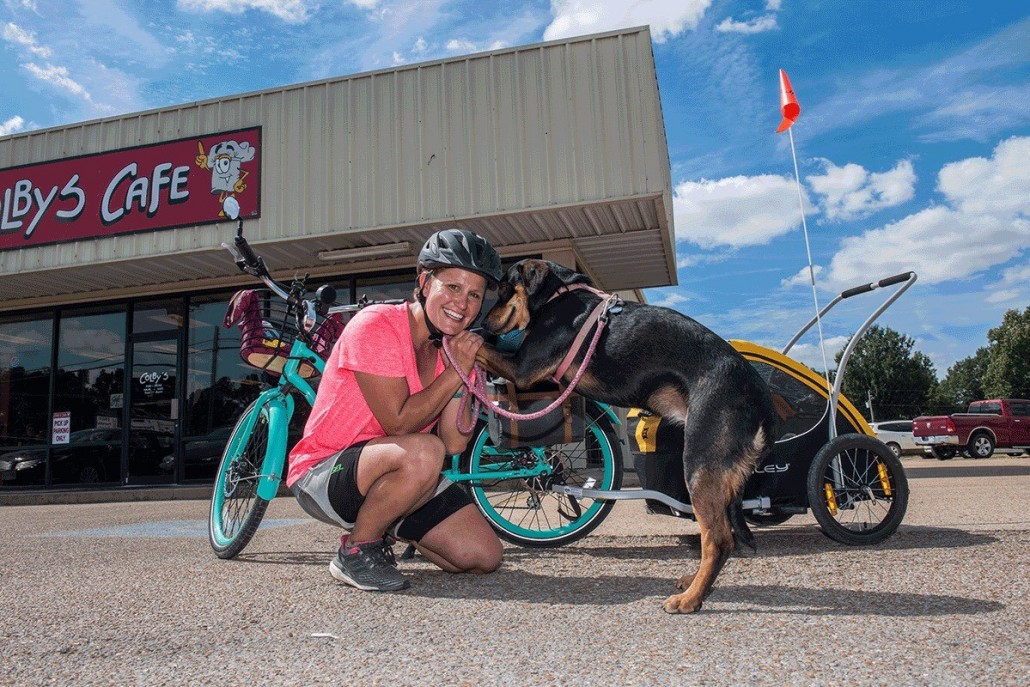 After walking 3,200 miles across America, Lindsay rode her electric bike 1,700 miles from Tulsa, Okla., to Richmond, Va. Altogether, her journey took her nearly 5,000 miles across 15 states.
Monroe's sole companion has been Cynthiana, AKA "Thina," a formerly stray dog named for the Arkansas state grape. On the trip back to the East Coast, Monroe and Thina will cycle through seven states. They are expected to arrive in Richmond, Va. on November 13.
"It's has been a joy to see America from a bicycle, especially with my dog Thina along for the ride in her trailer," said Monroe. "My Pedego Interceptor electric bike empowers me to easily visit sites that would be impossible to reach by car — and make a lot of new friends, too."
Follow Monroe's journey on Facebook: https://www.facebook.com/monroelindsay
Accessories
NSR Bike Tents
Whilst I am not sure how new these are, they looked so novel I just had to include them in the news.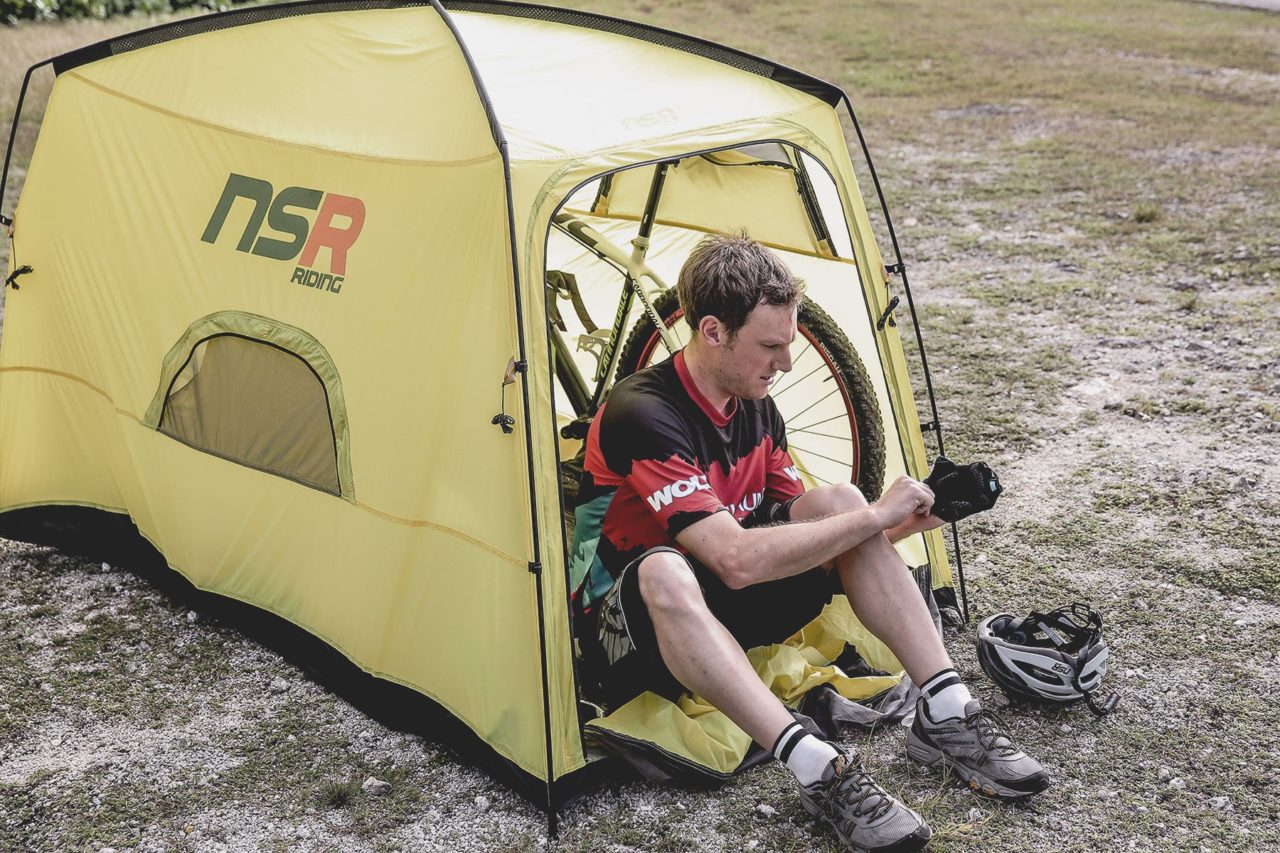 NSR produce tents that will house you and a bike (you would have to enquire if they are rated as suitable for e-bikes) but it's a simple idea that few tent manufacturers have cottoned on to; if you are camping you may not have somewhere secure and dry to store your bike. This design also gives you more headroom…
Infrastructure
The NYC eBike Issue
City Lab poses a great question, "European Cities Figured Out E-Bikes. Why Won't New York? Paris, Madrid, and Lisbon are making it easier than ever for residents to get a boost as they pedal around town. New York says that's simply not allowed."
E-Bike Hire
E-Bike Hire Heading to Paris in 2018
EBR has already reported on the e-bike hire schemes of Spain and Portugal's capital cities.
Paris actually revealed earlier in the year it was planning a new operator for its Velib public hire system and e-bikes would be included for the first time. 30% of the new fleet will be electric (coloured blue to distinguish them from non-powered green models) and the new provider is Montpellier-based Smoove who will take over the running of the scheme from giant JCDecaux. It will start to roll out from 1st January 2018.
The locations of new docking stations mean that for the first time the scheme will be available in all 68 communes of the greater Paris metropolitan area.
More details of the new e-bikes were made public. All bikes, electric and non-e, will feature an intelligent 'V-box', allowing the bike to exchange information via Bluetooth with a user's smartphone and logging details such as rental time and distance travelled.
The e-bikes will have a USB socket for phone charging and a smartphone holder so the phone can be accessed on the go. The bikes will be made in France; the regular bikes by MFC (Manufacture Française du Cycle) in Machecoul and the e-bikes by Arcade Cycles in La Roche-sur-Yon, both located in France.
Smoove was founded in 2008 by three cycling brothers who love cycling and initially became known in Montpellier in 2012 of with the launch of Velomagg. Since then the company, of thirty employees has made an appearance in 26 cities around the world including Moscow, Helsinki and Chicago. According to the figures in French newspaper the "Parisian" its turnover is around 9 million euros.
Here's a video showing how the V-box system works on Finland's Helsinki system and in particular how excess capacity at docking stations is dealt with. This system will also feature in Paris, addressing the problem of full stations; now you will be able to use the integrated lock to leave a bike at a full station.
https://youtu.be/k5Nams1UOxo
Stay tuned for more e-bike news & reviews and thanks for reading!
-Richard
P.S. Don't forget to join the Electric Bike Report community for updates from the electric bike world, plus ebike riding and maintenance tips.
Reader Interactions