eBike News: UPS eBikes, Superhero eBiker, Carbon "Battery", Uber, & More! [VIDEOS]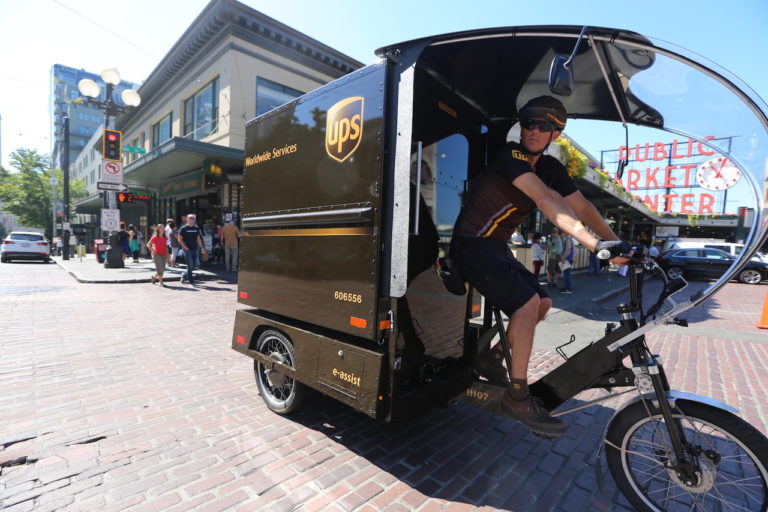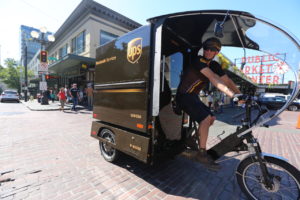 In this week's eBike news roundup:
Streamlined eBike Laws for More US States
UPS eCargo Deliveries in Seattle
New eBikes from WAU, Juiced, & Freeflow
Join the Flash, Powering Across Canada
Carbon Fiber Power Storage
More Acceptance of eMTBs
BICAR eMobility Sharing Solutions
Europe's Antidumping Controversy Continues
And Much More!
Headline News
3 Class eBike Law for More States
Great News from People for Bikes advocacy group who have been in touch to say they are 'eagerly working on campaigns in 21 states with the goal of at least introducing a three-class e-bike bill in each of these states in 2019'.
Their 2019 campaigns include: Alaska, Florida, Georgia, Idaho, Indiana, Kentucky, Maine, Maryland, Massachusetts, Minnesota, Missouri, New Hampshire, New York, North Carolina, Oklahoma, Oregon, Rhode Island, South Dakota, Texas, Virginia and Wyoming.
This is hugely important work in helping spread the popularity of e-bikes. A standard legal model across states helps manufacturers produce e-bikes that can be used across the whole of the US and it also means you'll be able to ride e-bikes in more and more states without any legal questions marks about their status.
For an explanation of the three class law see here.
For loads of practical detail on how to achieve the three-class law in your state and much more check out the webinar here.
New eBikes & eBike Systems
UPS Electric Cargo Bikes in Seattle
UPS continues to expand their electric bike delivery fleet and now Seattle has the latest modular eCargo bike system.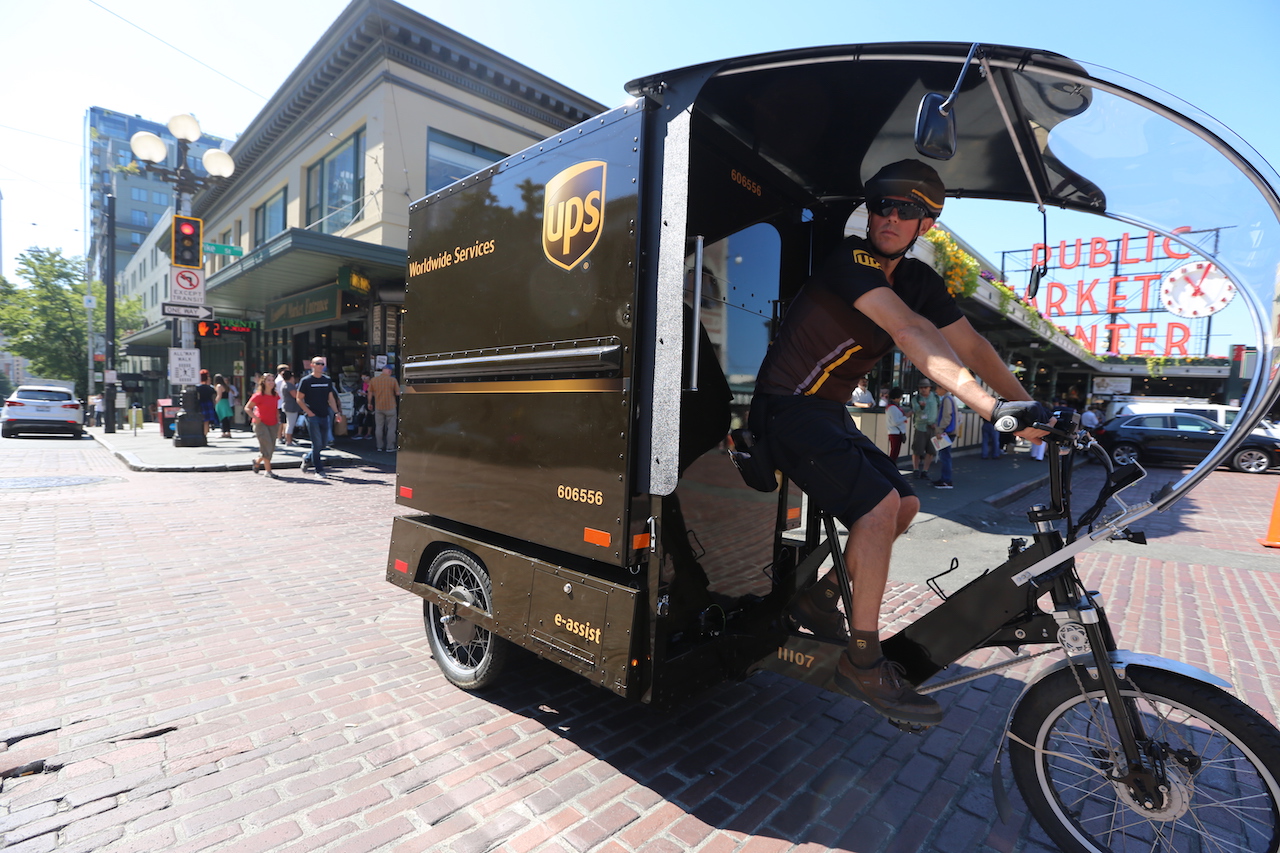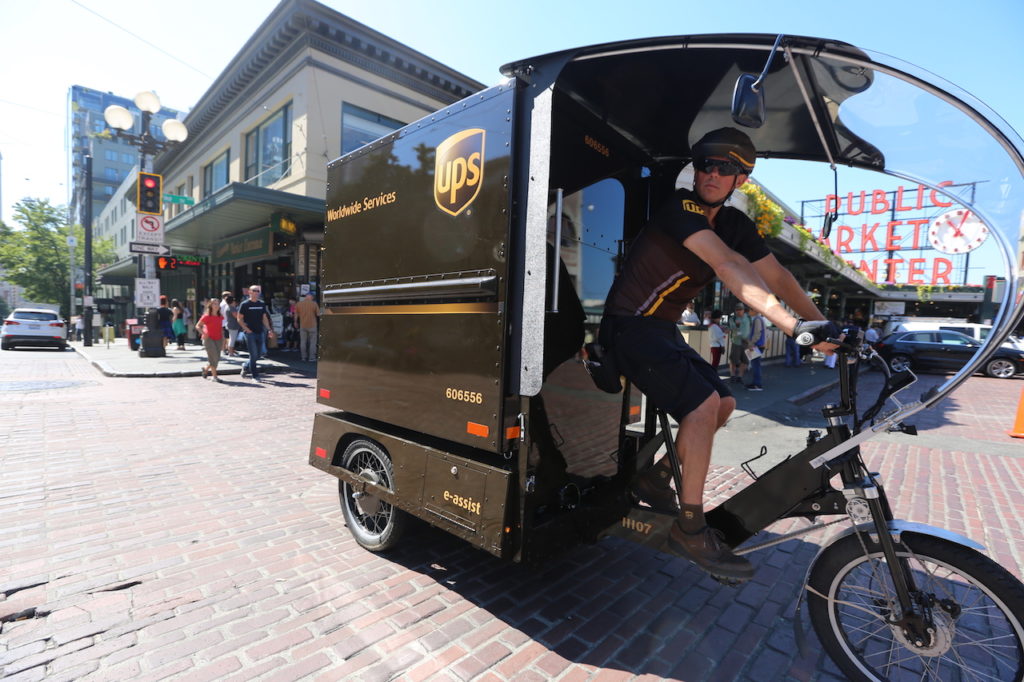 The cargo boxes loaded with packages are delivered to a central area and the eBikes pick them up and make the deliveries in dense urban areas where the bikes have the ability to navigate more efficiently than trucks.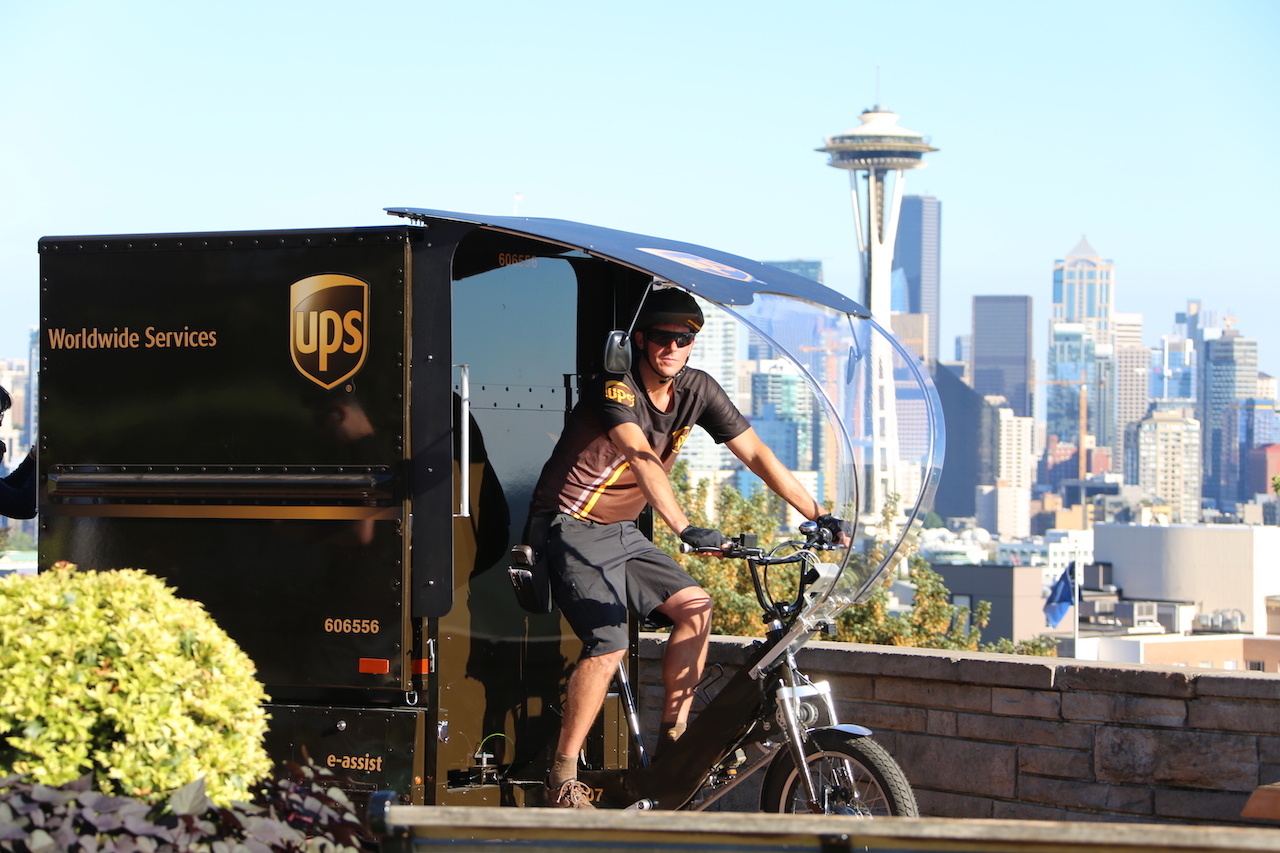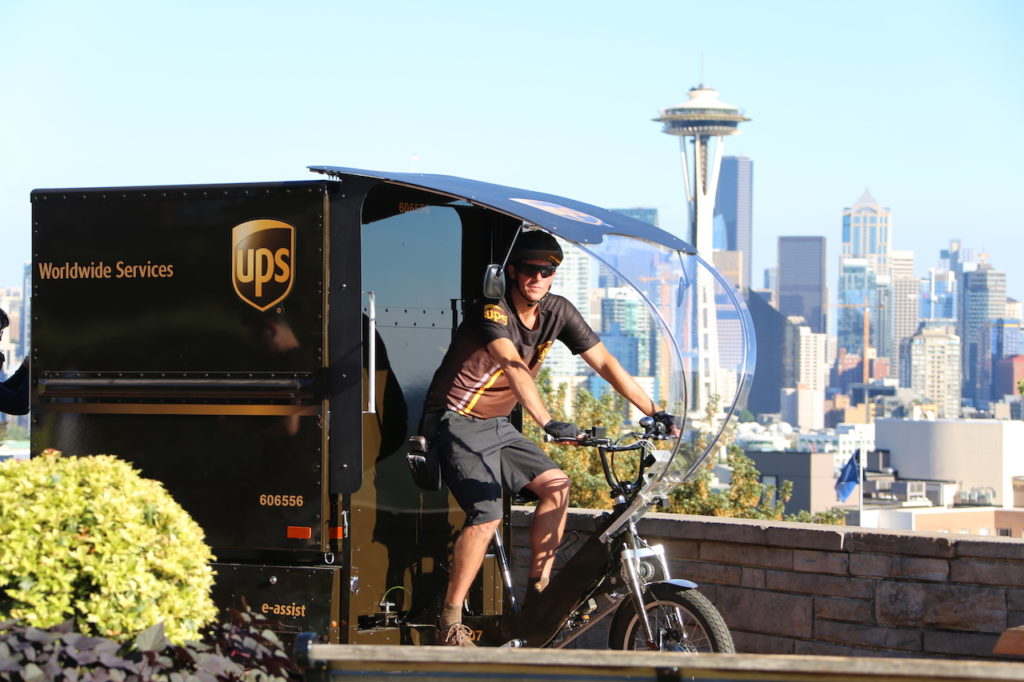 UPS has similar eCargo bikes in Portland, Pittsburgh, and Ft. Lauderdale and many European cities.
WAU E-bike Powers Through Crowdfunding Target
Many interesting looking e-bike designs have powered through their crowdfunding targets, often demonstrating a real public demand for high tech yet affordable e-bikes, and WAU is the latest.
It combines a classic-looking diamond frame with a large but slim battery case held within the diamond and a rear hub motor. It also has high tech features such as smart lighting, GPS tracking and a tamper alarm.
Prices on IndieGoGo start at US$799 and there are US and European spec machines available with availability slated for Feb 2019.
Juiced Scrambler's Latest Models – Production Video
If you like the look of the Juiced Scrambler model here's a great video on the new features on bikes due to arrive in the country in November. It's an interesting travel video to boot too!
https://youtu.be/AYNJnSk9VM0
F1 Injection for Freeflow Motor System
Foresight Group has announced £1.7 million investment from the Foresight Williams Technology EIS Fund ("the Fund") into FreeFlow Technologies Limited.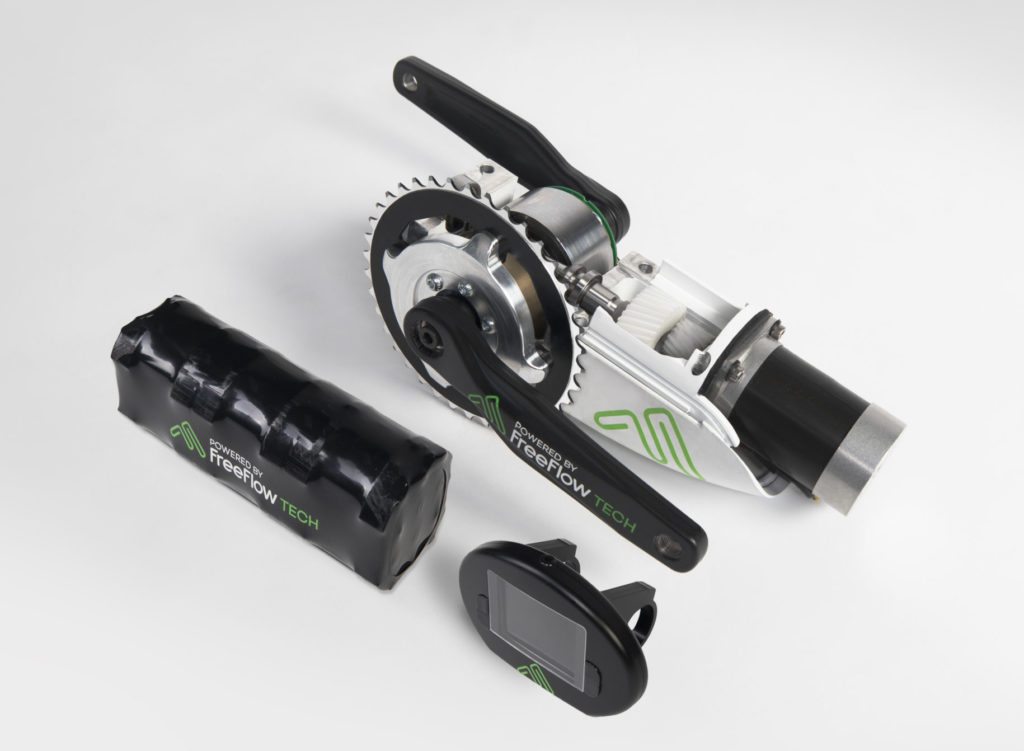 FreeFlow is developing a patented e-bike system technology that promises to be 'lightweight and compact, providing a higher power density than existing solutions.'
A press release sent to EBR claimed 'the company's novel design will improve the ride experience and bike aesthetics as it can be packaged within the bicycle frame. The company has additionally developed an innovative mechanical transmission system for fixed wheel bikes that allows the rider to freewheel, whilst retaining the smooth ride quality of fixed wheel.'
Get Inspired
The Flash Cycles Across Canada
The Flash is a cartoon comic character that has appeared in several guises over the decades but one version (aka Canadian Danny Halmo) is riding an e-bike across Canada in an attempt to raise the profile of e-bikes and sustainable energy and get back into the Guiness Book of Records in the longest e-bike ride category in the process.
The bike — a basic GenZe model that cost about $1,800 and can travel around 30 to 80 kilometres on a single charge — and its accompanying trailer are a constant work in progress with hundreds of hours already invested, he said. The majority of the trailer has been upcycled using an old towable children's chariot that has been extended using part of a children's swing and wire baskets he found next to a dumpster.
Halmo uses solar panels to power his turn signals, GPS transmitter, camera and phone charger; the bike itself is powered by four batteries.
All being well Gary is planning to roll into Halifax in early 2019 after some 10,000km / 6,200 miles or so of e-bike riding.
E-tech
Could Carbon Fibre Framed E-bikes Help Store Power?
This article reveals how researches at Chalmers University in Gothenberg, Sweden have been looking into the possibility that carbon fibre could act in effect as a battery for electric vehicles.
Whilst the article talks about the possibility of carbon fibre bodies for cars and aeroplanes this technology could of course potentially be applied to other forms of electric transport such as e-bikes.
eMTB Access
Growing Acceptance of eMTBs
Singletracks recently released interesting survey results, based on mountain bikers attitudes to trail access, reporting that 'A majority, 63% of those who said electric mountain bikes should be allowed on non-motorized trails have ridden an e-bike.
Most of those who said e-bikes should not be allowed on trails, 56%, have not tried an e-bike. Still, a sizable portion of those who have ridden e-bikes, 37%, still say that they should not be allowed on non-motorized mountain bike trails.'
Still clearly a sensitive issue but hopefully the more riders try out eMTBs the more this will help open up suitable trails for respectful use by eMTBers.
Infrastructure & Bike Sharing
Uber Gets Serious About eBikes
Fast Company reports that Uber is focusing more on eBikes & eScooters as options for Uber customers looking for ride sharing options.
In other news they are expanding their Uber Eats business by working with existing restaurants to increase their production for food delivery. Maybe by eBike?….
Novel BICAR Three-wheeler Pilot Aims to Expand Across Europe
BICAR isn't an e-bike but it does look to be a novel use of both electric motor power and 'tilting technology' which could make future city centres more pleasant places to travel around for all.
With agreements already in place with three Swiss cities to get these novel public share vehicles on the road, BICAR say London, Madrid and Barcelona, Amsterdam, Antwerp as well as Gent and even Singapore have expressed keen interest in the "Share your BICAR" concept.
E-bike Biz
€25 million Funding For German E-Kickscooter Tier
Berlin-based Tier, one of many electric scooter start-ups, has raised €25 million in Series A funding reports TechCrunch. According to the article author 'The investment marks the biggest financial backing for a European company in the space, and, according to my sources, signals the beginning of a pending venture capital war to create the Bird or Lime of Europe.'
Chinese Anti-Dumping Story Rumbles On
LEVA-EU has called on LEVA-EU 'all companies, having electric bicycles imported from China between 4 May and 18 July, to come forward as an intervenor in the lawsuit against the Commission.'
There's much more detail at Bike Europe here and also their story here on how the proposed anti-dumping measures appear to have had little effect.
LEVA-EU is still clearly worried by the potential effects of anti-dumping and puts its case here:
Yuba Hires Jeff Wuerthele for East Coast Sales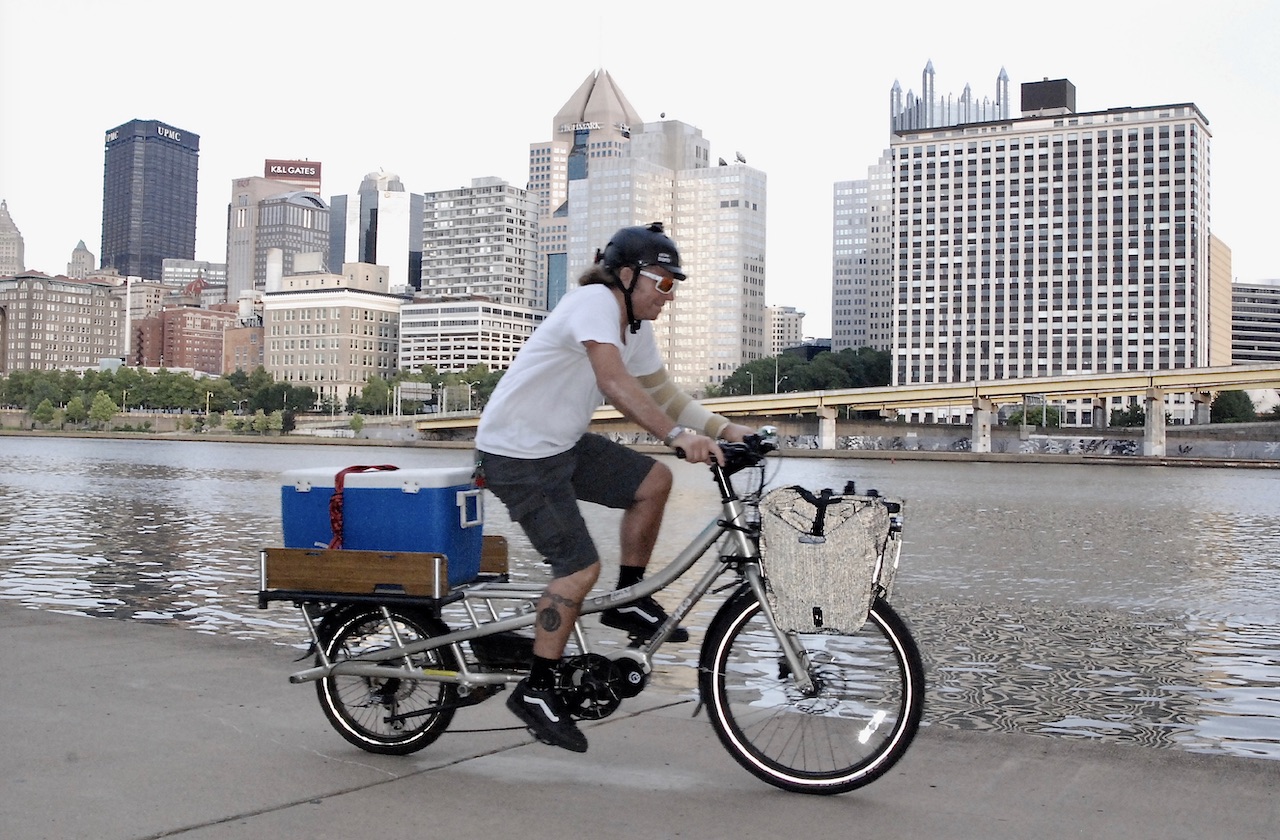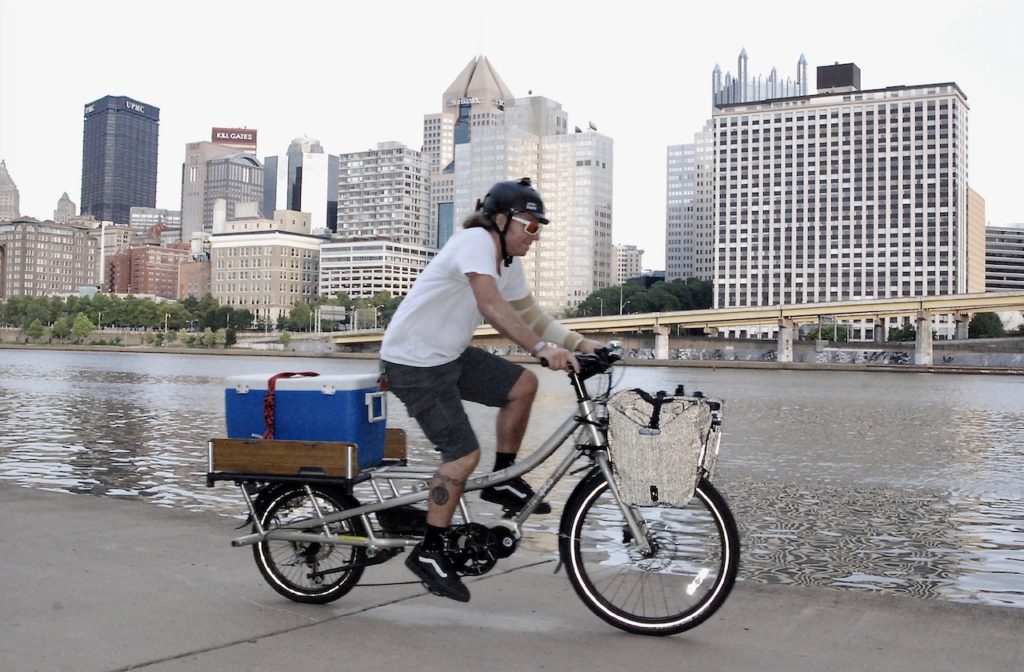 Wuerthele brings an extensive 20-year background of the cycling industry to the Yuba Bicycles team. Most recently, he represented Bicycle Times and Dirt Rag as advertising and event sales. Prior to that, he represented Kona, Fox Racing, and Diamondback.
"Jeff brings a ton of positive energy and proven bicycle sales experience" said Yuba founder/owner, Ben Sarrazin, "He lives the Yuba Lifestyle in his hometown of Pittsburgh, PA where he gets around mostly by bike. We are pleased to have Jeff join the team representing Yuba in markets east of the Mississippi."
Stay tuned for more e-bike news & reviews and thanks for reading!
-Richard
P.S. Don't forget to join the Electric Bike Report community for updates from the electric bike world, plus ebike riding and maintenance tips!
Reader Interactions