How UPS Sees Electric Cargo Bikes Fitting Into Global Logistics [VIDEO]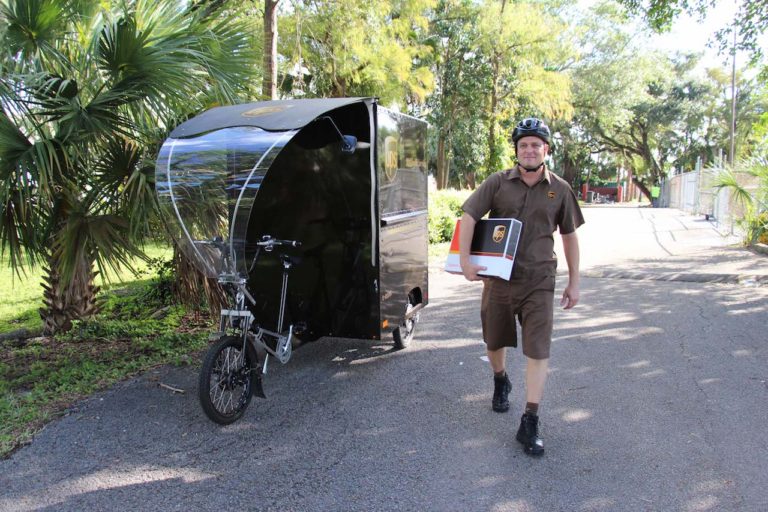 By Richard Schrubb
E-bikes and e-cargo-bikes are having an impact on people as they wake up to their range, agility and ease of use.
Big logistics businesses have seen their potential too, with increasing numbers of logistics and delivery companies looking at using them to increase efficiency and tackle their carbon emissions.
United Parcel Service (UPS) is one of the biggest logistics operators in the world and claims to move '2% of the world's Gross Domestic Product every day'.
We spoke to Tom Madrecki, UPS Director of Urban Innovation and Mobility about how they see e-bikes being used now and into the future.
City governments worldwide are getting increasingly concerned with pollution as a public health issue. Congestion is also a problem, with ever slower traffic on city streets impacting economies.
E-bikes and e-cargo-bikes can help beat both, with zero exhaust emissions and being small enough to thread their way through narrow streets and traffic sometimes at higher speeds than cars, vans and trucks in the same spaces.
Madrecki told the Electric Bike Report, "In UPS experience with e-trikes even in a limited way, demonstrates that bike delivery can be as efficient if not faster than van and truck delivery so long as it is in the right type of neighbourhood."
He continued: "Efficiency drives a lot of what UPS does. We are always looking at ways of doing it faster and more efficiently – if it happens to be by bike that's great! From my perspective it is exciting for a trucking company to be working on bikes."
Right Place, Right Time
Not all neighborhoods are the same. In a sparse suburban or rural area where homes and businesses are a distance apart it makes sense to use a van or a truck as the rider will tire between drops.
Similarly in a skyscraper perhaps in New York or Chicago one truck may serve just one or two buildings and the courier will be doing many of their final mile journeys by elevator, unloading and re-loading the truck with just the businesses in that tower – an e-bike cannot carry 400 packages to just one building.
There is a sweet spot that Madrecki has identified that applies to thousands of neighbourhoods worldwide, where e-bikes can be at least as competitive as vans and trucks on delivery routes.
"This might be in a historic neighbourhood in the US or a European city with anywhere from one storey to 3-4 storey buildings with retail, residential and perhaps a lot of e-commerce delivery in the US."
In this case there will be a lot of movement between buildings and relatively small drops of perhaps one to two packages at each building.
E-Bike Hub And Spoke
In these sweet spot neighborhoods logistics companies are increasingly using what has become known as the 'Hub and Spoke Model' where a large vehicle stops in a neighborhood and a number of e-bikes deliver the parcels to their recipients.
This might not be as easy as it sounds as in many districts that are optimal for e-bike use, the streets may not be so easy to park in for the hub vehicle.
Logistics companies therefore need to work with the city government to arrange a spot for the vehicle to park in in the first place. Part of their research is in working with city officials to help make it work.
Madrecki explained, "E-trikes will load up with 40 packages at a time, deliver them and return to the vehicle in a number of loops. They won't have to travel such a distance however that it will impact on the efficiency of the e-trike."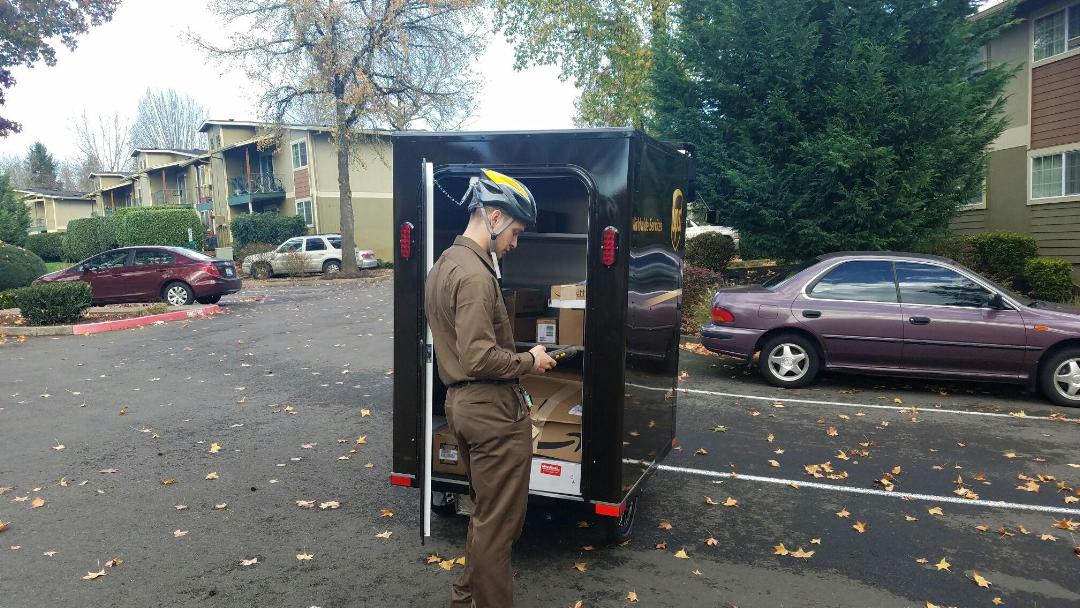 One of the issues with this system is that the e-cargo-bike has to reload several times a day. However, Madrecki pointed out, "We find the balance with the greater on-road efficiency of the bike with the truck in certain urban contexts because of things like traffic and the infrastructure of the neighbourhood."
In short, e-bikes move far more quickly than vans and trucks in certain spaces and can handle city streets that might have been built before cars or vans were invented.
https://youtu.be/eDOV94vn_tY
Developing Technologies
While companies like UPS, FedEx and DHL are looking at how to make the final mile delivery system work they are also looking at how to build the optimal e-cargo-bike for different jobs.
Though cycle couriers have been around for more than 100 years, e-cargo-bikes are very much an emerging technology that are being developed by manufacturers who are working with their client delivery businesses to develop machines that both work for the courier as well as for the company that they work for.
"A typical package car will carry 250-400 packages and does 100-120 drops per day. If I want to achieve similar efficiencies with a bike delivery system I need to think about what the design requirements look like given you need to move that kind of volume," said Madrecki.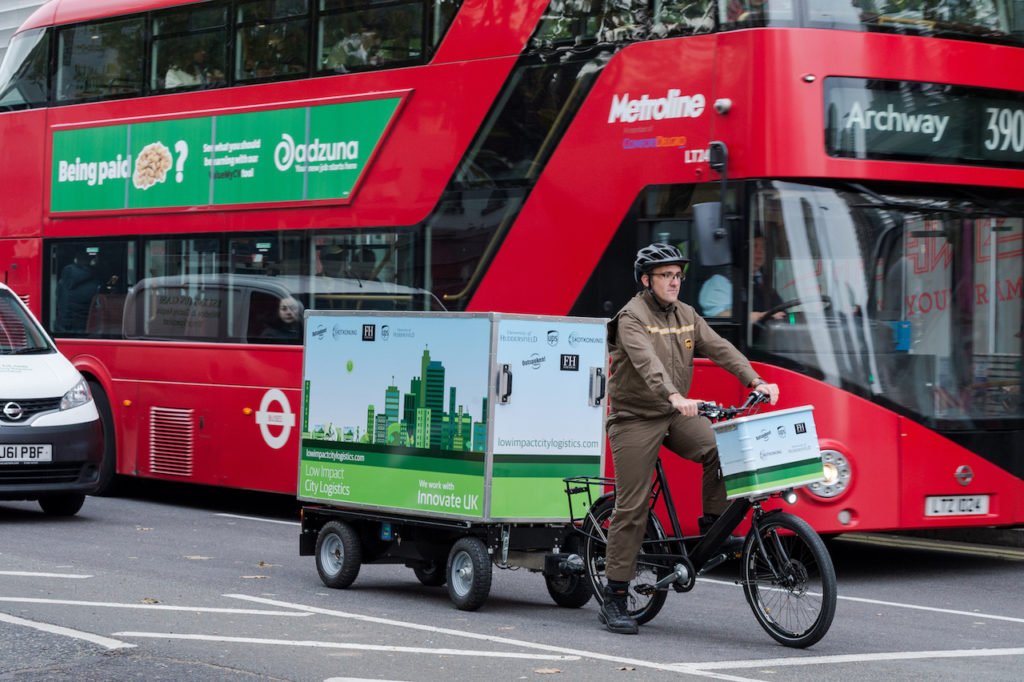 Several designs of e-cargo-bike have emerged according to the different needs of the logistics company. "We have the detachable trailer system similar to the Velove Armadillo system being developed by DHL to carry a higher volume of packages. I also see the lighter duty traditional cargo bike being used where there is greater time sensitivity associated with those packages. Finally we use what might just be an e-bike with a trailer carrying what we refer to as 'Air Packages' that are highly time sensitive and might just be an envelope of documents being delivered to a law firm."
Many of these machines are being specially developed for logistics companies. "We are testing prototype bikes and constantly sensing feedback to manufacturers to help create a product that suits our needs," adding, "here at UPS we are always eager to have conversations with different folks to see what's on the market and to explore what our unique needs are. UPS's needs are quite different to a Mom and Pop bakery company that might be able to use existing e-cargo-bikes. For logistics companies like UPS and DHL it's a different kind of model!"
Thanks to different pressures, from Clean Air Zones being developed by cities to the need to beat traffic and meet urgent clients demands, e-bikes are being seen as a very useful tool in making logistics work even by companies with huge fleets of trucks like UPS, which has a global fleet of more than 112,000 vehicles worldwide. 9,000 of those vehicles are what the company refers to as 'alternative fuel' now, and that is set to grow very quickly in years to come.
As the world turns away from carbon, so e-cargo-bikes will be at the vanguard of that change.
By Richard Schrubb
P.S. Don't forget to join the Electric Bike Report community for updates from the electric bike world, plus ebike riding and maintenance tips!
Reader Interactions