eBike News: Uber, Front Loader eCargo, Full Suspension eRoad, New Bosch Display, Tariffs, & More! [VIDEOS]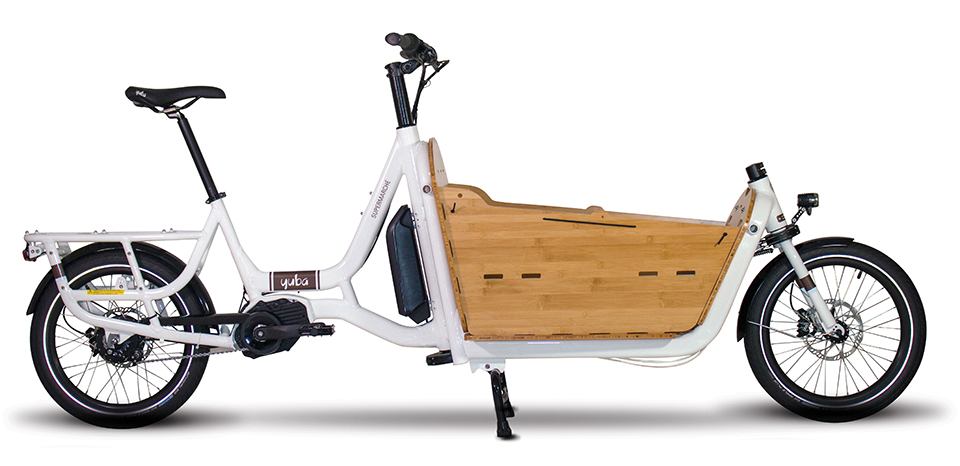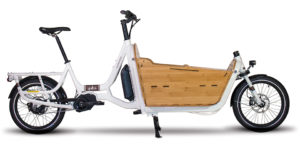 In this week's ebike news roundup:
Uber Focuses on eBikes & eScooters
Yuba Electric Supermarche Front Loader
Lamere Full Suspension Electric Road Bike
New Bosch Kiox Color Display
US Tariff Updates
UK Calls for eCargo Bike 'Evidence'
New 720Wh eMTB from BH Bikes
New Tranz-X Motor and Battery
Kid's Trailers for eMTBs
Inspiring Tales of E-bikes in Namibia, Canada, & Edinburgh
And Much More!
Headline News
Uber Focuses on eBikes & eScooters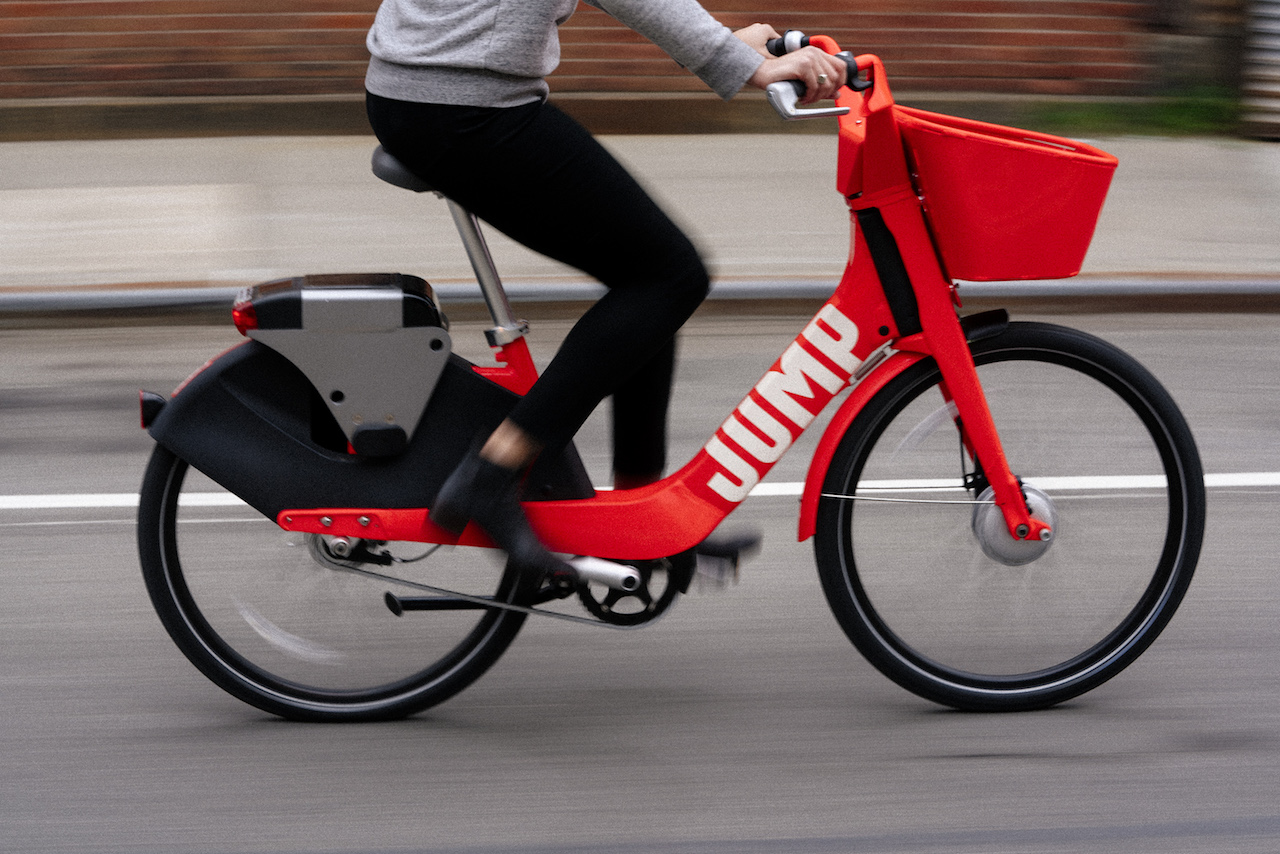 Uber CEO Dara Khosrowshahi stated that they are focused on expanding their eBike share (Uber owns Jump) and now eScooter options for short trips in cities.
Fortune has an interesting video with Mr. Khosrowshahi stating how using eBikes & eScooters makes so much sense for overall transportation efficiency when compared to moving people short distances in cars "it is very inefficient for a one-ton hulk of metal to take one person 10 blocks".
US Tariffs on eBikes & Bike Products
People for Bikes continues to provide updates on the tariffs the US is imposing on Chinese products. They have an informative page on their website that includes the latest tariff news and suggested actions that can be taken to counter the tariffs.
People for Bikes will be going through the exemption process to have electric bikes removed from the broad category of products that are effected by the 25% tariff, but there is no guarantee that this will be successful.
In addition, People for Bikes is actively fighting the potential tariffs on other bicycle products that could be hit with the 25% tariff increase.
Here are the main arguments from People for Bikes against the tariffs on bicycle products from China:
The tariffs have been proposed to address allegations that the Chinese government has used unfair trade practices to obtain trade secrets and intellectual property from American businesses. Bicycle technology is not connected to the types of advanced technology that are the focus of the investigation.
Higher tariffs are unlikely to cause an immediate or dramatic shift in American bicycle production. Asia, and particularly China, is the center of the global supply chain for bicycles and bicycle parts. Any changes to this supply chain will require new investments and time. By imposing higher tariffs on all bicycle parts, the proposal will actually hurt efforts by U.S. companies to product bicycles domestically.
American jobs will be jeopardized by higher tariffs. Our industry supplies thousands of jobs in engineering, design, sales, and service. Higher tariffs will cause higher prices, and fewer bike sales. Our domestic jobs in the bike industry will suffer as a result.
Higher tariffs on many of our products is a safety risk for bike riders. Helmets, lights, and parts are all included within the scope of the proposal. This is likely to reduce the use of this important protective equipment and incentivize people to forego mechanical work that keeps bicycles in safe, working order.
Please see the People for Bikes Tariffs info page and their recommended actions to counter the tariffs.
UK's Department for Transport – Last Call for Last Mile Evidence
This posting on the UK government's website seems to have bypassed most of the specialist bike media, despite being very (potentially) significant. The UK's Department for Transport has issued a call for evidence as they prepare to consult on 'how electrically powered e-vans, micro vehicles and e-cargo bikes can provide better service to customers for cargo in comparison to light commercial vehicles'.
The consultation is called 'The Last Mile – A call for evidence on the opportunities available to deliver goods more sustainably' and the closing date for submitting evidence is 10th September.
So what's the big deal? – isn't this just more bureaucracy that won't actually effect any change? Well, possibly, but for so long e-bikes have been so far off the UK government's radar as to be almost invisible to them.
And trying to get them interested in going on record to talk up the possibilities of e-cargo bikes would have been as much use as trying to describe a bicycle to Julius Ceaser (as someone once described an impossible task).
The impact of widespread adoption of e-cargo bike delivery could be enormous in the UK. To take one example, Royal Mail has the UK's largest van fleet amounting to around 49,000 vehicles and all recent modernisations have shunned cargo and e-cargo bike possibilities (they actually ditched their own fleet of good old delivery bikes in favour of vans and trolleys).
Royal Mail's competitors, however, have long been utilising consolidation stations and the ability of the cargo bike.
Whilst it's clearly too much to expect that e-cargo bikes will replace many last mile trips in the often bike-unfriendly UK any time soon, at least it seems the penny is finally starting to drop in official circles regarding their truly enormous potential for 'Last Mile' transport.
If the government recognises their potential, UK cities could start to look and feel a lot more civilised in years to come.
New E-bikes & E-bike Systems
Yuba Front Loader eCargo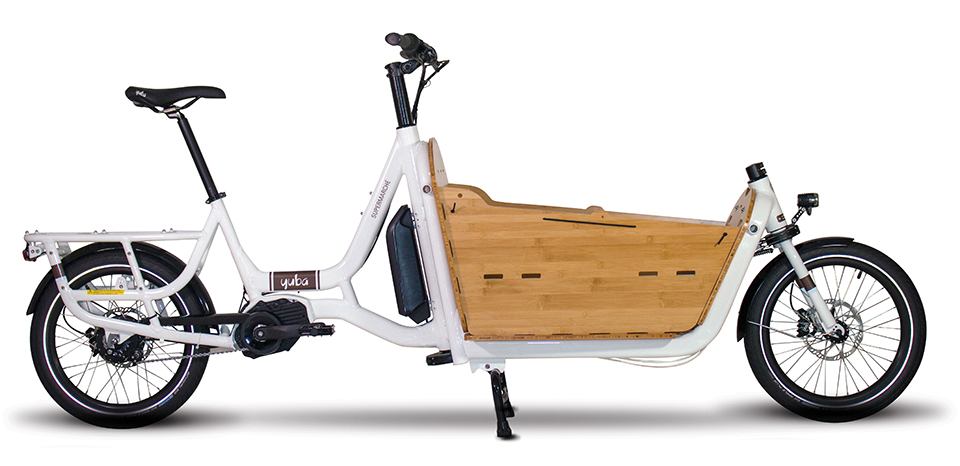 Yuba has launched their new Electric Supermarche front loader eCargo bike that can handle a total cargo load of 300 pounds! It features the large cargo area in the front along with the rear rack that can also be used for cargo hauling.
Yuba offers a number of accessories to dial in the Electric Supermarche to handle your needs: front cargo containers, add a bench seat and rain canopy for the kids, or a Bamboo Baseboard and a couple of cargo straps.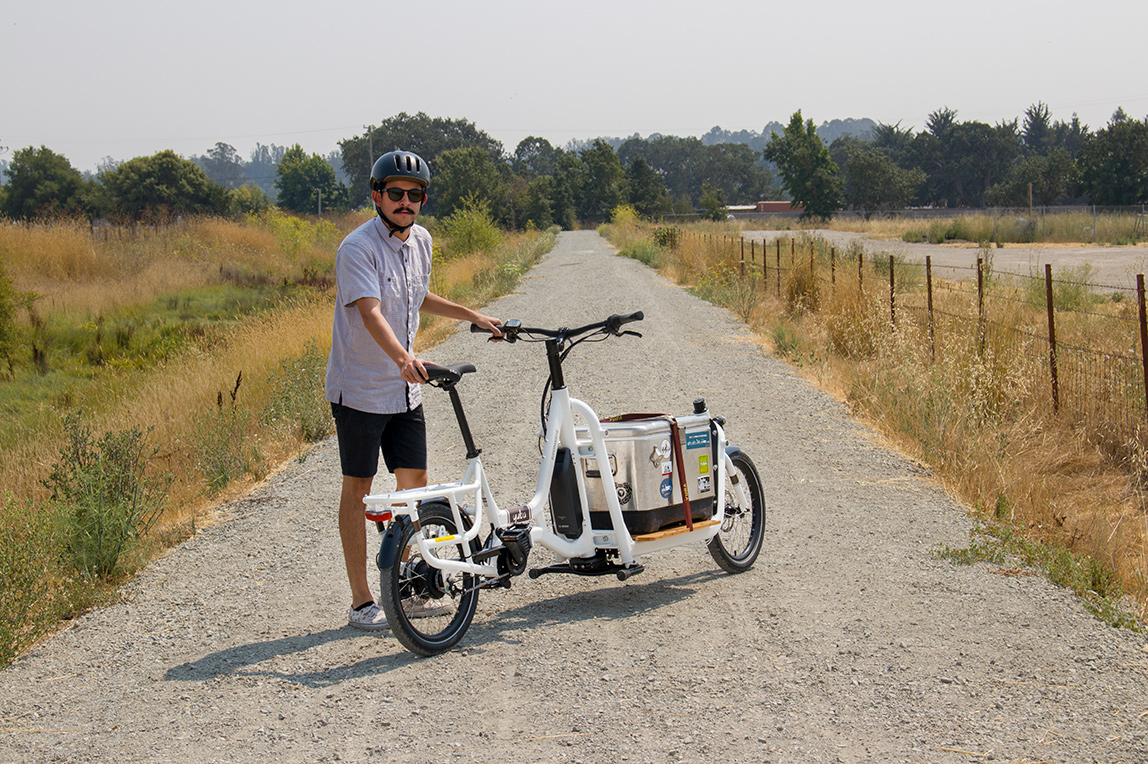 The Electric Supermarche features the Bosch Performance Line CX motor, Enviolo internally geared hub, Magura Hydraulic Disc Brakes, a full accessory package, and more. It is priced at $5,999.
More info on the Yuba Electric Supermarche.
Lamere Full Suspension eRoad Bike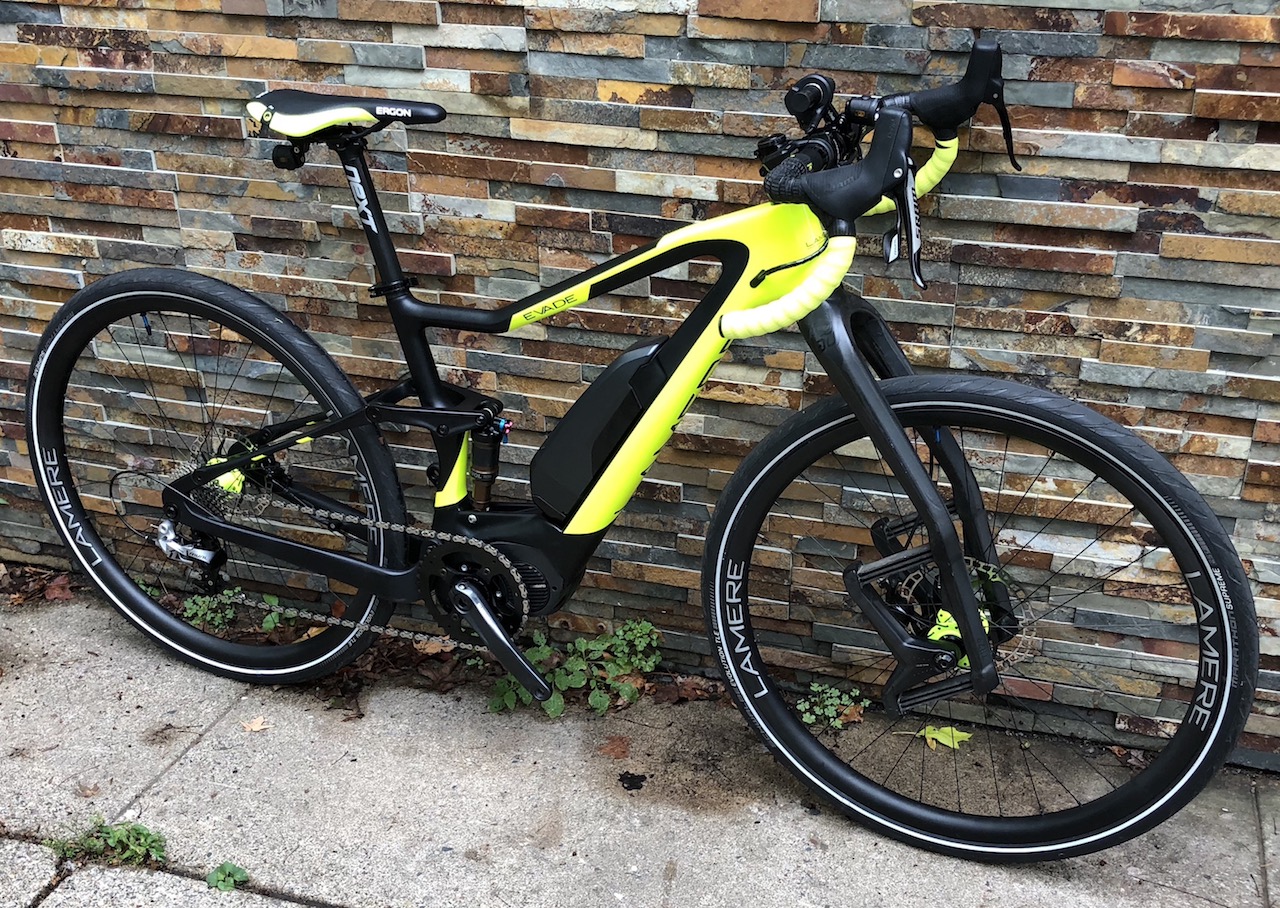 Lamere continues to roll out the innovations with this new full suspension electric road bike! It features the Shimano E8000 mid drive system with the Lauf suspension fork for a 38 pound full suspension eRoad bike.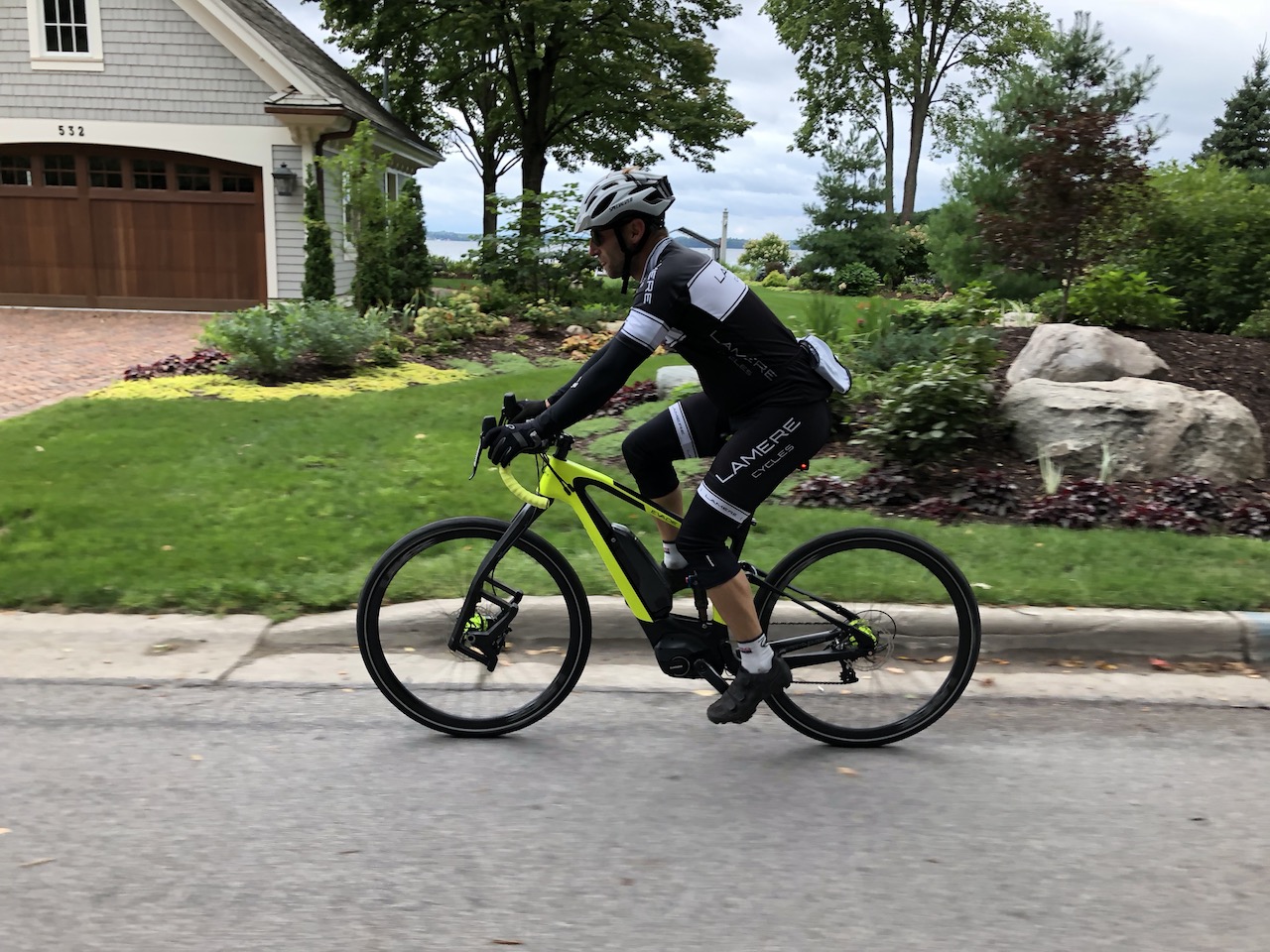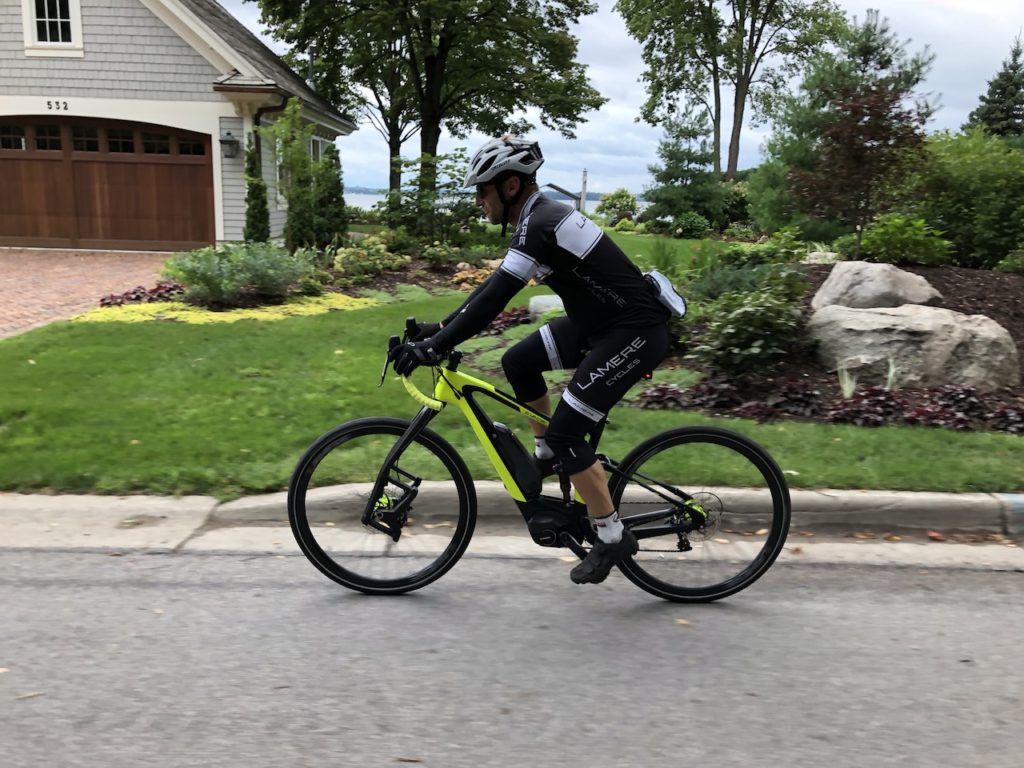 From JP at Lamere: "Just got off first bike ride with the bike and wow 100% best road ride ever……you end up looking for manholes and hitting them on purpose. The Lauf on the front and firm 3″ travel rear goes perfectly together."
New High-Tech Bosch Display
Bosch has announced their new Kiox color display that packs in some new features like the Bluetooth connection to a heart rate monitor.
The on-board computer notifies eBikers whether they are going above or below the average speed, motivating them to perform better. With an optimal Bluetooth-connected heart rate monitor, Kiox users can check their current pulse range at all times, enabling them to get the most out of their training. The Bluetooth low-energy interface also allows users to download Kiox software updates to the on-board computer without requiring a cable connection. The future will see even further functions connecting eBikers to the new on-board computer.
"Kiox is our best and brightest display with more useful features than ever packed into such a compact unit," said Claudia Wasko, Vice President & General Manager of Bosch eBike Systems Americas. "With its ability to connect to the rider's heart-rate via wearable sensors, Kiox also marks our first step in North America connecting eBikes to the eBiker's digital world."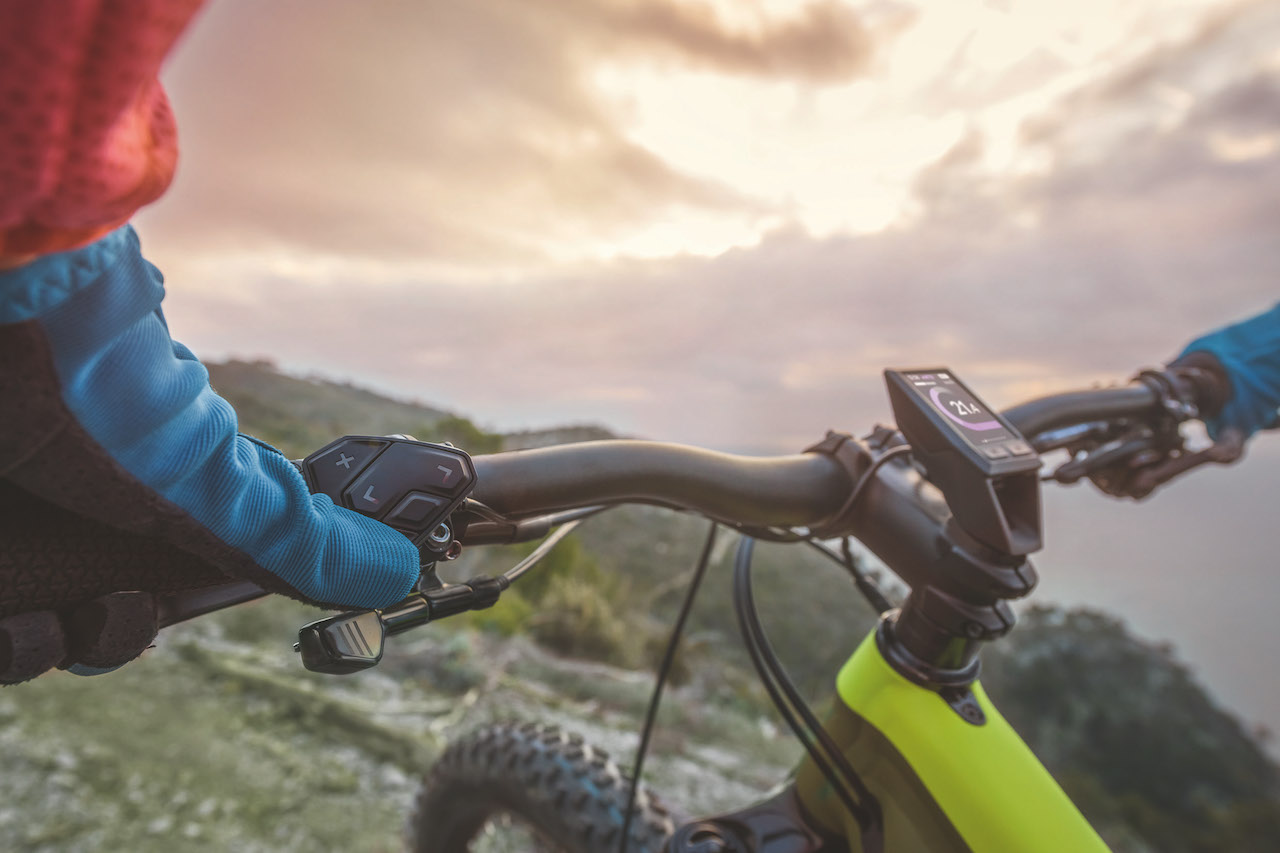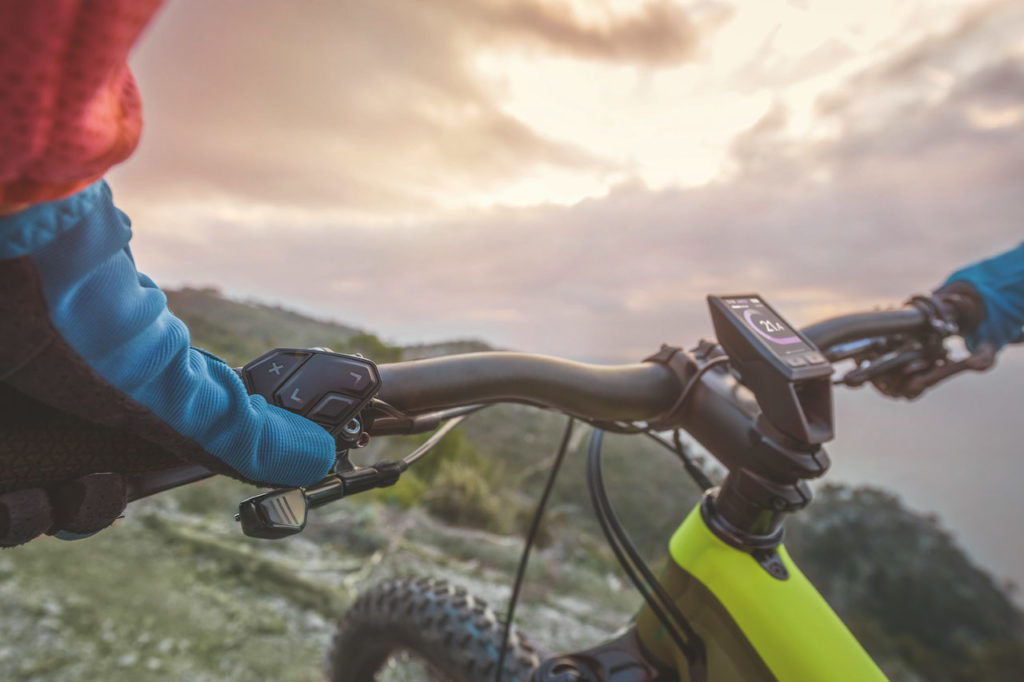 Here's a look at the new control pad on the left side for adjusting the pedal assist levels and cycling through info on the display.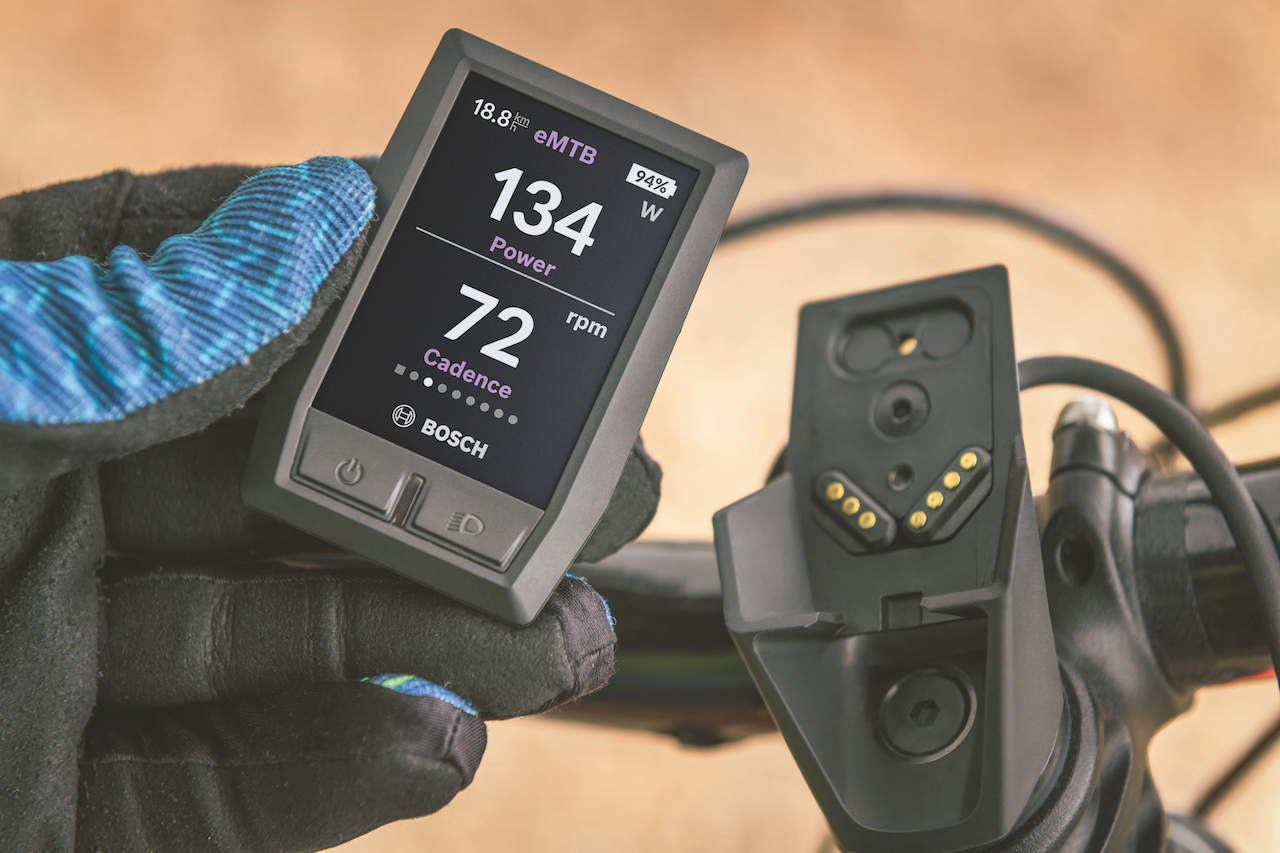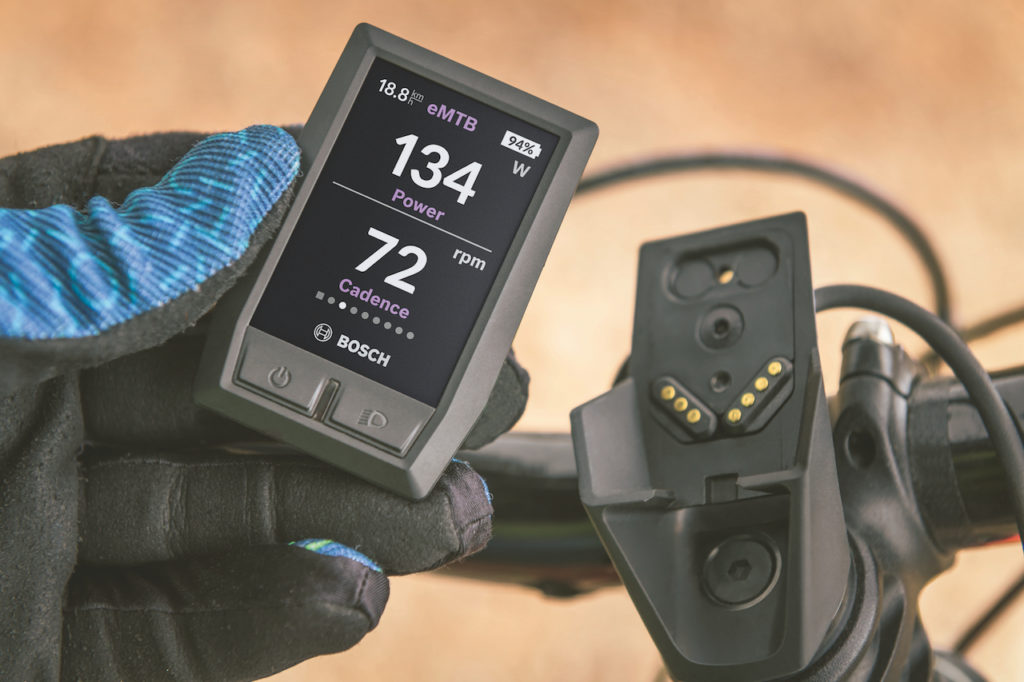 Robust Gorilla Glass protects the display against scratching and other damage. The magnetic holder provides a secure grip and allows easy removal and attachment of the on-board computer.
Kiox will be available to test ride at several upcoming events including:
The Boogaloo eMTB Race & Demo at the Northstar Free-Ride Festival (Sept 15-16 @ Northstar Lodge at Big Springs, Truckee, CA)
Interbike's OutDoor Demo (Sept 16-17 @ Northstar Village, Truckee, CA)
Interbike Expo's "The Circuit epowered by Bosch" (Sept. 18-20, @ the Reno-Sparks Convention Center, Reno NV),
The Mammoth Mountain Boogaloo eMTB Race & Demo with Kamikaze Bike Games (Sept 22-23, @ Mammoth Mountain Main Lodge, Mammoth Lakes, CA)
It will also be on display at the Bosch booth (#154, next to the Electric Theater) at Interbike Marketweek Expo Sept 18-20, along with the PowerTube 500 in-tube battery, which was unveiled earlier this year and is now available on many models from some of the more than 30 brands epowered by Bosch in North America.
BH X-Tep E-mtb with 21700 Cells
X-Tep is a 2019 e-mtb product line from Spanish e-bike manufacturer BH, and promises to be one of the most exciting and rideable e-mtbs out there. It's based on the innovative frame design of the Atom X which we covered already here, but it is designed to be powered by a Shimano E-8000 or E-7000 motor.
The X-Tep Lynx is one model whose spec is revealed and like the Brose-powered Atom-X is has a 720 Wh battery using new, more energy dense 21700 cells, translating into a claimed range of around 95 miles! It's powered by Shimano's E-8000 drive.
Tranz-X 2019 Motors and Models Outlined
Tranz-X are a long-established Taiwanese manufacturer of e-bikes with a strong presence in Europe.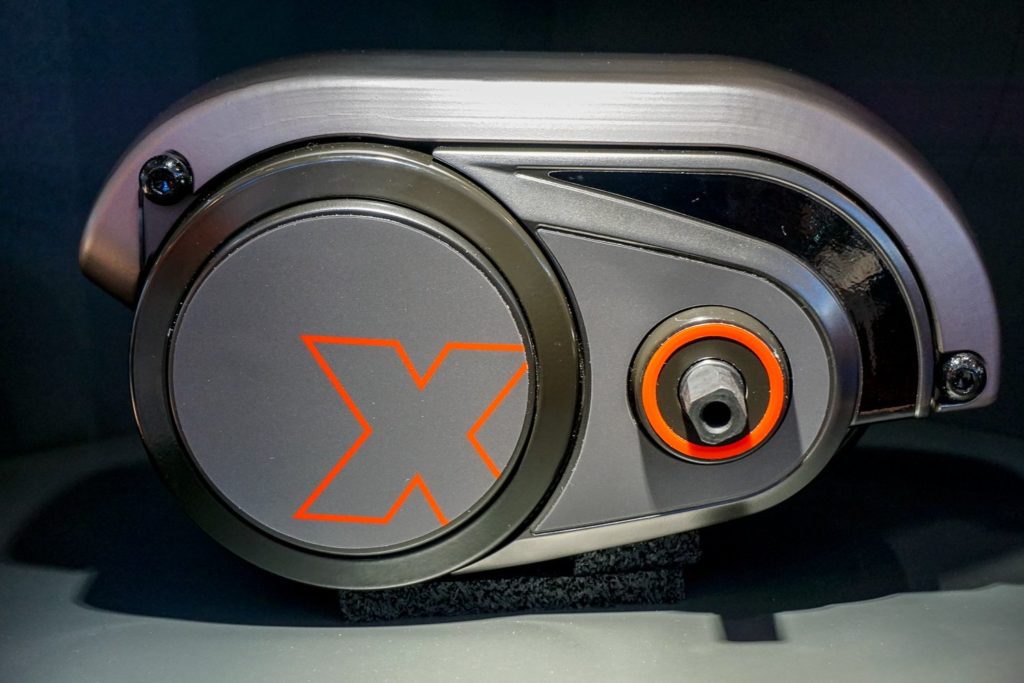 They have developed their own proprietary motor systems and these are featured both on their own brand e-bikes and on third party e-bikes such as Raleigh and EBCO.
They have a reputation for both nice quality and value as well as innovations such as their own automatic gear shifting system for e-bikes and flexible battery packs for fitting inside curved bike frames. Here's a run down of their new technology and e-bike range for forthcoming 2019 models.
The M17 is a new mid-motor with a new torque sensor design. Main specs are 25kmh max assistance, 4kg weight and 55-67Nm torque.
A new handlebar display is on offer, the DP29 with mini-USB port, bluetooth connectivity to Tranz-X Logix app.
There's a new commuting e-bike model too, the Tranz-X Mavis M16 with mid-motor which looks simple, stylish and should be very competitively priced.
Accessories
Roundup of Kid's Trailers for E-mtbs
E-mountainbike magazine has looked at three kid's trailers suitable for hitching up to full-sus e-mtbs and going off-road. Models reviewed were the Tout Terrain Single, Thule Chariot Lite and the Burley D'Lite.
Each trailer has a detailed review as you can see from the links, but their quick summary is 'The Tout-Terrain Singletrailer is the only eMTB kid's trailer for getting your family on a proper mountain bike adventure. However, the Singletrailer is expensive and single-minded in its approach so it may not fit everyone's needs: the Thule is much more versatile and usable for everyday life and the Burley has the most comfort features and is a fantastic choice for growing families.'
Get Inspired
Sun Cycles Inspiring E-bike Trips in Namibia
This fascinating video from German-based media company DW shows the varied uses Sun Cycles have been put to in sunny Namibia, from pharmaceutical delivery to solar powered anti-poaching patrols!
Epic Canadian Journey
Here's a nice account of a 12 day, 781km e-bike camping trip made by a middle-aged couple on a Montreal-Kingston-Ottawa-Montreal ride. Former racing pro Patrick Goulet and his wife Claire were riding NeoMouv e-bikes with Brose crank drives, which, according to the website, can do 100 km on a full charge without difficulty. Patrick says they averaged 70 km (43 mi) per day; 87 km was their longest ride. They never ran out of battery power.
E-bike Boost for Edinburgh Business
Scottish capital Edinburgh is a fine city for visiting but is full of pretty steep hills. Enter Ezeepedal e-bike hire who can deliver e-bikes to your door if you are staying (or live) in or around the city. This article details how they have grown successfully with a bit of help from the local business support service.
E-tech
World's First Electric Autonomous Container Ship to Set Sail in Norway
Cleantechnica reports that ''Yara Birkeland' will be the world's first autonomous electric container ship, and will no doubt change freight transport at sea. It's been commissioned by the Norwegian fertilizer manufacturer Yara International, which plans to commute with the freighter between ports and thus abandon use of diesel-powered trucks. According to Yara International, the electric ship should able to replace a total of 40,000 truck journeys a year.'
Norway is one of the leading countries in the world for developing new forms of electric transport.
Why Aren't S-pedelecs a Hit In Germany's Booming E-bike Market?
This German-language article contains some great detail on just why speed-pedelecs (capable of 45kmh / 28mph assisted speed) make up only one percent of sales in Germany, despite the many advantages that the extra speed brings (being a viable replacement for pretty long car journeys for a start). A staggering 720,000 e-bikes were sold in Germany in 2017 – almost a fifth more than in the previous year.
The article cites many factors that severely limit the s-pedelecs popularity:
– S-pedelecs are not bicycles under German traffic law, but mopeds. That makes things complicated as there are consequently extra requirements for compulsory insurance, license plate and driver's license requirements (min age 16 years).
– There are also stricter safety rules so s-pedelecs must have rearview mirror, daytime running lights, mandatory helmet wearing (though exactly what type of helmet is needed is not prescribed exactly) and drinking alcohol then riding an s-pedelec is subject to very strict rules.
– The rules have become ever tighter since 2016, with requirements for lighting of the license plate and the need for a rear brake light. It's illegal for diy bike hobbyists to change an s-pedelec structurally (unlike the situation with regular e-bikes and bikes) and many of the actual components on s-pedelecs are nowadays legally prescribed, down to the level of saddles, pedals and handlebars.
– Pulling a child trailer with a standard pedelec is no problem when it comes to German traffic law, but is prohibited with an S-pedelec unless the buyer chooses one of the few s-pedelec e-cargo bikes with approved child seats.
– S-pedelecs are not allowed on bike paths into and around towns and cities – only roads and on a very few inter-urban bike paths. There is a growing feeling wider, faster, specially constructed bike paths between major urban centres would be a good idea, though there actual construction is in its infancy.
E-bike Biz
One Third of China E-bike Importers into the EU Stop Importing
Bike Europe reports that '33% of all importers have stopped their e-bike imports from China and have not found an alternative solution' according to the Collective of European Importers of Electric Bicycles. This comes in the wake of the EU imposing so-called 'dumping duties' on e-bikes entering the EU from China.
However, the situation may be different for the UK in the future, once it has left the EU says Cycling Industry News. It is only talking about the scenario of no deal being reached between the EU and UK on what terms it leaves the EU.
UK E-bike Business Crypto Dealing Causes Bank Freeze
We have previously reported on the UK's 50 Cycles plans to launch their Toba e-bikes with the ability to earn cryptocurrency credits simply by pedalling them along. But the fact that part of 50 Cycle's business is clearly going to be trading in cryptocurrency has lead to personal and business banks accounts belonging to one of 50 Cycles's owners, Scott Snaith, becoming frozen due to that trading activity, much to his indignation.
Stay tuned for more e-bike news and reviews and keep on riding.
-Richard
P.S. Don't forget to join the Electric Bike Report community for updates from the electric bike world, plus ebike riding and maintenance tips!
Reader Interactions