eBike News: Titanium, Solar Charging, Fast eRoad, GM?, Connectivity, & More!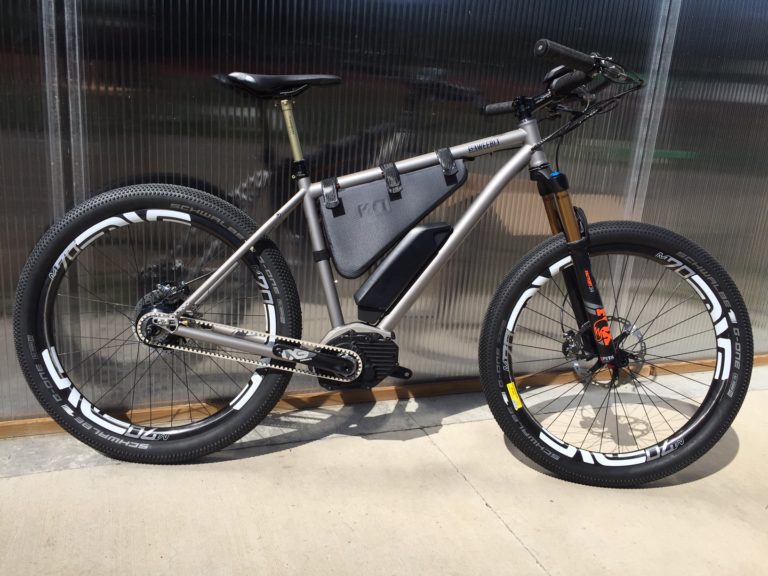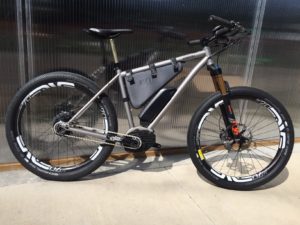 In this week's eBike news roundup:
Schwift Titanium eBikes
Pivot Shuttle eMTB
Solar Lampost eBike Charging Station
More on Continental's Mid-Drive w/ Integral Transmission
French Speed Pedelecs from Matra
Smart Motor Systems from Momentum Electric
Is GM Getting into eBikes?
New eBike Accessories: Packs, Seat, etc.
More Bike Infrastructure
And lots more!
New eBikes & eBike Systems
Schwift – Titanium meets the Bosch Motor System
Titanium specialists Schwift from Colorado are at Eurobike showcasing one example of their custom framebuiling for the Bosch motor system. Check out their adventure hardtail below, handmade in Paonia Colorado.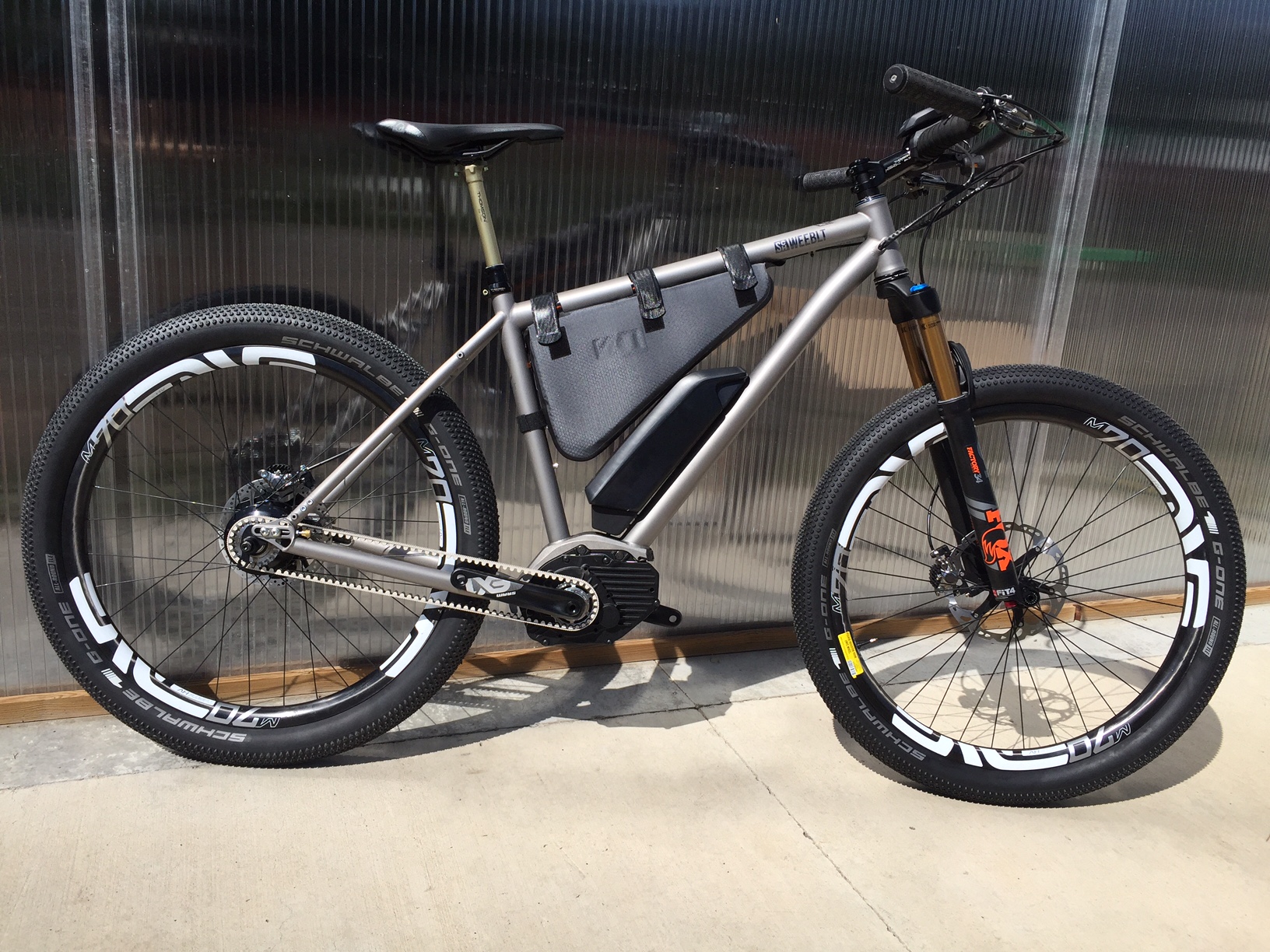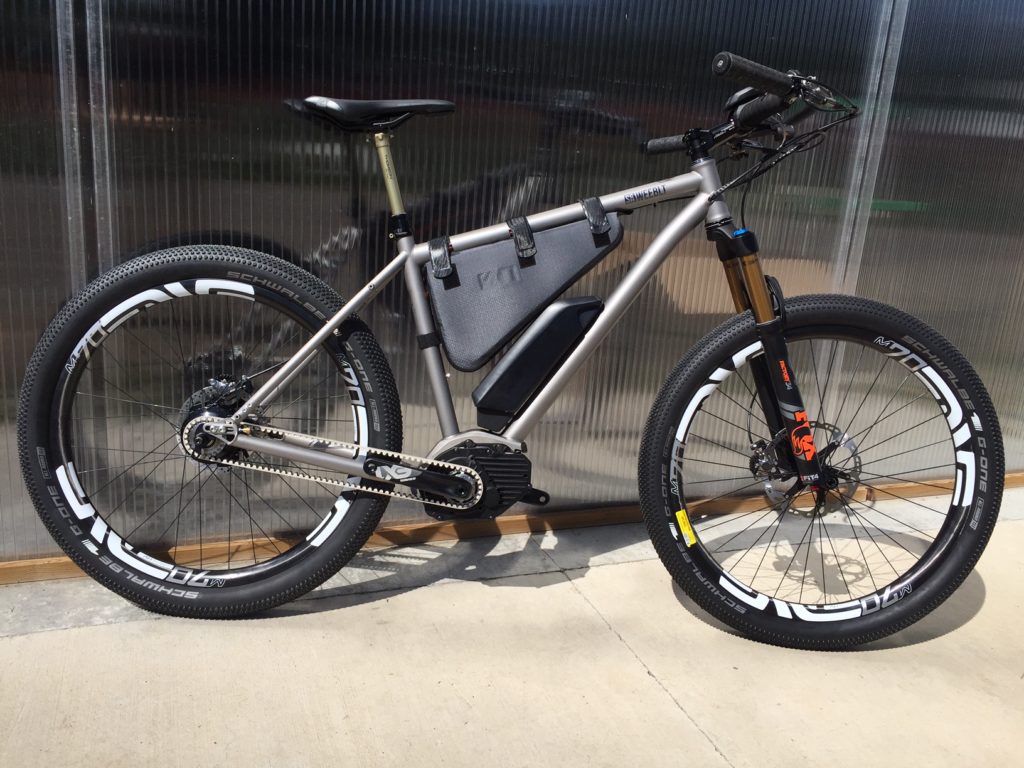 Internally routed cables include the dropper post, lighting, electric shifting, and eBike computer wires. It has a Gates belt drive for minimal maintenance, a Rohloff e14 internal geared hub with electronic shift, Enve carbon wheelset, carbon bars and grips, Ortlieb bike packing gear and Light in motion lights.
Stay tuned for more new eBikes from Eurobike!
Pivot Shuttle eMTB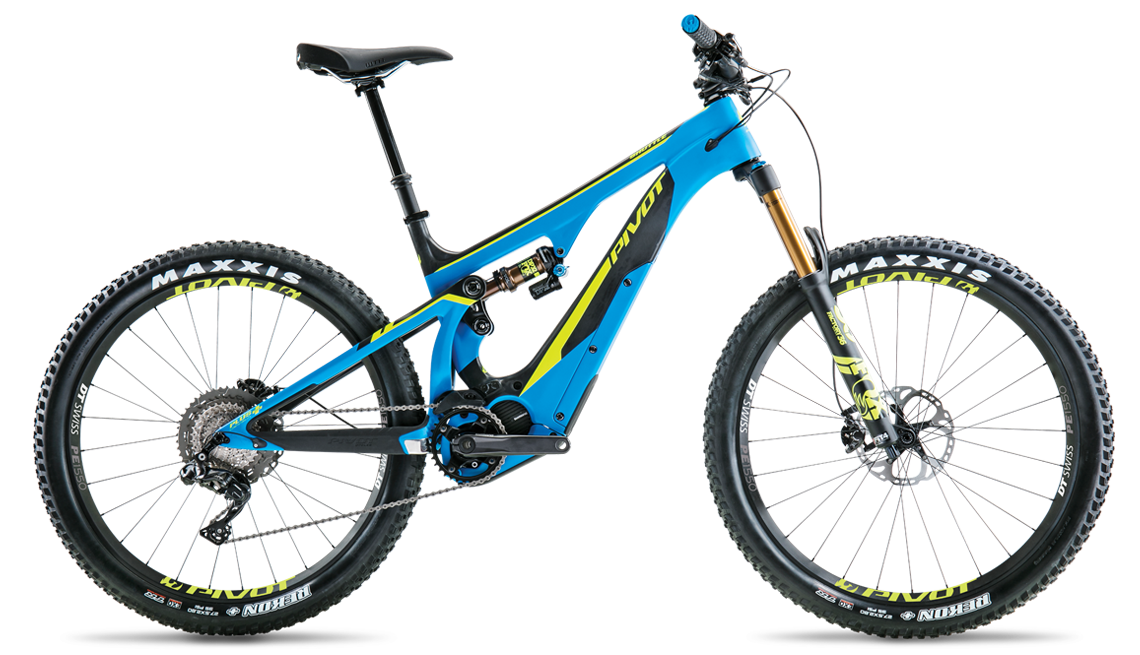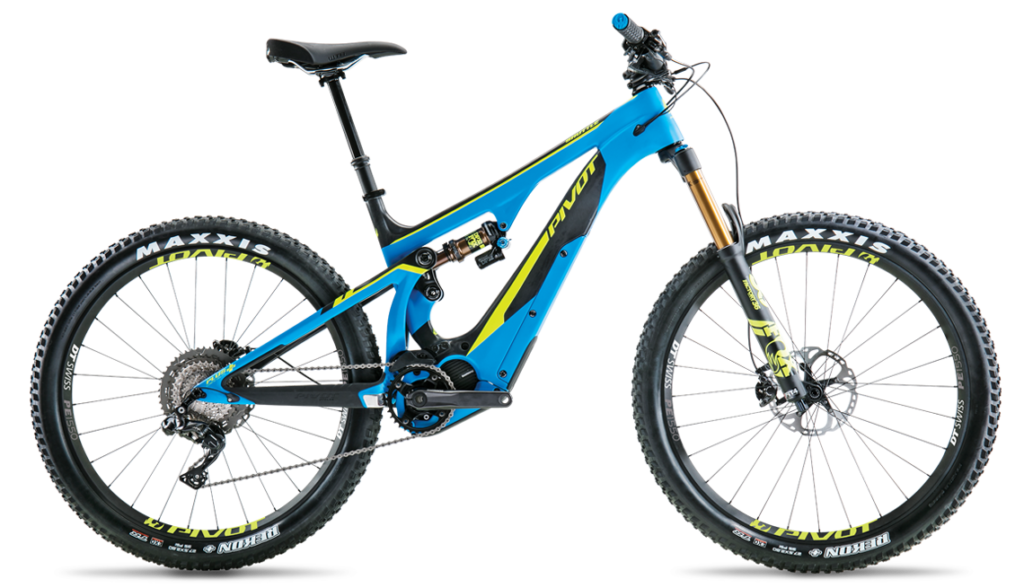 Pivot just released their new electric mountain bike with a unique integration of the battery in the downtube of the frame. This full suspension carbon fiber eMTB weighs 44 pounds! As of now this eMTB will only be available in the European market.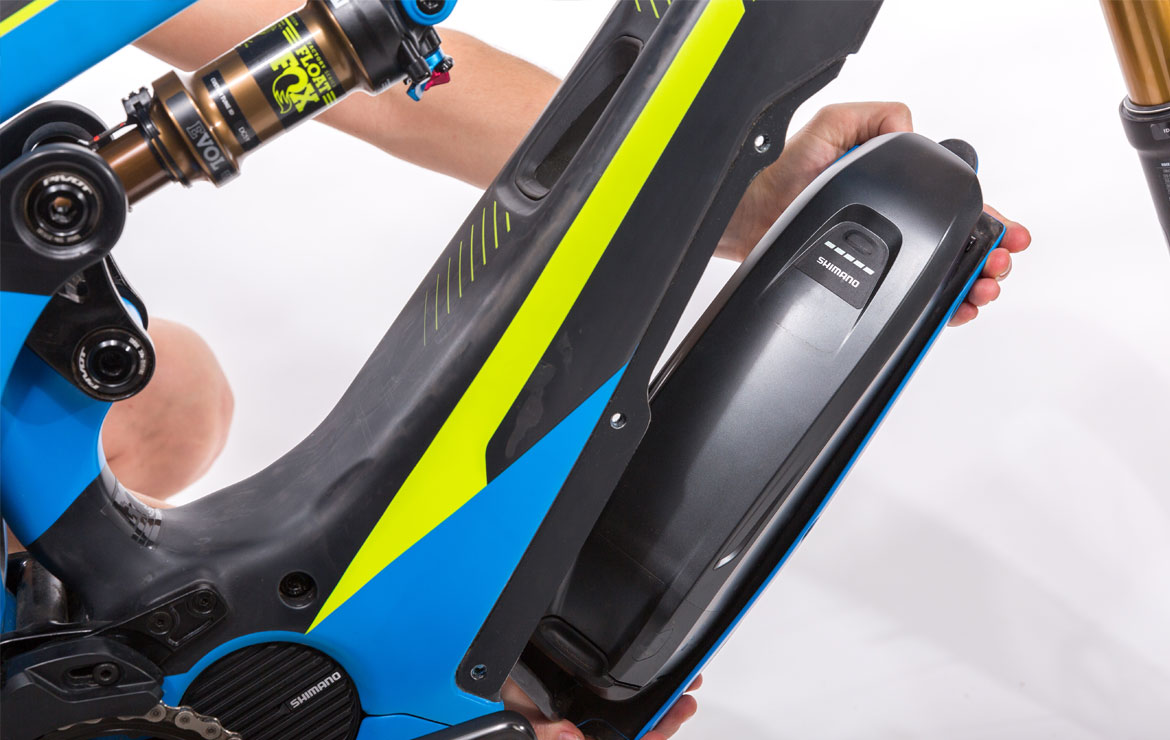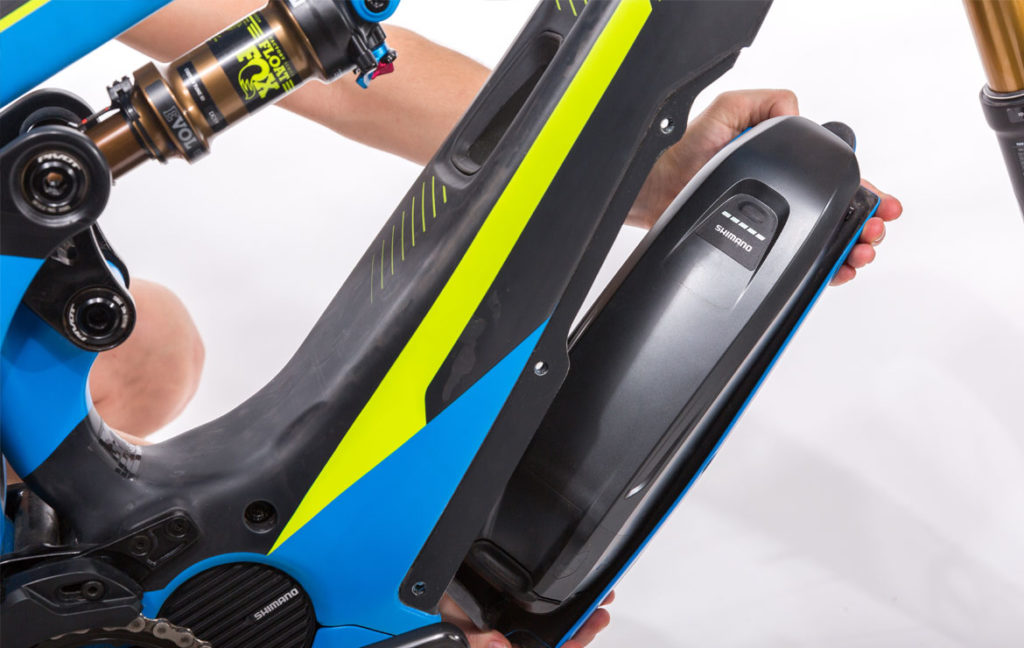 Checkout this video with Chris Cocalis, President and CEO of Pivot Cycles discussing the technical features.
And here is their promo video:
Here is more info on the Pivot Shuttle.
Matra i-Speed
French e-bike specialist Matra have launched a speed pedelec for 2018, the I-Speed F1 Di2 S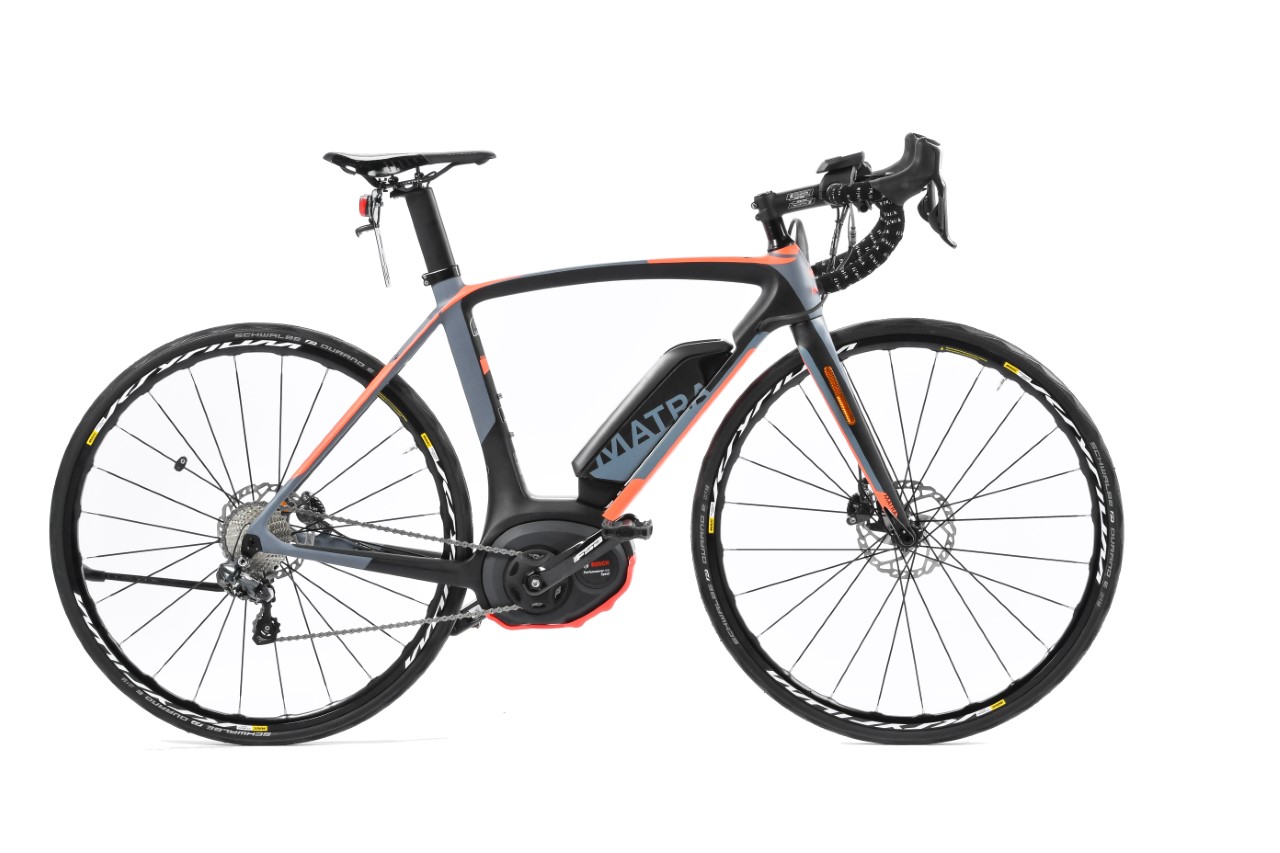 Although no more details of other models were available Matra say the Matra i-Speed road range will be fleshed out in 2018 with 4 additional models, including the I-Speed Race F1 Di2S, which weighs just 36.8 pounds or 16.7kg.
It features a fully carbon frame, ultra-light components, Bosch's speed motor providing assistance up to 45 km/hr (28mph) and Shimano Ultegra Di2 electrical transmission. Matra are on stand A6 – 302 at Eurobike.
Momentum Launches New Connected eBike Systems at Eurobike
Momentum Electric is launching a new range of Autorq products at Eurobike centred around a LIN based network co-developed with Accelerated Systems Inc. LIN is a sophisticated electronics communication protocol that allows a range of peripherals to be developed and added to the AUTORQ system by the manufacturer or another third party.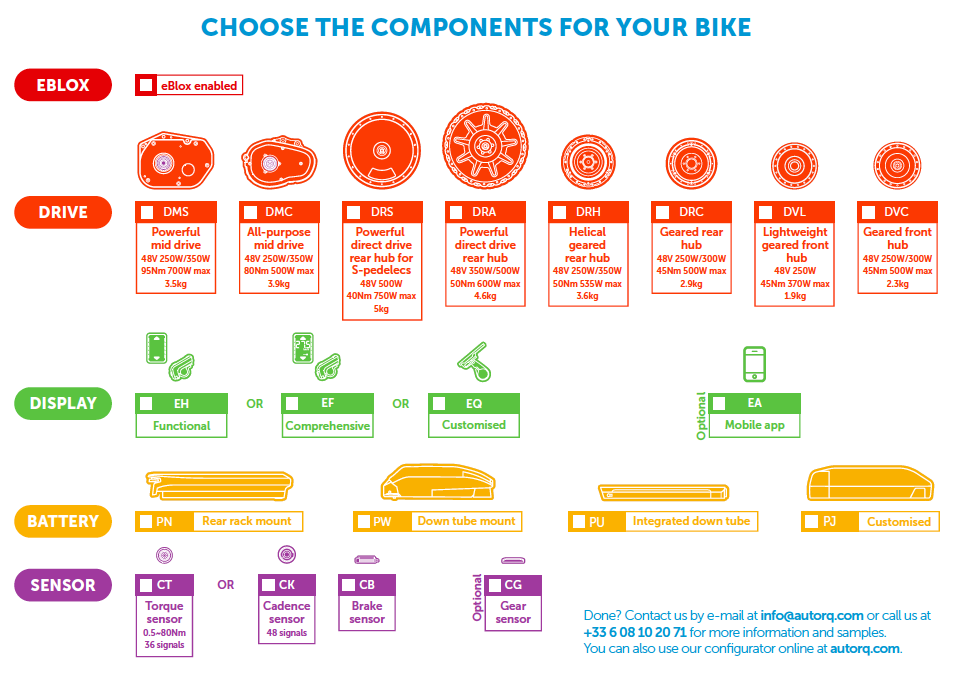 Uniquely, say Momentum Electric, AUTORQ's network can be connected with up to 18 peripheral devices (eBlox). eBlox can be developed by the manufacturer or third party developers with examples including automatically shifting gear hubs, heart sensors, telematic (data feedback) devices, smart locks and electric horns.
The system has 8 motors available to choose from including two mid motors and two direct drive hub motors, one of which has a rated power of 500W and comes in an S-pedelec specification. Lovers of lightweight e-bikes will also be interested to learn of the 1.95kg front hub motor with disc brakes.
Tan adds 'The system will appeal to a number of potential customers. It is good for manufacturers looking to create a strong brand identity through a unique range of products and eBlox accessories. Start-ups that need a ready-to-go, high performance solution to create custom features on connected e-bikes may also be interested, whilst third-party developers will be able to create aftermarket or OEM eBlox accessories that connect to e-bikes that run on the AUTORQ system.'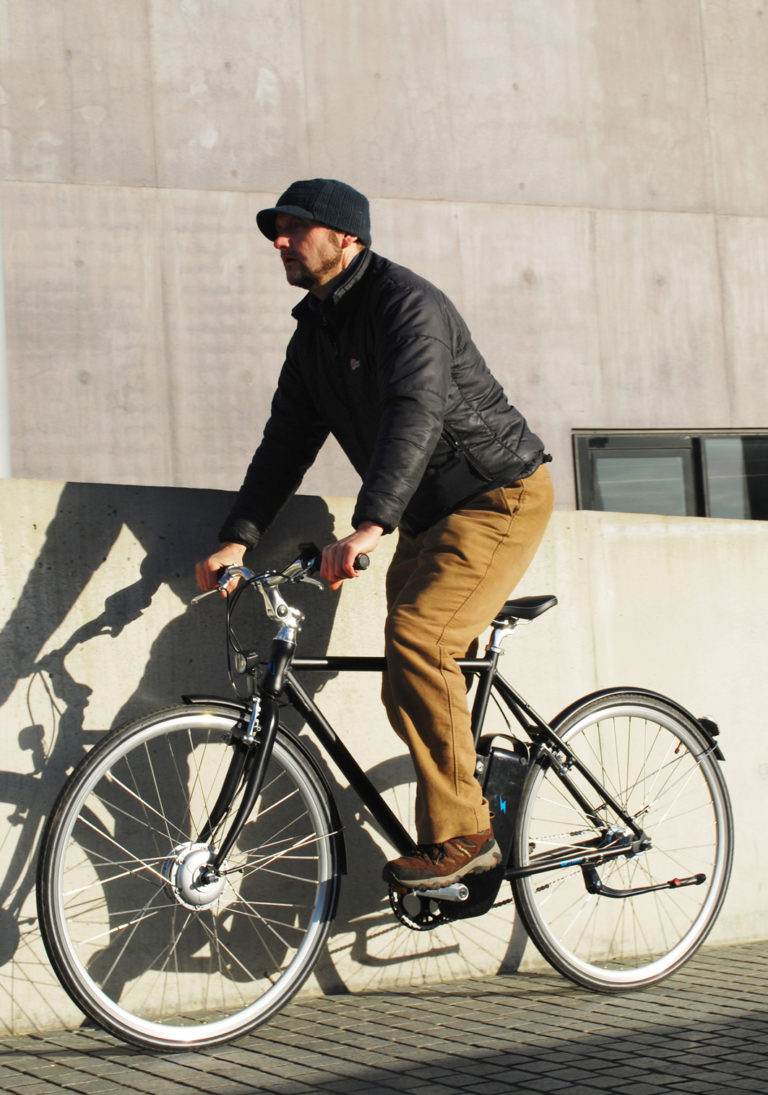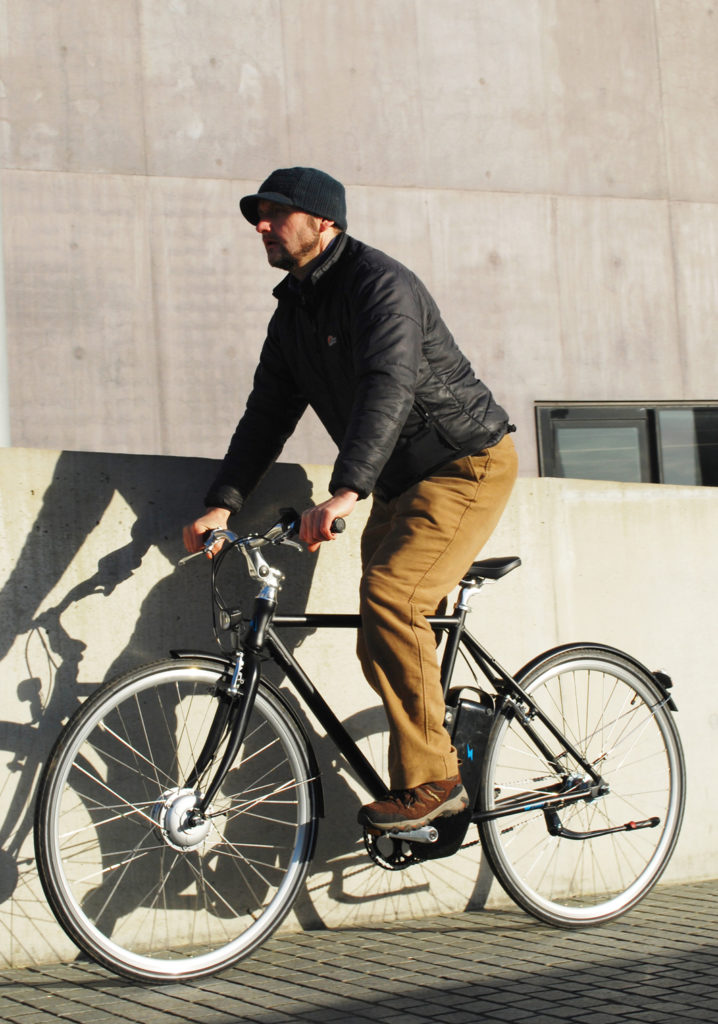 If you are visiting Eurobike you can pay Momentum Electric a visit at their stand FG-B7/1.
Continental – More details on its 48V System
We recently brought you brief details of a new 48V mid-drive from Continental but now the company has revealed more details. There will be two units.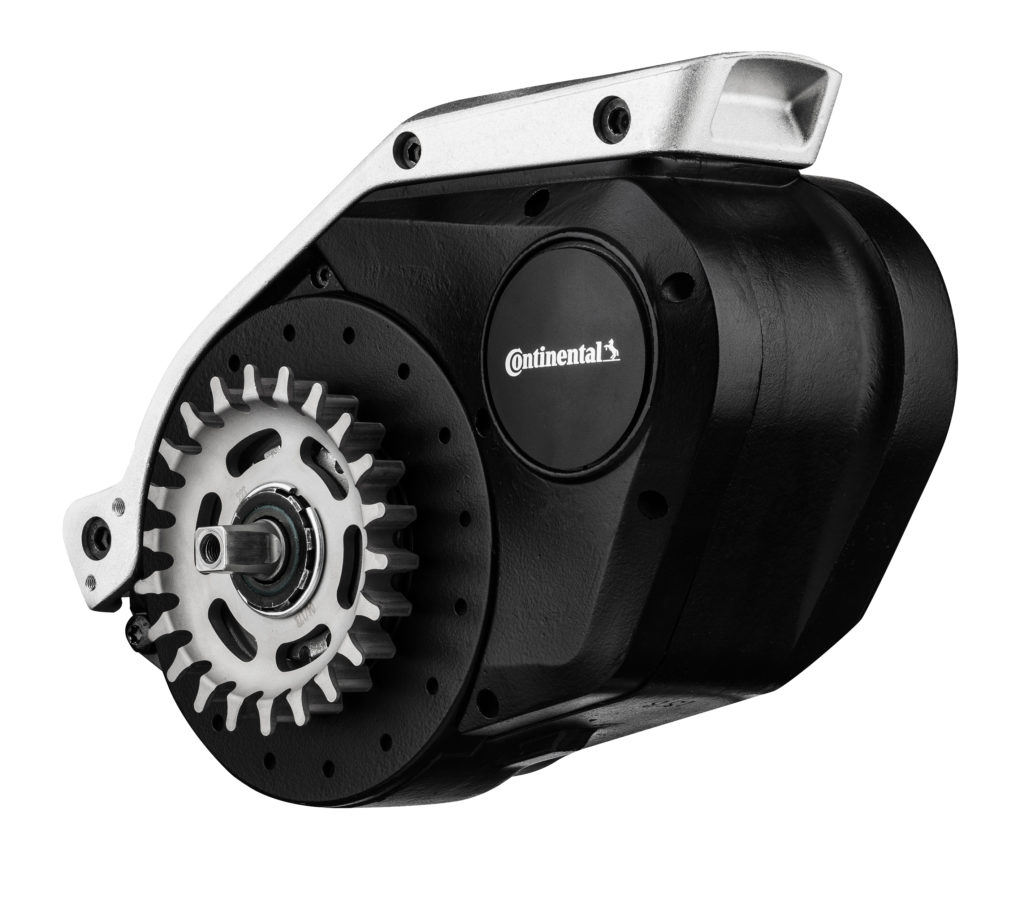 The 48V Revolution is the world's first 48V-powered e-bike motor with a fully integrated stepless automatic transmission contained in an all-in-one drive unit, whilst the 48V Prime is motor only.
They have also revealed that Cycle Union, will be the first 2018 e-bikes equipped with the new 48V systems and that further further OEM partners such as TechniBike will follow. The system is being previewed a Eurobike booth A6-304.
Next Generation of Gearless Motors from GoSwissDrive
Swiss firm GO SwissDrive say they are fighting back against crank-drive domination of the European e-bike market with their new generation of 'silent e-motion' gearless rear hub motors.
Re-engineering of the hubs has included incorporating the company's new low resistance technology, which minimises pedal resistance above 25 km/h, and automated hill descent regenerative power with energy recovery starting automatically at a pre-set speed.
There will also be the possibility of customising riding profiles and motor configurations via the smartphone app as the system has full Bluetooth smartphone connectability.
The COBI smart bike system or the HeartGo health and fitness app can also be integrated into e-bikes using the new hub motor system.
New Cycle Products
See-Sense Light the Way to a Better Cycling Environment
According to this transport publication See.Sense bike light developers have helped nearly 200 Manchester cyclists to carry out the first large-scale British trial of a combined bike light and road condition monitoring unit. The design is aimed at increasing safety and collecting anonymised data on the riding environment.
Apparently 'the unit uses sensor-derived data to make the light flash more brightly and rapidly in risky situations' and 'is also effectively crowdsourcing data on the surface conditions of roads and cycle paths, as well as near misses, to help identify the most hazardous sections of routes across the city.'
Apparently the aim is to work with think tank PolicyVerve to help shape a smarter, cleaner transport environment for the city using the Internet of Things.
E-gear Launches
One current trend is for accessory providers to make e-bike specific gear. The latest 'e-gear' launches include:
The Amplifi cycling backpack which includes a padded compartment for a spare Bosch battery.
For its 2018 models, Haibike has teamed up with locksmith Fidlock and developed a modular, magnetic adapter system for bike accessories. Starting with next year's models, customers will find a rail in the frame of e-bikes from Haibike onto which a variety of Fidlock adapters – for water bottles, bike locks or a bike bag – can be secured. The same system can be used to attach a second battery to the e-bike.
Shimano are launching an e-MTB specific saddle, the Volture. It has 'additional padding for more comfort in the rear of the saddle, a wider nose design for additional stability and better handling, and a higher tail for better power transfer. The Volture also comes with a saddle accessory mount.'
Shimano say they have introduced the saddle as studies show riders using e-bike motors generally spend less time getting out of the saddle to push hard through steep sections and because they are pushing less force through the pedals, they are putting more weight into their saddles. Therefore the Volture was conceived to offer more padding and greater comfort to E-MTB riders.
E-bike Tech
Oxford Councillor Invents Lampost of the Future
In the UK's Oxford a city Councillor has invented a 'smart' lampost that, amongst other things, can be used to charge e-bikes.
He has adapted the design to run off solar cells and to be activated by people moving past it.
As the city is rolling out LED street lighting councillor David Henwood believes e-bike charging and electricity saving motion sensors could be incorporated into the new design.
Get Inspired
Be Sensible but Have Fun
This Guardian article "Why I'm Pround to Ride an E-Bike" is a general introduction to the world of e-bikes for those who still haven't seen the merits and are still complaining. Amongst the many positive examples of why you should ride one there is the overriding sense that an e-bike is both fun and practical.
Fresh Food for Students at UC Berkeley Courtesy of E-bikes
This scheme just looks so sustainable – according to the article "program participants built two produce trailers, a kitchen cart and a mobile farm stand for campus areas so that food-insecure students can obtain fresh foods on campus instead of having to seek them out elsewhere. Electric bikes will transport the carts and collect 50 pounds of fresh produce from UC Berkeley's Gill Tract farm in Albany as well as from gardens in the surrounding areas of campus."
Real Estate Agent Using E-bikes to Sell Houses
An Australian estate agent has hit the headlines after using an e-bike to get to appointments and advertise the fact that properties outside the city centre can still access it quickly and easily …..by e-bike. In the words of the article:
"Many buyers are saying Manly is expensive," Mr Moore, of Stone Real Estate, said.
"I am trying to come up with solutions where people buy outside Manly, especially Fairlight and use an electric bike," he said.
"You could spend $10,000 on electric bikes for the whole family rather than another $1 million on a house," he said.
E-bike Biz
Inc Magazine Rates Pedego
The business magazine Inc has rated US e-bike brand Pedego 2655 Inc. Magazine's 36th annual Inc. 5000, a ranking of the nation's fastest-growing private companies. Pedego is the fastest-growing bicycle company on the Inc. 5000 with a three-year growth rate of 131.13 percent from 2013 to 2016.
Simplo Catching Bosch in the Battery Race
Initially a notebook battery manufacturing company, Taiwanese firm Simplo say they are catching Bosch in the e-bike battery production race. The company claims production figures of 400,000-500,000 e-bike batteries annually, with a growth forecast of around 700,000 in 2018 and 'up to' a million in 2019.
Is GM Getting into E-bikes?
Maven is the name for the group of products from General Motors that involve car sharing. However, GM have now declared patent applications under the Merge name will also include
'bicycles, electric bicycles, motorized bicycles, and structural parts thereof; motors for bicycles; electric conversion kits for bicycles comprised of motors for bicycles and electric handlebar motor controls'. Intriguing!
Infrastructure
E-bike Share in Utah
This article details the cool looking e-bike share scheme just implemented in Park City, Utah. Aptly enough called Summit Bike Share – the area is a ski resort after all – the scheme has already clocked up more than 6,000 trips and 22,000 miles. More details here.
Cycling UK Seeks to Open Up Thousands of Miles of Trail in Wales
Cycling UK and OpenMTB have backed Welsh Government proposals to open up most footpaths in Wales to cycling and horse riding and called for the public to show their support via the Trails for Wales campaign. Currently, cycling and horse riding are only permitted on 21% of the entire rights of way network in Wales.
The report was based on the views gathered from over 11,000 off-road cyclists, and also found a further 74% of them consider the current rights of way network unsuitable.
With the prospect of meaningful change coming from the Government, Cycling UK is urging as many people from across the UK, not just Wales, who enjoy cycling off-road, whether it be for family rides or mountain biking, to take action and support the creation of Trails for Wales here.
New Bike Expressway for Western Paris
This French language article in Le Parisien details an impressive sounding new 'bike expressway' along the river Seine in western Paris. It's a wide and high quality route next to main motor traffic artery and only has one exit along its length.
The article admits the reason not for putting in more access points was fear of slowing motor traffic, so it must be considered an 'expressway' for cyclists. The article interviews the first user 'Nicolas, on his electric Fatbike…"I live in Boulogne and work on the side of the Hotel de Ville (IVe). For me, that's the ideal. I even abandoned my scooter for three months and lost 10 kg …"
Meanwhile this article looks at the exciting plans for the future expansion of the bike path network in Paris. Work has already begun on the Réseau Express Vélo which plans to finalise a 700km long network of paths by 2020.
Oslo and Madrid Leading the Way to a Car-free Future
This report shows how two major European cities, Spain's Madrid and Norway's Oslo are leading the way in making ever larger areas of their cities car-free.
Stay tuned for more e-bike news & reviews and thanks for reading!
-Richard
P.S. Don't forget to join the Electric Bike Report community for updates from the electric bike world, plus ebike riding and maintenance tips.
Reader Interactions