eBike News: Step-Thru eFat Bike, All Wheel Drive, eCargo for Irish Post, Solar eBike Parking, & More! [VIDEOS]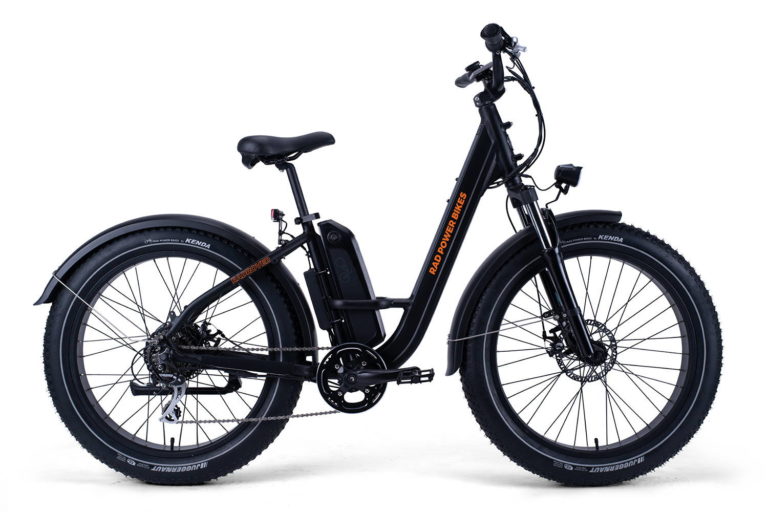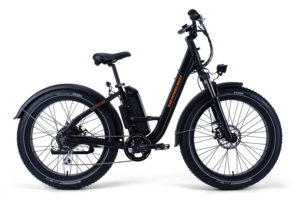 In this week's eBike news roundup:
New Step-Thru RadRover eFat Bike
Merida eAdventure Bike
Christini All Wheel Drive
Refrigerated eCargo Bike
Cowboy & Modmo Updates
National Parks eBike Update
Inspirational eBike Tours for 2020
Solar eBike Parking Shelters
eCargo bikes for Irish Postal System
And Much More!
New eBikes & eBike Systems
New RadRover Step Thru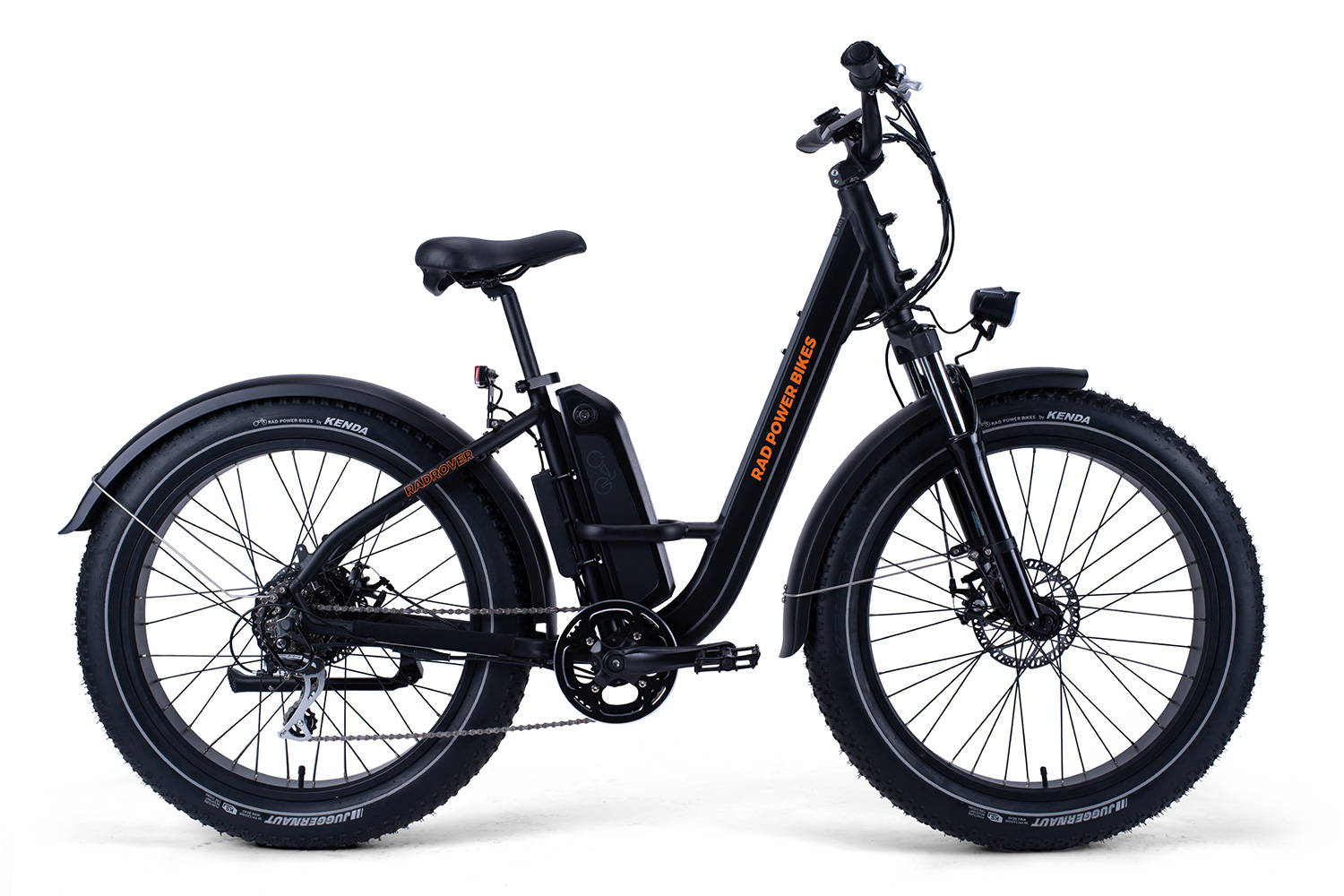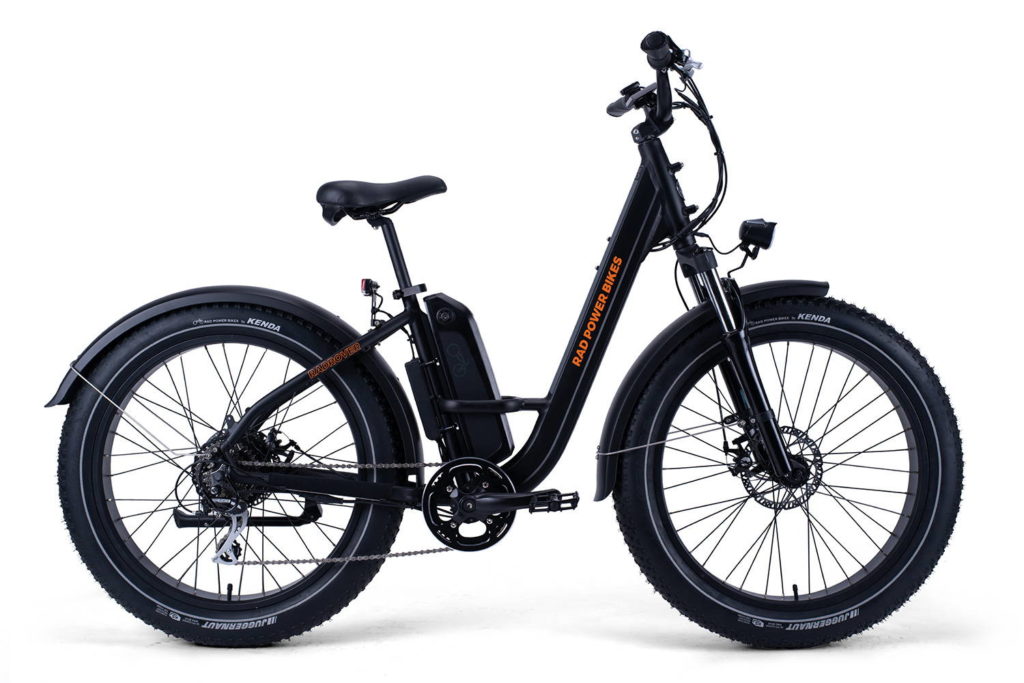 Rad Power Bikes have announced a further model to their range for 2020, the RadRover Step-Thru.
Like the original RadRover it has large 4-inch fat tires and a 750 W hub motor but this new model, as the name suggests, is also an easier to get on and off with the step thru frame design.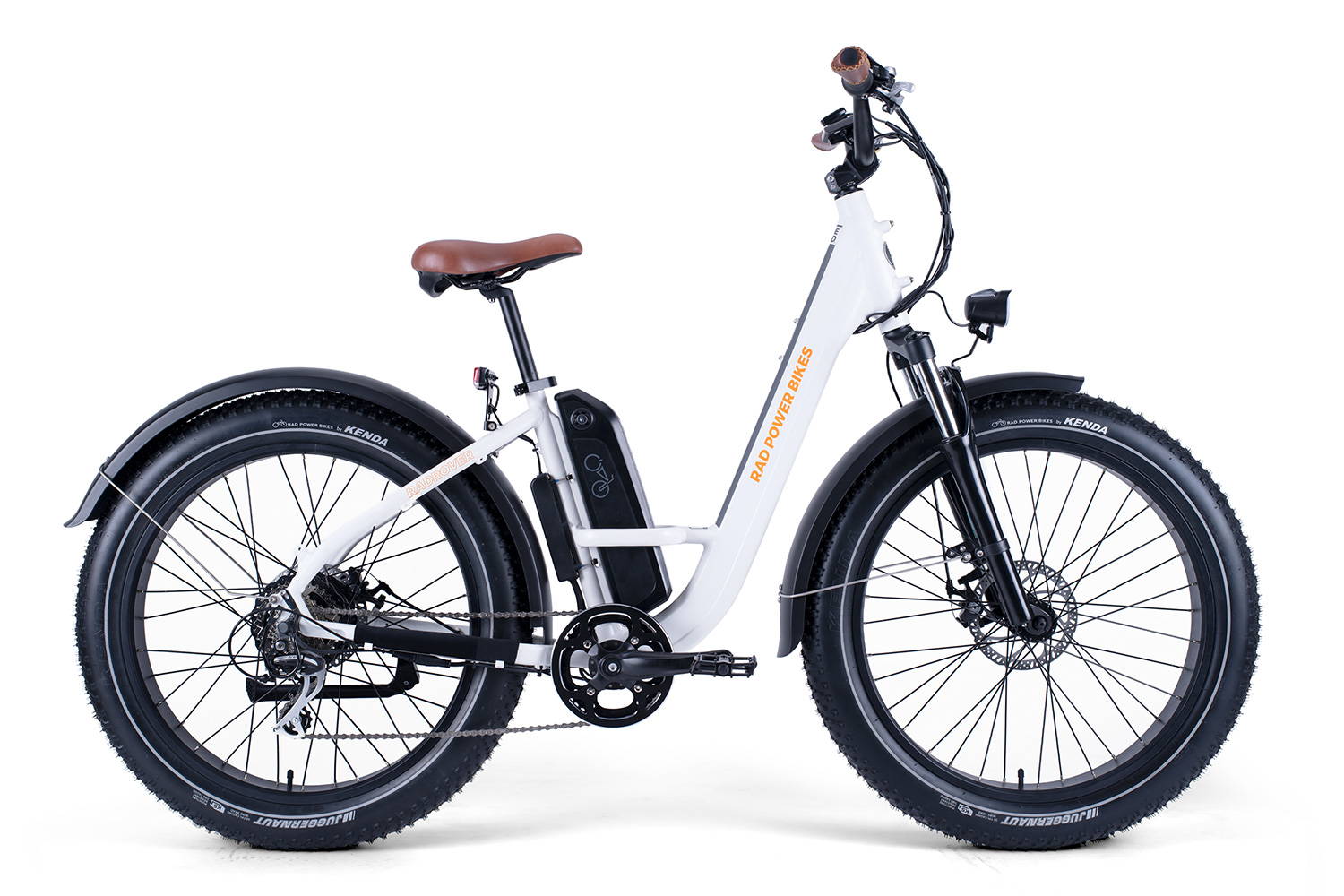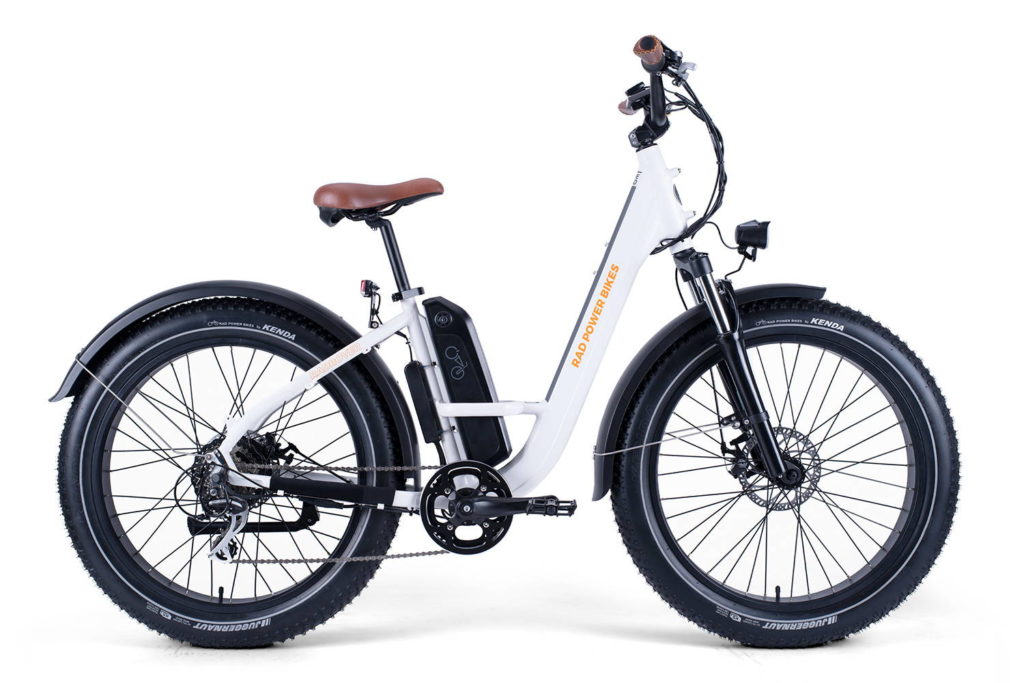 Fenders are now included as standard and there is a new Halo light for better visibility.
We reviewed the original non-step thru version of the RadRover here and here.
It will retail for $1,499. For preorders and other news on updates to existing Rad Power Bikes models see here.
Merida's New eBIG Tour
Merida is one of the largest e-bike manufacturers in the world and they have recently announced what looks to be one of the most versatile e-bikes out there as it combines many comfort 'trekking' features with e-mtb features that allow for plenty of off-road adventure too.
As their blurb says 'Featuring a frame which is based on the eBIG.NINE and a mountain bike fork as well as MTB tyres, the bike provides a more comfortable riding feeling than a trekking bike, but at the same time, comes equipped with fenders, carrier and lights. The bike is the best way to get from A to B or make your trekking tours more enjoyable, but with the added knowledge that you could take the MTB trail as a shortcut if you want.'
No doubt the Shimano mid-motor and 504Wh battery will perform well and there are nice design features too, like the frame integration of the battery and rack integration of the rear light.
The frame has a top tube but it is very low slung making it easy to get on and off.
UK retail £3250.
Surface 604 Shred Testing & Review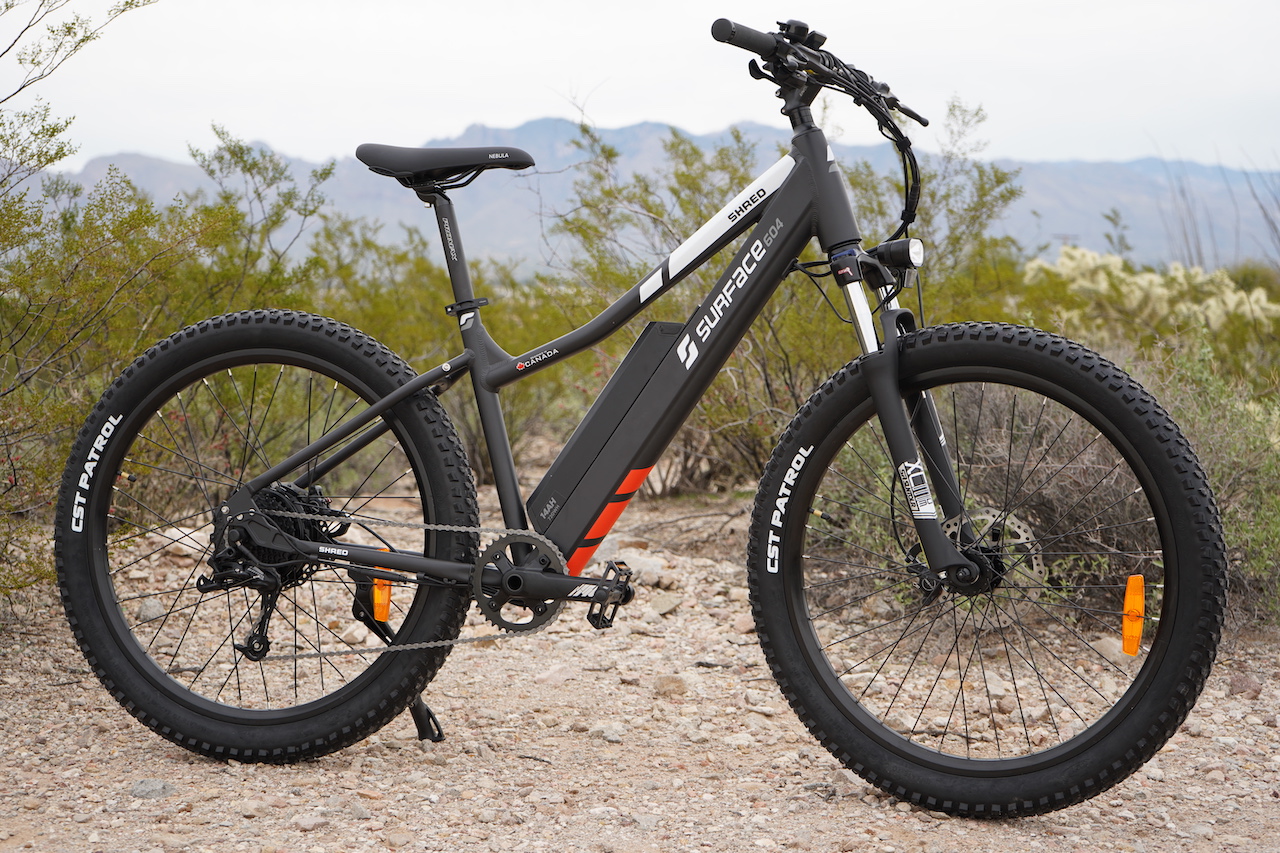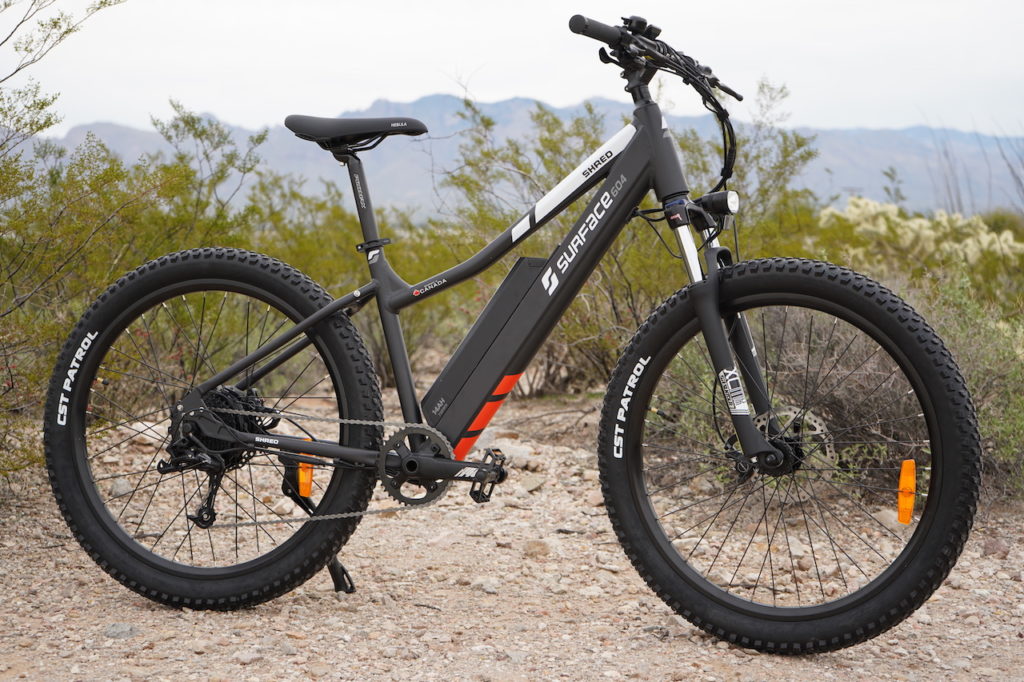 The new Surface 604 Shred emtb part 1 review is published now.
This Class 3 eMTB has some interesting features like 28 mph torque sensor based pedal assist, throttle to 20 mph, 2 battery options, and large 27.5″ x 2.8″ off road tires.
Some of the spec highlights are a 500 watt Bafang geared rear hub motor, a stock battery of 48V 10.4ah (14ah optional), Tektro Dorado hydraulic disc brakes, and a SRAM X5 drivetrain.
The $2,099 base price includes free shipping.
Christini Fat E-bikes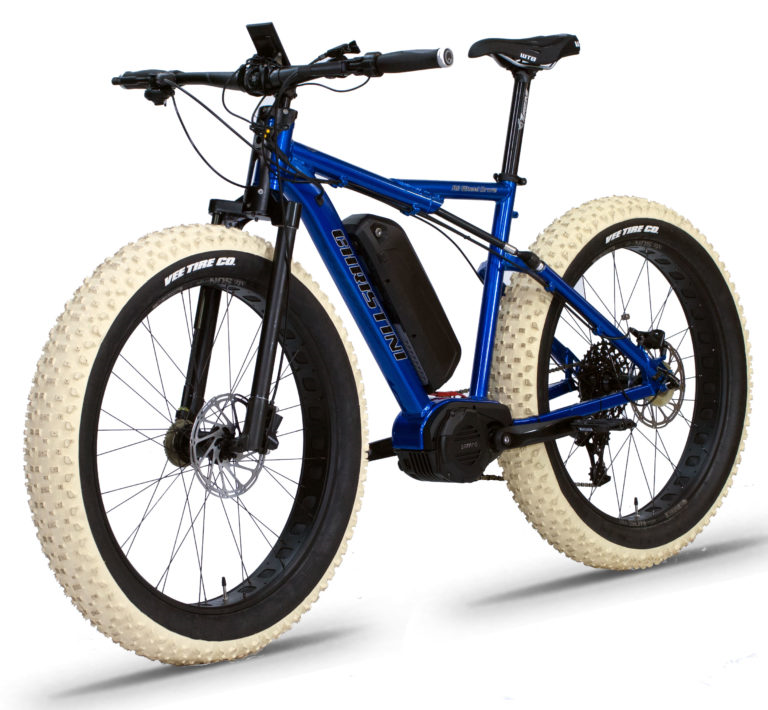 We have featured the truly unique Christini AWD (all wheel drive) e-bikes quite some time ago but 2019 saw them keeping up with the times by launching mid-drive versions like this Fat E-5 Ultra.
Using an ingenious system of connecting drive rods and gears the motor drives not only the rear wheel, as you would expect, but the front wheel too.
Check out this video to see it in operation in the type of conditions it was designed for:
UK's EAV Launch Refrigerated E-cargo Bike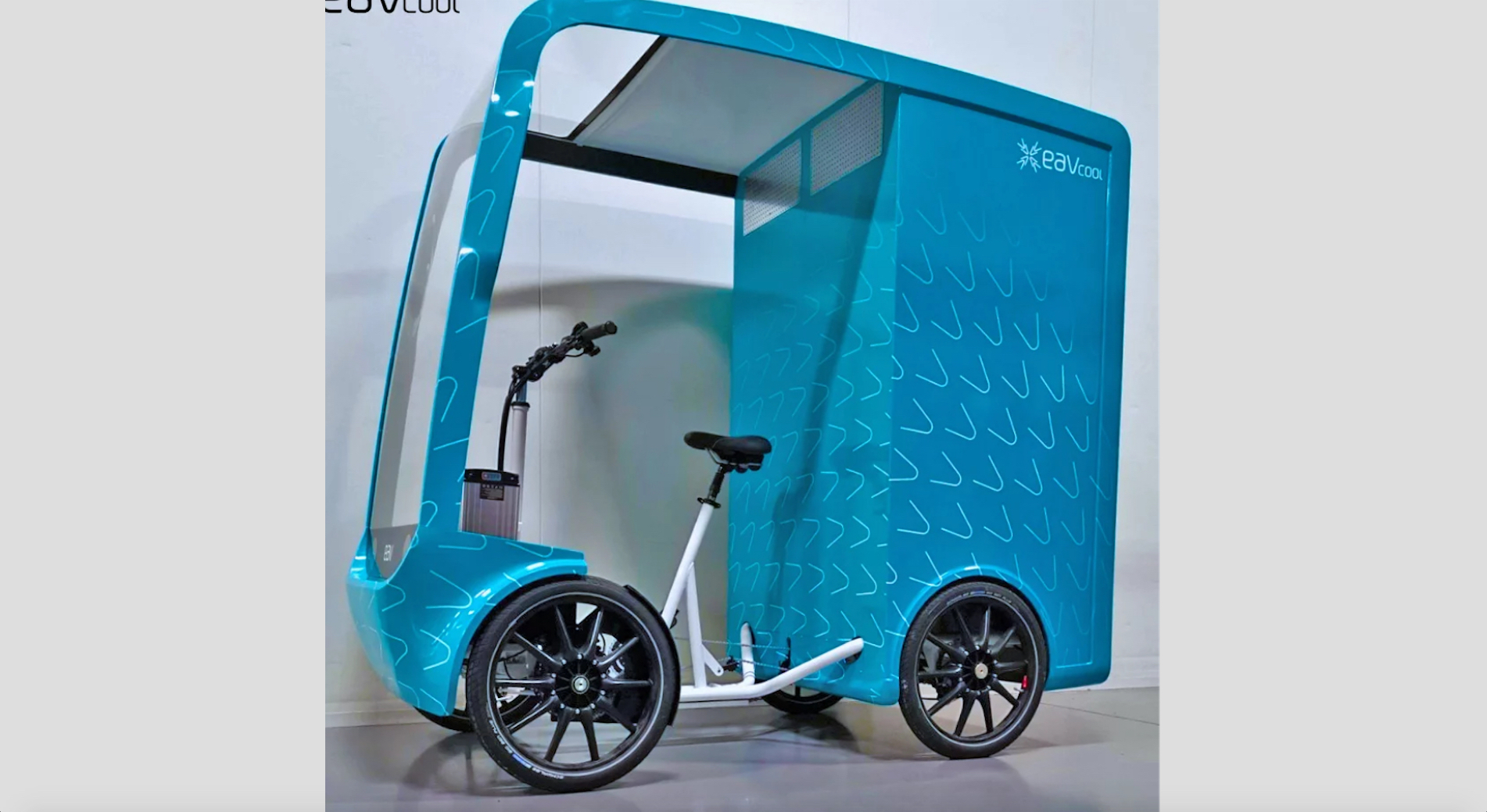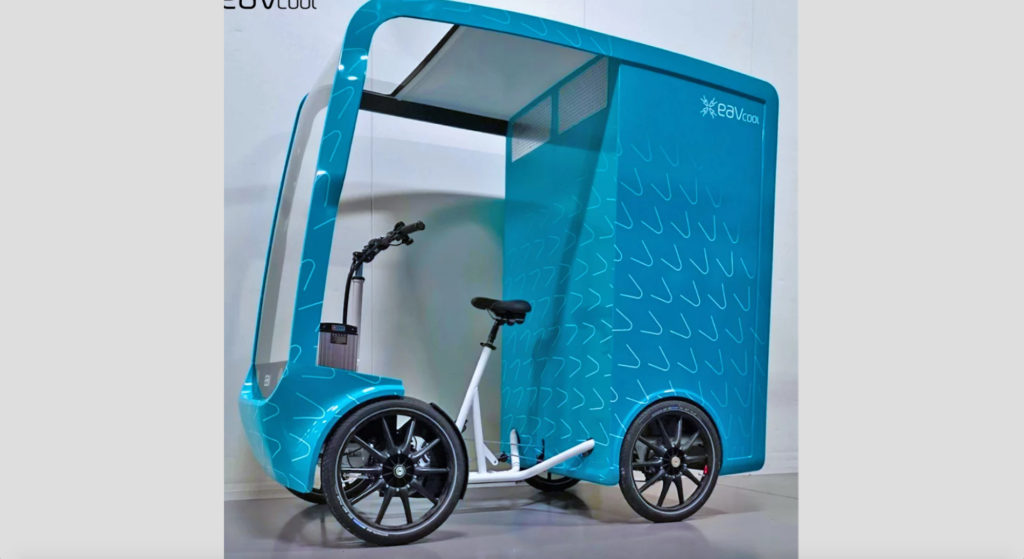 Electrive reports that 'English startup EAV (Electric Assisted Vehicles) has launched a fully temperature-controlled eCargo bike. Designed for urban delivery of chilled or frozen goods within a continuous cold chain, the EAVcool Cargo is a purpose-built, zero-emissions quadricycle.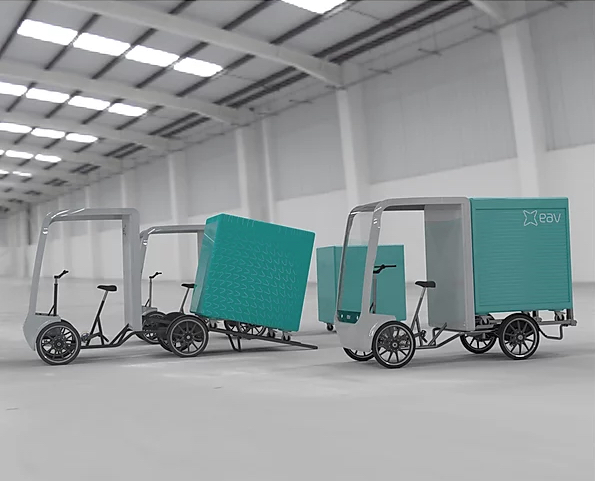 Developed with the manufacturer of refrigerated vehicle conversions Solomon Commercials….(it has) two completely independent rear temperature-controlled compartments for frozen (down to -18) or chilled goods.
The small and manoeuvrable size of this EV enables this delivery vehicle to access high-density areas, requiring less space and energy than a truck or van.
The makers have designed the refrigerated electric cargo bike specifically to meet the current challenges for inner-city delivery firms and already launched variants for other delivery types in August this year.
E-bikes and National Parks
E-bike Ruling Wrangle Continues With Further Lawsuit
EBR has reported enthusiastically on the many new opportunities for e-bike access in US National Parks following the issuing of a memorandum in the summer by the US Department of the Interior that e-bikes should be treated as regular non-assisted bikes regarding National Park access rights.
A legal challenge by Public Employees for Environmental Responsibility PEER has followed and now the Press Herald reports that 'Two regular Acadia National Park visitors have joined a lawsuit challenging the National Park Service and Department of the Interior decision to allow "e-bike use throughout the National Park System."
According to court documents those joining the lawsuit are Phyllis Koenig and David Perel, a married couple from New Brunswick, N.J., who have vacationed in Acadia for 25 years.
The legal challenge seems to be arguing on the grounds of process and legal technicalities, rather than disputing the pros and cons themselves of allowing e-bikes to go where regular bikes do.
As the article states, the case is basing its arguments on its belief that 'the National Park Service officials who made the decision to allow e-bikes in the parks were never properly confirmed to their positions, and therefore lacked the authority to make that decision. The suit also says the decision was made without proper environmental review.'
This is the second lawsuit against allowing e-bikes on some non-motorized trails in the past two months.
A group of trail and forest advocates sued the U.S. Forest Service in October for allowing Class 1 e-bikes on non-motorized trails in the Tahoe National Forest in California without first conducting a public study.
While the Department of Interior oversees the NPS, the Department of Agriculture has jurisdiction over the Forest Service.
There is also further controversy over the National Parks as E&E News reports that 'The National Park Service has disbanded an industry-dominated electric bike advisory group after an advocacy organization complained that it violated federal law.
Public Employees for Environmental Responsibility (PEER) said the E-bike Partner and Agency Group did not comply with federal transparency requirements because the park service never gave public notice of its meetings.'
Get Inspired
E-bike Tours for 2020
Forbes has highlighted five enticing sounding new e-bike vacations that will be offered by e-bike companies in 2020:
Vancouver-based BikeHike Adventures offers their first dedicated e-bike break, Croatia to Montenegro, an 8-day trip by e-bike only, covering the western Balkans.
Butterfield & Robinson unveil their first e-bike-only trip in 2020. The Alsace E-Biking trip starts in Strasbourg and follows the famous Route des Vins and to beautiful Colmar through the incredible scenery of the Vosges mountains.
Deluxe biking outfitter DuVine Cycling & Adventure Co are offering an e-bike only trip with their signature Provence Bike Tour. It's six days of wine, olives and lavender fields in the Luberon area.
Austrian company Edelweiss will lead you through Norway on their Telemark tour described as a mixture of glaciers, goat farms, and stave churches!
H+I Adventures offers some pretty challenging rides around the world including their E-MTB Tour in Switzerland, where you ride through the Graubünden region using single-track climbs and descents, switchbacks, rocks and roots and real backcountry adventure, which includes taking the IMBA Epic Trail.
Mayor of Bristol Takes Up E-bike Challenge
Bikebiz reports that Marvin Rees, the Mayor of Bristol, has succeeded in completing the challenge laid down to him by UK e-bike manufacturer Volt:
'Volt's e-bike challenge – to cycle to as many of his mayoral engagements across a two-week period as possible. Marvin Rees completed the challenge last week and over the period had cycled to and from work every day, as well as riding to all engagements in Bristol, bar one.'
eTech
Solar-powered eBike Parking
Bike Europe details how 'The Solar Bicycle Parking Facility is a new development of ECOpro Technology BV, a Dutch manufacturer of prefab construction systems and specialist in solar roofs.'
There are obvious applications for e-bike parking and charging.
eCargo Watch
eCargo Bikes for Irish Post
Cycling Industry News has revealed 'Ireland's state-owned postal service will shift towards the use of an electric cargo bike fleet in order to make efficiency gains, CI.N has learned.
The large scale contract landed by Irish specialist retailer and distributor GreenAer will initially see around 138 rear-loaded Radkutsche cargo haulers distributed to the postal service with aftercare provided by the specialist.
CIN add '…the roll out will initially begin in Ireland's main cities, with Dublin, Galway, Cork and Limerick all early beneficiaries. Each of these larger cities will initially host an electric cargo bike fleet of around five units, while smaller urban areas will begin with up to three.
Infrastructure
Bike Sharing Facts Shared
This is a pretty straightforward Forbes article that is a plea for more joined up bike infrastructure in cities and more bike share and e-bike share schemes to use it.
It tells us the forecasts are for 'more than 130 million units set to be sold globally between 2020 and 2023,' adding 'The number of bike-sharing options in cities around the world has doubled since 2014, and the number of bicycles in operation has increased twenty-fold.
It's also a plea to control hydrocarbon-powered cars in city centres, stating 'forcing companies to stop making them, make sense when some 8.8 million people in the world die every year from diseases related to air pollution.'
E-bike Biz
Cowboy Smashes Crowdfunding Target
BikeBiz details this superfast e-bike crowdfunding success:
'Brussels-based startup Cowboy has surpassed its €1.4 million crowdfunding campaign target in just 12 minutes, raising a total of €3.2 million…The crowdfunding campaign is now open to the public, meaning that until 10th January 2020 individuals have the opportunity to invest €20 and up in Cowboy.'
Modmo Startup
https://www.instagram.com/p/B4MnbfHHb17/?utm_source=ig_web_copy_link
Silicon Republic reports on the futuristic looking e-bike startup, Modmo, which is slated to feature a touchscreen built into the handlebars that runs Android and displays turn-by-turn navigation so you can see Google Maps plus a frame-integrated GPS.
Don't expect to see it any time soon though; the aim is to eventually raise €400,000 in 'angel investment' to pay for the final tooling and custom parts needed to mass produce a Modmo bike.
Commodule Opens Estonia Factory
Telematics is the area where transport technology meets information technology and in particular making light electric vehicles able to communicate and respond to other information systems (like an e-bike user's mobile phone for example).
Commodule are specialists in this area and are opening a new factory on Talinin, Estonia. They have announced:
'Comodule, a company that has connected over 150 000 electric vehicles to the internet decided to build a factory mainly due to the high demand for internet of things (IoT) products for electric scooters and bikes. It enables Comodule to produce up to 20,000 telematics devices per month…The factory, located close to Comodule headquarters in Tallinn, Estonia, will start producing telematics electronics which will be attached or put inside the vehicles to connect it to the internet and enable services like e-bike or e-scooter sharing. Amazingly, the factory and production line was built in less than a year.'
Stay tuned for more e-bike news and reviews and thanks for reading!
-Rich
P.S. Don't forget to join the Electric Bike Report communityfor updates from the electric bike world, plus ebike riding and maintenance tips!
Reader Interactions