Rad Power Bikes RadRover Electric Fat Bike Review Part 2: Ride & Range Test [VIDEO]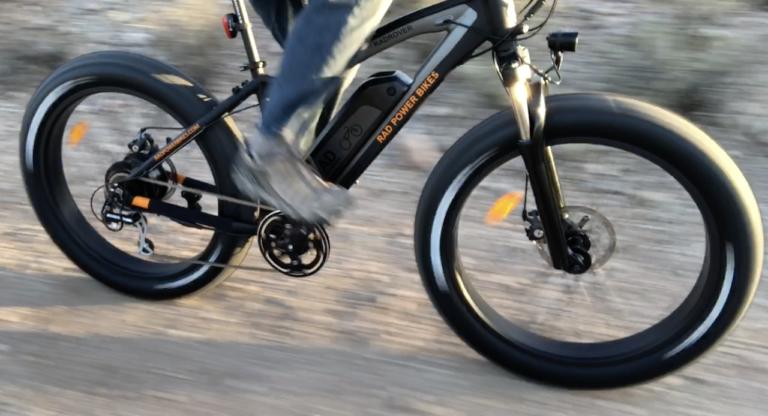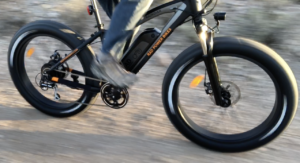 We have posted an updated 2021 review of the RadRover. Check out the following link for the Rad Power Bikes RadRover 5 Review.
After miles of testing the Rad Power Bikes RadRover it has proven to be a powerful, versatile, and fun all terrain eBike.
Its 750 watt motor combined with 4″ wide off road tires make this a rugged eFat bike that has impressive range thanks to its large 48V 14ah Samsung cells lithium battery.
Another impressive highlight is that the RadRover is competitively priced with free shipping (lower 48 states) and Rad Power Bikes offers monthly payment options.
The RadRover is a good entry-level eBike with a very stable ride feel, an upright comfortable ride position, and a bold look.
It also features the ability to add sturdy front and rear cargo racks for becoming a cargo hauler for around town errands and weekend adventures.
In this second part of the full review you will get an idea of the ride characteristics, range test results, pros, cons, and overall thoughts on this electric bike.
Make sure you check out part 1 of this review with large pictures and specifications to get a detailed look at this e-bike.
What you can expect from the RadRover:
To get acquainted with the Rad Power Bikes RadRover, checkout this video:
Riding the RadRover
: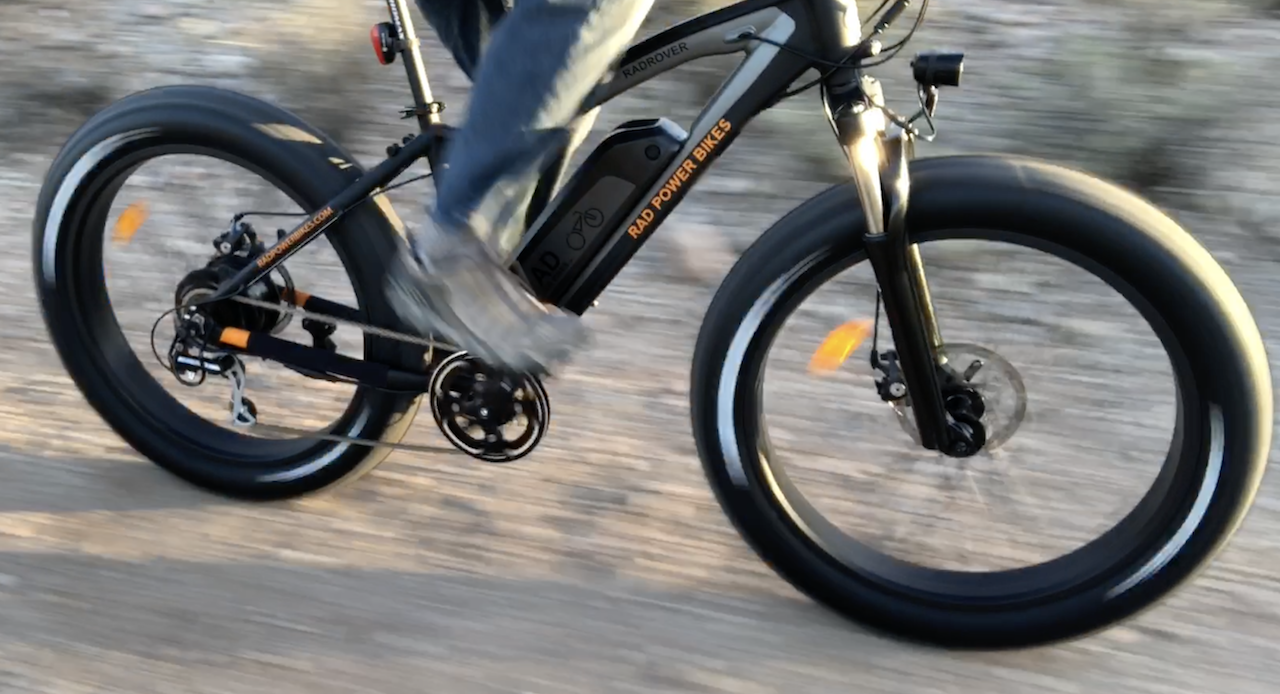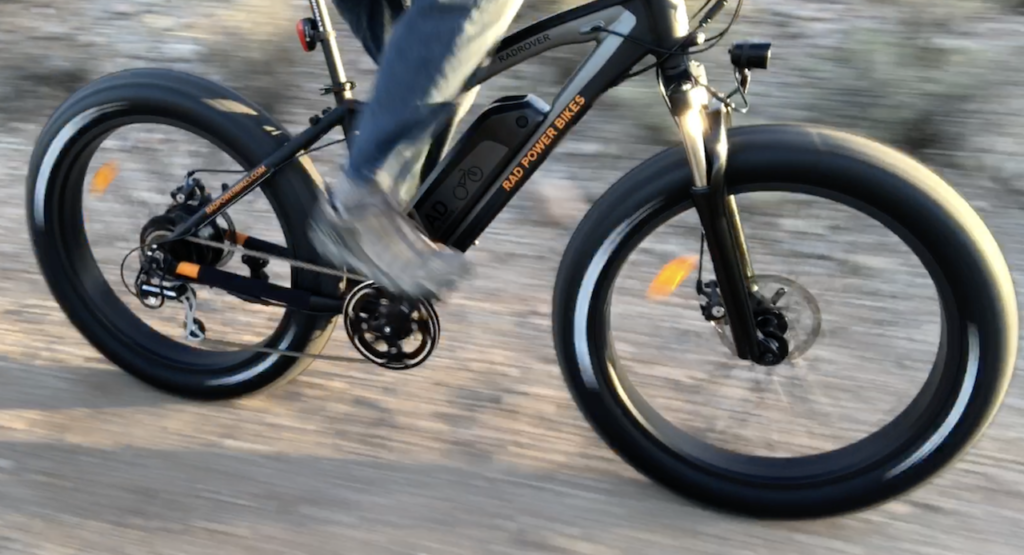 Overall there are some characteristics of the Rad Power Bikes RadRover that really stand out when riding this electric fat bike. To summarize they are:
4″ wide tires for all terrain riding in mud, sand, snow, and for a super stable ride feel on the road
Powerful 750 watt geared rear hub motor with pedal assist & throttle
Impressive range with high capacity Samsung cells battery
The Look & Feel of the RadRover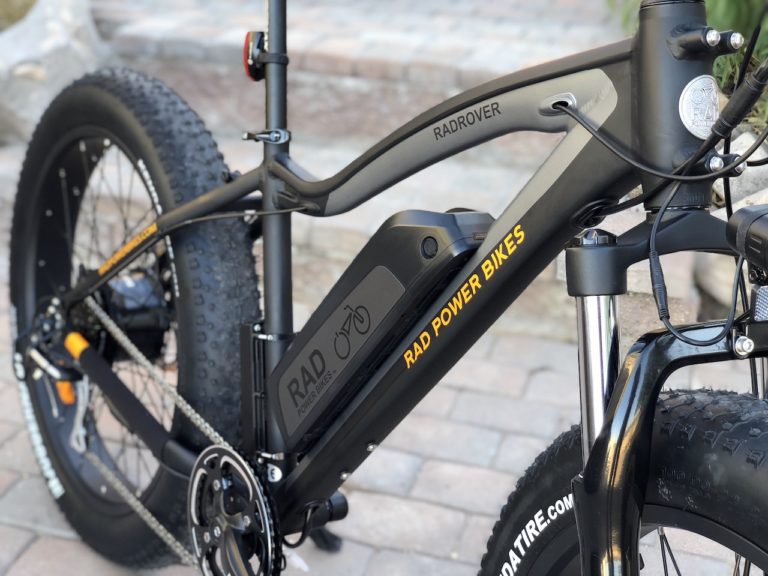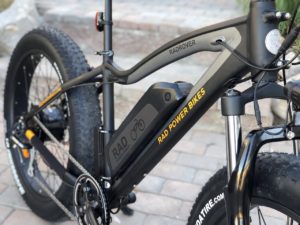 eFat bikes have a very bold look when compared to a traditional eMountain bike because of the huge 4″ wide off road tires.
People will notice you when you ride by on the RadRover, and with its 750 watt hub motor you may be flying by them!
The main structure of the RadRover is the hydroformed 6061 aluminium frame that has been shaped to fit a wide range of riders and to provide the fat tires with substantial clearance.
There is in one frame size (18″) to fit riders from 5′-4″ to 6′-2″.
26″ x 4″ Kenda Juggernaut Fat tires fit comfortably within the frame and fork with plenty of clearance for clearing mud and/or snow.
The downtube of the frame has a flat surface for integration of the battery on the downtube of the frame. This low and centered battery location is good for overall bike handling.
There is some internal cable routing in the frame that provides for cable/wiring protection and a clean look.
A big upgrade for 2018 is the new front rack frame attachment at the headtube. Rad Power Bikes offers a variety of front racks and front baskets for the solid headtube attachment point.
They also offer a rear rack for the RadRover and the combination of these offers a good cargo solution for commuting and running around town errands.
These racks/baskets can also be good for carrying gear on adventure rides on the RadRover.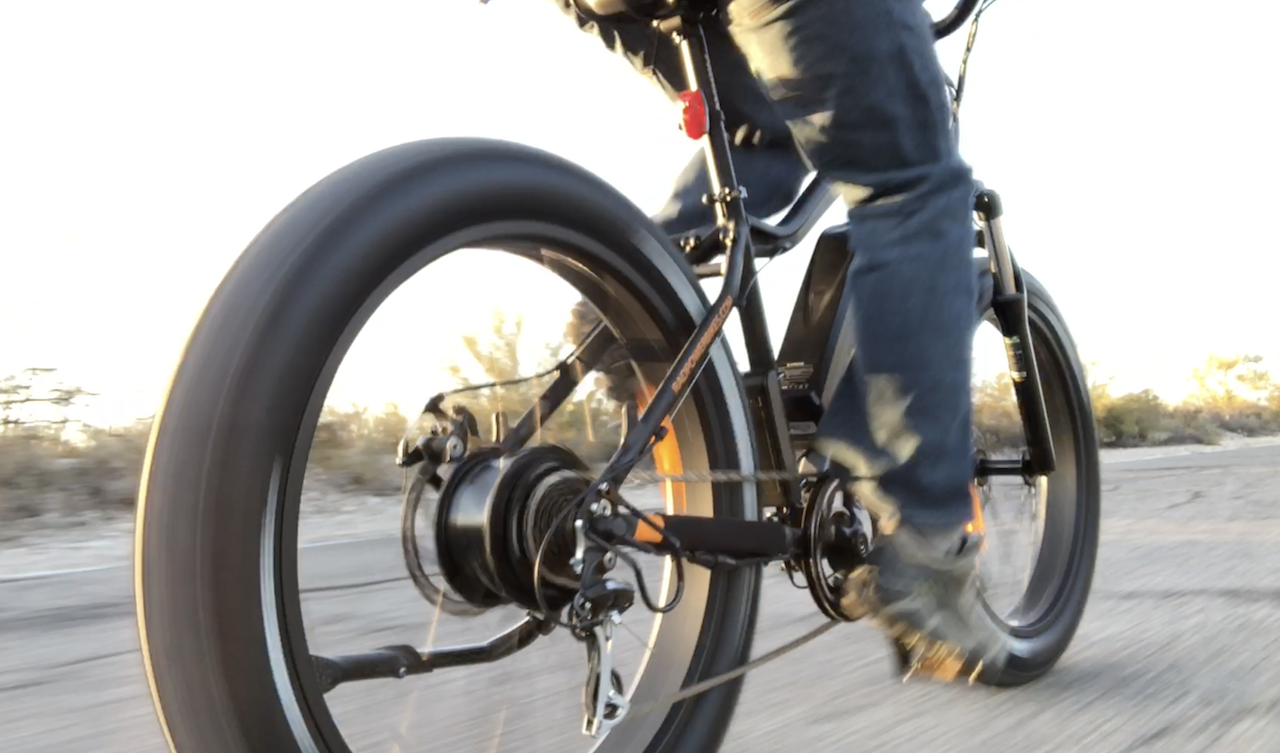 Riding the RadRover gives you the feeling of stability thanks to the 4″ wide tires. They provide a solid platform for riding on almost any terrain.
The RadRover is an eFat bike that can handle hard pack trails, sand, mud, and snow. It's large tires also provides a super stable ride feel for rides around town.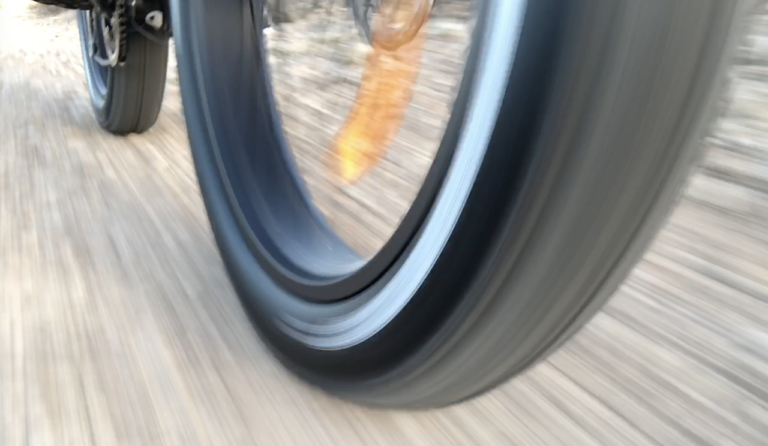 That stability is attributed to the large tread patch that contacts the ground and the large volume of air in the tires.
Fat bike tires can run lower pressure than traditional mountain bike tires because of the large volume of air that they contain.
These 4″ wide high air volume tires can mold over and contour to rough terrain.
Here are some tire pressure recommendations for different terrain:
Sand and Snow: + or – 8 psi
Hard pack to muddy roads/trails: 12-15 psi
Urban riding: 20-30 psi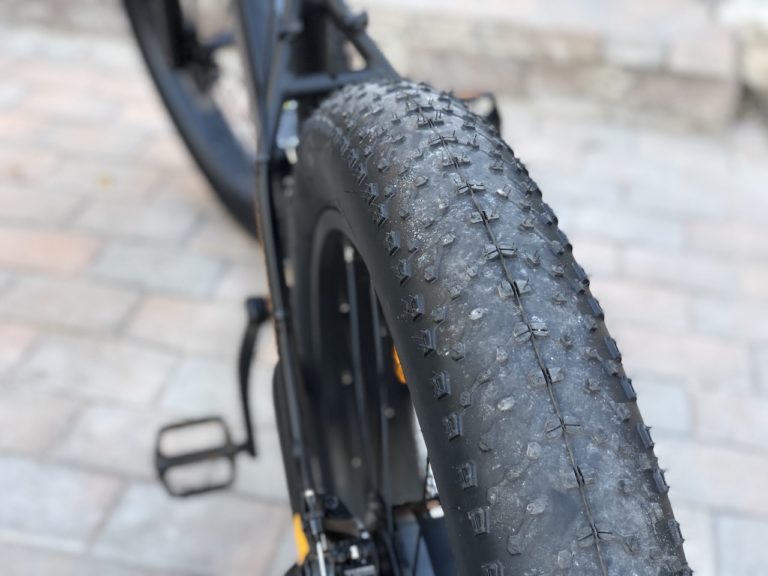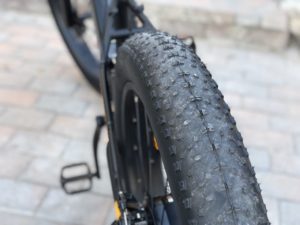 It is important to experiment with the different tire pressures for the terrain you are riding while considering your weight and riding style. 1 or 2 psi can make a big difference in the way a fat bike feels.
With the right tire pressure the 4″ wide Kenda Juggernaut tires are able to mold over and grip a lot of rough terrain.
The large volume of air that they contain also creates a suspension effect from the tires themselves.
That suspension effect is very noticeable on a hardtail (no rear suspension) like the RadRover.
With the right tire pressure you can ride over a lot of rough terrain and they have incredible traction because of the large tire patch on the ground and they mold around things like rocks, roots, etc.
At lower pressures Fat bike tires do have a sluggish feel when compared to traditional (2″ to 2.5″) or Plus size (2.6″ to 3″) mountain bike tires.
It is most noticeable when carving into a turn, you can really feel the larger mass of these big wheels as you are cornering.
Here is a good video comparing the attributes of a Fat bike vs. Plus bike and it will give some ideas on how these larger tires perform.
The Fat bike tires have an outside diameter that is close to a traditional 29er tire so they pick up some of the big wheel ability to roll over a lot of obstacles well.
Pinch flatting the tube is less of a concern at these relatively lower pressures because there is so much air volume for the tires to absorb impacts from rocks, roots, etc.
And pinch flatting is almost eliminated when running a tubeless system. The RadRover comes with tubes but there is the possibility of converting to a tubeless system with the correct tires and a tubeless conversion kit (Orange Seal). This is a great way to run the lower pressures and almost eliminate flats from thorns, glass, and other small objects because the sealant closes the holes.
Another way to minimize flats from thorns, glass, and other small objects is to use a tire liner like Mr. Tuffy.
When you combine the power of the 750 watt motor and the grippy 4″ wide tires, the RadRover can power through a lot of difficult terrain!
Now let's take a closer look at the ride position of the RadRover.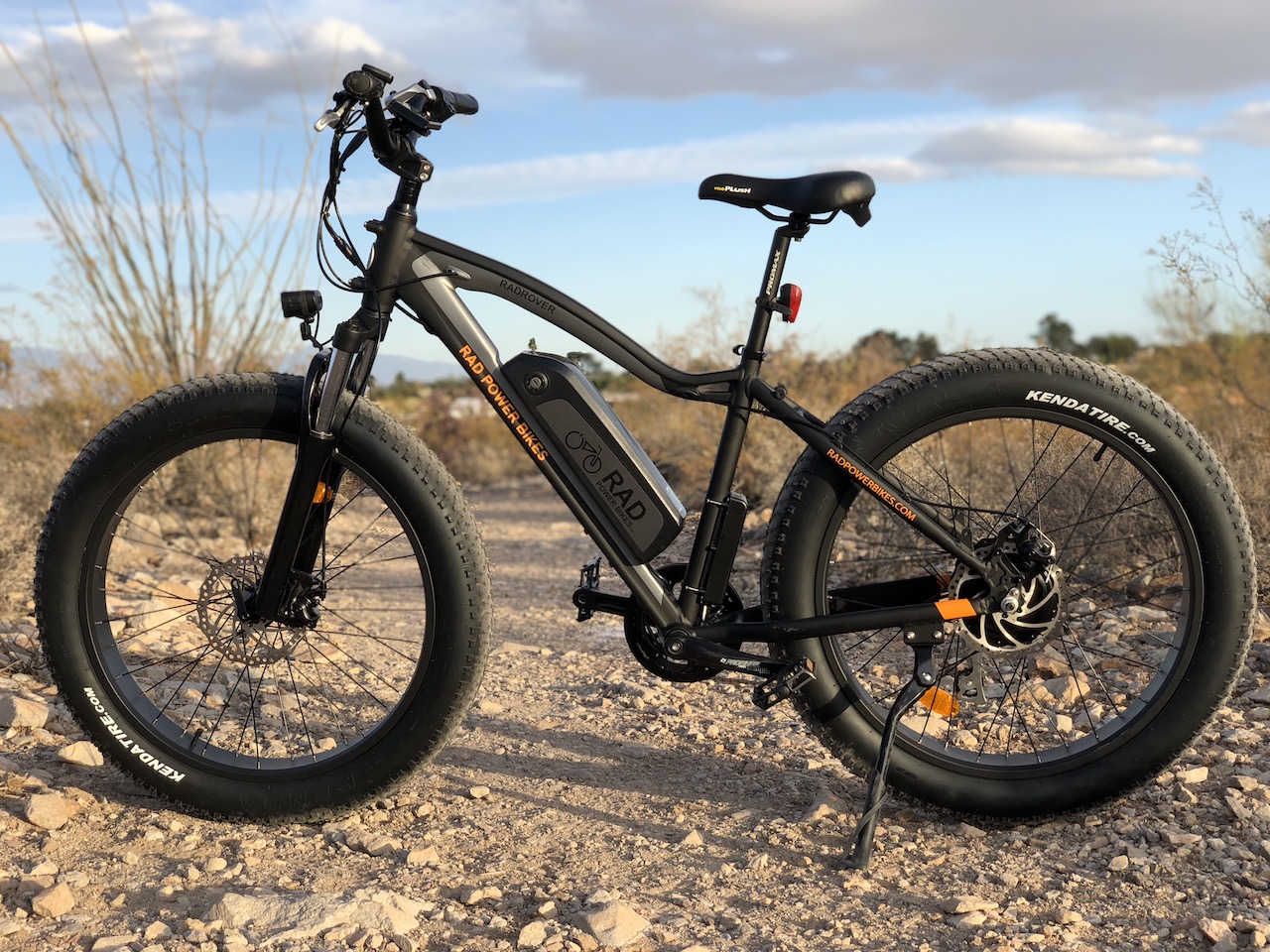 One of the new features for 2018 is a more upright riding position that is comfortable and helps with seeing everything around you.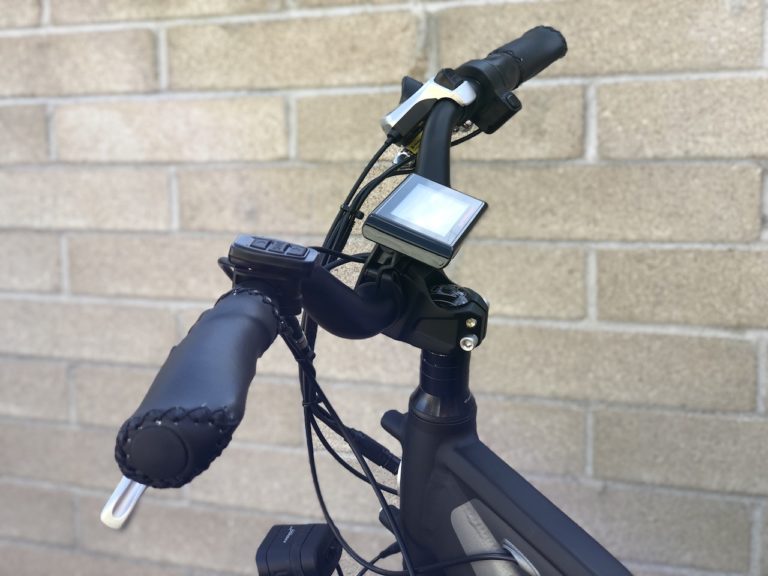 The stem is short and it has a high stack height so that you are not too stretched out on the RadRover.
The handlebar is fairly wide for a stable ride feel when handling the large 4″ wide off road tires.
Ergonomic grips with a wide platform help to provide wrist support. The grips did move around a little on the handlebar while testing the bike. Glueing the grips to the handlebar can help with this or you could upgrade to grips that have lock on collars.
To further take the edge off of rough roads and trails the RadRover comes equipped with an RST 80mm (3.2″) travel suspension fork.
The spring rate on the fork can be adjusted to fit your weight and riding style and there is a lockout dial.
The lockout on the right side of the fork provides a more efficient ride on smooth roads by preventing the fork from moving up and down when you are standing out of the saddle and pedaling hard.
On the back of the bike is the Velo Plush seat that has a fairly wide profile with a center section relief for an all around comfortable ride.
There is a handle on the back of the seat that is very useful for lifting and maneuvering the RadRover.
The 4″ wide fat tires do a good job of providing some suspension effect but if you want to take more of the edge off, a suspension seatpost is a good option.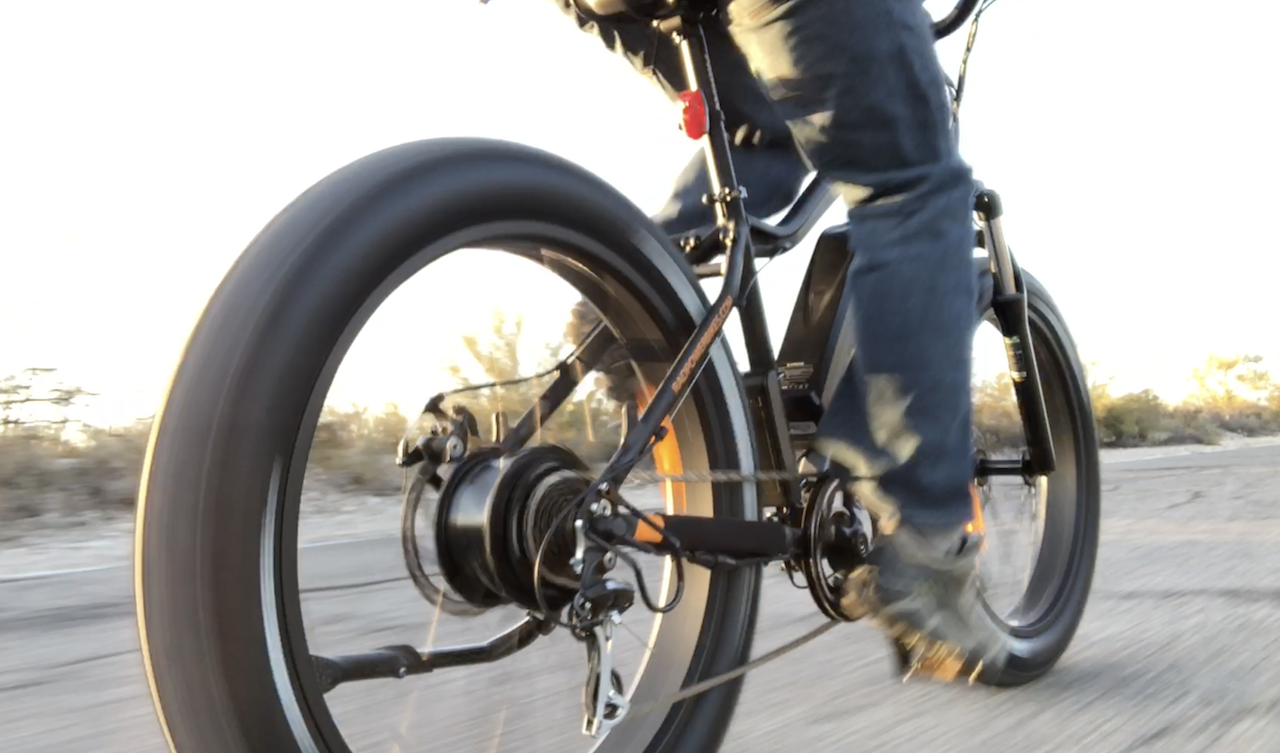 The 4″ wider fat tires on the RadRover give it a very stable ride feel with grippy traction and suspension effect to handle almost any terrain.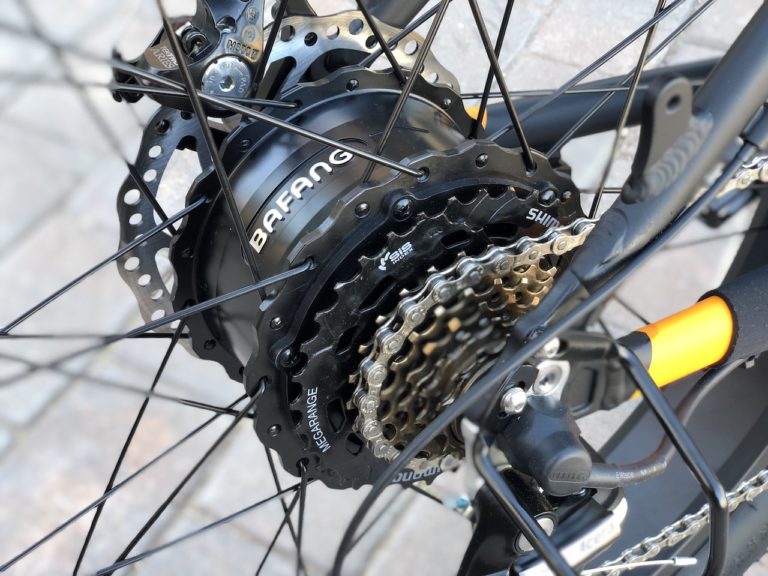 When you add in 750 watt of power it makes the Rover an even more capable all terrain eBike. And that does make a big difference if you are riding in power robbing sand or snow.
That 750 watts of power combined with some of your pedal power will have you cruising up moderate hills at nearly 20 mph!
The Bafang geared rear hub motor has 5 levels of pedal assist that are activated by your pedaling cadence. The assist starts once you have pedaled 1/2 a revolution of the cranks.
Those pedal assist levels are adjusted with the up and down arrows on the control pad on the left side of the handlebars.
Levels 1 and 2 give you a pretty mellow ride and they are nice for easy cruising rides around the neighborhood or when riding technical terrain. At these levels the pedal assist blends in pretty well when you start and stop pedaling.
Levels 3 through 5 definitely pack more of a punch and they quickly get you up to speed. They offer a very sporty ride feel with a lot of acceleration and speed but that also comes with draining the battery quicker. In these levels of assist there is more of an abrupt addition of the power as you start and stop pedaling.
In addition to pedal assist there is the twist grip throttle that can be used with the pedal assist or you can use the throttle without pedaling if you prefer.
It has a lot of variability in how much power it provides; it is a lot like a volume dial on a radio. If you are using the lower pedal assist levels, the throttle can add that extra punch of power when you want it.
The twist grip throttle has an on/off button that helps to prevent accidental activation and allows you to only use the throttle when you want to.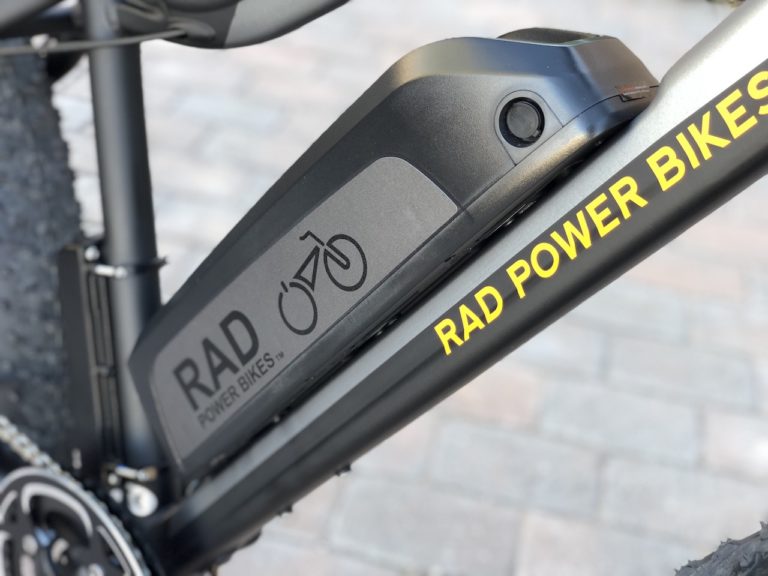 Like most geared hub motors the Bafang motor does create some noise and you can mainly hear that at the lower speeds. At the higher speeds the tire and wind noise dissipates the motor noise a little.
Powering the motor and front headlight is the new 48V 14Ah (672Wh) lithium battery pack that uses Samsung 35E cells. The battery pack is rated for 800 charge cycles.
Rad Power Bikes placed the 7.6 pound battery pack in an ideal location on the downtube for low and centered weight distribution. That helps with overall handling of the bike.
Removing the battery brings the bike weight down to 59.4 pounds which makes it a slightly easier to load onto a car rack. The battery can be fully charged from empty in 5-6 hours.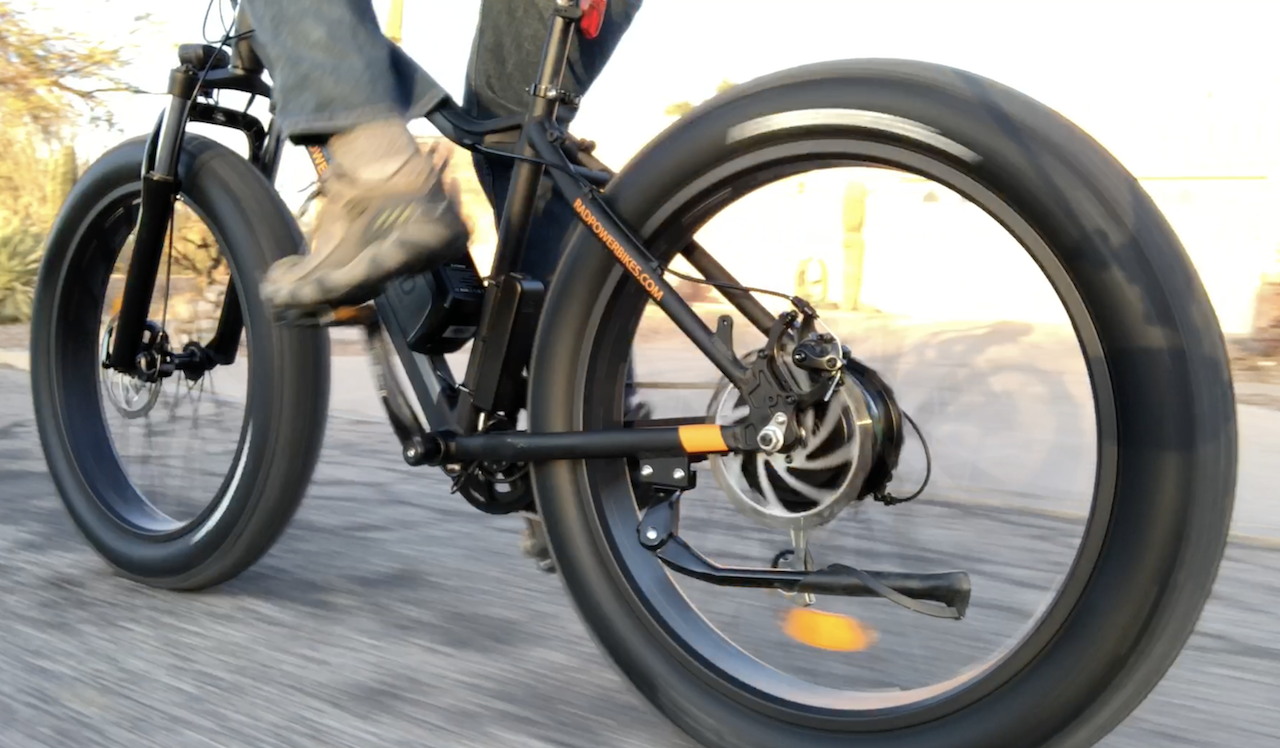 Okay, now let's take a look at the display on the Rad Power Bikes RadRover.
The center mounted LCD display provides information on:
Battery level
Odometer & trip distance
Current speed, average speed, max speed
Pedal assist level. There are 5 levels of pedal assist. The RadRover uses a cadence sensor for the pedal assist system.
Watts that the motor is providing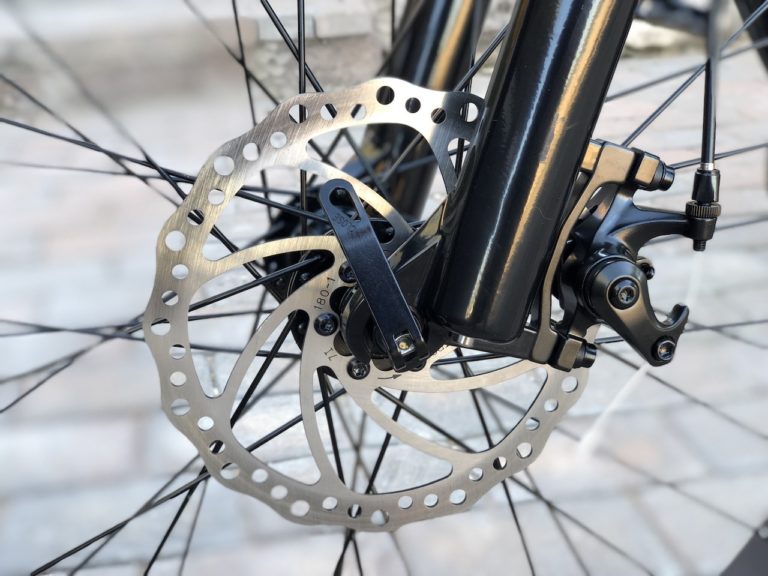 There is a backlit option for riding in low light and it can be turned on by holding the up arrow and center mode button on the control pad for a few seconds. That also turns on the headlight.
It is interesting to watch how many watts the motor is contributing to your ride in different assist levels. It's a good way to see how much of an effect your pedal power can contribute to the overall ride.
Slowing the RadRover down is handled by the Tektro Aries mechanical disc brakes with 180mm rotors front and rear.
These brakes are surprisingly powerful considering that they are slowing down the large fat bike wheels. There is a nice range of power from scrubbing off just a little speed to full stop.
The brake levers have sensors that will stop the motor assist when the brakes are engaged.
There is also a rubber grip surface on each brake lever that helps when riding in wet or dry conditions.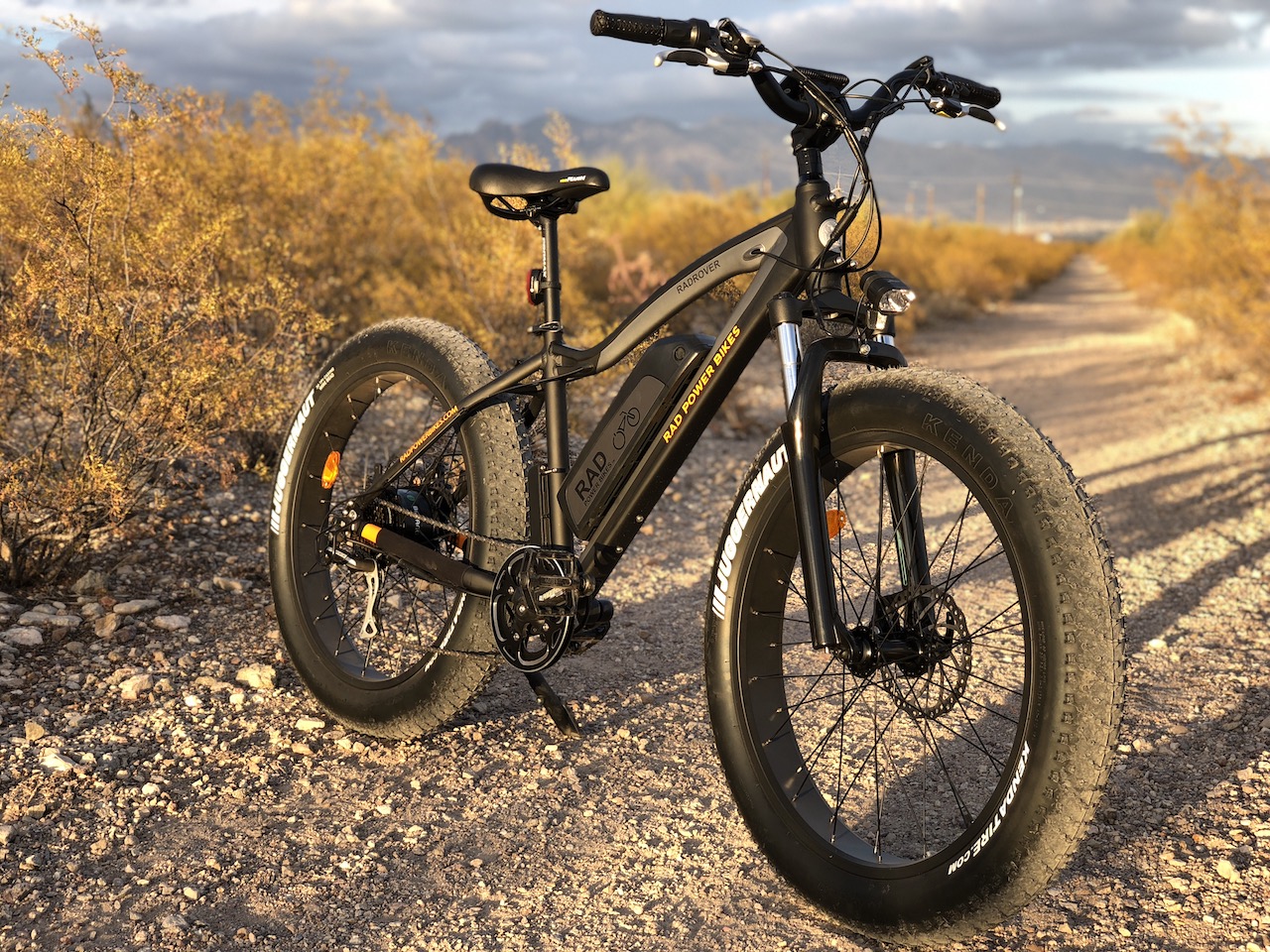 Okay, let's see how the RadPower RadRover did out on the open road!
RadPower RadRover Range Test Results:
Here is the real world information on how the RadRover electric bike performed on a riding circuit that includes hills, flats, traffic, wind (when available) etc.


While testing these bikes I like to put them through the toughest conditions to see where their bottom line is in regards to range and speed. I tested the RadRover in the highest pedal assist level (Level 5) with average pedaling on paved roads.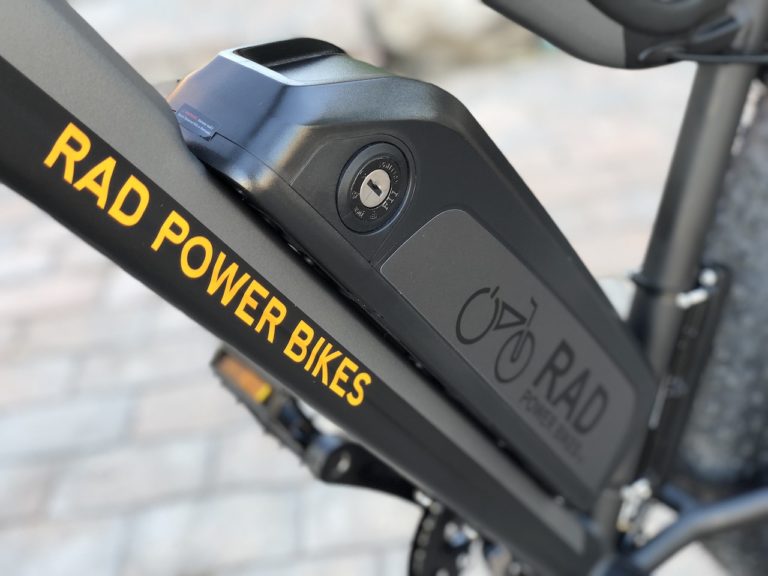 Range: As you can see from the GPS info that I recorded, the RadRover traveled 30.3 miles and did a total elevation gain of around 2,400+ ft. Considering that I weigh 190 lbs and I pedaled very lightly this is good range for a eFat bike with a 48 Volt 14 ah battery pack (672 Watt Hours) with a 750 watt motor assisting up to 20 mph.
Watt hours are the total energy in a battery pack and it is based on the volts x amp hours of a pack. This is a way to compare the size of the "gas tank" of electric bikes.
Please keep in mind that if you pedal more, weigh less than me, ride slower and/or you use the bike in terrain that is not as hilly you will get more range. These results are from tough testing.
Speed: The RadRover will assist up to 20 mph with pedal assist only and/or throttle.
Weight: The RadRover tips the scales at 67 lbs which is on the heavier side for an electric bike. Removing the battery brings it down to around 59.4 pounds which makes it a little easier to load onto a car rack.
The weight distribution of the RadRover is somewhat back heavy because the motor is in the rear wheel while the battery is low and centered on the bike.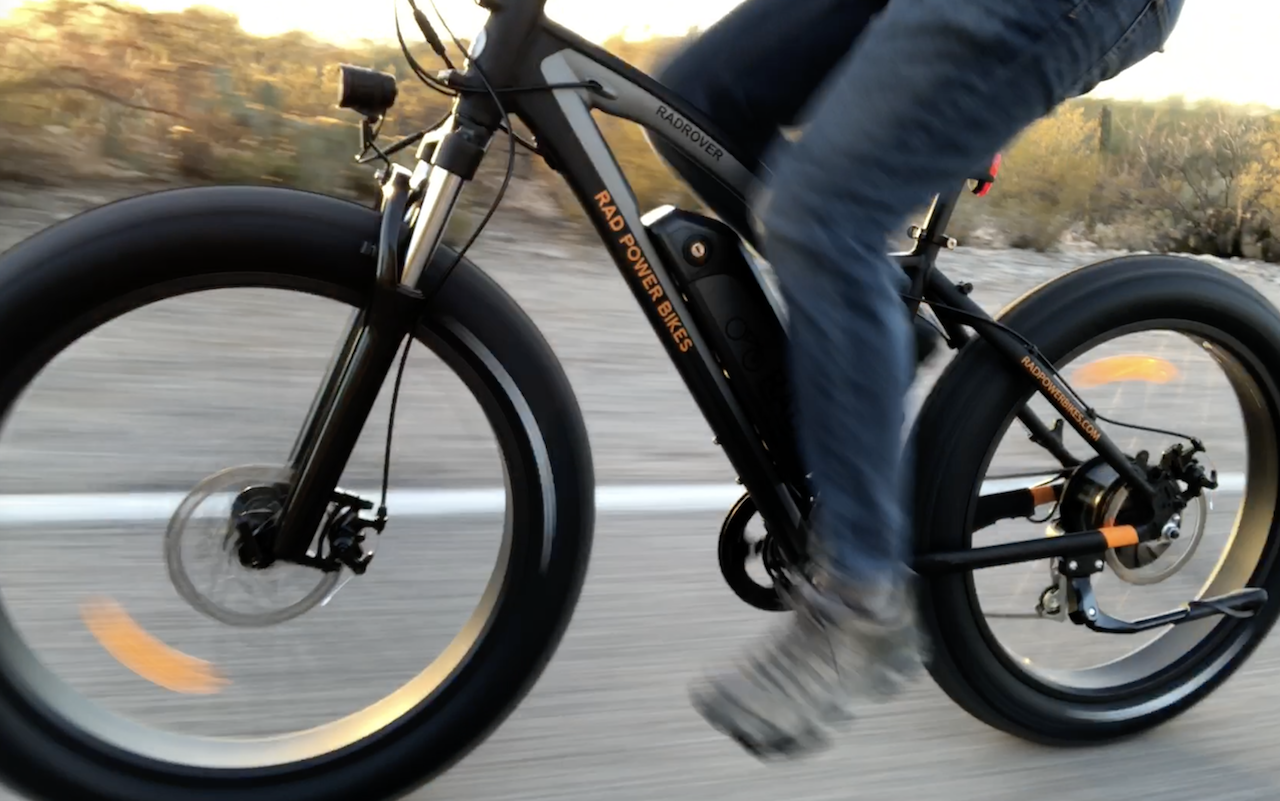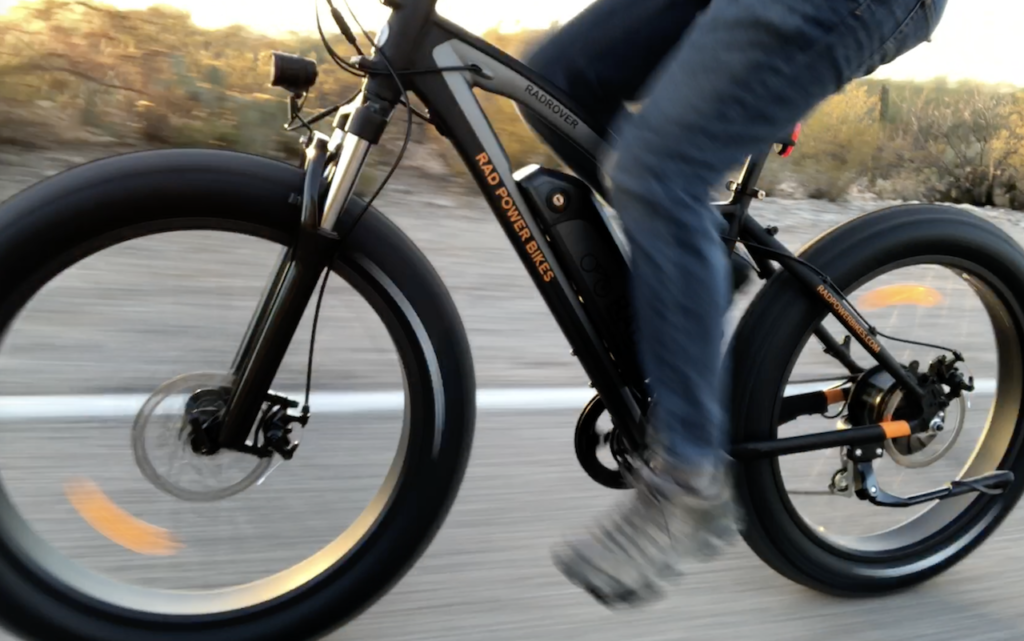 Pros:
Powerful eFat Bike: 750 watts is a lot of power and it does fit the RadRover well when it comes to riding through tough terrain like sand and snow. That power also helps with cruising comfortably at 20 mph on the road, even up some moderate hills.
Impressive Range: The new high capacity battery (672 Wh) provided 30.3 miles of range in the tough range test (highest assist level) with elevation gain of 2,400+ ft of climbing. In more moderate riding conditions you can expect to get even more range. This is impressive for an eBike with 4″ wide off road tires.
Price: Coming in around $1,500 with free shipping in the lower 48 states is an impressive price point for this powerful eFat bike with a high capacity battery and a solid line up of components.
Cons:
Heavier: At 67 pounds this is on the heavier side for most electric bikes. Removing the battery helps a little for lifting the bike up but it still is 59.4 pounds.
Motor Noise: Like most geared hub motors, the Bafang does create some noise at the lower speeds. That motor noise dissipates a little as you get to the higher speeds due to wind and tire noise.
Conclusion: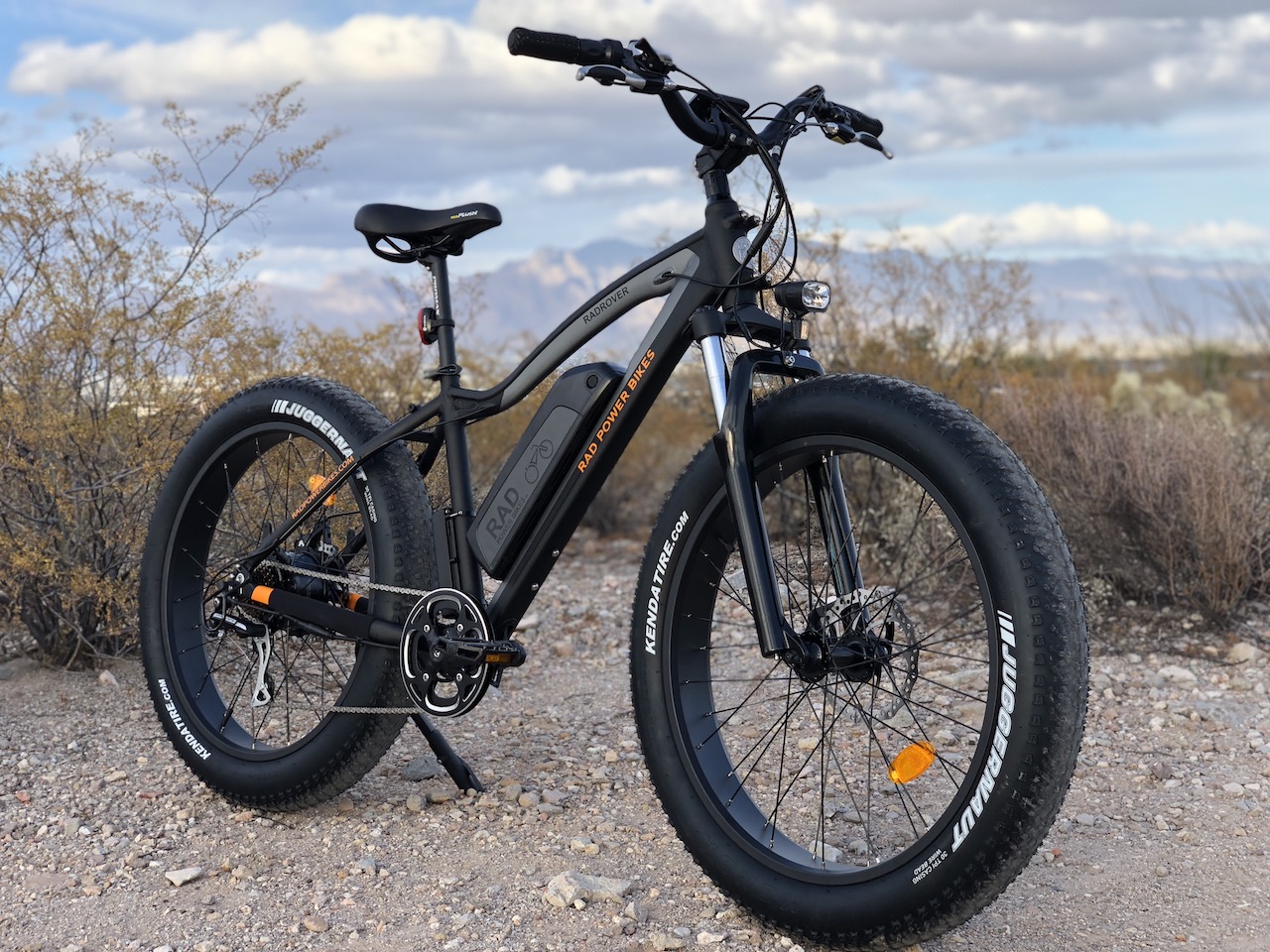 Overall the Rad Power Bikes RadRover is an eFat bike that has impressive value.
The powerful 750 watt motor and long range is a solid platform for this eFat bike with all terrain capabilities.
The RadRover is a great entry level eBike that can be used for all sorts of riding from sand, snow, mud, to around town fun rides. It has a very stable ride feel with an upright comfortable ride position and a bold look.
With the addition of the front and rear racks it can become a serious cargo hauler for around town errands and weekend adventures.
Please keep in mind that this is a relatively short term test. This testing can't really give you the long term review of durability and reliability. My thoughts on the quality of this bike are from previous experiences with similar bikes. If you own this bike and have some input on the long term durability, please share your comments with the Electric Bike Report community below.
Do you have any questions about the RadRover? Do you own a RadRover? Please share your thoughts in the comment section below.
Thanks!
-Pete
Review Note: Each company pays a fee for a review on Electric Bike Report because of the considerable amount of time that it takes to provide an in-depth review of each eBike. A lot of time is spent on the full range test with distance & elevation profile, the wide variety of detailed pictures, in-depth video, and the write up with the specifications, ride characteristics, pros, cons, and overall thoughts. The reviews on Electric Bike Report are focused on providing you with a detailed "virtual" look at each eBike to help you determine if it is the eBike for you.
P.S. Don't forget to join the Electric Bike Report community for updates from the electric bike world, plus ebike riding and maintenance tips!
Reader Interactions