eBike News: Remote-Controlled eBikes, Nobel Prize, Mid-Drive + CVT, eBike Conference, & More! [VIDEOS]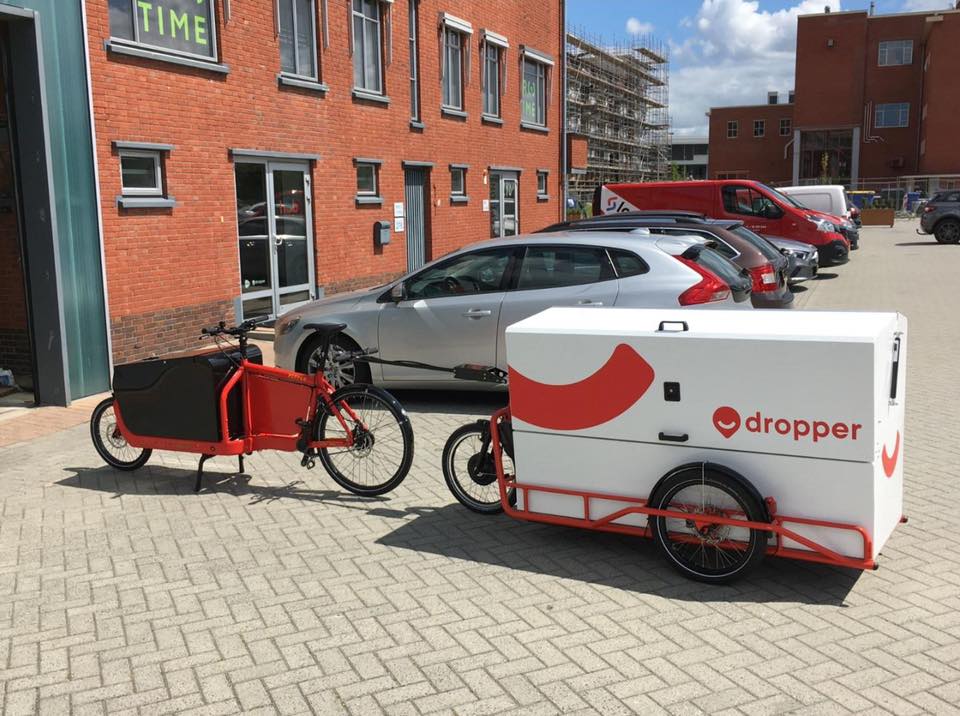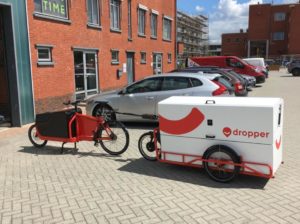 In this week's eBike news roundup:
Remote-Controlled eScooters & eBikes!
Lithium Battery Scientists Win Nobel Prize
Improved Efficiency for Bosch eBike Systems
Continental Mid-Drive with CVT
Elevated Bike Roundabout
Ebike Future Conference
Gocycle Hiring
And Much More!
Shared eMobility
Remote-Controlled eScooters & eBikes!
Tortoise is a new tech company that is working on a solution for the shared eScooters/eBikes that can sometimes be hard to find and can crowd some public spaces.
"Tortoise can safely drive any small electric vehicle from a location where it's underutilized or obstructing the road, to a city-approved parking spot, a public transit hub, and in the near-future, your doorstep."
"We partner with cities to determine where a scooter can safely move autonomously at a low speed (like on an empty sidewalk) and where a human should remotely move the unit via a camera attached to the unit (like on a highly trafficked city block)."
Below is a video of a recent public demonstration of an eScooter moving by remote-control.
Here is more information on Tortoise and their plans for the future.
Get Inspired
Lithium Battery Scientists Win Nobel Prize
Recently 3 scientists were awarded the Nobel Prize for their work on lithium ion batteries that have had a huge impact on our daily lives, including use in most of the electric bikes on the market today.
The 2019 Nobel Prize in Chemistry has been awarded to John B. Goodenough of the University of Texas at Austin, M. Stanley Whittingham of Binghamton University, and Akira Yoshino of Asahi Kasei Corporation and Meijo University.
Here is a video highlighting this recent news:
And here is some of John Goodenough's story from a few years ago about his focus on helping us to become independent of fossil-fuels:
And here is a good recap of the history of the three prize winners work at NobelPrize.org
Very inspiring!
Mail & More Deliveries by eCargo Bikes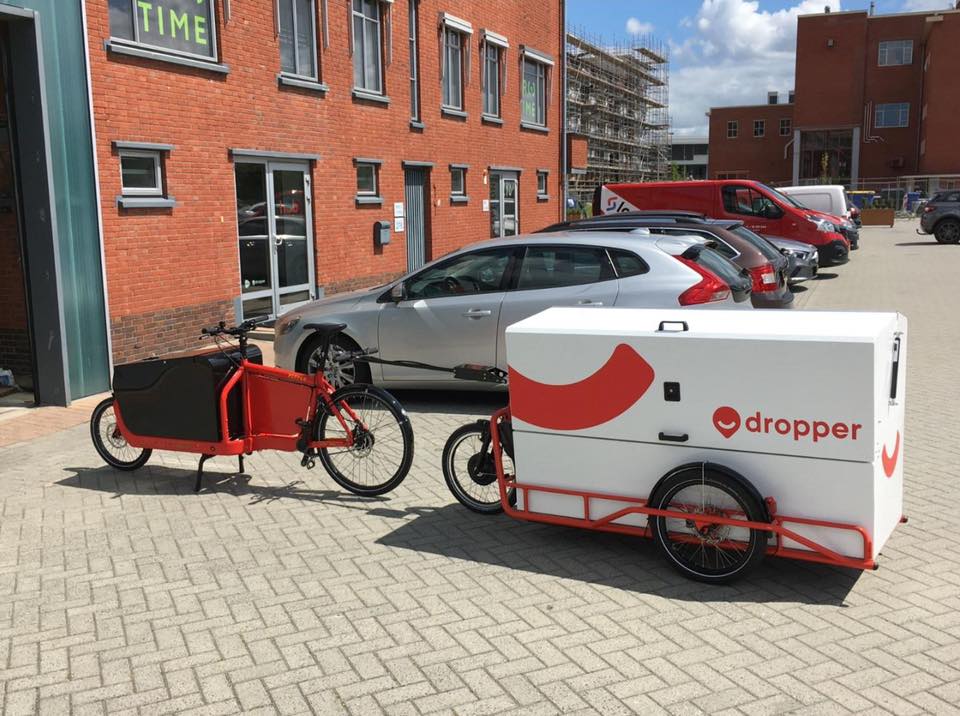 Dropper is a bike delivery company in Groningen (the Netherlands) that "recently announced a partnership with PostNL (the Dutch post office) to deliver postal packages by bike in Groningen. This development is just the latest chapter in Dropper's remarkable rise from dynamic startup to fully-fledged, multi-disciplinary cycle logistics business. The move also goes hand in hand with the city of Groningen's push to achieve emission-free city logistics by 2025, and PostNL's own goal to deliver emission-free in 25 Dutch cities – also by 2025."
Here is a good report about this eCargo company that started in 2016!
2 Tweens Transported by eCargo Bike
Madi Carlson wrote this great article about her experience of transporting her two tweens around Portland, OR on an Urban Arrow eCargo bike.
Elevated Bike Roundabout in Manchester
Manchester England may soon have an elevated cycling roundabout that is similar to the Hovenring in the Dutch city of Eindhoven. Here is a video of Hovenring:
The Manchester elevated roundabout would connect with current and proposed future protected bike paths.
The location is close to Manchester United's Old Trafford soccer stadium. This Forbes story has more of the details.
New eBike Systems
Bosch Improvements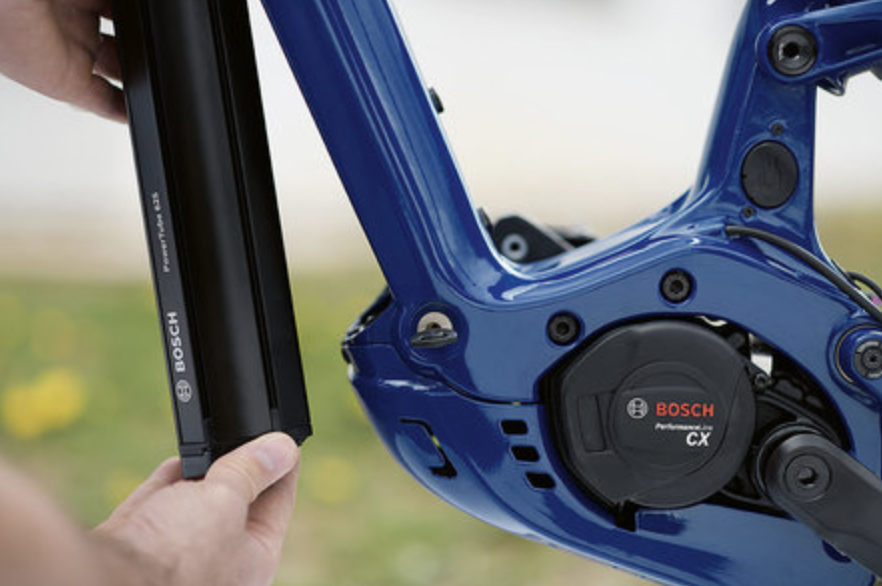 Bosch is investing heavily in electric mobility and their latest technological improvement is with new microchips made of silicon carbide that are more efficient when compared to traditional silicon chips.
The improved efficiency of the overall eBike systems has the potential to reduce battery sizes that can still go the same range as current systems.
Bike Europe reports: Bosch also claims that semiconductors made of silicon carbide make it possible to downsize batteries for a given range. "This reduces the cost of an electric car's (and e-bikes, ed) most expensive component, which in turn reduces the vehicle's price. Silicon carbide semiconductors will transform e-mobility as they offer the possibility not only to develop new functions and IoT applications but also to continuously improve the chips themselves."
New Continental Mid-Drive w/ CVT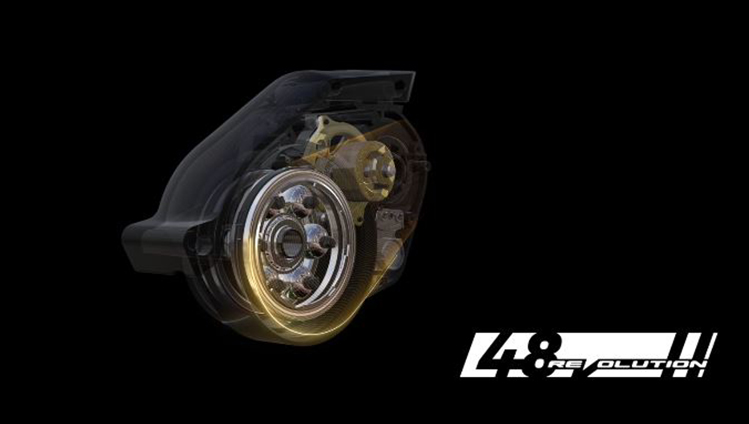 The Continental 48V Revolution mid-drive motor also includes a NuVinci continuously variable transmission built in. It is a 250 watt 70 Nm mid-drive with a 380% gear range CVT housed in the same area.
The combination of the motor and transmission is good for overall weight distribution and it allows for a belt drive to a single cog on the rear wheel for a very clean system.
It also has the option for automatic shifting by setting your preferred pedaling cadence and the system will take care of shifting to the proper gear ratios.
Here is more info on the Continental 48V Revolution.
eBike Biz
Ebike Future Conference
This is a new eBike conference on November 26th in Bratislava, the capital city of Slovakia, set along the Danube River by the border with Austria and Hungary.
It is also a conference that can be attended online with the ability for questions and answers.
Here are some of the highlights for the conference:
Hannes Neupert will speak about the drivers for the next 10 years of electric drive innovations
Business and its disruptive alternatives and new business models for the ebike industry
Insights from the organizer of the first World Ebike Series (where the top riders such as Nicolas Vouilloz race)
New tech: real 3D printed ebikes from aluminum and carbon, but also specialties as hydrogen ebikes with triple range, etc.
Realistic overview from Google data – not predictions, but reality and comparisons of the markets from a customer side
Also some data gathering from smart cities
Learn more about the Ebike Future Conference here.
Gocycle Hiring
Richard Thorpe, designer of Gocycle, commented: "At Gocycle we exist to make commuting a joy – not a chore! And with our no compromise approach to design, we produce the most thoughtfully engineered electric bikes on the planet. We have seen significant growth in 2019 with the launch of our fast-folding GX and next year is set to be even more exciting!"
"We are a growing challenger brand who are making a real difference to the world and we need challengers to join us! This is your chance to join the Gocycle team and help us to encourage more people across the world to live healthier and more sustainable lifestyles."
Pioneering electric bike brand Gocycle is searching for sales and engineering talent to join the business to support 2020 expansion
Launch of fast-folding Gocycle GX has driven business to its best-ever year with significant growth in key markets during 2019
Exciting opportunities exist for German speakers to join our sales support team while positions are open in our US sales function and engineering team at Gocycle HQ
Join Gocycle in its mission to accelerate the adoption of more healthy and sustainable personal transport
Interested parties can request more information and send their CV to

[email protected]
Stay tuned for more e-bike news and reviews and thanks for reading!
-Pete
P.S. Don't forget to join the Electric Bike Report communityfor updates from the electric bike world, plus ebike riding and maintenance tips!
Reader Interactions