eBike News: RadMission, Lectric Step-Thru, New Charge eBikes, eBike Glamping, eBike Shortage, & More! [VIDEOS]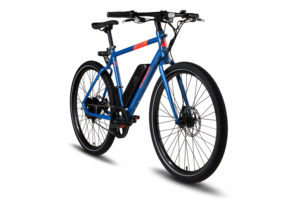 In this week's eBike news roundup:
Big Bear eBike Access
Coronavirus Updates: UK Tax Scheme & Supply Problems
$999 RadMission Electric Metro
$899 Lectric E-fat Step-thru Folder
New Charge eBike Line Up
CityQ Carlike eBike
Delfast eCargo in Development
eBike Glamping on Vashon Island
Bosch Software Updates
New Gates Carbon Drives
And Much More!
Coronavirus Update
eBiking Big Bear Mountain Resort

Southern California's Summit Bike Park in Big Bear will now be accessible to e-bikes.
Big Bear Mountain Resort has received approval from the U.S. Forest Service to allow class 1 pedal-assist electric mountain bikes (e-bikes/e-mtb) on a number of trails at the Summit Bike Park.
For more information and a full list of trails e-bikes will be permitted on, click here.
The Summit Bike Park is now open daily, guests are expected to follow the COVID-19 procedures in place, practice social distancing and wear a face covering.
UK Cyclescheme Tax Break eBike Purchases at All Time High – Raleigh Adds eBike Insurance
The UK's BikeBiz reports that 'Cyclescheme has seen an all-time high in certificates amid the COVID-19 cycling boom.'
Cyclescheme allows employees tax deductions on bikes and e-bikes and associated equipment, spreading the cost over 12 months. Employees must have an employer willing to register with Cyclescheme.
The article adds 'According to the data, employers are heavily investing in cycling as a benefit for their workforce, with a 310.3% rise in employer registrations from 24th March when the UK lockdown commenced to date.'
Some major UK manufacturers run similar schemes themselves. One such is Raleigh. They has partnered with specialist insurance provider, Cycleplan, to offer four weeks' free insurance with every new purchase through its e-bike cycle to work scheme.
The tie-up will allow Raleigh to provide the added value of insurance to customers as part of Electric Bike Access, a cycle to work benefit that offers up to 42% savings for employees who buy an e-bike through their company.
Post Virus Bike Shortage May Continue for Some Months
This interesting DW report focuses on the bike and e-bike shortage in Germany but it is no doubt a scenario playing out in many virus hit countries as people turn to two wheels amidst fears of returning to public transport.
This is just one of many examples given in the article that shows many bike and e-bike makers are unlikely to be able to fulfill demand for quite some time:
'Bicycle maker Stevens in Hamburg, Germany, confirms manufacturers are currently experiencing a complete sellout of their products. Volker Dohrmann, head of product marketing and strategy at Stevens, says the jump in demand since April has all but emptied out warehouses storing current 2020 models.
"We're experiencing a dry spell at the moment, probably lasting until the fall when the new 2021 models will arrive," Dohrmann told DW.
The marketing specialist has been with Stevens since the founding of the company in 1990, and describes sales in the month of May as the best he's seen over the past 20 to 30 years. "I've also heard this from other bicycle makers in other countries, for example in the US, the Benelux countries and in England," he adds.'
New eBikes & eBike Systems
Rad Power Bikes Announce Lowest Priced Model Yet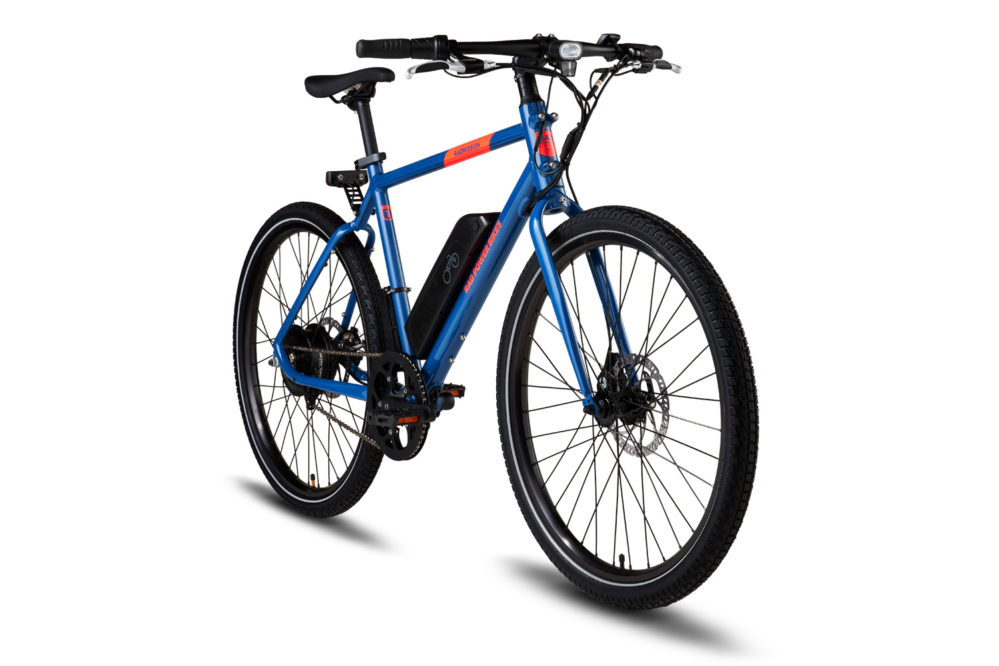 Rad Power Bikes have announced a new budget-priced $999, single-speed e-bike the RadMission Electric Metro.
Rad Power Bikes say the bike 'is built for city living with lightweight and streamlined components, including a high-torque 500W motor and an all-new battery pack that's smaller than our existing version but still achieves the same 25-45+ mile range per charge. It also comes in multiple colors and mid-step and high-step frame sizes, with both sizes weighing under 50 lbs.'
The RadMission is available for pre-order now at an introductory price of $999 USD ($1399 CAD/€1,099 EUR), with an expected ship date of October.
Lectric XP Step-Thru

Lectric eBikes has just announced the addition of a new ebike model, the Lectric XP Step-Thru, a folding e-fat bike with a step thru frame. It will be available for pre-order on June 24.
The 'Lectic XP Step-Thru' bike, retailing for $899, includes many of the same features as the original model, 'Lectric XP, and now the step thru version will allow for easier access onto the bike.
Lectric say 'Other product highlights include folding to less than half its size, arriving fully assembled, reaching up to 28MPH, all-terrain fat tires, 25- to 50-mile range and LCD computer display.'
Lectric eBikes ships nationwide and offers free shipping to all states, excluding Alaska and Hawaii. To pre-order a bike or for more information about Lectric eBikes, visit lectricebikes.com.
Charge Rides Once Again, this Time with eBikes
Charge were once widely known for their very popular range of non-electric bikes but seemed to disappear from the scene around 2018. Now they are back, this time electric style.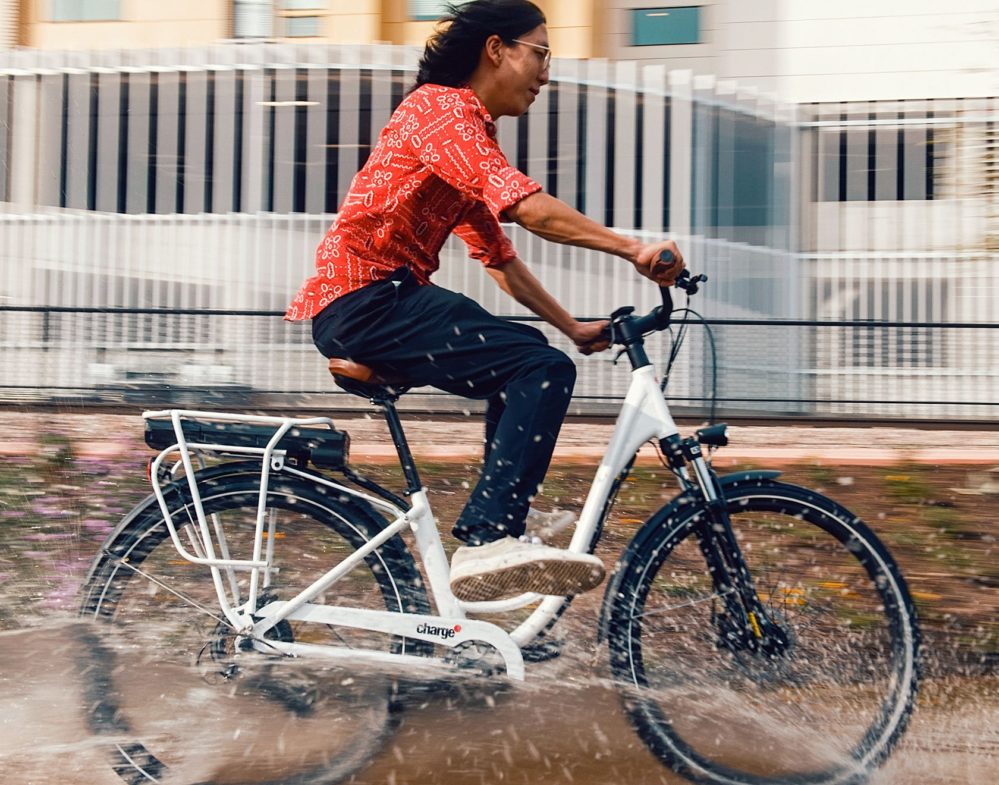 Charge will now be a consumer-direct brand. Here's the details of their 3 new bikes: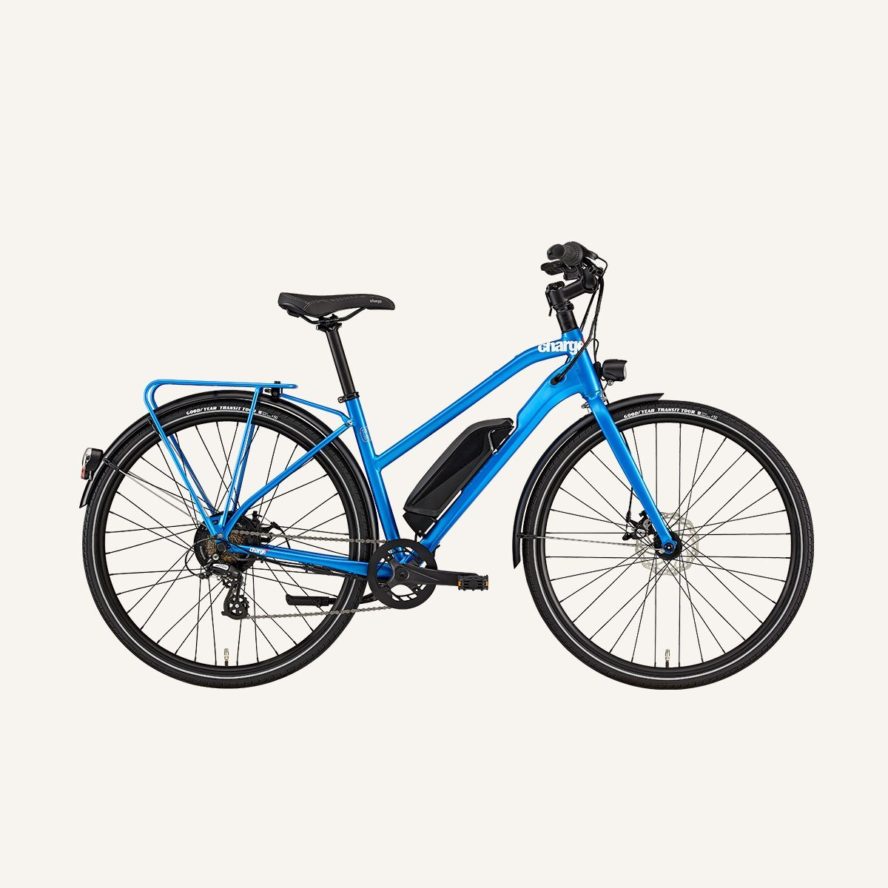 Mixte style frame, rear Bafang hub motor, 7 derailleur gears, 418Wh battery. US$1499.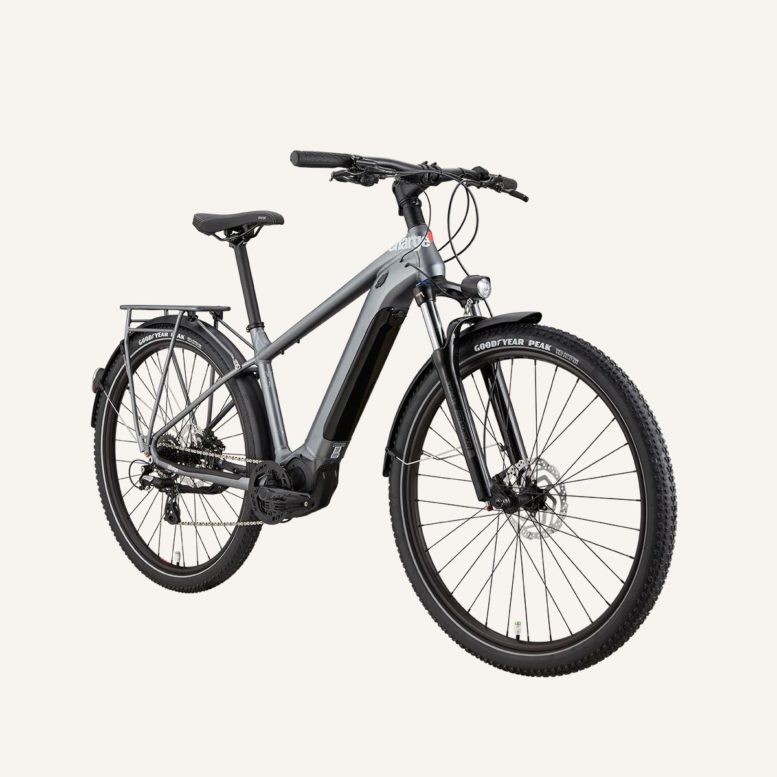 Sporty hybrid trail bike with Shimano E5000 mid drive, 8 derailleur gears and 504Wh frame integrated battery. US$2299.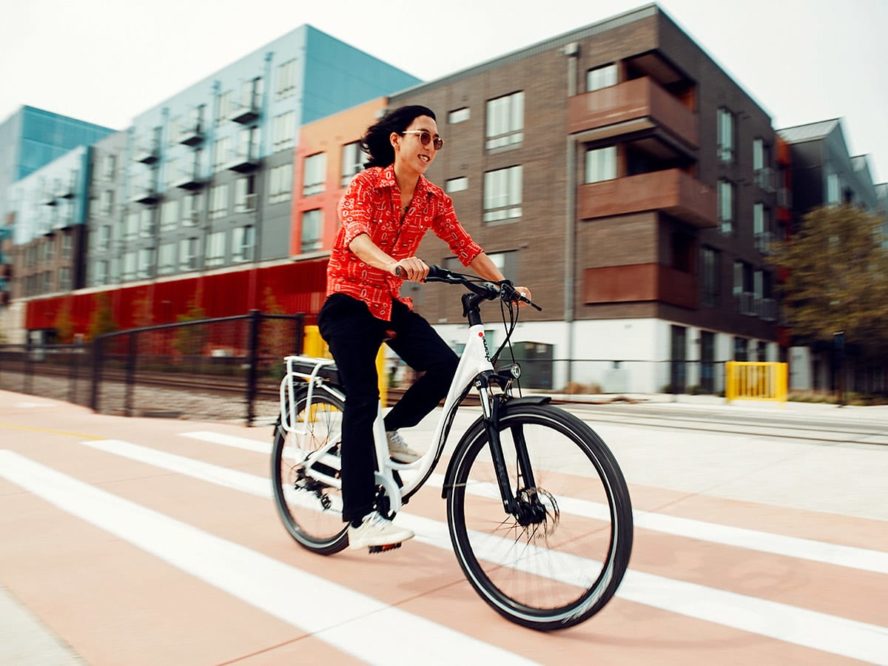 Easy to use city bike. Step-thru, rear Bafang hub motor and innovative ease of use features like folding pedals, sidelock handlebars and valve caps that go red when your tire pressure gets low. $1,499.
CityQ eBike Car Opens for Preorders
The Norwegian company CityQ recently presented its eponymous light electric vehicle in Berlin. The vehicle itself is a cross between an electric bike and a car.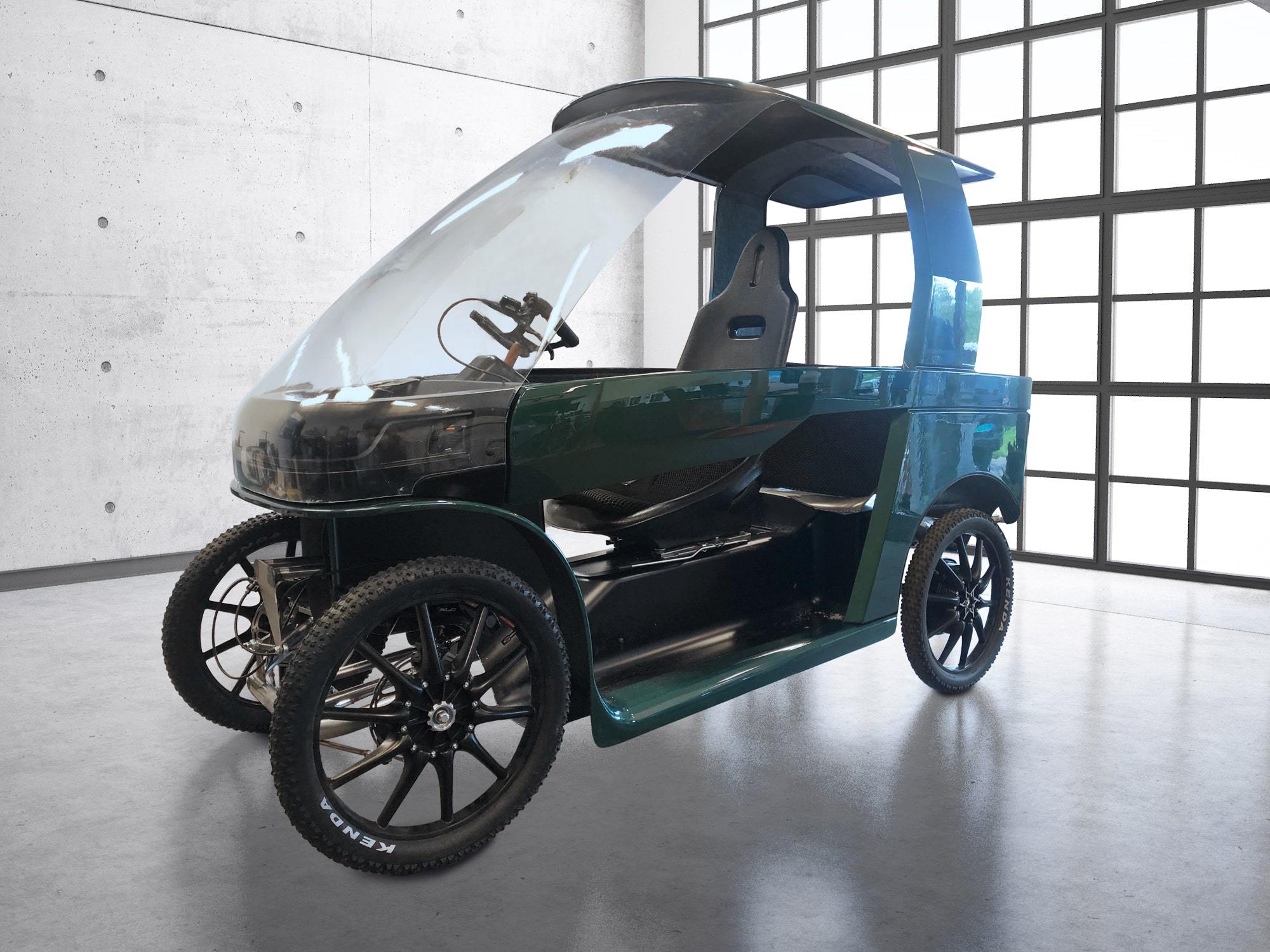 CityQ has four wheels, space for up to three people plus luggage and a 25 km/h / 15.5mph assist limit meaning it falls within the EU legal definition of an e-bike and so needs none of the red tape associated with faster vehicles such as tax, insurance and a license plate.
There is a built-in solar panel on the roof and quoted range is 70-100km or 43-62 miles. At 87 cm wide it is clearly designed to be taken on cycle ways and the quoted weight is 70 kg / 154 pounds – impressive for a vehicle with a big carrying capacity and a roof and doors. A smartphone app has already been developed for it.
Pre-orders require a deposit of 99 euros and are now open and the retail price for the CityQ is 7,450 Euros (plus VAT and freight). The company has not set a date for deliveries yet.
Bosch Software Upgrades for 2021 eBikes
Mid-drive system manufacturer and market leader Bosch has announced a raft of software updates for existing motor systems. These include:
An 85Nm torque upgrade on Performance CX Line and Cargo Line motors. This software update will be made available free of charge this summer.
Performance Line CX motor systems will now feature the Bosch's eMTB mode whereby power is automatically controlled to adapt to riding conditions.
The Bosch Nyon display gets a rain and dust capable touchscreen.
The Kiox display will offer navigation functionality via the eBike Connect app. Delivered via Bluetooth, the mapping software rotates with the rider's direction, offering live guidance of the route ahead.
Gates Expand Product Range
Gates are known for making their Carbon belt drives fitted to an increasing number of e-bikes and offering low maintenance, grease free transmission.
They have announced a new range of products so their complete range now consists of :
Sidetrack (ST): for seasonal, recreational cyclists looking for their first belt-driven bike (new)
Carbon Drive Network (CDN): for seasonal, recreational cyclists who commute occasionally
Carbon Drive Commute (CDC): for cyclists who bike or ebike for many kinds of urban trips (new)
Carbon Drive Xtreme (CDX): for cyclists who ride pavement or dirt year-round
Carbon Drive Expedition (CDX:EXP): for cyclists up for toughest, grittiest pavement or dirt adventures (new)
Delfast Devloping New eCargo Trike with Help of USAID
Delfast are known for making extremely long-range, high speed, motorcycle style e-bikes. However, their latest venture is an e-cargo trike that has been developed with USAID (the American international development agency) to Ukraine.
Details are scant at the minute but CAD style drawings show a rain canopy and Delfast say a battery has been developed that 'operates at -20°C as well as at +60°C and can withstand the fast charging with a guaranteed 1500 charges/discharges.
Get Inspired
eBike Glamping on Vashon Island, WA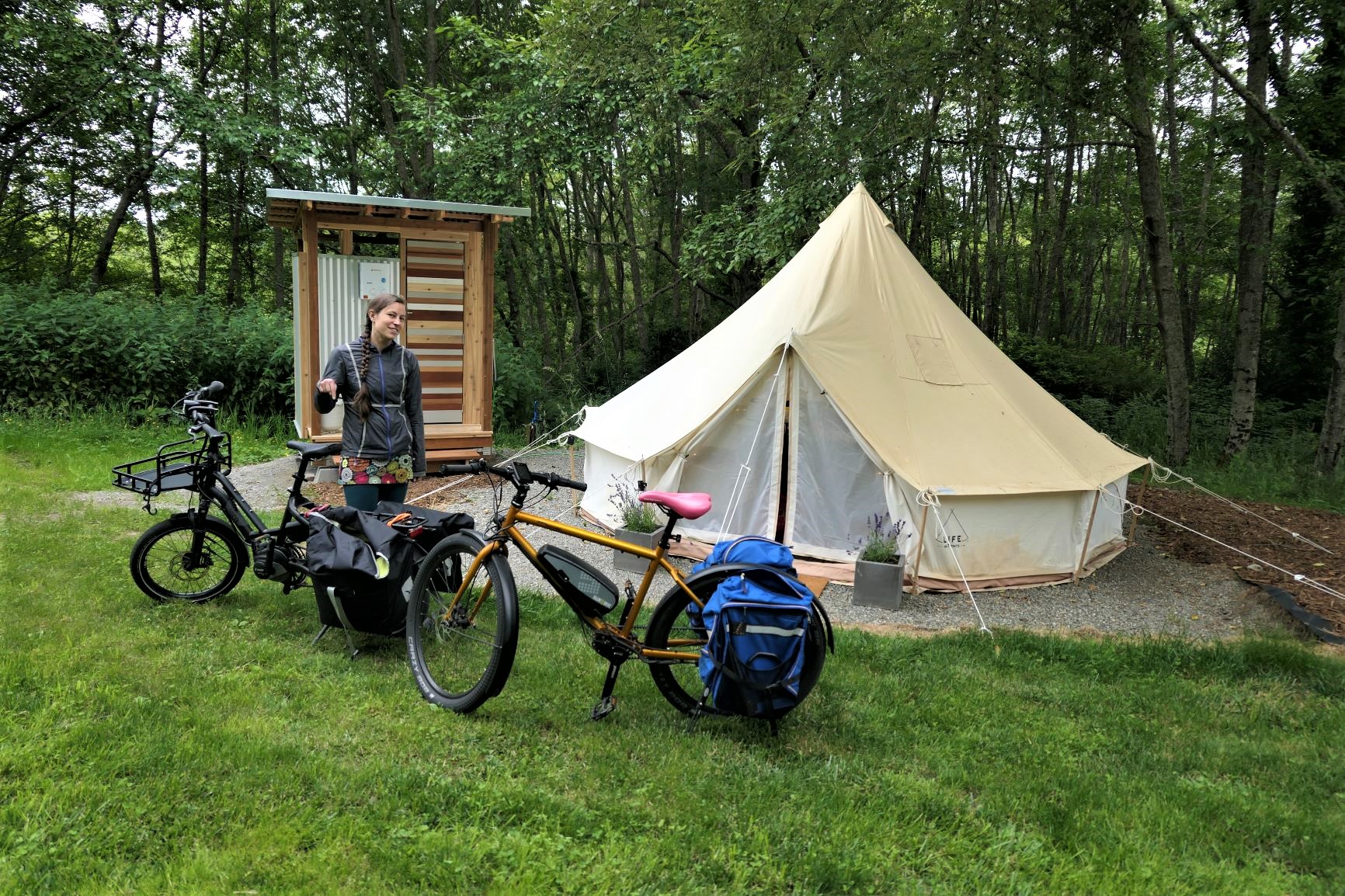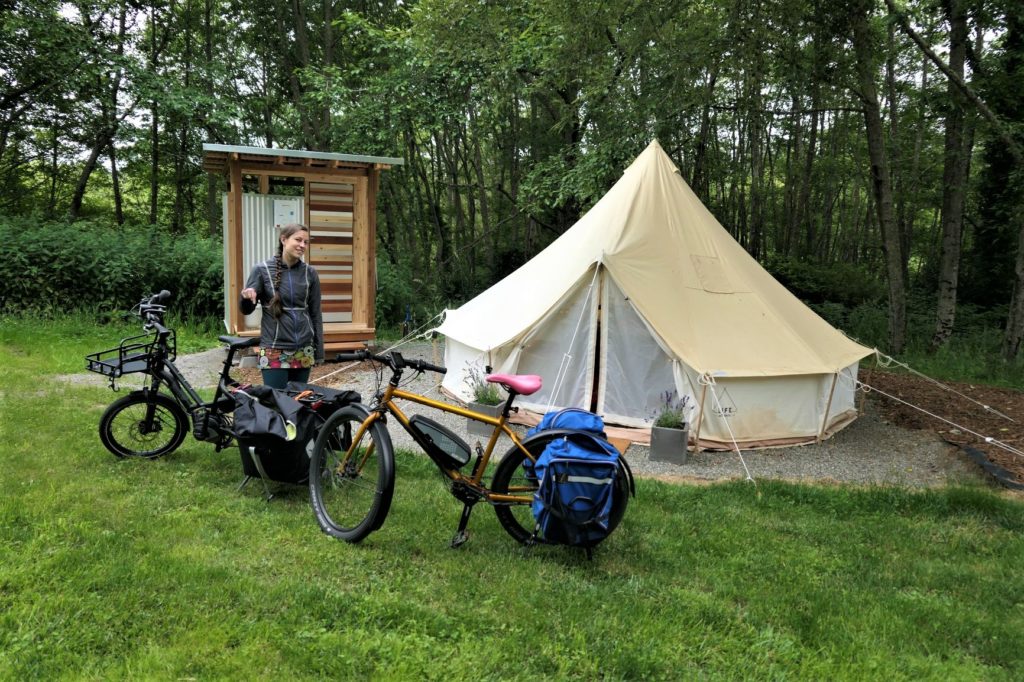 Paul Tolme (of Cascade Bicycle Club) and his wife Katie recently enjoyed a fun eBiking and glamping trip on Vashon Island near Seattle Washington.
Paul's intro to his article explains their adventure well "Electric Bikes are everywhere on Vashon Island, a semi-rural ecotopia just a short ferry ride from Seattle. Join us for a socially distant "glamping" getaway powered by e-bikes–and farm fresh eggs."
New Guides from People for Bikes
Advocacy group People for Bikes do a great job lobbying states for better conditions for bike and e-bike riding.
They have recently published the following resources:
Apple Adds Cycling Directions in Major Cities
The Verge reports that 'Apple has announced at this year's WWDC that the company's adding a long-awaited feature to its default Maps app when iOS 14 drops: cycling directions.
But Apple is only launching in New York, Los Angeles, San Francisco, Shanghai, and Beijing, and it didn't immediately say when it will expand into other parts of the world.
eBike Law
Louisiana and Florida Bring in Model eBike Laws
Louisiana became the 27th state and Florida became the 28th state have recently passed PeopleForBikes' model e-bike legislation into law. E-bike riders in those states can now ride an e-bike wherever a bike is allowed, including bike lanes and multi-use paths.
eBike Biz
Volt Onshores in the UK
Cycling Industry News reports that 'Family-run electric bike maker Volt Bikes has moved its manufacturing from overseas to a new plot in Milton Keynes. Occupying a new 20,000 square foot space that will have a capacity to produce 25,000 e-Bikes per year, Volt state that the move was prompted by the UK's incoming exit from the EU, among other factors.'
Stay tuned for more e-bike news and reviews and thanks for reading!
-Rich
P.S. Don't forget to join the Electric Bike Report community for updates from the electric bike world, plus ebike riding and maintenance tips!
Reader Interactions