eBike News: Populo, Motobecane, Mid Drive CVT, Yamaha, Trip Ideas, & More! [VIDEOS]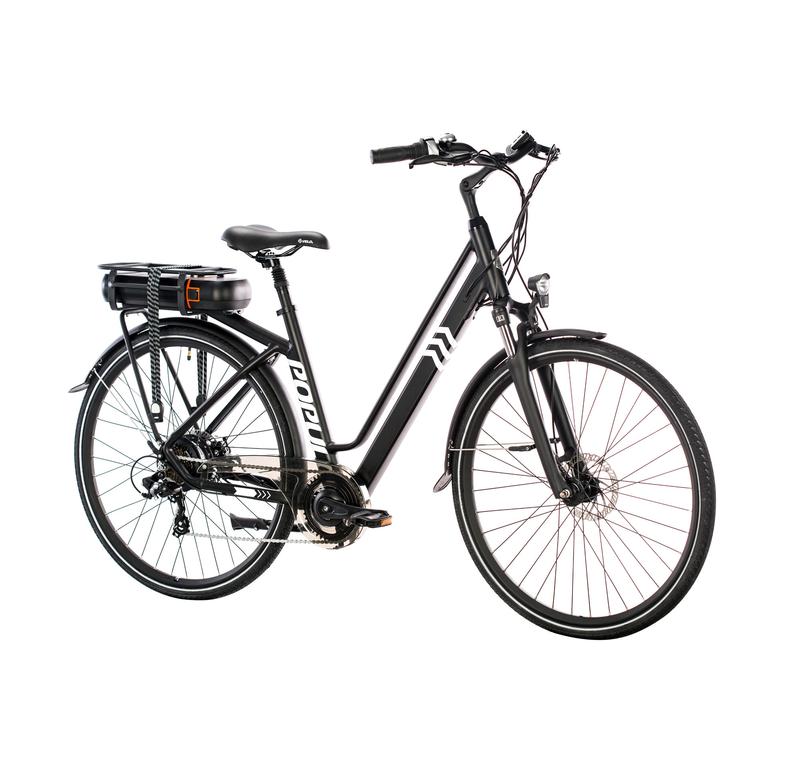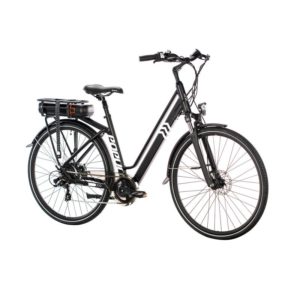 In this week's eBike news roundup:
New eBikes from Populo, Motobecane, e-JOE, Hase, Osso, EBCO
Continental Mid Drive w/ NuVinci CVT
Lightweight Motors from Tsinova & Ansmann
Yamaha Redefines Its System
Bafang Targets eMTB Market with New Motors
eBike Trips in San Fran, Belgium, the Dolomites
French Market Going Strong
More UK Bike Infrastructure
And Much More!
New Bikes & Systems
New Populo Electric Bikes
Populo has been hard at work bringing a new economical line up of eBikes to the market.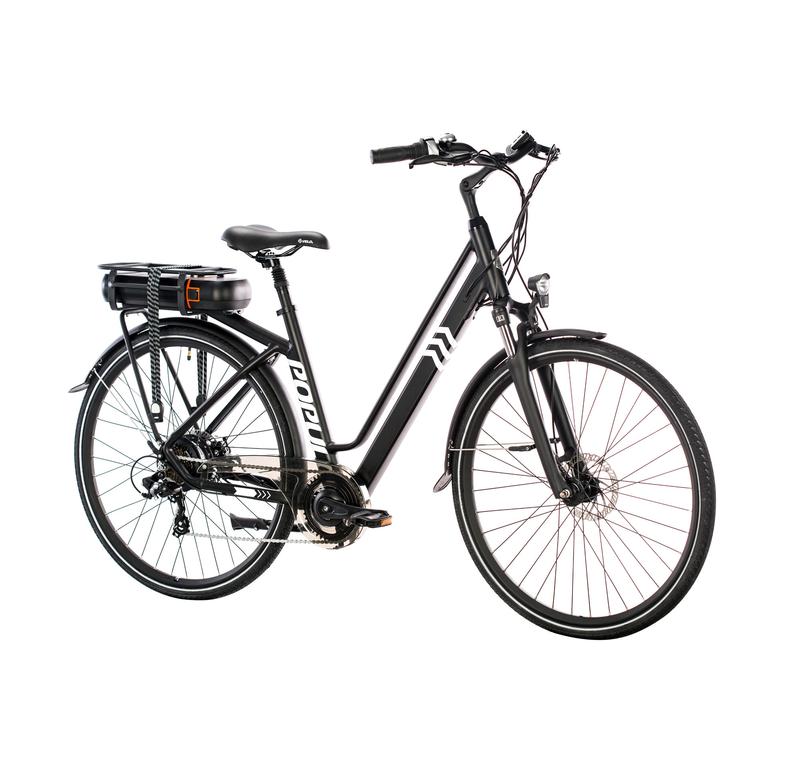 The Lift is their fully equipped step thru commuter style ebike with 350 watt rear hub motor and 36V 10.4ah lithium battery for $1,399!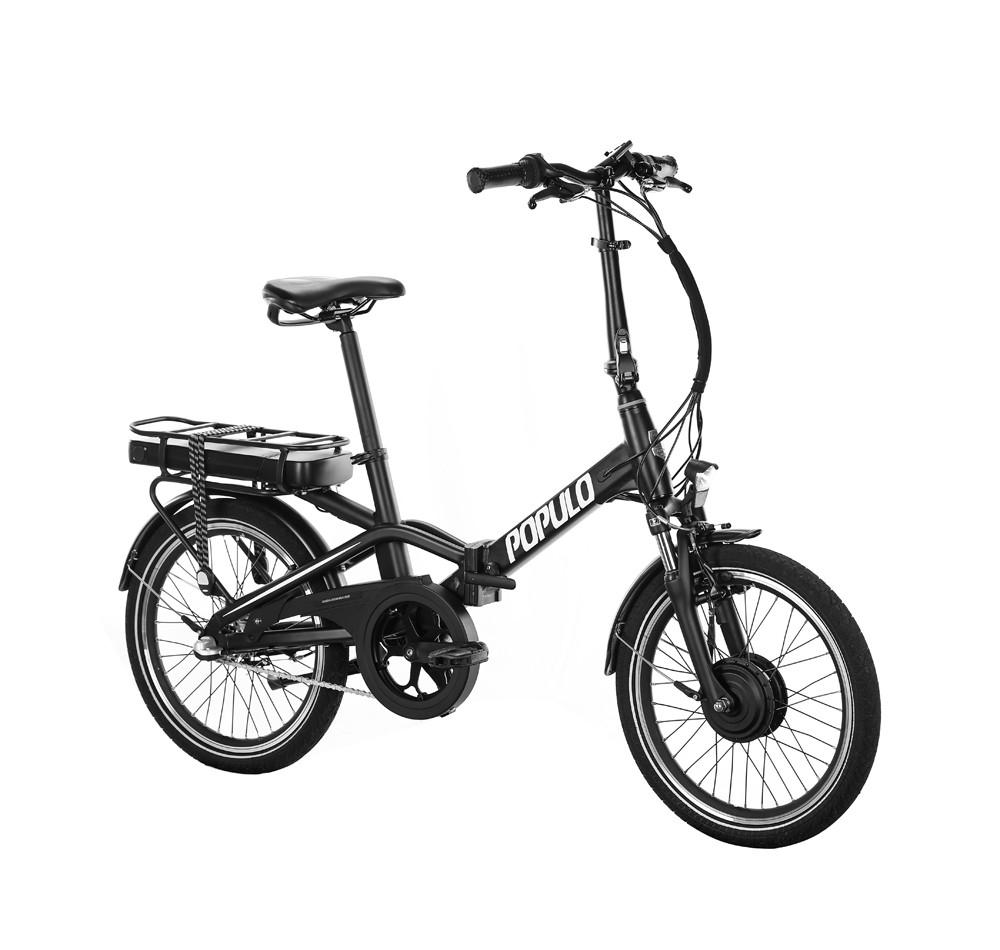 The Curve is their new folding eBike with a health selection of accessories for $1,499.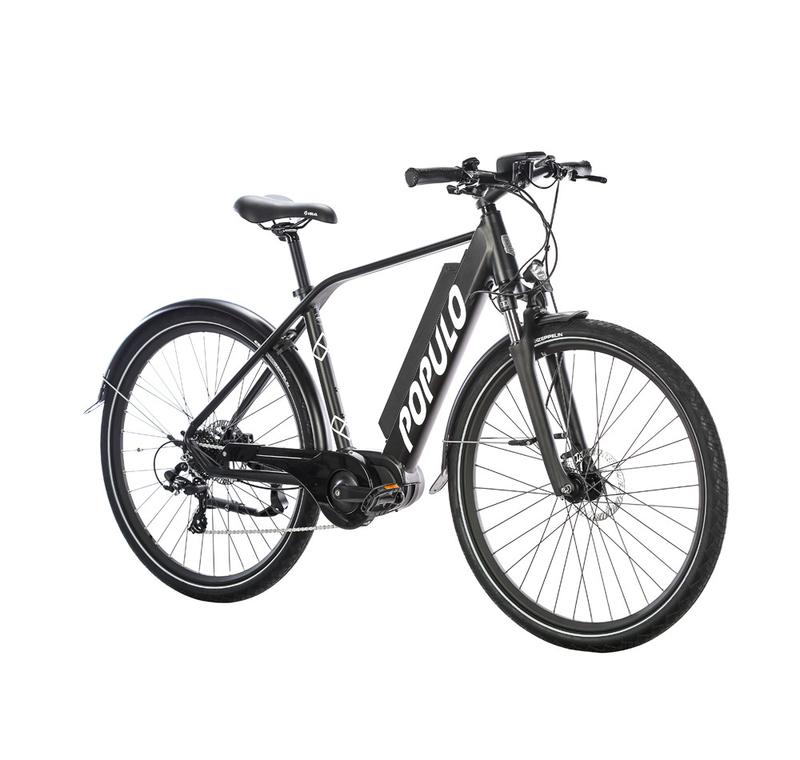 The Scout is their fully equipped mid drive with frame integrated battery for $1,699.
New Motobecane eMountain Bike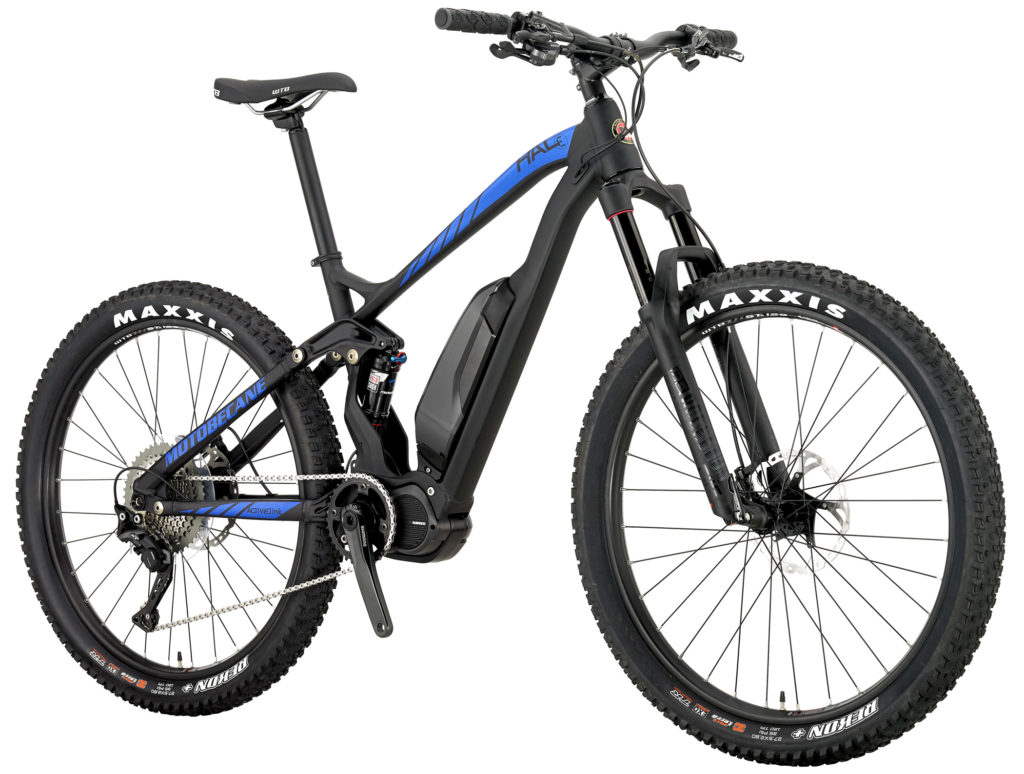 Motobecane (some of the original motorized bikes) has jumped into the electric mountain bike scene with the launch of their new HAL eBoost (Highly Active Linkage).
The HAL eBOOST 27.5+ Full Suspension is designed for up to 5 inches of travel both front and rear. Equipped with the Shimano e8000 Mid Drive with XT drivetrain, XT brakes, WTB TCS wheels, Maxxis tires, Rockshox Pike fork. List Price $7999
Motobecane USA said "Stay tuned, we've got more models to come."
New e-JOE KODA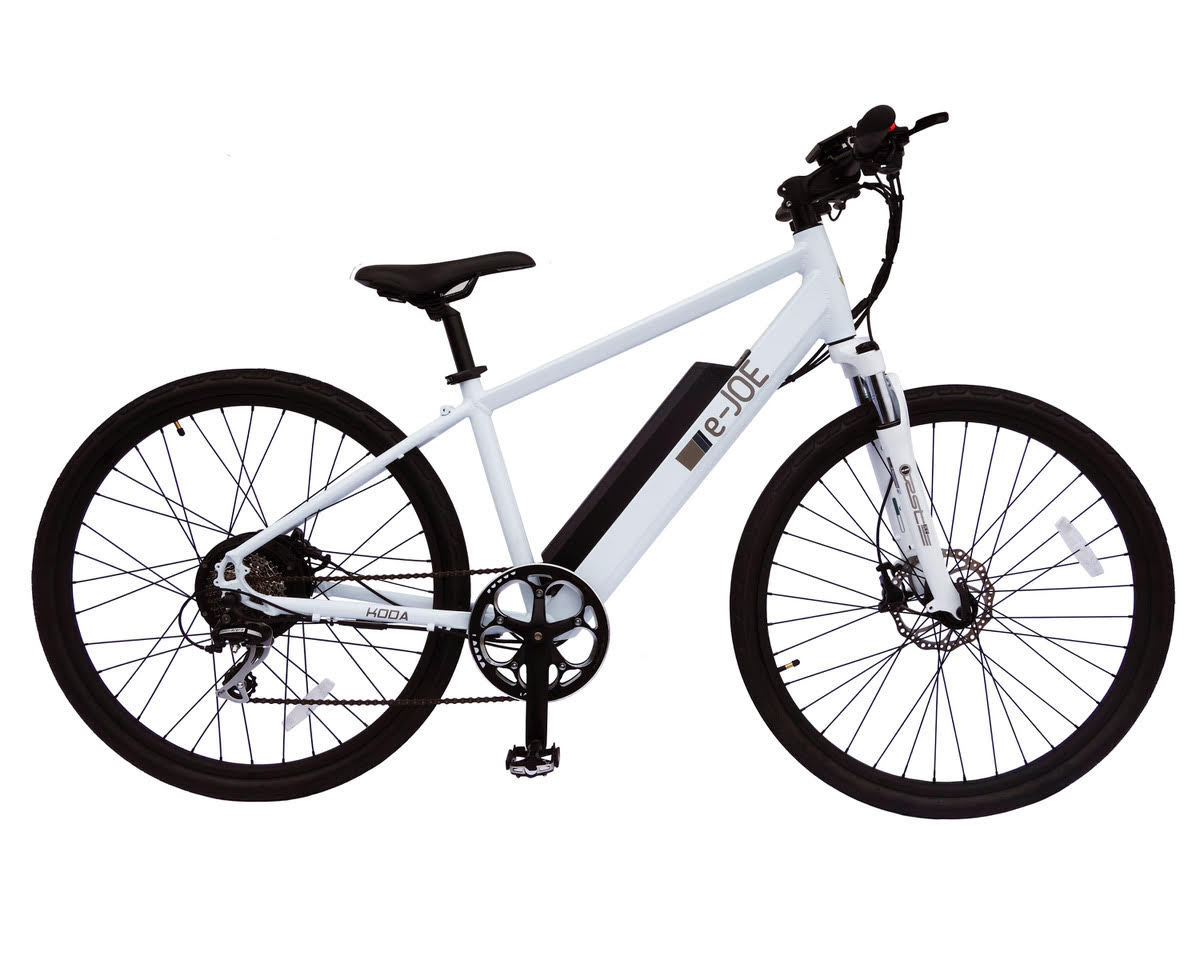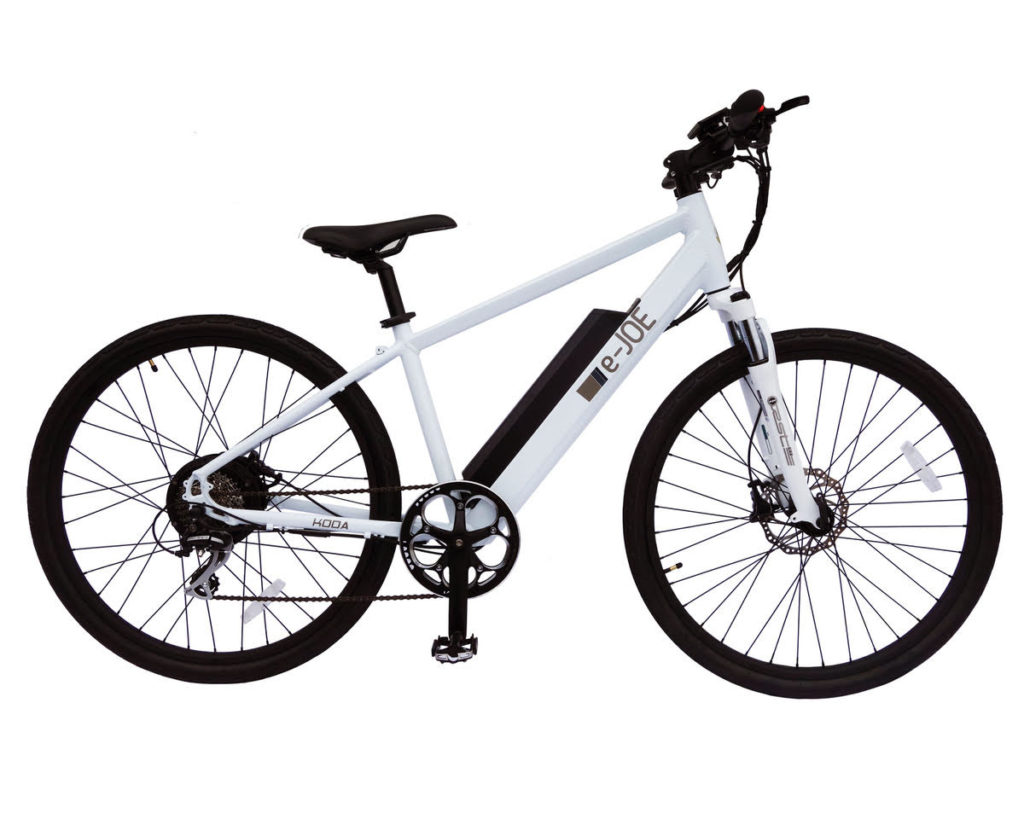 The new e-JOE KODA is now available in either Frosty White or Titanium Grey for $1,719. It features a 500 watt rear hub motor and upgraded for this year is a 48-volt 11Ah LG cell lithium battery housed in the aluminum frame. It has 5 levels of pedal assist and a thumb throttle.
New Hase Trigo Retrofittable with Shimano Steps Motor System
Bikebiz reports that German recumbent manufacturer Hase are bringing out the Trigo recumbent trike that will be available as a 'standard' model but will also be retro-fittable with the Shimano Steps mid-drive by replacing the bottom bracket in the non-powered version.
This sounds a novel approach and is the first time EBR is aware of that a company is offering the Steps system as a retrofittable option.
Trials Bike Firm Ossa to Launch E-bike
We have some Ossa teaser info about their forthcoming e-bike that will be available direct from their website.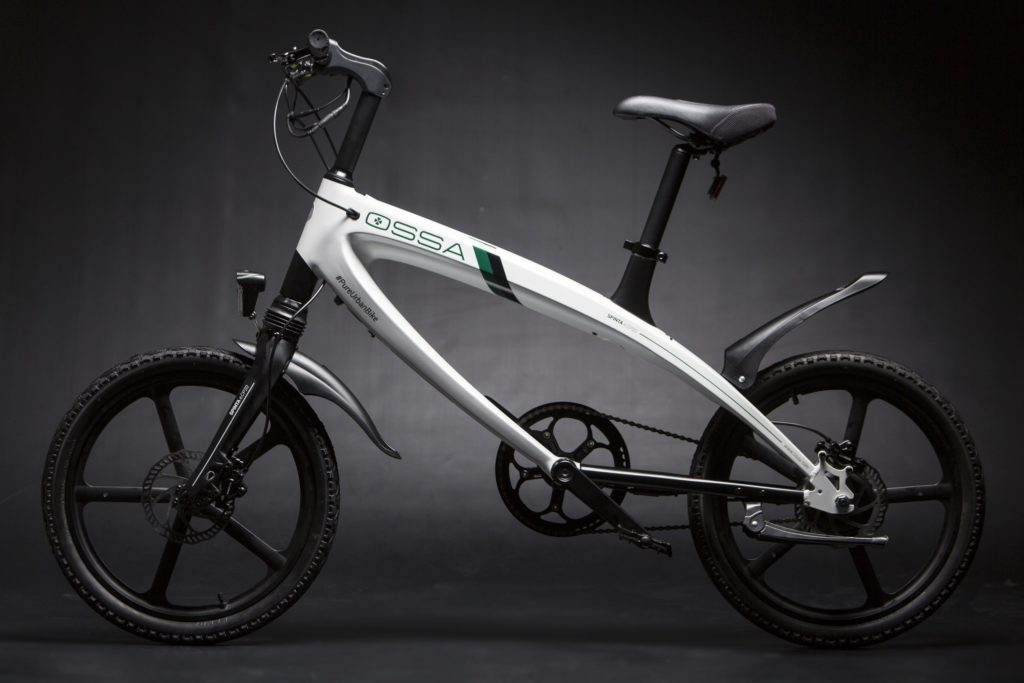 Ossa's Jordi Roca has been in touch direct with EBR and say the outline spec is range 50 – 60Km (30-37 miles), 28km/h max speed, 5 hour charge, front and rear hydraulic brakes and a front integrated light, with a price tag below €1650, depending where the bike is delivered to.
New eMTBs from EBCO
UK e-bike firm EBCO have announced two new Bosch-powered e-MTBs.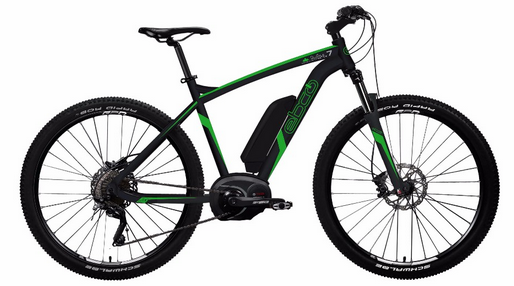 The MH-7 is equipped with a 400Wh battery, Shimano Deore 10 speed gear system and Suntour XCR suspension fork whilst the MH-9 has a 500Wh battery and Rockshox Recon Silver 100m suspension. Prices are £2499 and £2999 respectively.
Continental Mid Drive w/ Built-In NuVinci CVT
Continental has announced that they have incorporated the NuVinci continuously variable transmission system into their new mid drive motor. This is interesting because it consolidates the weight and almost all drive system components into the crank area of the bike for improved handling and a clean overall drive system. A chain or belt drive can be used for the rear wheel and this system will make removal and installation of the rear wheel easier.
Tsinova Launch New Motor Systems now Available to OEMs
Back in March EBR reported on Tsinova's neat town bike as it made an appearance at the Taipei cycle show.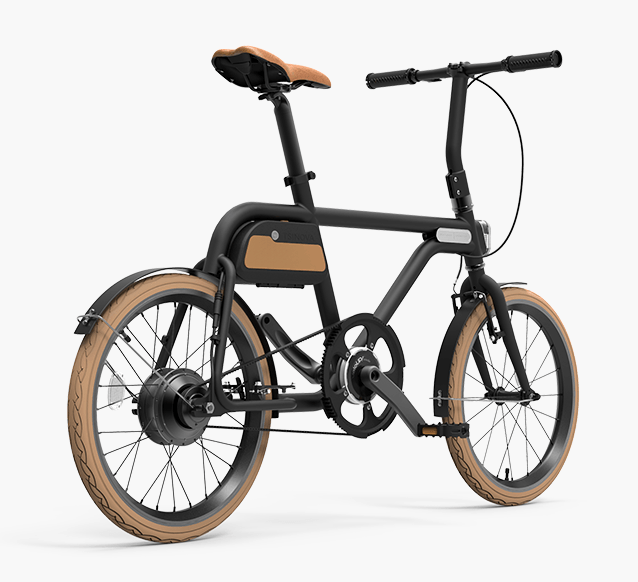 It has now been announced that they will be launching their own motor systems and making them available to the industry at the forthcoming Eurobike show at the end of August.
The centrepiece of the VeloUP systems appears to be a geared hub motor combined with a double-sided torque sensor, but there are also speed and cadence sensors. VeloUP comes in front and rear hub versions with the front version claiming a weight of only 2.6 kg and the rear 2.8kg (the latter available as 250 and 350W versions). Settings can be controlled by smartphone app or using a small TFT display.
Interestingly it is not just the motor systems themselves that Tsinova say are their strongpoint, but also that fact that they can be integrated smoothly and very cost-effectively into an e-bike production line.
There also appears to be a mid-drive in the works although there are very few details available on this.
New Yamaha PW SE Offers Connectivity
Bike Europe reports that Yamaha will launch a new 'connected' motor system at Eurobike – the PW SE. It sounds as though it is the successor to the original PW series but as well as Bluetooth connectivity it now also has greater torque and supported cadence has been raised from 100 to 110rpm.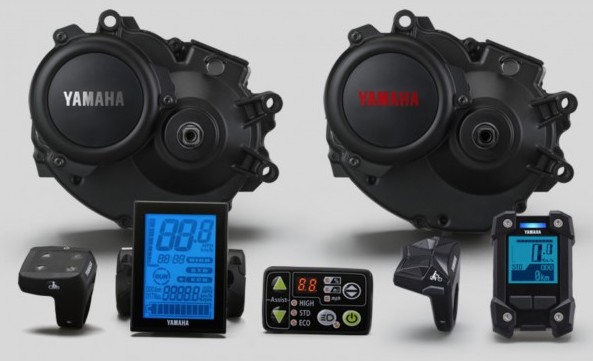 There will be two preprogrammed colour coded options, 'Black Spec' will have a livelier feel with more torque available at low cadence, clearly aimed at e-MTBers and 'performance' cyclists whilst 'Green Spec' will have less assistance at lower speeds and is aimed at urban electric bikes.
Ansmann Detail New Battery / Drive Systems
Ansmann are a leading e-bike component and system manufacturer from Germany and ahead of Eurobike have announced new fully Bluetooth-connected and 'superlight' system options. Their new 'superlight' system is claimed to weigh around 4kg for the drive and battery, although battery capacity details were not available at the time of writing.
Its longstanding RM7 rear gearless drive is joined by the RM4 and RM5 geared hub motors – the claimed weight of the RM4 of 1.8 kg is the lightest that we know of at EBR (for a conventional geared hub motor that is) – unless EBR readers out there know different!
Bafang's New Rear Hub Motor Targets E-MTBs
A flurry of activity has seen giant Chinese motor manufacturer Bafang announce new motor systems aimed at e-MTBs.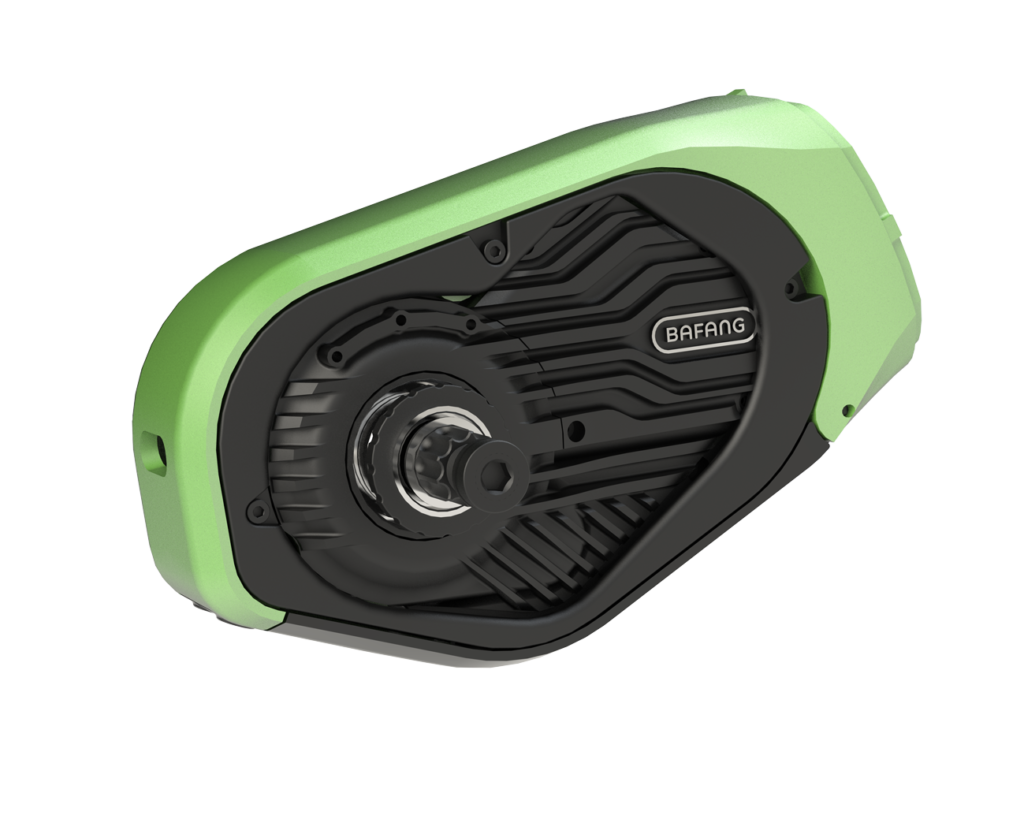 First came the news of its new M-series crank drives, claimed by them to be 'currently the most powerful mid motor for E-MTBs' and they also say they have added more integrated downtube battery options across all offerings.
Stressing the motor's versatility, Bafang say 'Both geared M-series mid motors, the M-500 with 250W or the M-600 system with 350 / 500 W engines offer peak torque values of 95-110Nm. This results in a complete program of EU compliant 25km/h and 45km/h (S-Pedelec) and 32km/h (20m/h) US versions.'
Combined with their battery options it seems Bafang are certainly launching a sustained bid to challenge the supremacy of the likes of Bosch, Shimano and Brose in the e-MTB stakes, as they conclude 'With system weights between an industry leading 3,2 and 3,5 kg, ISIS drive BB, customization of motor covers and alloy bash guards, and potential for private labelling, Bafang again sets a new standard amongst global e-drive train manufacturers. The M-series systems will be compatible with the new 374Wh or 600Wh F-Series InTube batteries, both for under or top downtube insert positions, as well as the semi integrated battery with 1.000Wh maximum. All batteries currently use 18650 cells from Panasonic/Samsung. In the near future these will be offered with the new 21700 cell standard. CanBus and UART communication protocol and two different charger options with 2 and 3 A charging capacity will complement the battery offering.'
Subsequently announced was a geared rear hub motor, the H800, available with either a 350W or 500W output and a max torque of 55 Nm, featuring a modern MTB thru-axle design and unique plug and anti-torque rotation.
Components
Selle Royal eZone Saddle
Italian brand Selle Royal is releasing its new saddle eZone, the first saddle on the market specifically designed for modern commuter, leisure, touring, off-road and urban eBikes.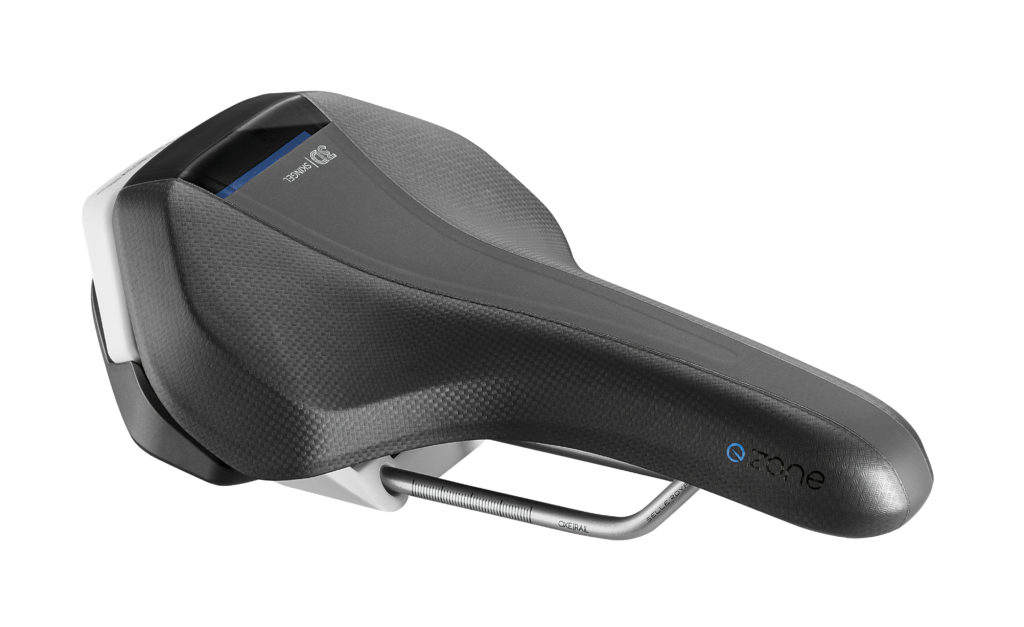 This new saddle is the result of the first comprehensive study of eBike users, which Selle Royal conducted in collaboration with world leading designers at BMW Group subsidiary Designworks. The study identified a number of performance characteristics from eBike users that could benefit from an eBike-specific saddle design.
eZone uses patented technology and has a range of eBike-specific features such as eFit Design, an elevated rear section to prevent backward sliding and shorter nose to aid in mounting, Acceleration Control, a zonal design to enhance control and balance for added safety during acceleration, and eGrip, a fibreglass integrated handle for easy maneuvering. The saddle is padded with 3D Skingel, a tridimensional gel structure that reduces pressure peaks by up to 40%.
Price: £80/€90/$105
Get Inspired
Discover San Francisco the Easy Way with Motostrano
This extremely positive article recently appeared at SFgate and was highlighted the many great positives to be had from e-bike riding.
Check out the video of the Motostrano Slow Bike Ride from earlier in the year
Ride Electric Mountain Bikes in the Dolomites
Here is a good story on eMountain biking in the Italian Dolomites. The resort area of Alta Badia has a eMTB rental program where you can experience the amazing views and terrain on an eMTB.
"Incredible scenery awaits at the top. Immediately to the south lies the region's highest peak: glacier-topped Marmolada, the Queen of the Dolomites. In the other direction, the Alps demarcate the Austrian border."
The article does a nice job of describing the riding and eating opportunities and provides some helpful info on how to do a trip of your own.
eBike Touring in Belgium with Boat Support
This is a unique bike touring opportunity of seeing Belgium by bike while the support vehicle and lodging accomodations are a barge!
"Our six cycling days take us from Bruges to Brussels, via Ghent and Antwerp – a creditable 40-50 kilometres a day. If that sounds strenuous, it's made more manageable because our support vehicle is a boat. The little barge Quo Vadis (Latin for "where are you going?") is our home each evening. While we pedal between towns, it will glide along to meet us each afternoon. Anyone who wants a rest from the saddle can simply stay on board for the day."
Infrastructure And Road Safety
Could Your Smartphone Help Keep You Safe?
This interesting article from ETA highlights some new tech wireless motor vehicle tech that allows drivers of motor vehicles to be aware of road users in the road even when not directly visible. Apparently 'The Vehicle-to-Pedestrian warning system allows a car's radar collision system to detect a pedestrian's mobile phone to help prevent crashes. Before a driver turns a blind corner the system notifies them of any pedestrian or cyclist crossing the adjacent street.
It has already been tested using other common scenarios, such as a car and a cyclist approaching a blind corner, a car reversing out of a driveway, and a car approaching a pedestrian crossing.'
Dockless Bike Shares Targeted by Cycling City Authorities
European cities risk being 'flooded' by dockless bikes warns the Platform on Bicycle Sharing & Systems (PEBSS) – a body formed by the European Cyclists' Federation. This comes in the wake of city authorities in Amsterdam and London acting to ban or seize the depositing of such bikes by
The trend for dockless bike share seems to have started in China but is now spreading around the world as a new breed of tech company get into bike share. Though they don't seem to have targeted dockless e-bikes yet you feel it is only a matter of time.
Keep Your Eyes on the UK's National Infrastructure Commission
At the end of last month a special adviser on cycling was appointed to the UK's National Infrastruture Commission. As former London Cycling Commissioner Andrew Gilligan was instrumental in pushing forward progress of the much-praised Cycling Superhighways in London and now has been asked to help progress plans to invest more in cycle infrastructure in Cambridge, Milton Keynes and Oxford.
BionX gets Canadian Government Grant
Canadian e-bike brand BionX will benefit from a $3 million grant aimed at promoting clean tech in the province of Ontario say the grant body Sustainable Development Technology Canada, which works with Canadian companies to bring early-stage clean technologies to market. BionX will use the money to develop 'smaller, more powerful lightweight propulsion systems'.
E-bike Law
Di Blasio Cracks Down on New York E-bike Riders
The New York Post relates latest in the ongoing saga of e-bike delivery riders in New York – where e-bikes are actually illegal but have been widely tolerated in the past. It seems official attitudes are hardening as Mayor Di Blasio looks to crack down on their use, despite some considerable sympathy from some sections of the New York population for the often poorly paid riders, with concerns about how it may affect their livelihoods (to say nothing of the message it sends about New York sustainable transport policy…)
E-bikes Now illegal In Northern Ireland…Apparently
The Belfast Telegraph has reported the latest in a seemingly bizarre twist to the status of e-bikes in Northern Ireland. Previously thought legal, it seems enquiries by the UK's Bicycle Association have lead to the revelation from the devolved Northern Ireland government at Stormont that e-bikes are not considered as regular bikes as they are in the rest of the UK.
Due to the rather complicated legal tangle, related the article, it emerges they are considered mopeds and so both government and police are maintaining they need to be registered as such.
This had lead to the more than peculiar situation that now demands e-bikers in Northern Ireland are required to register their e-bikes as mopeds (at the DVLA on the mainland) and also it seems it may devastate sales of e-bikes in the area as Halfords have temporarily suspended sales of e-bikes.
Although the Northern Irish government maintain plans are underway to resolve the situation there is currently not sitting government at Stormont able to pass new laws due to a disagreement between the main Northern Irish political parties.
E-bike Biz
French E-bike Sales up by More than 30%
Bike Europe reports 'Last year, e-bikes sales increased by 31.4% to 134,000 units. Urban and trekking e-bikes are the most popular with total sales of 106,000 units. The e-MTB is also growing in France. 2016 statistics show that 15,300 e-MTB's have been sold – a 72% increase from the 9,000 sold in 2015 and the 6,000 in 2014.'
Cycle Republics Keep Rolling out in UK
Cycle Republic is the high street offshoot of major UK bike and auto parts retailer Halfords and stocks some high quality e-bikes such as Haibike, KTM, and Gocycle. 2017 has seen it roll out several new stores, the latest in Reading.
There have been new branches rolled out earlier in the year at Edinbrugh and Cheltenham and Southampton earlier in year.
Stay tuned for more e-bike news & reviews and thanks for reading!
-Richard
P.S. Don't forget to join the Electric Bike Report community for updates from the electric bike world, plus ebike riding and maintenance tips.
Reader Interactions