eBike News: Pinarello eRoad, 2018 Rad Power Bikes, eBikes & Exercise, UPS eTrailers, Bike Skis, & More! [VIDEOS]
In this week's eBike news roundup:
Pinarello's Nytro eRoad Bike
Rad Power Bikes 2018 Line Up
UPS Electric Bike Trailers in London
New Rubbee X Friction Drive
Ahooga Folding eBike
eBikes & Exercise….
Japan's eBike Scene
Fat Bike Skiing
And Much More!
New eBikes & eBike Systems
Pinarello's Nytro eRoad Bike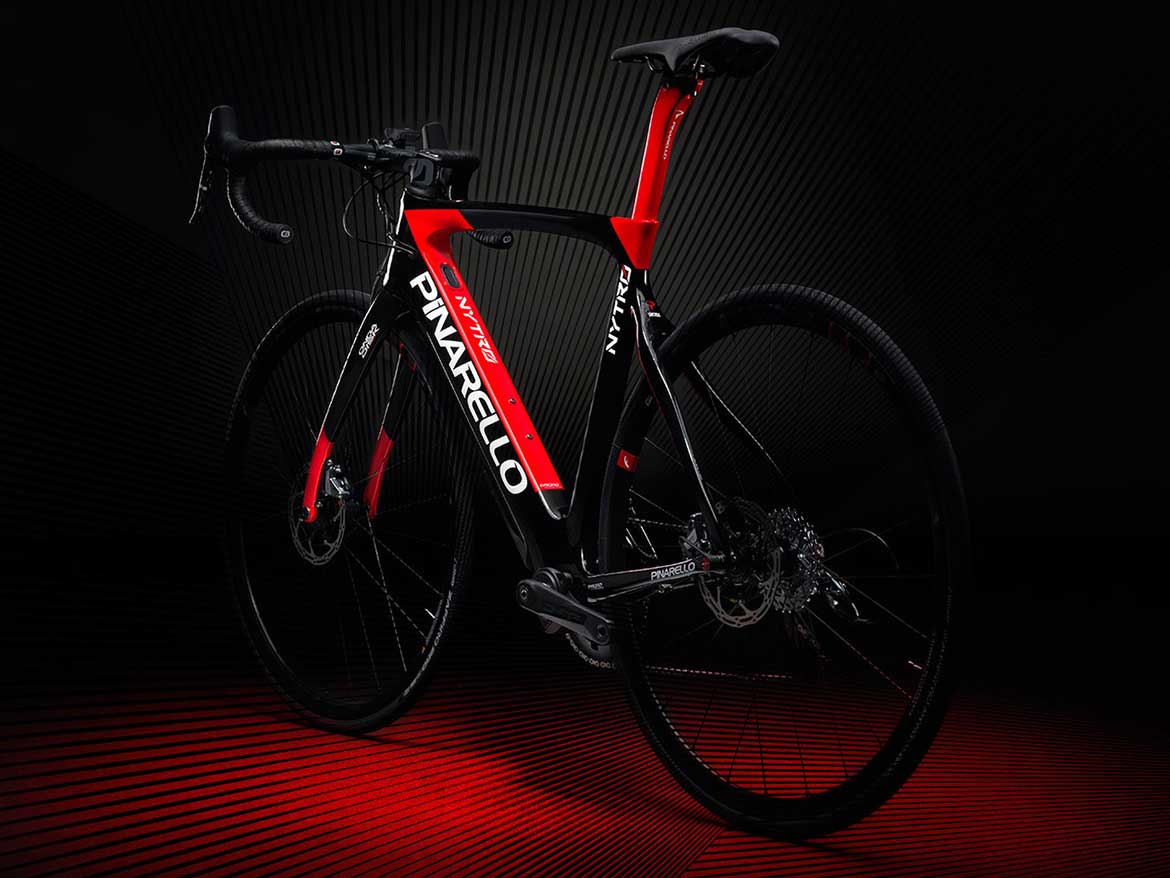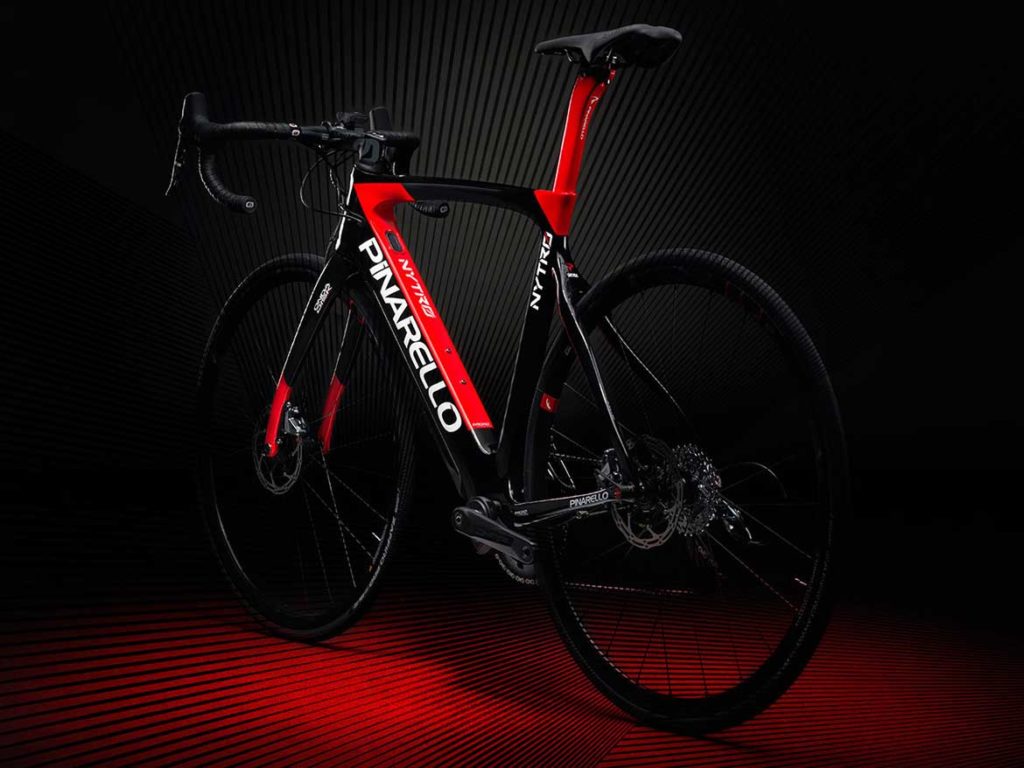 Road bike supremos Pinarello have launched an e-road bike not long after their e-mtb was launched.
Like Cube and Bianchi before them, Pinarello have opted for the Fazua removable drive and battery unit.
Like other brands' Fazua-powered e-road bikes it appears to be very light; 13kg with the motor and battery pack and 9kg with it removed to ride as a non-powered bike.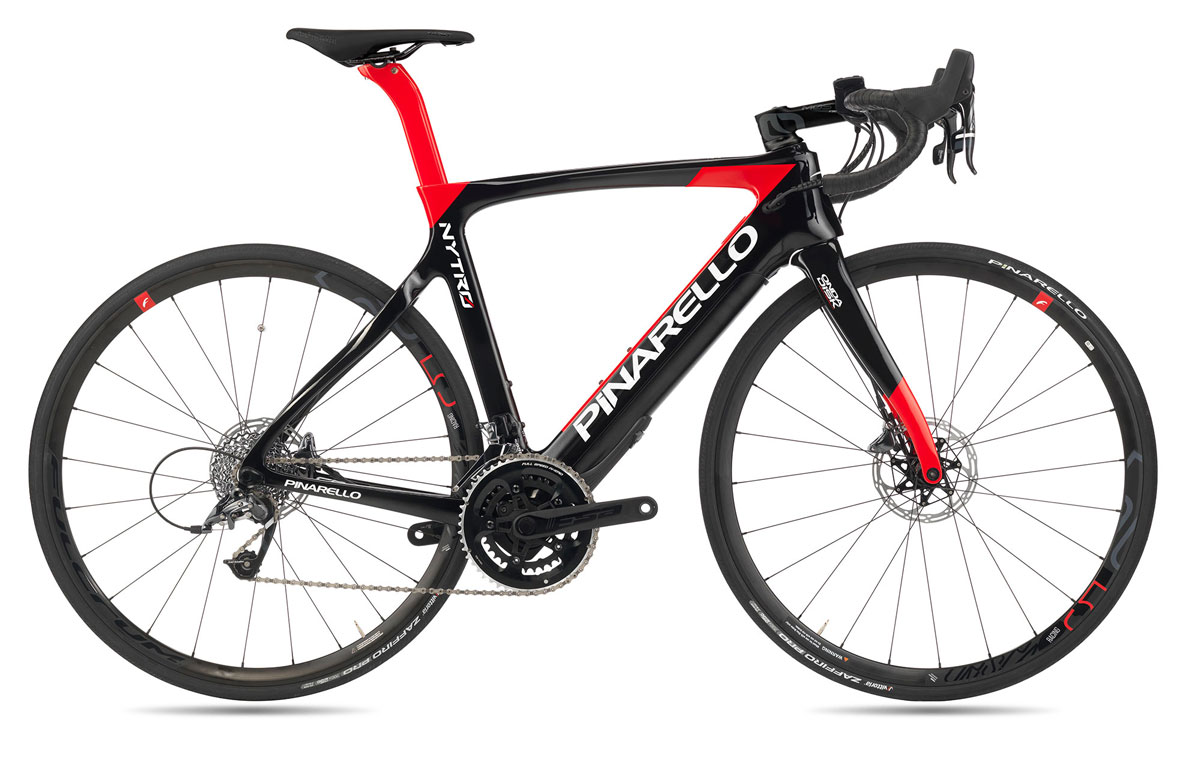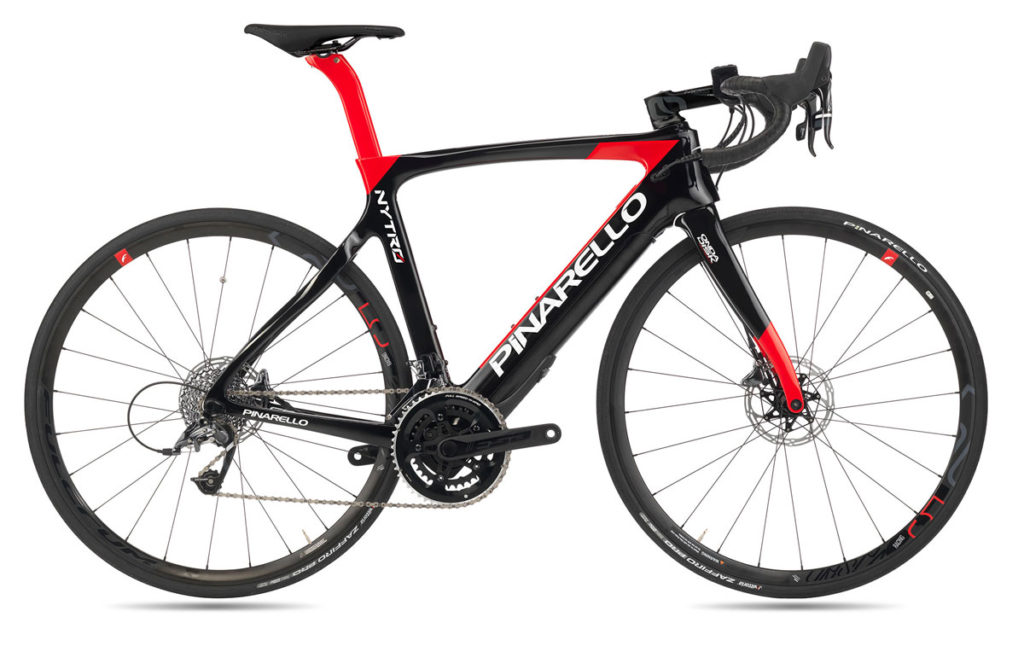 The Nytro will be available in 5 different frame sizes using Pinarello's T700 carbon fibre reinforced tubes. The Nytro features hydraulic disc brakes and a thru-axles.
Here's a couple of videos showing the bike:
And the thoughts of one of the Fazua designers.
Radpower Reveal 2018 E-bikes
We have featured US e-bike brand Radpower a lot recently as they have been expanding into Europe and Canada.
Now comes news of their 2018 range, all with "brand new frame designs and colour schemes, a new battery that is compatible across all models, and even more robust components and line of accessories."
The new 2018 Rad Power Bikes range in price from $1,499 to $1,599.
Below is a look at the new 2018 models with the improvements highlights. Each model has 2 different color options. Check the Rad Power Bikes site for a look at the color options.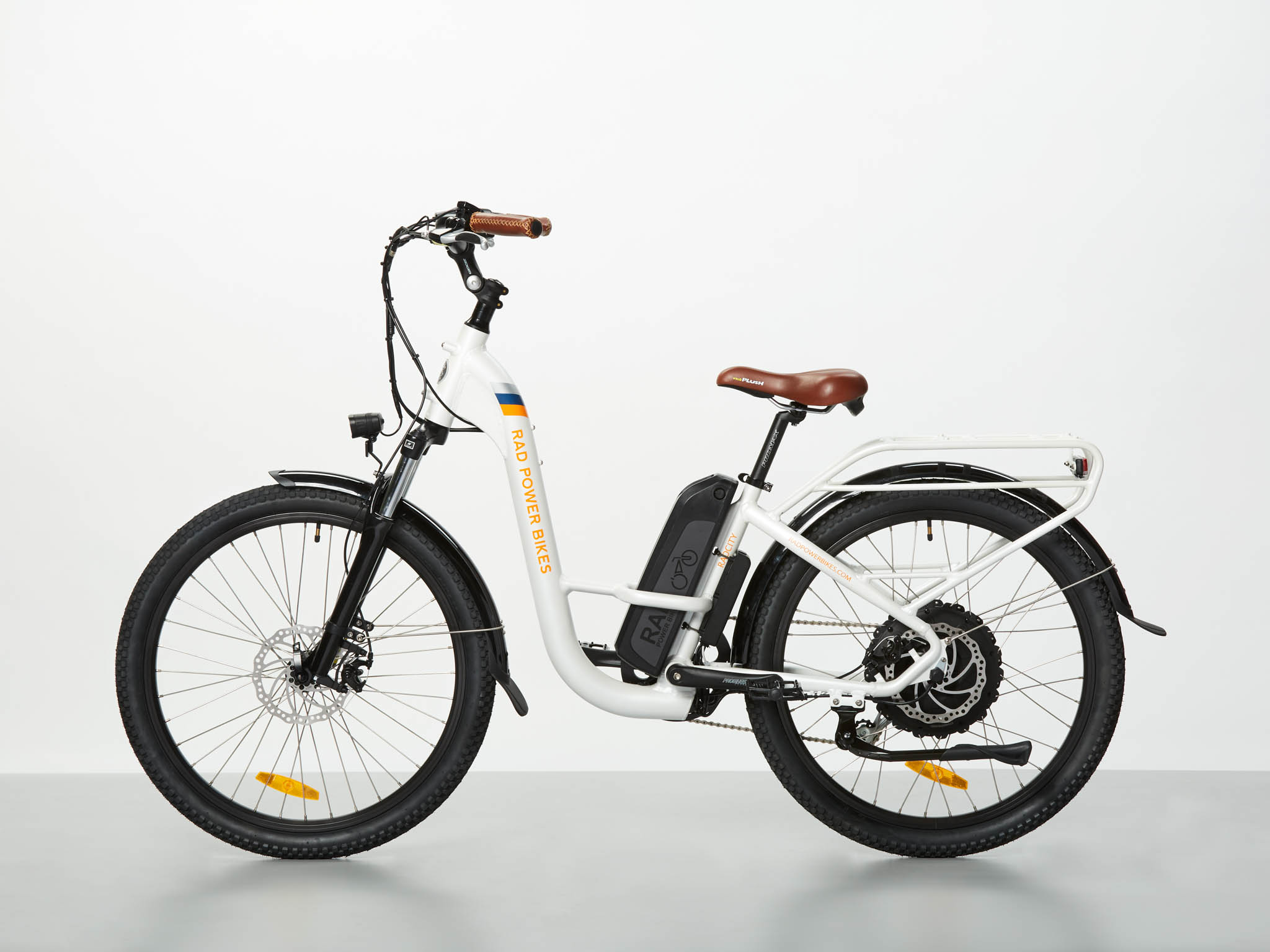 RadCity Step Thru: Completely New Frame Design, Lowest Standover Height, Relaxed, Comfort Ride, Front / Rear Rack Mounts. $1,499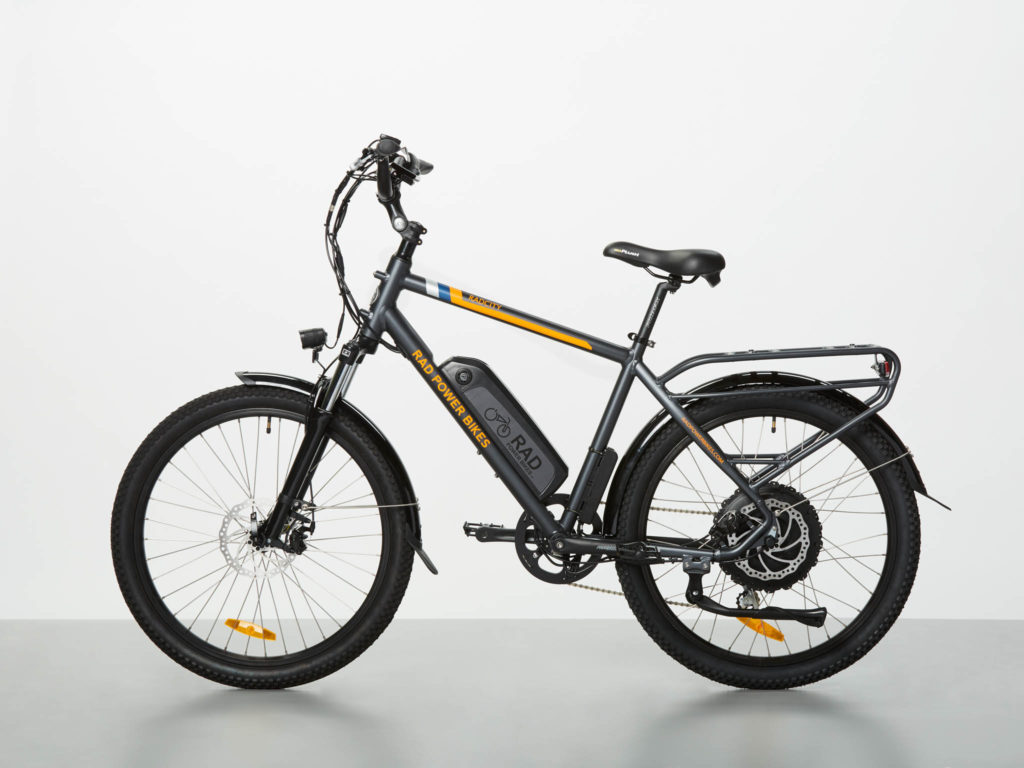 RadCity Small & Large Frame: New and Improved Battery, New Handlebars and Stem, Front / Rear Rack Mounts, New Color Scheme. $1,499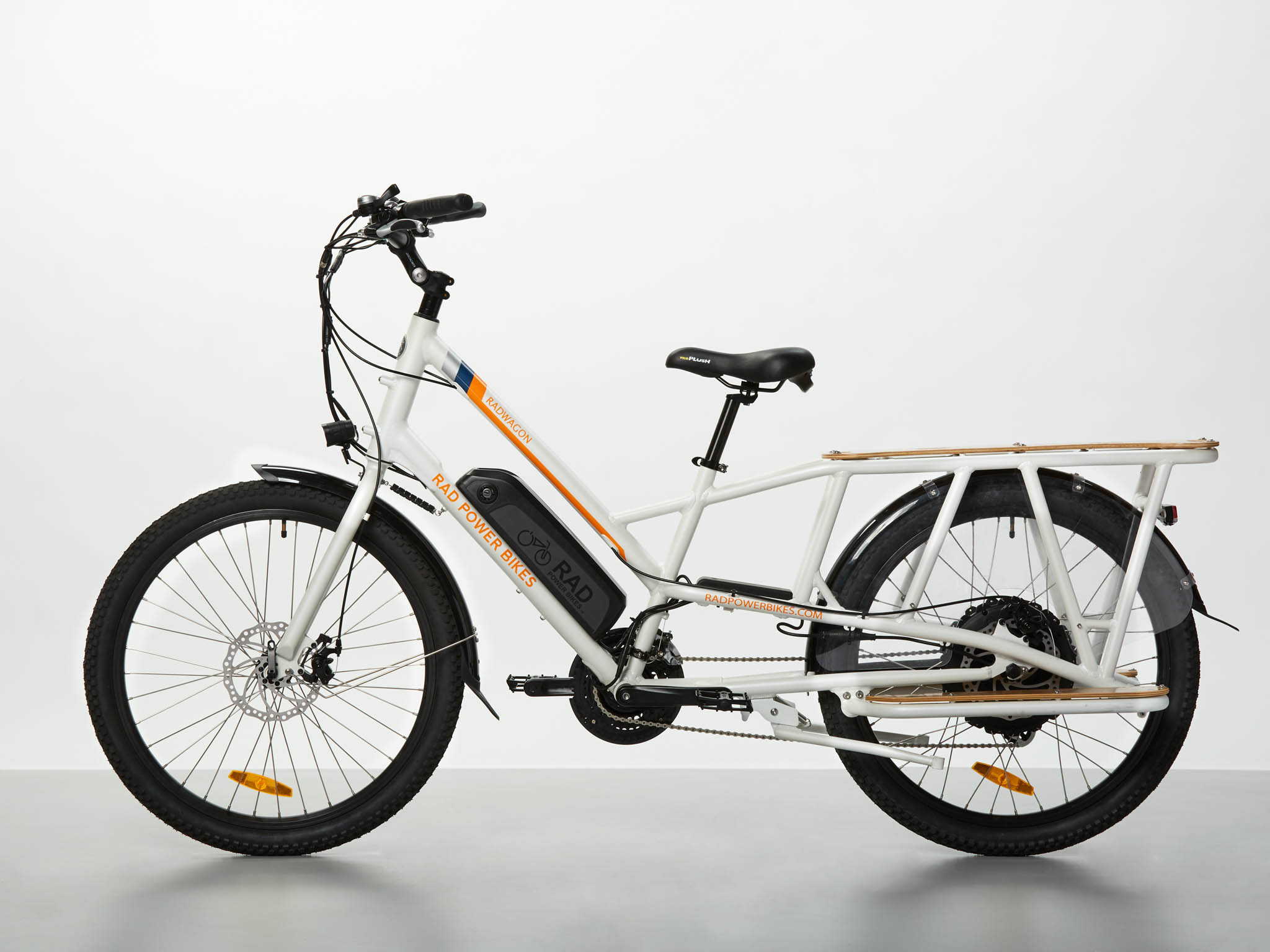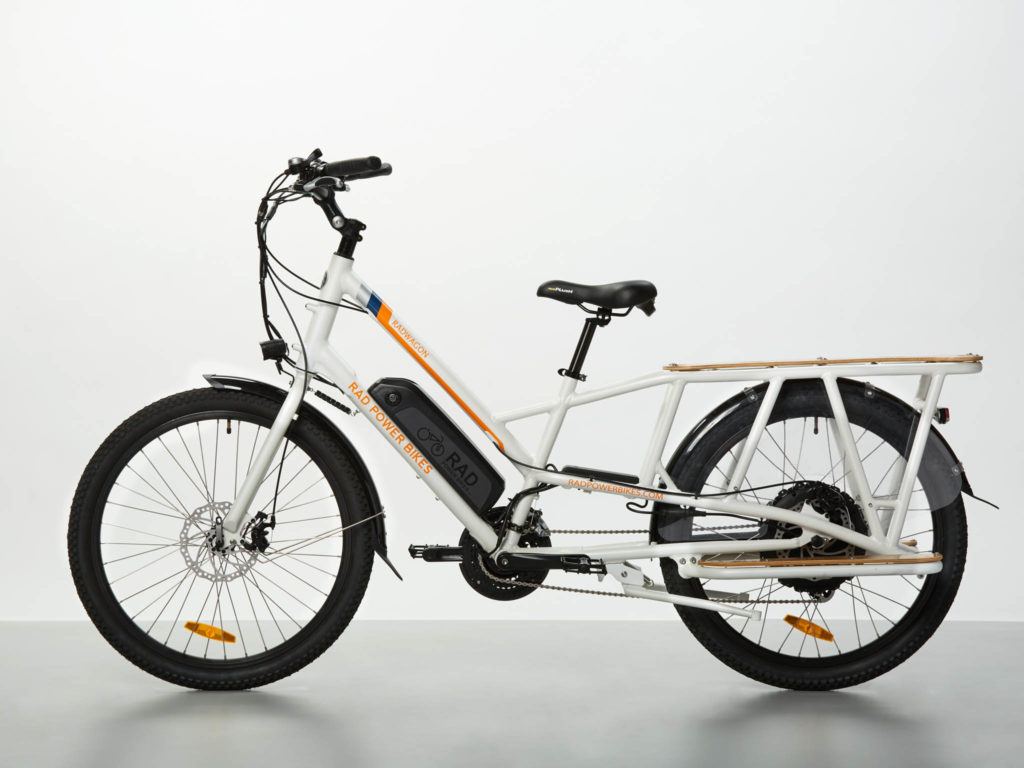 RadWagon: New and Improved Battery, Redesigned Aluminum Frame, Front / Rear Rack Mounts, Native Accessory Support. $1,599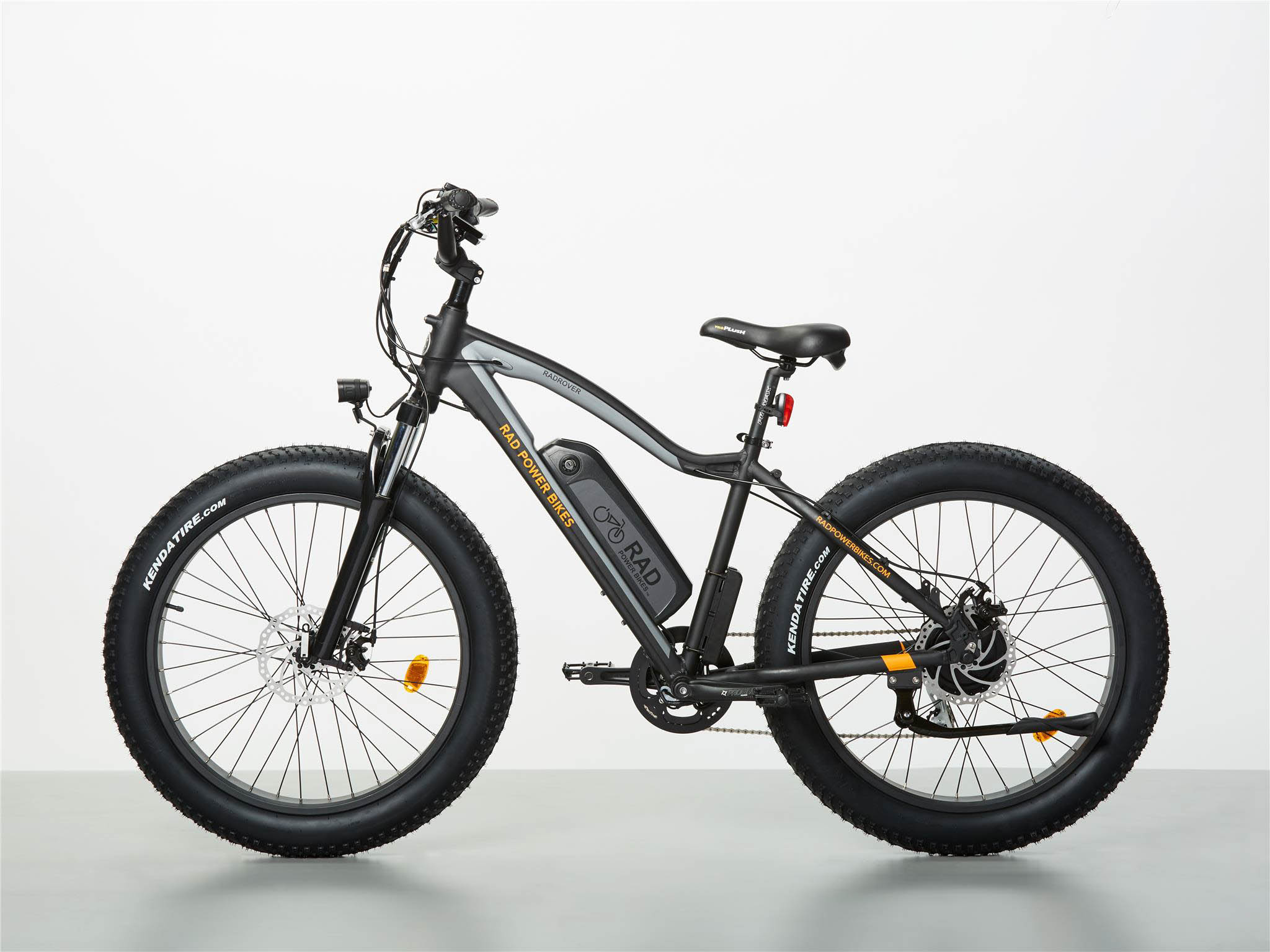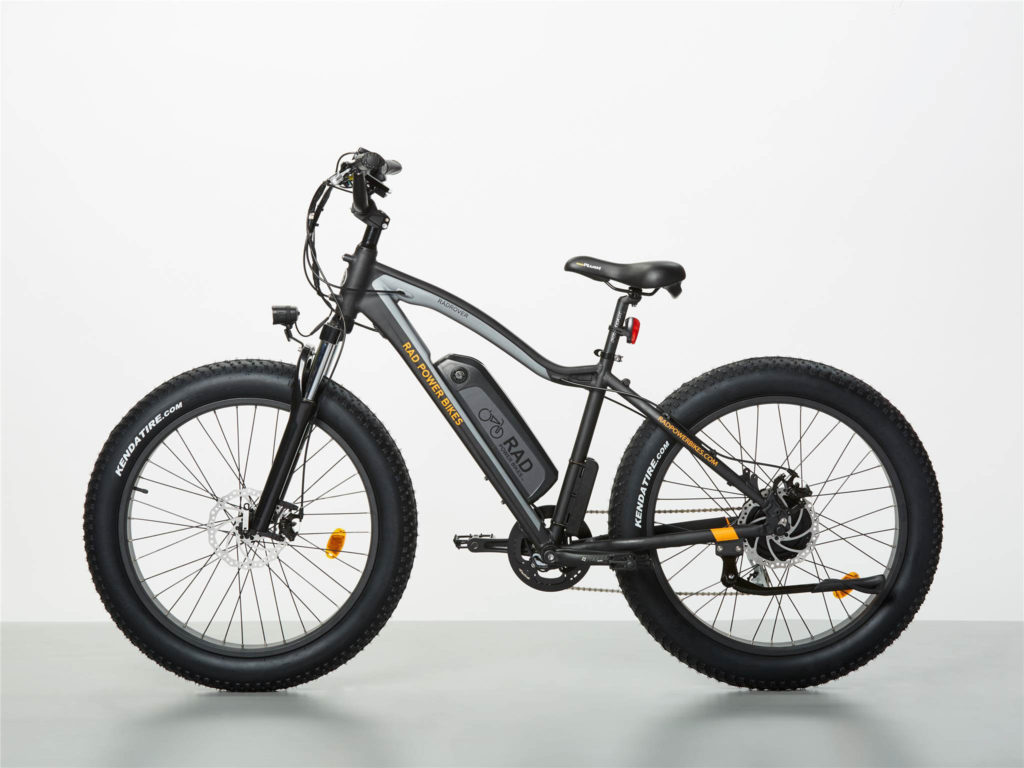 RadRover: New and Improved Battery, New Handlebars, Stem, and Riser, Front Rack Mounts, New Color Scheme. $1,499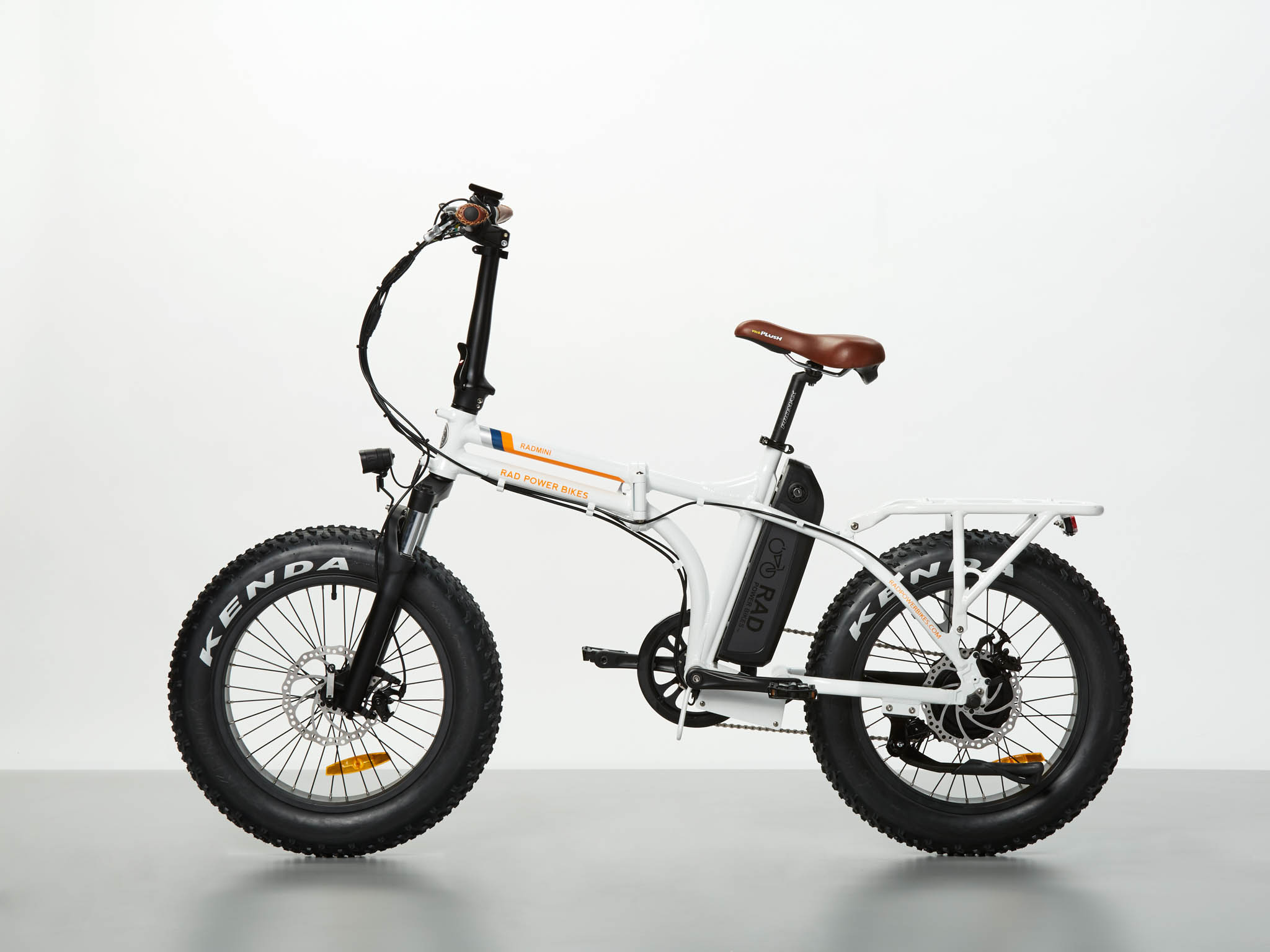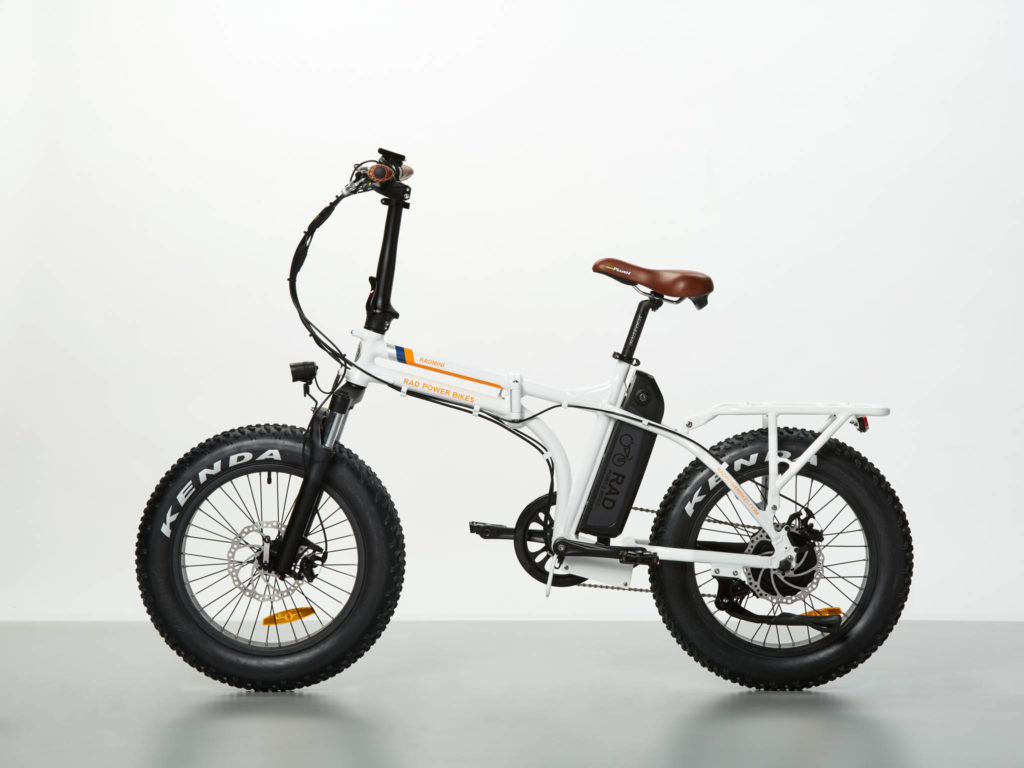 RadMini: New and Improved Battery, Front Suspension Fork, Front Rack Mounts, New Color Scheme. $1,499
Rad Power Bikes is also offering discounts up to $300 off on their current line up of eBikes for Black Friday (Seattle store only), Small Business Saturday (Seattle store only), and Cyber Monday.
Lauva eBikes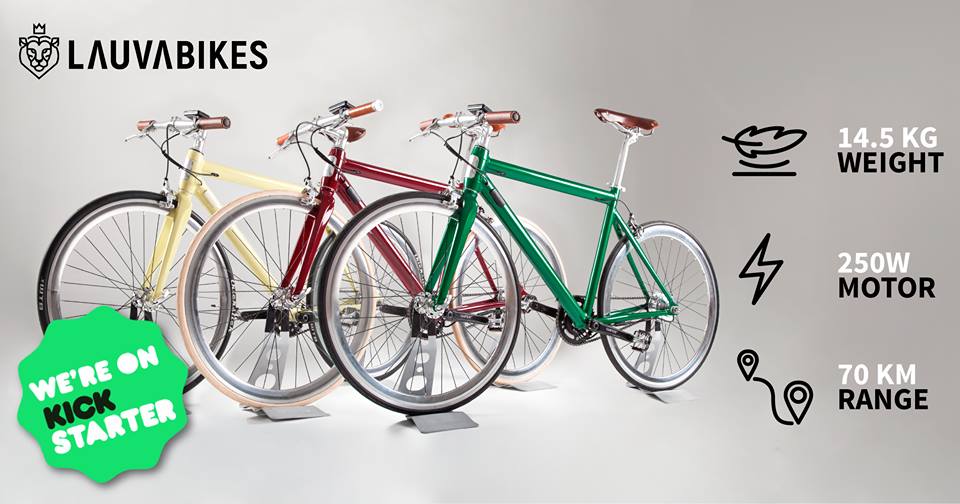 These are clean looking urban ebikes with some interesting features like puncture proof tires.
Here is a video from their Kickstarter campaign.
For every bike sold they are donating money to help with the protection of lions in zoos and circuses.
UPS Electric Powered Trailers in London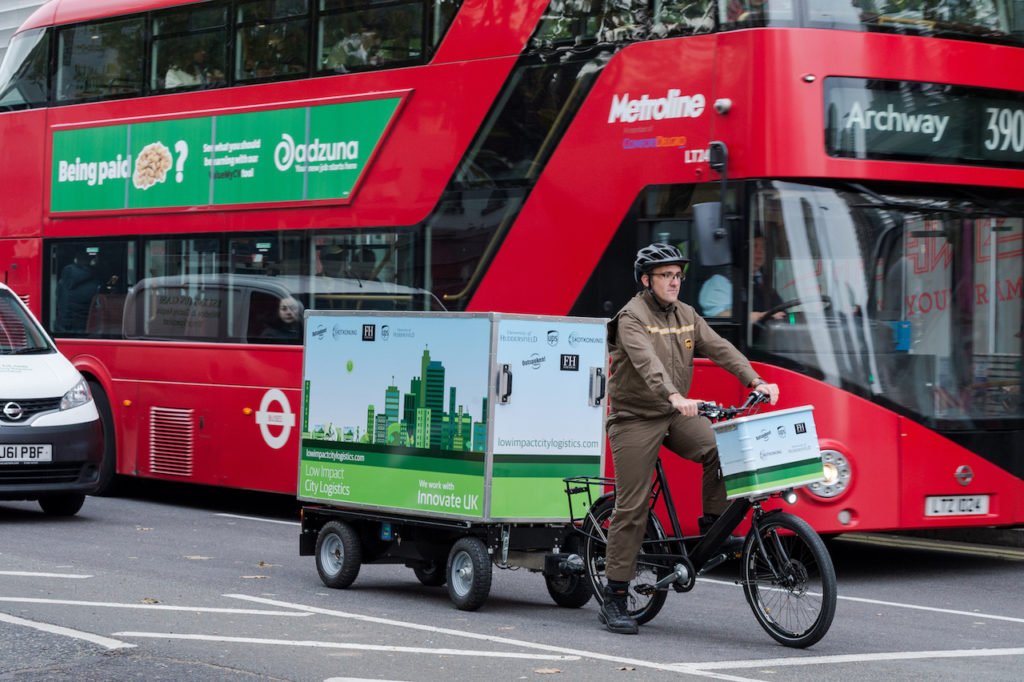 UPS continues their mission to incorporate electric assist bikes and trailers into their fleet of vehicles. They are launching eCargo trailers that have electric assist that can transport up to 200 kg of cargo without putting strain on the rider.
Engadget has the full story and video.
New Rubbee X Friction Drive Kit
The Rubbee friction drive has been around for a while but has just launched the Rubbee X, an updated design, on Kickstarter.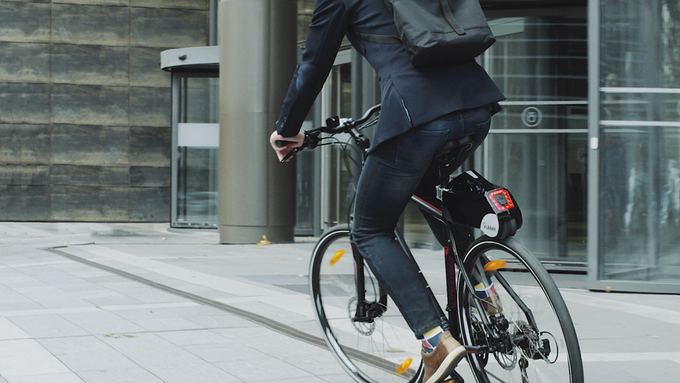 The original version, say Rubbee, was manufactured by themselves in their home country of Lithuania, but the latest version will involve them teaming up with a large manufacturing partner.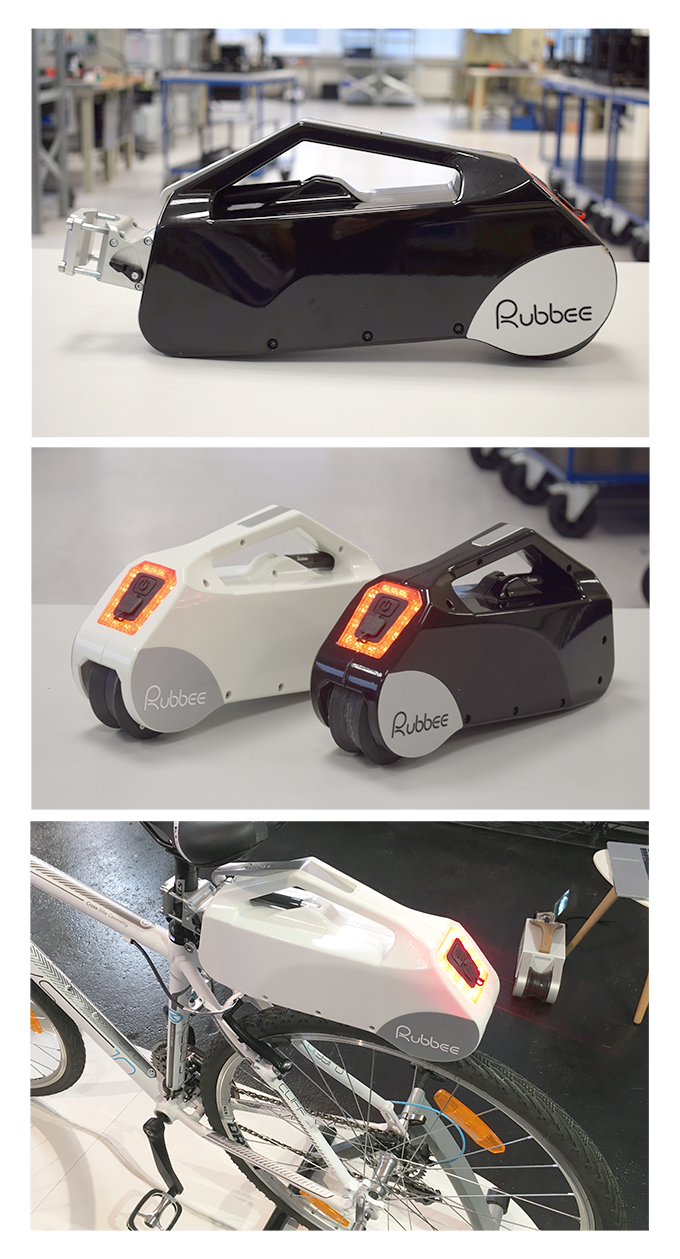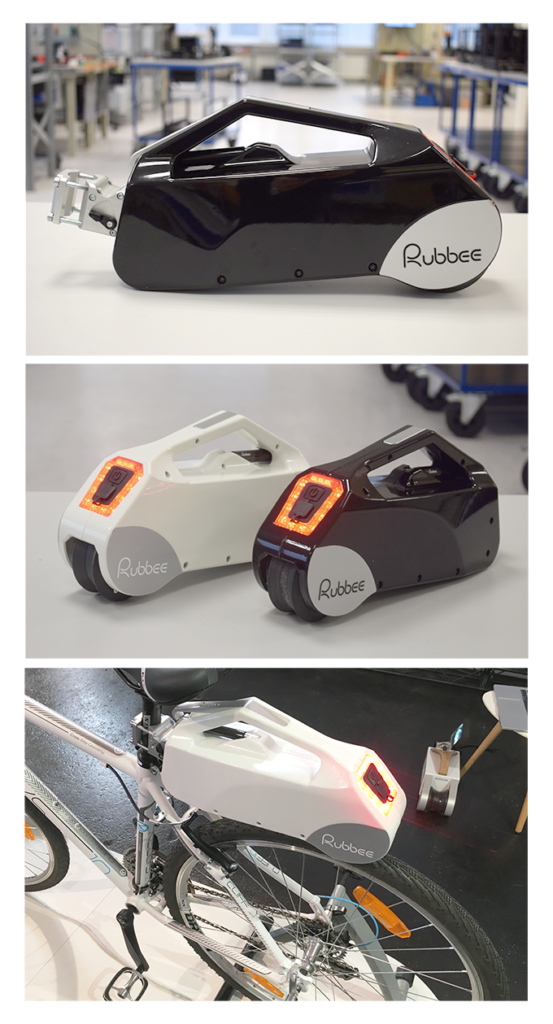 The latest version boasts regenerative braking, an expandable battery, smart brake light and wireless control. Early bird offers start at £269 (approx US$ 355).
News from Ahooga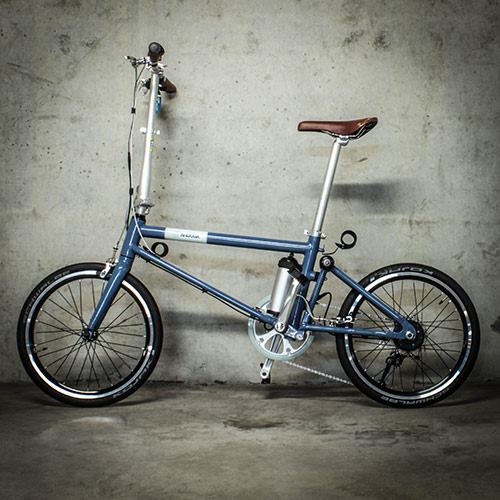 Ahooga, the lightweight Belgian-based design of e-bike has now arrived in France and has also been awarded a German Design Award for 2018.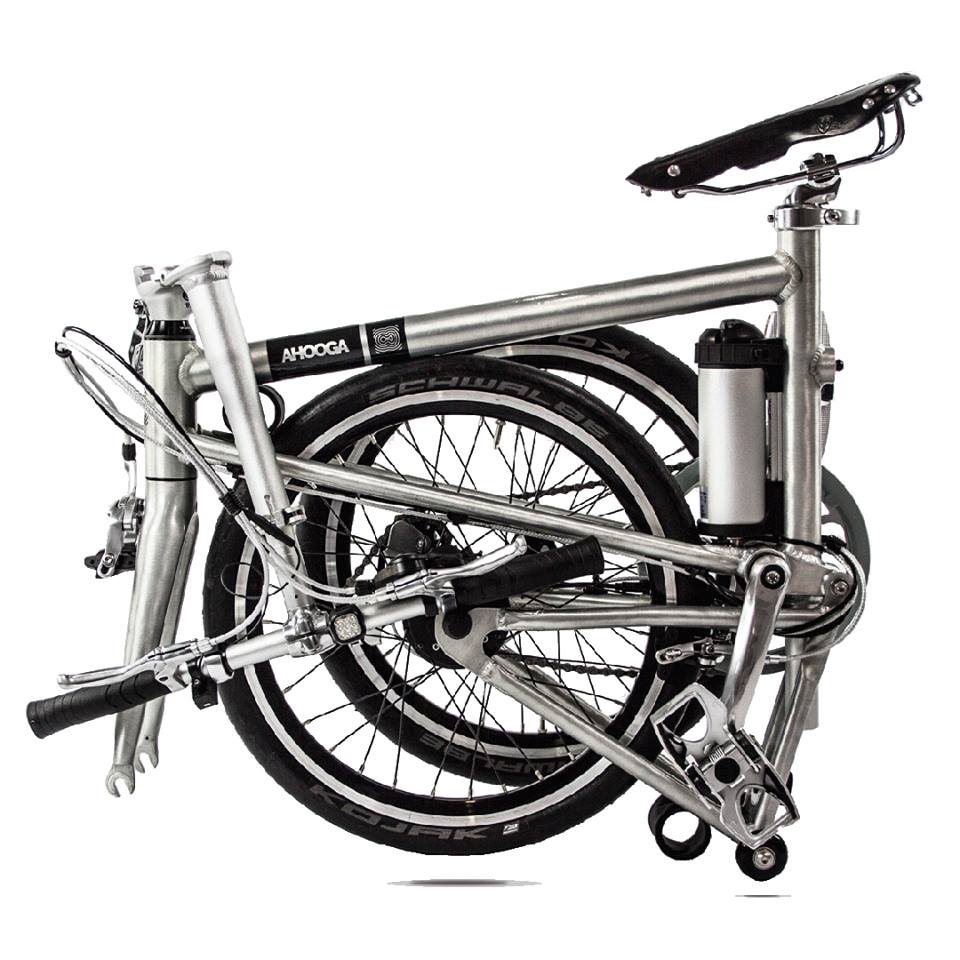 The bike's vital stats are claimed 13kg weight (with battery and motor), 10 second fold, folded dimensions 85X 74X 30 cm.
Here is the bike in action:
and here is a summary of the 2017 improvements to the bike:
eBike Accessories
Seatylock Gel
Seatylock has now introduced their new Gel seat lock on Kickstarter. Their system incorporates a foldable lock into the seat so that you always have a lock with you.
"The seat is integrated with 2 special compound Gel pads designed to distribute and reduce the stress on the lower pelvic bones. Riding with the gel seat is much more comfortable, so time and distance can be increased significantly."
Get Inspired
Swytch at the BMX Track
We recently featured Swytch's successful crowdfunding campaign but here's a short clip of the founders taking some of their creations to the local bike park…
Fat Bike Skiing
It looks like an electric fat bike would be a perfect fit for the Fat Bike Skis!
eBikes & Exercise
Science Nordic recently published this article on a study that was done to determine "Is e-cycling good exercise?".
From the article: ""Everybody knows that cycling is a great physical activity but we wondered what exercise a person gets on an e-bike, as these have become so popular. Could they be too easy? This is what we wanted to find out," says Elling Bere, a professor at the Faculty of Public Health, Sport and Nutrition at the University of Agder.
Bere was surprised by the results. E-cycling proved to give more exercise than he expected."
Infrastructure & Roads
Green Light in UK for Driverless Cars
The BBC reports that "Driverless cars could be on UK roads within four years under government plans to invest in the sector." The forthcoming budget promises £75m for artificial intelligence, £400m for electric car charge points and £100m to boost clean car purchases. Unfortunately no mention of e-bikes….!
Continental BEE
If you are wondering what vehicles your e-bike might be sharing roadspace with in the coming decades Continental (pioneers of a 48V e-bike mid motor system with incorporated Nuvinci shifting) have outlined their vision in the form of the BEE.
https://youtu.be/01PnekjBzFY
They summarise the BEE: "It is electrically powered and buzzes around at speeds of up to 60 km/h. It can easily cover a distance of more than 350 kilometers every day. Without fuss and within a matter of minutes, it travels to your location when you summon it with your smartphone. It is designed to ensure tailored, stress-free and comfortable travel in the city of the future."
Washington's Bike Share Bikes Race Head to Head
This interesting article from the Washington Post put no less than six bike share bikes – all available in the city – to the test by getting triathletes to race them against each other.
Whilst the results may have been a little surprising the consensus was that the Jump e-bike certainly had potential.
eBike Biz
The Japanese Market Summarized
The Japan Times has this succinct summary of e-bikes in the country – in short they are thriving.
The article reports that "In 2016, the domestic market for electric bikes was worth an estimated ¥4.7 billion, with Panasonic Corp., Yamaha Motor Co. Ltd. and Bridgestone Corp. producing the bulk of the nearly 550,000 electric bikes sold last year. By comparison, Japanese carmakers produced 939,025 units last year."
It also reports some 60% of bikes manufactured in the country in 2016 were electric.
Riese & Müller appoints a new Head of Supply Chain Management
Riese & Müller say the company "is becoming more broad-based and has appointed internationally experienced Alexander Eilhauer (40) to the newly created key position of Head of Supply Chain Management. This new position at the Weiterstadt-based manufacturer of premium E-Bikes, E-Cargo bikes and folding bikes not only reinforces the company's existing claim to be a premium supplier, but also systematically responds to customers' demands for more flexible and shorter delivery times."
Enjoy Your Rides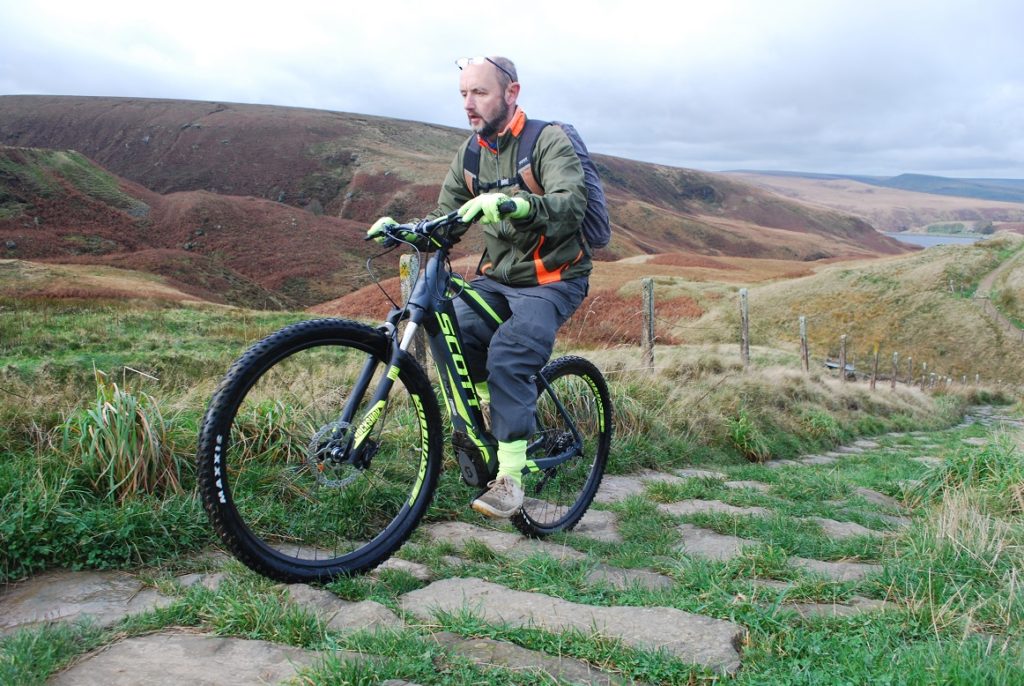 Richard eBiking on the Pennine Bridleway in the North of England.
Enjoy your next ride and stay tuned for more e-bike news & reviews!
Thanks for reading.
-Richard
P.S. Don't forget to join the Electric Bike Report community for updates from the electric bike world, plus ebike riding and maintenance tips.
Reader Interactions