eBike News: NYC Legalizes Pedal Assist, Tern GSD Update, High Tech eMTB, Alarm Lock, & More! [VIDEOS]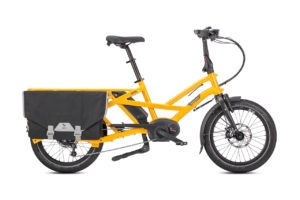 In this week's eBike news roundup:
New York City Legalizes Pedal Assist eBikes
Focus on E-Transport Share Schemes
HNF-NICOLAI XF2 Trail
More GSD Compact Utility E-bikes from Tern
South Korea Telecom's Firm Connected E-bikes
Comp Drive Mid Motor
ABUS Alarmed Lock
Heart Arrhythmias & eBiking
Scotland by Bike and Train
Bosch Smart Living Demo Shows
And Much More!
Headline News
New York City Legalizes Pedal Assist eBikes
New York City has finally legalized pedal assist bikes that provide assist up to 20 mph (Class 1)! The new rule will go into effect July 28, 2018. Electric bikes with a throttle are still illegal and riders of those eBikes will be subject to up to a $500 fine and possible seizure of the bike.
Where is E-transport Share Heading?
The emerging market for shared electric transport has been much in the news of late so here is a little summary of the more interesting developments.
This opinion piece in the Washington Post is a nice take on the proliferation of 'dockless' forms of transport that have sprung up across many major western cities recently and on which which EBR has often reported.
It points out that whilst such dockless schemes may very well aid mobility for their users and be good for the environment, they may be leading to the 'privatisation' of public transport – especially if carried to their logical conclusion with the possible advent of driverless cars.
Of course, many city authorities are regulating dockless bikes and scooters (including dockless e-bikes) so its to be hoped this becomes a widespread pattern and more cities can benefit from well-run dockless schemes that bring benefits to all the cities' residents.
More questions are posed and more concerns voiced in this Economist article. It details the rise of dockless e-scooters and most notably California's Bird Rides, a very recent startup now valued at around $US 2 billion. With transport giants like Uber now clearly having dockless e-transport in their sights, what mode of 'e-transport share' will win? Will cities ban such modes as unregulated (as San Francisco did with the Bird, before introducing a pilot scheme) and perhaps most contentious of all, who will control the mass of data generated by these schemes?
News from Paris suggests that when city authorities do try and introduce their own e-bike share system they may not be as successful as many of the dockless systems have been in the e-transport sphere. This piece from French public radio shows the disaster that has befallen the Paris city authorities in choosing what appears to be the wrong choice of new contractor to roll out bike share and e-bike share. All e-bikes have been pulled from service amid difficulties of hooking the new docking stations up to the mains electrical supply and the roll out of regular bikes is also way behind target. With Autolib e-car share to disappear because of longstanding losses it seems new e-transport opportunities may open up for private firms in Paris. CNN Tech reports that Lime has plans for 'thousands' of e-scooters in Paris for example.
New eBikes & eBike Systems
HNF-NICOLAI XF2 Trail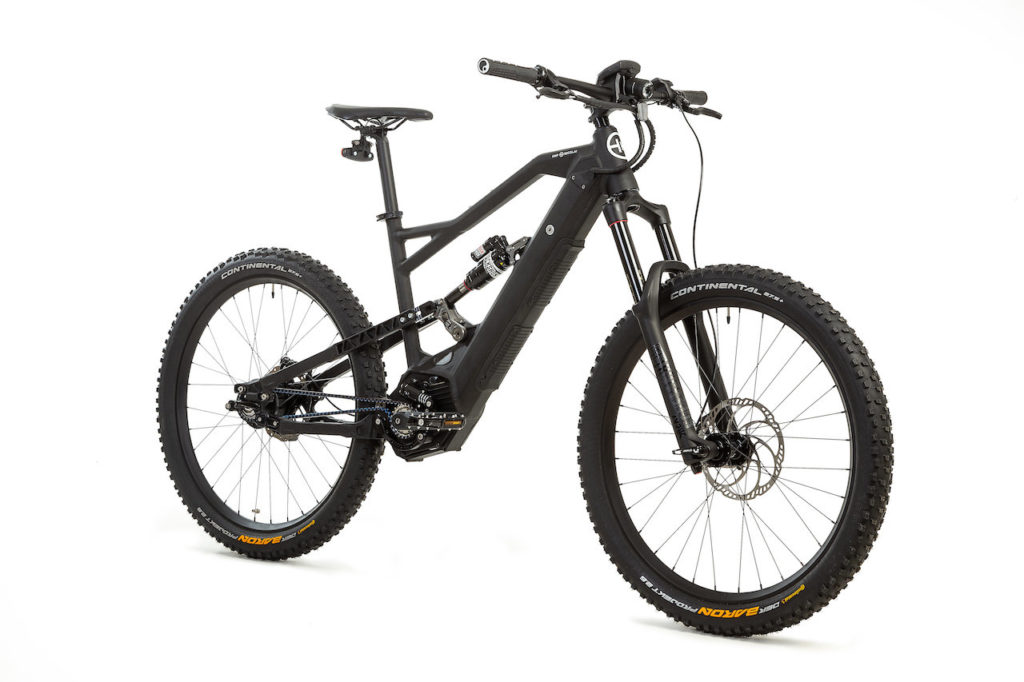 HNF-NICOLAI is rolling out a new high tech eMTB with some very interesting features. First of all it offers a substantial full suspension design of 170mm (6.7″) of travel on the front and 160mm (6.3″) of rear travel.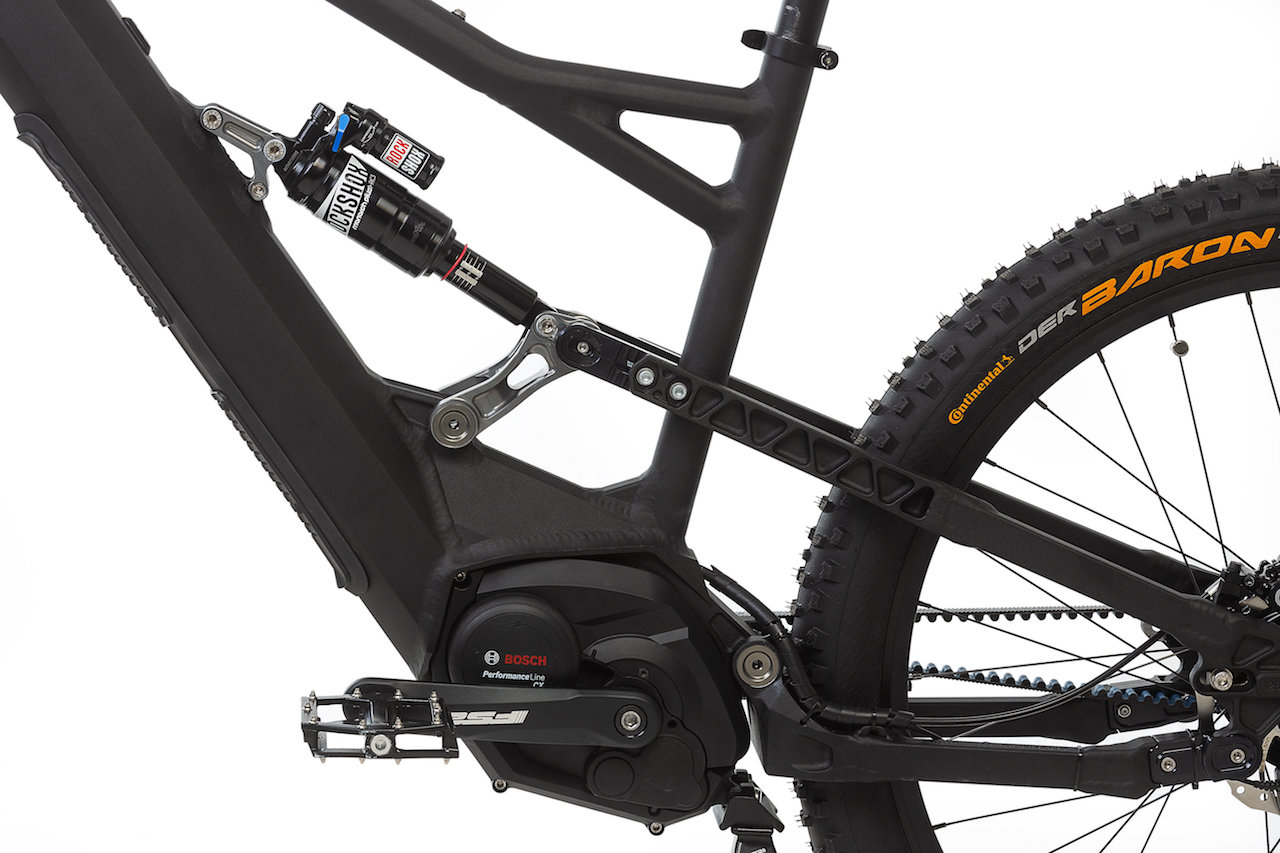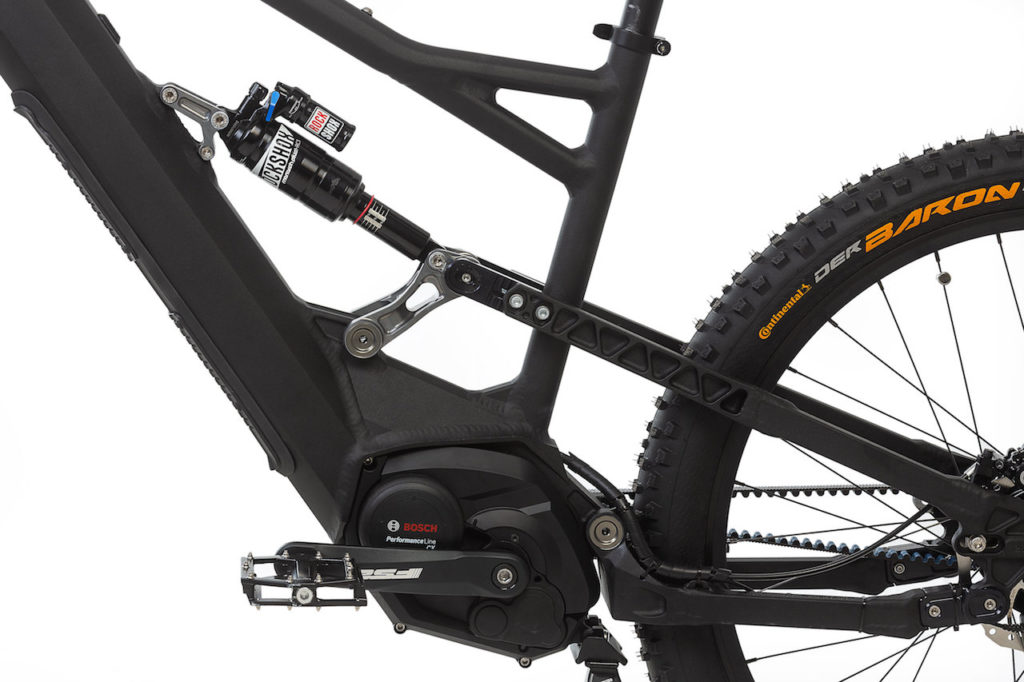 The 7000 aluminum frame is 100% hand built at NICOLAI in Germany. It features the Bosch Performance CX motor and PowerTube 500 battery integrated downtube battery.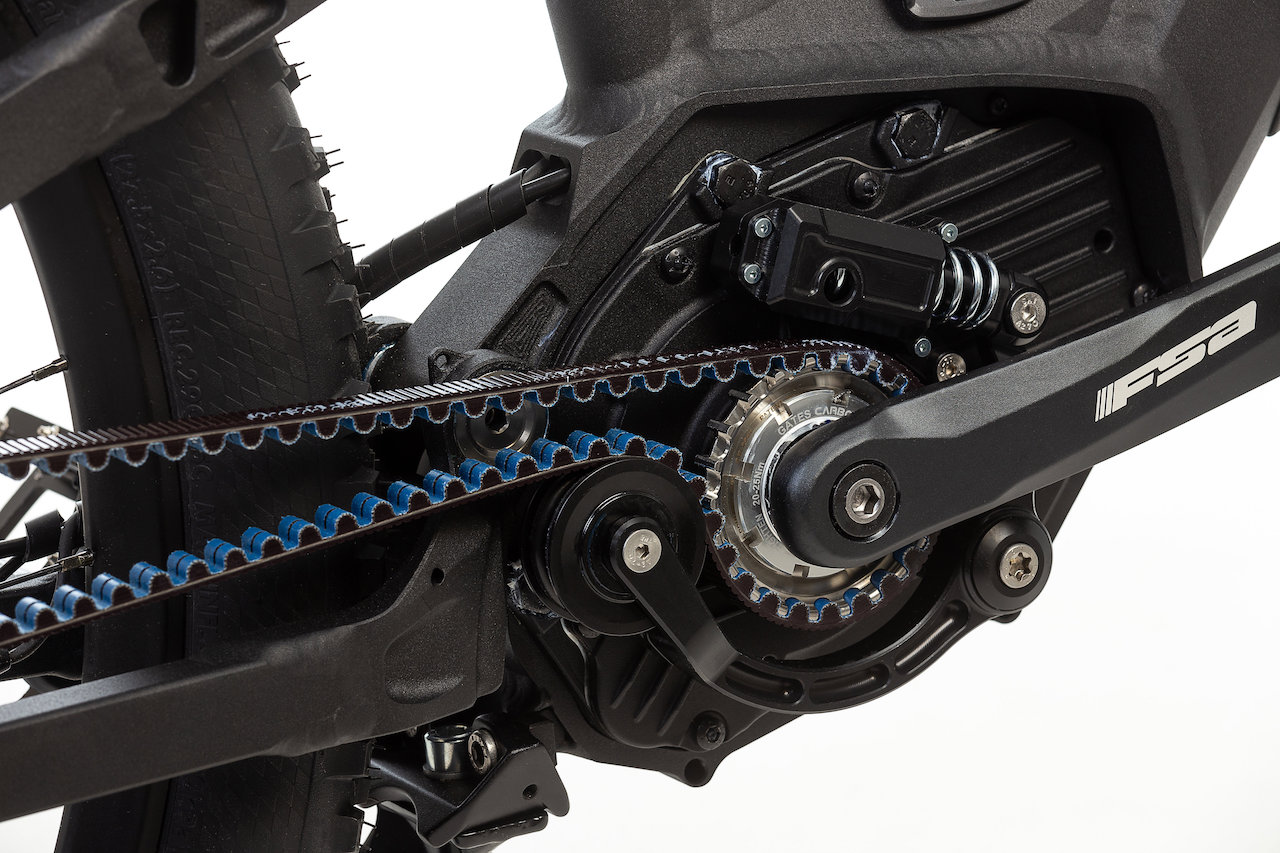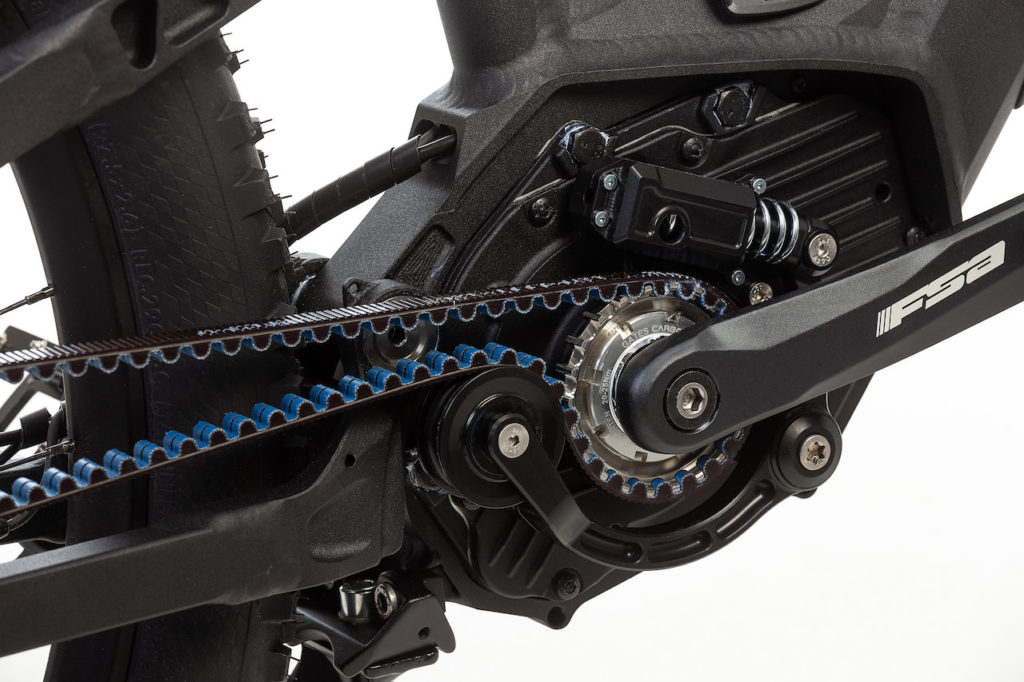 A Gates Carbon Belt Drive is used to transfer the power back to…..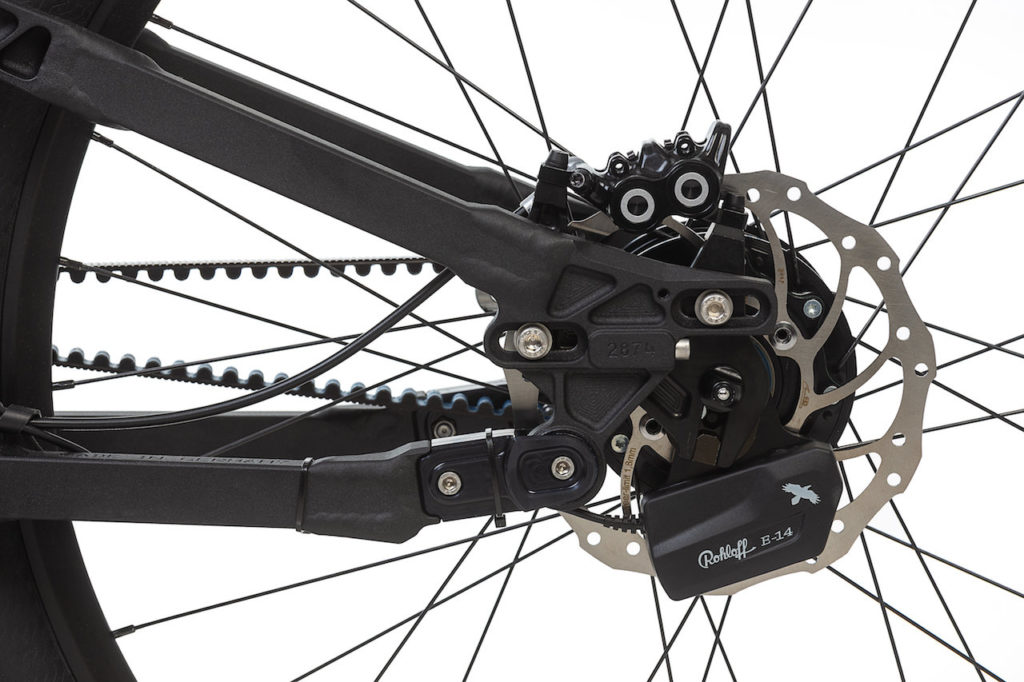 The Rohloff 14 speed internally geared rear hub that features electronic shifting.
From HNF NICOLAI "Thanks to the drive-neutral Anti-Squat design of the chassis and a specially developed spring-supported belt tensioner, the XF2 TRAIL allows the combination of long travel with virtually maintenance-free transmission and belt technology even in roughest terrain."
The XF2 Trail is now available for 8.495€.
Second Tern GSD Compact Utility Model
Tern has just announced the launch of a second GSD model equipped with the most sought-after features.
The GSD is a 'compact utility e-bike' that can tackle everyday tasks such as child transport and shopping but can also be used for commercial purposes such as delivery or rental.
Upgraded features on the Tern GSD S00 include:
– Bosch Performance Line CX mid-drive for more torque and a more powerful walk assistance
– The option of Bosch's dual-battery technology so riders can choose either a standard 500 Wh or an upgraded 1000 Wh configuration. Every GSD comes with dual-battery wiring, so it can be upgraded to 1000 Wh at any time by adding a battery.
– Enviolo N380x hub (formerly Nuvinci) is an infinitely variable transmission with a gear range of 380%
– Abus Wheel Lock. A heavy-duty Abus chain can be added for additional security.
The standard one-battery configuration of the GSD S00 will retail for $4995 and will be available in stores in Q1 2019.
Juiced Scrambler for $999
https://youtu.be/aCoP_oU5PEo
The new Juiced Bikes Scrambler will launch on IndieGoGo on July 10 for $999. That is more than $700 off the retail price!
AM1 Lightweight E-bike Surges to Success on Kickstarter
It has a claimed weight of 13.5kg (30lbs) and has raised over ten times it's original Kickstarter project of £25,000.
The AM1 e-bike is a single speed city bike with a step-thru option and more powerful motor variants. It has a claimed battery range of 20 miles, though we couldn't see the battery capacity mentioned anywhere.
Prices start at £499 / $665 with global shipping from late 2018 / early 2019.
The designers intriguingly also use single person 'Chariot' 'stress testers' to make sure the bikes were up to real word conditions:
South Korea Telecom Firm Launches Connected E-bike
Leading South Korean telecoms company KT has released the "AIR i", a theft-proof e-bike according to the Korea Herald.
If an AIR i gets stolen, its owner can render it useless by remotely shutting down the bike's electric motor and track it down through a real-time search service.
Through the remote control system built by KT and Recon, Air i owners will be able to prevent the loss of their bicycles and also stop them from being resold illegally by temporarily halting the motors of stolen bicycles.
Claimed weight for the Air i is 15-kg, it folds and it is built on behalf of KT by Recon Hi Tech.
Recon Hi-Tech plans to build up its Internet of Things and big data capabilities, to boost the smart mobility market, said its CEO Kim Jin and clearly sees the Air i as one way of doing that.
Comp Drive Mid Motor from Czech Republic
This Bike Europe article details an interesting sounding mid-motor which will be on display at Eurobike. The Comp Drive makes great claims for its ability to sync with gear shifting and comes in two models with stated weights of 3.8kg and a very impressive sounding 2.6kg.
New Accessories
ABUS Bordo Alarm6000A

We missed the launch ABUS's first alarmed lock earlier in the year so here are details.
It's a folding lock featuring 5mm wide steel bars and a 100 decibel alarm that goes off if tampered with.
It needs a CR2 size battery but that should last at least 12 months according to ABUS and you get an audible warning when the battery is low.
It ignores movement in transport, detects short accidental type movements and gives only a short beep whereas more serious tampering will activate the alarm.
Get Inspired
Lennard Zinn is a life long cyclist and author who writes for the competitive cycling magazine, Velonews. Mr. Zinn developed a heart arrhythmia five years ago and he has to keep his heart rate in check to enjoy riding. He wrote an article about how riding eBikes has been a life changing experience for him by enabling him to keep riding with friends while keeping his heart rate lower. It is a good read.
Scotland By Train and Bike
Cycling Industry News reports reports that 'A dedicated coach is to be added to trains operated by ScotRail on certain routes just for the accommodation of bicycles. Believed to be the first of their kind in the UK, the carriages will cater for the quickly growing Scottish Cycle tourism business and operate on lines between Fort William and Mallaig, as well as Oban and Glasgow.' It's assumed that e-bikes will be allowed on!
Bosch Goes on the Road With its Smart Living Demo
Bosch's UK nationwide 'Smart Living Tour' will allow the public to try out Bosch-powered e-bikes at major shows throughout the summer. The full schedule can be found here.
E-bike Law
Three Class E-bike Law for Connecticut
Cycle industry publication BRAIN reports that it looks like the state of Connecticut will be the tenth US state to pass a 'model' three bike law, though it may be that all three classes of e-bike will be required to wear helmets.
E-bike Biz
KTM Builds New Austrian Factory on the Back of E-bikes Popularity
Bike Europe reports that Austrian bike manufacturer KTM is investing 10 million euros in an all new production facility at its headquarters in Mattighofen meaning that from mid-July it will have a new 5,000 square metres.
My Week on E-bikes
This week I've been doing a shake down test of the T2 trailer – extremely useful off-road behind the Riese and Muller Delite Mountain Rohloff.
More on my forthcoming e-bike camping trip to follow soon…
Stay tuned for more e-bike news and reviews and keep on riding.
-Richard
P.S. Don't forget to join the Electric Bike Report community for updates from the electric bike world, plus ebike riding and maintenance tips!
SaveSave
SaveSave
SaveSave
SaveSave
SaveSave
SaveSave
SaveSave
SaveSave
SaveSave
SaveSave
SaveSave
SaveSave
SaveSave
Reader Interactions