eBike News: New World Record, Hydrogen Bike Share, eCargo Deliveries, High Torque Mid Drive, & More! [VIDEOS]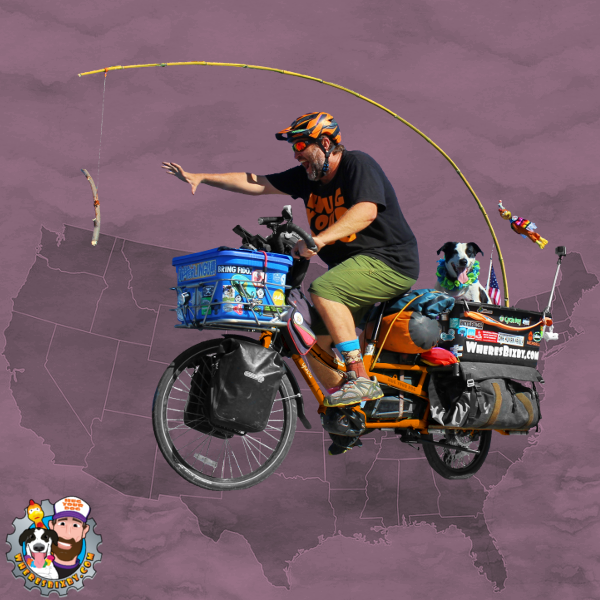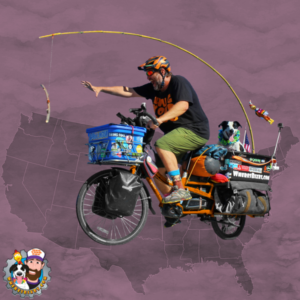 In this week's eBike news roundup:
25,000 Mile eBike World Record
Food Delivery Gets eCargo Boost in Scotland
Hydrogen Powered eBikes in the US
High Torque TQ "Pin Drive" Mid-Drive
15 Examples of How Bike & Ped Schemes Don't Cause Congestion
Danish and UK eBike Sharing
And Much More!
Get Inspired
New eBike World Record Ride at 25,000+ Miles
Bixby and her human (Mike Minnick) have just finished their world record breaking eBike ride around the US with over 25,000 miles clocked on their Yuba Spicy Curry electric cargo bike! Check out the story below:
Mike has been tracking their ride in order to submit this record to Guinness World Records.
And from the sounds of it they are not done with the adventure, maybe some international travel is next?!
You can follow them at WheresBixby.com and all of their social media channels listed on their site.
Here is a video interview with Mike and Bixby at the beginning of the world record trip.
eBike More, Drive Less
VBikes is a non-profit organization in Vermont that helps people find the right bike so they can ride more and drive less. They promote electric bikes as a way for people to use an eBike for everyday short trips.
They also have loan programs set up with a local credit union. Here is more on the story.
Food Deliveries by E-bike
Scottish grocers Mitchells of Inverurie have recently started home food delivery by e-cargo bike reports The Press and Journal. EBR has reported on other local food businesses following this path and Mitchells are doing so with the help of a Nestrans Sustainable Travel Grant Scheme.
The scheme supports active and 'greener' travel initiatives and organisations can apply for a grant of between £500 and £10,000 towards sustainable travel projects.
Mitchells say they have realised the practical, fitness, economic and environmental benefits.
Police to Use eBikes During Bridge Closure
In Glenwood Springs Colorado a bridge closure will disrupt a lot of traffic flow and the local police department will be relying more on their fleet of eBikes to get around during the closure. Here is more on the story.
New E-bikes
Hydrogen Powered E-bikes Looking to the US
Pragma are a French-based company that have designed a hydrogen-powered fuel cell pedelec, the αlpha, and they are now looking to expand into the US.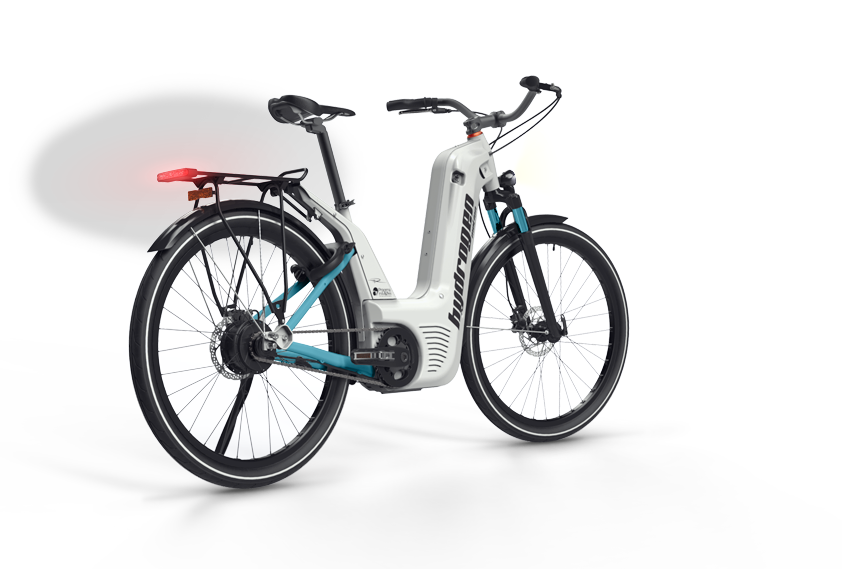 Allyson Vought, Pragma CEO has been in touch to say "We are looking to build, with qualified partners, a Hydrogen based e-bike system nation wide. Where there is bike share there can be ALPHA share. Whether via the current docking system modality, or the now expanding dockless on-demand systems that are cropping up, our ALPHA can very well be the car-killer that congested cities are looking for."
Vought adds "We've been successfully beta testing our systems in Europe for the past several years and have enjoyed great successes. We've partnerships with energy suppliers that offer water to gas conversion units or the less technical H2 gas canisters that can readily populate City infrastructures in convenient locations."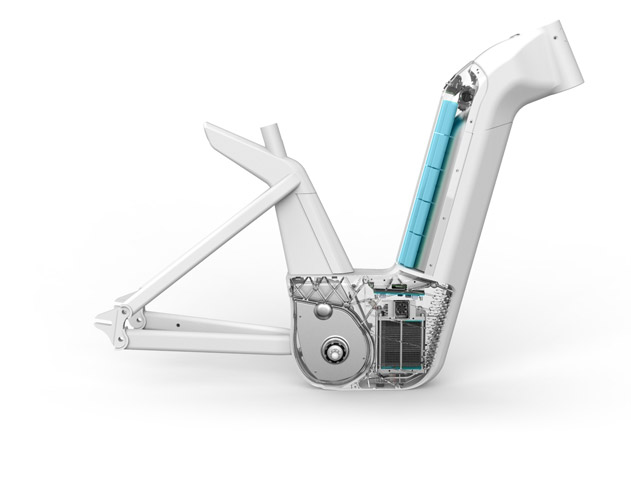 Pragma stress what they see as the real upsides to the technology; hydrogen is readily available as water and hydrogen powered e-bikes can keep using power without any drop in voltage or power to the last amp of power (unlike lithium batteries). However producing and storing the hydrogen (usually under great pressure so enough power density is available) is the Achilles heel of the technology, hence the need for a readily available supply network.
Premium TQ Motor Gets Redesign
TQ are a German firm manufacturing a unique 'pin-drive' mid motor that they claim gives huge performance increases over traditional gearing methods.
TQ's Kevin Fencil has been in touch with EBR to tell us about the new version of their pin drive motor, the TQ HPR 120S.
"Though we're not one of the bigger players on the market, our motor has been making some headlines lately. One reason is that it offers 120 Nm of torque, which is unmatched. We also rely on our experience in the robotics industry to ensure intuitive, smooth handling in all performance modes.
We recently had 12 factory bikes made, which we took with us to the Riva Bike Festival and the E-bike Days in Munich."
TQ motors have some motors that been tuned for assisted speeds of up to 75kmh (so called r-pedelecs or race pedelecs) but these are obviously only for use on private land or at specially sanctioned events.
They can also be used as regular 25kmh pedelecs or 45kmh speed pedelecs. TQ say to look out for forthcoming announcements on partnering with new e-bike manufacturers in addition to current German brand M1.
Infrastructure
Furthering Less Congestion by Creating Opportunities For More Walking and Cycling or "FLOW" is a project that aims to put walking and cycling on an equal footing with motorised modes. FLOW has just come up with 15 quick facts to show that bike and pedestrian friendly measures in cities don't cause motor traffic congestion if done correctly, they reduce it.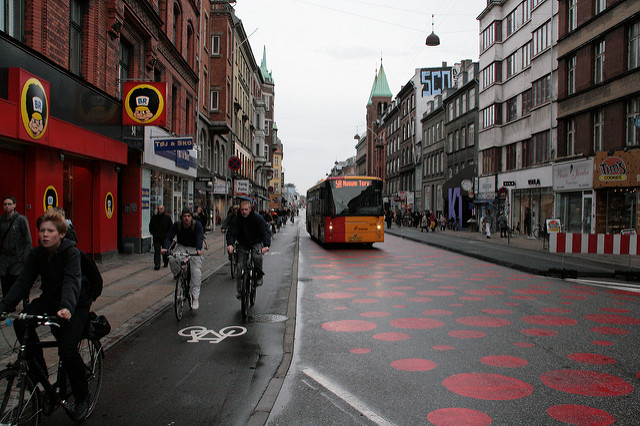 With some anti-cycle lane feeling coming out of major cities like New York and London, where some have claimed more bike lanes means more motor congestion, this document is a great antidote to such knee-jerk reactions. To take just one of the many impressive examples:
"In 2006 the city of Copenhagen transformed congested Nørrebrogade street: bicycle and pedestrian paths were widened, dedicated lanes for buses were installed and speed limits were lowered from 50 km/h to 40 km/h. Car traffic decreased by 45% in the neighbourhood, the travel time for buses fell by 10%, noise levels dropped by 50%, and the number of cyclists increased by 10%. The number of traffic accidents fell by 45% within 33 months."
E-Bike Share
Danish E-bike share Picks Up
EBR has previously reported on the problems of e-bike share (mainly maintenance and expense) for example with Madrid's attempt to launch and promote e-bike sharing.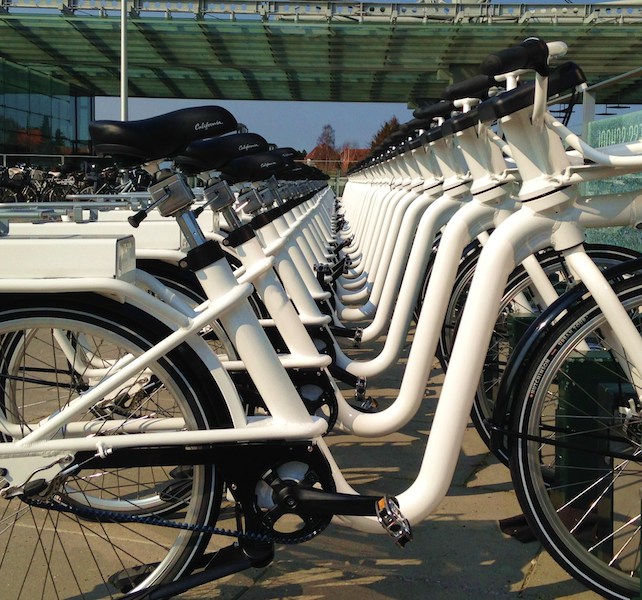 IEEE Spectrum now brings us better news; whilst Copenhagen's e-bike share system had been struggling to get off the ground the last couple of years, it has now shown a healthy boost in numbers.
Usage grew from just 169,000 rides in 2015 to 933,000 last year and the program, called Bycyklen, is on track for similar usage this year.
Plea to Expand Exeter Scheme
On a similar theme this report shows that whilst e-bike hire has been popular in the UK city of Exeter there are demands to expand the number of docking stations from the current five but cost appears to be a crunch point here too:
"More than £120,000 of public money has been spent on the scheme, averaging out at over £4,000 per bike. Co-bikes – which is a co-op social enterprise – says it plans to roll out more terminals at St David's railway station and the university's St Luke's campus but will only then look to areas such as Pinhoe, Alphington, St Thomas and Heavitree if more funding is secured" says the article.
Car Park Giant gets into E-bike rental
Bike Europe reports that European car park business Q-Park, in conjunction with E-bike to go, offers electric bikes that are easy to rent by using the smartphone in a pilot scheme in the Dutch cities of Amsterdam and the Hague, with an eye to rolling it out across the whole of the Netherlands.
Stay tuned for more e-bike news & reviews and thanks for reading!
-Richard
P.S. Don't forget to join the Electric Bike Report community for updates from the electric bike world, plus ebike riding and maintenance tips.
Reader Interactions