eBike News: New Shimano System, Yamaha, Orbea, Logo, World Record, Bike Tunnel, & More! [VIDEOS]
In this week's eBike news:
San Francisco eBike & eScooter Shares Restricted
eBike Share in Presidio National Park
Shimano's New Lighter Mid Motor
New eBikes from Yamaha, Oyama, Orbea, & Logo
New 12 Hour eBike World Record
Fully Charged Video of Latest eBikes
Gecko's New Faster Puncture Proof Tyres
Possible new Mega Cycle Tunnel for Northern UK
And Much More!
Headline News
San Francisco Grants Permits to Only 2 Companies
Internet of Business reports: San Francisco has issued one-year electric scooter and bike permits to just two on-demand providers, Skip and Scoot, and not granted them to 10 others, including popular brands such as Lyft, Spin, Lime, Ofo, and JUMP – the startup acquired by Uber earlier this year.
The decision followed a temporary ban on electric bike hire services in May, after Bird, Lime, and Spin began operating in San Francisco without permission – and this clearly did not go down too well at City Hall.
The permits allow just 625 scooters into the city for each company in the first six months, with the potential to increase to 2,500 in the second half of the trial programme – at the city's discretion. However, up to five companies may be allowed to operate in San Francisco over the next two years, depending on the success of the initial scheme.
Those share providers left out of the licence process where publicly critical of the decision and it seems the jury is still out on whether US cities will let large scale e-transport sharing systems onto their streets after their initial unregulated success. This all comes in the wake of Uber's similarly public recent proclamations about the importance of e-bike and e-scooter share to their business in the future.
A more generous pilot scheme will soon be operation in Santa Monica which has awarded JUMP, Lime, Lyft, and Bird permits to operate electric scooters and bikes in the city as part of its own 16-month pilot programme starting 17 September.
eBike Share in Presidio National Park
A small scale success was scored by Jump however, when San Francisco's Presidio announced it will become the first national park west of the Mississippi to offer dockless e-bikes; Jump now has an agreement with the Presidio Trust to station 50 of its bright-red bikes in the 1,491-acre park. The bikes will be allowed on its 25 miles of bike lane but not on its dirt trails.
New E-bikes and E-bike Systems
Shimano Launches new Lightweight Mid-motor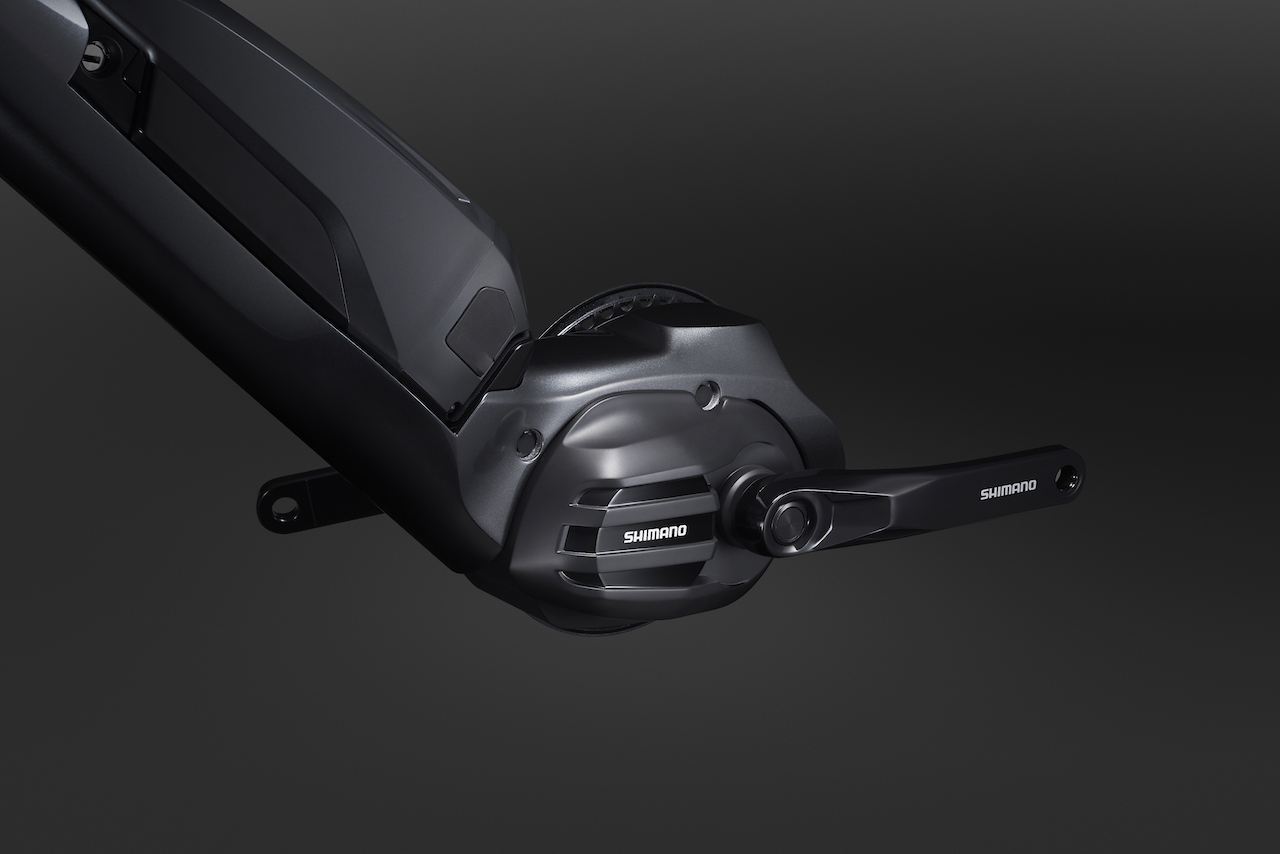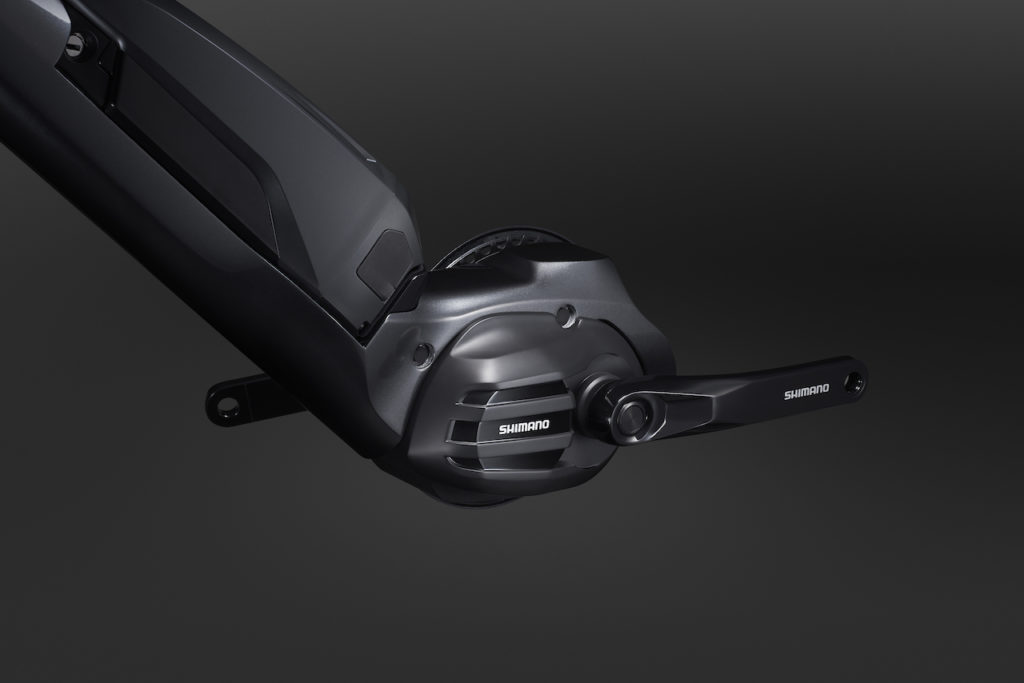 Shimano has just launched it's lightest & "most cost-efficient" system yet, the E5000 City/Comfort series designed for navigating towns and cities. This brings to four its number of mid-drives available, adding to the existing range of its two e-MTB groupsets (the E8000 and E7000 series) and its City/Trekking e-bike groupset (the E6100 series).
Shimano's press release makes it clear that in designing the E5000 it has prioritised efficiency and light weight over brute force:
"The new E5000 drive unit (DU-E5000) isn't designed to give the rapid acceleration and off-road handling of the e-MTB series, instead it's designed for elementary-level e-bikes. With its light weight comfort components and power assistance it's designed to give riders a helping hand in the city on journeys that often see riders weighed down with baggage…"
The E5000 has figures of 40Nm of torque which is relatively moderate compared to lower performance motors but has a claimed weight of only 2.5kg – some 380g less than other Shimano Steps mid-drives.
It can be used with either a rear derailleur or Shimano Nexus internal hub gear options. It also claims to be very quiet and features three power levels. The E5000 is compatible with either mechanical shifting or Shimano's Di2 electronic shifting technology.
Battery options include 418Wh or 504Wh rack type, down tube or internal batteries. Brake options include disc brakes, roller brakes, coaster brakes or v-brakes.
Information from the drive unit, such as speed or remaining battery is displayed either on a standard Shimano display unit (eg SC-E7000 or SC-E6100), 3rd party cycling computers or a smart phone in conjunction with the new EW-EN100 junction box and a new E-tube Ride phone app which can display riding information.
Shimano suggest that riders wanting the simplest most theft-deterring setup use the EW-EN100 junction, removing the high-value computer and support switch.
E5000 components will be available on the market from late-November 2018 onwards.
The New Orbea Keram
Orbea has launched three new lines of Keram e-bikes featuring Bosch motors and 400Wh or 500Wh 'semi' frame-integrated batteries. Strikingly all the new Orbea models use a similar frame.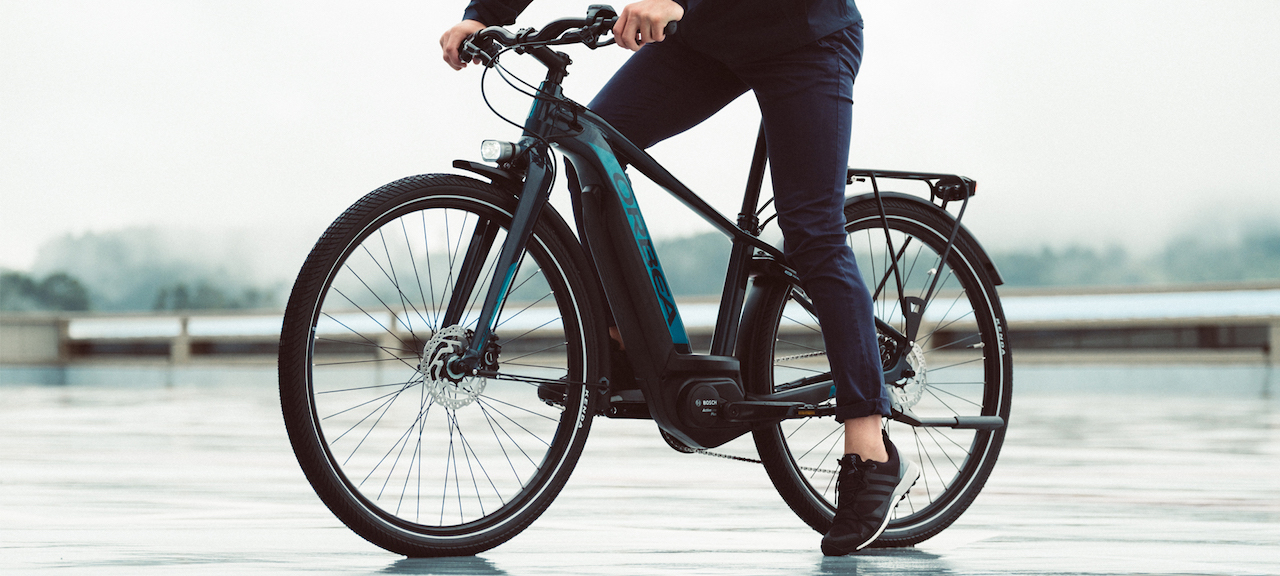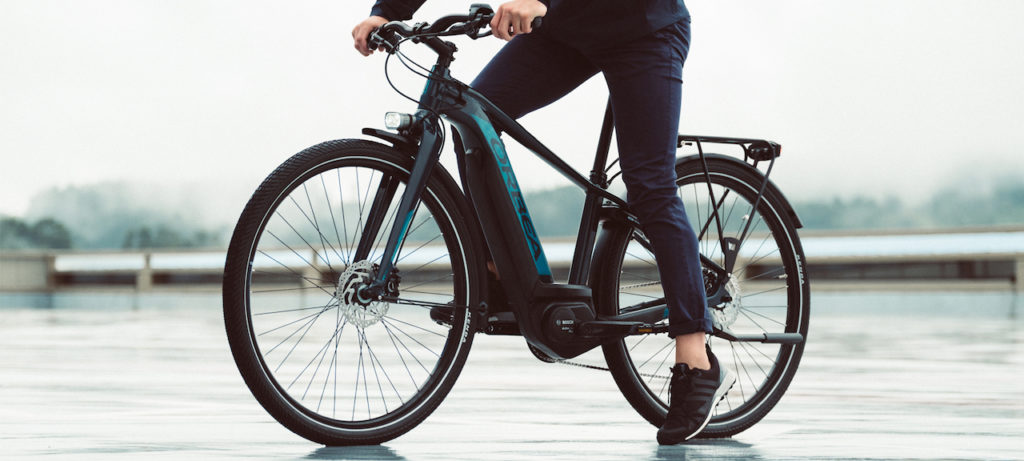 The Asphalt range is clearly named as being for road riders…..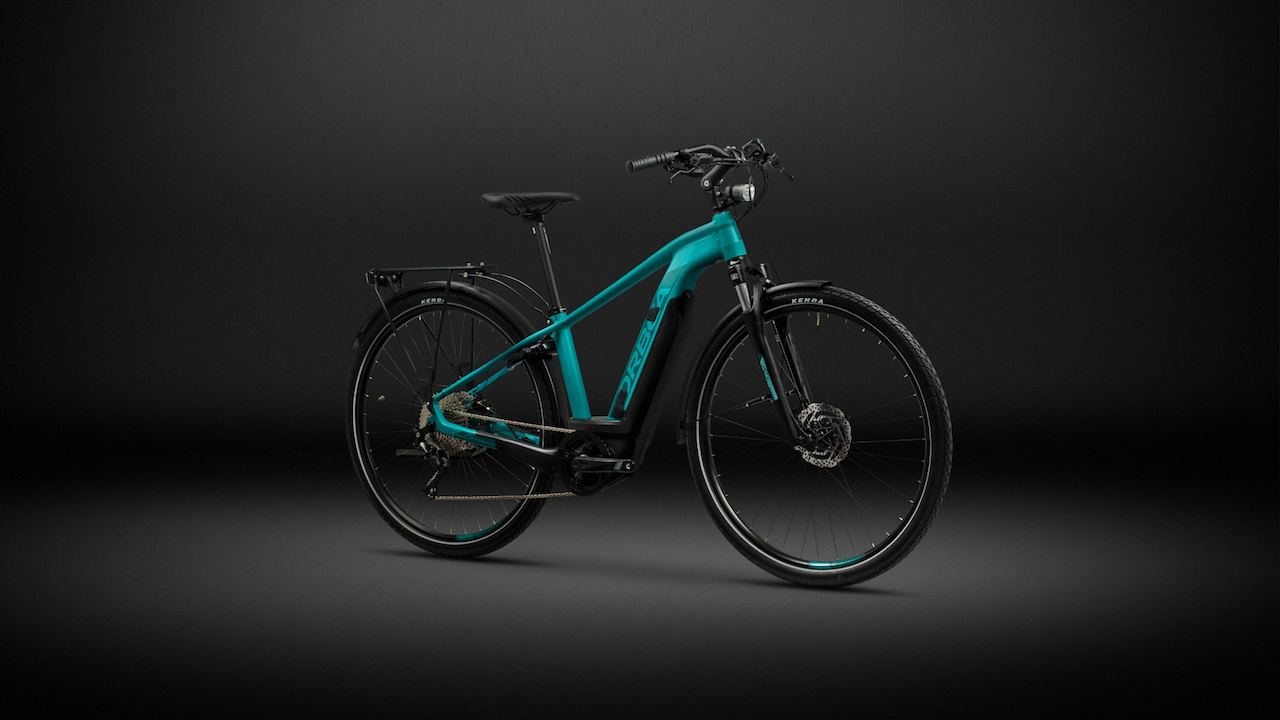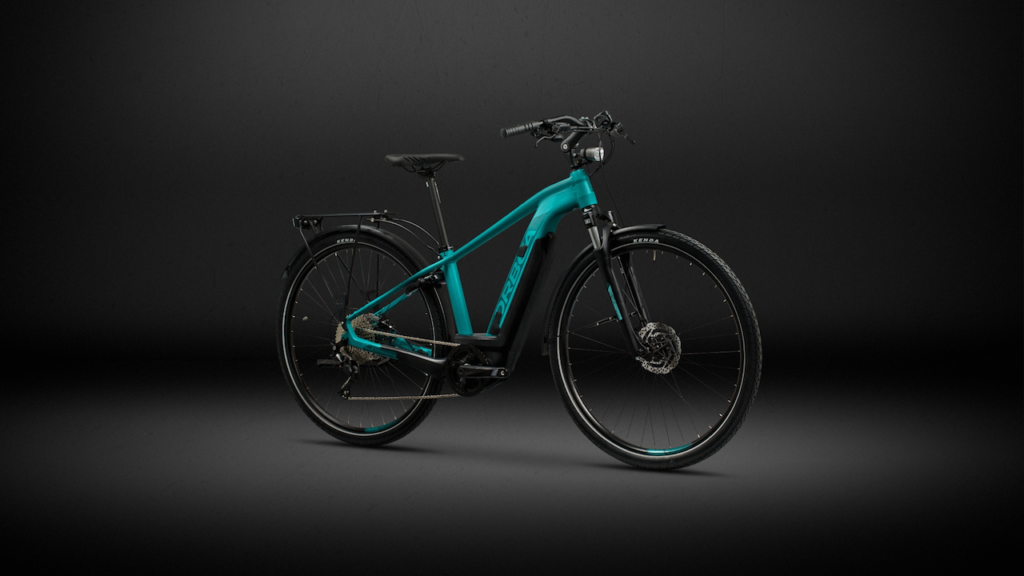 The Comfort for city riders and …..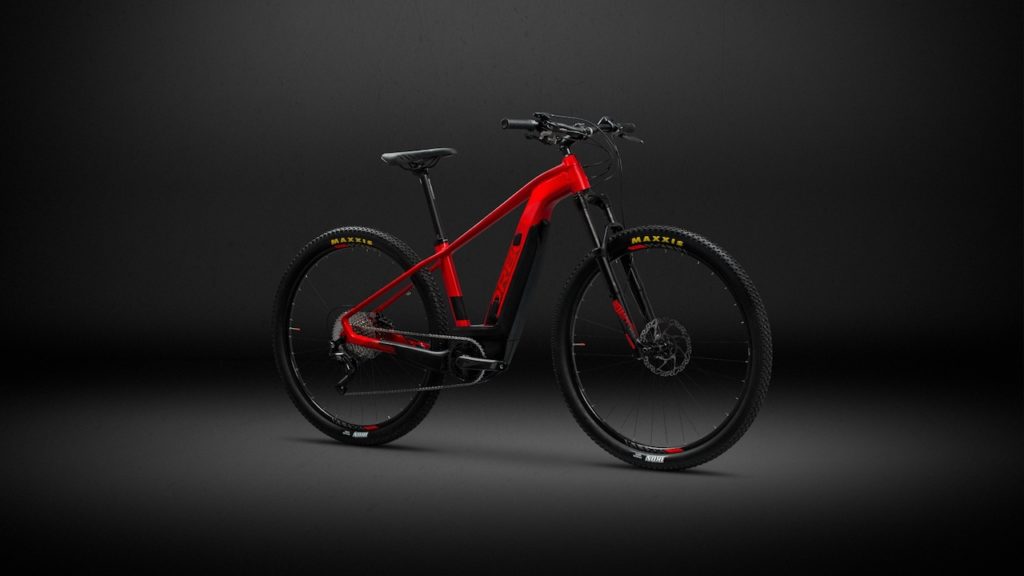 There is also the MTB range.
UK prices will start at £2069.
New Sporty Lightweight Logo E-bikes
Dutch-based Logo recently launched details of two e-bikes that they say are due to come to market soon, the FS10 and the XD02.
They have claimed weights of 17.5kg and 16.5kg respectively with the FS10 using the removable lightweight mid-drive from Fazua and the XD02 a rear hub motor from Ebikemotion.
Unusually the XD02 uses the Kappstein Doppio dual gear system housed in the bottom bracket.
They will retail at €4,999.00 (FS10) and €3,999.00 (XD02).
Oyama's New Bright
Oyama's new Bright 9 e-bike uses a 48V 500W geared rear hub motor from Mac Motor claiming an impressive 90Nm of torque and comes with a sizeable 643Wh battery with Samsung cells. It's also equipped with a TFT full color display and there is a bluetooth app will send diagnostic alerts, as well as provide real time GPS updates.
It looks like a powerful city cum leisure e-bike with its 700c rims fitted with Schwalbe Marathon 28×1.75, LED lights, rear rack and fenders. Claimed weight is 52lbs / 23.6kg with a retail of US$2,799. Oyama will be at Interbike – booth 3703 September 14-20 Reno, Tahoe.
Yamaha E-bikes Now In Store
Yamaha Motor Corp. USA's all-new e-bikes are now available at select U.S. bicycle retailers and specialty e-Bike shops across the country.
The all-new lineup includes the UrbanRush (MSRP $3,299), a drop-bar do everything road bike, the CrossConnect (MRSP $2,999), a completely accessorized commuter/utility bike, and the CrossCore (MSRP $2,399), a high style efficient fitness bike. Yamaha's performance hardtail e-mountain bike, the YDX-TORC (MSRP $3,499) is also now available.
Yamaha is developing an extensive network of bicycle dealers, with select retailers offering online orders and delivery, ensuring full dealer support across the nation.
All three road bikes are power-assisted by Yamaha's new PW Series SE motor with four levels of support, the highest providing 70Nm of max torque and cadence support up to 110 rpm, for assisted speeds up to 20 mph. The YDX-TORC boasts the award-winning Yamaha PW-X center drive motor system offering more power for more adventure and exploration on the trails, including a fifth power assist setting.
500 Wh batteries comes as standard and the motors utilise a triple sensor system (measuring pedal torque, bike speed and crank cadence) that has been optimized for Yamaha's U.S. e-bikes to provide a smooth, powerful ride.
Yamaha launched the world's first electrically power assisted bicycle in 1993 and has since produced more than 4 million drive units and sold more than 2 million Yamaha power assist bicycles.
You can find your nearest Yamaha dealer here.
Get Inspired
New 12 Hour eBike World Record Ride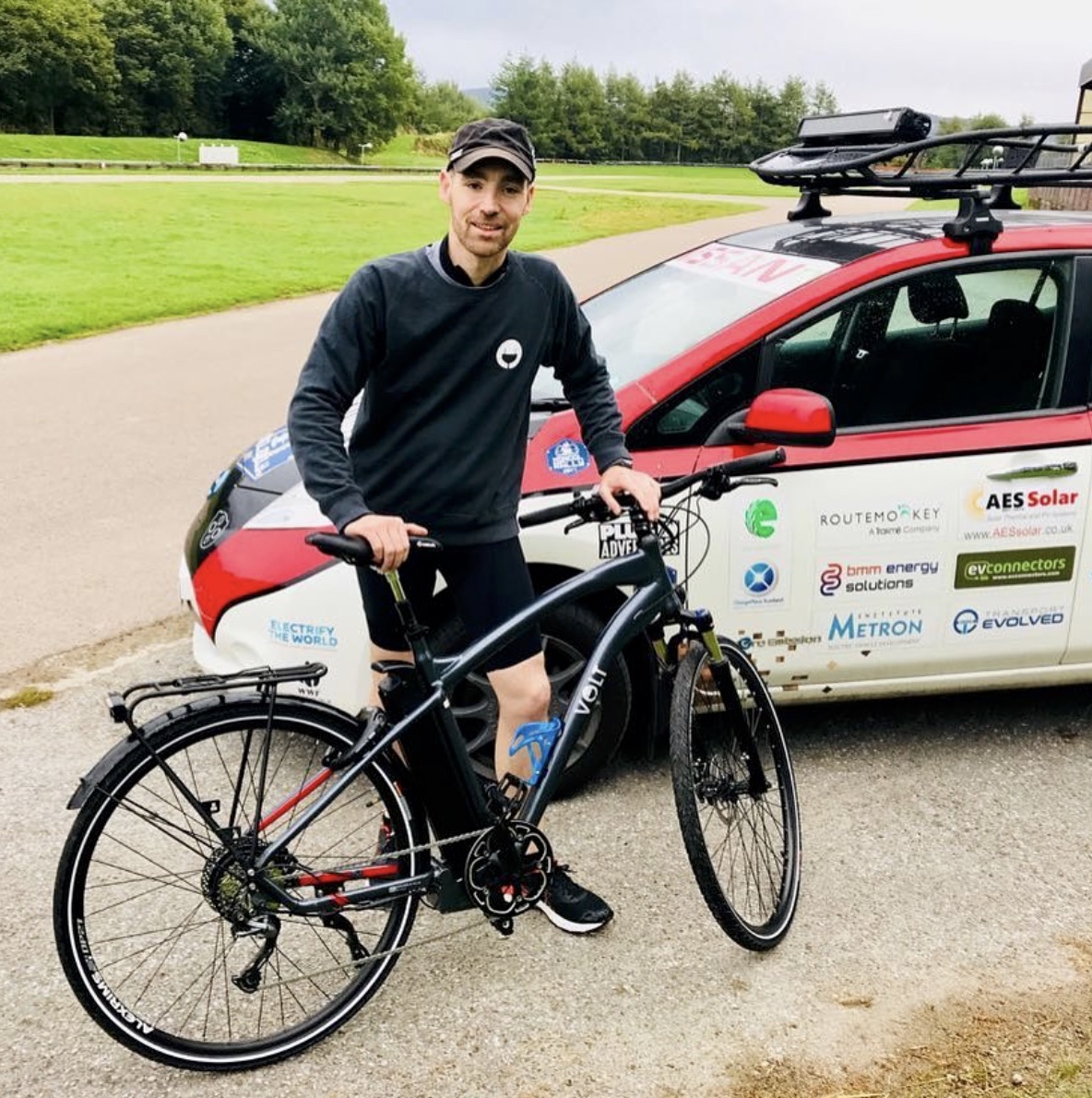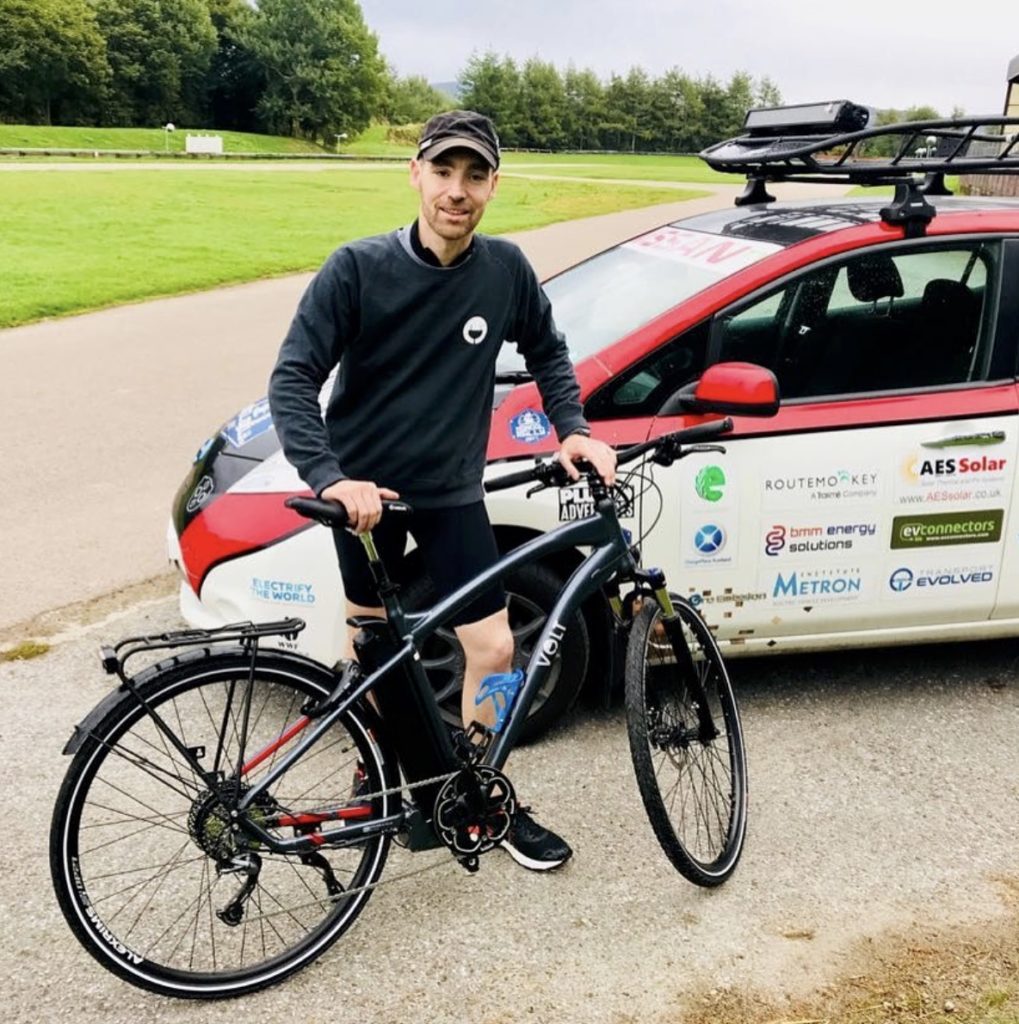 Chris Ramsey, an electric vehicle adventurer, has set a new 12 hour electric bike riding world record of 180.75 miles, which is nearly 70 miles than the previous record of 110.6 miles! This is all pending Guinness World Record approval.
Chris rode a VOLT eBike at the Grampian Transport Museum at Alford track, in Aberdeenshire Scotland, on August 26, 2018.
Chris promotes electric vehicles through his adventures that includes a 10,000 mile trek in his Nissan LEAF electric car in 2017 through Romania, Georgia, Azerbaijan, Kazakhstan and Russia.
From an article at Energy Saving Trust "Many people have a commute of around 10 miles a day, and generally drive alone – an ebike is a perfect substitute for a car. And it's not all about the environment, as Chris said: "There are health benefits too."
Fully Charged take a Look Around Fully Charged
In the past EBR have featured Fully Charged the energy efficiency blog, but here's a great video where the Fully Charged guys take a look around Fully Charged (no relation) e-bike shop in London, featuring some of the latest e-bikes including a superlight Deskinio model, the electric Brompton and an amazing Tern prototype, nice photography of London riding and much more!
Keep Cool on an E-bike – Here's the Very Scientific Proof
These Shimano sponsored test results show that all the scientific data shows that you can get around on an e-bike with no sweat (or you can choose to dial the power down and sweat away for a more extreme workout…).
Cycling Products & Accessories
Gecko to Launch Freer-rolling Evolution 3 Puncture Proof Tyre
Gecko produce cellular rubber tyres that are impossible to puncture and can be recycled into more tyres when worn out. They have been in touch about their new Evolution 3 line to say:
"Our new Evolution 3 Gecko tyres are now being road tested with excellent results. Rolling resistance is down significantly and test riders are saying it has taken airless tyres to a new level. They have a new, improved tread pattern and will be available in 700 x 40 and 26 x 1.75" sizes. We also have a new simple/quick installation method that just requires a rubber mallet and about a minute to fit."
We will have some on test shortly.
Infrastructure & eBike Share
England's Longest Bike Tunnel On the Cards?
This Guardian report has potentially exciting news for cyclists living or visiting Yorkshire with news of a possible record breaking cycle tunnel:
'A campaign has accelerated to turn a disused railway line in Yorkshire into England's longest cycle tunnel – instead of using £3m of public money to close it for ever. The 1.4 mile (2.3km) Queensbury line, which runs 377ft (115 metres) below a hill between Halifax and Keighley in West Yorkshire, was closed in 1956 as rail travel declined and private car ownership increased. The Department for Transport (DfT) wants to shut it permanently this year, filling in critical sections with concrete in a project campaigners say will cost about £3m – the same amount they claim it would cost to patch the tunnel and turn it into a cycle route.'
Here's a video with more detail thanks to the Queensbury Tunnel Society.
And here's another video showcasing the area's attractions and some the existing features the Great Northern Railway Trail which uses parts of the same former railway such as the spectacular Thornton and Hewenden viaducts.
Finally this video takes you on a virtual ride through a completed cycle tunnel.
If you want to put pressure on the UK minister responsible you can help by signing this petition.
Mobike Pulls out of Manchester
The BBC reports that Mobike are to pull out of bikeshare in the UK's Manchester, in part due to vandalism and theft problems.
Stay tuned for more e-bike news and reviews and keep on riding.
-Richard
P.S. Don't forget to join the Electric Bike Report community for updates from the electric bike world, plus ebike riding and maintenance tips!
Reader Interactions