eBike News: London, Paris, & New York Prepare, New Gazelle, Ride1UP, & Shimano Battery, Pro on eMTB & More! [VIDEOS]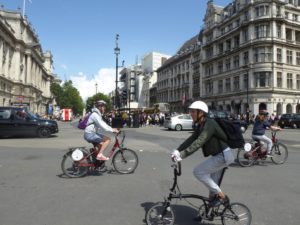 In this Week's eBike News:
More on Post Virus Cities and eBikes
New York, London & Paris Make Bike Friendly Plans
Will the Bike Boom Last?
New Gazelle, Ride1UP, Ribble
New High Capacity Shimano Battery
MTB Pro eMTB Video
Michael Keaton eBiking
Gibraltar Post Office Uses eCargo
Battery Update
And Much More!
Coronavirus Update
Cycle Renaissance as Cities Ease Virus Lockdown?
In this recent post EBR looked at the ways in which cities around the world, including New York, Milan, Paris and Bogota are hoping to avoid gridlock as lockdown eases by promoting bikes and e-bikes.
Now there is more detail.
In London, in an announcement made on May 6, Mayor Sadiq Khan said that to keep Londoners moving, road space would be taken from motorists to provide more social distance room for walking and cycling.
This Forbes article reports 'Landmark locations to be provided with "temporary bike routes and more space for walking," include Euston Road, which services Euston and Kings Cross rail stations. There are also plans to cone off Park Lane in a similar fashion.'
It adds 'The trial cycleways—some of which could become permanent, says the statement—are necessary to "accommodate a possible ten-fold increase in cycling," claims Khan.
Walking—already London's dominant mode of transport, although it doesn't get its fair share of the public highway—is expected to see a five-fold increase.
More detail on the wider scope of the schemes in this BikeBiz article.
There has also been a reported 22% increase in cycle journeys in Manchester, UK and £5 million is earmarked for new measures, as detailed in this CIN article.
The UK's Bicycle Association has urged the Government to act swiftly to create more 'pop up' cycle lanes.
It says if 'normal' car use levels were to be boosted by former public transport users avoiding buses, trains, tubes and trams, there would be massive gridlock.
It is also advocating a £250 purchase grant for e-bikes to help returning cyclists get around quickly and easily, tax breaks for other bike purchases and a repair grant (a similar scheme has been announced in France).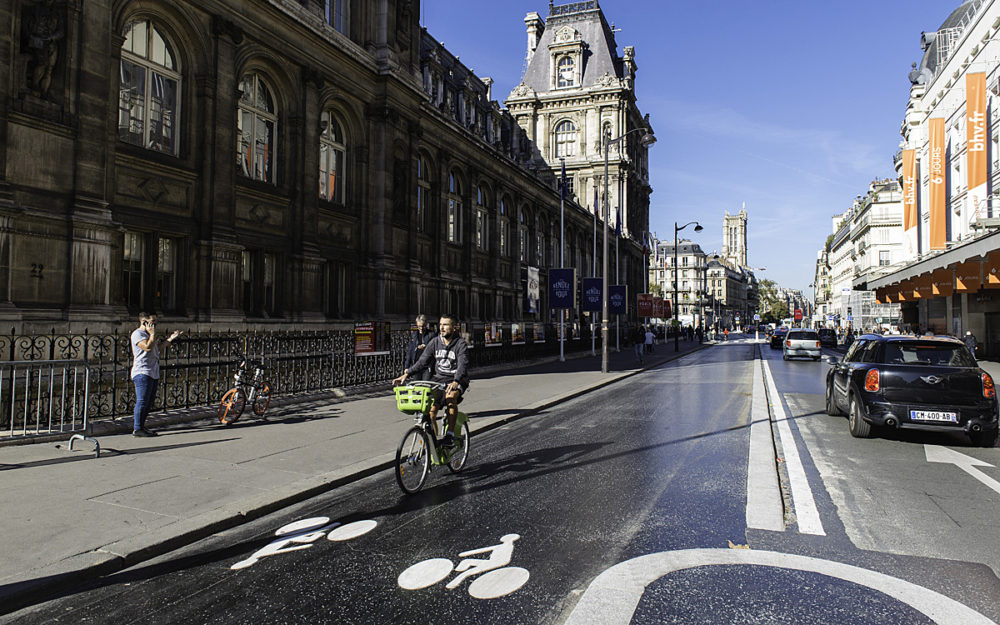 Paris has similar, perhaps even more ambitious post-virus plans, with Forbes again reporting that 'Paris is the latest global city to roll out emergency bike lanes for the use of key workers and others during the lockdown. 650 kilometers of cycleways—including a number of pop-up "corona cycleways"—will be readied for May 11 when lockdown is eased in France.'
In a bid to make the new lanes easily navigable to Metro (the Parisian underground railway) users, the cycle lanes will follow the routes of the Metro lines as closely as possible on the surface and in name.
The article also intriguingly reports that 'Existing RER Vélo cycleways include an "express" version on Rue de Rivoli, REVe, for use of e-bikes.'
This great video shows are things are and how they could be in a post virus New York future.
It featured in this Treehugger article which also makes the point about how e-bikes can help avoid problems should people avoid mass transit.
E-bike Sale Boom?
Whilst all is speculation at this stage, there are signs that as people emerge from confinement and begin to travel again, there will be much greater uptake of biking and e-biking.
This Bicycle Retailer and Industry News report details a boom in bike sales; ' While many shops are closed or operating at a greatly reduced level, it's not hard to find dealers across the country who are thriving. This week BRAIN talked to booming shops in New York and New Orleans, two of the current hot spots for COVID-19 hospitalizations and deaths. And we talked to thriving retailers in places where the virus situation is slightly less dire, like Dallas, Texas; Orlando, Florida; Boulder, Colorado; and Knoxville, Tennessee. In all places, the retailers told us a similar story: their customers are dusting off old bikes and buying new ones for family recreation, exercise, and occasionally, transportation.'
It is to be hoped that what might viewed as a temporary measure by those dusting off ancient bikes might turn into something more than the 'mini-boom' described by the BRAIN article.
Certainly there have been reports of the virus-fuelled surge in home deliveries giving rise to many more e-bike delivery services and EBR has already documented several examples.
Here is another one from Australia, where the Sydney Morning Herald reports 'Electric bike rental companies are struggling to keep up with demand as Sydneysiders turn to food delivery as a form of employment amid the COVID-19 pandemic.'
It appears it's not just those wanting to get to work or exercise who are renting e-bikes but those who are wanting to make a living.
For example, 'Ridwan Anan, 23, is studying IT, working at Coles, and has rented an e-bike from Bolt Bikes, which operates across Sydney and Melbourne, for $69 a week to make deliveries for Uber Eats. He said many international students who recently lost their jobs had been hiring the bikes.'
There have also been calls for the creation of an EU wide 5 billion Euro e-bike access fund so that e-bikes can be pat of a continent-wide recovery plan.
All these stories add up to giving the feeling that the city transport scene is at something of a crossroads; with widespread predictions and assumptions that there will be a sustained collapse in mass transit use after lockdown eases things could go in two directions – more use of private cars and gridlock or a huge surge in cycle use…
Rad Power Bikes Discount for Key Workers
Rad Power Bikes is offering US$200 discount on all e-bike purchases by medical personnel and first responders, teachers, students, and active/former members of the military as well.
You'll need to include a photo of your work or school ID when prompted here.
eCargo Bikes
Gibraltar Postal Service Trial
Euro Weekly News reports that the Gibraltar Post Office is holding a three month trial of two Riese & Müller eCargo bikes which have been made available by a local e-bike importer Ebike Gibraltar.
New eBikes & eBike Systems
New Gazelle Medeo T9
The new Gazelle Medeo T9 is a well equipped eCommuter priced at $2,499.
Features include an Aluminum frame, suspension fork, Bosch Active Line mid-drive system with 400Wh battery, Shimano Acera drivetrain, Shimano hydraulic brakes. Stated weight is 48 pounds.
There is the low step-thru frame as shown above with the rack battery and triangle frame with frame battery show below.
"Gazelle is all about quality, offering riders the best possible experience" said Ewoud van Leeuwen, General Manager of Gazelle North America.
"The Gazelle Medeo T9 resembles exactly what we have been doing for so long: a bike that is a true joy to ride, with premium parts and a uniquely-designed frame geometry built in our state-of-the-art factory in The Netherlands. Our team designs, builds, and markets our bikes with a passionate shared mission: get more people on bikes each and every day through outstanding designs and quality. This bike will definitely contribute to that goal."
More info on the Gazelle Medeo T9 here.
New Ride1UP 700 Series
The new Ride1UP 700 Series eBike features a low step-thru aluminum frame with speedy performance up to 28mph with pedal assist and up to 20mph with throttle.
Component highlights include a high capacity 48V 14ah integrated frame battery, 500 watt geared rear hub motor, Shimano Acera drivetrain, Shimano hydraulic disc brakes, Mozo suspension fork, Schwalbe tires, and a full accessory assortment.
The 700 Series is priced at $1,495 with free shipping. More info on the new 700 Series.
New Shimano 630Wh Battery
Shimano has just introduced three new e-bike batteries into its Steps electric assist line-up of systems including internal and external versions of a 630Wh capacity battery, its largest to date.
There is also a 504Wh in frame battery.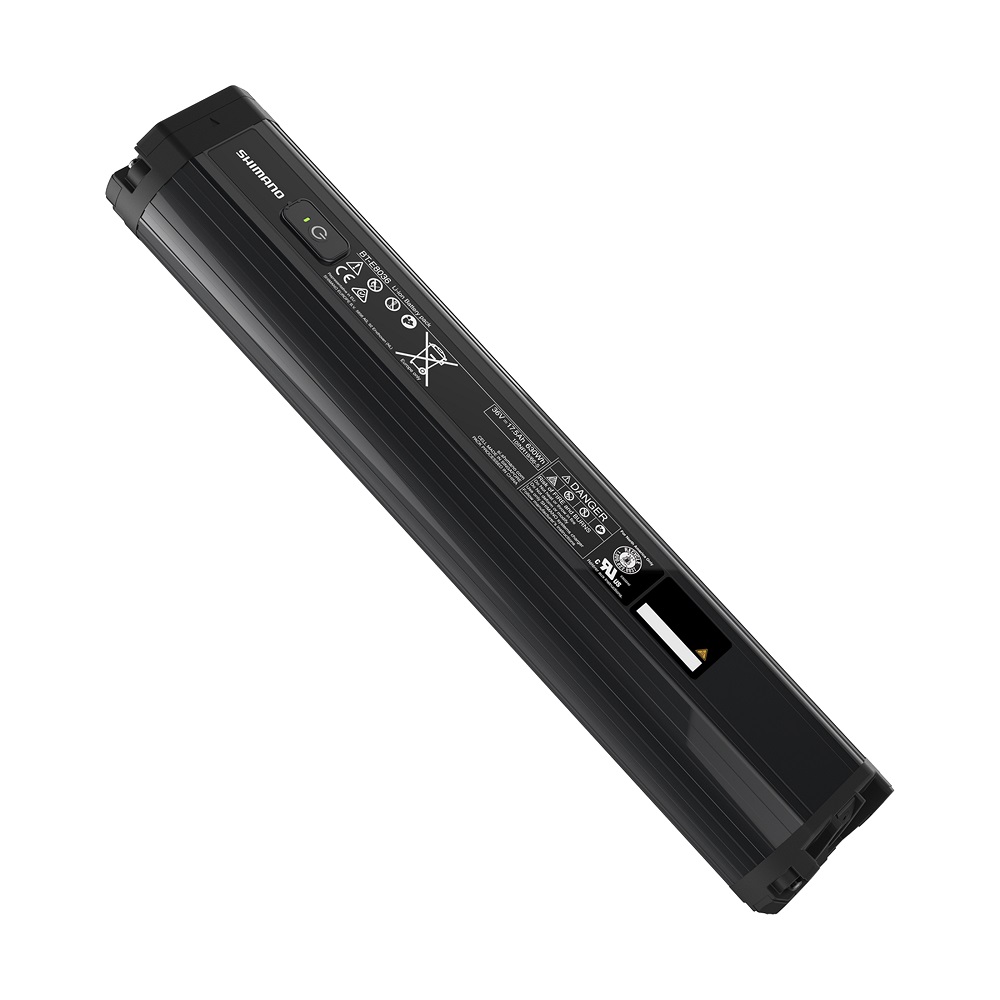 Shimano guarantees that even after 1,000 full charge cycles the new batteries will still hold 60% of their original capacity.
With these new additions customers now have the choice of 10 batteries with either rear carrier, external type or downtube-integrated positions and faster-charging 418Wh or 504Wh batteries or extended riding capacity 630Wh options.
There will be a new e-bike compatible 12-speed chainring compatible with 157mm O.L.D. hubs. The SM-CRE80-12-SB chainring comes in 34T or 36T options, both with DYNAMIC CHAIN ENGAGEMENT+ teeth to prevent the possibility of dropping a chain.
There will also be a new SC-E5000 unified cycle computer unit with integrated power level switches and additional buttons for connected lights and accessing display menus.
All the new products are slated for availability in summer 2020.
New Ribble Endurance SLe Color
Ribble announced the new Anthracite color for their lightweight (as low as 24.25 pounds) carbon fiber Endurance SLe road bike.
The SLe features the Mahle ebikemotion X35 250W system with Panasonic battery and 3 different component group options: Shimano Tiagra, 105, or Ultegra Di2.
Pricing of the Ribble Endurance SL e starts at $2,905.
Get Inspired
There is nothing like a bit of pro rider endorsement to boost eMTBs cred – and Rémy Métailler is a Cube Brand Ambassador and a pretty handy rider as shown in this video.
This isn't just another ride video though, as Rémy gives his opinion on riding an eMTB as compared to a non assist one.
Benefits include more stability, being able to ride over terrain a non-powered bike won't handle and taking tools with you for trail maintenance.
Batman Takes to eBiking
The UK's Daily Mail reports how Batman actor Michael Keaton took to his Trek e-bike for a spin around Pacific Palisades in LA.
Battery Watch
Graphene Tech and Chinese Battery Production Fall
Ebiketips details how graphene might hold the key to less toxic and more power dense e-bike batteries whilst they have also detailed how two major Chinese suppliers of battery technology are suffering a fall in capacity because of the disruption caused by the virus.
Stay tuned for more e-bike news and reviews and thanks for reading!
-Rich
P.S. Don't forget to join the Electric Bike Report community for updates from the electric bike world, plus ebike riding and maintenance tips!
Reader Interactions