eBike News: Kids' eBalance Bike, Superstrata Carbon Fiber, Tour de France eBikes and Lots More! [VIDEOS]
In this week's news:
UK 'Virus Defying' eBike Hire Scheme
Mondraker eBalance Bike for Kids
Superstrata eBike With One Piece Carbon Fiber Frame Crowdfunds
Sea Otter Show Goes Virtual
Tour de France Says Get on Your eBike to Explore Isère
eKickscooter Trials for UK's Tees Valley
eCargo Award
FUELL Diversifies With New eMotorbike
Europe Hits 3 Million eBike Sales in 2019
Coronavirus Update
UK eBike Leasing Scheme is 'Coronavirus Defying'
What is billed as a 'Coronavirus defying' e-bike leasing initiative for businesses throughout North East England and Northern Ireland has just been launched.
North East based Ride Electric says it is 'bringing a flexible, cost-effective long-term eBike leasing option to businesses throughout the North East, and will look to actively address the critical commuting issue the UK now faces.' High initial purchase price is often cited as a reason people don't commit to an e-bike purchase so it's hoped this will be an affordably welcome initiative.

Here's the detail from Ride Electric:
Customers rent a high quality urban/touring electric bikes equipped with rack, pannier bag, charger and spares kit. Handover training is provided to familiarise the rider with the eBike and care requirements. eBikes are eRideTrak  enabled, which 'enhances security by being able to identify location as well as providing usage status for personal and organisational metrics and summary reporting.' Theft insurance and maintenance service are included.
Prices depend on rental length:
6 months – £195/month
12 months – £167/month
18 months – £142/month
24 months – £121/month
Initial payment of two months rental paid in advance is needed, which includes a deposit which will be refunded at the end of the agreement.  Payment is preferred through Direct Debit mandate. The e-bike can be purchased for reduced cost at the end of term through finance and/or with a Cycle to Work voucher.
New eBikes & eBike Systems
Mondraker Launches New eBalance Bike for Kids
If you are unfamiliar with the concept of a balance bike it's aimed at very young riders just learning to ride. The idea is a bike with all the traditional bike elements except pedals and drive train. The child pushes the bike along with their feet and this way learns to balance and steer from the get go. The alternative of stabiliser wheels, whilst allowing a child to pedal straightaway, doesn't develop balance and steering and may hinder the speed with which they can take to two  wheels.
So, yes, you guessed it, there is now an electric assist version of the balance bike from Mondraker, the Grommy. Available in two sizes, 12-inch or 16-inch, both using an 'easy-to-control 250W power unit'.
Mondraker say 'The easily interchangeable Mondraker-made battery units deliver a run time of up to 60 minutes with a full charge taking just 60 minutes…. Mastering the three-speed controls is child's play. The learning starts on the first setting, 'Balance' (max speed 5mph) and the grins get broader on 2 and 3: 'Fun' (max 7.5mph) and 'Advanced' (max 11 mph). Or turn off Grommy's motor and kids can use it like a traditional balance bike.
Grommy uses many 'standard' bike components including saddles, seatpost, handlebar and stem, disc brake… giving 'big bike' feel, and many opportunities for easy customisability and extra longevity by switching out bigger MTB finishing kit as the young rider grow.'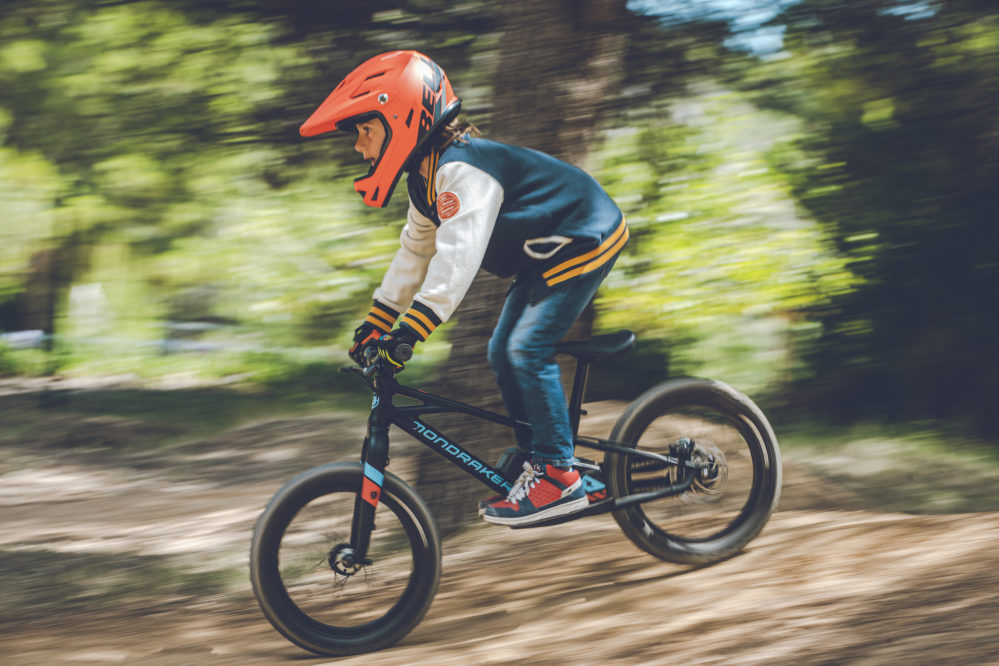 Superlight Superstrata Carbon Fibre eBike Now Crowdfunding
The recently launched Superstrata claims to be 'the world's first custom 3D printed unibody carbon fiber bike and eBike. The combination of custom, unibody and carbon fiber has never been done before.'
The non electric Superstrata Terra starts at $2799 ($3999 for preorders) on Indiegogo whilst its electric variant the Superstrata Ion is available from $2799 ($1799 for preorders). The frame has a claimed weight of 1.3kg whilst the Ion e-bike, featuring hub motor and in frame battery claims a weight of 11kg – obviously extremely light for an e-bike. It is a class 1 e-bike with a 250W rated motor, 252Wh capacity battery and top assisted speed of 20mph.
Strata say 'The bike and eBike will literally be made to measure. Send in your measurements and it'll 3D print bespoke down to spokes.'
The unibody concept of frame manufacture sounds unique as '3D-printed in a single pass of continuous carbon fiber thermoplastic composite. Unlike other carbon fiber bikes whose frames are glued and bolted together using dozens of individual parts and fabricated from previous-generation thermoset composite materials, the Superstrata frame is constructed without joints or glue for seamless strength. It's also produced using next-generation thermoplastic materials, making it extremely impact resistant, yet remarkably lightweight.' Clearly the firm have confidence in the strength of the material as the bike lacks a downtube! The firm behind this particular type of carbon fiber  technology is Arevo.
As always with Crowdfunding projects it is a case of buyer beware – as this Verge article points out 'Not everything about Superstrata's supply chain is finalized. Vu (CEO Sonny Vu) is still negotiating with various battery and motor makers to find the best deal for the bike's drivetrain. And the company's bikes will be available for preorder on Indiegogo, suggesting this is all just an experiment that could collapse if enough sales fail to materialize. Crowdfunding for product launches, especially complicated products like e-bikes, is a lot harder than it sounds. Crowdfunded gadgets are sometimes delayed for months or years, and in some cases, they never ship at all. If the company decides to abandon the project, bike owners could be left in the lurch when it comes to maintenance and repair.'
Get Inspired
Sea Otter Goes Virtual
The Sea Otter bike and outdoors sports event has been held every year since 1991 in California. The event is considered the world's largest cycling festival, drawing nearly 10,000 professional and amateur athletes and 70,000 fans.
Unfortunately 2020 saw it cancelled because of Covid 19. But now it is back in the form of Sea Otter Play which describes itself as 'an immersive online experience that will feature over 350 of the most innovative cycling companies in a groundbreaking digital festival. It is THE place to connect with your favorite brands, train with friends, pick up deals and win new gear!'
Registration for the Sea Otter Play Challenges will open on August 14, 2020. The Challenges will kick off on September 1st and run through September 16th. The Sea Otter Play Festival will be held September 17-20, 2020.
More detail here.
Tour de France Inspires E-bike Routes in France's Alpine Isère
After months of uncertainty it has been announced that the Tour de France is going ahead; it will be taking place this year (29 August to 20 September 2020).
Whilst competitors aren't, of course, allowed electric assistance, the département of Isère which the TdF passes through, is using e-bikes to welcome visitors wanting to see the Tour as it passes through this area known for its famous mountain passes and legendary climbs where some of the most memorable moments of the Tour de France have taken place.
Electric-bike routes are rapidly being developed across Isère, highlights for e-biking visitors including 13 iconic routes that are also featured on the Isère Outdoor App. Each itinerary explores an unmissable natural site or cultural feature in the Isère region. The marked routes, from 10 to 30 km, are accessible for beginners and families.
eMicromobility
UK's Tees Valley Area First Trial Area for eKickscooters
Fleet News reports that Tees Valley Combined Authority will host the first e-scooter trials.
According to this BBC video report there will be 50 scooters available for hire at £2 or 20 minutes, bookable via an app.
Whilst the first trail looks modest in its scope and in the restrictions it places on users (they must have the relevant driving licence for example) this Electrive report sees the potential scope of what can be allowed as exciting in that it may offer a type of electric vehicle that is currently heavily regulated in Europe. It hints that if the trials are successful there could be some deregulation allowing wider use of throttle controlled electric vehicles.
In the Electrive report LEVA, Europe's Light Electric Vehicle Association, points out that 'the UK has decided to put aside European legislation and set its course". For example, the e-scooters may have a motor with a maximum continuous rated power of 500W – ebikes and e-kickscooters are usually are limited to 250W in the EU. Also, the e-scooters in the UK view must not weigh more than 55 kg, battery included, and not exceed 15.5 mph. And, there is the provision that the e-scooters may have a saddle.'
eBike Opinion
FUELL'S Buell Looks to the Future
'There is more to urban mobility than e-bikes. Together with step-through mopeds and electric motorcycles,  e-bikes can help transform how we experience urban environments' says Eric Buell, innovative motorbike engineer and designer of the FUELL Flluid  e-bike.
As well as adding more power, range and connectivity to existing e-bikes, Buell believes that compact electric mopeds and motorcycles are the next stage in electric vehicle development; 'The next step from e-bicycles is the field of step-through mopeds/compact motorcycles. This electric challenge is critical, as this vehicle type is the leading urban mobility vehicle in many countries. The process and invention to switch existing units to clean, safe and recyclable vehicles is an enormous endeavor, but one that must be done to address air quality problems and environmental pollution. The first step of electrifying existing designs is happening, but it needs to reach a new level of design to truly change things.'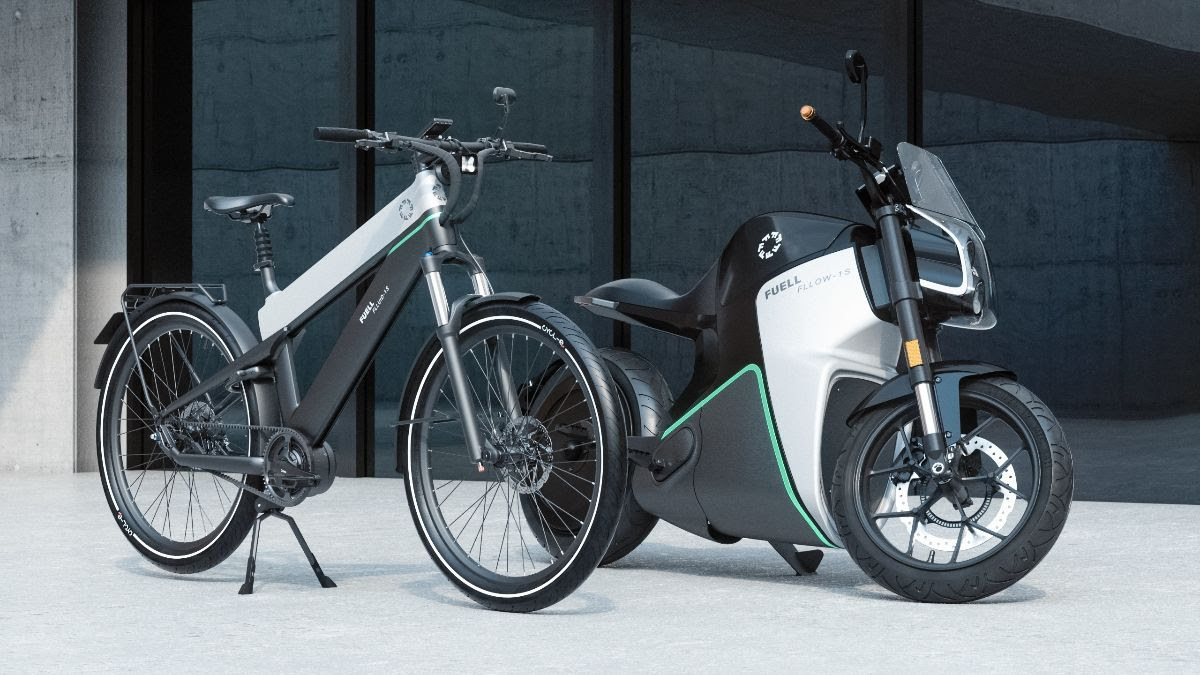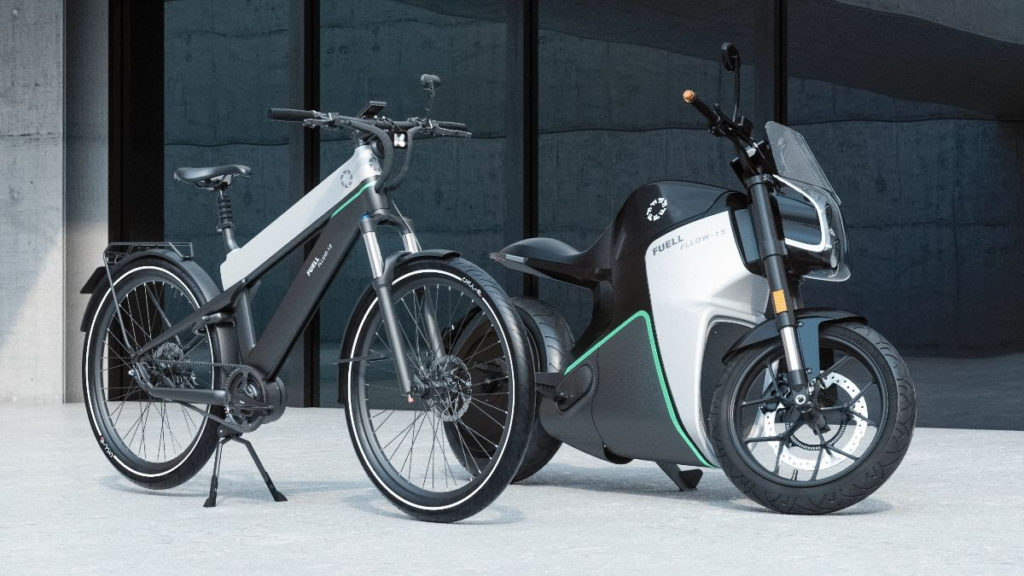 Enter FUELL's Fllow e-motorbike boasting urban range up to 150 miles, fast charge under 30 minutes, and the acceleration of a superbike and 50 liters of storage.
eCargo Update
Reasons to Celebrate for e-cargobikes.com
e-cargobikes.com has just achieved a double whammy of winning an award for its contribution to supporting the environment at the same time as delivering its 2,000th parcel in Hammersmith and Fulham area of London where it operates the Parcels not Pollution service in cooperation with the local government.
Parcels not Pollution removes polluting van journeys from streets by using an electric cargo bike for deliveries across the local area and launched nine months ago.
The popular zero-emissions service has been adopted by numerous businesses as part of the council's ambition for the borough to be net carbon zero by 2030.
eBike Biz
EU eBike Sales Head Over 3 Million in 2019
The EU Light Electric Vehicle Association (LEVA-EU) report:
'Total e-bike sales for 2019 currently stand at 2,285 million….The final total is expected to be at least around 3 million.
The biggest e-bike market is Germany where 1.36 million were sold last year, followed by the Netherlands, 423,000, and Belgium, 238,000. These are also the countries where e-bikes have the highest share in total bike sales, i.e. 31.5%, 42% and 51% respectively.'
Stay tuned for more e-bike news and reviews and thanks for reading!
-Rich
Reader Interactions