eBike News: Interbike Cancelled, 2019 Trek, eShare in London, Cargo Bike Movie, & More! [VIDEOS]
In this week's eBike news roundup:
2019 Interbike Cancelled
2019 Trek Dual Sport+
Dockless eBike Share for London
E-kickscooters Struggling for Foothold in Spain
Motherload, the Cargobike Documentary
eBike Access for California's Iconic Mount Tam?
eBike Share in Dallas and Luxembourg
CleanTechnica Market Research
Zehus Partners Tyre Specialist Vittoria
BionX Story Draws to a Close
And Much More!
Headline News
Interbike 2019 Cancelled Citing Effect of Tariffs
A further sign of the disruptive effects of tariffs on Chinese products entering the US, Interbike, the country's leading bike show has announced the cancellation of its 2019 event. It was a major platform for the launching of new e-bike models onto the US market.
This Bike Europe article gives more detail:
"The past four years have been difficult for the U.S. bicycle market," says Darrell Denny, Executive Vice President of Emerald Expositions' Sports Group. The U.S. bicycle market is already heavily struggling but this year's announced import tariffs on bicycle products out of China was too much for Interbike, says the article. "The substantial increase in tariffs on bike related imports during 2018, and announced for 2019, is compounding these challenges," added Denny.
This recent TRT report gives a view of the situation from the position of a Pittsburgh e-bike shop and a quick update on the current US-China stand-off.
London Gets Dockless E-bike Share
US dockless e-kickscooter and e-bike provider Lime has rolled out e-bikes in London, following their launch in Milton Keynes just over a week earlier.
1,000 of the bright green e-bikes should be available in the London boroughs of Brent and Ealing by the time you read this.
The dockless bikes cost £1 ($1.30) to unlock and an additional 15 pence (19 cents) per minute of riding time.
E-kickscooter Tussle Spreads to Spain
As in the US, so now it seems in Spain. The arrival of electric kickscooters has bought acknowledged benefits but also some degree of conflict as some city authorities are finding it harder than others to accommodate the latest trend in electric micrmobility.
This interesting article in Forbes details how cities such as Barcelona, with a good bike lane infrastructure, are able to live with e-kickscooters relatively easily.
However, in Madrid where the bike lane network is scarce by comparison, kickscooters from Lime, Voi and Windy were ordered to be removed from the streets by a city ordinance and Lime faced a similar backlash in France in the cities of Bordeaux and Toulouse.
Until there is a national harmonised law and tighter regulations one potential answer stands out in helping alleviate potential scooter/pedestrian conflict – more bike lanes!
New eBikes
2019 Trek Dual Sport+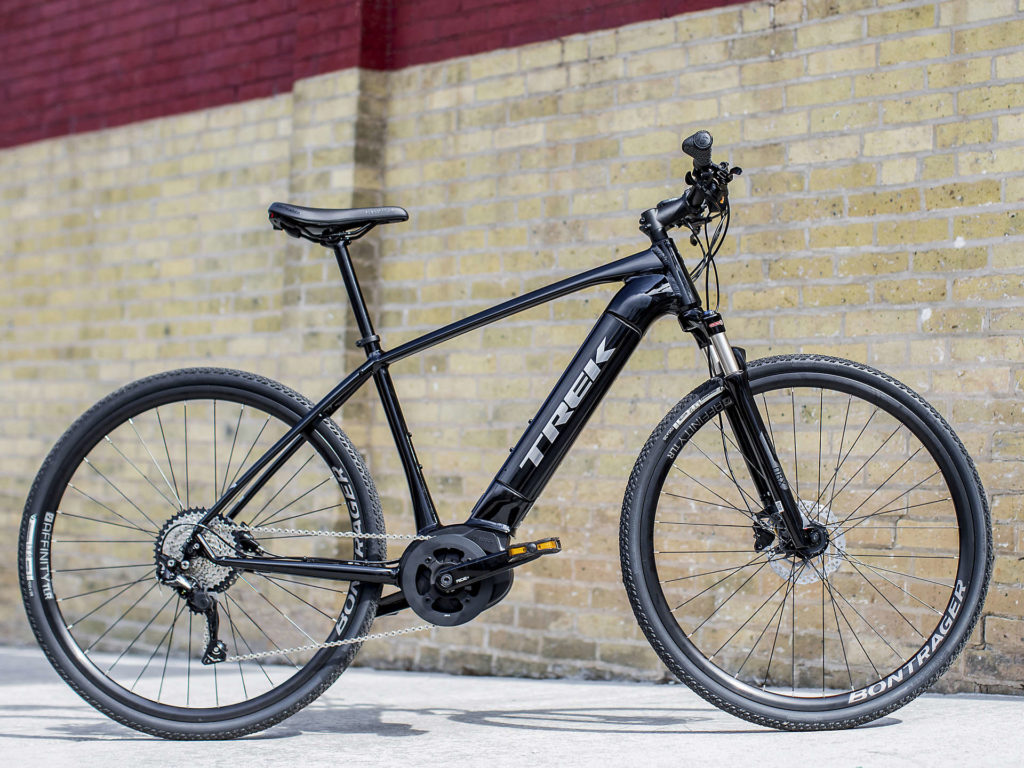 Trek just launched their Dual Sport+ hybrid style (cross between mountain and road) eBikes that features the Bosch Active Line Plus mid drive system with Trek's side mounted Bosch Powertube 500 frame battery for a clean look. Priced at $3,599.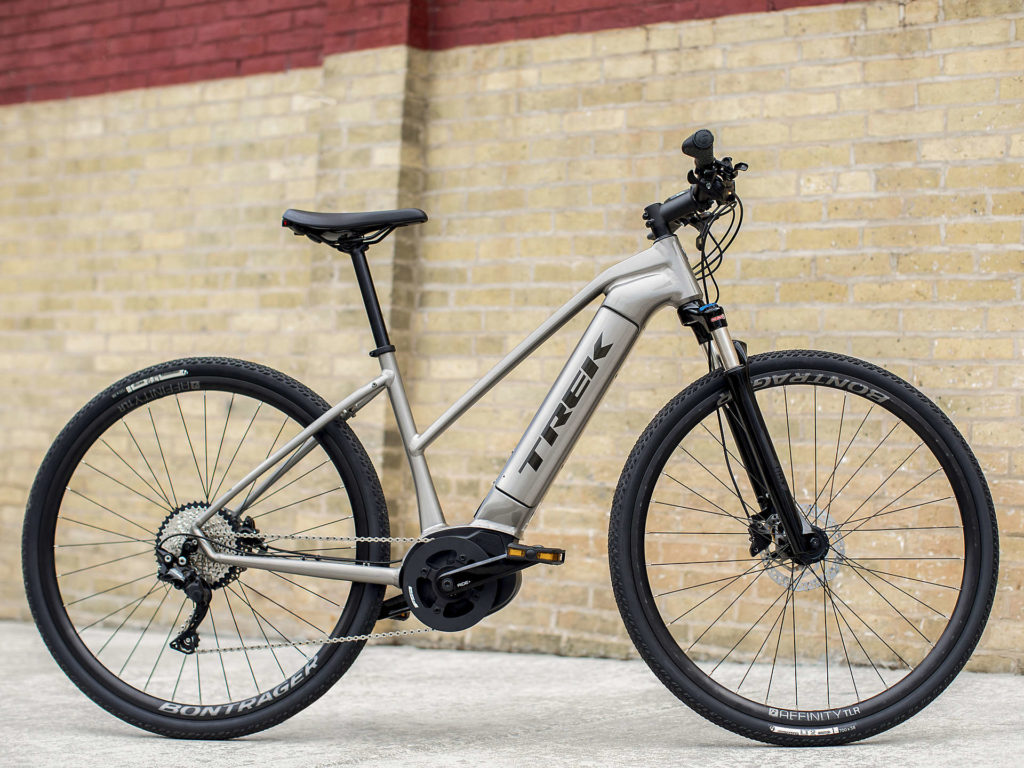 There is the low step frame design as well.
In this view you can see the removal of the side mounted Bosch Powertube 500 frame battery.
More info on the new Trek Dual Sport+ eBikes.
Get Inspired
Motherload the Documentary
Here's an update on a documentary about the merits of cargo bikes – it's currently looking for a film festival at which to launch so keep an eye out for Motherload in future!
Here's a trailer:
E-bike Access
Ebike supporters in Marin, make your voices heard!
So states an email from The New Wheel, an e-bike retailer with locations in Marin and San Francisco, in relation to gaining e-bike access to the area around the iconic Mount Tam in California. This is the place that gave birth to modern mountain biking through the efforts of the likes of Gary Fischer and Joe Breeze.
This Bicycle Retailer and Industry News article details a Marin Municipal Water District public workshop regarding e-bike use in the watershed area, where 'motorized' bicycles are banned. The nub of the issue according to local bike retailer Brett Thurber is that '"We don't want to see any instance where it's understood that electric bicycles are somehow different than bicycles under the law" – something that may happen if a vociferous 'anti-e-bike' voice prevails.
Live updates here.
New York Behind the Curve
This interesting opinion piece in Curbed argues strongly for the promotion of e-bikes in New York, not just as an attractive or interesting 'extra', but as being 'essential, crucial, viable forms of transit for regular New Yorkers.' In short New York needs to stop being a city made in the image of the car if it really wants to improve road safety…
Bike Share and Infrasructure
Jump Files Application for 2000 Shared E-bikes and 2000 E-kickscooters
This report reveals that 'Jump, which Uber bought in April for $200 million, has filed an application with Dallas City Hall to bring 2,000 stationless e-bikes to town. The company is waiting for city staff to review and approve the permit, which would also include 2,000 Jump-branded electric scooters.
All Electric Bike Share for Luxembourg City
Advertising company JCDecaux recently announced that its Luxembourg subsidiary successfully rolled out 600 new vel'OH! electric self-service bikes in Luxembourg City on the night of 29 to 30 November 2018, replacing the old ones in under six hours.
This means that the 8,000 existing vel'OH! subscribers along with the citizens of Luxembourg City and neighbouring cities, and cross-border workers who come to Luxembourg, have 600 new bikes at their disposal at 60 docking stations The next steps are to roll-out of the remaining 300 bikes between now and mid-December 2018, which will bring the total stock of bikes to 900 (compared with 700 in the first contract).
When the entire stock of bikes has been deployed, Luxembourg City will be one of the few capital cities in the world to benefit from a service with a 100% electric bike share. Replaced bikes will be used for spares and repairs of the new fleet.
E-bike Biz
CleanTechnica Market Research on Two Wheeler Preferences
This comprehensive piece of research from CleaTechnica, questioning its readers, is split into four parts:
Part one reveals their readership breakdown – mainly US males in the 45-65 age group and largely city dwellers in the upper income brackets.
Part two looked at the two-wheeled transport they currently own. This is mainly regular non-motorised bikes with e-bikes and gas-powered motorbikes coming in second and third, with the vehicles use mainly for commuting and errands.
Part three looked at possible future buying preferences and the price sweet-spot being between US$1000 and US$5000 for their 'aspirational' purchase of an 'electric two-wheeler'.
It also pointed out 'There are no electric road motorcycles available for under $5,000, and only a couple of options under $10,000……(so) the 27% of respondents indicating a desire for an electric road motorcycle, despite their high incomes, drops radically when money is factored in. The price points are very amenable to electric bikes, however. Our market database upon which our recent article on the US$1.5 billion global market for electric bikes was based shows that the average price of North American electric bike brands is just under US$3,300.'
Vittoria Merges with Zehus
The UK's Cycling Weekly reports that 'Italian wheel and tyre manufacturer Vittoria has announced a partnership with the Milan-based startup Zehus for the development of e-bike technology.'
The ZEHUS is an 'all in one' electric assist system that uses a smartphone app for settings and power control and also features regenerative braking.
Bionx's German Arm Closes
Bike Europe reports that BionX GmbH has closed. This follows BionX Canada Inc. filing for bankruptcy on 27 February this year; European subsidiaries BionX GmbH and Elby Bike Europe GmbH were not affected at that stage though BionX GmbH had been searching for a European motor producer, but the search appears to have proved fruitless.
Stay tuned for more e-bike news and reviews and keep on riding.
-Richard
P.S. Don't forget to join the Electric Bike Report community for updates from the electric bike world, plus ebike riding and maintenance tips!
Reader Interactions