eBike News: Intense eMTB, Friction Kit, Solar eBiking, eCargo Business, Celebrities eBiking, & More! [VIDEOS]
In this week's eBike news roundup:
Intense Tazer eMTB
Carbon Frame Lightweight eFolder
ONEMOTOR Friction Drive Kit
Solar eBiking Along the Silk Road
London's Cargonauts
Trip to Stromer in Switzerland
Martha Stewart Rides an eBike
Puncture Protection Tech from Tannus & Vittoria
New infrastructure in London & Jerusalem
Bike Lobbyists Go Corporate
And Much More!
New E-bikes & E-bike Systems
Intense Cycles Tazer eMTB
Californian MTB brand Intense have a great pedigree in manufacturing carbon-frame MTBs and have now added the Tazer to their range, an e-MTB that utilises Shimano's E-8000 MTB specific crank drive.
Although the design originates in the US the machines are assembled in the UK.
The claimed weight of 47.5 pounds 21.52kg for an e-mtb is quite impressive and the machine looks well-specced to tackle all manner of off-road terrain with 160mm fork travel and 150mm shock travel, four piston hydraulic braking and a Shimano 10 speed SLX derailleur.
Available for pre-order at £6,899.00 / US$ 7950
Carbo Claims to be World's Lightest Folding E-bike
Recently launched on Indiegogo and with a claimed weight of 28.5 pounds 12.9kg is the Carbo folding e-bike.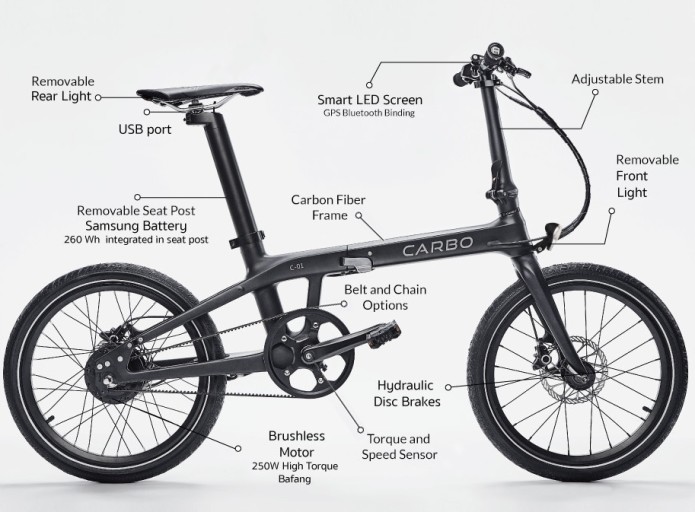 Weight is obviously kept down by utilising a carbon fibre frame (if you want a good insight into carbon fibre's complexities read this article in Cyclist magazine), but also by housing the battery cells in the seatpost (meaning no separate battery case is required) and by keeping its capacity relatively small at 252Wh.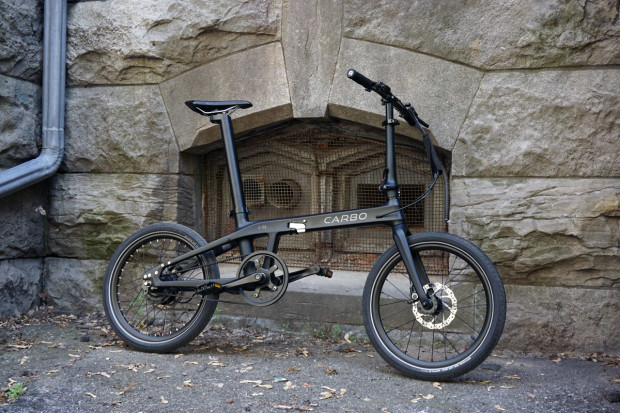 There are several crowdfunding options starting at US$1,099 for the basic single-speed with prices rising as accessories such as more gears, rack, fenders and lights are offered.
ONEMOTOR
ONEMOTOR is a highly versatile eBike friction kit that can work for many bike types in addition to scooters. It also has mounting options to the front and back of the bike so that it can fit many different styles.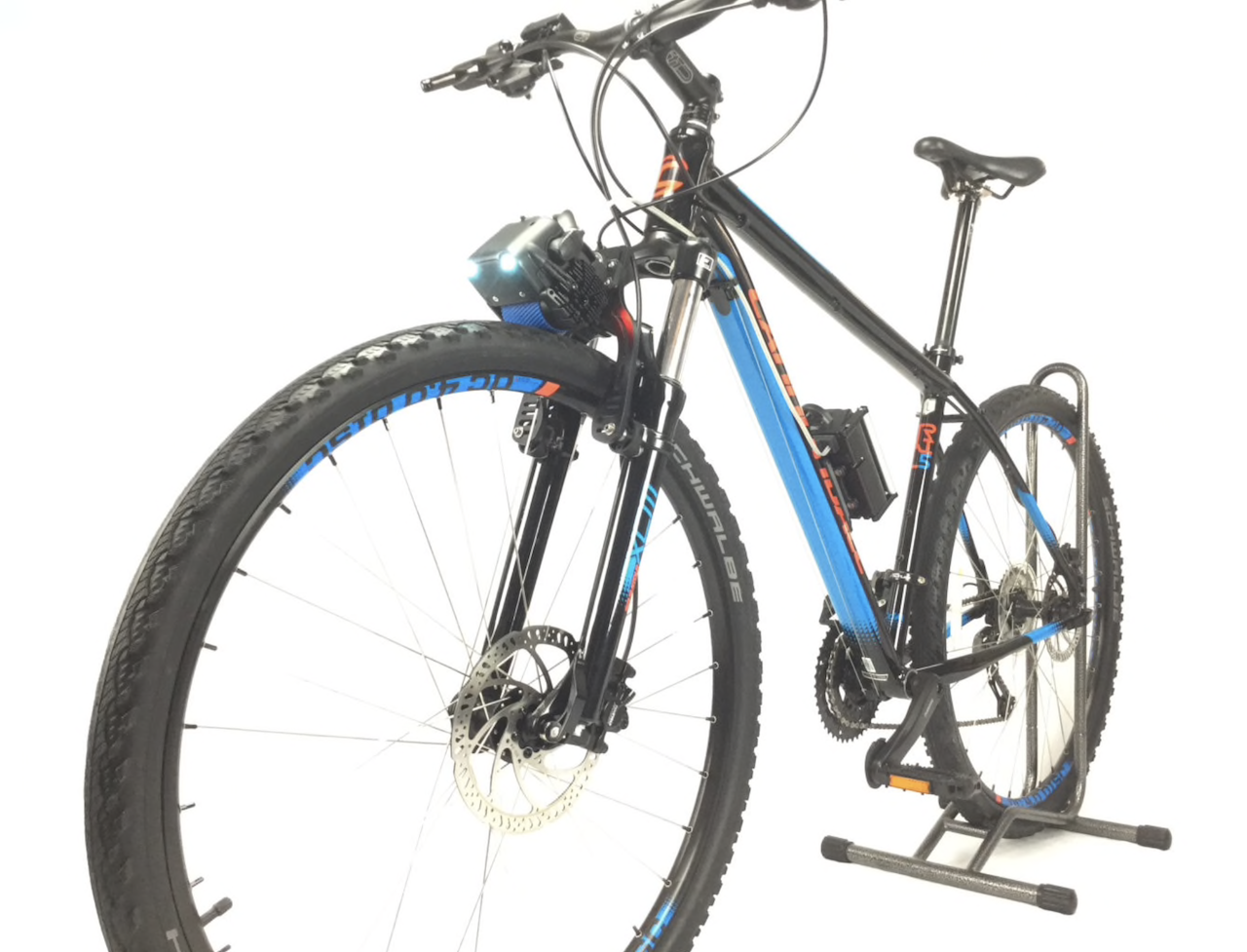 Here is a video with a look at some of the features:
Jeff Guida from ONEMOTOR also noted their unique Automatic Traction Control system "We've transformed friction-drive technology with our patented system that dynamically controls both tire engagement and pressure (normal force) via a secondary pivot motor.
It automatically detects slippage and then increases normal force to offset the reduced coefficient of friction from wet weather, maintaining driving power automatically.
This is a pretty significant breakthrough to tackle the weather-related challenges of friction-drive without resorting to tire-abrading shortcuts."
More info on ONEMOTOR.
Get Inspired
6,500km Along the Silk Road by Solar-Powered Trike
This nice little video from Ezee's Wai Won Ching gives us some intriguing details of the machine he used to cover some 6,500km in 60 days across the Silk Road from Chamonix in France to Kashgar in China.
It quickly gives an idea of the challenges facing any long distance solar-powered e-bike rider over rough terrain, with the sizeable roof mounted panel only providing enough power for self-sufficient riding between around 10am and 2pm in sunny conditions, with battery recharging still required in the evenings.
Meet London's Cargonauts
Check out this inspiring video from E-cargobikes of London. It shows how they have built a business from the energy efficiency of e-cargo bikes.
https://youtu.be/m__0OOs0Km8
'We are keen to show big business that we can help them make the transition to zero emission deliveries' says owner James Fitzgerald.
They also stress the fact their riders get fully-employed benefits and are not part of the 'gig' economy. The company have been operating trials with one of the UK's main supermarkets, Sainsburys.
And if you want the full low down on the rise and rise of e-cargobikes and whey they make sense for cities check out this piece for Forbes.
Aussie Tennis Star Tours Stockholm on eBike
Nice to see the ATP World Tour promoting e-bikes via the friendly face of Australian pro John Millman as he saves his legs for his forthcoming match and takes a look around historic Stockholm.
Martha Stewart Gets Astride a Pedego
There's more e-bike endorsement as businesswoman, author and TV personality Martha Stewart details her new Pedego e-bikes here.
Bay Area Goes to Stromer
Bay Area retailer New Wheel take a trip to Swiss brand Stromer to check out the ST5 and here's a teaser for a promised forthcoming video:
The full movie will be released online November 2 and if you are in the San Francisco area they are holding earlier showings at their stores.
Australia's Easy Ride Combine E-bikes and Wine
This looks an idyllic break for anyone who might find themselves in Australia any time soon.
Easy Ride Tours are offering eco-friendly electric assisted mountain bikes for a Winery and Brewery tour in the picturesque Margaret River wine region south of Perth.
New Products & Accessories
Tannus & Vittoria Launch Armour Puncture Protection System
Cycling Industry News reports that 'Tannus and Vittoria are co-launching what they describe as a revolutionary insert simply named "Armour". Aimed at the off-road market as well as commuters, Tannus believe their system could rival established tubeless set-ups. Developed with Tannus's Aither technology, the "Armour" is aimed at using a tube setup to give the rider better flat protection and the ability to ride at lower PSIs without ever getting a pinch flat. Available in 2019 for 29" and 27.5" MTB sizes as well as a 700 x 35-40C size, the system is aimed at all riders.'
Infrastructure & Bike Share
New London Quietways Look To Build on Ever Growing Cycling Levels
Three new Quietways using traffic-restricted and quieter roads are now open in London as follows:
Quietway 14 – a 2km route connecting Blackfriars Road and Bermondsey which will eventually connect to Deptford and Thamesmead. Five main roads are now safer to cross by bike or on foot and two streets have been closed to motor traffic.
Quietway 22 – a 6.5km route connecting Stratford High Street to Cycle Superhighway 3 at Newham Way via West Ham and Plaistow Park.
Quietway 6 – a new 6.5km route connecting Wanstead Flats and Barkingside via a newly-built bridge in Valentine's Park, and a new two-way cycle track on Forest Drive.
New figures from Transport for London show cycling levels in central London between April and June 2018 grew by 8% year-on-year, from 173,045 daily journeys to 187,345, which is the highest quarterly level recorded since measurements began in 2014.
Jerusalem to Triple Bike Lane Provision
In a boost for the capital city's cyclists, the Jerusalem municipality and the Ministry of Transportation have revealed a plan to pave 80 km. of bike lanes across the capital by 2023, tripling the city's existing 43 km network of cycling paths according to the Jerusalem Post.
Bike Share to Double by 2025 Says Analyst
Bike share schemes are on course to more than double in availability by 2025, according to urban mobility analysts Frost & Sullivan. In a Cycling Industry News article the report is quoted as saying that 'the European bike sharing fleet look set to jump in size from 151,302 units in 2016 to 341,250 units by 2025. Southern and Western Europe have the highest levels of bike share activity.'
E-bike Biz
Bike Lobbyists the New Micro-Mobility Establishment?
This interesting piece from Streetsblog NYC reveals how some public officials and even bike lobbyists are now being employed by the large kickscooter and bike share firms.
The piece points out that Transportation Alternatives Executive Director Paul Steely White, Secretary of Transportation Anthony Foxx (a known advocate for reducing car ownership) and Washington Area Bicycle Association Deputy Director Nelle Pierson have all made the move from the civic realm to the corporate.
It also poses interesting questions: do such moves mark the transition from "disruptor mode" to a more responsible "partnership mode" with companies like Jump, Lyft and Bird all looking to hire expertise to help establish links with city authorities, or will it be harder to hold the large micro-mobility corporations to account if they hire the best advocates?
Battery Research for Electric Cars to 'Trickle Down'?
A couple of media reports this week describe the extremely well-funded efforts going into the next generation of battery development.
Green Car Congress reports that the US Department of Energy (DOE) will be contributing of $24 million towards a total of $120 million on a research project whose vision 'is to create disruptive new materials deliberately constructed from the bottom up, in which each atom or molecule has a prescribed role in producing targeted overall materials behavior.'
Meanwhile Electrive reports on the German state funding to develop a practical solid state battery.
The big question for e-bike users of course is if, when and how any true advances will percolate down into the world of e-bikes…
My Week on E-bikes
This week I took a spin around some of best trail rides in the UK in the incredibly popular Peak National Park.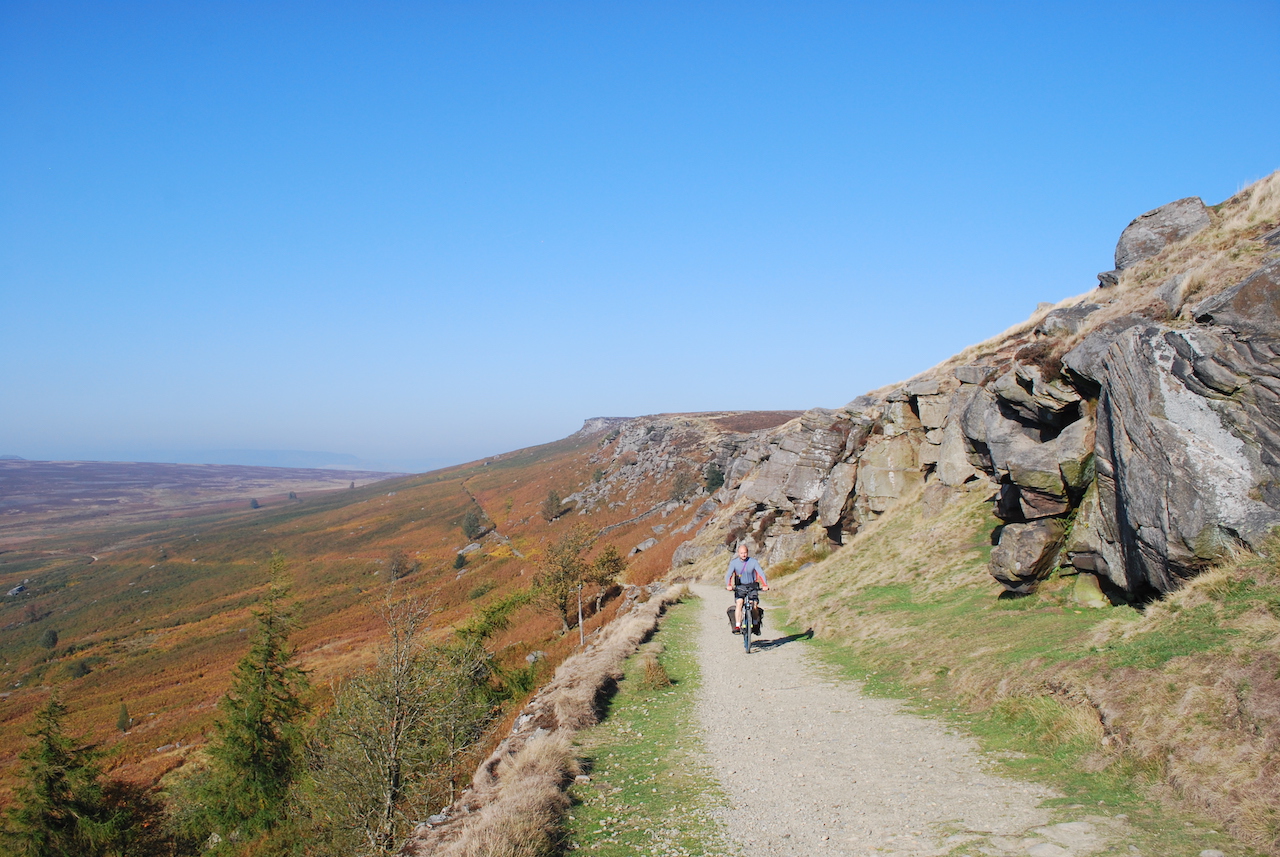 I took the opportunity to test out my sample zip on ReTyre skins and also became aware of the huge pressure on some of the UK's most popular trials as I learnt about the Mend Our Mountains Campaign.
The popular Peak District bridleway and mtb route known as Cut Gate is undoubtedly a victim of its own success, with one particular area known as The Bog of Doom, for obvious reasons when you see pictures of it.
Now there is a chance to fund the expensive repair work needed and those wanting to donate to the project can do so here. The Peak District National Park Authority has also been shortlisted for possible funding from the European Outdoor Conservation Association (EOCA) and stands to gain up to €30,000 for use on the Cut Gate bridleway section.
Stay tuned for more e-bike news & reviews and thanks for reading!
-Richard
P.S. Don't forget to join the Electric Bike Report community for updates from the electric bike world, plus ebike riding and maintenance tips!
Reader Interactions