eBike News: Harley Davidson Announce eBike, EVELO Dual Battery Model, Smart LED Lighting and Much More! [VIDEOS]
In this week's news:
Harley Davidson's New Serial 1 eBike Teaser Photos
Evelo's Delta X Duo Promises Double the Range
Berlin's Schindelhauer's New Pinion Geared Models
News Accessories; Smart LEDS, E-bike with Your Pets and High Quality Chrome Industries Jacket
Trail Grants Powering Ahead Across the US and eCargo Bikes Used for Road Maintenance in the UK
Electric Kickscooter Updates from the US and the UK
Plus All the Latest eBike Biz News from Around the World
New eBikes and eBike Systems
Bosch Announce New Speed Pedelec Motor for US and New Zealand
Bosch have been in touch to say that they have just added the Performance Line Sport drive unit to their portfolio of pedal-assist eBike motors. It fits within the Performance Line and it supports riders with 65 newton-meters of torque at speeds above 20 mph— in fact up to 28 mph. Because it's a Class 3 drive unit (up to 28 mph), Performance Line Sport is only available in the U.S. and New Zealand.

It is a 'lite' version of Bosch's current more full-on Bosch Performance Line Speed motor which offers 85Nm of torque and 340% max assist – the Performance Line Sport offers 65Nm torque and 300% max assist.
Performance Line Sport will be available in the United States, on electric bicycles from four of Bosch's partner-brands, including Benno Bikes, Cannondale, Electra, and Tern. Depending on the brand and model, bikes with the Performance Line Sport drive unit will be available to consumers as early as November 2020.
Harley Davidson to Enter eBike Market in 2021 with Serial 1
The Verge reports that 'Harley-Davidson unveiled a stunning new electric bike that it says will go on sale in March 2021. And the motorcycle manufacturer is also spinning out its e-bike division as a separate company called Serial 1 Cycle.'
The name Serial 1 is a reference to "Serial Number One," the nickname for Harley-Davidson's oldest known motorcycle built in 1903 and the teaser photos show an e-bike that references their earliest motorbike in some of its detailing. There are no tech specs available as yet but EBR will bring them to you as soon as they are revealed and you can also subscribe to stay updated directly at Serial 1.
Evelo's Delta X Duo Promises Double the Range
Evelo have just launched the Delta X Duo which packs a whopping 1114Wh capacity via it's two onboard batteries, one on the frame and one in the rear rack. It also features a hugely powerful Bafang mid-drive which claims a 750W rating and 120Nm of torque. Gearing is courtesy of the Enviolo continuously variable or 'stepless' system. Total quoted bike weight including batteries is 73.2lbs / 33.2kg. RRP is US$4499.
Schindelhauer Launch Models with Pinion Bottom Bracket Gearing
Schindelhauer are a German manufacturer of lightweight and stylish premium city e-bikes. They recently launched their Arthur VI/IX and Antonia models that combine the latest version of the well-regarded Mahle ebikemotion rear hub motor system with innovative Pinion bottom bracket gearing. In effect this set up lets you have a relatively lightweight e-bike with low maintenance fully enclosed gears. The bikes also feature a low maintenance, oil-free Gates Carbon Belt Drive and 250Wh frame enclosed battery.
Quoted weights are 15.9kg and 15.7kg or just under 35lbs. Appearance in European shops is slated for Jan 2021 with the Arthur priced at 4.595 euros and the Antonia at 4895 euros.
Accessories
Hi!Mobee Looks to Make Wearable Lights the Smartest Yet
E-bikes contain some wonderfully advanced tech but the standard lighting offering is limited to a front and rear light and features such as brakes lights limited to small number of high end models. France's Hi!Mobee are looking to take bike lighting to the next level with the launch of the 'first ever' smart LED bike harness – reports the UK's Bikebiz.
According to Hi!Mobee the Weelight harness style vest is designed to be visible from 360°, day and night so the user can be seen at a minimum distance of 35m (115 feet) during the day. It also features turn signaling via a handlebar remote, while braking and emergency situation hazard lights are activated automatically by computer sensors.
There is also a Kickstarter campaign with early bird prices starting at 99 euros.
Rad Power Launch New Pet Carrying Accessories

Rad Power have announced the launch of the Rad Pets Collection 'from carriers to portable water bowls, chew toys, and kerchiefs'.
Chrome's New Storm Salute Commuter Jacket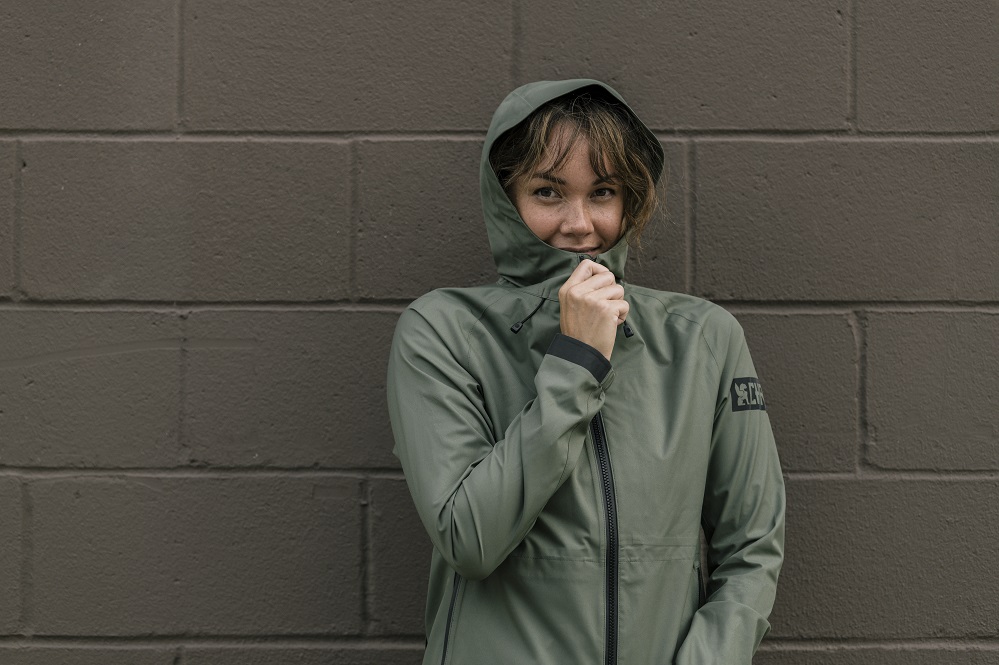 Chrome Industries, maker of high quality outdoor clothing bags and footwear, have just announced the Storm Salute Commute for women. It is constructed with waterproof, breathable stretch fabric and is fully seam-taped to help waterproofness.  The adjustable Storm Hood fits your helmet without slipping off while on the bike.
Chrome say 'This ideal commuter jacket offers the perfect fit with an adjustable drop hem with drawcord, while the two-way zip and upper back yoke vent aid in keeping you cool. To stash your stuff, the Storm Salute Commute features a zippered interior phone pocket and back cargo pocket.' MSRP: $185
Trail News
More Trail Projects Highlighted by IMBA
IMBA, the International Mountain Biking Association, has been in touch to fill us in on new projects now funding – remember these are match funding projects so any donations made are effectively doubled with match funding. Check out the new Dig In projects now funding here.
Also check out this video on the progress being made with IMBA Trail Accelerator grants:
eCargo Bikes
Raleigh UK Partners with Highway Giants
The UK's Cycling Industry News reports that 'E-cargo bikes have found their way into the hands of highways giants Ringway Jacobs and Eurovia thanks to a trial period with Raleigh, who will now ship such bikes directly to businesses interested in making the move away from vans. Designed to see if the bikes could serve a purpose within the infrastructure businesses, primarily across London where construction is rife, the two firms are utilising the vehicles to transport materials, tools and equipment between sites, as well as individuals that need fast and reliable transport from offices to sites.'
The article adds that Businesses will now be able to access the cargo bikes direct from Raleigh with delivery and training offered as well as the ability to co-brand the bikes to suit the business needs. The bikes will also be available through selected retailers, as well as online through Raleigh.co.uk or Raleigh's cycle to work website ebikeaccess.co.uk
eMicromobility
Growing eKickscooter Sales Power Unagi's Second Store
Micromobilitybiz reports that US e-scooter manufacturer Unagi has opened a new retail storefront in Brooklyn at at 324 Wythe Avenue, the second store the company has opened in the past few weeks, after opening its first in Los Angeles last month.
The article tells us that Unagi's sales in New York City quadrupled between the first and second quarters this year and sales in Q2 were up 549% compared with the same period in 2019.
The Oakland, CA-based maker of portable electric scooters, raised $3.15m in seed funding recently and intends to use the funds to scale its business, with continued research and development and increased production.
Unagi make premium electric e-kickscooters, often called the 'iPhone' or 'Tesla' of electric scooters, incorporating carbon fiber, magnesium and cnc-machined aluminum, and feature dual motors totaling 450 watts with a weight of 24 pounds. Prices start at US$840 and pay-by-installments from $35.00 per month.
UK's eKickscooter Rollout Gives Unprecedented Chance to Small Startups
This ZAG article shows in handy map form the large number of companies involved in the ongoing UK e-scooter trials due to end next year, with most of those planned now up and running. What's surprising, says the article, is the that 'Tiny start-ups Ginger and Zwings have won more locations than industry stalwarts Bird, Lime and Neuron.'……'The overwhelming impression, moreover, is the opposite of that seen in more mature micromobility markets around the world, where established and experienced players such as Bird, Lime and Spin dominate and tiny players of the Zwings, Ginger and Zipp ilk simply can't compete.'
Of course the real success of the trials will only be judged next year when the trials have ended and the UK government has decided whether to legalize public share e-scooters.
eBike Biz
European Market Supply Chain Update
Potential European customers of the hugely successful US-based Rad Power e-bike company may have recently received the following message from them – it seems, like many e-bike companies, the massive increase in demand because of Covid 19 has caused logistical problems for them:
'With the increased demand for ebikes after COVID-19 shook the World, keeping up with the demand has been somewhat challenging. As the pandemic is ongoing, it is leading to dynamic shifts in stock Worldwide.
We are doing all we can to support all of our customers, and to communicate details on stock availability, shipping dates, and/or delays as promptly as possible. We have employed more people to attend to customer queries, as customer service is crucial to our brand's success.
Unfortunately we are experiencing limited ocean freight capacity from Asia to Europe. Our supply chain partners are working on obtaining larger supply quantities, to alleviate any possible disruptions going forward.'
On a similar theme this Cycling Industry News article looks into the difficulties Covid 19 caused the UK bike business, with unpredictable deliveries for 2021 bikes and e-bikes. As one UK importer put it "Order your bikes now – don't think about it, if you think about it, someone else will get them."
Berlin's eBike Subscription Service Could be Heading to the US
'Three months after the start of its pilot project in Berlin, the e-bike subscription service Dance has successfully completed a financing round of 15 million euros. The company of SoundCloud founders Eric Quidenus-Wahlforss and Alexander Ljung is now planning to launch the service in other European cities. An expansion into the USA could also follow' reports Electrive.
It's a service that really seems to have taken off in Berlin, perhaps not surprising as it offers no large upfront costs, instant repairs and theft protection – all areas of concern to those who might investing a substantial amount in their own e-bike. The real test of the idea will come in 2021 when Dance looks to launch its own futuristic-sounding e-bike – the Berlin trials have so far have used existing e-bike technology from third party suppliers.
Bafang Expanding in Europe
LEVA-EU reports that one of the world's biggest e-bike motor manufacturers, the Chinese Bafang, is expanding into new facilities. Already based in Germany, in the course of October 2020 Bafang are moving to Hövelhof, a few kilometers south of the previous location, but with considerably more space and new testing equipment is already on order.
Stay tuned for more e-bike news and reviews and thanks for reading!
-Rich
Reader Interactions