eBike News: Gocycle GX, Alexa eBike, Rim Motor, Rent Your eBike, & More! [VIDEOS]
In this week's eBike news roundup:
New 'Quick Fold' GoCycle GX
eBike with Amazon Alexa
RH Rim Motor
Rent Your eBike
Recycle Your Inner Tubes
Washington DC Cycle Lane Deadlock
Tariffs Update
And More!
New eBikes & eBike Systems
GoCycle Teaser Promises '10 Second Fold' on New GX Model
Well, actually the traditional GoCycle design isn't a purely folding bike; it lies somewhere between a demountable and a folder, as the wheels remove quickly and then the handlebars and rear transmission arm old down around the 'mainframe'.
What is undoubted is that much of the technology is very innovative, from the thixomoulded magnesium mainframe and mag wheels to the 'docking board' that can be used to secure all the parts of the stripped down machine to.
Although it launched in 2009 there have been regular upgrades and redesigns to elements of the 'base' design over the years, for example 2018 seeing the launch of the GoCycle GS, a more 'budget' model than predecessors at $2799 USD £2499.
Now comes the GX model ($3,299 USD) which promises a quicker fold to make it more suitable for combining with other forms of transport, according to Richard Thorpe, designer of Gocycle, who commented: "… our new GX model…will broaden the appeal of Gocycle…. It is a true Gocycle, with a lightweight, stylish design – and fun – at its core, but with added fast-folding and stowing capability to make it even more versatile – the ideal companion for taking onto the train or into your office on your daily commute."
The fast-folding GX will become the third member of the Gocycle family, joining the GS and range-topping Gocycle G3.
eBike with Amazon Alexa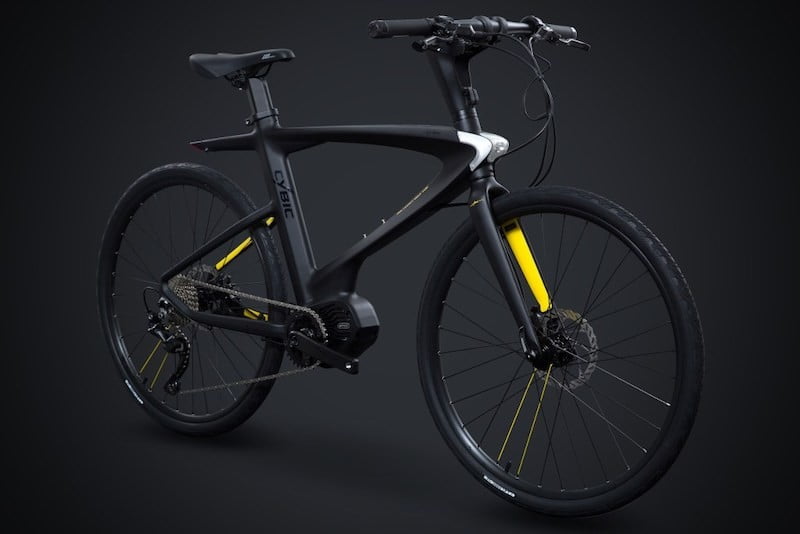 The Cybic E Legend is a futuristic looking eBike and it has Amazon's Alexa personal assistant built in! Alexa provides voice activated navigation, bikes lights, audio player, and more. The bike has GPS tracking to locate the bike if it is stolen.
It has a built in touch screen display and cell connectivity with its own SIM card. There will probably be more details coming from CES 2019 next week.
RH Bike Prototype
They say you shouldn't try to reinvent the wheel but RH Bike from Slovakia have done just that as their extremely novel looking prototype has recently been revealed.
It effectively makes the rear wheel of the bike part of the motor and in the process claims to have reduced the weight of an effective and powerful e-bike system to around 9 pounds (4.1kg) – and that includes a very size-able 475Wh battery – motor parts alone are claimed to weigh 2.9 pounds (1.3kg)!
The prototype e-bike weighs around 33 pounds (15kg).
It works by combining the rotor part of the motor, in the form of powerful magnets, with the bike wheel and placing stator devices on the rear frame.
There is also a micro-controller that converts the DC battery power into AC electricity required for this particular design.
Other features include regenerative braking that can feed some power back into the battery and a 'clutch' that means the motor can be disengaged from the rear wheel and the bike used as a regular non-electric bike.
Get Inspired
Rent Your eBike
Oprah's favorite eBike company, Story Bikes, has recently acquired Spinlister which is a bike rental platform that enables peer to peer rental of bikes. It's like Airbnb for bikes.
Here is the idea of Spinlister:
Spinlister was close to shutting down when Story Bikes became the owner.
Mark Gustafson, owner of Story Bikes, sees an opportunity to improve the rental service platform with GPS enabled Bluetooth smart locks so bikes can be available at street locations without the owner needing to be there.
In addition, Spinlister will be promoted for individuals, bike shops, residential complexes, hotels, schools, and even whole cities.
Story Bikes has a stylish line of eBikes and for every eBike bought they donate a conventional bike to a person in Africa, South America, or Southeast Asia.
Here is a look at their bikes:
There are more details on the Spinlister relaunch at Forbes.
Recycle those Old Inner Tubes – For Good
Cycling Weekly brings us the news that if you are in the UK you can drop off your old inner tubes at your nearest Cycle Surgery.
The old rubber is sent to Malawi in cooperation with Cycle of Good who are instrumental in working with local people in the southern African country to produce a range of goods from the old tubes, from pannier straps to backpacks.
Cycle of Good are also the company behind Elephant Bikes – recycled UK Post Office bikes as the vast majority of these bikes were deemed surplus to requirements some years ago, being replaced with motor vans and trolleys.
Infrastructure
Iconic DC Cycle Lane Caught in a Jam
The Washington Post reports that 'More than three years after it was proposed, a 0.6-mile cycle track on Louisiana Avenue between Union Station and the U.S. Capitol awaits a green light from the Hill.'
As you can read in the report, the issue appears to be that the Senate authorities, who effectively control this stretch of Louisiana Avenue as a private road, wish to retain their parking spaces, despite supporting the project in principle!
Washington Area Bicyclist Association who are attempting to push through the cycle lane are also behind moves to get a number of pro-bike city-side measures adopted, including congestion tolling and raising residential car parking fees.
If the Louisiana Av cycle lane went ahead it would make a useful link to the Metropolitan Branch Trail.
E-bike Biz
US E-bike Industry and Uber Request Exemption from Trump Tariffs
Bicycle Retailer and Industry News reports that 'PeopleForBikes and the Bicycle Product Suppliers Association have submitted requests on the industry's behalf for exemption from the 25 percent tariff on Chinese-made e-bikes that took effect last summer. The deadline was Thursday for submitting the requests to the U.S. Trade Representative.'
There also appears to be some inequity between the way the e-bike industry is treated compared to, say, the steel and aluminium industry:
'The Trump administration has granted thousands of exemptions to its tariffs on aluminum and steel that took effect in March, but has yet to grant any for the later rounds of tariffs. The steel and aluminum exemption process is being run by the Dept. of Commerce, not the USTR.'
The article also reveals that Uber Technologies was amongst three importers that lodged their own requests.
Uber imports thousands of e-bikes for its Jump share bike program and was joined by Magnum Bikes Inc., a Salt Lake City e-bike importer, and Allco Manufacturing.
Beyond the Electric Bicycle
Electrom Update
Fabrizio Cross of Electrom has been in touch to let us know about his design for a velomobile style e-moped.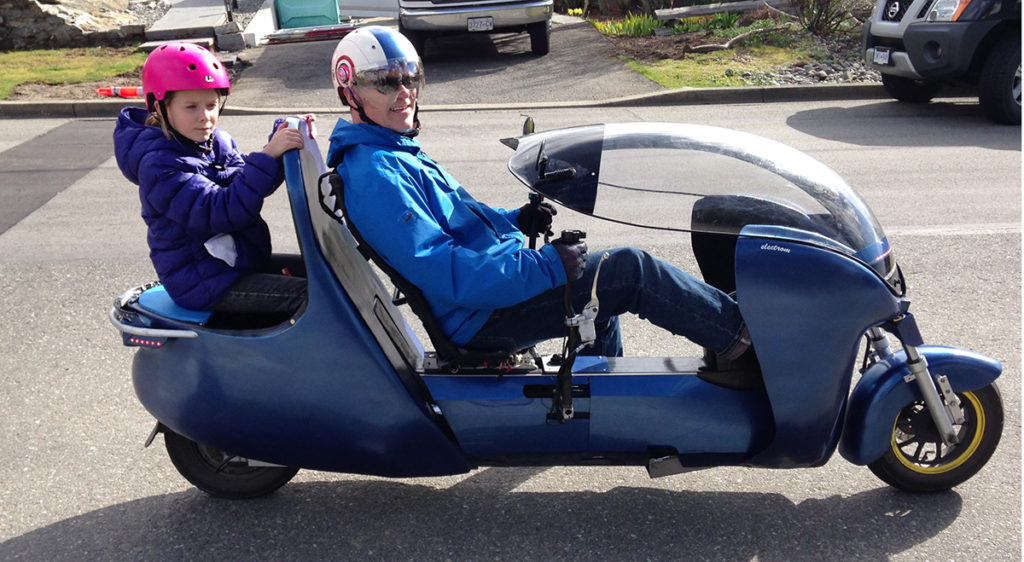 To quote from Electrom's website, it has been 'It can carry 100 liters of cargo or a small passenger, the Electrom also offers some weather protection for the rider as well as all of the lights and turn signals you would expect to find on a motorcycle. At the heart of the Electrom is the Generator Drive which allows the rider to pedal at a constant speed without having to shift any complicated bicycle gears.'
Spec wise it has a top assisted speed of 40mph* and a rear hub motor with a regenerative mode, allowing energy to be generated by the motor and put back into the battery.
*With this kind of speed the Electrom would need to be registered as a moped in many areas.
The Electrom was successful in its Indiegogo crowdfunding campaign in the summer of 2018 and the final production frame design is now out for quotes.
Stay tuned for more e-bike news and reviews and thanks for reading!
-Richard
P.S. Don't forget to join the Electric Bike Report community for updates from the electric bike world, plus ebike riding and maintenance tips!
Reader Interactions