eBike News: Federal Tax Credits, Bergamont eFolder, Gocycle Teaser and Much More! [VIDEOS]
In this week's news:
US Bill Giving Tax Credits for eBike Purchase Starts it Way through Congress
Frikar – the Latest eBike Car Announces Prices
Bergamont's Funky Looking New eFolder
Gocycle Teaser Info on Brand New Model
Magic Tour Mode for Bosch Mid-drives Announced by Moustache
eBike Workstand
eBike Inspiration from How to Buy and eBike Video
UK's Halfords Launch Own Brand Scooter
All the Latest EMicromobility and eBike Biz News
Headline News
Financial Federal Incentives Heading eBikers' Way?
People for Bikes have been in touch with the news that the process has begun to introduce Federal legislation that would mean a tax incentive for the purchase of e-bikes by US citizens in the US, saying 'An Electric Bicycle Tax Credit would relieve 30% of the cost of a new electric bicycle (up to $1,500 credit per bike, for bikes less than $8,000). Stay tuned for more information as we work with our partners in Congress to introduce legislation.'

It seems the proposed bill comes from Congressman Earl Blumenauer rom Portland Oregon and Californian Congressman Jimmy Panetta. 
The so-called E-bike Act stipulates only e-bikes below US$8,000 qualify and only one tax credit can be applied during a three-year period, but couples filing jointly could apply for two tax credits in three years to cover two e-bike purchases.
Support the E-Bike Act today at this link allowing you to send a short letter to your representative, encouraging them to co-sponsor the bill.
For more detail see our full article on the subject here.
Indeed, the Federal government has a number of 'levers' that it can pull to help promote bike and e-bike use, as pointed out in this Bloomberg article from late last year. As article author David Zipper outlines, biking's popularity in the US has been through a number of 'boom and bust' periods. 
As to the current huge popularity of cycling and e-biking, Zipper says 'The federal government could help keep Americans riding, particularly if it made support for cycling a national priority. Officials have numerous policy levers available, all based on two simple goals: keeping cyclists safe and making the activity more affordable.' 
Clearly the e-bike tax incentive proposals help address the affordability part of the equation, but what about the making cyclists safe element? According to the article, measures that could be introduced to promote cycling and e-biking include an initial safety data gathering exercise on cycling collisions, something that isn't easily accessible. 'The U.S. Department of Transportation (USDOT) could require states to submit annual High Injury Network maps that show corridors where a disproportionate share of cyclists and pedestrians are killed or suffer a serious injury. These maps could then be overlaid with street infrastructure such as protected bike lanes to reveal the most dangerous stretches — and build support for safer redesigns' says Zipper.
'Automotive regulations offer another mechanism to protect cyclists' adds Zipper. He suggests the Federal Government reassess the basis of New Car Assessment Program (NCAP) ratings which assigns influential safety ratings to new vehicle models. That reassessment would take account of the safety of those outside the vehicle, like cyclists and pedestrians, as well as those within it. – as European NCAP ratings do. It's also worth keeping an eye on local schemes, especially as many energy suppliers are actively looking to support the takeup of e-bikes:
'Getting e-bikes to residents, reducing schools' energy costs and smart home energy storage are all a step closer to happening for customers of Silicon Valley Clean Energy (SVCE). The Sunnyvale-based clean energy aggregator provides clean electricity from renewable and carbon-free sources to more than 270,000 residential and commercial customers in 13 Santa Clara County jurisdictions', reports The Mercury News.
Under the SVCE scheme Petulama-based Outthink got a grant to provide e-bikes to four income-qualified residents in the SVCE service area and implement low-
SVCE is accepting applications for spring 2021 Innovation Onramp funding through March 12. For this round, $100,000 in seed funding is available. For more information on how to apply, visit svcleanenergy.org/innovation/#application.
New eBikes & eBike Systems
Frikar Announces Car Style eBike for Less than €5000
Although Norway's Podcar have been working on the Frikar 'e-bike car' for quite some time (as you will see from the date of the Youtube video below) they have now released pricing details and announced they are taking reservations for €300. Billed as being available in 2022, there will be two versions, Frikar Standard e-bike and Frikar Plus e-bike priced at €4999 and €5499 respectively.
It's EU-compliant and so is limited to an electric-assist speed of 25 km/h (15.5 mph) the company claims its top speed is 60 km/h (37 mph) unassisted…
It includes seating for one adult and one child and Podbike say there is no direct drivetrain connection from the rider to the wheels, rather "a compact generator propelled by pedals provide human power input." Claimed range is 80km / 50 miles.
[youtube https://www.youtube.com/watch?v=vqozqTGbOxk&w=1109&h=624]
Bergamont Launches Fully Equipped eFolder with Belt Drive Option
German manufacturer Bergamont has just released a funky looking electric folder, the Paul-E. It comes in two versions, a traditional chain drive with 7 hub gears and a low maintenance belt drive with 5 hub gears.
Both models have a traditional fold-in-half style fold and both weigh well in excess of 20kg and both use established mid-drive technology in the form of a Shimano E5000 motor (at 2.5kg the lightest and quietest of the Shimano range of mid-drives but also the least powerful with a 40Nm torque rating).
Easy folding features include a recessed grip at the transition from the seat tube to the down tube for easy carrying when folded. In addition, cables are routed internally in the frame in such a way that they do not get in the way when folded. The integrated Klick Fix system is also claimed to hold the folded package together. This should all help make the fairly large 90 x 45 x 80 cm folded e-bike more manageable. 
With some light electric folders weighing a few kg less than 20kg (though lacking the Paul-E's mid-drive power, wide ranging hub gears and 418Wh or 500Wh battery) this is a bike range that looks to take on similarly heavy and larger folding Bosch powered models from the likes of Tern and KTM. The RRPs of €2999 and €3699 also help to make them competitive.
Gocycle To Release 4th Gen Spec Ahead of Spring Launch
Leading urban electric bike brand Gocycle has teased a glimpse of its new fast-folding generation four (G4) models ahead of their Spring launch, with this image of the all-new carbon fork
The UK's Gocycle have been in touch with teaser details of the the 2021 Gocycle G4 and G4i.
They say '  The G4 and G4i will replace the award-winning fast-folding GX and GXi with full technical specification revealed to the world in March. The teaser image gives an exclusive preview of the G4's all-new carbon front fork built around the clean-sheet designed G4 motor system.'
Apparently Gocycle have already started production of the new models and more information on how to order the new Gocycle G4 range will become available at the full launch in March, with first deliveries beginning from Spring onwards.
RRPs are:
Gocycle G4 MSRP: £3,199 / €3,499 / $3,999
Gocycle G4i MSRP: £3,999 / €4,499 / $4,999
Gocycle G4i+ MSRP £4,999 / €5,499 / $5,999
New Magic Tour Mode for Moustache
Moustache are a French manufacturer of high quality e-bikes and use Bosch mid-drive motors exclusively. Originally Bosch motor systems allowed you to simply switch between power modes. Want more power? Just turn it up a notch. Then Bosch developed eMTB mode whereby the e-bike's onboard sensors detected gradients and refined pedal effort and pedal cadence input to offer a power level that adjusted itself according to terrain and rider demands at any given moment. This was developed specifically for eMTB riding where the fast past and everchanging terrain might not allow the rider to keep contsantly changing their power level.
Now comes Magic Tour mode which Moustache say is  'a continuation of the eMTB mode that we developed together with Bosch 5 years ago now, and has become in the meantime THE reference in E-MTB: the assistance provided adjusts automatically to riders' needs in an ultra-dynamic way and offers lots of motor function control. The eMTB mode is the ideal companion for fast strong rides…The new MAGIC TOUR mode goes further…The algorithms have been optimized thanks to the numerous tests carried out by our teams who have spent hours riding, to adjust, to perfect… until they attain the magic combo uniting battery life, capacity for clearing obstacles, performance and fun!'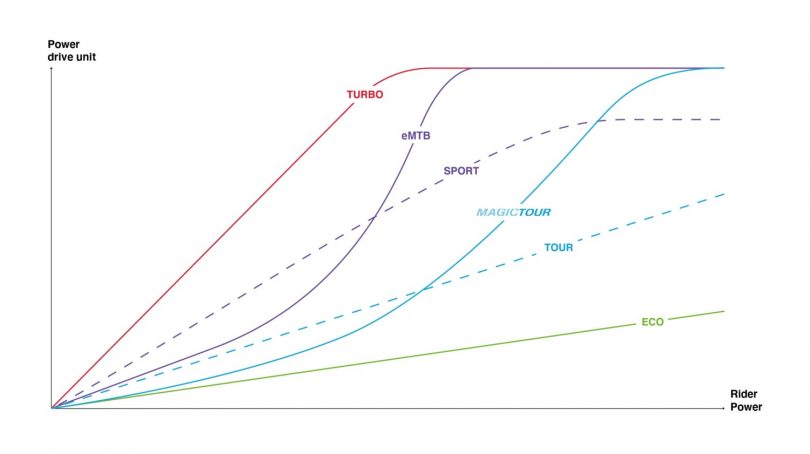 In other words, and as you can see from the graph above, the automatic nature of Magic Tour mode claims to drop the power level even more in less demanding situations but to eventually give the maximum motor output once a greater level of rider input is reached. The development looks as though it could save battery life whilst allowing instant access to 'power on demand'. Indeed Moustache says that, on average, the new Magic Tour mode makes their batteries last 15% to 25% longer compared to eMTB mode, even outperforming Tour mode whilst Eco mode continues to offer the longest range.
It looks like a further step towards truly full automation of power levels on Bosch-powered e-bikes.
There's no word yet on whether other e-bike manufacturers will also be offering Magic Tour mode on their Bosch-powered e-bikes.
Bike Accessories
New eBike Workstand with an Attractive Price
The new Montagestaender.Bike electrically powered workstand for heavier bikes and e-bikes is aimed both at workshops and individuals keen to work on their own bikes. It aims to stop struggles to lift heavy e-bikes in traditional non-powered workstands whilst keeping a reasonable price tag and a nice clean looking, low maintenance design.
The company say the stand can lift 35kg of bike or e-bike whilst the stand itself weighs 52kg and costs €1699. It features a large steel plate as the base for stability, uses a 230V mains supply and can be operated by a hand or foot switch.
Get Inspired
Mid-life Crisis?……Time to Buy an e-Bike
Feel like life is passing you by and want to feel magically stronger? Then check out this Time to Buy an E-bike video from spoof specialists IFHT, who certainly know how to tap into the cycling zeitgeist (the prequel video How to Buy a Mountain Bike is approaching 12 million Youtube views….).
Trek really do think e-bikes can change your life and have put together a web resource page on this very theme.
eBike Lets US Photographer Document His 5000 Miles of Riding
The UK's BBC reports 'In early 2020, a month before the coronavirus took hold in the US, Geoffrey Hiller bought an electric bicycle to explore the wider area around his home in Portland, Oregon. Over the course of the year, he cycled almost 5,000 miles, observing as the city was shaken by the pandemic, frequent protests against police brutality, and nearby wildfires.'
His conclusion?:
'I've ridden 5,000 miles in less than a year and even now, during the winter season, I continue to feel energised riding and discovering new places.'
Lime & Pedal Me Team Up to Offer Free Rides to Get COVID Jabs
Micromobilitybiz reports that 'Lime is partnering with e-cargo and passenger bike service Pedal Me to give Londoners free rides to and from their COVID jabs. The Ride to Recovery initiative, which forms part of the £1 million investment in Lime Aid and Access in the UK, will see Londoners given a code for four free rides to use to travel to and from their jab appointments at any point this year.'
UK's 'Largest Specialist eBike Shop' Opens
The UK's Bikebiz reports 'The Electric Cycle Company (ECC), Edinburgh, has just opened its new 4,000 square foot electric bike store and workshop on Crewe Road North, making it the 'largest specialist e-bike shop in the UK'.
eMicromobility
BCycle Launches New Flexible Docking System
BCycle, the bike share arm of Trek Bicycle, say they have just 'launched a new generation of dock-based bike share with the 3.0 docks……Unique to the bike share industry, this technology allows programs to grow more quickly and at a lower cost by eliminating the need for a kiosk. Its modular design also allows for smaller stations in more locations.'
Features include modular, kiosk-less, easy-to-install design, durable aluminum construction, power savings through new technology, theft deterrents and easy rider access via mobile app or RFID card.
Yet More eBikes Heading Portland's Way with Easier Access for All
A grant program from Portland General Electric will help subsidize access to the Biketown bike share system says BikePortland:
'BIKETOWN will grow to 3,000 e-bikes with a larger service area by 2024. BIKETOWN has two equity programs: Adaptive BIKETOWN provides bicycle access for people with disabilities; and BIKETOWN for All provides discounted memberships and fares for people living on low incomes. PBOT will use the PGE Drive Change grant to further reduce financial barriers, providing free ride credits for an average year of BIKETOWN use. The Drive Change funds will also provide discounts for young riders – BIKETOWN recently lowered the minimum rider age to 16 to introduce more teens to the benefits of bike sharing.'
UK's Bike Leaders Halfords to Launch Own Brand eScooter
Tech Digest brings us the news that 'From the UK's best selling bike brand come its first-ever e-scooter. Available at Halfords from February 16th, the Carrera Impel will set you back £399 and boasts a number of innovative features. As well as a maximum range of 18 miles and a top speed of 15.5mph, features include 8.5 inch pneumatic tyres for a smoother, more comfortable ride and a dual braking system with front and rear disc brakes to provide more effective stopping.'
It's a really interesting development as eScooters are actually illegal to use in the UK on public roads and rights of way – Halfords have recently stepped up calls on the UK government to legalise escooters.
eBike Share for Orlando
Bungalower reports that 'HOPR, previously known as Juice Bike Share has been operating a fleet of dockless rentable bikes for years but as of January, has stepped into the e-bike game……HOPR-E models are equipped with a mid-drive motor and three-speed internal gears and they can get up to 15-miles per hour with the pedal assist.'
eBike Biz
eScooter Operators Launch New European Micromobility Coalition
Micromobility again, this time reporting 'E-scooter operators have come together to form a new coalition, Micromobility for Europe (MMfE), which launched officially 2nd February. Comprised of eight founding members, Bird, Bolt, Dott, FreeNow, Lime, Tier, Voi, and Wind, the coalition aims to contribute to the development of a coherent policy framework in Europe that will ensure micromobility solutions flourish in European cities and support the rapid transition to zero-emission urban mobility.'
Brexit to Cause UK eBike Price Rise?
Cycling Industry News talks to Dan Parsons of London's Fully Charged – who believes UK e-bike prices may well rise….
'Whilst the headlines sing of big wins for Boris and the pro-Brexit campaigners, little attention is paid to the detail. Goods coming from Europe might not be charged duty on the face of it IF they are of European Origin (made in Europe), BUT for goods coming in from Europe manufactured elsewhere (reference the aforementioned Taiwan / China and the world's largest producers of bike bits) well, you guessed it, there are duties to be paid; 6% for electric bikes, 14% for analogue bikes and a mish-mash of percentages for different types of parts and accessories, depending on their commodity code, or HS code (in basic terms a system used to classify goods).'
For a handy summary of post-Brexit changes see this Bicycle Association piece.
Taipei Cycle Postponed….Again
Taipei Cycle 'hybrid' show organiser TAITRA (Taiwan External Trade Development Council) announced that the physical show for next March has been postponed. The date for the next physical shows will be announced soon. Taipei Cycle Online will still take place as scheduled between March 3 – 31, 2021.
More detail at Bike Europe.
Stay tuned for more e-bike news and reviews and thanks for reading!
-Rich
Reader Interactions