eBike News: eMTBs, Folding eBikes, Market Updates, & More! [VIDEOS]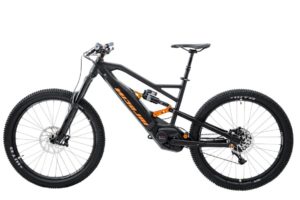 Exciting new Speed E-MTB from Nicolai
German MTB manufacturer Nicolai has announced an exciting looking 45kmh e-MTB model that they say will be available from 2017, the EBOXX-3.
It features a 45 km/h Bosch motor and 'relaxed' geometry to make high speed handling easier and more predictable.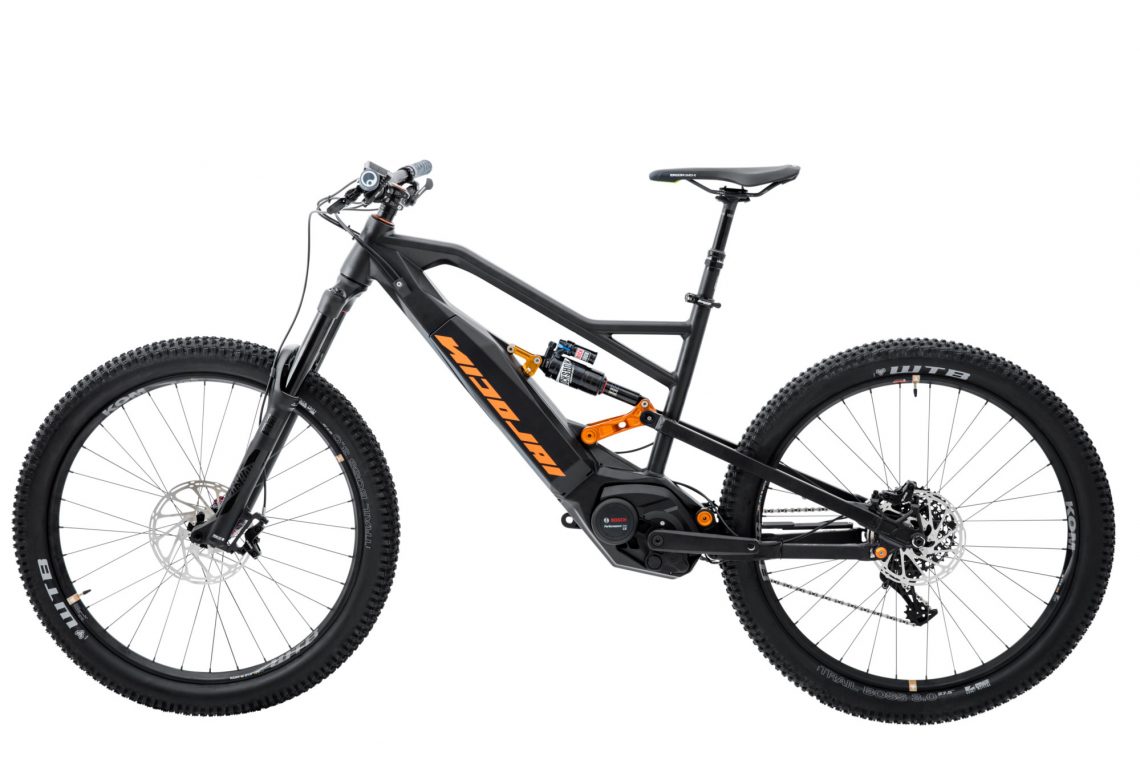 The standard offering is said to weigh 23kg with an €8,500 price tag (frame and motor €5,000).
Company boss Kalle Nicolai has a long history of e-bike development, being involved with earlier Nicolai prototypes and with Grace and HNF Heisenberg e-bikes.
Tern Reaches Kickstarter Target – and Helps Local Bike Shops
Tern has successfully completed their Kickstarter campaign for the Vektron which they bill as 'the world's most compact Bosch-powered electric bike.'
Folding bike specialists Tern went past their initial $60,000 target, going on to raise more than 150% of their funding goal. In contrast to other Kickstarter projects that fulfill orders using a direct-to-consumer model, Tern will deliver the Vektron through its network of more than 150 dealers in the US.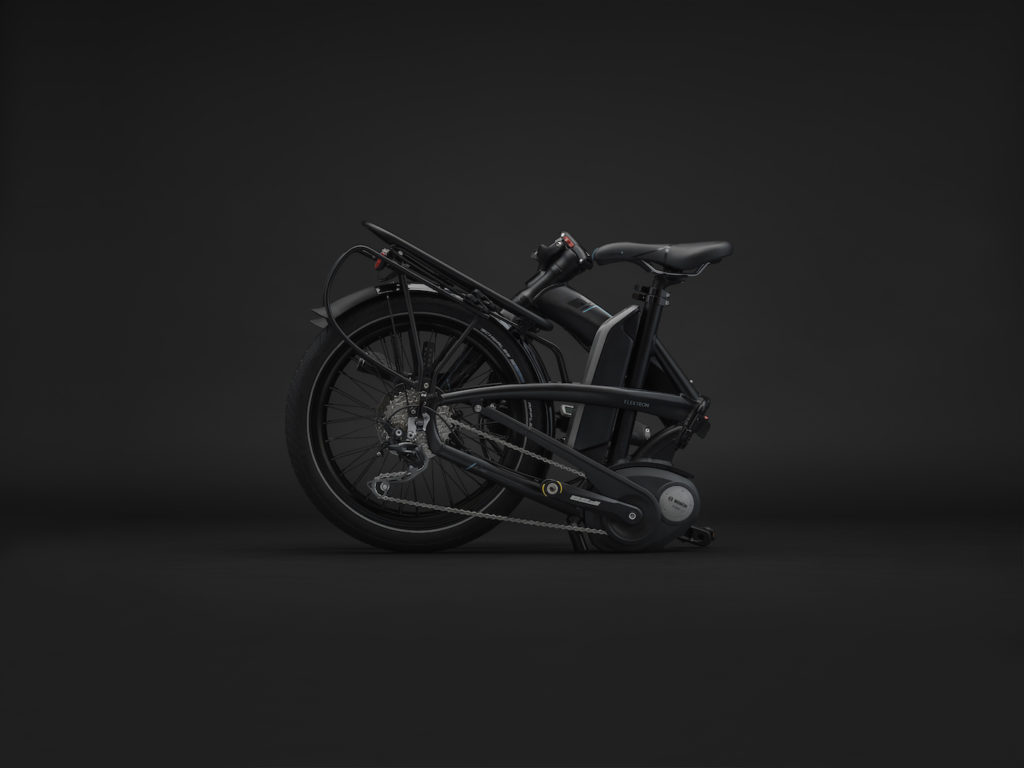 The press release outlined what Tern sees as the best solution for selling the Vextron in the US market, where the e-bike dealer network tends to be less dense than in many parts of Europe:
'After a consumer purchases a bike through Kickstarter, Tern's fulfillment team ships the bike to the closest local Tern dealer. Dealers then handle last-mile delivery, guaranteeing that consumers receive their bikes tuned and ready to ride, with a personal introduction to maintenance and operation. By establishing a local relationship, Tern's hybrid model ensures that riders are supported throughout the lifetime of the product. In exchange, Tern's dealers receive virtually the same margin they would on a conventional walk-in sale, and exposure to a much wider digital audience. Ultimately, Tern's model delivers more business for shops, and a better experience to Tern's customers.'
The Bosch-equipped Vektron retails for $3400 and will begin shipping in 1Q 2017. Interested US dealers can contact [email protected].
Folding E-bike Details from Airwheel
Folding e-bikes are relatively rare so it's good to see another model promoted on the web recently. Airwheel are known for all manner of e-mobility vehicles, from electric scooters to e-segway type vehicles to single electric wheels (that's right, you sit on the wheel and, hopefully, ride it…!).
The Airwheel R5 looks more conventional. Availability and spec details are a little sketchy, but it appears to feature throttle control, 16 inch wheels and integrated lights and claims a rather optimistic looking 100km range. Check out the video:
New Products & Accessories
As well as all things e-bike we also like to cover the best new cycling inventions to make your e-biking easier. So enjoy the first instalment of this new news section!
Parkis for Easy Bike Storage
Even though bike and e-bikes take up far less space than other vehicles, storing them can still be a problem, especially in situations where space is limited.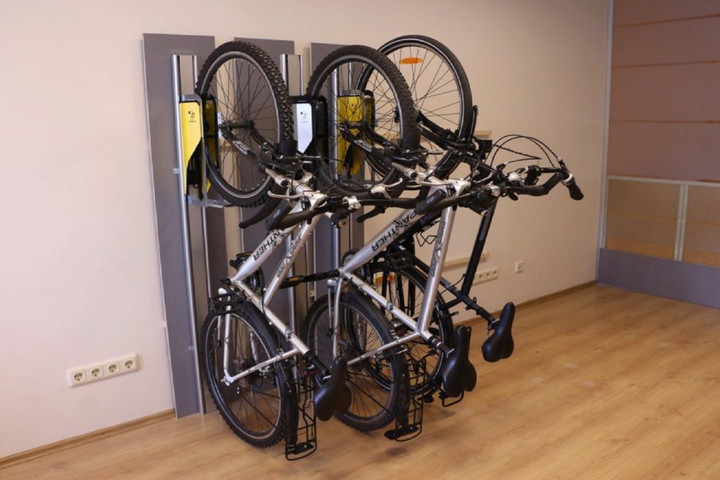 Enter the convenient-looking Parkis bicycle lift, designed by Lithuanian Milda Radvilaite. Though not made to take the weight of the heaviest e-bikes Milda says that it will cope with a front wheel weight of 15kg and Parkis are apparently working on an e-bike version.
https://youtu.be/Cy5FQRyEmFQ
Sentier – Bike Trailer and Wheeled Luggage in One
Wheeled luggage is so handy for getting around on various forms of transport but doesn't really combine well with bikes or e-bikes.
Until now. The Sentier bike trolley from Italy, when on your bike, just looks like a conventional mono-wheeled bike trailer. However, it converts to pretty regular looking wheeled luggage too.
It looks like it could be an ideal complement to a folding e-bike that has limited on-bike luggage storage or perhaps it would fit nicely with a full-sus e-MTB which again can be tricky to fit luggage to.
Get Inspired
Specialized CEO Speaks on e-MTBs – 'It's Still You Only Faster'
People for Bikes just featured an interview with Mike Sinyard, Specialized CEO.
An initial e-bike sceptic, once Sinyard tried it out his response was typical of a cyclist converted to e-bikes, 'I realized you can still get a great workout but go faster or father. I realized how empowering it is, and with our pedal-assist bikes, we realize it's still you, only faster.'
He also details how he hopes initial difficulties in trail access and sharing will be overcome, and holds Europe up as a good example of somewhere e-MTBs have been embraced.
Dirt also has a great interview with Sinyard who it seems could become one of the e-bikes' biggest and best US supporters. He clearly counters at least one of the myths in this interview, when the interviewer singles out 'older people, injured or people that are scared of mountainbiking' as target markets, with Sinyard countering they are also for 'people that just want to go fast'…
Brapping on e-MTBs
If you want to know what brapping is Alex the 'Singletrack Sampler' is here to tell you, whilst showing off his handling skills into the bargain…you'll get a brief glimpse of a couple of e-MTBs, the Specialized Levo and the Trek Powerfly 8.
UK's 'Hardcore' Cyclists Switching to e-Bikes?
A typical UK cyclist might well be pictured riding a non-electric road bike and clad in the style of a Tour de France pro. They would perhaps be rather dismissive of any need for electric assist. However, a recent survey from Sport Marketing Surveys has revealed some 43% of its consumer database are "likely" or "very likely" to buy an electric bike inside the next two years.
With over 1,000 UK "core cyclists" on its database, could this indicate a shift in even 'diehard' anti-e-bike attitudes? Headline findings for the study are:
4% of 'core' UK cyclists say their main bike is an urban e-bike and 2% say their main bike is a mountain e-bike.
In Germany – 8% of core cyclists say their main bike is an urban e-bike and 3% say it is a mountain e-bike.
23% have ridden an e-bike in Germany compared to just 8% in the UK.
Older cyclists are still much more likely to say that their main bike is an urban e-bike.
Islanders Incentivised for E-bikes
If there are any local government officials that want to promote e-bike take up in your area read on:
more than 300 e-bikes have been bought by Jersey Islanders using a government subsidy scheme, with most people using the bikes for their commute to work, according to figures from Jersey Island authorities. There's a UK national news report on the background here.
Jersey is one of the Channel Islands, and, although off the coast of France, it is a self-governing Crown dependency of the UK.
E-bike Biz
Training Vids for US E-bike Staff
Bicycle Retailer and Industry News reports that the Bicycle Product Suppliers Association e-bike committee, chaired by Larry Pizzi of Raleigh Electric, approved a budget this week to create 10 two-minute training videos to help e-bike retail staff better serve this emerging market.
Market Report Paints Bright Future for E-bikes
Bike Europe has reports that, according to a Persistence Market Research (PMR) report, the global market for bicycles is anticipated to expand by 37.5% over the period 2016-2024. Asia Pacific is anticipated to be the most lucrative market for bicycles over the forecast period while e-bikes will be the leading segment of the market.
E-bikes Growing in Denmark
Also underlining the growing importance of e-bikes within the bike market, figures from Denmark reveal that, although sales of conventional bikes are declining, with a drop in total bike sales from 518,500 in 2015 to 455,944 this year, within these figures e-bike sales increased 3% and now make up 9% of total bike sales.
Avere Alerts EU Industry to New Type-approval
From January 1, 2017 all new e-bikes that don't comply with the current 25kmh / 250W pedelec regulations and sold within the European Union may only be type-approved on the basis of the Regulation 168/2013. Avere sums up:
"Type-approval is a legal obligation for all electric bicycles, except those with pedal assistance up to 25 km/h and a maximum continuous rated motor power of 250W. Bicycles with a maximum speed of 25 km/h and a power above 250W come under the type-approval in category L1e-A "powered cycles", those with a speed above 25 km/h fall into category L1e-B "mopeds".
The latter category covers new models of s-pedelec introduced onto the EU market from Jan 2017 which will need a Certificate of Conformity issued by the manufacturer. Avere explains further:
'The consumer needs this COC, for instance to obtain a numberplate for his vehicle. Also, the police are entitled to check the COC to establish whether the vehicle is legal.'
Stay tuned for more e-bike news and thanks for reading!
-Richard
P.S. Don't forget to join the Electric Bike Report community for updates from the electric bike world, plus ebike riding and maintenance tips!
Reader Interactions