eBike News: eMTB Race, Borrow an eCargo, eTrike, New Motors, & More! [VIDEOS]
In this week's eBike news roundup:
New eMTBs from BH & Ridley
New eTrike from Pedego
New motors from Nidec & Freeflow
eMTB race at Mammoth Mountain
Borrow an eCargo for a month
More Smart Helmets
Innovative Bike Storage
And much more!
New E-Bikes and Motor Systems
In the wake of Eurobike there are a slew of new e-bikes to catch up on that will be hitting the shops later in 2017 and in 2018.
BH Emotion's e-MTBs powered by new Brose drive
Spanish firm BH Emotion have launched a completely new e-MTB range branded Atom X. It boasts it will be one of the first bikes on the market to be equipped with the new more powerful Brose Drive S mid-drive.
The Atom X also uses a new patented battery system housed in the downtube, sliding into place through an access port on the toptube. The lock can be released with a key bracelet, using NFC (Near Field Communications) technology.
BH is also one of the first e-bikes to switch to the larger, higher-capacity 21700 cells developed by Tesla, among others. Maximum battery capacity is 720Wh.
Check out the video:
https://www.youtube.com/watch?v=dPWa_XU0_1s
Pedego Launchs E-trike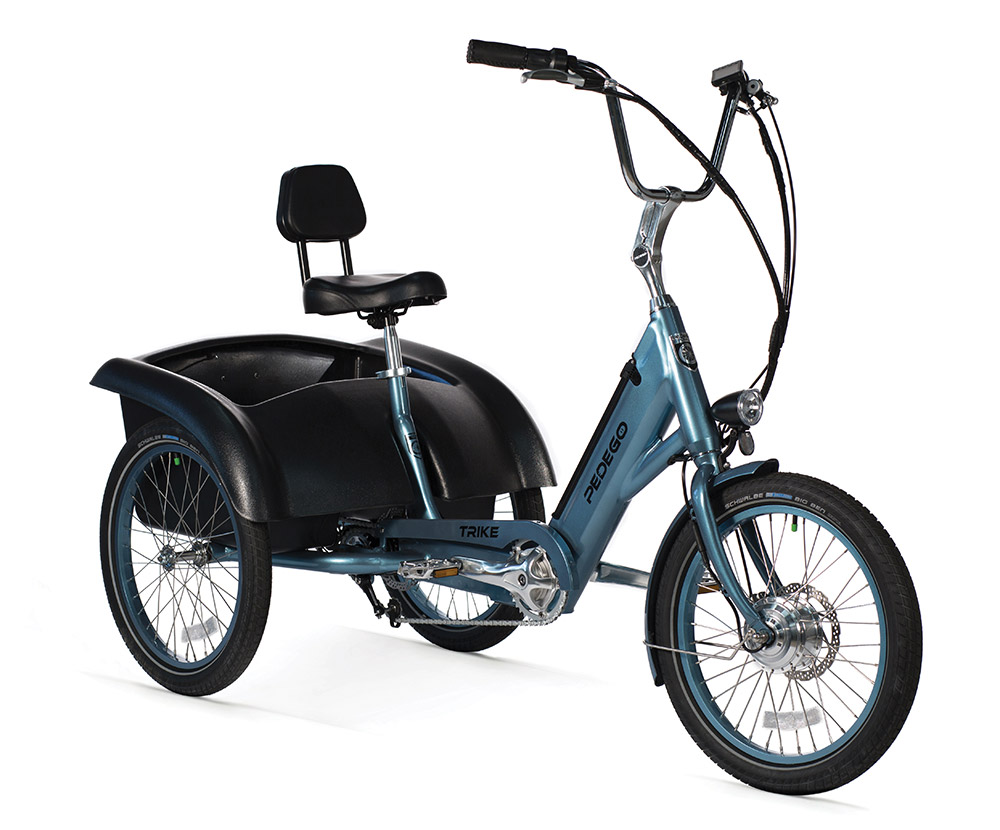 Pedego has just launched a new trike model. There is a choice of twist-and-go throttle or pedal assist. Claimed range on throttle only is 20 miles. Priced at $2,995 the e-trike will fit riders from 5'0" to more than 6' tall.
Ridley's Carbon Hardtail
Belgian bike manufacturer Ridley has launched its first-ever e-MTB, the Elykx C. They are using the Shimano Steps E8000 mid-drive system and electronic XT group. Apparently Ridley can paint the carbon frames individually to order and offer more than 50 color options and all frames are painted at Ridley's Belgian factory.
Nidec-Copal Targets e-MTB Market with New Motor
Japanese firm Nidec Copal has launched EPAB-001, 'an efficient high power motor unit (max 95 Nm, 700 W, 90% efficiency) provided with customizable firmware, triaxial angle sensor (to detect when the bike rides uphill or even falls over), quad sensor and control technologies, providing a natural riding feeling in any road conditions, superior power and torque performance.'
There's also a dedicated battery and cycle computer and Nidec Copal say the 'best fit' of the system is for e-MTBs.
At Interbike 2017 Nidec Copal will also launch a speed-pedelec motor and a small hub motor for markets it describes as 'e-Road, e-Folding and e-Small wheel'. Just 15.6 cm wide and 10 cm high, Nidec say it will pave the way for new eBike applications. They also promise to show voice-activated augmented reality glasses 'displaying all important information a rider may need' including messages from your smartphone.
Wilier Triestina's e-Gravel Launch
Wilier Triestina launched an e-gravel bike at Eurobike. It uses a Shimano Steps E8000 mid-drive system more normally found on e-MTBs. To quote Eurobike Show Daily magazine 'Wilier believes gravel bikes are the most likely type of road bike to adopt electric drive systems. The company believes that EU regulations governing speed pedelecs are too cumbersome to appeal to road bike enthusiasts.'
Freeflow's Lightweight Mid-Drive
Scottish company Freeflow took the chance at Eurobike to showcase their 2.5kg mid-drive system. They also produce a 14.4kg bike using the system.
Get Inspired
Get Ready to Boogaloo
The BOOGALOO, a Class 1 pedal-assist mountain bikes (e-MTB) race and demo event presented by Troy Lee Designs & Bosch eBike Systems, is back for its second year as part of the Kamikaze Bike Games at the Mammoth Mountain Bike Park September 14 – 17.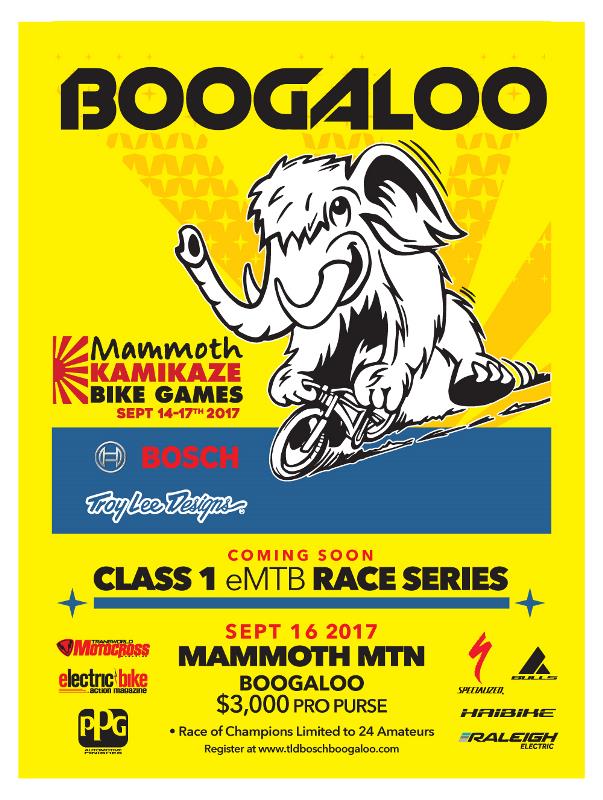 The race will be held on a course specifically designed for e-MTB racers. The PR release promises 'near-vertical ascents, killer drops, obstacles, berms, and more. Free demo rides will also be available.
Register here.
Borrow a Riese & Muller eCargo
If you fancy a free loan of a premium quality eCargo bike and live in San Francisco, New York City, Portland, Oregon and Denver check out this great offer from the German manufacturers.
Cycling Accessories
Helmet Roundup
Following Netherland's new speed-pedelec laws coming into force earlier in 2017 there are now a number of helmet manufacturers with s-pedelec specific helmets as specified by the Dutch law. So-called NTA-certified s-pedelec helmets include a Eurobike launch from MET, the Grancorso. Cleverly a reflective visor gives the helmet 360-degree visibility.
According to the Dutch standards organization NEN, other brands with NTA-certified s-pedelec helmets are BBB Cycling, Bontrager, Cratoni, Specialized and Strategic.
Smart helmets are also very much in the news, with Livall launching two smart helmets that allow riders to make hands-free calls and to indicate turns and show they are braking using the helmets' inbuilt lighting system.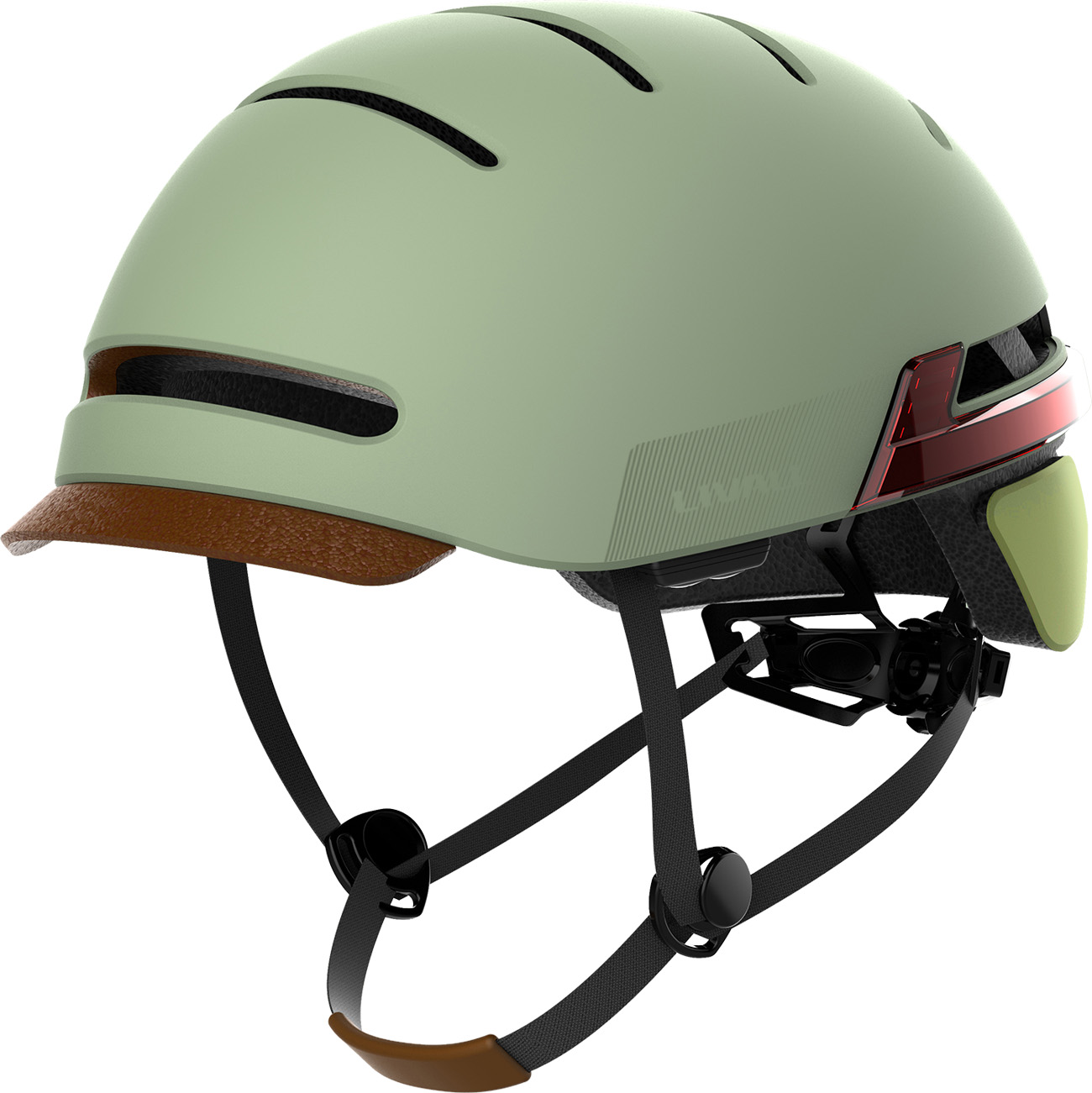 The BH51 is designed for urban commuters whilst the BH50 is aimed at road riders.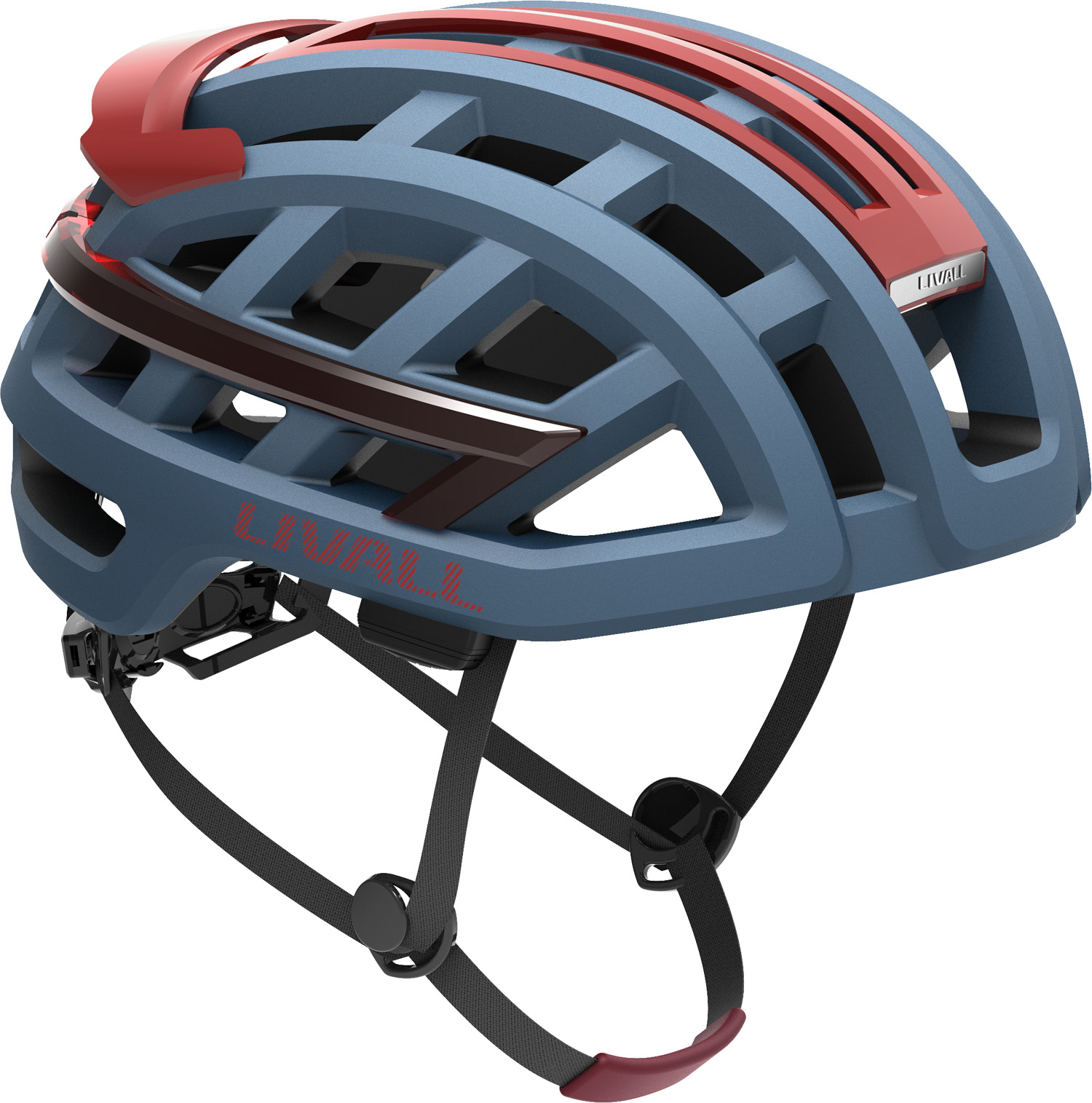 Alpen's Sleek Futuristic Storage Solution
Secure bike storage can be, well, boxy and ugly. It's this problem that Alpen's new futuristic-looking pod-like bike storage with Bluetooth locking and motorised opening is looking to address.
Check out their video:
Infrastructure
Scotland Doubles Spending on Cycling and Walking
BikeBiz reports that 'Scotland is to double the funding for cycling and walking, increasing it from £40m per year to £80m.' The move has been warmly received by numerous cycling advocacy groups. The article notes 'Cycling UK sees Transport Scotland's doubling of investment in active travel, to effectively an annual £13.50 per head, as an aspiration each devolved administration should seek to match.'
E-bike Biz
Raleigh Rolls Out Lapierre in the UK
Following the announcement in January that Raleigh UK Ltd are to distribute Lapierre bicycles and e-bikes in the UK, Raleigh in September say they are now taking orders for the bikes.
Stay tuned for more e-bike news & reviews and thanks for reading!
-Richard
P.S. Don't forget to join the Electric Bike Report community for updates from the electric bike world, plus ebike riding and maintenance tips.
Reader Interactions