eBike News: eBiking During Coronavirus, Cannondale Radar System, New BULLS, Electric Handcycling, eBike Access, & More! [VIDEOS]
In this week's news:
Coronavirus eBike Update
Your Support for eBike Access
BULLS Copperhead eMTBs
Cannondale Traffic Detecting 'Radar'
Fazua Software Update
Electric Handcycling Off Road
Tern GSD Helps Medical Outreach
Solar Cell Efficiency Record
Cytronex Brompton
And Much More!
Coronavirus Update
People for Bikes Resource Page
People for Bikes have put together this excellent resource page with tons of info including accessing grants and loans for those in the bike industry during the crisis.
Also People for Bikes has been in touch with the following message. "Many of the places we love to ride bikes on public lands are currently closed to electric bicycles (e-bikes) because of outdated laws governing how e-bikes are defined and managed.
That could change for the better and we encourage you to speak up in support of e-bikes.
In early April, the National Park Service, Bureau of Land Management, Fish and Wildlife Service and Bureau of Reclamation proposed new regulations ("rulemaking") regarding e-bike use on federal lands. "
Cities Around the World Looking to Give More Space to Cyclists and Walkers
Numerous reports show how cities around the world are responding to the difficulties of social distancing and staying 2m apart.
New Zealand, reports Forbes, 'has become the first country to provide funding to make tactical urbanism into official government policy during the coronavirus pandemic', tactical urbanism being the new buzzword for taking space away from cars to facilitate safe movement of key workers who want to avoid public transport and to facilitate safe exercise.
'Transport Minister Julie Anne Genter has invited cities in New Zealand to apply for 90% funding to widen sidewalks and carve out temporary cycleways, measures that can be put in place in hours and days rather than the weeks and months that it can often take to install such infrastructure' it adds.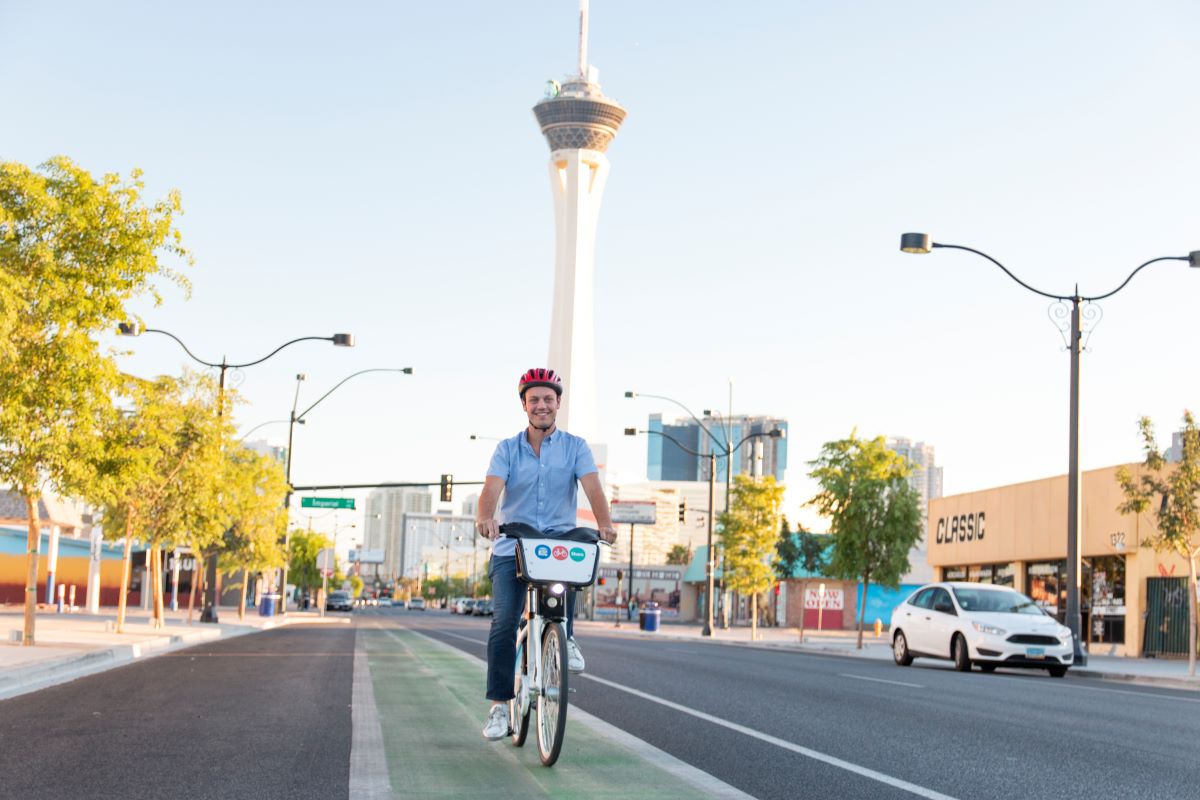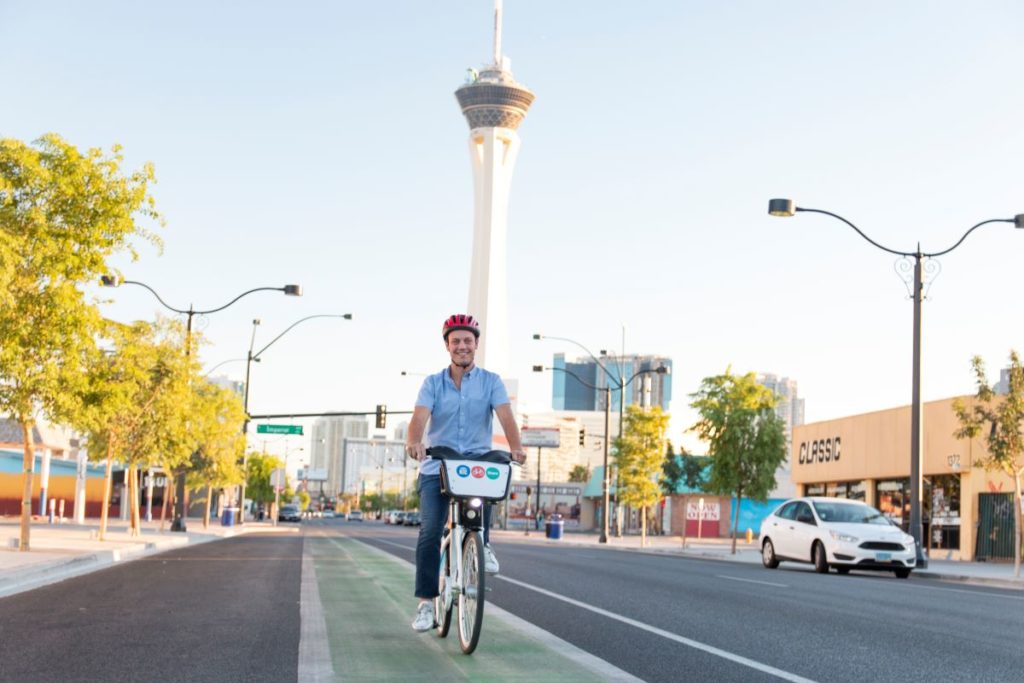 This Guardian article picks out many examples of cities bringing in emergency measures during the crisis to create extra cycling and walking space as places such as parks and existing bike lanes and trails are suddenly under greater pressure of numbers due to coronavirus. For example:
– Philadelphia officials closed 4.7 miles of Martin Luther King Jr Drive, a wide riverside boulevard, to motor traffic…as leisure trails became overwhelmed by residents seeking their daily exercise.
-Minneapolis has closed part of its riverfront parkways to motor vehicles.
-Denver has introduced pop-up cycling and walking lanes on 16th and 11th Avenues and roads around Sloan Lake to help people socially distance while exercising.
-Oakland officials said they were planning to close 74 miles of roads – 10% of the city's total – to motor vehicles.
-In Canada, Vancouver's park board announced that Stanley Park is now cycling and walking only, as well as the linked eastbound lane of Beach Avenue, to relieve congestion and stop visitors arriving by car and parking dangerously, amid a 40% increase in park users.
-In Winnipeg, four streets are restricted to cycling and walking from 8am-8pm daily, and in Calgary traffic lanes have been reallocated to cycling.
The London Cycling Campaign has come up with this list of ideas to enable safer cycling.
Brompton Wheels for Heroes
Brompton have launched the Wheels for Heroes crowdfunding campaign for funds to provide up to 1,000 bikes to support NHS staff to travel for free during the COVID-19 pandemic.
Lectric Bikes Forging Ahead Amidst the Crisis
Lectric eBikes launched in May 2019. Barely a year later, the Lectric XP bike has over 10,000 purchases of its folding electric fat bike. The company is expected to hit $12 million in sales by its first anniversary on May 30, 2020.
With concerns about public transportation becoming a hotspot for contracting coronavirus and changes in how the public gets around, Lectric eBikes has seen a 90% increase in sales since the week of March 15.
Lectric eBikes say they will be donating 8,000 KN95 masks to healthcare workers in Arizona, where the company's founders live.
More Cycling in Scotland
This BBC report tells us that 'The coronavirus lockdown has prompted a big increase in cycling across Scotland, according to a national monitoring scheme. Automatic cycle counters at 60 locations found in some places the number of cyclists more than doubled.'
Virus Prompts eCargoBike Deliveries in Some of the UK's Most Challenging Territory
This great ebiketips article tells us how a UK transport consultant, based in the extremely hilly area of Calderdale, 'hired a Riese & Muller Packster 80 from Manchester Bike Hire, and recruited a number of cyclist friends to make deliveries on behalf of local businesses in and around the West Yorkshire town of Todmorden.'
An indoor market and a wholefood shop were the main customers for the team of riders and it is hoped the service will become permanent once the crisis has passed.
Gazelle & Orbea Start Production Again
Gazelle have been in touch with a heads up to show that things are starting to return to normal in parts of Europe. Gazelle's Dieren factory in the Netherlands was closed for three weeks due to COVID-19. But, effective April 13th, the facility has reopened and is operational…with safeguards in place.
Gazelle say:
'While the majority of the Gazelle Bikes' annual North American production volume was assembled prior to closure of the Dieren facility, the brand is happy to see that assembly is restarting and that employees can safely return. Gazelle Bikes currently has strong domestic inventory levels ready to ship in North America and is preparing to launch multiple new electric bike models over the coming months. Electric bikes that were assembled and staged in Dieren in early March prior to the closure are arriving in the North American warehouse daily.'
Meanwhile Bike Europe reports that in Spain 'Basque bicycle manufacturer Orbea S. Coop in Spain resumed operations "in compliance with the maximum health and hygiene measures established by the competent authorities."
E-bikes and National Parks
Policy Directive to Become Federal Regulation?
BRAIN (Bicycle Retailer and Industry News) reports that 'The U.S. Department of Interior's policy proposal last year to regulate e-bikes as traditional bikes on non-motorized lands is now under standard review with a public comment period.
The policy proposal affects the National Park Service, Bureau of Land Management, U.S. Fish and Wildlife Service, and the Bureau of Reclamation. Each of their 60-day public comment periods (Regulation Identifier No. 1024-AE61) ends June 8. Agencies then will review all comments and decide if the proposal becomes federal regulation and/or if changes are needed, effective 30 days after being published in the Federal Register.'
New eBikes and eBike Systems
New 'Radar' Feature on Latest Cannondale City Bike
Cannondale claims, with the launch of the new Mavaro Neo, to feature the world's first bicycle radar system in collaboration with GPS specialist Garmin. The Mavaro Neo range consists of 6 models, the Mavaro Neo 1 to 5 and 5+, but Cannondale only supplies the top model of the series, the Neo 1, with the radar integrated as standard.
According to this Bike Europe report 'The radar system is incorporated in the rear light under the seat post and gives audible signals on a display and flashes LEDs to warn of traffic coming up behind. The Garmin Varia RTL510 bicycle radar is capable of detecting traffic up to 140 meters behind the bicycle. The radar display can detect multiple vehicles and intuitively shows how fast they are going.'
New BULLS Copperhead eMTBs
BULLS just launched their new Copperhead eMTB line to the US.
"We are excited to continue our tradition of creating top of the line eMTBs for all riding levels," said Adam Anderson, Sales and Marketing Manager of BULLS BIKES USA. "With this new series of eMTBs, we take yet another opportunity to showcase our success in enhancing the electric mountain biking space by providing a variety of riders the opportunity to experience the exhilarating benefits of eMTBs."
COPPERHEAD EVO AM 4 $7,999 – This top of the line eMTB features Bosch Gen4 CX motor and 625Wh Powertube battery, 150mm Rockshox Lyric front fork and rear Deluxe Select, DT Swiss H1900 rims with 12-speed Shimano XTR groupset and 203mm Shimano brakes front and rear, and it comes equipped with BULLS' standard Monkey Link Connect; lights sold separately.
COPPERHEAD EVO AM 3 $5,899 – Features Bosch Gen4 CX with 625Wh battery, Fox Float 36 150mm travel suspension, 12-Speed Sram Eagle groupset, and 203mm Magura MT-5, 4-piston hydraulic disc brakes.
COPPERHEAD EVO AM 2 $5,299 – Features Bosch Gen4 CX motor and 625Wh Powertube integrated battery, 150mm BULLS Lytro 34 fork and Suntour rear travel, SRAM Eagle 12-speed, and 203mm Magura MT-5 4-piston hydraulic disc brakes.
COPPERHEAD EVO AM 1 $4,899 – Features Gen4 Bosch CX motor, 140mm of travel with a Suntour Lytro 34 fork and Suntour Unair rear shocks, Shimano Deore 10-speed groupset, and 203x180mm Shimano hyrdraulic brakes.
Learn more about the BULLS Copperhead lineup here.
New Fazua Software
Fazua is a lightweight and discreet motor system with a removable motor and battery unit and is being used by an increasing number of e-bike manufacturers, especially those producing lightweight road and hybrid e-bikes.
Fazua have recently introduced a software upgrade that they say results in more power and smoother power delivery as well as rider customisable power settings. They have called it Black Pepper. Here's a video of more detail:
Azor Website Launches 'Bike Builder' with Huge Choice Range
Choosing bike and e-bike specs via a manufacturer's website is nothing new but Dutch company Azor have come up with My Azor, a bike builder to end all bike builders.
According to this Dutch language report in Tweewieler the new bike builder facility took two years to put together and many tens of thousands of euros were spent on it.
According to Azor director Jan Rijkeboer, you have 'a digital bicycle assembly tool that can make up to 10 billion possible configurations in detail'.
You can choose to add either a hub motor or mid motor to their range of Dutch style 'base models' as well as choosing from a massive range of other options such as frame colour, tyre type, child seat and so on and so on…
Get Inspired
Electric Handcycling – Offroad!
Reactive Adaptations builds handcycles for those wanting to go off-road and also offers electric assist options.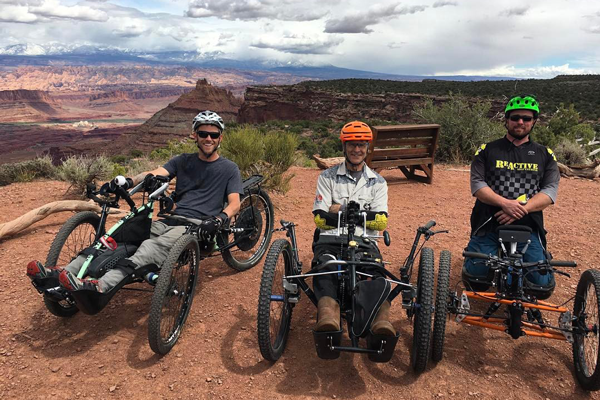 This great People for Bikes article tells the story behind the company and it's also a plea for more access to National Park non-motorized trails for disabled riders.
Tern GSD Helps With Medical Outreach Work
SAMPAS (Service d'Accompagnement Mobile Pour l'Accès Aux Soins) is a local non-profit organization in Brussels, Belgium that works in collaboration with a multitude of partners to better prevent, inform and manage the difficulties associated with hepatitis C.
The team consists of mobile medical and social workers that travel throughout the Brussels region to provide treatment for those infected by the hepatitis C virus, mostly current or former drug users and other vulnerable segments of the population (undocumented immigrants, homeless, etc.)
So to make their job easier, the organization secured a Tern GSD. With the GSD, all the diagnostic equipment can be loaded onto one bike. And with its compact, easy-to-ride design, the Bosch-powered ebike can be navigated throughout crowded Brussels quickly and safely by anyone on the team.
In the first three months after receiving their GSD, the SAMPAS team served 120 patients, and conducted close to 150 exams. The team was also able to expand its reach from visiting health centers to being able to directly visit patients in their homes. And overall, the team is much more efficient, since only one person is needed to carry all the equipment and conduct the screenings.
SAMPAS is also considering obtaining a portable tent (like Qube Tent) and deploying it with the GSD in order to provide a confidential mobile space for screening sessions anywhere in the city.
Electric Tech
Solar Cell Efficiency Records
This New Atlas article describes how 'Solar cells are constantly improving on the road to maximum efficiency. Now, three records have been broken by two different devices, including one that pushes the highest overall solar conversion efficiency towards the 50-percent mark.'
Solar cell efficiency is a vital benchmark on the road to a sustainable future and to providing electric vehicles of all kinds with sustainable power.
Let's hope these test results mean more clean energy in a greener future…
My Week on eBikes
This week I have been trying out the latest of the many Brompton kits out there. EBR has already tested some models here and here.
The Cytronex Brompton is a Brompton specific pedelec retrofit kit designed and made in the UK and Cytronex say it adds just 7 pounds (3.2kg) to the weight of the bike. EBR will have a review shortly but in the meantime you can read the first full review of the system at A to B magazine.
And here is Cytronex founder Mark Searles with a video about his own trip up one of Europe's classic Tour de France challenges…on his Cytronex Brompton.
Stay tuned for more e-bike news and reviews and thanks for reading!
-Rich
P.S. Don't forget to join the Electric Bike Report community for updates from the electric bike world, plus ebike riding and maintenance tips!
Reader Interactions