eBike News: eBikes in National Parks & BLM, EBC Model X & Y, New Juiced Bikes, Yuba & Babboe eCargos, & More! [VIDEOS]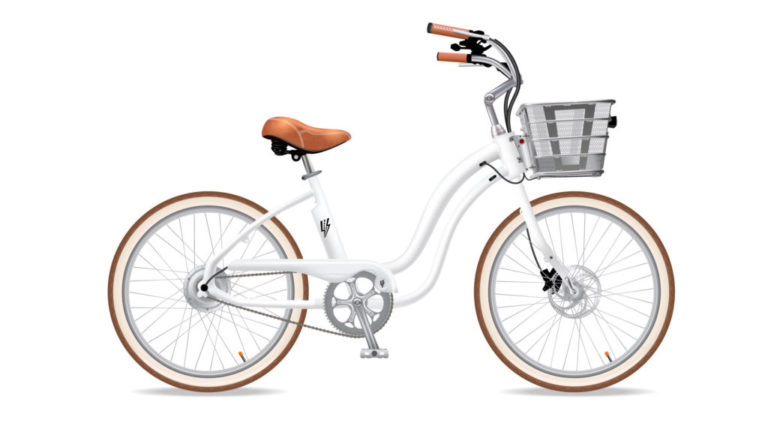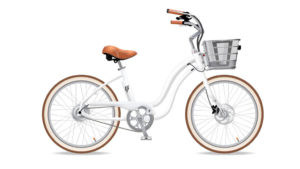 In this week's eBike news roundup:
eBikes in National Parks & BLM Land
Electric Bike Company Model X & Y
New Yuba & Babboe eCargo Bikes
GoCycle GXi eFolder
Juiced Scorpion eMoped
New Moustache eMTBs
eCargo Beats Van
eMTB Racing Video
Epic Great North Trail Launched in UK
And Much More!
Headline News
E-bikes to be Allowed in US National Parks
& BLM Land
Bicycle Retailer and Industry News reports that 'The U.S. Department of Interior on Friday said all classes of e-bikes will be regulated as traditional bicycles on non-motorized federal lands. The change will take place within 30 days and primarily affects the National Park Service and Bureau of Land Management.'
As Bicycle Retailer points out this means 'E-mountain bikes soon could legally access the same federal trails as traditional bikes with the agencies regulating them as they see fit, just like with other bicycles.'
Here is a video from Denver 7 about Rocky Mountain National Parks and eBikes:
And coverage from Cuyahoga Valley National Park:
There has been some criticism to this change because it was made with minimal public input as this USA Today article covers.
It is important to note that conventional bicycles cannot be ridden on many hiking trails in national parks. They are generally allowed on roads and paved pathways that go to hiking trailheads. eBikes will most likely have the same access to those roads and paved pathways that conventional bicycle are allowed on.
This change does allow eBikes on BLM trails but not US Forest Service trails.
Crested Butte News covers eBike access to some BLM trails around Fruita, Cortez, and other areas of Colorado.
New eBikes & eBike Systems
Electric Bike Company Models X & Y
These good value ($1,499 w/ free shipping) new cruiser style e-bikes are assembled by Electric Bike Company in California and there are plenty of customizable color options for various parts of the bike.
Some of the highlights are a 48V 10ah battery that powers a 750 watt motor, Tektro hydraulic disc brakes, Schwalbe tires, and front & rear lights.
Here are videos of the Model X & Y for a closer look:
https://youtu.be/7s21LykoztE
https://youtu.be/GamBaSk20xQ
Electric Bike Company is now including free shipping on all of their eBike models and they come fully assembled from their facility in Newport Beach, California.
New Yuba E-cargo Bikes
Yuba has announced three new e-cargo bikes for 2020:
Electric Mundo, an electric version of Yuba's best-selling compact cargo bike now made even stronger (400lbs / 200kg cargo rating with space for four kids) and taller fitting statures up to 6'6''. Retail Price: $4400/€4400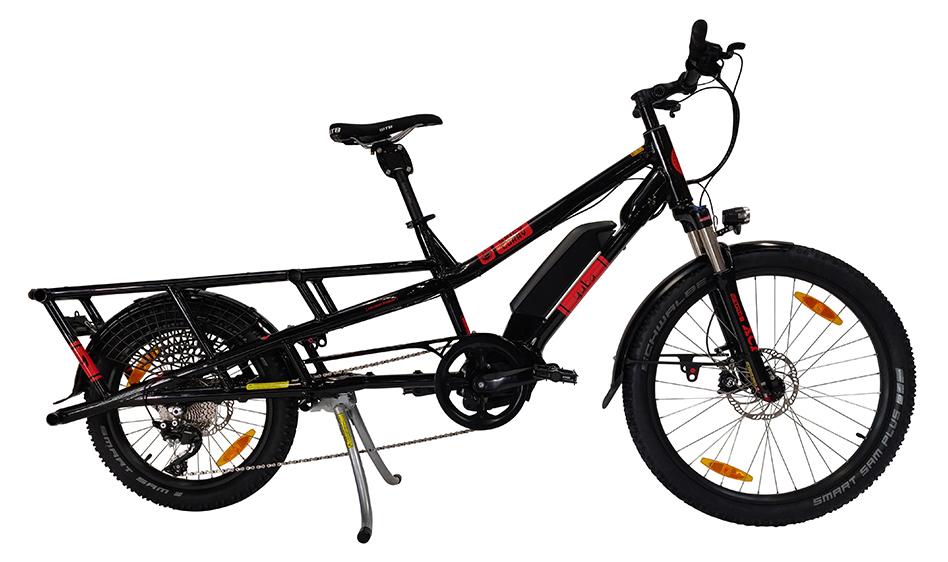 The Spicy Curry AT, which takes cargo biking off-road and notably features Bosch's new Cargo Line mid-drive. Price: $5,000/€5,000
The all-new Kombi (not electric), priced at $999/€999 and offering features including a battery-powered light and capacity for up to 3 kids, in a compact and affordable package.
Moped Meets E-bike as the Juiced Scorpion
The latest e-bike from Juiced Bikes, the Scorpion, is marketed as having moped features such as bench seat, full suspension, an extremely solid looking build, motorcycle style headlamp and very wide profile tyres.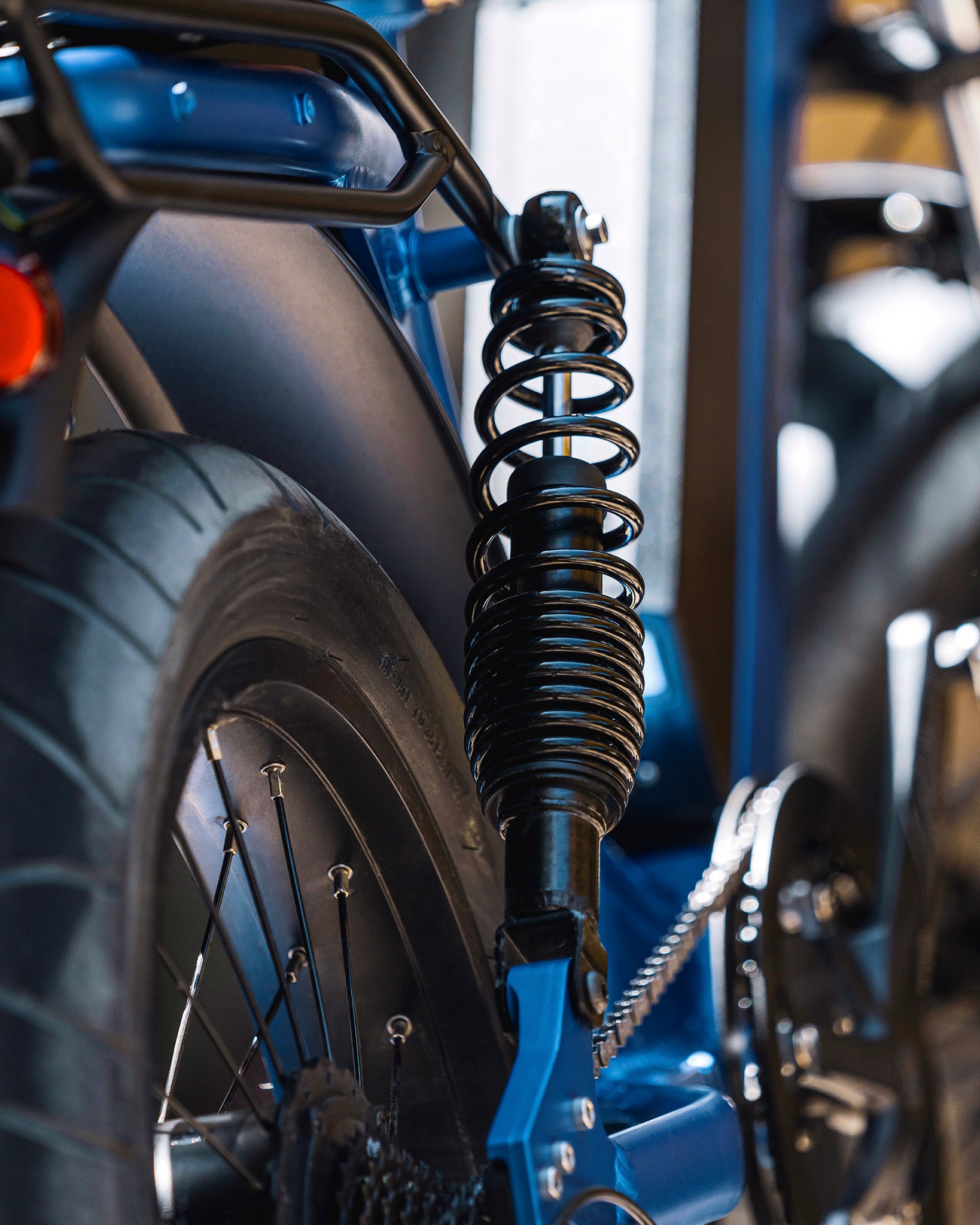 It is a speed pedelec with 28mph top assisted speed and a massive 1kWh battery.
There are no price details yet but you can sign up for pre-launch discounts at the above page.
New GoCycle Gxi Features Host of New Features
Gocycle will preview the new fast-folding GXi model at the 2019 Cycle Show in Birmingham, UK ahead of it joining the brand's 2020 line-up.
The quick fold GX model was launched earlier in the year. New technology for the GXi model includes patented automotive-inspired Daytime Running Light, LED cockpit and electronic predictive shifting.
The Gocycle GXi is available to pre-order now, priced from £3,699; €4,199; $4,799 MSRP with first deliveries beginning at the start of 2020.
Babboe Slim Mountain for Family Adventures
This Babboe e-cargo bike is designed to take two children and to be extra maneuverable due to its slim width.
It features a powerful Yamaha mid-drive and Enviolo stepless gearing.
Moustache Announces their Season 9 Range of E-bikes for 2020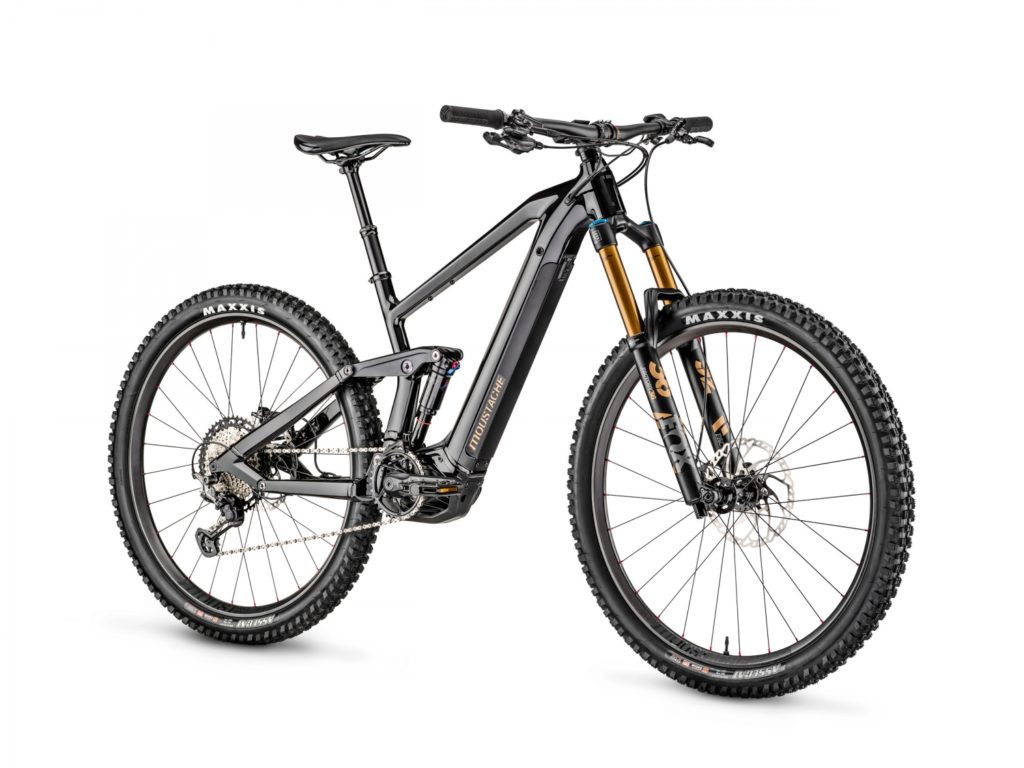 This great article by E-Mountainbike details not only the new range of e-bikes from French manufacturer Moustache, but also the seriously well organized business of how they manufacture their e-bikes.
It summarises the 2020 range thus:
'For the 2020 model year, the French team have updated their entire model range. Unsurprisingly, that's largely because of the new Bosch motor generation. In this context, they have also restructured their model range, with new names and new options in terms of suspension travel and wheel sizes for the 2020 bikes. Up until now, Moustache Bikes have integrated an external 500 Wh Bosch PowerPack, called Hidden Power Integration, which has given the bikes a very low center of gravity and excellent riding characteristics. However the new 625 Wh batteries are only available in the internal Bosch PowerTube configuration. Hence, Moustache had to switch to the Bosch PowerTubes as well, which are generally a bit heavier and usually result in the centre of gravity moving upwards. But as you can imagine, the Moustache engineers have found some very clever solutions for the integration of the Bosch components!'
Get Inspired
Miranda e-Factory Team at the World Championship
Here is a video of Miranda e-Factory Team athlete, Emanuel Pombo (from Madeira), at last week's World eMTB Championship at Mont-Saint-Anne, Canada.
Great North Trail Off-road Epic Launches in the UK
Although the UK is a relatively small country it has an amazing variety of upland scenery ideal for off road exploration on two wheels.
Now, thanks to an off road route plotted by Cycling UK you can travel the length of northern England's and Scotland's uplands – looks a perfect eMTB epic!
E-bike Law
New Laws to Make Cycling Safer in Calgary
The Albertan city of Calgary has recently issued some progressive looking bylaws that should help cyclists and e-bikers get and about. These include:
– Motorists driving slower than 60km/h will be required by law to leave a minimum of 1 metre when passing someone cycling. When driving faster than 60km/hr the distance increases to least 1.5 metres of space when passing. Failure to leave the minimum safe passing distance may result in a $203 fine as per the new bylaw.
– Calgarians are now legally allowed the use of motorized and non-motorized mobility devices (such as non-motorized and motorized scooters*, inline skates and skateboards) on the cycle track and in public spaces in the downtown core.
– Electric pedal assist bicycles on Public Transit are now allowed during the same non-peak hours that other bicycles are permitted. Electric pedal assist bicycles weighing less than 55lbs are now allowed on bicycle racks on the front of City buses.
Check out the video below for more clarity and an interesting Twitter discussion on how it is to be enforced (for example sticking a pool noodle horizontally out from your bike….)
Starting September 1, motorists driving below 60km/h need to leave a minimum of 1 metre when passing someone cycling. If you're driving faster than 60 km/h, that distances increases to 1.5 metres. Visit https://t.co/HeC4YgmFls to learn more. #yycbike pic.twitter.com/VeM9w2iq3b

— City of Calgary (@cityofcalgary) August 26, 2019
eCargobike Watch
Cargo Bikes Faster than Vans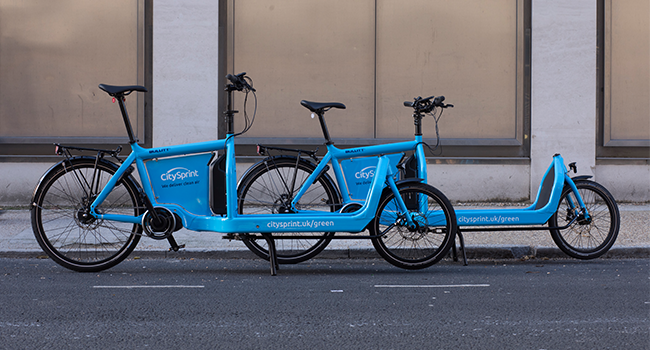 This interesting Forbes report covers research from CitySprint, a UK logisitics firm, which tells us that cargo bikes, on average, complete peak weekday deliveries in cities some 50% faster than small vans.
This isn't just words from CitySprint; the article tells us they will be adding 60 more cargobike models to their 40 in operation around London. Internet images also show at least some (possibly all) of their cargo bikes are electric too.
There are more research gems here too; according to the City of Amsterdam, average unloading time from a van is 12 minutes and from a cargo bike 3 minutes. No contest!
E-bike Biz
E-bike Sales in Europe Skyrocket
Although Netherlands and Germany are often highlighted as the powerhouses of e-bike sales in Europe it's clear that other countries are taking to e-bikes as never before, according to this Bike Europe article.
Sweden saw a 53% year on year increase in e-bike sales and there were also big jumps in Denmark and France where e-bike sales now account for 40% of the total bicycle market by value.
Bike Europe also reports here on the trend to relocate e-bike manufacture to Europe, citing the Danish company Viridus which has started the production of e-bike Lithium-Ion batteries at its modern Aarhus facility in order to counter the reliance of the industry on supplies from the far east.
Stay tuned for more e-bike news and reviews and thanks for reading!
-Richard
P.S. Don't forget to join the Electric Bike Report communityfor updates from the electric bike world, plus ebike riding and maintenance tips!
Reader Interactions