eBike News: eBike Tariffs Over, New York Veto Update, EBC Model R, 2020 Yamaha, Sahara eMTB, Smart Accessories & More! [VIDEOS]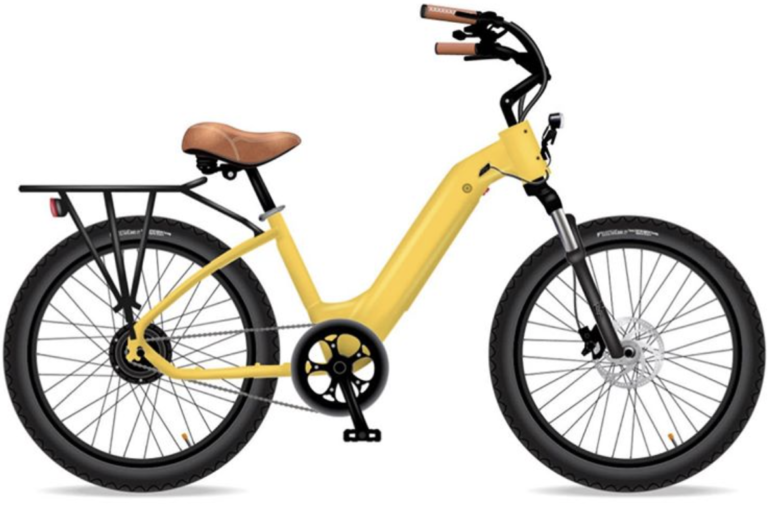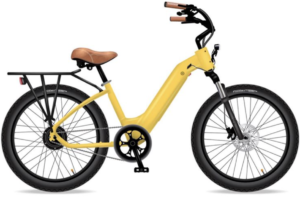 In this week's eBike news roundup:
eBikes Excluded from Tariffs
New York eBike Veto Update
Electric Bike Company Model R
Lightweight OneMotor Friction Drive
2020 Yamaha eBikes
Sahara E-bike Challenge
New Yuba Cargo Accessories
Smart Helmet from Safetec
Smart Rear Light with Video
Torqway Mobility Tech
eBike Biz Updates
And much more!
Headline News
Electric Bicycles Are Excluded from Tariffs
From Bicycle Retailer "U.S. Customs and Border Protection has ruled that e-bikes fall under the same category as electric motorcycles and therefore share an exclusion, granted in September, from the Trump administration's Section 301 tariffs on Chinese imports. The decision means importers of Chinese e-bikes are now exempt from paying the 25% tariff the administration imposed in August 2018. Importers should be able to collect previously paid tariffs as well."
The categorization with eMotorcycles is only for import considerations. For legal use and access electric bicycles are intended to be within the conventional bicycle category.
Where are Cuomo's Proposals on E-bikes?
Last week's news post covered how New York state governor Andrew Cuomo blocked the passage into law of a popular e-bike bill. Now the e-bike world awaits to see what proposals Cuomo does come up with.
As this BRAIN article points out, '(Cuomo) said he would announce the legislation during his State of the State speech, which he delivered Wednesday. Cuomo did not mention e-bikes in his speech.
But in his written 2020 agenda outline released Wednesday, he restated a desire to introduce a bill to ensure "sustainable vehicle alternatives, such as e-scooters, to keep riders, pedestrians and drivers safe."
BRAIN also points out that 'Cuomo stated Wednesday in his agenda that he wants a bill to provide "justice for e-bike workers." Transportation advocates have said the crackdown on delivery workers who depend on e-bikes for their livelihood is unjust.'
EBR will keep you up to date with any new proposals from Cuomo and what the wider reaction is.
New eBikes & eBike Systems
New Electric Bike Company Model R & More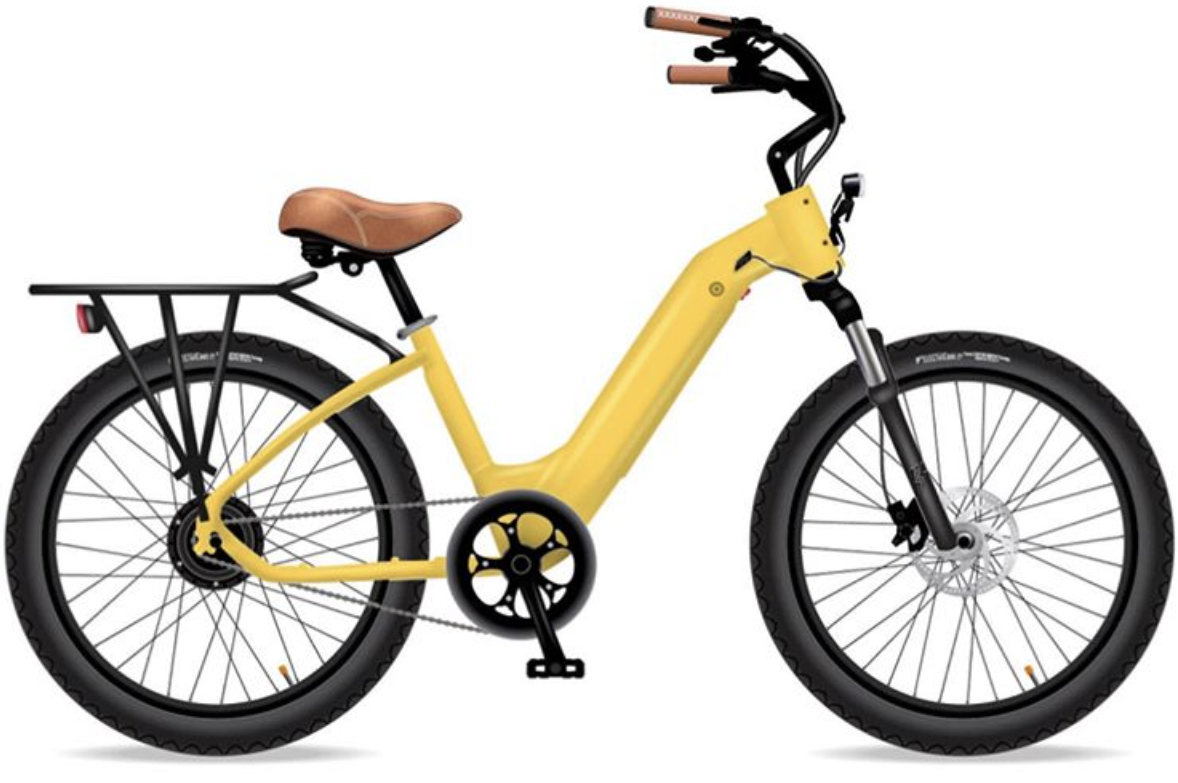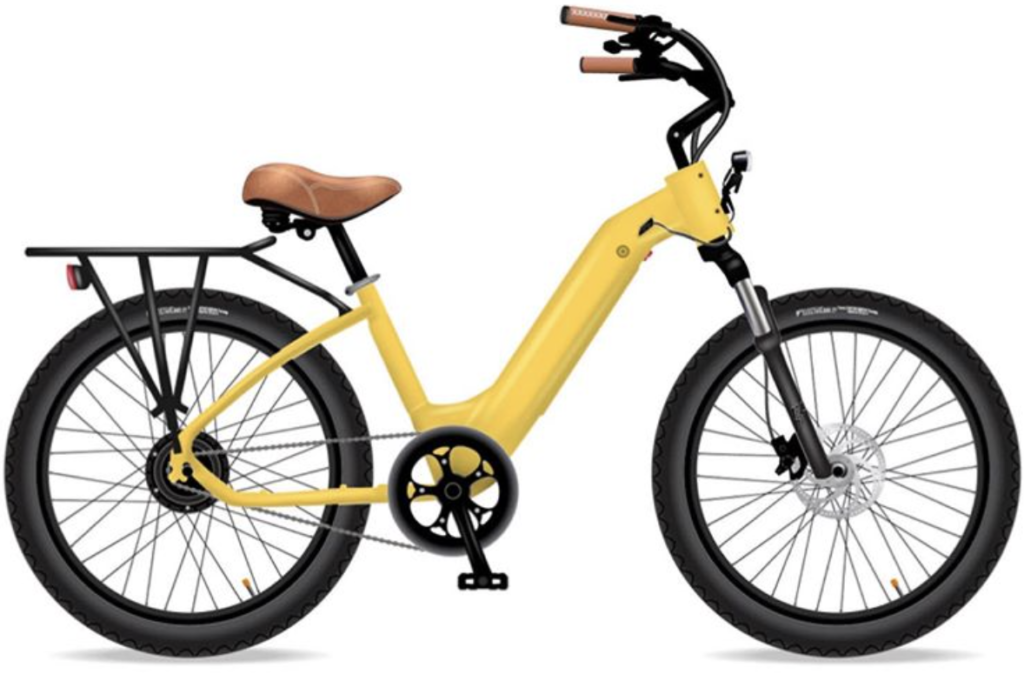 Electric Bike Company has launched their new Model R off road style eCruiser bike for the recreational trail rider.
The Model R features a lot of the Electric Bike Company attributes and customization options.
Some of the highlights of the Model R are a super low step-thru frame, 48V 14ah internal frame battery, 80mm suspension fork, 3″ wide tires, and more.
The Model R is currently available for pre-order at $2,099 with shipping in March.
More Electric Bike Company Updates
Suspension forks are now an option for all Models: C, S, M, X, and Y.
The basket battery is now an option for Model X.
From Sean Lupton-Smith, founder of Electric Bike Company "We also have our online parts store live on our website – we will be evolving this substantially over the next two weeks but since we build our bikes from scratch and have over 450 parts, hardware, components, etc all Electric Bike Related – it made sense to open our parts page to the public."
Lighweight OneMotor Friction Drive To Launch
OneMotor is billed as a retrofit friction drive for any platform – bikes, kickBikes, scooters and even bikeshare.
OneMotor says the highlights of its system are:
Ultra-light: 4.5lbs with 130Wh (airline compatible), 6.5lbs with 300Wh
High-power: 750W max (250W EU)
High-speed: 28mph max assist speed (15.5mph EU)
The only system with true regenerative braking AND zero-drag (motor retracts automatically when paused)
Custom-engineered urethane drive belt maximizes grip and minimizes tire wear (unlike competing sandpaper/griptape solutions)
Patented Automatic Traction Control System continuously varies the pressure of the motor/belt on the tire to maximize efficiency and ensure solid performance in all weather (even heavy rain)
All wireless: Wireless Pedal Assist + Wireless Throttle Controller
Battery cable is retractable and uses magnetic connector for ultra-easy install/remove
Battery can mount on frame or in bags
Doesn't interfere with the fold on folding bikes
Can be removed completely in 5-10 seconds to use on other bikes (or scooters or bike share!)
Traditionally slippage in wet weather has been poor on friction drives, hence they are not a big share of the e-bike market so it will be interesting to see if the OneMotor has succeeded where others have failed.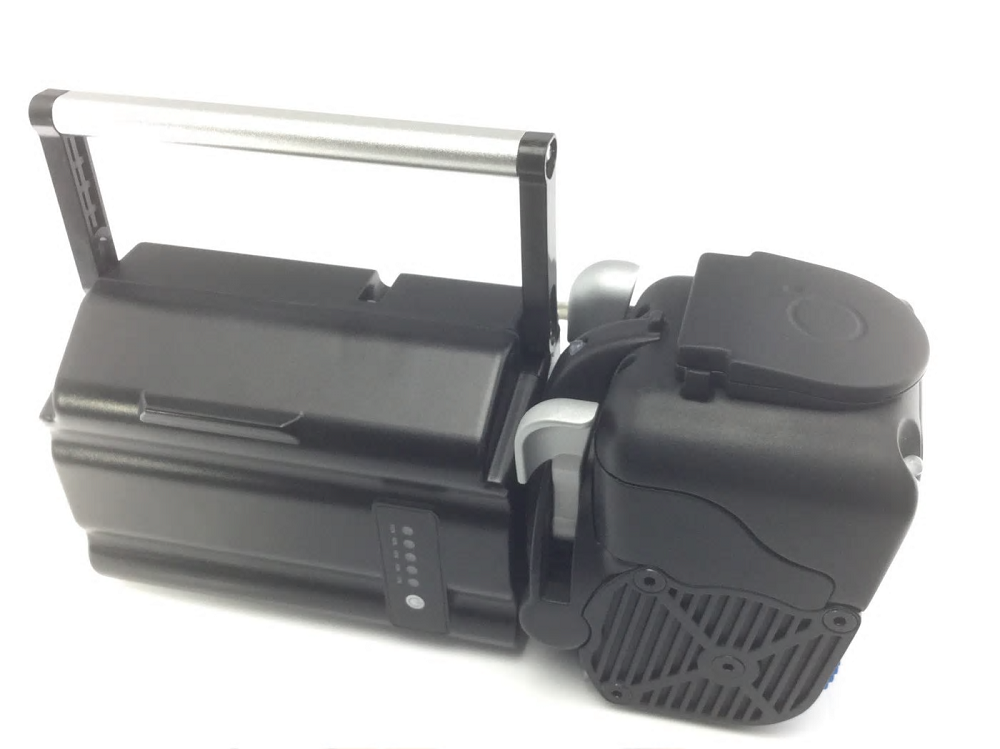 OneMotor say their system fits all manner of bikes including Bromptons.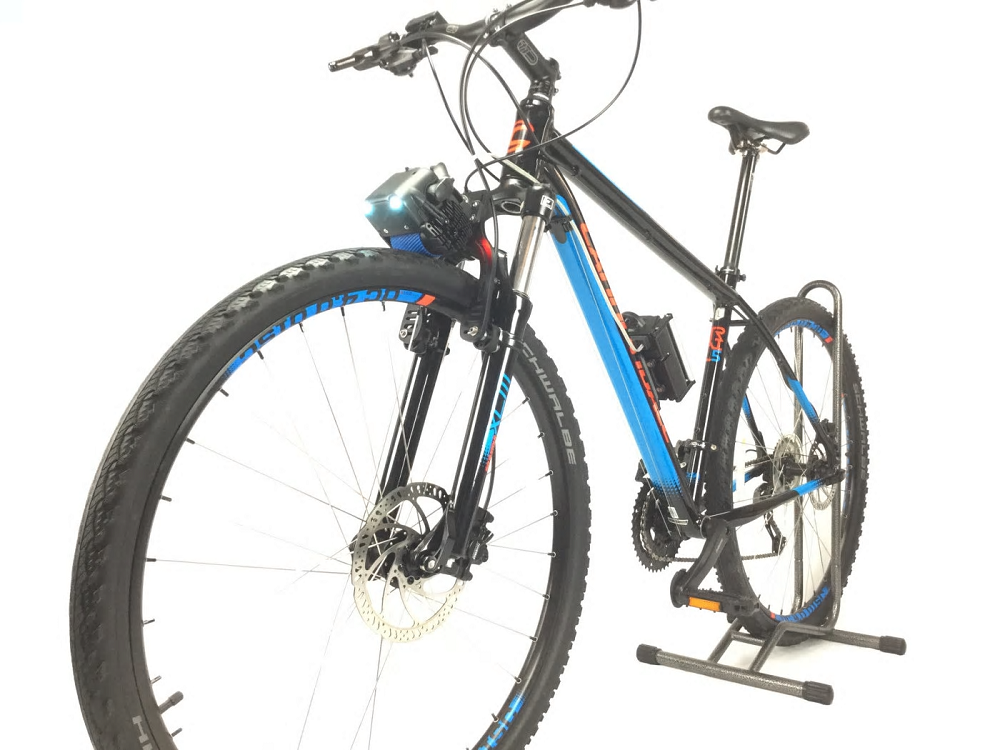 Yamaha Bicycles Releases New CrossConnect and CrossCore Colors
Yamaha is launching new color options for its lineup of class one commuter and fitness-focused e-Bikes, the CrossConnect and CrossCore. The new color schemes are available from select e-Bike retail stores now.
Yamaha CrossConnect is an urban commuter with front and rear fenders, rear rack, and headlight plus air suspension. The Yamaha CrossConnect's new colors include Crimson/Sand and Indigo/Sunset starting at $2,999 MSRP.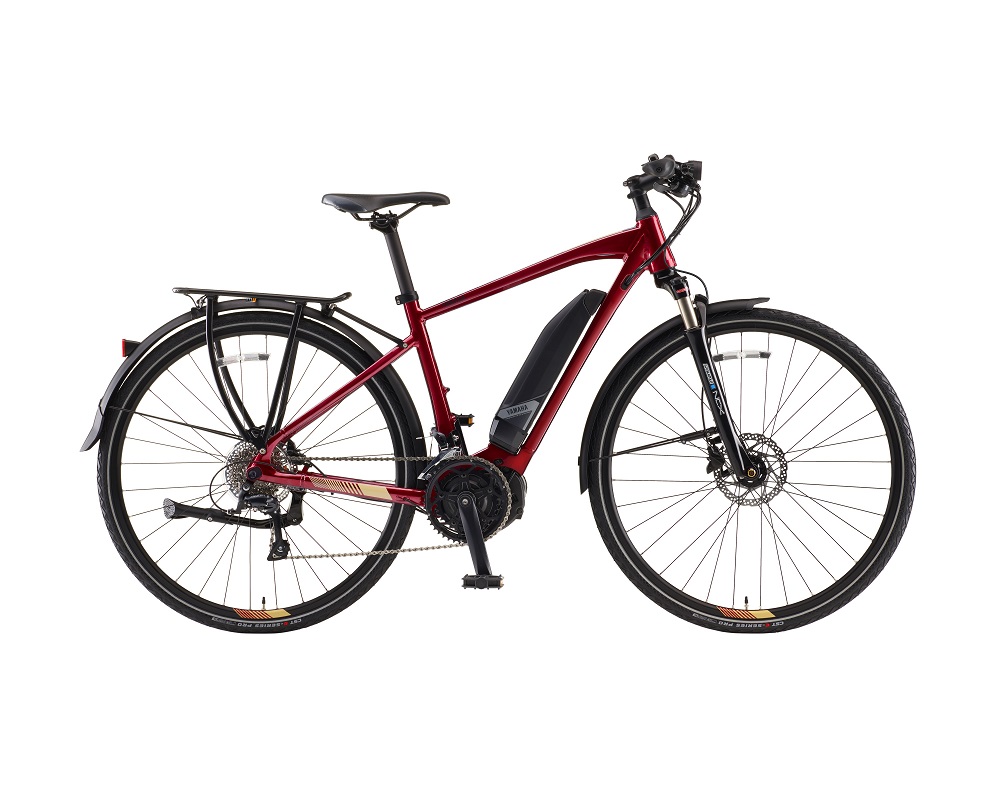 The 2020 CrossConnect in Crimson
Yamaha's CrossCore is described as being for the fitness-focused rider. The CrossCore features sporty geometry and is also equipped with mounts for a water bottle cage, fenders, and rear rack, while also pre-wired for a rear rack light. The Yamaha CrossCore's new colors include Ocean Blue/Bright White and Dark Olive/Black starting at $2,399 MSRP.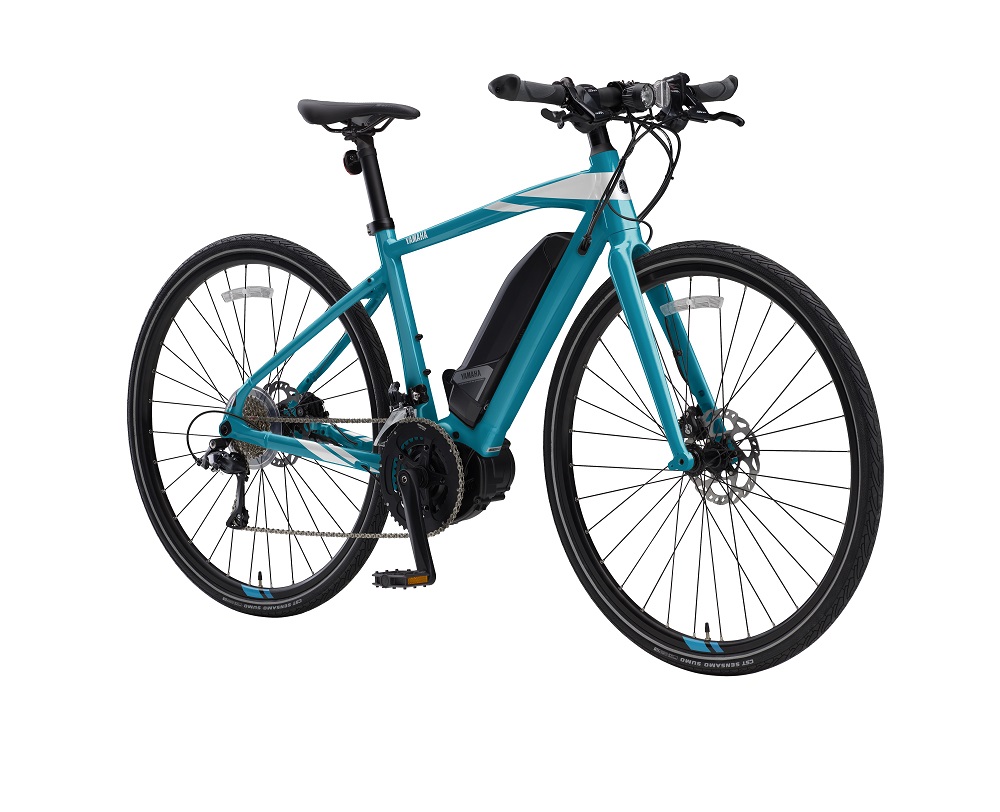 Yamaha's CrossCore in its new Blue-White colour scheme.
Both the CrossConnect and CrossCore are powered by Yamaha's PW Series SE drive unit, a class one motor with four power levels providing speed support up to 20 mph, cadence support up to 110 RPMs, and max power of 500 watts.
Yamaha Power Assist Bicycles feature a triple sensor system with the speed sensor designed into the rear hub and a "zero cadence" assist function that immediately detects any forward pedaling movement and activates the power assist system.
Bike Accessories
New Yuba Cargo Accessories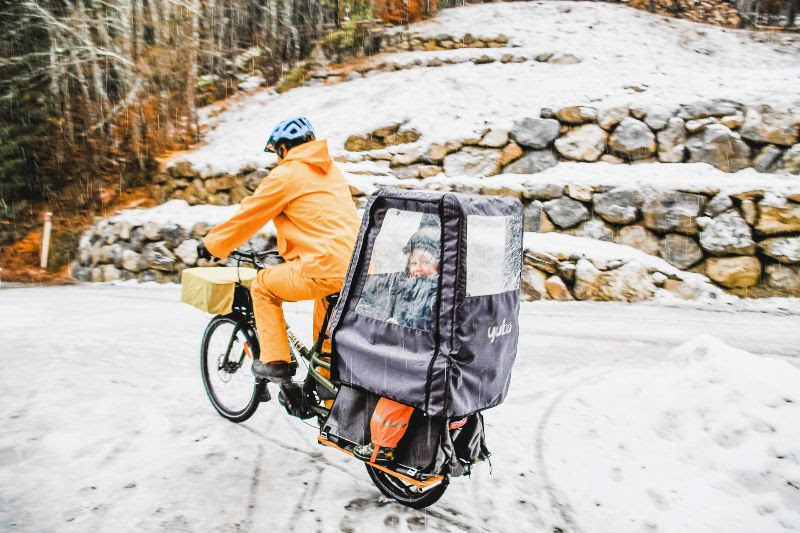 Yuba's Pop Top Cover is an all weather cover for the kiddos and cargo! Might be the best way to get the kids to ride with you year round.
It includes front/rear windows (with zippers and hook and loop straps) and easy-open side panels to let in fresh air.
Priced at $200.
This Roots Double Kickstand that has wide 30″ base for providing a stable platform for loading and unloading the cargo bike.
From Yuba "Controlled by a cable-actuated hand lever within the cockpit, the Roots' unique design eliminates the need to step off the bike to set the kickstand, increasing rider balance and safety. When ready to park, pull the lever down and each leg of the Roots drops down simultaneously, "rooting" the bike and offering unprecedented support for little riders who want to climb on and off all by themselves. When ready to ride, roll the bike forward and the Roots folds up and out of the way."
The Roots is priced at $200.
Safe Tec Smart Helmets
SAF
E-TEC is a new product line from Moon Helmet, a global helmet manufacturer with more than 18 years of experience in designing and manufacturing sports and construction helmets.
The SAFE-TEC smart helmet line looks to contain some interesting technology.
For example this particular model boasts Alexa functionality, turn signal, automatic brake light, chargable wireless remote control, microphone, bone conduction speakers, Bluetooth and front and back LED strips.
Rothem Smart Rear Light
The Rothem isn't just a rear light but boasts video recording, Bluetooth and 4G connectivity and 'sensitive radar'.
There look to be a lots of potentially useful safety aspects here from rear view camera to a warning noise for imminent collision.
Rothem's website says the Kickstarter page is coming soon and prices will start at US$249.

E-bike Access
Steamboat Pilot from Routt County, Colorado reports that members of the Steamboat Springs Parks and Recreation Commission are considering a recommendation to implement a one-year trial period to allow e-bikes on soft-surface, city-owned trails.
Commission members are urging the public to complete a new survey that is specific to views on the proposed trial period. The survey can be found at engagesteamboat.net/e-bikes.
So far, the Butcherknife, Sailors Way, Blue Sage, Fox Creek, Bear Creek and Sanctuary trails have been highlighted for the possible trial period.
Some trails on Emerald Mountain also are under consideration. Steamboat Springs City Council would have to give final approval for any policy changes.
Get Inspired
Team E-bike Gibraltar E-bike Through the Desert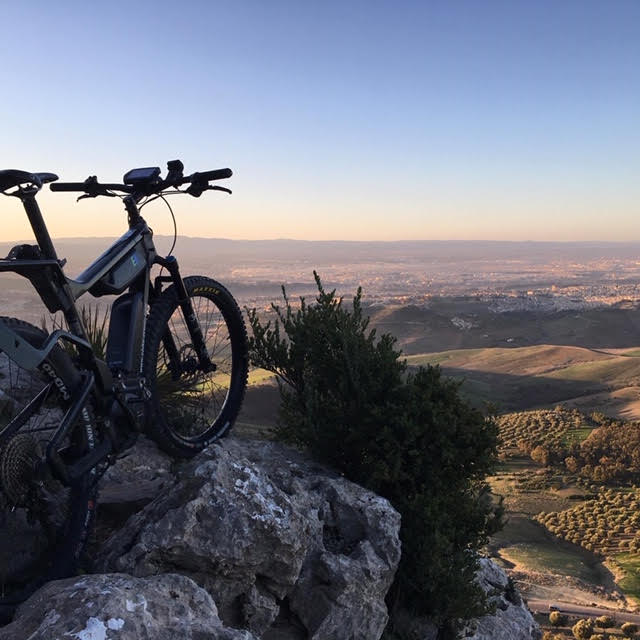 We have featured E-bike Gibraltar before and their great sounding e-bike tours above the Mediterranean.
Team EBike-Gibraltar tell us they have 3 riders entered for the 2020 E-bike Desert Challenge that heads through the Moroccan Sahara, 15th-24th January. They will be riding R&M Delite Mountains.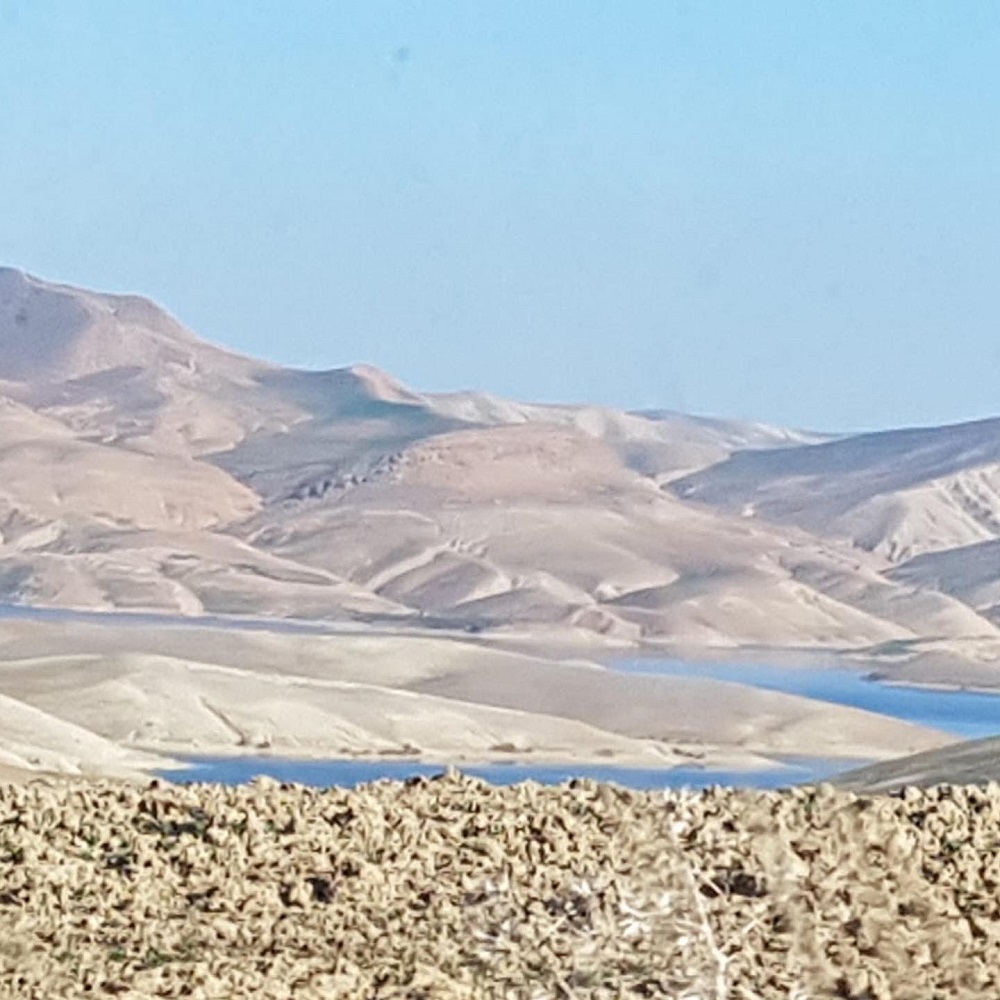 Escalator Shows E-bike's Potential
This is a nice little article making the point that given the chance many people will opt for electric assist.
It simply shows a photo with roughly 35 people traveling between two points using stairs or escalator. Four of them are doing it manually, with about eight times that number opting for electric assist.
The author uses the photo to make the simple point that e-bikes could be one really powerful tool for persuading those 60% of Americans who would be interested in cycling but don't, for various reasons.
Infrastructure
New Parisian Bike Lanes a Huge Success
Curbed reports that 'New protected bike lanes have led to a doubling, and even tripling, of the number of riders on some busy main roads' in Paris.
The figures seem to tell their own tale in the wake, with Mayor Anne Hidalgo's recent bicycle lane construction blitz looking like it has given fresh impetus for cyclists to get out and about.
In a single year, from September 2018 to 2019, the number of Parisians using bikes rose 54 percent, according to the Paris mayor's office.
It's "the culmination of years of growing restrictions on cars, the introduction of bike-sharing services, and most recently the construction of bike lanes across the French capital," said journalist François Picard, the host of "The Debate" on the Paris-based TV.channel France 24
The article adds 'In 2015, a year after being elected, Hidalgo released her Plan Velo, a $167 million proposal that called for doubling the number of bike lanes by 2020, from 700 to 1400 kilometers (435 to 870 miles). While roughly half of the plan has been implemented thus far, it's arguably still transformed Paris.'
Radical Transport Change for Birmingham?
Readers familiar with the UK city of Birmingham will know it is one of the last places you might think about cycling around as through the last half of last century its name became synonymous with huge urban motorways and heavy through traffic throughout the city centre.
Cycling Industry News brings us the welcome news that Birmingham City Council has opened consultation on measures that include curbing car through traffic in the city centre.
'The 'Birmingham Transport Plan' has been designed to tackle transport-created damage to the environment, make roads safer for Birmingham's 2.5 million population, support the city's carbon-neutral-by-2030 commitment, prioritise people over cars, connecting people with job opportunities and revitalise the city centre and local centres' says CIN.
Four key moves have been singled out in the plan, which will go out to public consultation from 28 Jan:
Reallocating road space: Promising a 'fundamental change' in how people and goods move about the city, the plan will support public transport and 'move away' from single occupancy private cars.
Transforming the city centre: Pedestrian streets and public spaces integrated with public transport and cycling infrastructure are sketched out here. Private car access to the city centre is to be limited, with no through trips.
Prioritising active travel in local neighbourhoods: Cars are to "no longer dominate street life around homes and schools" with 20mph limits as standard on all local roads and residential neighbourhoods and local centres."
Managing demand through parking measures: Parking will be used to manage demand for travel by car through availability, pricing and restrictions.
Battery Watch
Will 2020 be a breakthrough year for battery technology? There have been numerous promises in the past but lithium-ion tech remains the chemical mainstay of current e-bike battery tech.
Advanced Science News thinks 2020 might just the start of the commercialisation of the Lithium-Sulfur battery that promises an energy density four times the current level.
E-bike Biz
E-bikes Over Electric Cars
Canada's CBC have this interesting article comparing wildly popular e-bikes with less popular electric cars. The numbers speak for themselves it seems.
It points out that in a report released in December, market research firm Deloitte said it expected global sales of 130 million e-bikes between now and 2023.
Compare that to Bloomberg New Energy Finance projections – generally seen as more optimistic than those of other research firms – which see the number of electric cars worldwide hitting the 130 million mark closer to 2030.
The article believes the bike lanes of the Netherlands point the way with author Harris stating bike lanes in the Netherlands are built for "more than 20 different devices," including bikes, scooters and even a wheelchair-friendly vehicle that looks like a Smart Car, the Canta.
Belgium E-bike Boom
Bike Europe reports on the booming e-bike scene in Belgium. Incredibly 'Velofollies, Traxio Velo and Shimano presented the 2019 sales figures for the Belgian market.
What they present is remarkable because during the past year the sale of e-bikes has risen to 51 percent of the total bicycle sale.
Last year, a total of 470,000 bicycles were sold in Belgium. 51% of them (238,102 units) were electric ones.
E-tech
Torqway's Hybrid Aims to Get the Aged Out and About
Torqway describe their Hybrid as 'an innovative four-wheel platform vehicle with manual and electric propulsion for mature people, who want to prevent and overcome ageing issues by exercising.'
It looks to be a combination of Nordic Walking, kickscooter, Segway and e-bike technology. Particular benefits for the elderly are said to that it relieves pressure on the joints and activates all parts of the human body.
It certainly looks innovative, with steering done by heels and propulsion by arms and Torqway describe it as like a bicycle but in the opposite way: riding in a standing position with arms propelling you.
Torqway add sone technical detail: 'Rotation is constant no matter if levers are pulled or pushed….Our mechanism due to its unique functionality, gives the user an ability of the most efficient arms' muscles usage, without the risk of overloading. It's a new way of walking with two times faster average speed.
The company plan to launch the product mid-2020.
Stay tuned for more e-bike news and reviews and thanks for reading!
-Rich
P.S. Don't forget to join the Electric Bike Report community for updates from the electric bike world, plus ebike riding and maintenance tips!
Reader Interactions