eBike News: Coronavirus Update, New RadRunner Plus, Light eMTB & Mid-Drive, BC Trails, and More! [VIDEOS]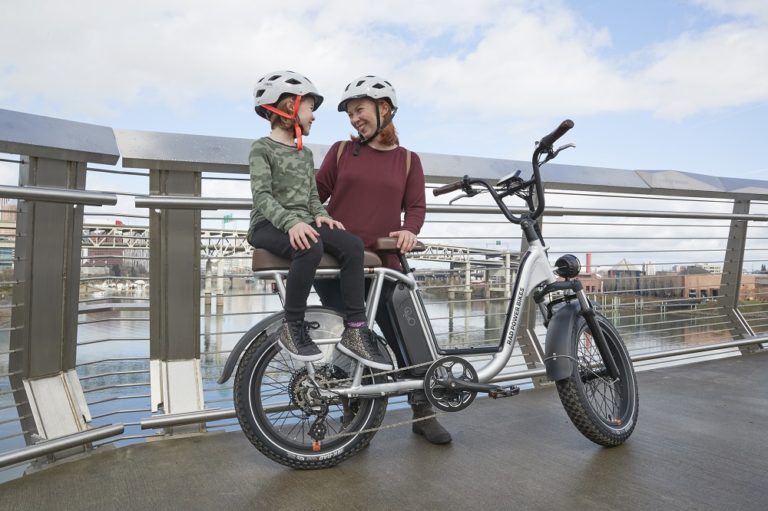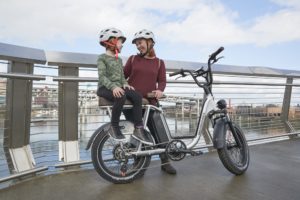 In This Week's News:
Coronavirus Bike Update
New Rad Power Bikes RadRunner Plus
The Lightest Mid-Drive
Lightweight Forestal eMTB
New FLX eRoad Bike
Electric Bike Company Wireless Charging
Trek Rail eMTB Video in BC
Electric Cargo Delivery with Refrigeration
And Much More!
Headline News
Coronavirus Forces Closures But Demonstrates Bike Industry Key
The UK's Bike Biz has produced an updates page detailing how the bike industry worldwide is suffering not only a rash of cancelled shows but also how bike and e-bike shops are helping to keep key sections of society moving in a challenging time.
They tell us that interactive and online events are in part stepping in to keep the lines of communication open: 'Despite the postponement and cancellation of events, efforts are being made to provide a solution to brands and media missing the connections. ECHOS Communications has developed REVEAL, a live-streaming global media conference taking place from 29th-30th April, and Ribble Cycles is hosting an interactive bike show, Ribble Live, on 27th March, in place of the London Bike Show.'
Whilst last week's news post featured how New York bikers were helping keep supplies moving in the crisis, the latest news from the UK is that Prime Minister Boris Johnson has included bike shop on the list of essential retail businesses that are allowed to remain open.
This is Money reveals that the UK's Brompton are offering 200 bikes to key NHS workers. And according to Brompton boss Will Butler Adams:
'As well as dealing with the immediate crisis, we need to think about the aftermath. There may be a resurgence of coronavirus or a second wave after we come out of lockdown.
'At that point, you do not want people packed on public transport again. Bikes are part of the answer, part of the fightback. Riding a bike is a great way to move about whilst effectively self-isolating.'
Meanwhile The Scotsman details how various share bike schemes, including e-bike ones, are helping many Scottish health workers and others stay mobile in the crisis.
Two of Europe's biggest e-bike manufacturing groups, PON and Accell, are both scaling down production to protect staff in the crisis as reported at Bike EU.
New eBikes and eBike Systems
Rad Power Bikes' RadRunner Plus
Rad Power Bikes have announced the limited release of the RadRunner Plus, a feature-rich version of the brand's groundbreaking electric utility bike that comes fully loaded with exclusive upgrades and accessories.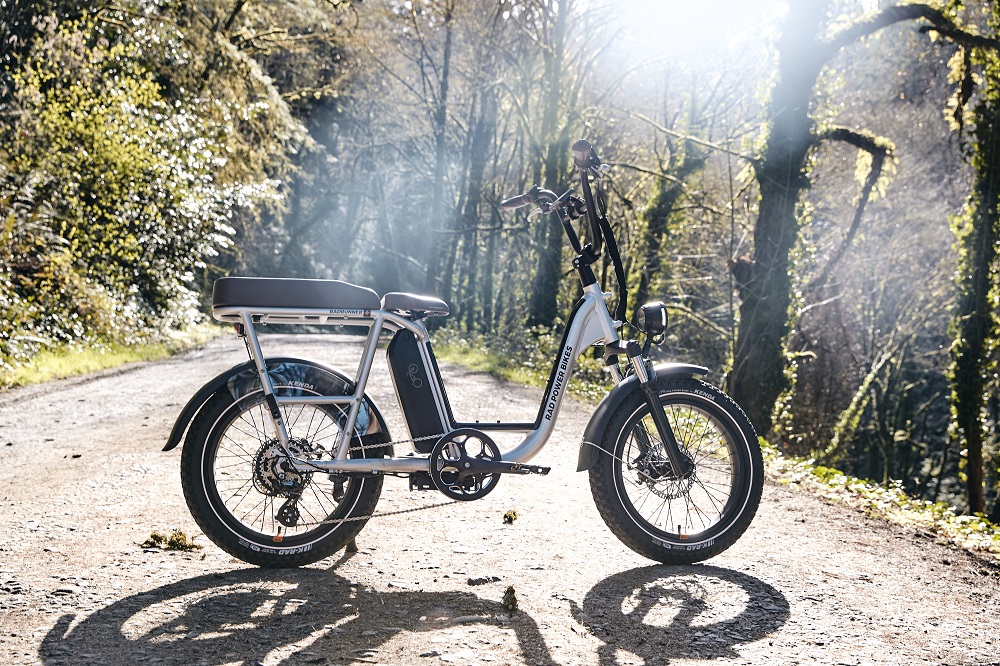 This upgraded ebike builds on the functionality of the RadRunner 1 with a 7-speed drivetrain and front suspension fork.
And, with the ebike's signature Passenger Package included as a standard feature, riders can adjust the driver's seat to their preferred height, slide back on the bench-style rear seat, or bring a passenger along for the ride.
Drawing inspiration from vintage motorbikes and luxury cars of the 60s and 70s, the RadRunner Plus features a metallic silver and black paint scheme, espresso-colored seats and handlebar grips, and a bold new decal package.
In addition to these upgrades, the RadRunner Plus also comes standard with several accessories including a full LCD display, front and rear fenders, and an all-new premium LED halo headlight.
The RadRunner Plus also maintains many of the features of the base model, including 20-inch by 3.3-inch wide multi-terrain tires, a sturdy step-thru frame design, and a 300-pound (136 kg) load capacity, with an integrated rear deck that can carry up to 120 pounds (54 kg).
The RadRunner Plus will be available for pre-order in the U.S. for $1,699 USD (750W motor), in Canada for $2,299 CAD (500W motor), and in Europe for €1,599 EUR (250W motor), starting on March 26.
For those who are ready to start riding now, the original RadRunner is available for $1,299 USD ($1,799 CAD, €1.199 EUR) online at radpowerbikes.com, radpowerbikes.ca, and radpowerbikes.eu.
The Lightest is Possibly The Lightest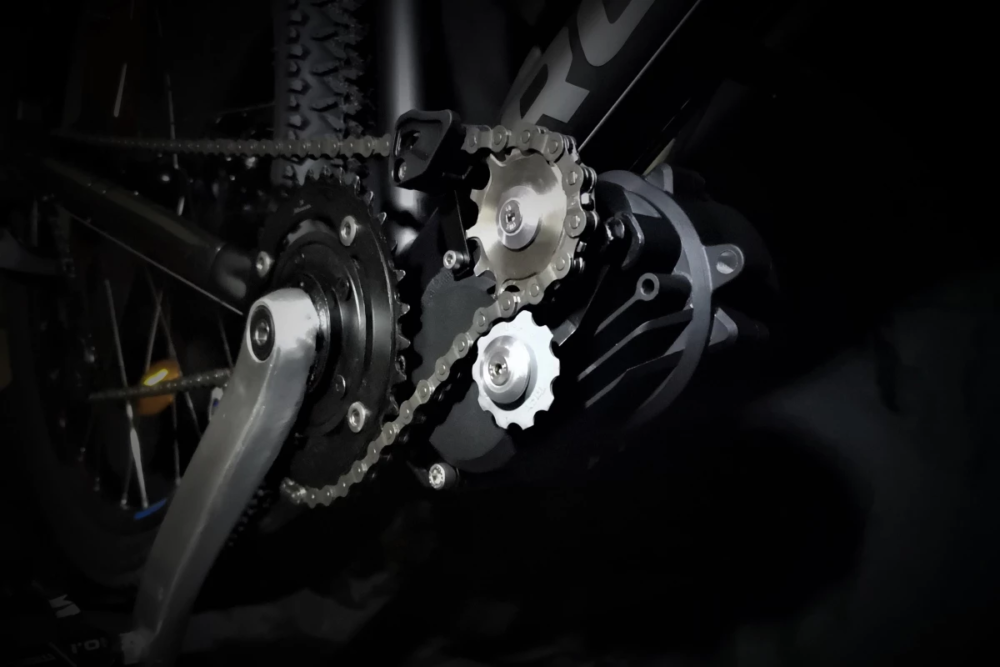 New Atlas describes new Italian mid-drive The Lightest:
'The Lightest is claimed to be the lightest mid-drive bike motor on the market. The drive unit itself tips the scales at a claimed 1.6 kg (3.5 lb), although that figure doesn't include the frame-mounted battery pack…..The system is being offered in four motor choices: 250, 500, 740 or 1,000 watts. These should deliver electric-assisted top speeds of 25, 35, 42 or 50 km/h, respectively (16, 22, 26 or 31 mph). There are also four Samsung lithium-ion battery packs, ranging in capacity from 250 to 840 watt-hours. Depending on what motor they're combined with, these should provide a range of anywhere from 30 to 180 km (19 to 112 miles).'
It is currently on IndieGoGo with prices ranging from US$538 for a kit including a 250W motor and a 250-Wh battery (planned retail $1,014) up to $949 for a kit containing a 1,000W motor and an 840-Wh battery (retail $1,607).
Check out the Indiegogo campaign here.
Forestal's New High End eMTB
Forestal's Siryon is described as a 29" enduro emtb weighing in at 38.4 pounds 17.4kg.
It boasts a carbon frame, 170mm travel front and rear, integrated display and GPS, and is limited to 999 units.
It uses the company's own motor system, the EonDrive mid drive that was developed with Bafang.
The Forestal Siryon is priced at 7,500 euros.
Meet The Babymaker
San Diego's FLX have announced The Babymaker, a 'stealth' e-road bike. It features a rear hub motor and frame-integrated battery.
The 'Pro' option features belt drive and hydraulic disc brakes and there is the option of a pannier rack. Check out the Indiegogo campaign here.
Electric Bike Company Wireless Charging
The Electric Bike Company have been in touch to tell us that on their Model S and C they will be incorporating a receiver for wireless charging.
They say it will be 1 amp 'for now' meaning an overnight charge cycle. Details and launch will be April 20th and and pre-orders accepted 21 April, availability June 2020.
Get Inspired
Trek Rail eMTB in British Columbia
This video shows Trek Rail eMTBs exploring a B.C. route that starts in Squamish and finishes in Kelowna; over the course of their single week the riders managed to hit such epic spots as Kamloops, Revelstoke and many more….
Elsewhere on EBR
iGo Elite 2 Part 2
The second part of this review of the iGo Elite 2 is now published detailing how the bike has proven to be a comfortable easy to ride eBike with impressive performance and range for $1,899.
Propella V3.2 Part 1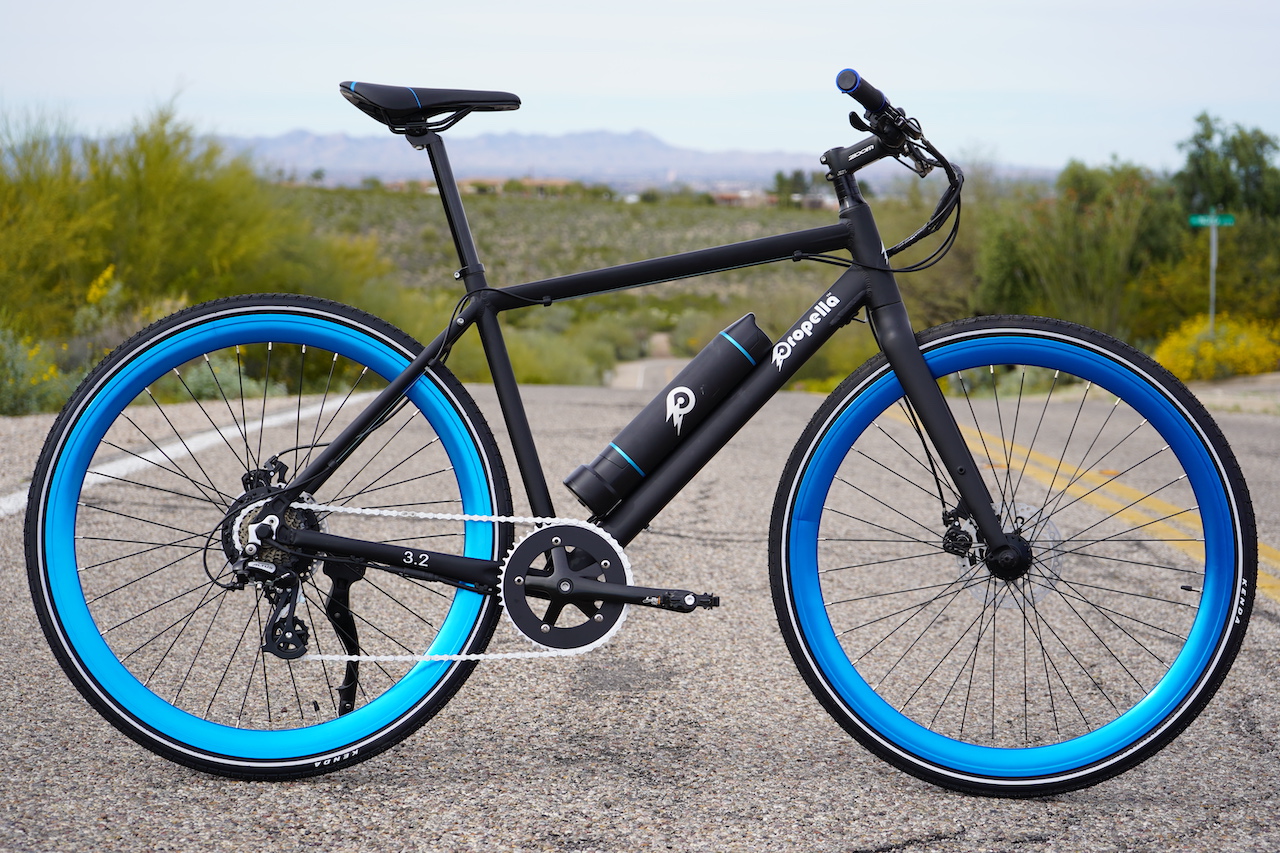 Propella has rolled out their latest 3.2 version with its light and efficient ride style. Like other Propella versions, the 3.2 is very lightweight eBike at 38 pounds and it features the new upgraded 36V 7ah lithium battery with Samsung cells.
Another big highlight of the Propella eBikes are the impressive price points. In this testing & review is the 7 speed version priced at $1,199 and there is also a single speed option priced at $999.
Checkout the detailed pictures of the Propella V3.2 in Part 1 of the testing & review.
eCargo Corner
EAV Teams up with Revonte
New Atlas reports that British company EAV previously announced a family of urban cargo vehicles that includes a tractor-trailer and refrigerated quadcycles and they are now teaming up with Finnish electric drive hardware/software specialist Revonte 'in further evolving its pedal-assist electric drive platform around the unique needs of urban cargo delivery.'
Stay tuned for more e-bike news and reviews and thanks for reading!
-Rich
P.S. Don't forget to join the Electric Bike Report community for updates from the electric bike world, plus ebike riding and maintenance tips!
Reader Interactions