eBike News: Convertible eCargo, Futuristic eBike, New EVELO & Ride1UP, Alps eMTB Adventure, & Much More! [VIDEOS]
In this week's eBike news roundup:
Coronavirus eBiking Update
Folding Convercycle eCargoBike
Futuristic Angell eBike
New EVELO Galaxy 500
Ride1UP's New Speed Pedelecs
Hollywood Racks eCargo Bike Rack
Compact Spurcycle Bell
Riding Across the Alps by eMTB
And Much More!
Coronavirus Update
eBike Helps Couple's Love Thrive Across Borders
The border between Germany and Denmark to the north is still closed due to the coronavirus restrictions in the two countries.
However, as the New York Times reports, this hasn't stopped couple 'Karsten Tüchsen Hansen, an 89-year-old retired farmer, and Inga Rasmussen, an 85-year-old former caterer, meeting at the Mollehusvej border crossing to chat, joke and drink, while maintaining a modicum of social distance.'
As NYT reports: 'She drives from the Danish side, in her Toyota Yaris. He cycles from the German side, on his electric bike. She brings the coffee and the table, he the chairs and the schnapps. Then they sit down on either side of the border, a yard or two apart.'
Cycle Rates Rise in Scotland
The UK's Cycing Industry News Reports that 'Parts of Scotland have seen big increases in the number of people cycling since the Covid-19 lockdown was put in place.
According to stats from Cycling Scotland, gathered from a network of 60 automatic cycle counters across the country, the likes of Dumfries have seen a 29% rise compared with the same period last year.
Some of the increases have been huge – Dundee has seen a 94% uplift while Dunfermline was up a whopping 215%.'
Focus Forges On
This report tells us that Germany's Stuttgart-headquartered FOCUS bikes, who produce a wide range of high quality e-bikes, has taken several measures to deal with the crisis including:
-Making bicycles from the test fleet available to small businesses free of charge so they can deliver goods faster.
-Making bikes available to medical personnel so they do not have to use public transport in the city, to aid in their social distancing.
It adds 'German bike dealers have been closed as part of the lockdown (although they have just been allowed to open for business as of this week) but FOCUS has worked with them through the lockdown via its Click and Collect service. FOCUS said it has also increased dealer margin through these difficult times and has seen an uptick in demand through Click and Collect.'
eBike Industry Update
A new survey on the sporting goods industry has shown the detrimental effects of Covid-19 on the sporting goods industry, which of course includes e-bikes.
It says 'Supply chain disruption, order decreases with material and labour shortages have characterised the Covid-19 pandemic's effect on the sporting goods industry, according to a new survey.'
Despite all the logistical difficulties there were a few positives, for example 70% of respondents expected environmentally friendly products to be the most important market trend after the pandemic.
The WFSGI (World Federation of Sporting Goods Industry) is conducting a monthly pulse survey with more details of it here.
And there are signs that these problems are starting to be overcome. Bike Europe reports that the dynamo of e-bike success, continental Europe, is anticipating a return to 'business as normal' in this article.
It tells us 'Across Europe, countries are taking small steps forwards in reopening their industries'.
Despite some companies detailing their restricted production others like Germany's Riese and Muller are saying full production has resumed whilst Swiss firm Flyer will also be getting back to full production very shortly.
There have been some casualties; Cycling Industry News reports that the next edition of the London Bike Show is moving to 2021 following the initial postponement to summer '20.
The article says that general disruption because of the pandemic, 'coupled with the fact that the show venue has been turned into NHS Nightingale, the show has now been delayed again – to 5-7 March 2021 – presumably when the next show would have been held, taking it off the 2020 calendar altogether.'
New eBikes & eBike Systems
EVELO's New Galaxy 500
EVELO, based near Seattle, already produce the 24″ wheeled Galaxy e-bike but have just announced the introduction of the Galaxy 500 model.
It is based on the same smaller frame and wheels for smaller riders but the 500 version has a more powerful DAPU 500W mid drive motor.
Like the original Galaxy it is a Class 2 meaning it has pedal assist and a throttle.
It also has hydraulic disc brakes and Enviolo continuously variable transmission. And like all EVELO bikes it has a 4 year, 20,000 mile warranty.
Sales of the US$3,999 Galaxy 500 start May 6th.
Ride1UP New Speed Pedelecs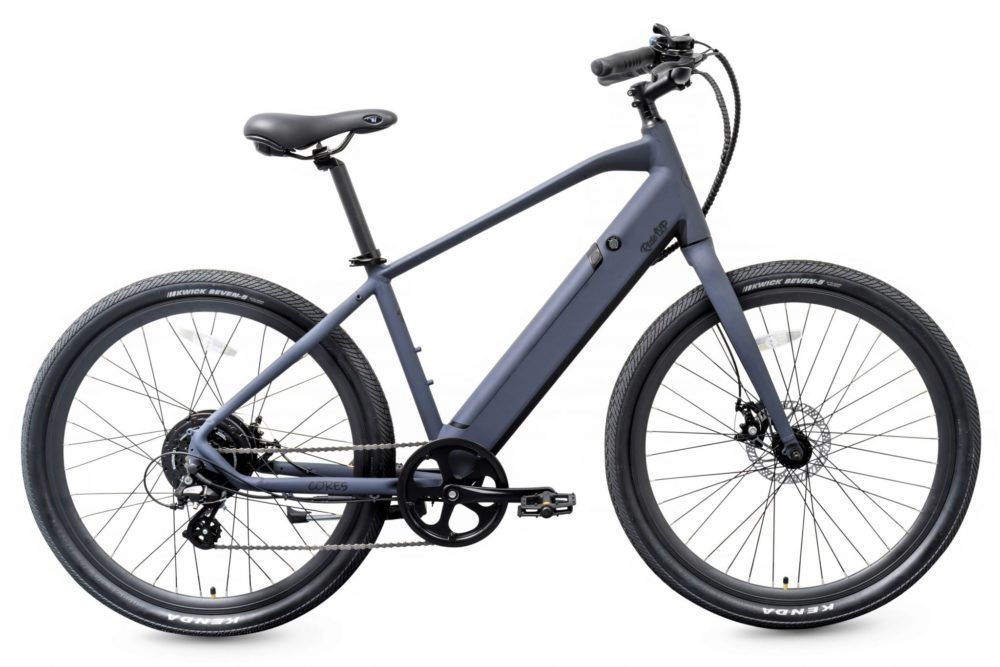 This new speed pedelec, the Core-5, from San Diego-based Ride1UP has appeared on their website as due out June with a retail price of US$1,095.
Being Class 3 it is rated for electric motor assist from the 500W rear hub motor and also features an in-frame 500Wh battery (upgradeable).
Other features include 7 speed derailleur gears and mechanical disc brakes.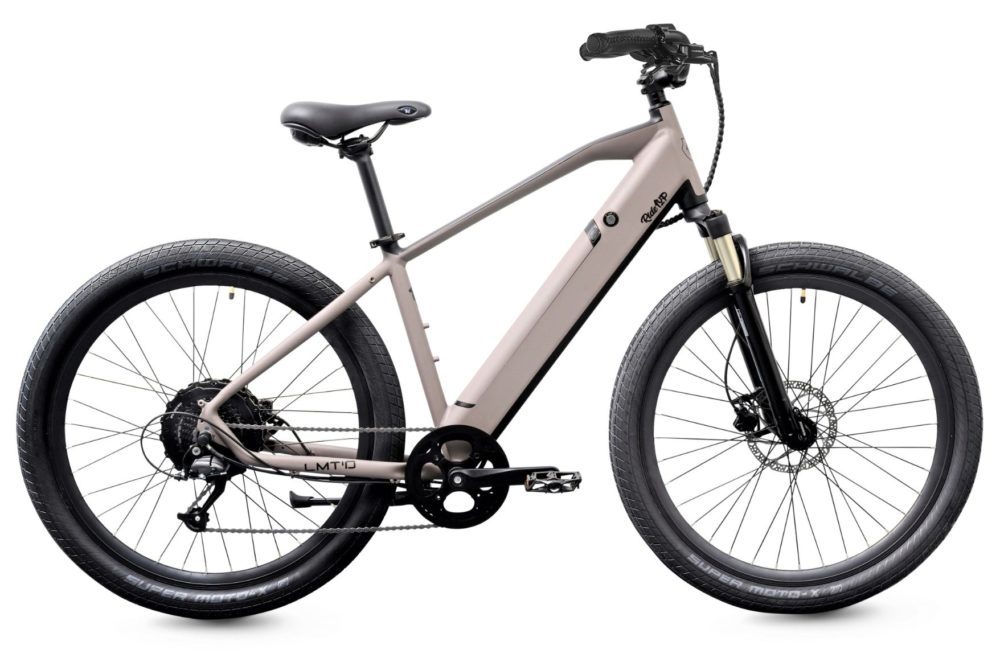 Also due to ship June is another Class 3 28 mph model, the LMT'D.
It features bottom bracket torque sensor and a 750w rated rear hub geared motor, Schwalbe Super-Moto X tires, an RST Asteria Air Fork, and Dual Piston Tektro Hydraulic brakes. Retail price is US$1,750.
Convercycle's Folding eCargo Bike
This article in the Irish publication Intallaght describes this hugely novel folding e-cargo bike from Germany, the Convercycle.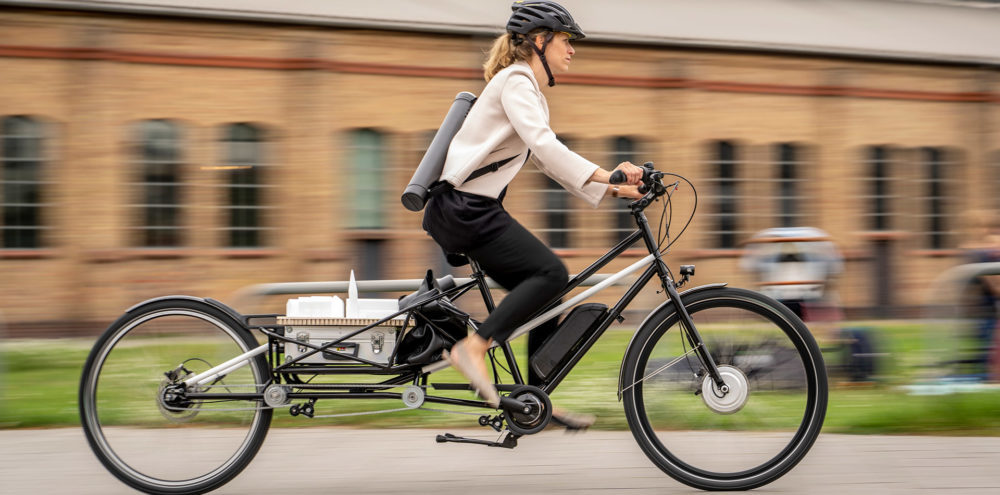 The bike claims it can carry 180kg (400 pounds) of load in unfolded mode in its 40cm x 60cm load area and it looks like it can easily and quickly be converted into a regular bike as the back half means it converts down into something the size of a regular e-bike that can then be taken on trains or stored more easily.
This is achieved by allowing the rear wheel to swing into the empty cargo space whilst the interesting looking chain drive keeps you pedalling as normal.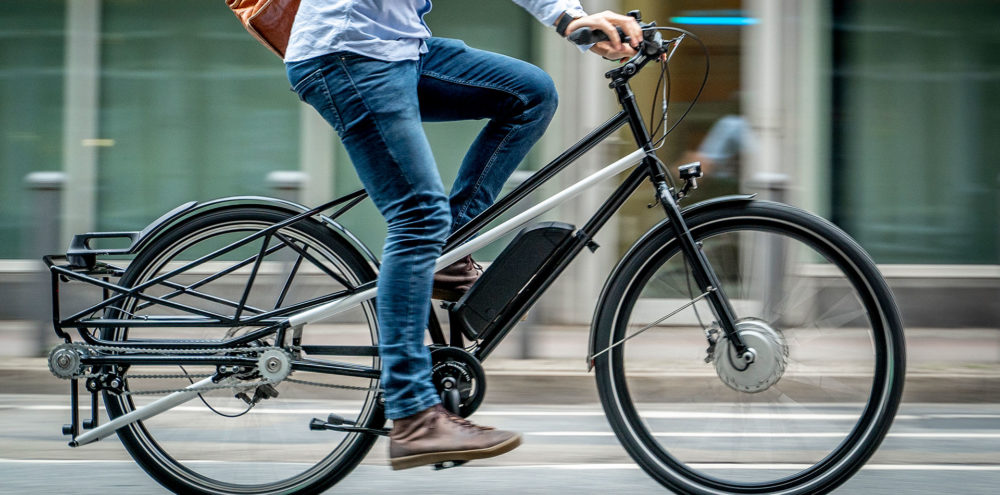 The electric version costs some €3199 and there is non electric version for €1999.
Angell's Stylish New eBike
EBR have already featured the Angell late in 2019 but this is a reminder that the launch date of June 2020 is creeping up on us, so here is a reminder of the bike.
This futuristic new e-bike is apparently a collaboration between between entrepreneur Marc Simoncini and Paris-based designer Ora Ito and looks to be a nice blend of practicality and lightweight (claimed weight is 30.6lbs / 13.9kg).
The rear battery housing also cleverly integrates indicators and brake lights whilst the handlebar stem integrates a display.
It is a single speed model clearly designed for flatter urban rides and the high tech approach continues with fall alert system that texts contacts in the event of an accident, lockable drivetrain while it's left untended, anti-tamper alarm that can also track its location via GPS.
Braking is provided by Tektro HD-R310 hydraulic disc brakes.
Priced at €2,690 (US$2,930).
New Bike Accesscories
Hollywood Racks eCargo Bike Rack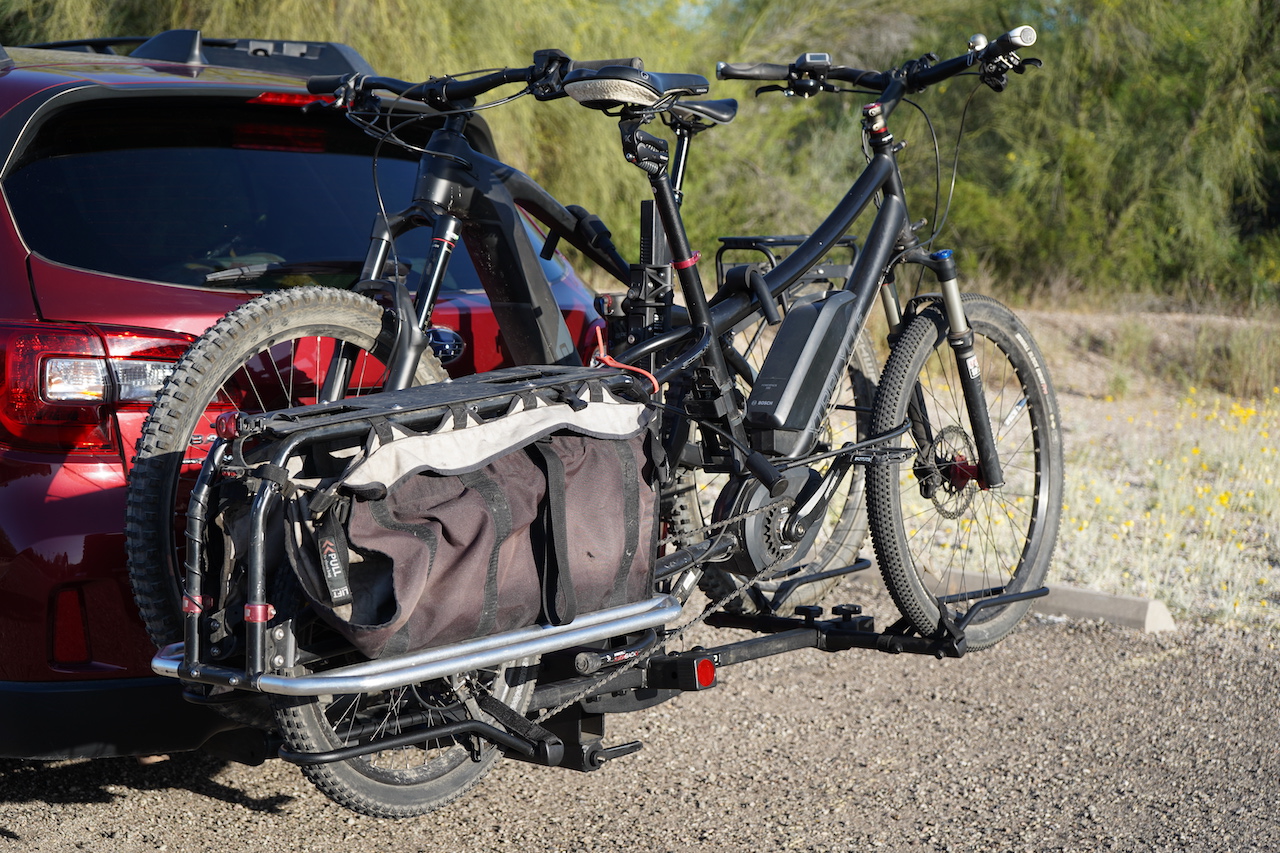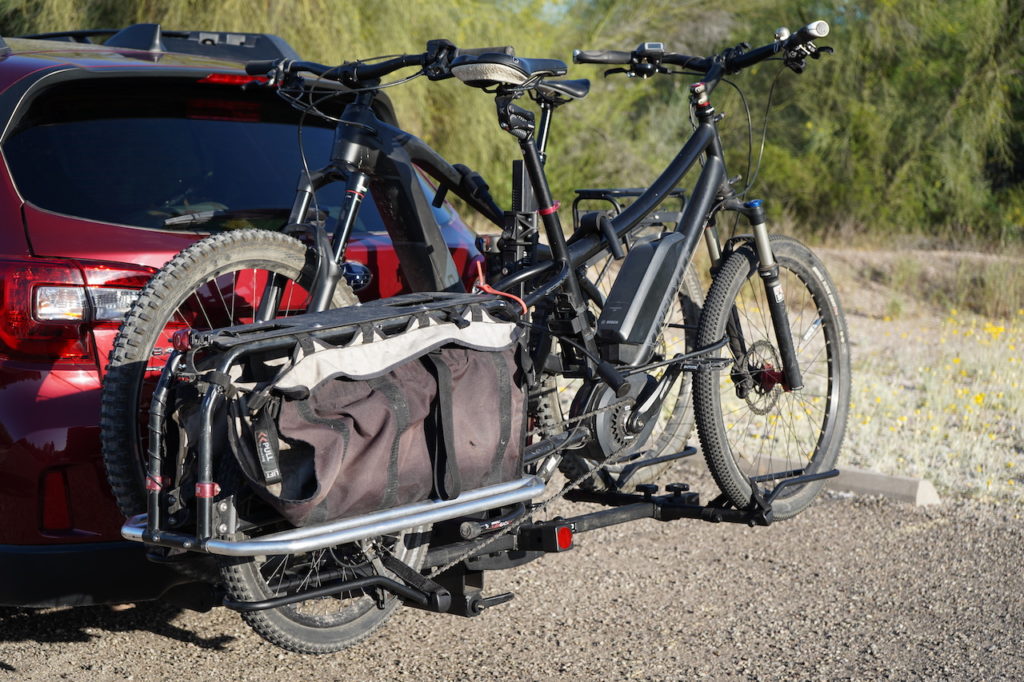 Hollywood Racks has been very progressive in developing many electric bike racks for vehicles and the latest addition to their line up is an eCargo bike option.
The Hollywood Racks Sport Rider SE for Cargo Bikes accommodates longer and wider cargo bikes that also generally weigh more than traditional bikes.
This rack can support eBikes up to 80 pounds of weight per bike! That can be 2 eCargo bikes or a variety of eBike types, including fat tire eBikes.
Checkout the review of the Hollywood Racks Sport Rider SE for Cargo Bikes.
New Compact Spurcycle Bell
EBR has already reviewed the original Spurcycle bell here along with their attractive toolkit. Now they have just launched the Spurcycle Compact Bell, featuring a brass alloy dome (with black PVD coating), a composite nylon lever and mount and a fixed 22.2 diameter clamp.
The new bell also utilizes a simplified internal clanger. Less complex with an overall lower part count means Spurcycle can deliver premium ergonomics and sound at a reduced price point of $39. Available at spurcycle.com
Get Inspired
The idea couldn't sound more enticing 'The plan was a non-supported seven-day traverse through the Swiss, Italian and French Alps; a combination of the Haute Route Traverse and circumnavigation of Month Blanc including a solid dip into Italy's Aosta Valley. An aggressive and rugged mostly singletrack point-to-point route across some of Europe's highest peaks, on e-mountain bikes.' says this article from Pinkbike.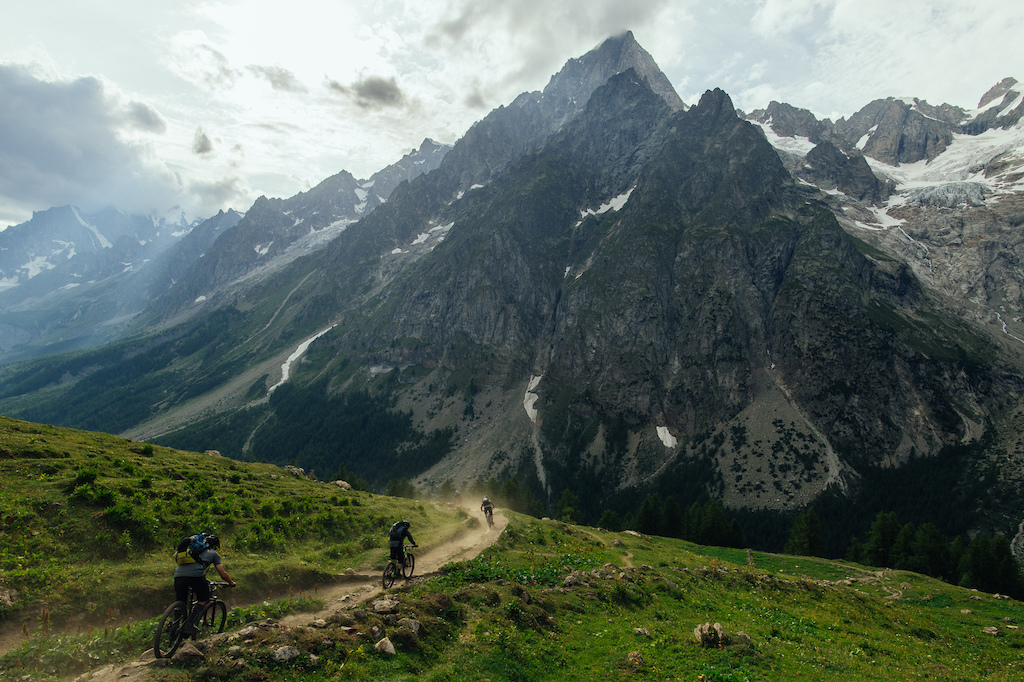 Planning was important – 'The goal was to spend as much time as possible riding in the alpine, using mountain huts for overnights while taking full-advantage of our precious 500-watts of power but avoiding running out of juice; no one wants to pedal or push a 50-pound rig for long. Besides distance ridden and meters climbed daily, we had to take into consideration riders' weight, what level of assist to use relative to the terrain (eco, tour, e-mtb or turbo), if we could charge the batteries at lunch and of course being able to charge batteries overnight. Some mountain huts didn't have sufficient power to charge batteries which meant careful planning. In the end we opted to each carry an extra battery which we planned to use.'
You too can enjoy the trip with Big Mountain tour company.
Stay tuned for more e-bike news and reviews and thanks for reading!
-Rich
P.S. Don't forget to join the Electric Bike Report community for updates from the electric bike world, plus ebike riding and maintenance tips!
Reader Interactions