eBike News: Colnago eRoad, Lightweight eCommuters, High-Tech eMTB, Tilting eTrike, & More! [VIDEOS]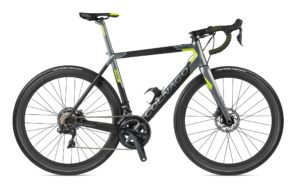 In this week's eBike news roundup:
Colnago's New eRoad Bike
Blix Dual Battery eCargo Launched
Lightweight Ampler eBikes
Nicolai's Eboxx eMTB in the US
Tris Tilting eTrike
Rad Power Bikes New Investment
Gecko Cellular Tyre Test Update
Trikke Defender eTrike
Battery Update
And More!
New eBikes & eBike Systems
Colnago E64 – Leaked but Now Official
EBR has previously covered the launch of Colnago's e-mtb, trekking and city bike range but now the Italian firm are entering the e-bike arena in the area they are best known for, road bikes.
As Forbes noted, the E64 model was accidentally leaked but with the posting of the Youtube video below it is now official.
The E64 features a discrete E64 rear hub motor, frame integrated batteries and a single control button, meaning at first glance it's hard to actually tell that it's an electric bike.
There is an accompanying Ebikemotion smartphone app to use with the E64.
Blix Packa E-cargo Bike goes IndieGoGo
We have detailed the Blix Packa in previous EBR news but the compact e-cargo bike is now crowdfunding and has straightaway shot to double its original target.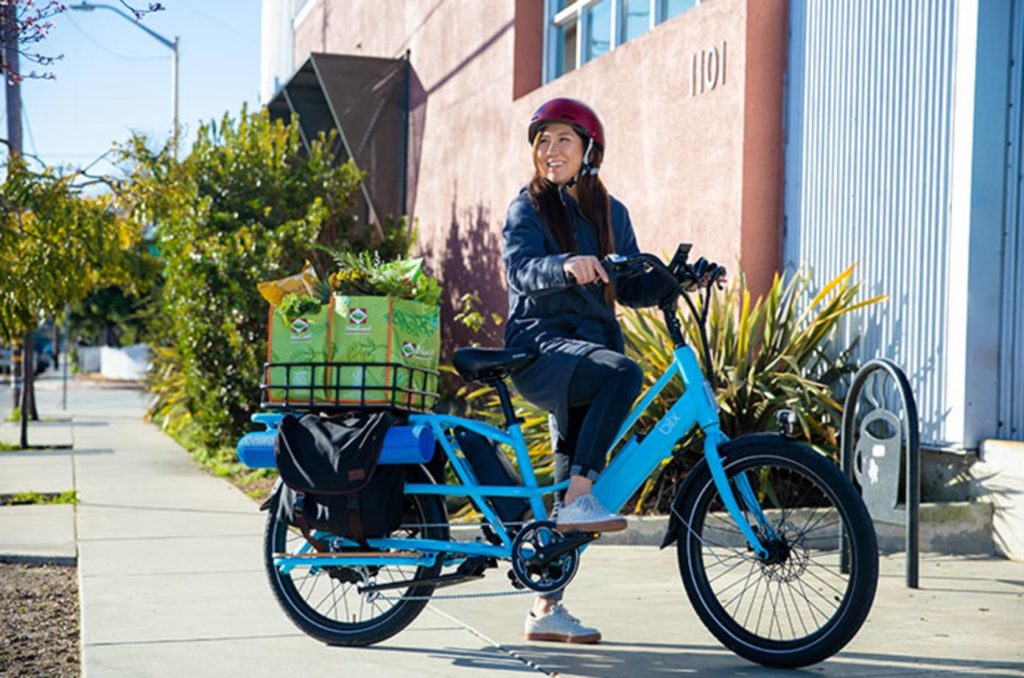 Deals for complete bikes start at US$1445 / £1059
Lightweight, Urban 2019 Ampler E-bikes Announced
Estonian firm Ampler are known for their sleek, minimalist, lightweight e-bike designs and have just announced their 2019 range.
The Curt weighs from 13.5kg and features a carbon fork with the option of a single speed belt drive or 10-speed Deore derailleur gears. It costs €2,890 with mudguards and high quality Busch and Muller lights included.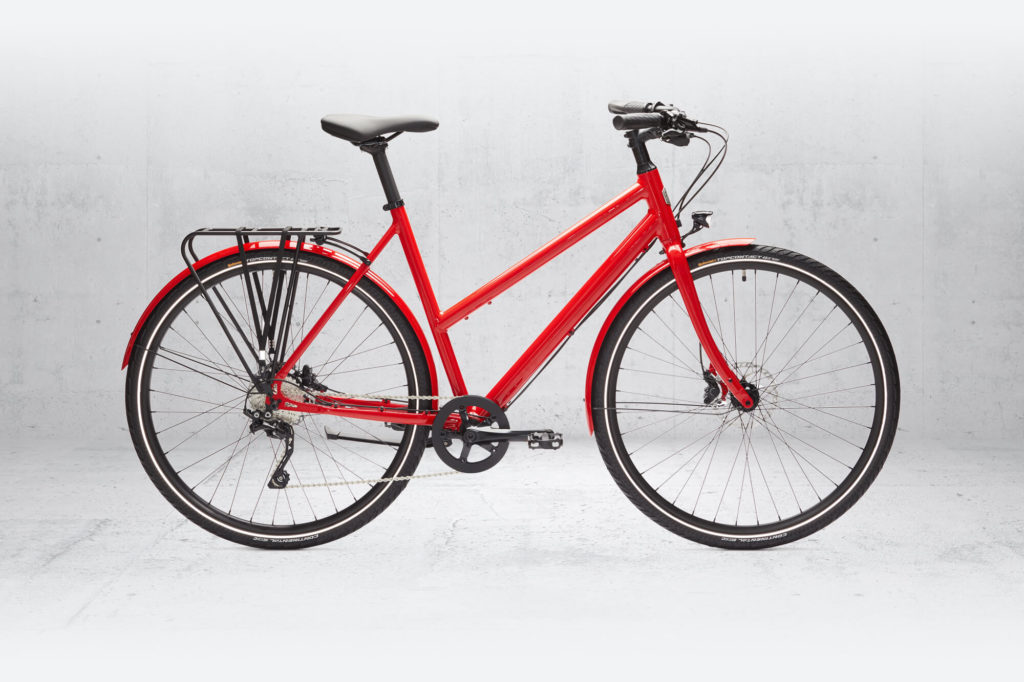 The Stellar comes in at 17.2kg but that includes a strong looking step-thru frame and a rear rack, as well as mudguards, lights and derailleur gears. It retails at €2,490.
The Stout is a diamond frame version of the Stellar with the same weight and price.
Nicolai's Eboxx E-14 Rolls Out in the US
California's Cycle Monkey has been the US distributor for Nicolai bikes since fall 2018, including the EBoxx E-14 and have been in touch with EBR to update us as the E-Boxx is now available.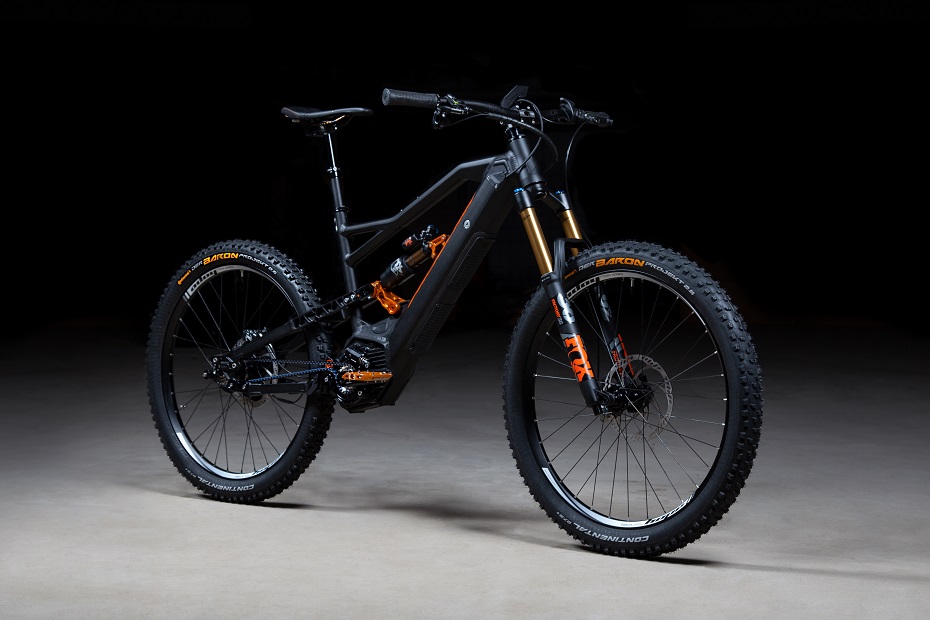 Nicolai is a German builder of handmade aluminum mountain bikes known for their long, low, and slack geometry and diverse drivetrain options. The EBoxx is Nicolai's only electric/pedal-assist offering, and features including a Bosch CX Performance motor paired with Rohloff's E-14 electronic shifting system.
The E-boxx E-14 features the Rohloff SPEEDHUB 500/14 14-speed internal gear hub, known for its incredible durability and low maintenance. It also features the similarly low-maintenance Gates Carbon Drive belt system. There is a 500Wh Power Pack integrated into the bike's downtube.
The bike's geometry is designed for stability, with an ultra-long wheelbase and meaty, 3.0″ wide tires for ultimate traction. Cycle Monkey say 'With 170mm of suspension travel front and rear, the bike is intended to please aggressive off-road riders who want to descend rough trails without restriction and climb back to the top with ease.'
Cycle Monkey offers a complete bike for $12,500. Nicolai builds bikes to order, giving customers the option to customize the color of each frame part, and select the components best suited to their riding style.
Tris Bike – the Tilting E-trike
https://www.youtube.com/watch?v=YiwEXyLM2H8
The video of the Tris tilting e-trike promises fast cornering, high agility and stability, steering with a 30 degree tilting angle, a motor with regenerative braking from the 'all-in-on' Zehus motor and a stated 22 mile / 35km range from the battery.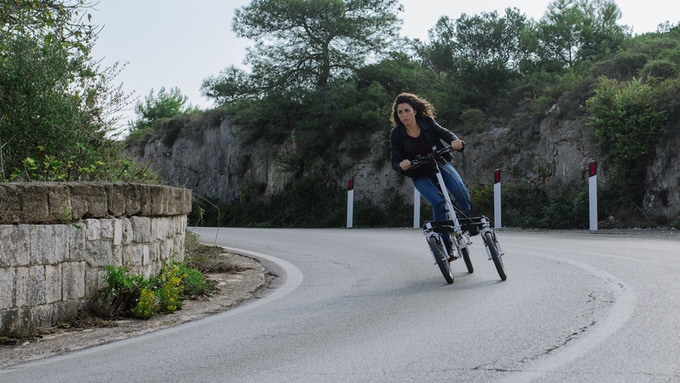 There are front and rear racks that claim to take a load of up to 50kg (presumably a combined load). It's on Kickstarter now.
Cycle Accessories
Gecko Evolution 3 Tyres at 1000km
I have been testing the latest Evolution 3 puncture proof tyres made of cellular rubber from UK company Gecko.
I can report I have put nearly 1000km of testing miles on them, fitted to a Heinzmann e-bike with a powerful rear hub motor.
There is little sign of wear and I have found they have ridden really well. The only downside is a little extra rolling resistance but I feel that is well worth it for puncture-proof peace of mind.
Get Inspired
Bay Area's Homegrown Electric Bike Festival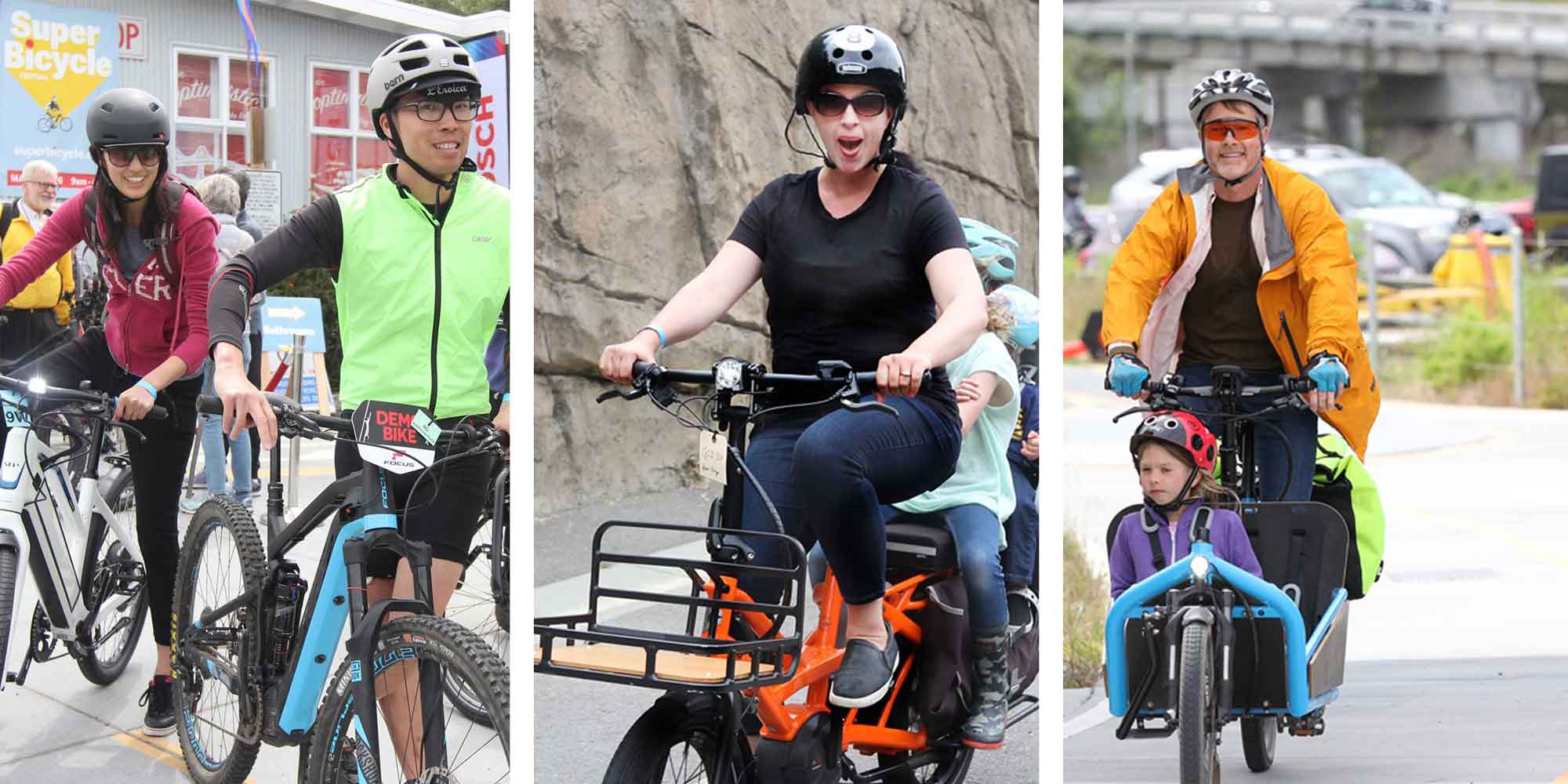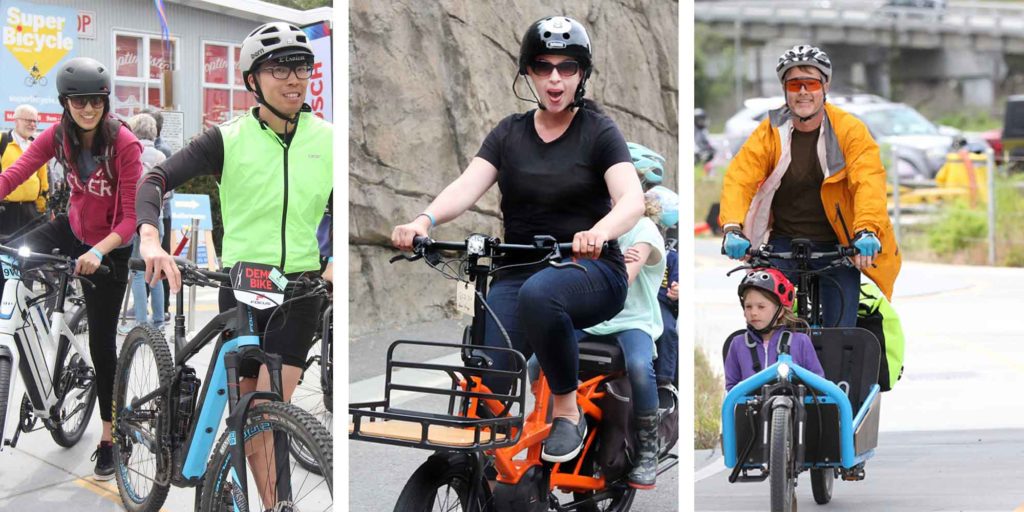 Super Bicycle is described as 'the only event of its kind, blending electric bike test rides, great food, community & fun.'
It runs over the weekend of May 4th and 5th at The New Wheel Electric Bikes, 14 East Sir Francis Drake Boulevard, Larkspur, CA 94939.
It promises over 50 test e-bikes, deals on demo models, info on future transport in the area and a van shuttle service from San Franciso centre.
E-micromobility
Trikke Targets Police & Security Services
Trikke Tech has announced the establishment of Trikke Professional Mobility 'dedicated solely to supplying regional and national police institutes, government departments, and private security organizations'.
In particular they will be stressing the suitability of the Trikke Defender, already in regular use by partners such as the USA Department of Commerce, D.C. Housing Authority, University of CA Police Department, and San Diego's Harbor Police.
The Defender employs the patented Trikke 3-wheeled design and cambering frame aimed at giving stability, comfort, and performance even at top speeds.
Trikke says 'The Defender is engineered for public patrolling in any law enforcement and emergency environment and situations, as well as event oversight and more.'
Battery Watch
Rapid Charging Batteries for E-bikes?
Green Car Congress reports that 'To shorten the charging time of e-bikes—in particular during daily use in the city—Karlsruhe Institute of Technology (KIT) and Coboc GmbH…..plan to make the batteries of pedelecs capable of rapid charging.'
They add 'The new quick charging process is to be based on lithium-ion cells of long service life, to reach a comparably high charging current of up to ten amperes, and to be suited for recharge at normal 230 V plugs within less than one hour.'
Presently, charging of an e-bike battery takes about two to four hours depending on the size of the battery and charge rate.
The project is funded by the Federal Ministry for Economic Affairs and Energy (BMWi) under its Central Program to Support Innovations of Medium-sized Enterprises in Germany and will be terminated in late September 2021.
Electric Car Battery Failure Rate in China
In the early days of the e-bike industry the introduction of lithium ion batteries caused significant problems, with some manufacturers suffering very high failure rates because of the new technology. Over time reliability has been much improved, with two and three year battery guarantees now the norm, and reports of premature failure much rarer.
The lessons don't seem to have been applied to a burgeoning electric car industry in China however, as Bloomberg reports 'In 2018, Chinese manufacturers recalled 135,000 NEVs (New Energy Vehicles) for a crushing 10.8 percent industry-wide recall rate. Already this year, another 23,458 electric vehicles have been recalled. Batteries are the most common source of problems. Some don't perform as advertised. Others drain unusually fast. Still others run dangerously hot. More than 40 NEVs spontaneously combusted in China in 2018.'
Cycle Infrastructure & Cycle Safety
Will the New Cycle Snake Bridge Kickstart a Manchester Cycling Revolution?
This interesting piece in Forbes begins by noting the importance of iconic 'wow' cycle infrastructure.
But that alone is not what is so exciting about the new cycle and walking bridge recently announced for Stockport near Manchester, UK.
It is backed up by a city-wide investment of some £137 million that will include 14 miles of Dutch protected infrastructure.
To put into proportion what a large amount that is for one area, the UK's Department for Transport has recently awarded just £23 million for cycling projects nationwide.
This article by Laura Laker details how the sum may well be swallowed up on existing projects, as well as detailing the difficulties of funding the promised HS2 cycleway to run along the high speed rail link between London and northern England, which she describes as a 'Kafkaesque impossibility.'
Speed Limiters for EU Motor Vehicles from 2022 Proposed
The UK's Guardian reports on proposals for new cars sold in the UK and Europe to be fitted with devices to automatically stop drivers from exceeding the speed limit from 2022.
The article adds 'The speed limiter is one of a range of safety features to be made mandatory from 2022, along with automated emergency braking, electronic data recorders and improved visibility built into lorries for drivers to see vulnerable cyclists and pedestrians around the vehicle.'
Safety campaigners say it could save 25,000 lives by 2037. The package of measures needs to be ratified by the European parliament, which is likely by September.
E-bike Biz
Rad Power Bikes Announces New Investment
Rad Power Bikes have announced they will 'tap into the expertise of two e-commerce pioneers, and test, innovate, and grow at a faster pace.'
The company say they have secured a round of private funding from Darrell Cavens and Mark Vadon, Seattle-area entrepreneurs and investors known for building and scaling e-commerce brands such as Zulily, one of a few ecommerce retailers to reach $1B in annual net sales in five years.
Rad Power say 'The investment and partnership will accelerate the growth of the global consumer direct business led by Mike Radenbaugh and Ty Collins, which is projected to more than double revenue again this year to exceed $100 million.'
Rad Power Bikes sells throughout the U.S., Canada, and 30 European countries.
Staggering E-bike Stats Reported at Taiwan Show
This Bike Europe report shows how e-bike sales are truly going from strength to strength on the global stage. Some of Taiwan's largest e-bike makers are report a doubling of sales from 2017 to 2018.
Last year an unprecedented e-bike market expansion took place in countries like Germany, the Netherlands and Sweden.
Optimal weather conditions meant the cycling season started early and ended late, pushing sales beyond expectations.
German e-bike sales volume increased by 36 percent in 2018 compared to 2017 and today one out of every four bicycles sold in Germany is an electric one.
In the Netherlands e-bike sales increased here by 38 percent over the same period.
Stay tuned for more e-bike news and reviews and thanks for reading!
-Richard
P.S. Don't forget to join the Electric Bike Report community for updates from the electric bike world, plus ebike riding and maintenance tips!
Reader Interactions