eBike News: Bugatti, Schwinn, Family eBike Camping, GPS Security, & More! [VIDEOS]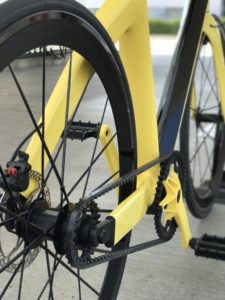 In this week's eBike news roundup:
New eBikes: Bugatti, Schwinn, Diavelo, Rayvolt, EVELO
eBike GPS Security
Hiplock's eBike Specific Lock
Family eBike Camping Trip
"Purists" & eBikes
Renting eBikes in Lincoln Bristol & Cambridge
New Illinois eBike Law
And much more!
New eBikes & eBike Systems
Lightweight Bugatti Electric Bike
Brian Hoehl from Diavelo has shared some of images of this new high tech and super lightweight Bugatti eBike. This is just the initial info, stay tuned for more.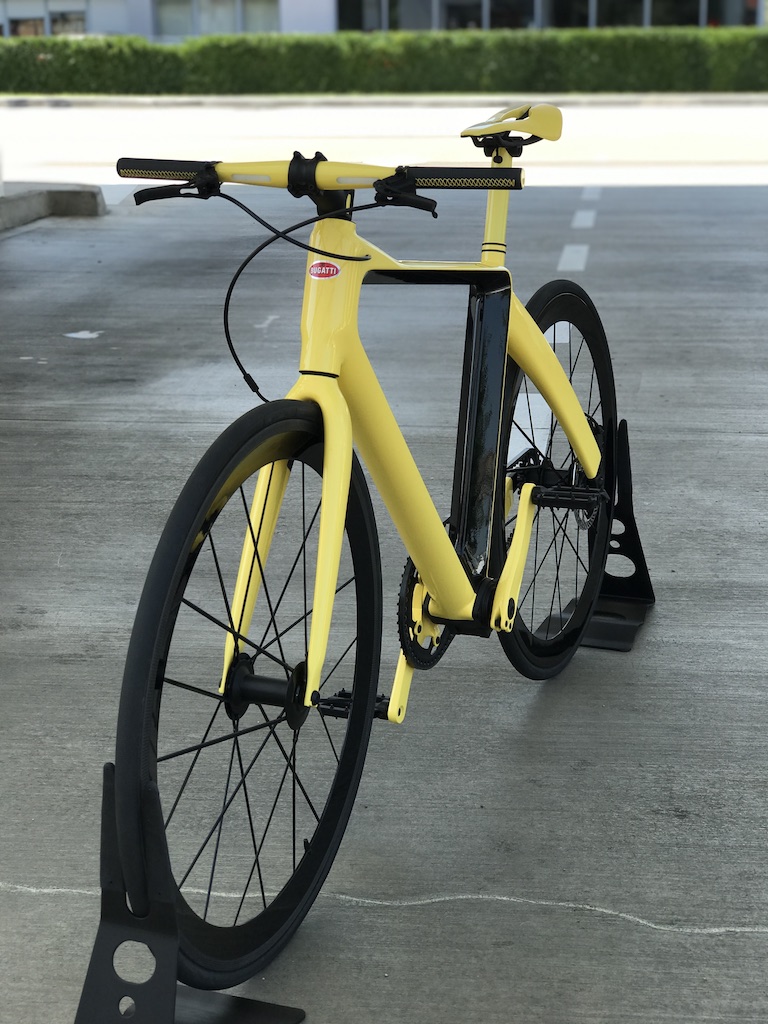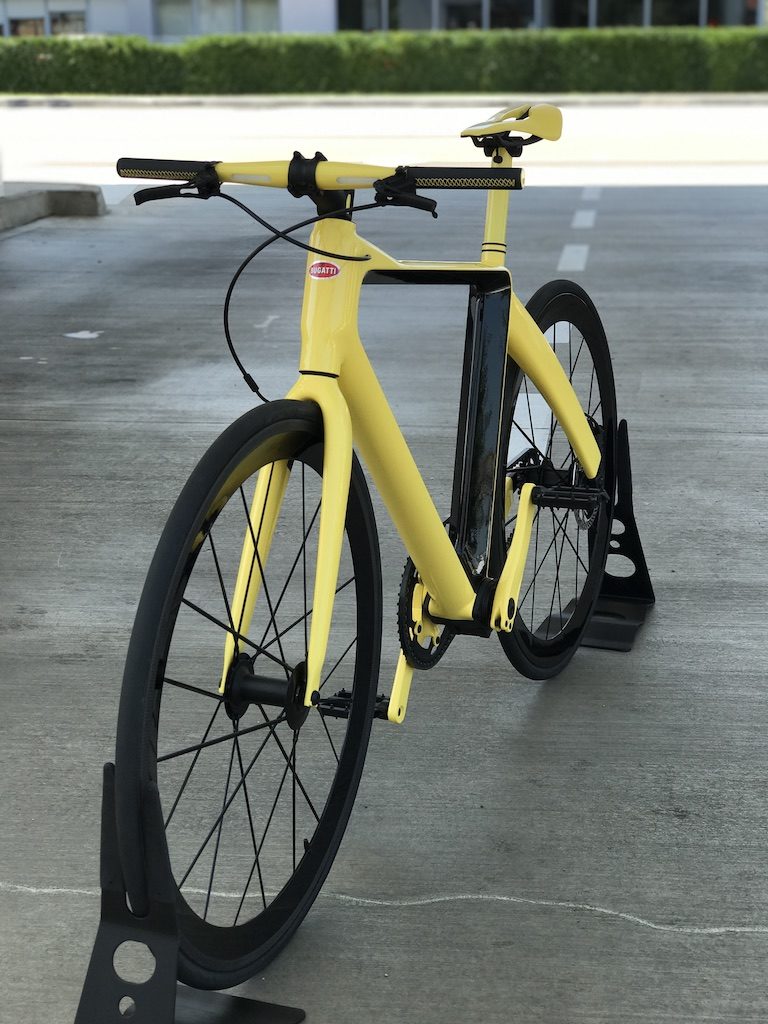 From Brian: "Worlds most advanced and lightest electric bike is born – The Bugatti electric bike. 8.4 kg (18.5 pounds). High torque Midmotor and autonomy of 55 km (34 miles). Monocoque autoclave full carbon frame. The automotive Industry has entered the cycle Industry and changed it forever from today"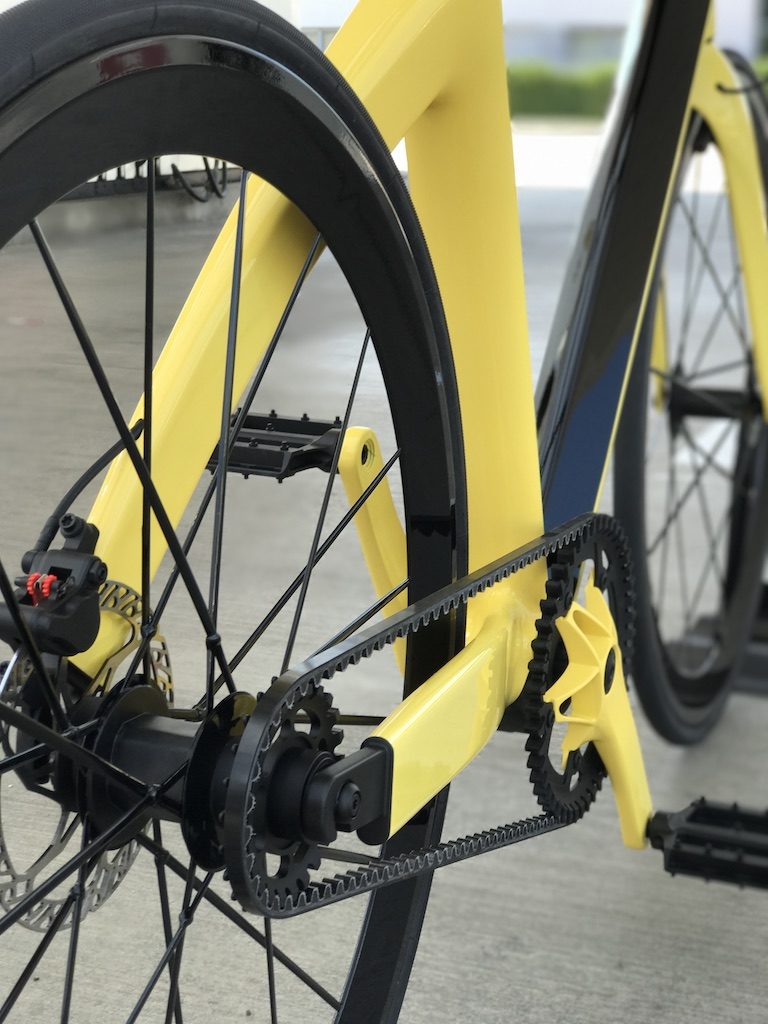 Notice the belt drive but also the alternating chain stay and seat stay support of the rear wheel….very unique! And those look like full carbon fiber wheels.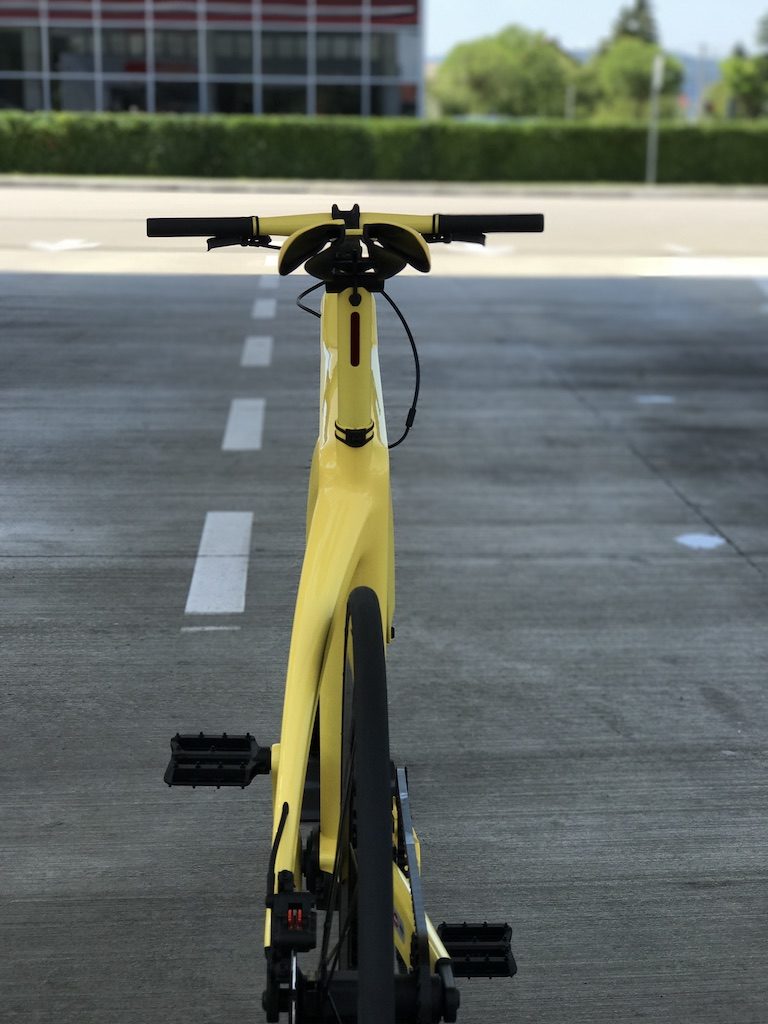 The unique rear wheel frame construction.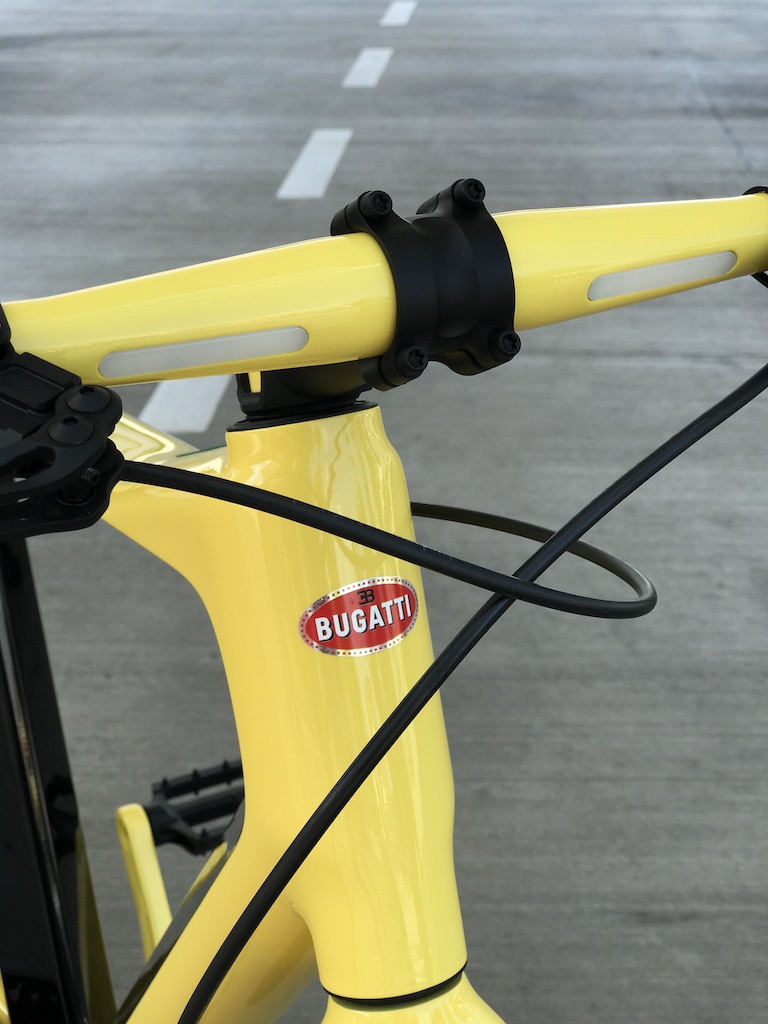 It looks like there is lighting built into the handlebar.
Overall a very clean and unique eBike design. Stay tuned for more info, including the price 😉
More New Diavelo eBikes w/ Famous Auto Names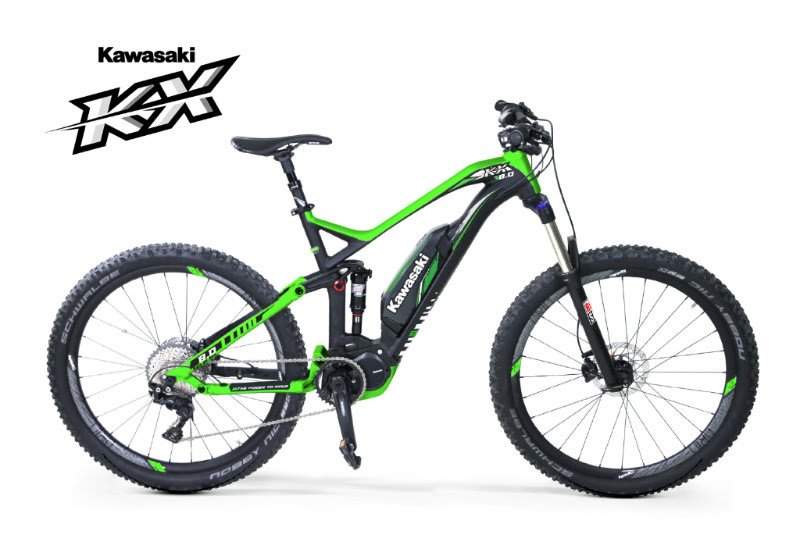 For 2018 it's been announced Kawasaki will launch Diavelo-designed e-bikes. Although details are brief the full-suspension models will be equipped with Shimano Steps and Bosch mid motors.
"Diavelo will present 3 new lines of e-race bikes. A Bosch Powertube 500 Speed Pedelec 45 km/h version. A Brose version with a patented inside the frame high capacity battery of 630 Wh. The top model is a carbon version equipped with the new Fazua mid motor also with an integrated battery. The new Diavelo e-Race line will be introduced at the upcoming Eurobike show."
"The new Maserati e-bike line from the famous Italian car maker is completely made for the e-sport category. The frames are designed with a lot of Maserati sport DNA. All motor set-ups are nicely integrated into the frame. The weight distribution is perfect with the battery and motor placed just above the bottom bracket. This e-bike belongs to a newly created category of sporty electric bikes. The bike is designed and developed by Diavelo. First appearance will be at the Eurobike show."
New Line of Schwinn E-bikes
This Wisconsin State Journal report announces the imminent launch of a new range of Schwinn e-bikes. Details are so far scarce but the article states:
"Madison-based Pacific Cycle, which purchased Schwinn out of bankruptcy in 2001, is set to launch three models of battery-powered, pedal-assist bicycles. The move is designed to energize the Schwinn brand, keep ageing boomers with a love of nostalgia on a bike and to grab a share of the growing popularity of e-bikes. It's Pacific Cycle's first major entry to the e-bike market that, according to some industry estimates, may have grown by as much as 70 percent in 2016."
It adds 'The Schwinn line of e-bikes so far – more models are being developed — consists of the Monroe, a fixed-gear, single-speed bike; and the Sycamore, an eight-speed hybrid; both of which have motors mounted in the hub of the rear wheel. The Constance is a seven-speed urban cruiser similar to a "granny bike" with a mid-motor drive system mounted at the pedal crank that keeps the weight more centralized."
EVELO Hardtail E-MTB Review
Checkout our latest Part 1 review of the EVELO Delta.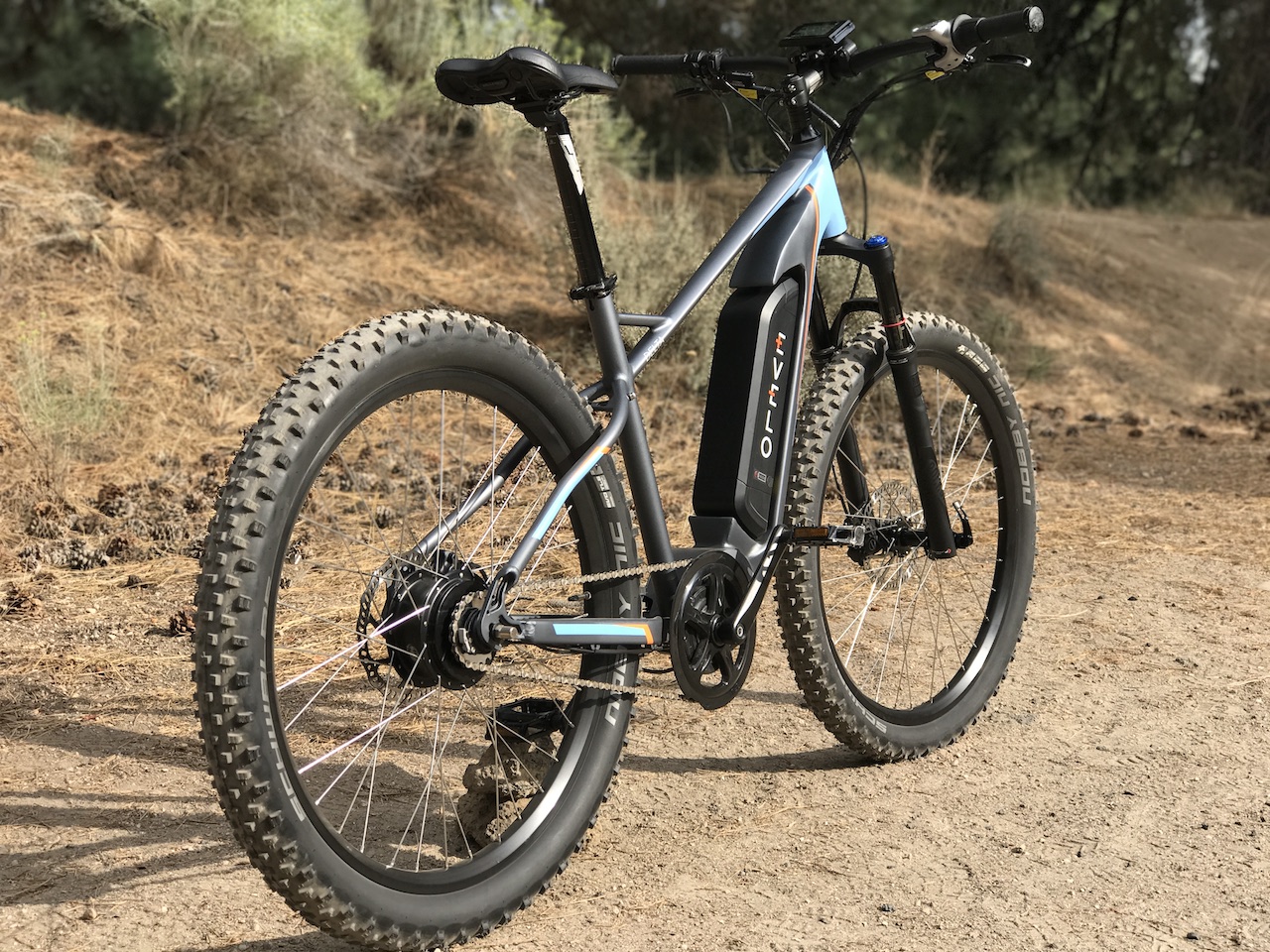 The EVELO Delta features a 750 watt mid drive with the NuVinci N380 continuously variable transmission.
Rayvolt Hits the Streets
Rayvolt is a recent Spanish startup with a lineup of two distinctive e-bikes.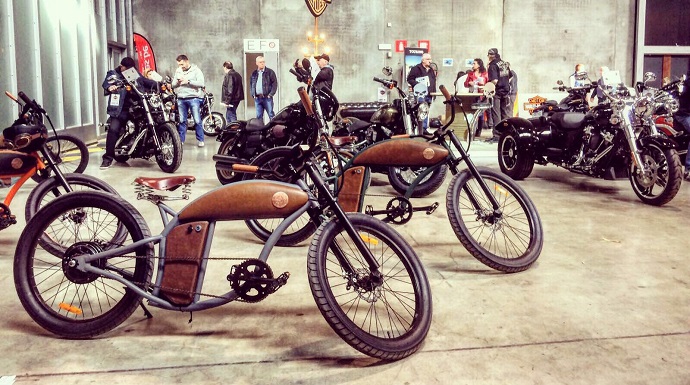 The Cruzer is unashamedly based on 60's cafe racer motorbikes whilst the Ozone takes triathlon bikes as its inspiration. Spec for both includes 48 volt rear hub motor with regenerative braking and a handlebar display including maps with GPS location function.
Tout Terrain Adds Two New Models to E-bike Range
German firm Tout Terrain are known for their rugged touring and urban bikes made of high quality steel, some with frame-integral carrying racks. Their e-bike range is based around an unusual combination of near silent Go-Swiss Drive gearless hub motors and Pinion bottom bracket gearing for low transmission wear and low maintenance.
For 2018 there will be two new models – the Amber Road Express, billed as a comfort touring e-bike with 29″ wheels and frame width enough for 50mm wide tyres and the 26″-wheeled Metropolitan Express for commuters and tourers.
Gearsensor New Shifting Tuned Mid-Drive
Gearsensor are a Czech company that have built their reputation on a small device that senses when you are changing gear and cuts power momentarily from the mid-drive to your rear transmission. This is to protect the transmission itself from the peak motor forces and to save wear and tear – indeed in the worst case scenario it could stop your derailleur or hub gear self destructing!
They have now integrated this 'intelligent shifting' into the mid-drive itself, announcing their Comp drive unit which will be available for viewing at Eurobike trade show in late August.
Options include single or double chainwheel, torque sensor, freewheel version or coaster brake, plastic motor covers in various designs and colours and three types of displays.
E-bike Security
Crime Busting GPS Lock Stalls all Dutch E-bike Theft
Remarkably Bike Europe tells us "According to a report in the Dutch media, none of the 6,000 Sparta e-bikes equipped with the GPS tracker sold this year have been stolen so far…..on average 10% of the sold e-bikes are stolen in their first year." Specifically it refers to a GPS tracker integrated in the e-bike's lock.
Apparently one insurance company is offering a 75% reduction to those e-bikes fitted with the system.
New E-bike Lock from Hiplock
Hiplock says their new E-DX is "designed with the growing number of E-bikes and utility bikes in mind." Key features are a 10mm hardened steel chain which has noose ends, allowing it to loop through itself, providing the bigger locking circumference required for larger and bulkier bikes plus a 14mm steel shackle and anti-rotation locking tabs.
Each E-DX also includes a Z-lok secure zip tie which can be used to attach the chain to the bike in transit.
Get Inspired
'Purists' and E-biking
It's interesting to read these two e-bike themed articles one after the other:
First this LEED Bicyclology blog is fairly straightforward look at what bicycling 'purists' who refuse to have anything to do with e-bikes are missing. It's great – e-bikes save you time and money and get you fit whilst avoiding excessive exertion and keeping work clothes sweat-free.
Just perhaps Thomas Beller's almost philosophical take on a 'purist's view' of e-bikes might help convert more – it's certainly entertaining as the two riders in conversation just 'feel' e-bikes are wrong, although admitting all logic points to their great advantages and that they will probably end up getting one…
E-Bike to Angel Island
This is a very simple and short video of a family camping vacation with electric assist Xtracyles to the fantastic looking Angel Island, the second largest island in San Francisco Bay.
Moving House by E-Bike
What a nice idea; moving a house by e-cargo bike! The Cambridge News reports that local e-cargo bike logistics company Outspoken have taken to Twitter to publicise the feasibility of 'downsizers' (or yet-to-upsizers) moving house with one of their e-cargo bikes which can be hired at reasonable rates.
Bike Routes in Top 5 Cities
Rad Power Bikes put together this guide to bike routes in the USA's top 5 bike friendly cities that include Seattle, NYC, Portland, San Francisco, and Chicago.
eBike Hire
E-bike Hire in Lincoln, UK
By the time you read this there should be e-bikes whizzing about the streets of Lincoln in the UK.
The hire bikes are an extension to an existing non-powered hire bike scheme and feature locks and lights, indicators on the handlebars and a 'boost' button for extra power, plus there is a handy phone app.
To learn more about the scheme and to register visit the scheme website here.
E-biking Business Style in Bristol
This report details an innovative and interesting sounding scheme in Bristol, UK that lets companies apply for grants to loan e-bikes from a local bike shop, Jake's Bikes.
Founder of the shop Jake Voelcker said "The council's existing E-bikes were a huge success in getting employees cycling, but the feedback we received was that they were too heavy, and weren't always as reliable as we might have expected. So when developing our own model, we decided it was crucial to overcome these issues."
eBike Law
Illinois Signs Model E-bike Law
Bicycle Retailer and Industry News reports that Illinois has become the sixth state to sign a new e-bike bill into law that designates a three-class system for electric bikes. The article clearly outlines this model legislation:
Class 1 and 2 e-bikes can go no faster than 20 mph under electric assist, and Class 3 e-bikes can reach assisted speeds of up to 28 mph. Class 1 and 3 bikes are pedal-assist only, while Class 2 bikes have throttles.
The Illinois bill means such types of e-bike will be allowed wherever conventional bikes are allowed unless local authorities prohibit them.
California, Utah, Arkansas, Tennessee and Colorado are previous states bringing this model into effect.
eTech
EBR news also has occasional short features on interesting electrical tech in general; we figure those into e-bikes will also have an interest in innovative electrical technology.
So check out this crowdfunding solar-powered, lightweight cooling fan. It uses genuine air-con technology (i.e. it's not just a fan) and the claimed full-battery run time is 8 hours. Kickstarter offers start at US$449 for the non solar-powered option and US$479 for the solar-powered option.
Stay tuned for more e-bike news & reviews and thanks for reading!
-Richard
P.S. Don't forget to join the Electric Bike Report community for updates from the electric bike world, plus ebike riding and maintenance tips.
Reader Interactions