eBike News: Blix eCargo, Surly eCargo + Trailer, Superlight eMTB, Refillable Batteries, & More! [VIDEOS]
In this week's eBike news roundup:
E-bikes 'Brain Boost' Effect
Blix's New eCargo Bike
Surly's E-longtail + Trailer
Superlight LaMere eMTB
Olympia eMTB Upgrade
Ridgeback eCargo Prototype
Swiftmile Scooter Dock & Charge points
Graphene Tires
Refillable Batteries?
And More!
Headline News
E-bikes Give Older Riders a 'Brain Boost' Suggests Study
New research has found that cyclists between the ages of 50 to 83 experienced 'cognitive and mental health benefits' from riding a bike, whether it was electrically assisted or pedal powered.
Older cyclists who use e-bikes may be getting the same 'brain benefits' as those on standard bikes, new research by the University of Reading and Oxford Brookes University states.
The study is part of Cycle Boom which describes itself as 'a study to understand cycling among the older population and how this affected independence, health and wellbeing. The ultimate aim was to advise policy makers and practitioners how our environment and technologies could be designed to help people to continue to cycle in older age or to reconnect with cycling.'
Lead researcher Dr Louise-Ann Leyland commented: "It is really encouraging that this research suggests older adults' cognitive function (particularly what we call executive function as well as processing speed) could be improved by cycling in the natural/urban environment, even when that was on an electrically assisted bike."
The eight week study saw elderly riders on their bikes at least three times a week for 30 minutes with cognitive function and well-being measured before and after the rides. Surprisingly researchers found that those using the e-bikes had an even greater improvement in brain function and mental well being than people who used standard bikes. It was reported that riders spent 28% of the time in eco mode and 15% with the motor off.
The wider implication is that e-bikes have a hugely important role to play in keeping elderly populations healthy, not just physically but mentally. It comes at a time when the elderly are increasing as a percentage of the overall population in many western societies, as people live longer against a backdrop of declining birth rates. Governments and health services across the world should be aware of such important evidence.
New eBikes & eBike Systems
Blix Teaser for New eCargo Bike
Blix have put out teaser information about the March launch of their new compact cargo bike. The company announced the addition of the Packa electric cargo bike to their lineup.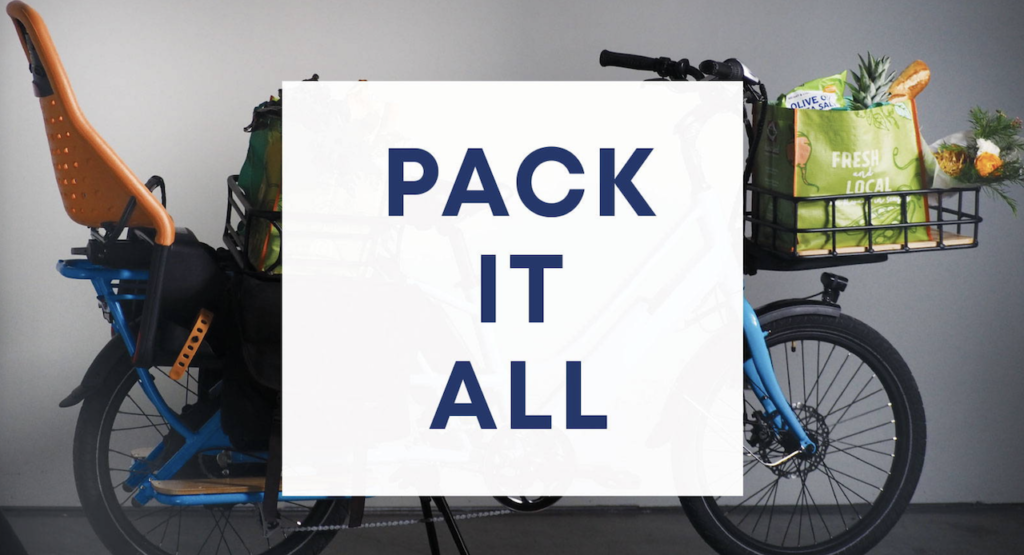 Still in its final design phases, Blix promises an intelligently designed, high-performance compact bike that boasts a 400-lb payload, dual batteries for extended range, and a powerful 750-watt motor.
Blix say they 'design and sell electric bikes to support travel, commuting, and leisure riding. Their current catalog of models includes electric folding, cruiser, and city bikes. Final pricing for the Packa has not been determined. Packa means "to pack" in Swedish, and will be Blix's first e-cargo model.'
"It truly can replace your car when headed to the park with your kids, running errands, completing local deliveries, or enjoying a day out," said founder and CEO, Pontus Malmberg.
Surly eCargo Bike + Trailer
Surly is a bike manufacturer based in Bloomington Minnesota and they are best known for their highly adaptable, practical steel framed bikes, great for rough-stuff touring and hauling loads.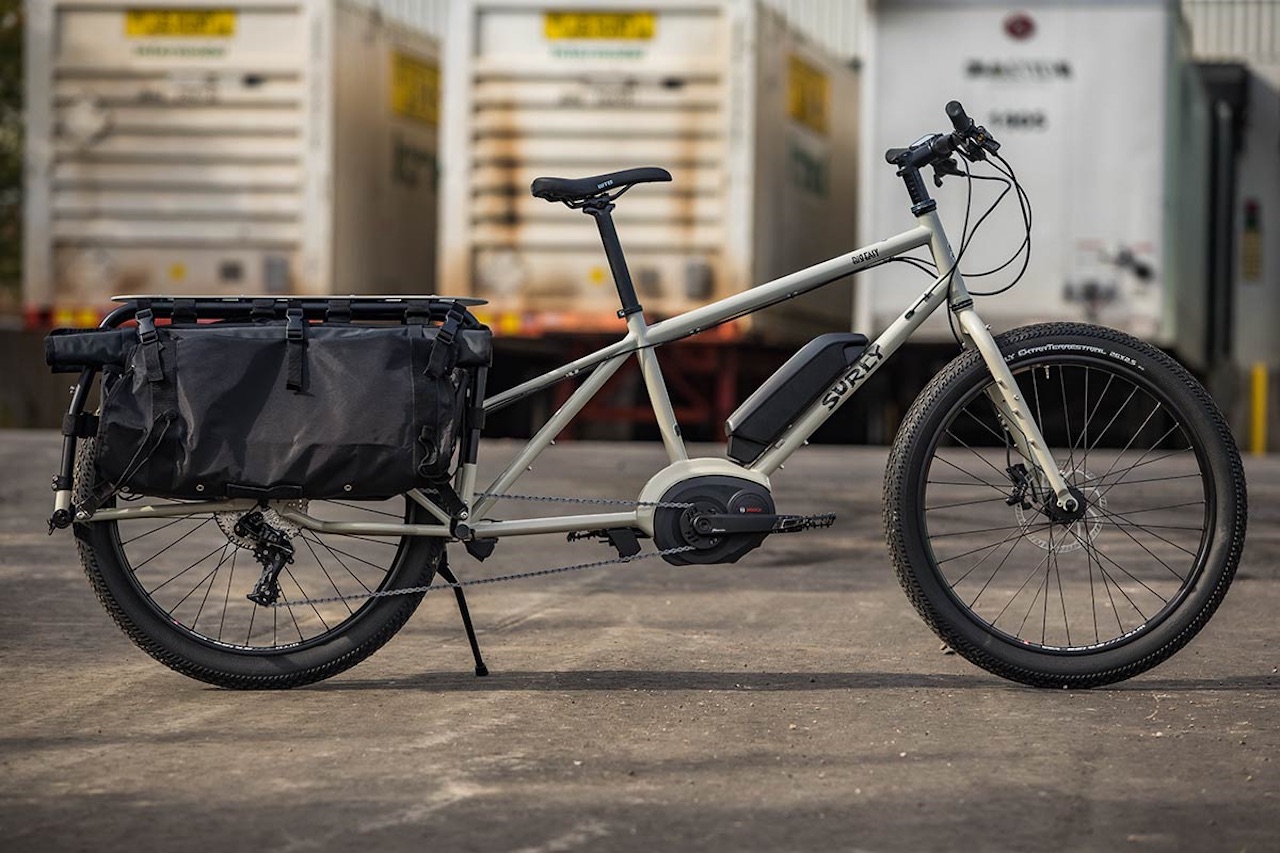 They have now chosen a longtail cargo design to announce their first e-bike, the Big Easy.
The Big Easy comes with a Bosch Performance CX mid-drive (Bosch's most powerful drive unit), a damping headset for smooth and stable handling under heavy loads, dual battery option (all mounting hardware and wiring included) and large-volume 26" x 2.5" ExtraTerrestrial tires and durable wheel builds.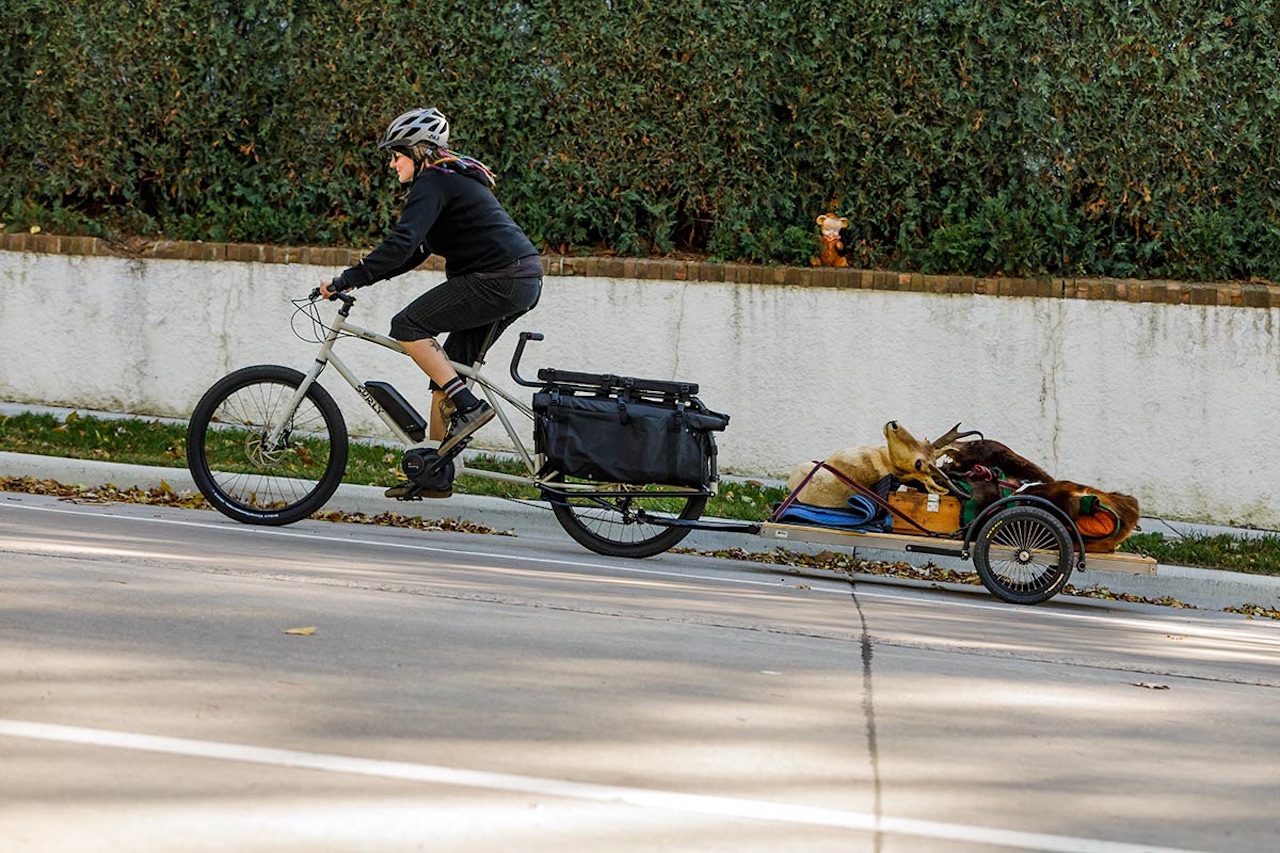 As you can see from the video below, there is frame integration with Surly Bill and Ted trailers for maximum cargo potential.
The Big Easy is available for purchase in the US only at $5,000.
For Surly aficionados out there Surly say the design is based on their non-electric Big Dummy model but that 'the primary difference is that the Big Easy is a Bosch equipped electric bike. Though, we did revisit handling and fit geometry. The fork has been updated, as well as tubing thickness being reviewed and updated.'
Superlight LaMere eMTB
LaMere Cycles claims to have the lightest full suspension eMTB at 35.9 pounds and they say that they can make it even lighter with the right components!
It features the Shimano E8000 mid drive system with "carbon everything" and the unique Lauf Trail Racer front fork.
The LaMere eVade is priced at $8,300.
Olympia Upgrade Carbon-Framed eMTB for 2019
We have featured Italian firm Olympia's carbon framed e-mtb, the E-1X Carbon 8.0 before on EBR but for 2019 the impressive looking bike has become more compact and features a bigger battery.
The Shimano Steps E8000 mid-drive boasts a nominal 75 Nm of torque and the power settings can be managed via its own app.
A new larger capacity 630 Wh battery is frame-integrated and the E1-X Carbon 8.0 frame comes in S, M and L sizes.
UK distributors are Posh Bikes and the retail price is 5,662.00 euros.
Ridgeback E-Cargo Prototype
British bicycle brand Ridgeback are known for their value-for money but good quality bikes and e-bikes but they may be expanding their horizons into the world of e-cargo bikes.
According to this Cycling Industry News article the company 'has….developed a prototype e-cargo bike……which features Shimano STEPS and can appropriately handle large, heavy loads….While not yet available to the market, Ridgeback's e-cargo has a tentative price of £3,699.99.'
Micromobility
Will Swiftmile's Semi-dockless System Bring 'Order to the Chaos'?
One criticism of dockless electric kickscooters is that they are left randomly around towns and city areas and can end up cluttering pavements and the like.
Swiftmile think they have come up with a more orderly way of storing the scooters when not in use and charging them at the same time.
This video shows how electric kickscooters can be left in a charging dock and locked there then easily removed by scanning the docks QR code with your smartphone.
You can see from their website that they also have a charging system for e-bike charging.
New Bike Products
Better Performing Tyres with Vittoria's New Graphene Models?
Bike Europe reports that Vittoria has launched its new Graphene 2.0 tyres, telling us Vittoria launched its first generation tyres with graphene in 2015 but according to Vittoria's Rudie Campagne "Unlike the first-generation, the new 2.0 Graphene is functionalized to enhance specific tyre performances…..We are now able to apply graphene in such a way that it can achieve a performance boost specifically for speed, or wet grip, or durability or puncture resistance….. The e-bike is the biggest growth market in the industry and we focus on this segment as well with graphene bringing important performance increases. Our next challenge is the urban category".
Graphene 2.0 will be applied for road in the Corsa, Pista and Triathlon competition tyres, the Rubino all road and the Zaffiro training tyres. For MTB's Graphene 2.0 will be used for all categories and product lines.
Graphene is a layer of carbon atoms arranged in a hexagonal lattice and is the thinnest material known to man at one atom thick, and also incredibly strong – about 200 times stronger than steel.
Battery Watch
Could E-bikes be Filling Up at the 'Gas Station' in Future?
This interesting NBC article details the work going on that's aimed at commercializing refillable batteries for electric cars.
Like e-bikes, today's electric cars use lithium-ion batteries that can take a long time to recharge and may have limited range – at least compared to gas-powered cars.
Enter flow batteries, whereby the batteries electrolyte is pumped out of the battery when exhausted and fresh electrolyte is pumped in. Sounds simple enough but existing flow battery technology suffers from having a low energy density resulting in big heavy traction batteries (they are more often used for electricity storage).
New research from Lee Cronin and William Chueh is seeking to increase to energy density of flow batteries with metal oxide technologies and higher pumping rates, although other experts caution that cost, reliability and safety may still prove to be issues.
So it seems the time when you can fill up your electric car or e-bike at the local gas station is still some way off….
Stay tuned for more e-bike news and reviews and thanks for reading!
Richard
P.S. Don't forget to join the Electric Bike Report communityfor updates from the electric bike world, plus ebike riding and maintenance tips!
Reader Interactions