eBike News: Bicycles Economic Impact, World Tour, Solar Charging, New eBikes, & More! [VIDEOS]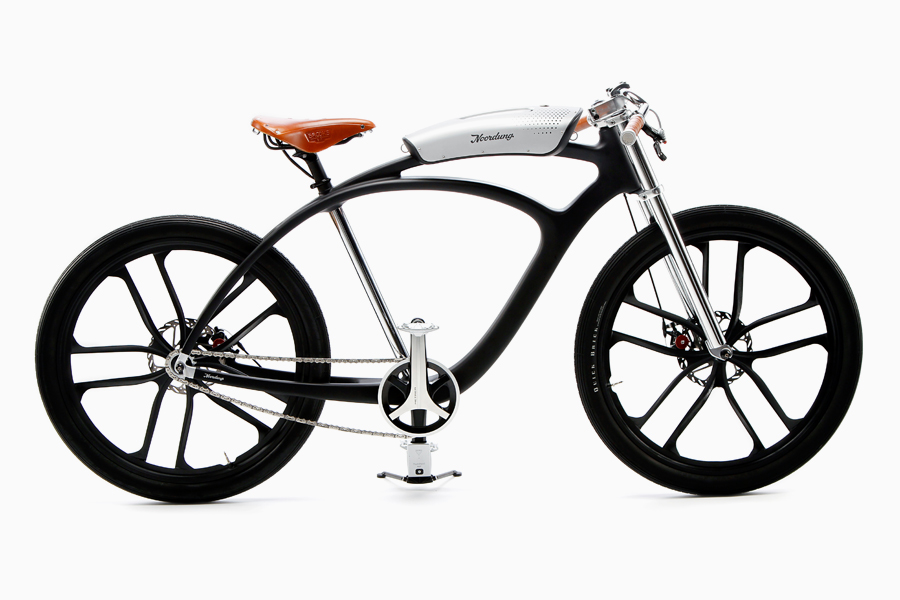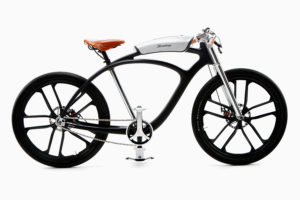 By Richard Peace
Quantifying Bicycles' Economic Contribution
The U.S. House of Representatives have just passed the Outdoor REC (Recreation's Economic Contributions) Act, moving it one step closer to being signed into law by the president.
As suggested by its title, The Outdoor REC Act would require the U.S. Departments of Commerce and Labor, working with federal land management agencies, to provide statistics on the economic contribution of recreation to the U.S. economy – and that inlcudes bikes' and e-bike's contribution.
People for Bikes said:
'We believe it is time for the bike industry's economic statistics to be measured in the same way as other sectors such as the automobile, pharmaceutical and agricultural industries. Measuring the economic benefits of bicycling will demonstrate that investment in bike infrastructure leads to economic development, jobs and healthier communities. Ultimately the data will lead to more and better places for bikes.'
Angelos Celebrates One Year of Electric Folding Bike Traveling
13 Countries, 8500 km – 365 days. These are the stats so far for 26 year old Greek Angelos Georgopoulos who is attempting to cycle around the world by electric folding bike 'plus the odd train/ airplane/ ferry/ bus/ truck, all the while sleeping mainly and hopefully in local's houses' says Angelos' Facebook page.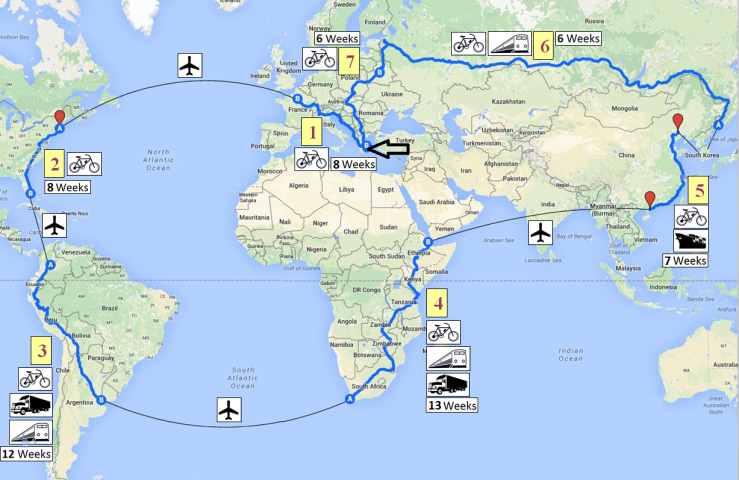 The whole trip is actually scheduled for 60 weeks and Angelos got in touch from his current location somewhere in the Amazon jungle (having already cycled through Europe and the US) and EBR would like to help him celebrate his stunning achievement that has seen him and his bike travel through a tough US winter and travel along jungle rivers by canoe.
For route details see here and here is a video montage of all his experiences (explicit lyrics in the video music):
Angelos's trip seems part journey of self-discovery, part fun trip and part educational training experience. Good luck for the rest of the trip Angelos and let us know when you are nearing the finish so we can celebrate again with you…
New Products

Noordung Angel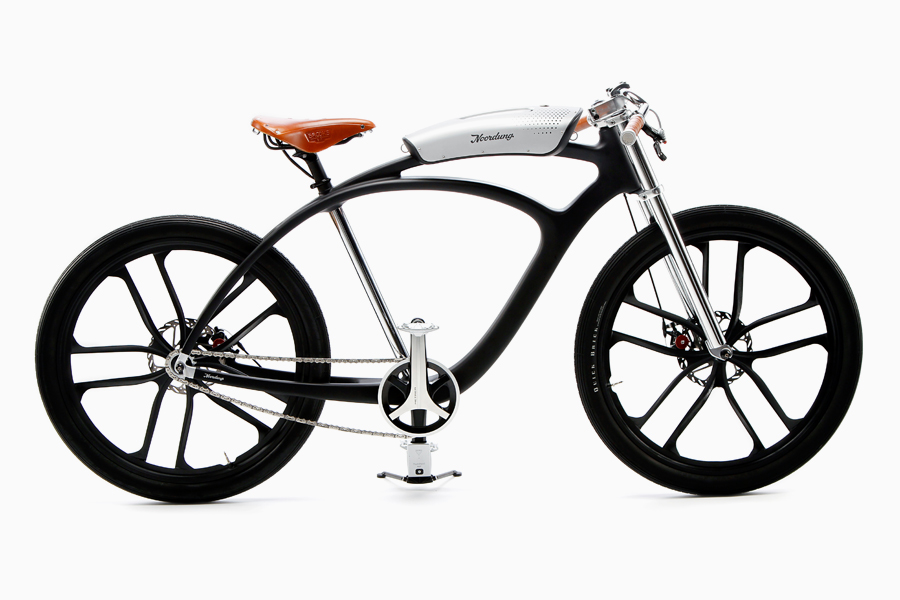 The Noordung Angel Edition is an "exclusive pre-production series of only 15 handmade, precisely crafted urban electric Noordung bikes." and it carries a price tag of 8,000.00 €.
The Angel Edition features a carbon fiber frame with the Vivax eBike drive housed discretely inside the seattube.
The battery on the top tub has built-in speakers to give you a "boom-box" mounted to the bike that can play music from your smartphone.
Here is a teaser video of the Angel Edition:
Custom e-bikes Inspire New Business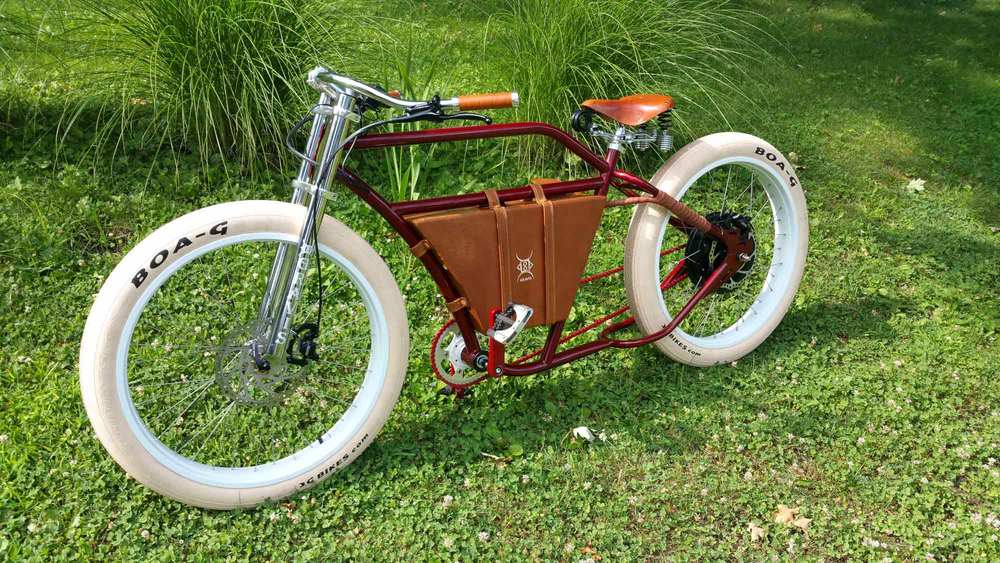 Todd Embree, an Indianapolis entrepreneur and founder of Gravis E-Bikes was recently featured on Indianapolis's WishTV.
Gravis offer 'fully customizable e-bikes. Customers can pick the color, leather and style they want.'
"The options are limitless — my first customer wanted her bike to look like her '67 Corvette," said Embree.
Embree and his six employees starting taking orders in April and are still building the bikes in his garage, though they're in the process of moving to a bigger space.
For the WishTV video see here:
Most powerful Super e-bike Slated for 2017?
Technology website New Atlas recently covered the launch of another 'super e-bike', this time from Neematic.
Their FR/1 is, apparently, more powerful than what New Atlas labels as existing 'electric superbicycles', namely the Stealth B52, Greyp G12S and Trefecta DRT. These are all more like electric motorcycles because of their power and speed and they are to be ridden off-road only in areas that allow motorized vehicles.
Lithuania-based Neematic formed last year. The startup introduced the FR/1 at Intermot last month, where it revealed the first details ahead of a 2017 preorder campaign. It boasts a 60mph top speed and a 2.2 kWh lithium-ion battery that provides between 31 and 62 miles (50 and 100 km) of range, Fox shocks and Hope Tech 3 V4 disc brakes.
e-bike Biz
Verizon Invests in Swiftmile Solar eBike System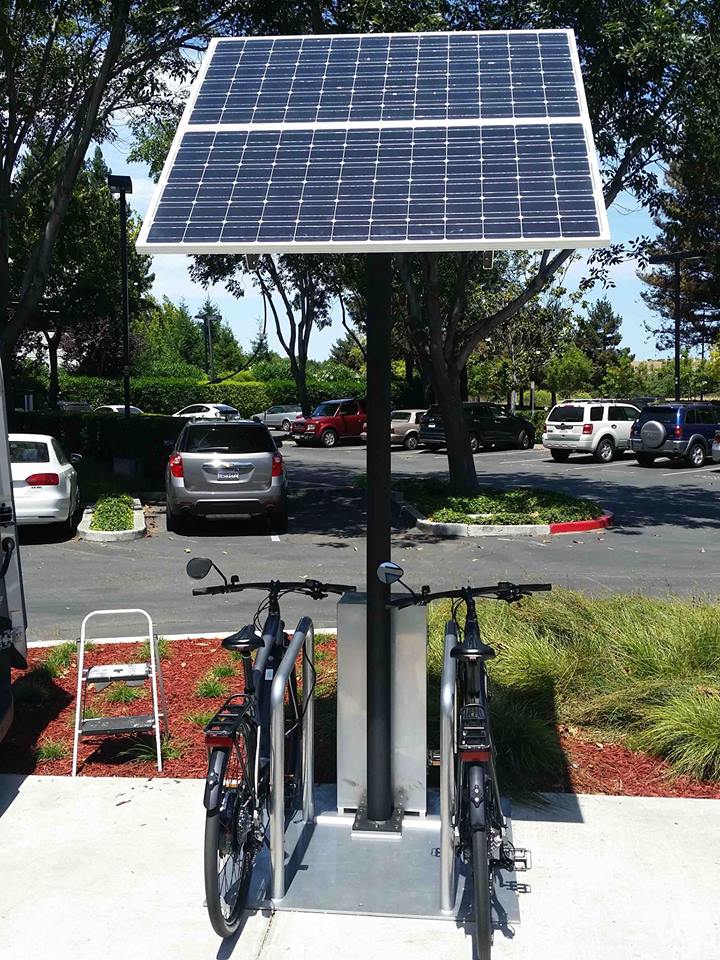 "Swiftmile will use Verizon's newly-enhanced internet of things (IoT)-enabled Share Solutions platform as part of its electronic bike (ebike) transit share system. In turn, Swiftmile will deploy its ebikes, powered by Verizon Share Solutions, to the Santa Clara Valley Transit Authority (VTA) – a special purpose district responsible for public transit services, congestion management and specific highway improvement projects for Santa Clara County, California."
Trikke Plan to Carve up China
Just in case you hadn't heard of it, the Trikke is a three-wheeled scooter that comes in both self-propelled and electric versions. The fact that they travel in a series of S's have lead Trikke themselves to label their invention 'carving vehicles'.
After being launched in 2002 it seems Trikke are now spreading their wings considerably with an announcement for a giant Trikke theme park in China to open in May, 2017.
The Trikke Sports Park is the product of a joint venture between Trikke Tech Inc., the U.S.-based manufacturers of Trikke carving vehicles, and the newly-formed Trikke China, which will promote, sell and distribute all Trikke products in mainland China.
Rad Power Interviewed by Forbes
Forbes recently interviewed President of Seattle's Rad Power Bikes, Mike Radenbaugh.
Here are some snippets from Radenbaugh in a fascinating interview, the full test of which can be found here:
"We shifted about a year and a half ago with a launch on Indiegogo for our first ploy into the direct to consumer space: low-priced, complete, performance bikes. That was with the RadRover, and since then we've launched the RadWagon which is our cargo bike, the RadMini, a folding fat tire bike, and the RadCity electric commuter bike."
For more on Radenbaugh's other electric projects see the Golfboard and Electrafin.
eBikes at the LA Auto Show
Electric bikes at an auto show? Yes the auto industry is beginning to embrace the many forms of mobility in today's exciting world of transportation options. In addition to electric bikes at the LA Auto Show there are "electric scooters, unicycles, hoverboards and other oddball people movers" reports the LA Times.
Netherlands Continues as an Economic Stronghold of the E-bike
Bike Europe has a detailed report on bike and Netherlands-based e-bike giant Accell's strong economic performance in the third quarter of the year. In particular it was based on very strong growth in e-mtb sales.
Even more significantly, the popularity of the electric bike has seen turnover surpass sales of pedal cycles for the first time in the Netherlands. Dutch trade organisation RAI and Bovag reports some 57% of sales, worth €514 million registered were recorded in 2015.
Stay tuned for more e-bike news and thanks for reading!
-Richard
P.S. Don't forget to join the Electric Bike Report community for updates from the electric bike world, plus ebike riding and maintenance tips!
Reader Interactions