eBike News: 2,800 Mile Ride to CES, RadBurro eCargo, Ford eBike Share, Police eBikes, & More! [VIDEOS]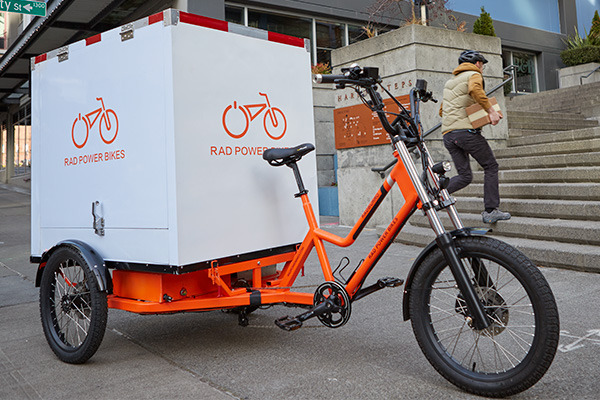 In this week's eBike news roundup:
2,800 Mile Ride to CES from NYC to Vegas
RadBurro Commercial eCargo Trike
Juiced Speedy eFat and Enki eBMX Folder
CES eBike Coverage
SITAEL Magnetic Smartphone Holder
Ford eBike Share & Many More
Green Bay Police eBike Fleet
Inspiring Couple Use eTrike to Ride Together
Battery Tech Update
Subsidies for Finnish eBikers
And Much More!
New eBikes & eBike Systems
RadBurro Commercial eCargo Trike
Rad Power Bikes has expanded its business with the formation of a new Commercial Division to provide sustainable transportation and last-mile delivery solutions for commercial customers including logistics and delivery companies, courier services, and fleets for corporate campuses and universities.
Rad Power Bikes also introduced its newest electric bike model, the RadBurro electric cargo trike purpose-built and specifically designed to meet the requirements of the commercial delivery market for transporting goods in congested urban landscapes.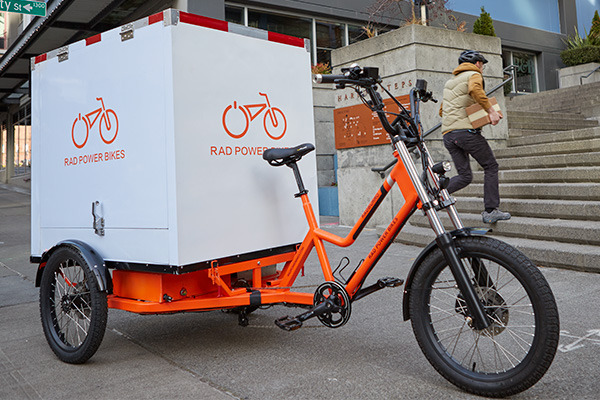 "The creation of a new Commercial Division represents a pragmatic and exciting step forward for our business," said Mike Radenbaugh, CEO of Rad Power Bikes.
"There is a tremendous market need for last-mile transportation and fulfillment alternatives due to the explosion of e-commerce, the rise of urban centers, and the ever-increasing demand for same-day deliveries to high-density residential areas. Our RadWagon cargo bike and RadCity commuter bikes are already being used for local consumer deliveries. We developed the RadBurro to specifically address the needs of the commercial delivery market, to offset traffic congestion and move towards more sustainable transit. It is exciting for Rad Power Bikes to play a key role in ebike innovation at the forefront of sustainable transportation."
RadBurro Electric Cargo Trike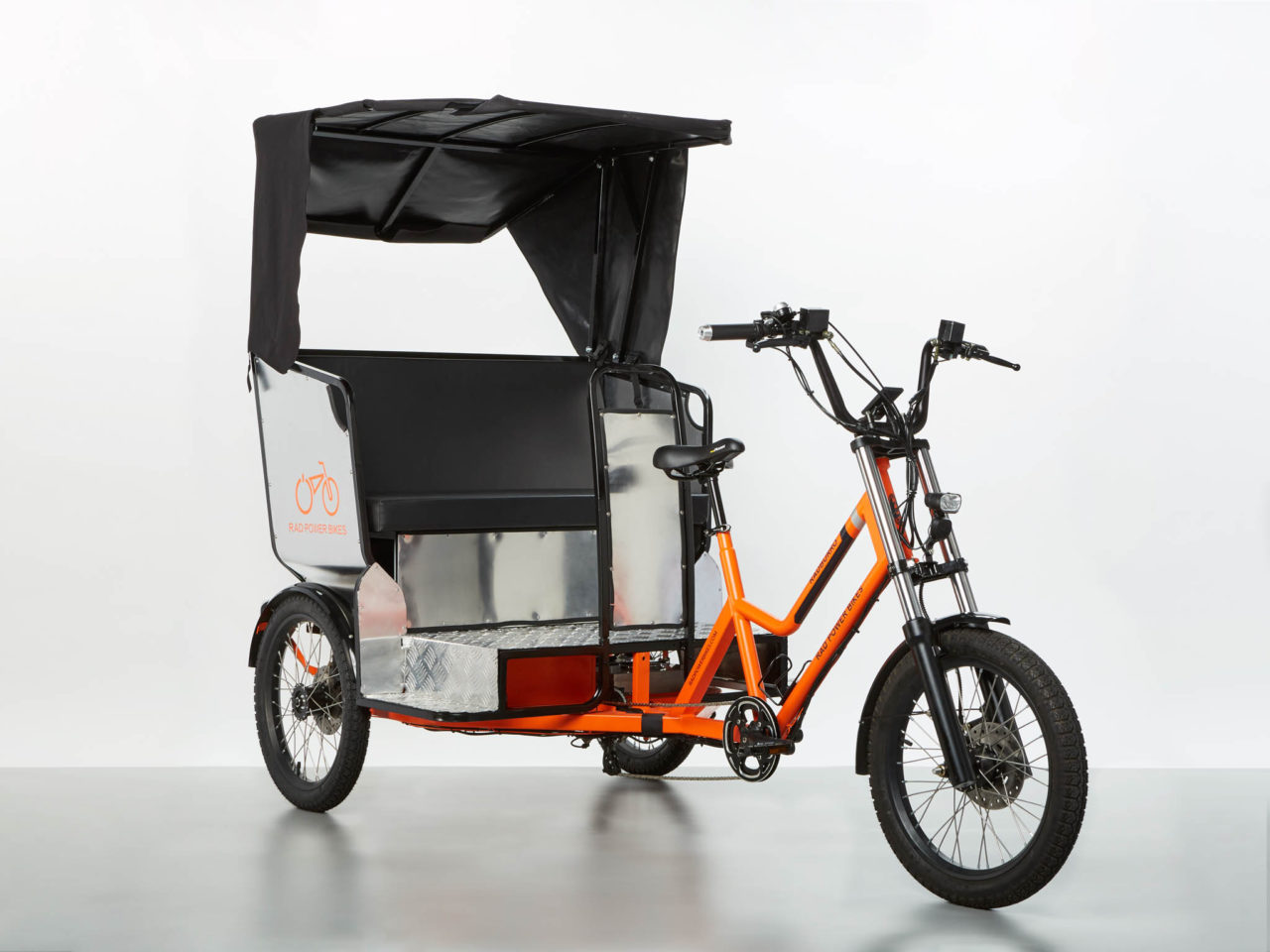 The RadBurro electric, pedal-assist cargo delivery etrike is a workhorse and an efficient, emission-free delivery solution for commercial delivery companies who have same-day and even on-demand deliveries.
This new model features a 20-inch step-through steel-frame along with 17-inch front and rear wheels, and incorporates a 750-watt brushless electric motor capable of achieving a top speed of 20 MPH.
RadBurro is powered by a 48V 52.5Ah battery, is highly maneuverable, can comfortably handle payloads of up to 700 pounds, and covers a range of 40-80 miles on a single charge.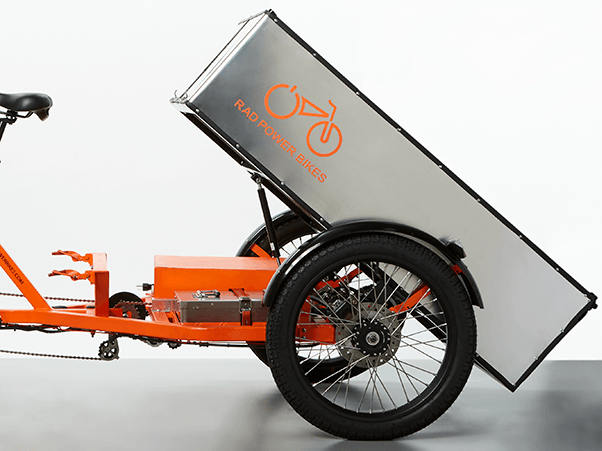 RadBurro is adaptable to a wide range of commercial uses, and can be configured with proprietary Flatbed, Truck Bed, Cargo Box and Pedicab/Rickshaw modular attachments.
"With zero fuel cost and zero emissions, low overhead, a small carbon footprint, excellent maneuverability, and access to bike paths and bike lanes, the RadBurro is arguably the most affordable and practical delivery vehicle alternative for its intended geographies," said Brian Rinckenberger, Commercial Division Director at Rad Power Bikes. "We are offering our customers tremendous savings on the total cost of ownership for their delivery fleets, reducing reliance on fossil fuels, and helping customers achieve the targets of their sustainability initiatives."
Juiced RipCurrent S
San Diego-based Juiced have announced a new e-fat bike – apparently aimed at commuters – for 2018.
Juiced clearly think motor power and battery capacity will help sell the Class 3 (28mph assist) bike, as it has 1000Wh power reserves and a 52volt battery system. The RipCurrent S retails at US $1699.
eBikes at CES
CES in Las Vegas from January 9th – 12th is "the world's gathering place for all those who thrive on the business of consumer technologies" and there is an interesting e-bike presence this year.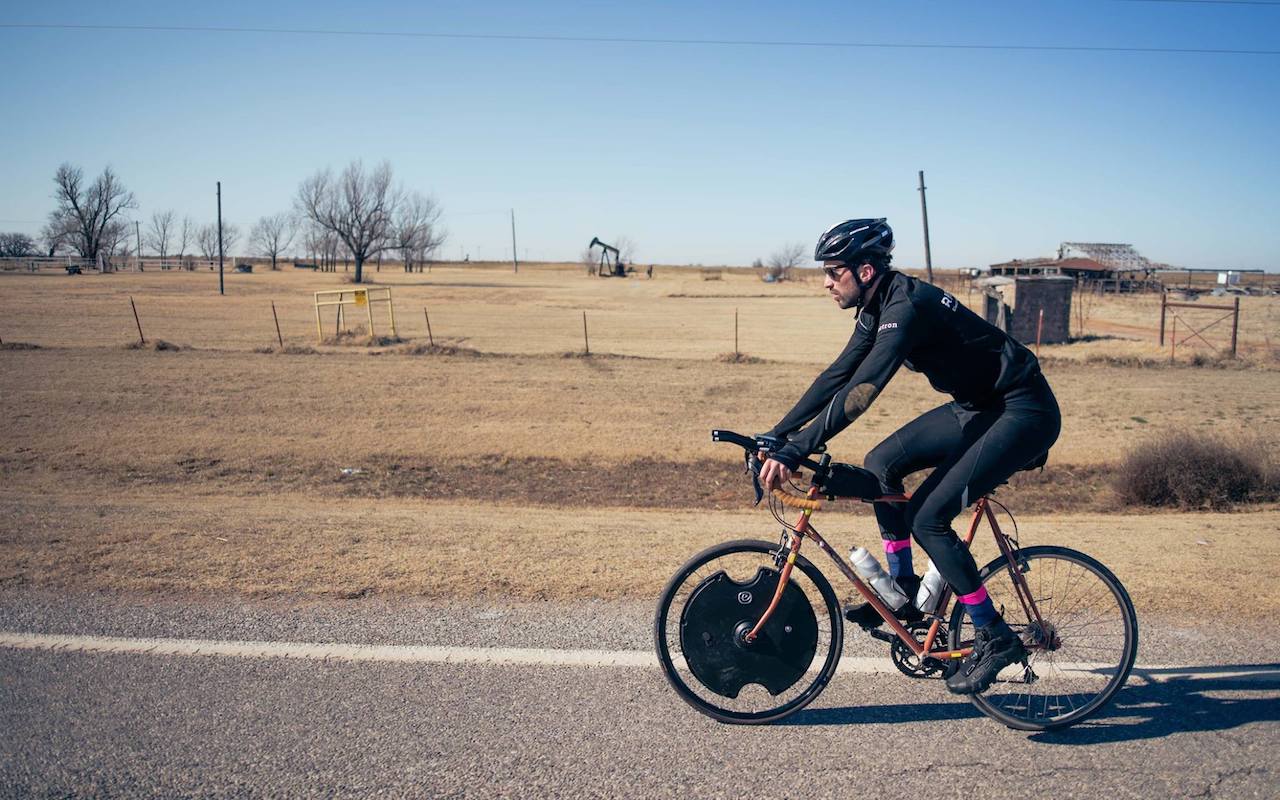 The second generation all-in-one eBike wheel from Electron has been very effectively promoted as it was ridden 2,800+ miles from New York to Las Vegas to arrive at CES.
Max Lippe, an experienced Trans-America cyclist, is the rider who braved the winter conditions to take on this eBike adventure.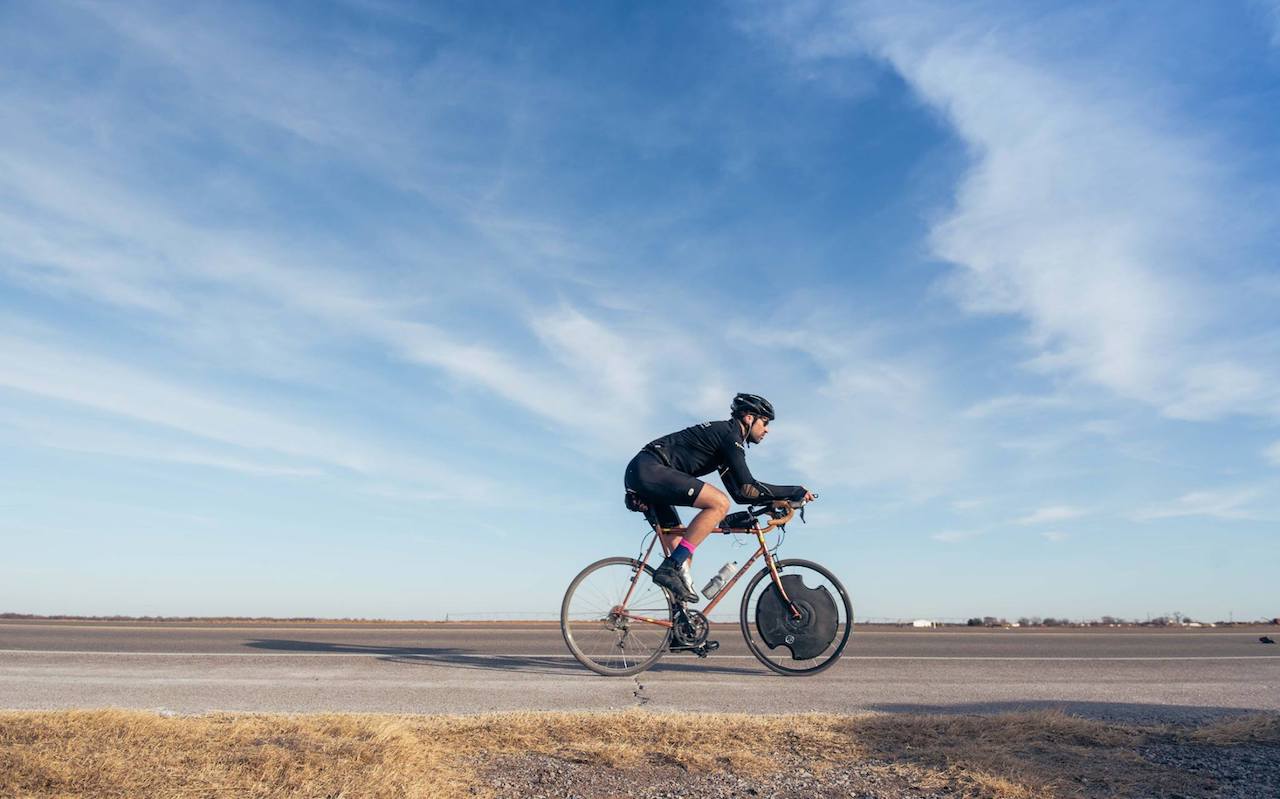 At CES the wheel's ability to interface with Google Assistant will be showcased, allowing a rider to record a ride with GPS and check info such as battery level, speed and alter power level settings.
Check out the video for a look at the latest version of the Electron Wheel:
French firm Yellow (the startup arm of the French postal system La Poste) is premiering Le Vélo at CES, a typically stylish French interpretation of the connected, smart e-bike.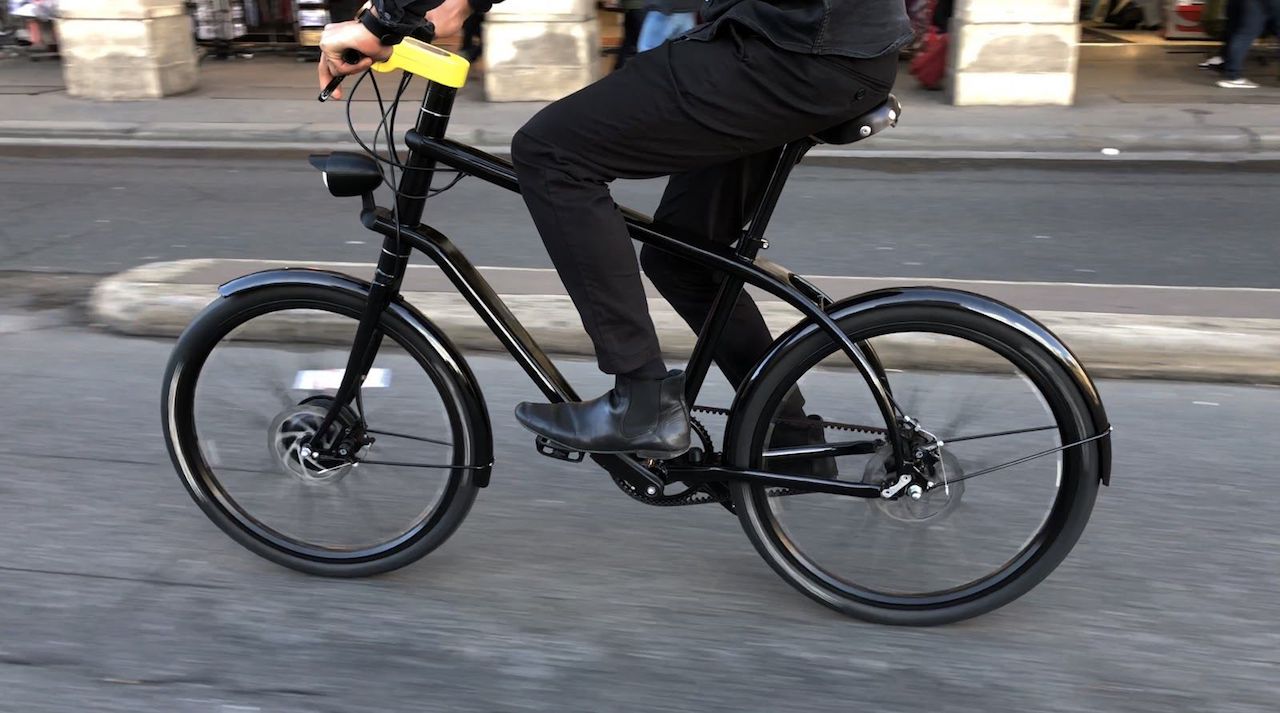 At the heart of the system is the hub motor / Autorq torque sensing combination from Momentum Electric, the company behind the successful VIT-S crowdfunding launch that we featured in last week's news (though that is a mid-drive).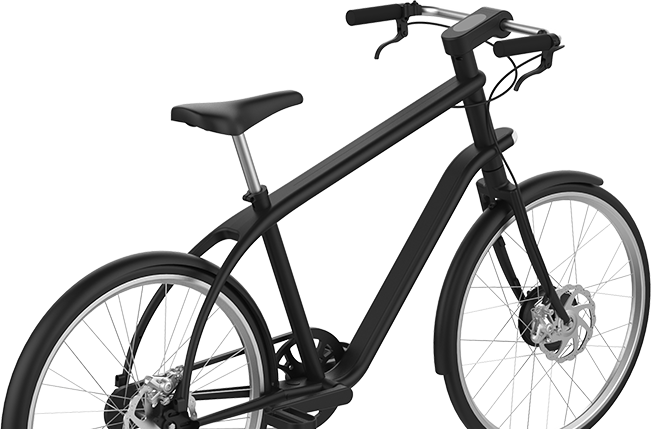 Yellow's Le Vélo means your smartphone can be linked permanently to the e-bike and, say Yellow, "A screen integrated into the stem displays all the essential information that the cyclist needs whilst on the move." As well as 'standard services' such as GPS, and distance travelled, speed and calories burned, Le Vélo also features Yellow's own 'Yoda' software which "guides the rider based on their time, place, weather, speed, date, even the power applied to the pedals…"
The core technology from Momentum Electric is modular – that allows a range of peripherals to be developed and added to the AUTORQ system by the manufacturer or another third party (due to its LIN based network, co-developed with Accelerated Systems Inc.). All this means many different and unique e-bike designs could emerge from its exciting potential. According to Momentum Electric the system also means the "Ability to target lower retail prices while providing better incentives for dealers with aftermarket products and services".
https://youtu.be/wEUJbGJcACo
SITAEL has been named a CES 2018 Innovation Awards Honoree for its Magnetic Assisted Tap (MAT) technology for e-bikes.
SITAEL describe MAT as "a new concept of smartphone holder docking station transforming the e-bike into a fully connected vehicle."
MAT enables "unique smartphone features simply by placing it on the MAT's surface'" say SITAEL, listing "enhanced cockpit, navigator, real-time vehicle control & monitoring, GPS/GPRS-based Anti-theft system, mobile wireless and USB charger" as immediately available plug and play style features.
Besides being aimed at individual e-bikers, MAT is ready to be adopted in "free-floating bike-sharing systems". The full system includes a new, connected locking system for the e-bikes rear wheel and a handlebar Remote Controller which gives bike security and a 'superior riding experience' even without the smartphone use.
The MAT docking station mounted on SITAEL's foldable e-bike "NEXUM" will be launched shortly via Indiegogo. Keep your eyes on esb.bike/mat for future details.
A Ford sponsored e-bike share scheme will be rolled out in San Francsico this April according to the UK's Bikebiz.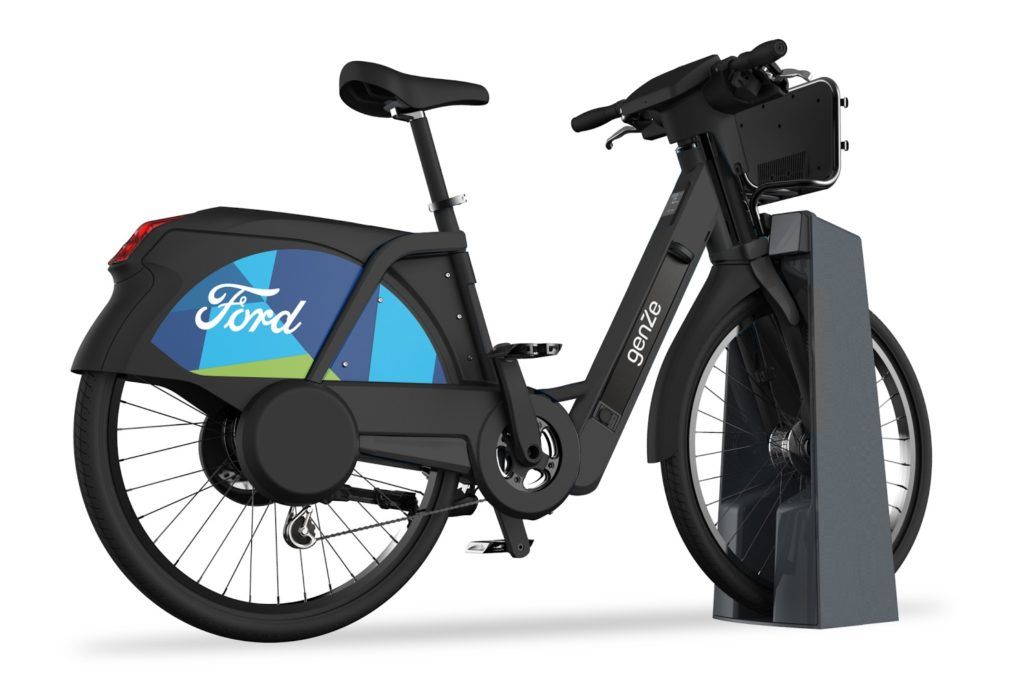 Ford already sponsor the non-assisted bike share scheme and the article tells us the new electric assist models will be made by Genze. The bikes are featuring as part of the "Smart Cities" exhibition at CES.
We also learn the new e-bikes will available for a $5 annual fee to those on low-incomes and will feature pedal assist up to 18mph. Expansion of the system later in the year will bring the total number of hire bikes available to around 7,600, making it the second biggest in North America. The scheme is run by Motivate.
Also in San Francisco, you can expect to see dockless Scoot electric bikes in future, which will be added to the hire firm's electric car and electric scooter range of hire options. This article reports that Scoot is actually applying for a dockless bike sharing permit in order to bring the e-bike scheme to fruition. There is more detail about the permit system here.
LimeBike is launching a dockless eBike share in San Francisco (& other CA cities), Seattle, Scottsdale, and Miami.
Jump is another dockless eBike share system that will be launching this year in San Fran.
Spin will be launching their dockless eBike system at Miami, University of California San Diego and Rochester Institute of Technology.
Billy – the BMX-inspired E-bike
The Billy from Enki – currently crowdfunding – is certainly a distinctive looking e-bike, blending design elements from fat bikes, BMX and folders!
Not a combination frequently (if ever before) seen. It's stated weight is 24.5 kg, there are still early bird offers available at US$1690 and delivery is slated for June 2018.
Elsewhere on EBR
This interesting article by Paul Tolme, journalist and Gates Carbon drive PR guy is a great insight into using an e-bike around Seattle.
There's a great account of a UK e-bike trip from Land's End to John O'Groats by elder riders, including handy tips based on real-world experience.
And finally if you missed last week's recap of the most important news of 2017 check it out here.
Get Inspired
Love Story on Three Wheels
John & Avis Darnley of New Zealand have been married for more than four decades and around a quarter of that time Avis has suffered from Parkinson's disease. This touching article and video shows how a converted e-bike lets them both still get out and about together.
Green Bay Police on E-bikes
Great to see Green Bay police department – and in particular John Laux, Captain of District C so actively supporting the use of e-bikes in his department.
There's a potted history of their use; "Over the summer of 2016, Laux began to do some research on eBikes….He found Pete's Garage, a local outdoor sports shop, and tapped store manager Derek Hughes for advice…."We brought in a couple of Cannondale demo eBikes, and the officers absolutely loved these," Laux said. "Derek spoke highly of the Bosch battery life and motor, and the dual suspension was huge." The department are looking to actively expand the use of e-bikes.
Battery Tech
Could sulfur and manganese technology expand e-bike range dramatically?
Could Li-S, lithium sulfur batteries be the battery of the future? Chemistry professor Linda Nazar of Waterloo University in Canada thinks so. Although the article deals with e-motorcycles the potential for use on e-bikes seems much greater in reality where e-bikes are far more popular.
This old and rather neglected branch of chemistry has been deployed in the form of a sulfur cathode and the traditional problem of it dissolving in the electrolyte has been tackled by the use of nanosheets of manganese dioxide. Let's hope this is one of the many promising battery technologies under study that comes to fruition.
E-bike Biz
Subsidies for Finnish E-bikers?
This article explores both practicalities in the Finnish winter and the future of e-biking in a country where it still experiences only slow takeup. A government subsidy looks like it will help the situation, with Finland looking set to follow countries like Sweden which recently pledged a hugely impressive 35 million euros to provide up to 25% subsidy to new e-bike sales.
eBike Mail for Washington Uni
The University of Washington are now using e-cargo bikes for some of their internal mail deliveries according to this article.
eBikes in the USA, 2017 reach 260,000
eCycleElectric's
annual USA ebikes market estimate for 2017 is for a minimum of 260,000 units. eCE found 215,000 ebikes imported into the USA during the 12 months of 2017, with an additional 15,000 thought to have been built from parts by various assemblers. "Knowing that we do not find all the imports, from past experience, we add 10% as a likely margin of error. This brings the totals to 263,000 for 2017."
Stay tuned for more eBike news and reviews.
-Richard
P.S. Don't forget to join the Electric Bike Report community for updates from the electric bike world, plus ebike riding and maintenance tips.
Reader Interactions