Pedaling Seattle by Electric Bike: Commuting & eBike Adventures
By Paul Tolme
As an avid bicyclist who hates driving in the city and who pedals for all errands such as grocery shopping and visiting the Post Office, moving to Seattle was both exciting and challenging.
Seattle gets high marks from bicycle advocacy groups, and the city has a decent network of bike lanes, segregated trails and paths.
However, I was among the doubters when a 2016 study ranked the city No. 1 in the country for bicyclists.
The truth is that Seattle is tough place to ride every day due to many factors aside from the rainy winter: Gaps in bike infrastructure, bike lanes that suddenly end, too few protected lanes, an overreliance on sharrows, and a lack of cross-town routes.
As in most American cities, bicyclists must be comfortable mingling with traffic and contending with car drivers who are either unaware or ignorant.
While I am comfortable riding in traffic, there are some locations where I will not ride with my wife due to my concern for her safety.
In addition, Seattle is quite hilly. Not a problem when bicycling for fitness, but a deterrent when running a quick errand during a workday.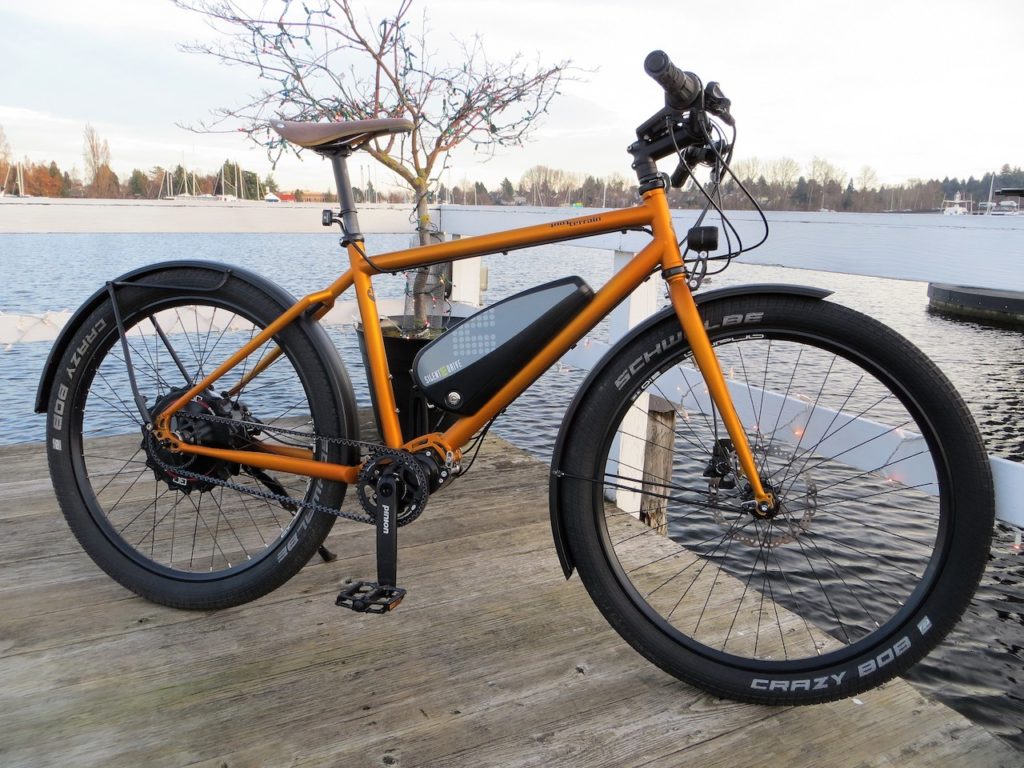 Then I got an eBike, and everything changed. It's a Chiyoda eXpress from German brand Tout Terrain.
This is a premium ride with high quality components: wide and grippy Schwalbe tires, full fenders with pannier mounting hooks on the rear fender, a Pinion gearbox for low-maintenance shifting, a Go SwissDrive rear hub motor, and a no-grease, no-rust Gates Carbon Drive belt.
It's a powerful and attractive machine that turns heads and is both fun and practical.
Sprinting to Trader Joe's
One of my most frequent eBike rides is up to the Trader Joe's market in the University District for weekly grocery shopping.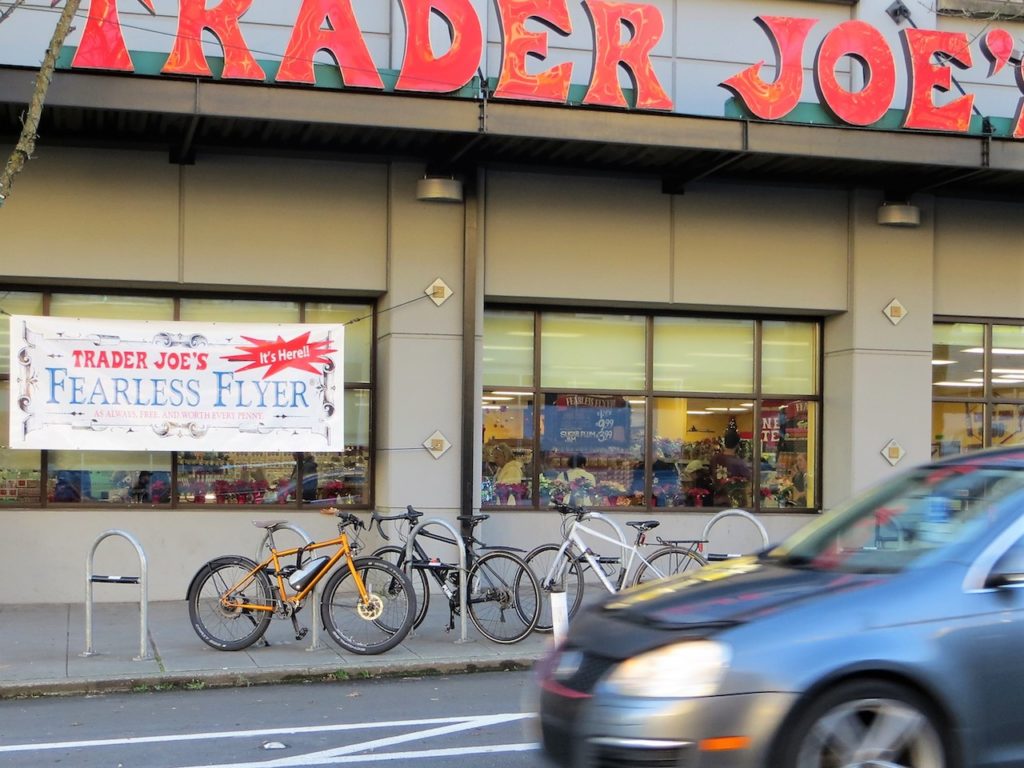 Leaving an expensive eBike locked up on the street is a bit nerve-wracking due to bike theft, so I always double-lock it and only park it in high-visibility areas.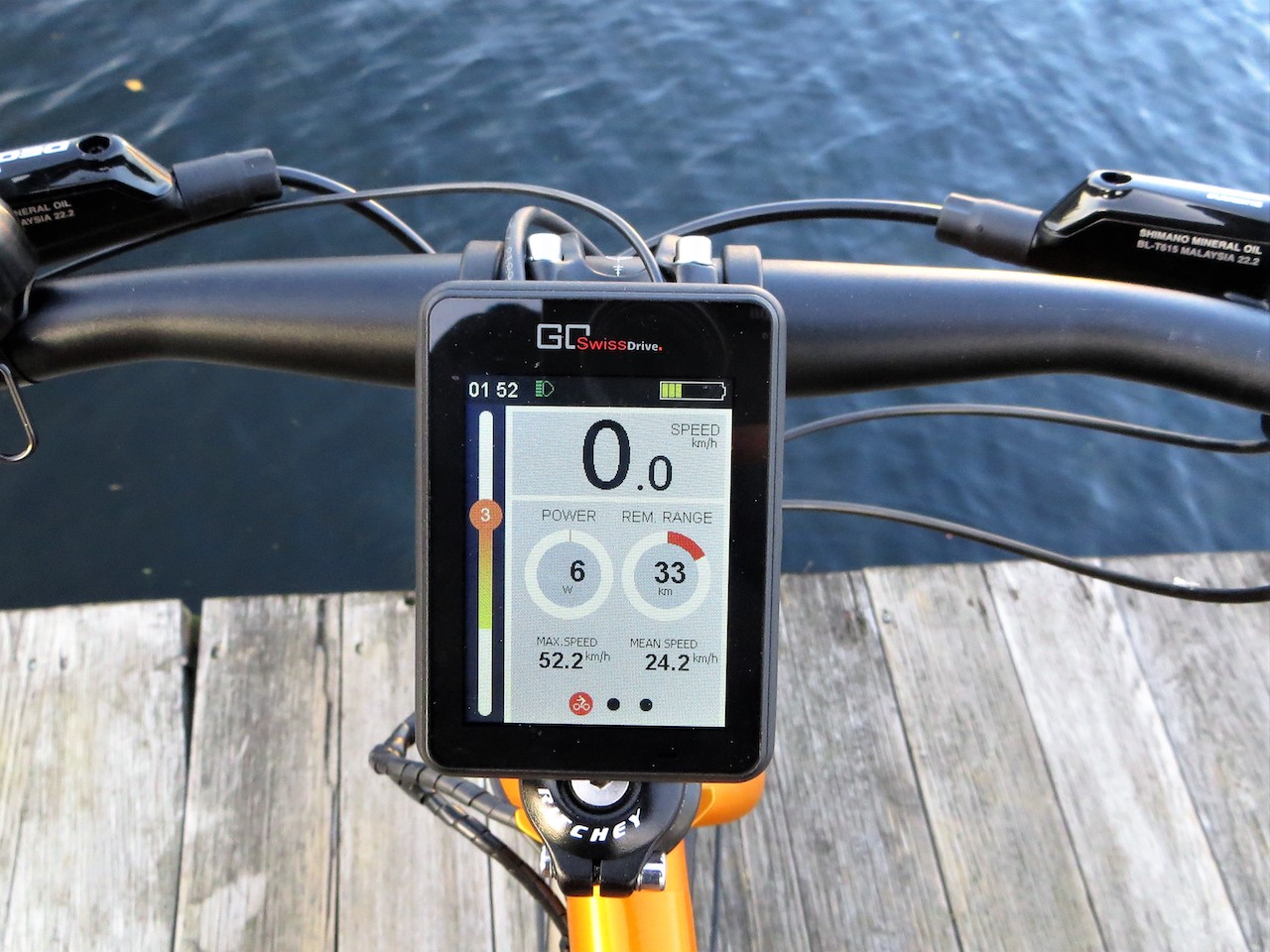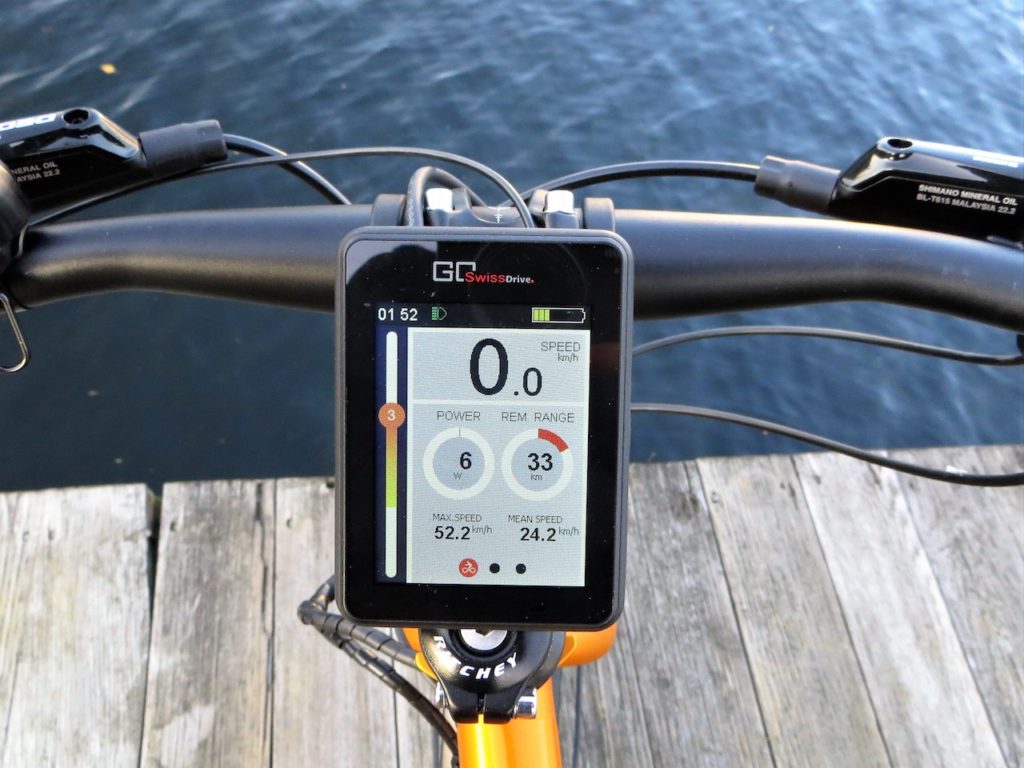 In addition, the Go SwissDrive controller easily snaps off and fits into my pocket, rendering its motor powerless—a nice anti-theft feature.
Thanks to the pedal assist, I can hum along at 20 miles per hour and take the lane on one of the busy streets near my home that has no bike lane.
When riding this street on my regular bike I must charge hard if I want to take the lane and avoid the car door opening danger zone.
On the eBike, however, it's no problem. Another frequent errand destination is the Hardwick's Hardware Store in the University District (I own an old home).
This route takes me over the University Bridge and then uphill on a street with a bike lane. On my other bike, a singlespeed, I work up a good sweat charging uphill and typically arrive at Trader Joe's or Hardwick's feeling like I've done a wind sprint, because I hate riding slowly.
On the eBike, I get there faster and still feel as if I've gotten some exercise.
The Tout Terrain allows me to take hillier, more direct routes to my destinations and do so at speed, whereas on my singlespeed I'd be out of the saddle stomping, or if on a geared bike, down in the granny gear.
Having an eBike has also allowed me to make the most of my lunch breaks.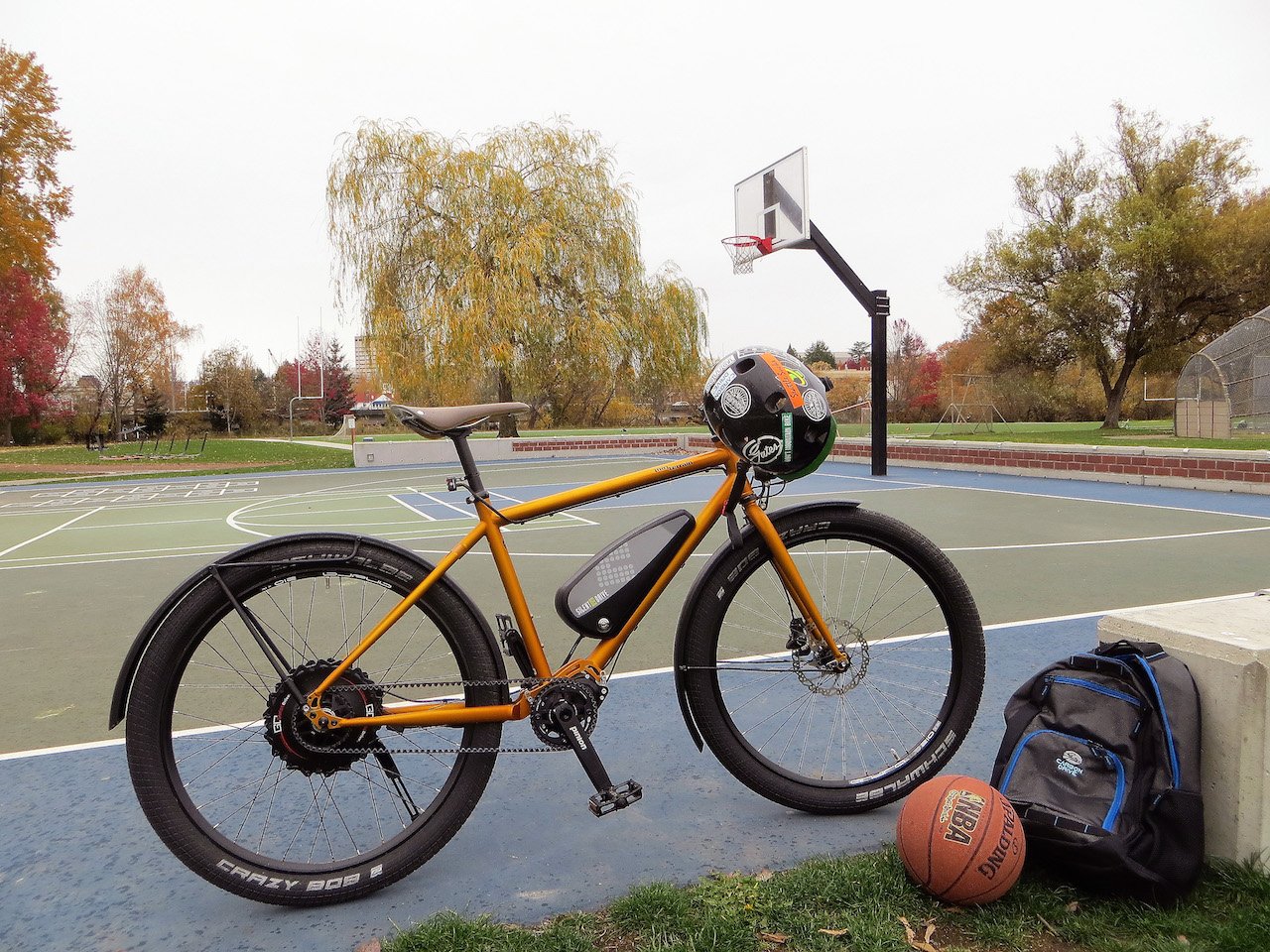 There is a basketball court about a mile from my house that I pedal to with a ball stuffed in my backpack. I can shoot hoops for 20 minutes in my jeans and work clothes, and then get back to work quickly at my desk quickly.
It's just one more lifestyle opportunity the Tout Terrain provides.
Taking the Hole Shot and Riding Pregnant
Riding in the city, bicyclists will often cheat by failing to stop at stop signs or, at red lights, take off early if the coast is clear.
That's because you need some time to get back up to speed and ahead of cars. This isn't an issue on my an eBike. As soon as the light turns green I can quickly get up to speed and "take the hole shot" with just a few pedal strokes.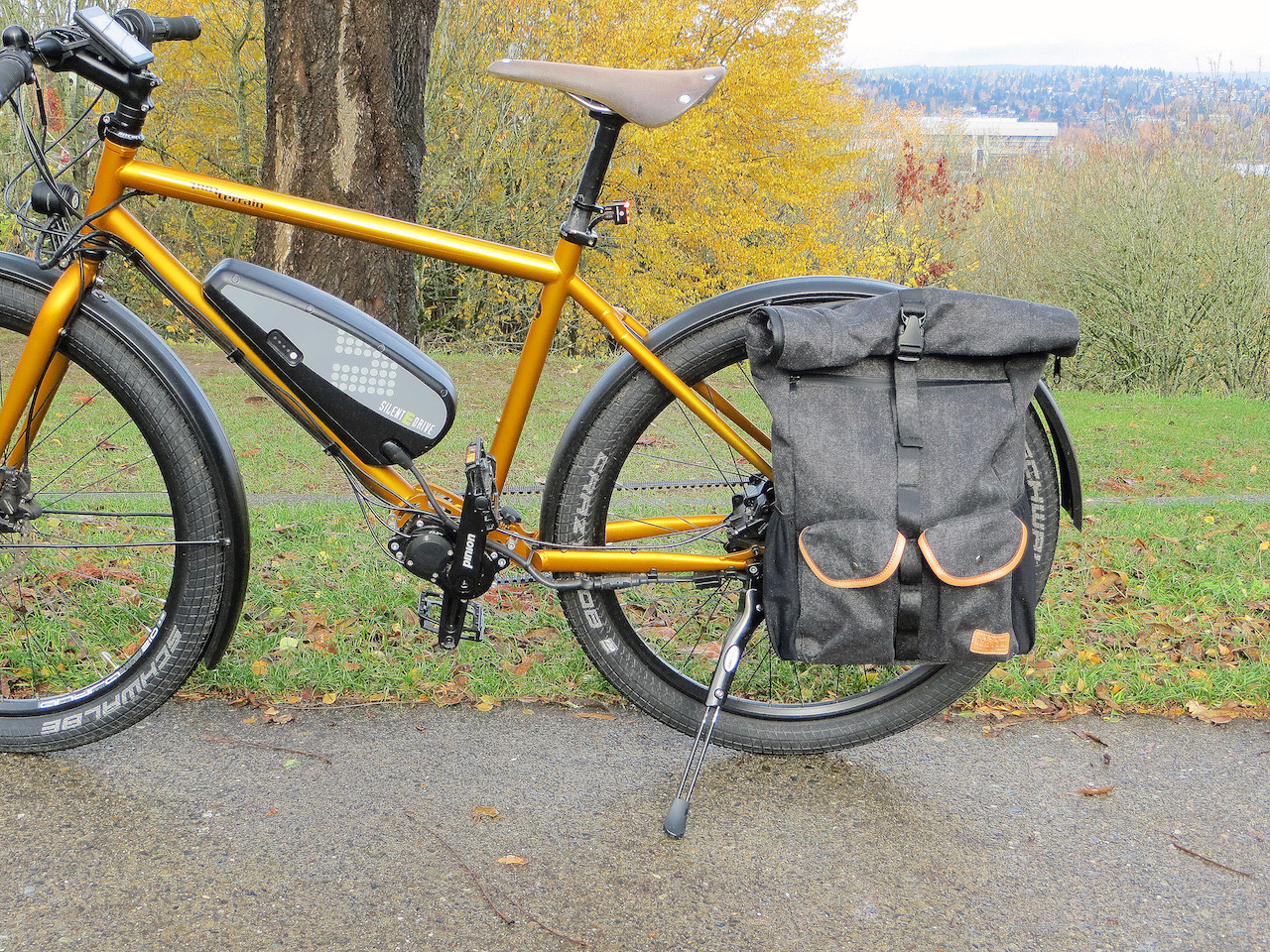 Riding the Tout Terrain has also opened more possibilities for my wife to commute to work. Luckily, her office is less than two miles from our home.
She enjoys riding to work, but on her pedal bike she is sometimes worried about arriving at the office sweaty, especially in the summer. Now, I let her ride the eBike while I pedal along with her to work to get in a little morning fresh air.
Then we swap bikes and I ride home on the Chiyoda eXpress. This allows me to get back home quickly to get back to work in my home office, and it prevents her from having to lock up the expensive eBike all day at work.
At the end of the day, she texts me and I come get her on the eBike, and then we swap and pedal home. And with her on the eBike, we can both go the same speed.
Having an eBike also allows us to ride more scenic routes. Last fall, we planned a weekend bike trip with a neighbor who is pregnant.
I lent our neighbor the eBike, and she had a fun time riding the Burke Gilman Trail alongside her husband, my wife and I on pedal bikes.
Over the 520 Bridge
Just before Christmas, Seattle bicyclists got a huge present when the state opened the long-awaited bike path over the 520 Bridge.
This 2.7-mile protected bike route now allows bicyclists to get over Lake Washington quickly to the communities on the "East Side."
Many car commuters get stuck in gridlock making this trip to and from work. Now they have the option to cycle.
On a frigid holiday afternoon, I saddled up on the Tout Terrain and rode the 520 bike lane to check it out. It's killer, with beautiful views of Lake Washington.
I expect that this route will become hugely popular with eBike and bike commuters next spring and summer.
Other scenic routes where I regularly put the Tout Terrain through its paces include along Lake Washington Boulevard and out to Alkai Beach in West Seattle. It's fun ripping uphill past roadies in their cycling kits.
While I sometimes get accused of cheating, I've discovered that it is just as easy to get a hard workout on the eBike. That's because the pedal assist cuts out and requires you to pedal under your own power once the motor's maximum speed has been reached.
Sometimes I will keep the eBike in the highest gear and get out of the saddle, stomping along at 25 miles per hour, which is the posted car speed limit on many surface streets.
This ability to cruise along at the speed limit eliminates any of the guilt I sometimes feel when taking the lane.
The Case for eBiking in Seattle
During my two years living in Seattle, I have noticed a significant increase in the number of eBikes on the roads—moms and dads carrying their kids on electric cargo bikes, and many commuters heading to and from work. This is a highly positive trend.
Seattle suffers from chronic traffic congesting and is ranked as one of the worst places to commute by car due to limited and expensive parking and jammed roadways during rush hour.
It's a complete waste of time driving here if you live within biking distance, because eBikes shorten and flatten out the city.
As a bike nerd who once scorned eBikes, I encourage other road riders who bike for fitness but get in cars to drive to work to consider purchasing an electric bike. The economic, health and psychological benefits are huge.
Much has been written about how America and the world must transition to electric cars to cut down and carbon emissions (cars are now the largest emitters of carbon emissions in the United States, ahead of power plants).
Electric bikes should be part of this conversation. There's no need to buy an expensive Tesla or other costly electric car if an eBike can do the job for far cheaper.
Seattle is the perfect test case for how electric bikes can transform a city and make its transportation networks more sustainable, healthy and economical.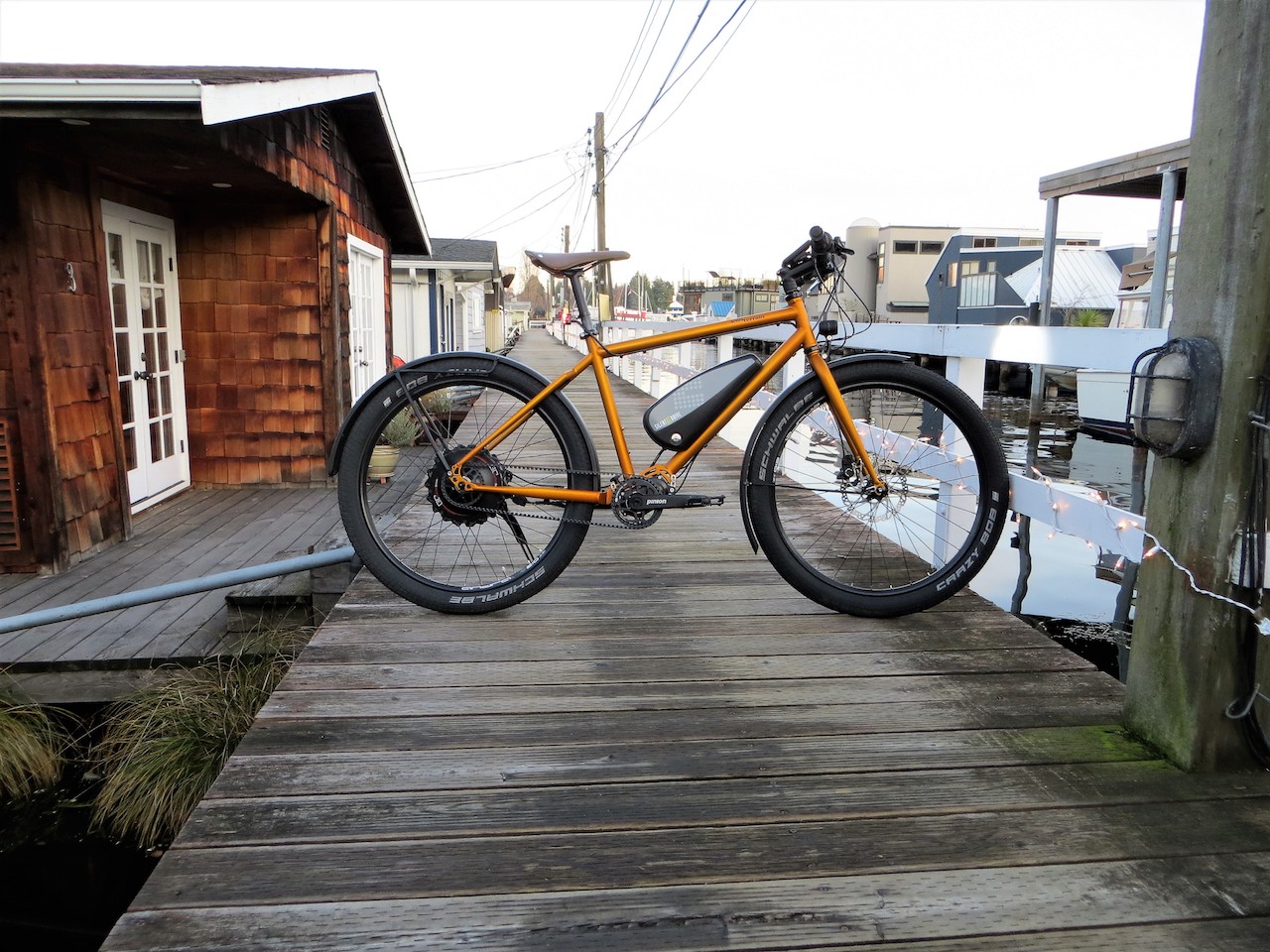 Paul Tolme is an environmental and outdoors journalist, a bike industry media consultant and copywriter (PR guy Gates Carbon Belt Drive) who lives on a houseboat in Seattle with too little room for his bicycles. His work can be seen at www.journalistontheloose.com
P.S. Don't forget to join the Electric Bike Report community for updates from the electric bike world, plus ebike riding and maintenance tips.
Reader Interactions